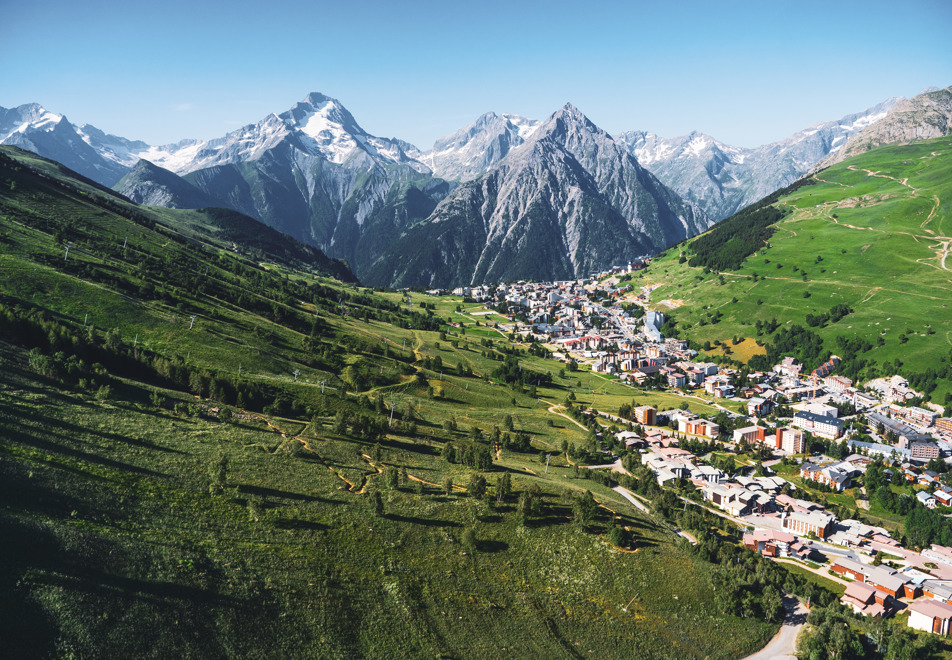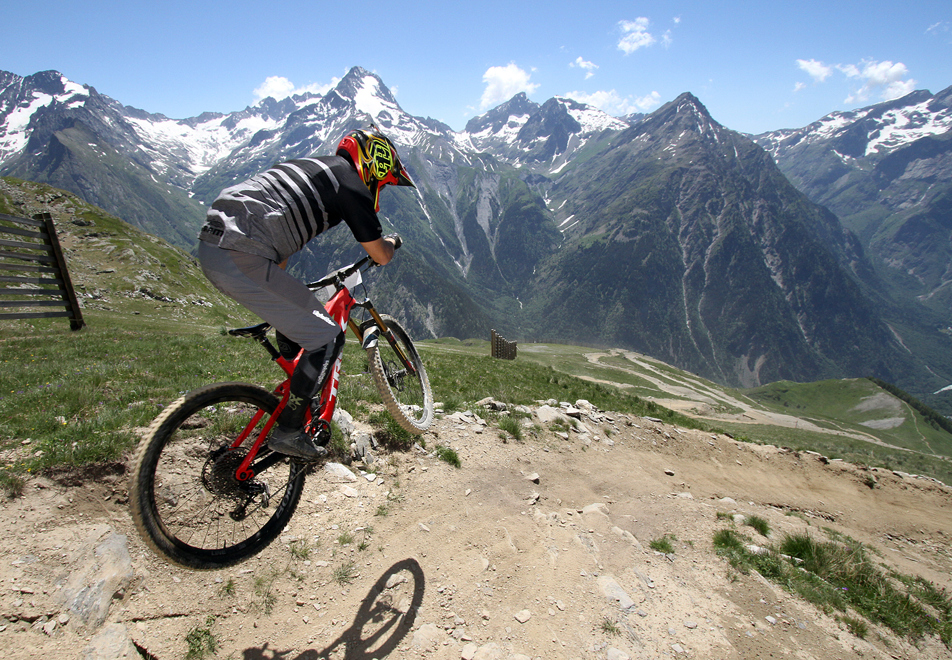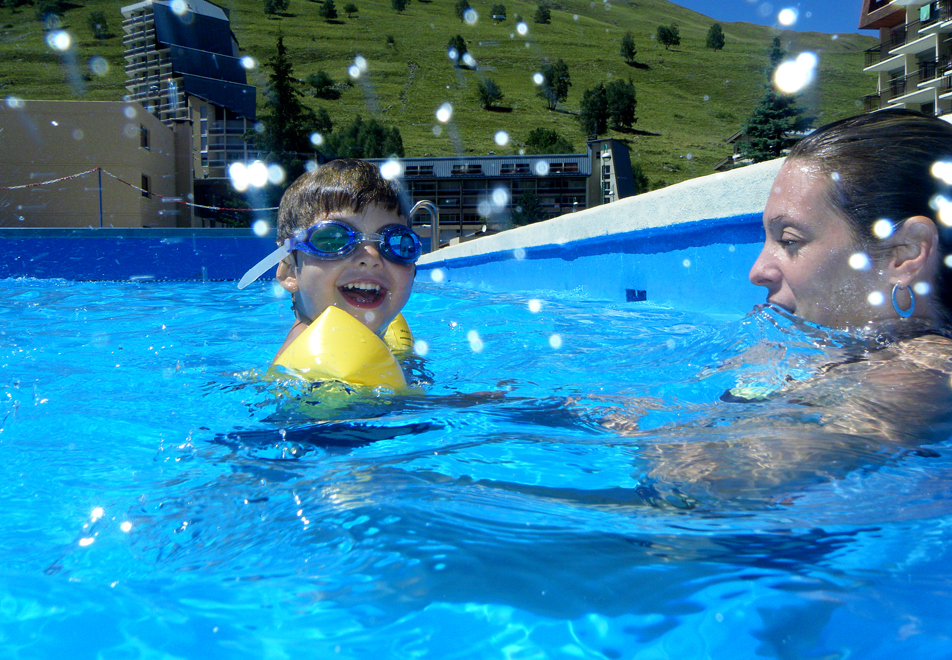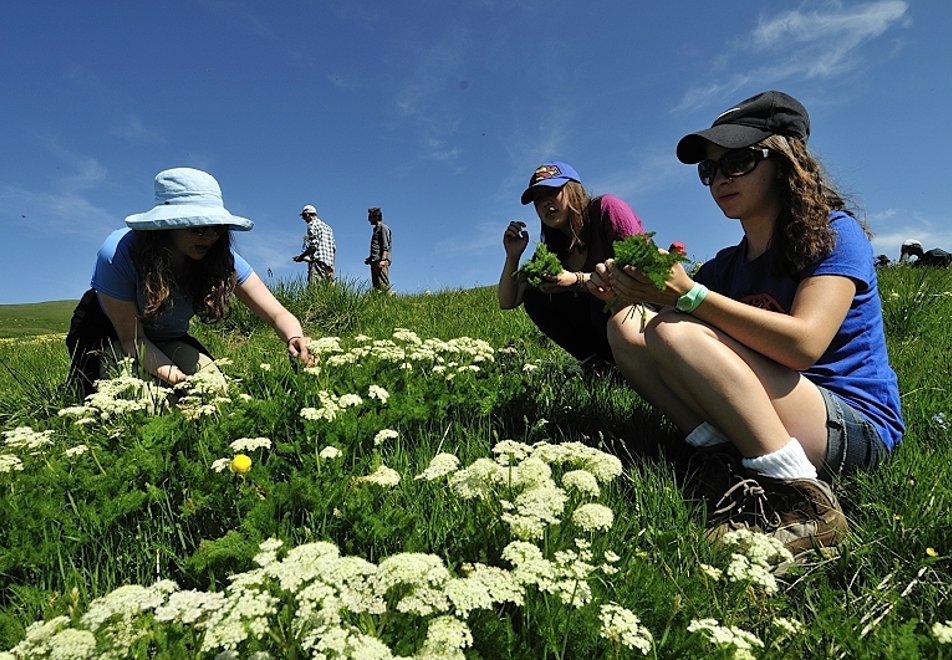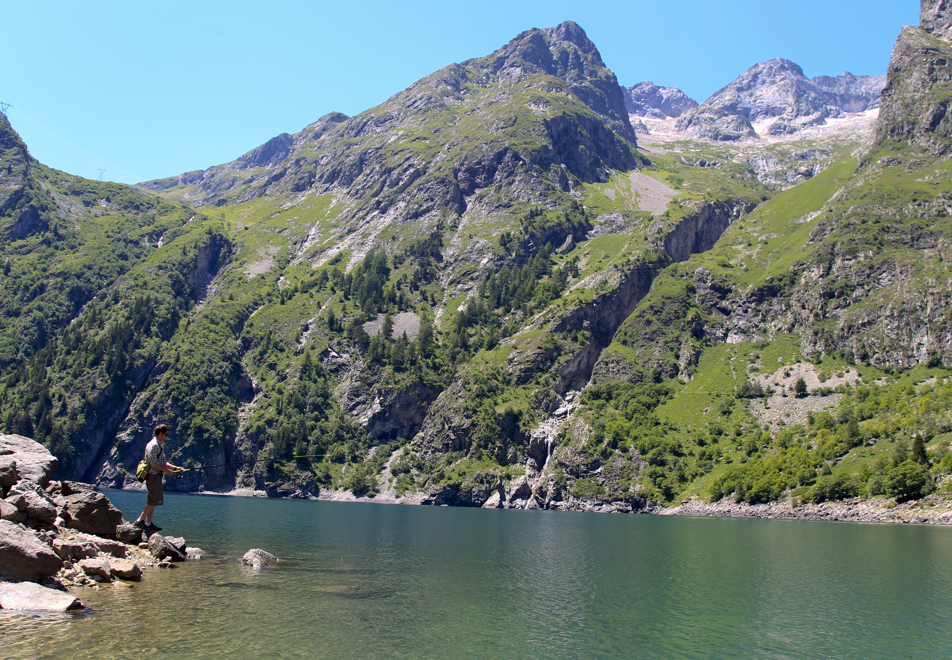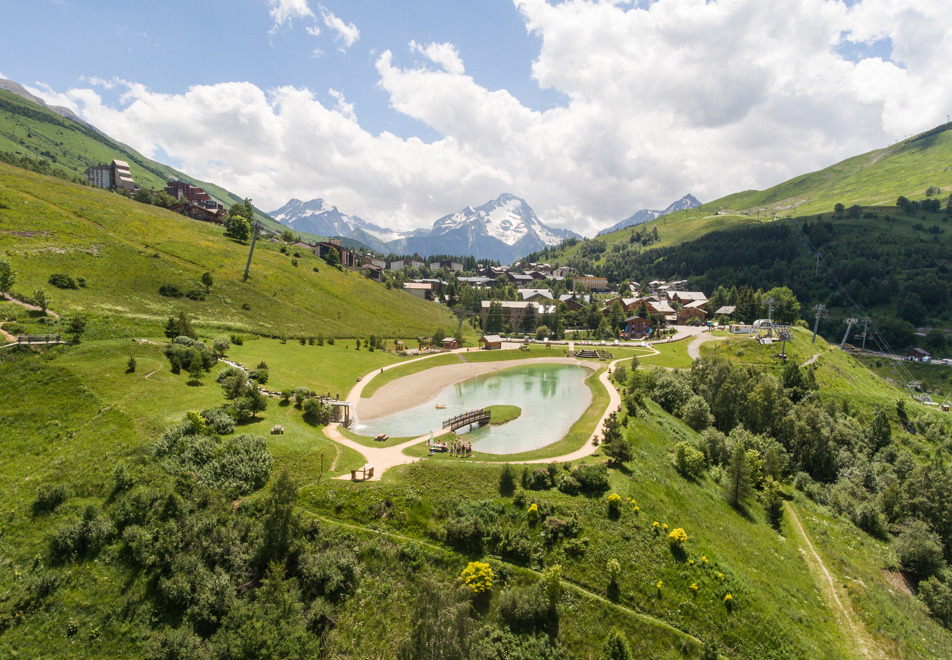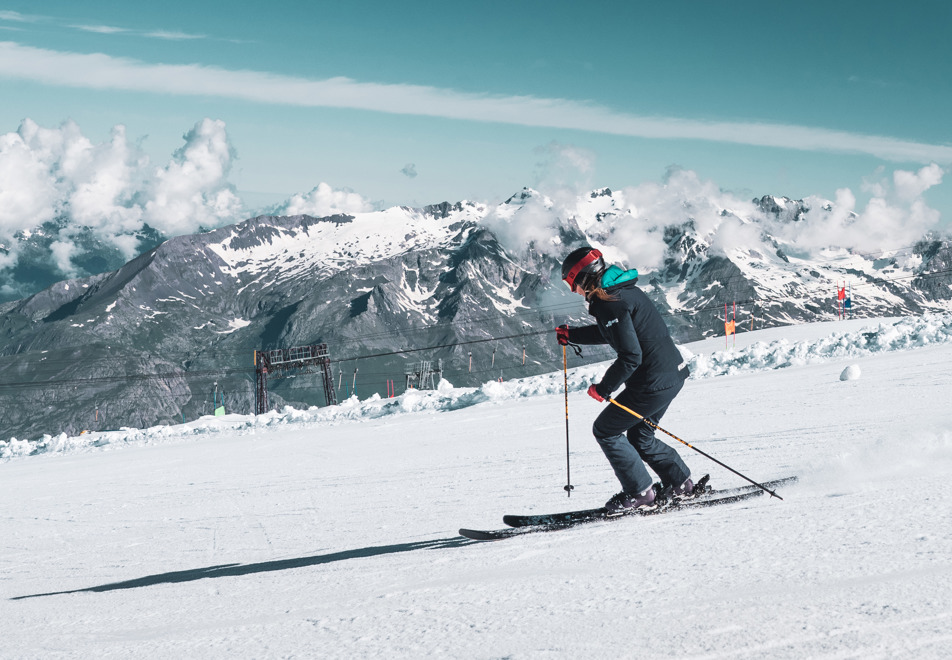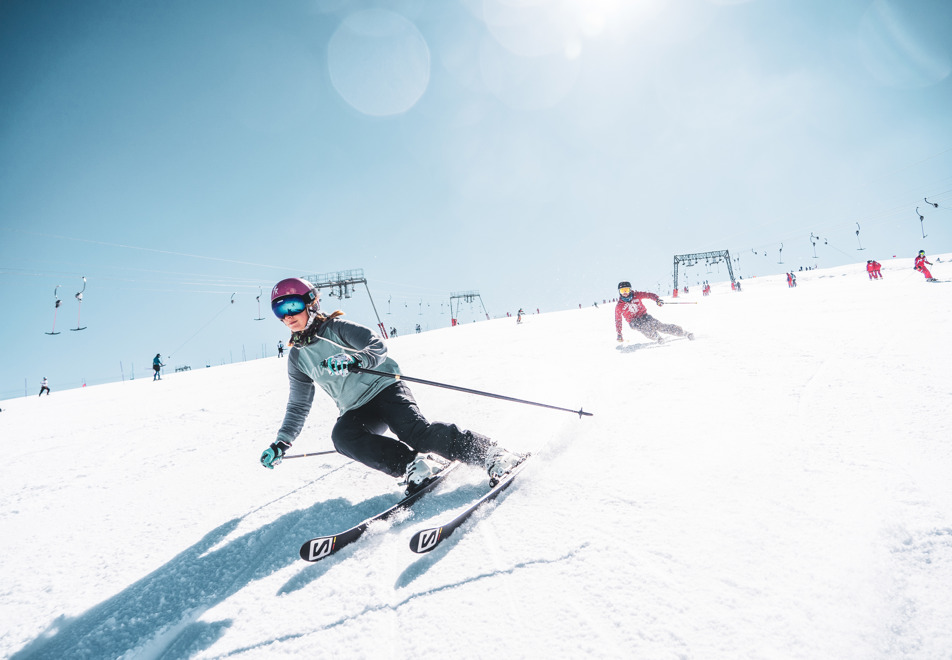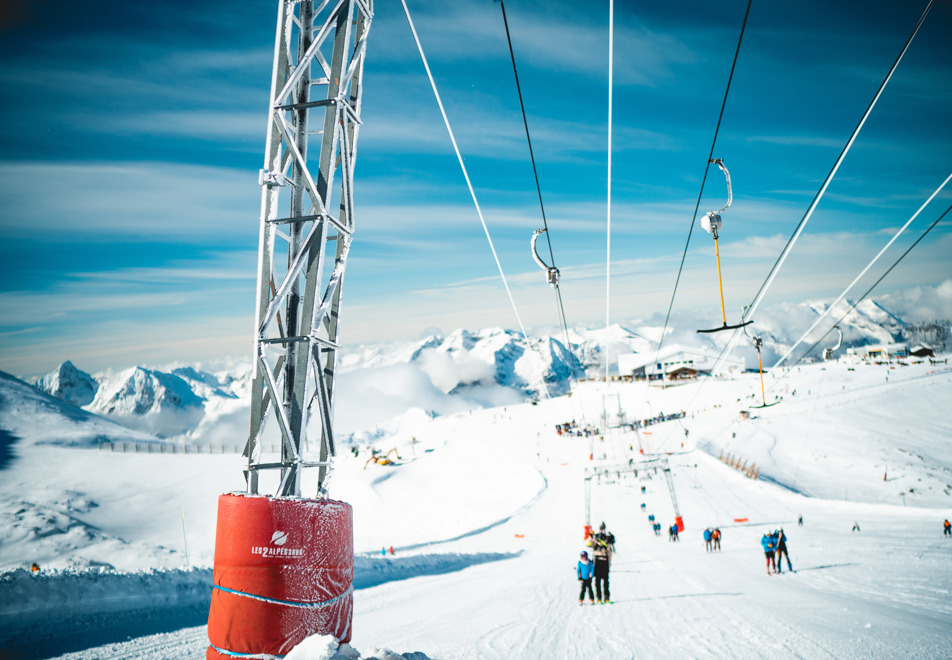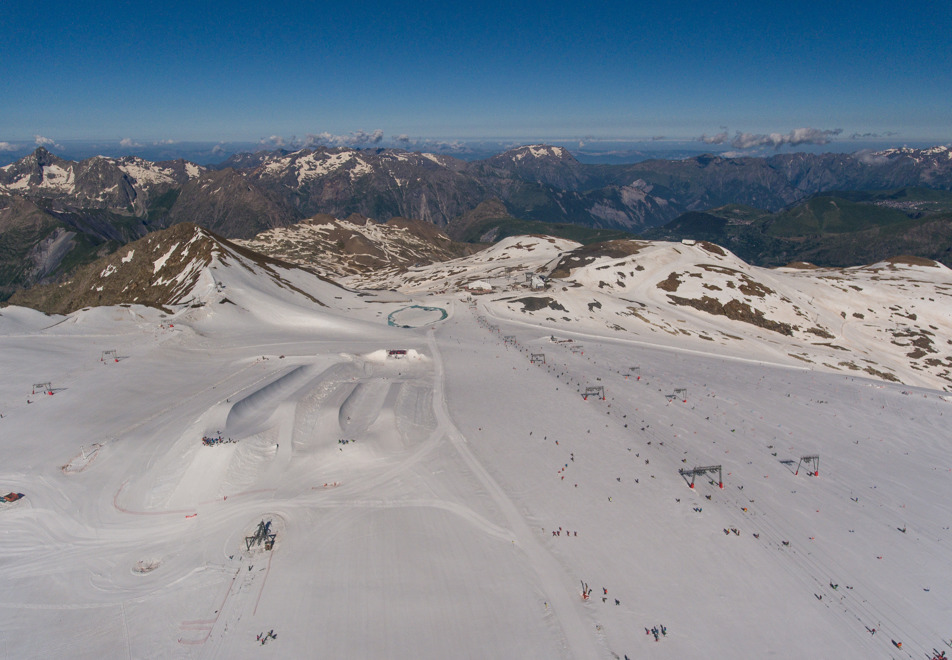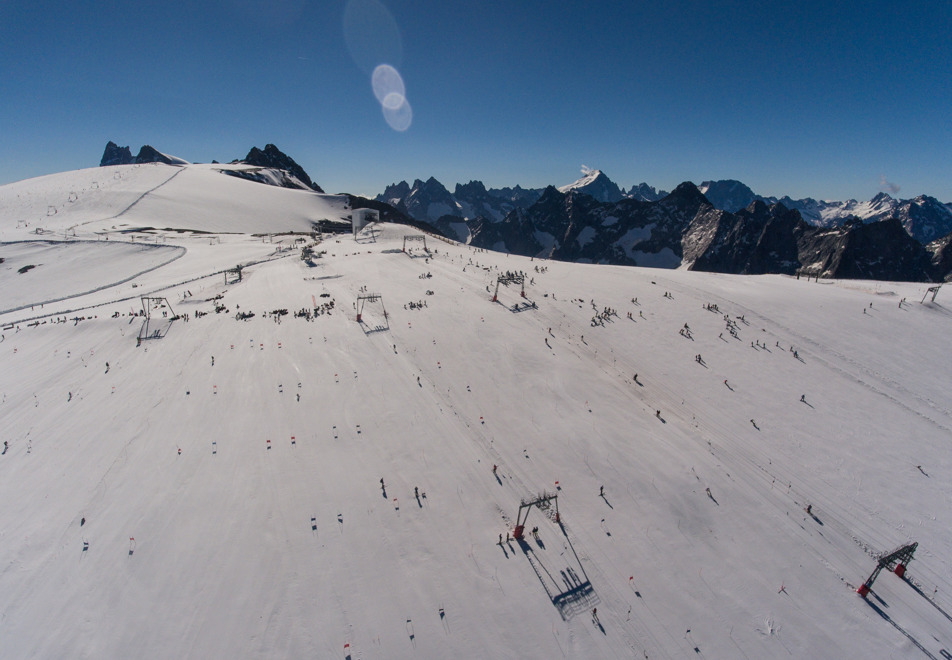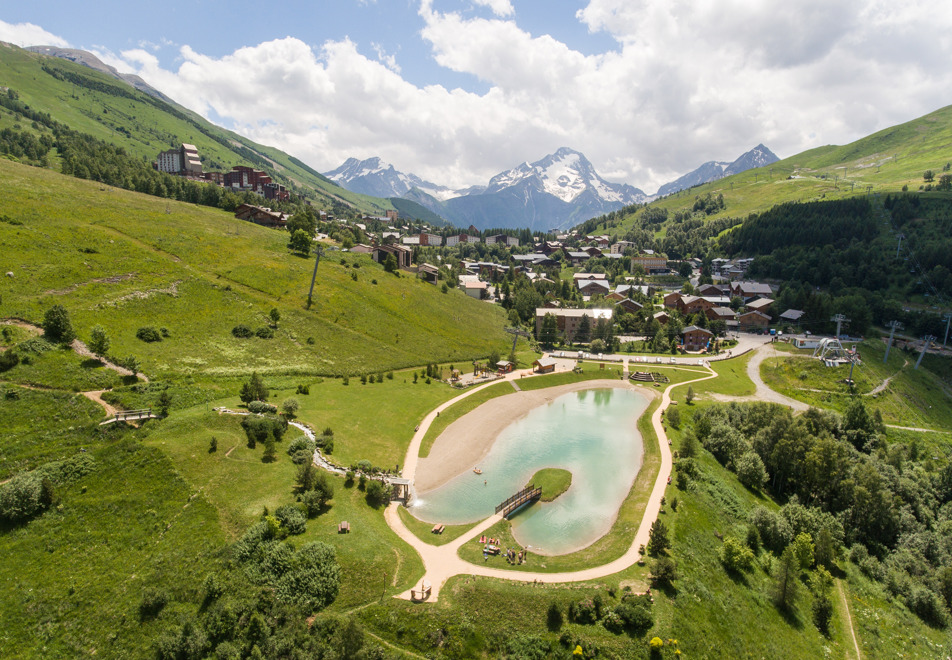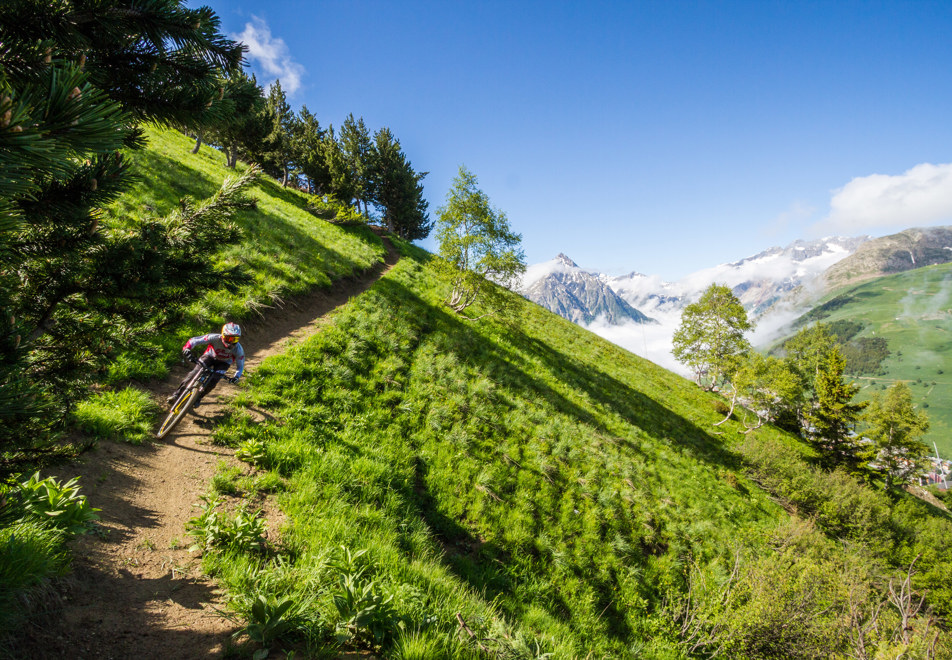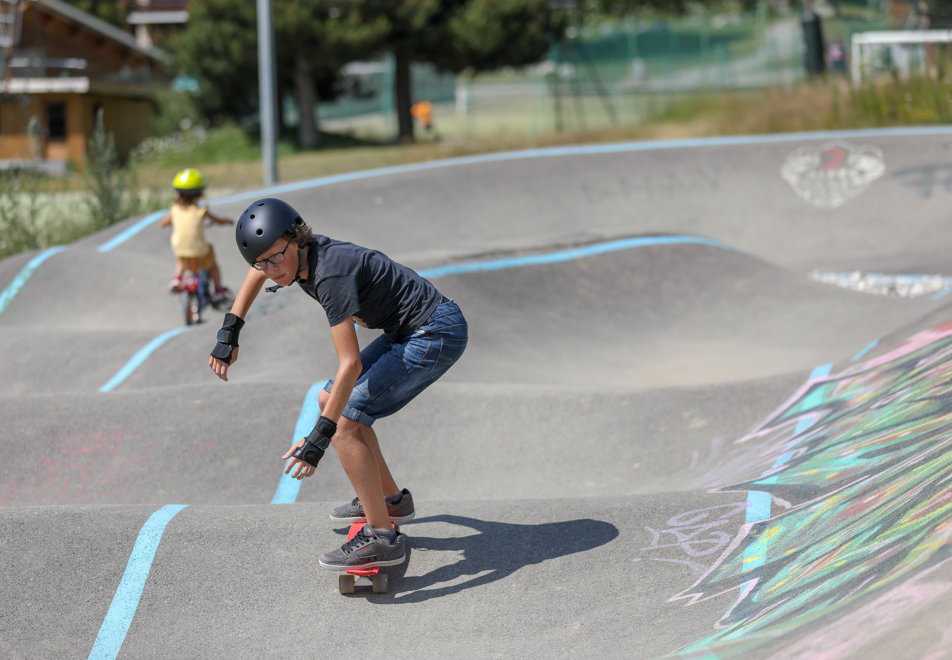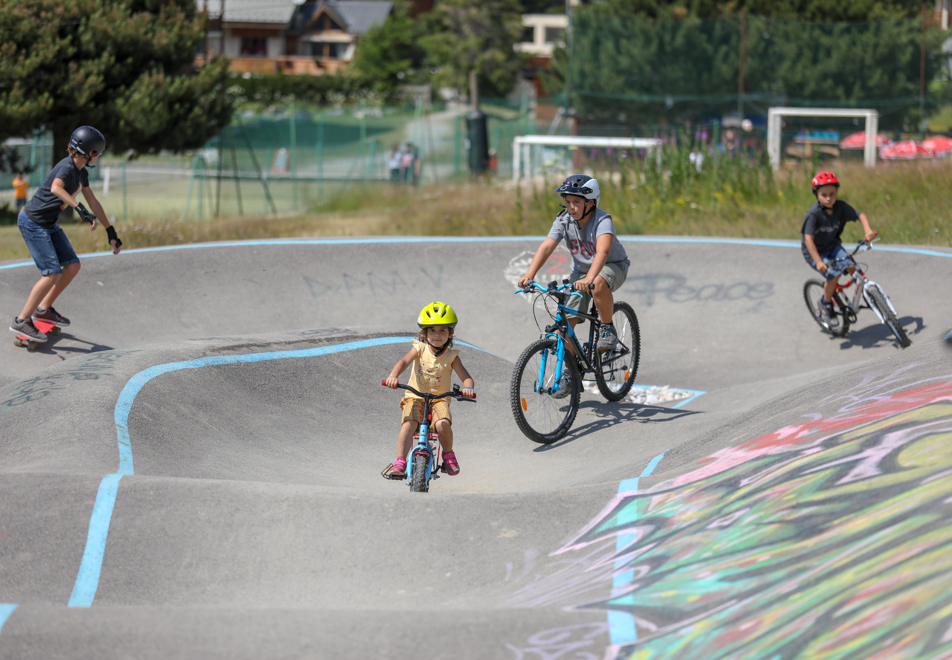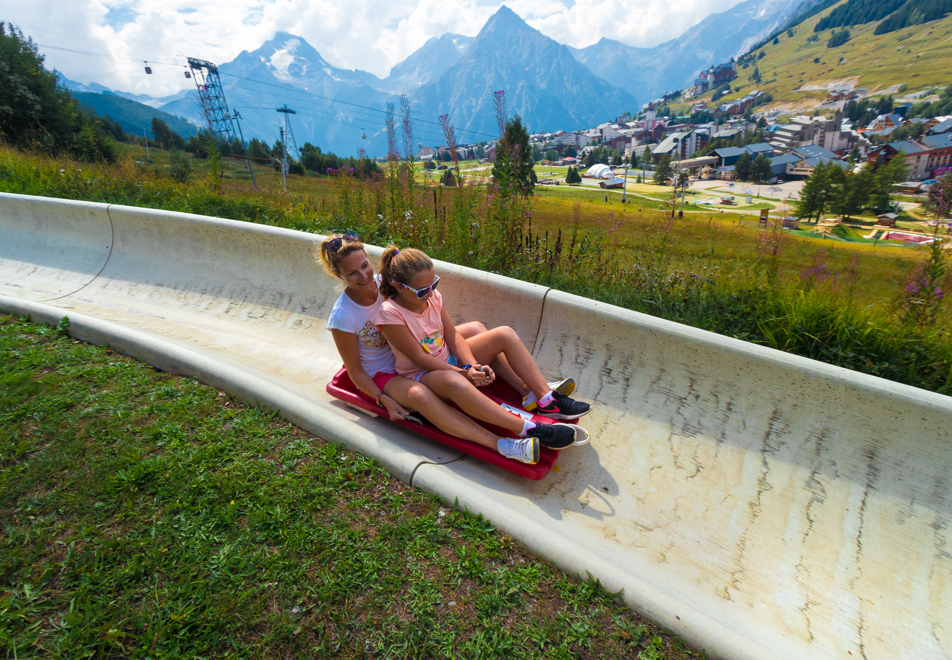 Les Deux Alpes is a vast outdoor adventure playground for mountain lovers and is one of the rare European destinations where there is summer skiing thanks to its glacier at an altitude of 3600m.
In the heart of the Oisans region, Les Deux Alpes is flanked by the Oisans massif to the west and the Ecrins national park to the east. Discover a fascinating world of peaks and summits, rock and ice. The national park alone boasts the finest collection of glaciers in France.
Whether you want to enjoy a peaceful holiday on the water or to fill your days with adrenaline pumping activities, Les Deux Alpes really does have it all. It offers an amazing array of more than 40 activities, from quad biking to via ferrata, paragliding to sledging. During the summer, Les Deux Alpes' ski area turns into a paradise for mountain biking enthusiasts.
With one of the highest ski areas in the world, Les Deux Alpes skiable domain goes from 2800m to 3600m. In May and June, the glacier is open for a short while, from 28th May to 17th June 2023, mainly for ski racing, professionals and ski teaching. Pedestrians can enjoy the full height of resort and capture amazing views from the Ecrin Belvedere footbridge, and visit the ice caves. A summer activity multi-pass allows access to skiing areas, including direct access to activities when it suits you during your stay in resort. The pass is available online or from the tourist office. 
Play a round of golf facing snow-covered mountain peaks or have a go at one of the 45 different ascents that Les Deux Alpes' climbing wall offers. You can even bungee jump from one of the highest cable cars in Europe. Canoeing, rafting and hydrospeed (where you swim downriver in a wetsuit, steering yourself with a streamlined float) are just some of the other activities that are available in the resort.
The area's highest summits can be reached from Bérard, a mecca for walkers and climbers in summer. Use the pedestrian pass on the tourist lifts to reach the scenic villages of Mont de Lans and Venosc. The Mont de Lans tourist office organises hikes with qualified guides and storytellers.
Some recommendations for places to visit in Les Deux Alpes this summer
Grotte de Glace: Several caves dug through 1000's year old thick ice, are decorated with ice sculptures. At 3425m, they can be reached by the lift system and a funicular
Discover amazing views from the top of the glacier! The Belvedere des Ecrins is a free 'Skywalk' located at the Belvedere des Ecrins, at 3,400m (the Soreiller summit). The Skywalk is seven metres long and stretches out above the Vallée de la Selle, with a 1,400m vertical drop straight down below you.
E-biking: Les 2 Alpes has designated routes for e-bikes, including Vallee Blanche, Venosc, the Glacier, and the Veneon river. Hire your e-bike from one of the sport shops and the bike schools even organise guided outings. Aventure Electrobike organises rides at sunset. Riders cycle up to the Diable au Coeur restaurant at 2,400m, where they enjoy an aperitif and a BBQ before riding down by night, with a headlight. It costs €50 per person.
The pretty little village of Venosc is accessed from a main road turn-off and is linked to Les Deux Alpes by an 8-minute gondola. Its cobbled streets, old chalets, fountains, 14th

century church and old-style architecture gives the village and its hamlets a traditional feel. Stroll along the village cobbled streets and discover vaulted ceilings, sundials and craft shops selling silk paintings, jewellery, wood carvings, wood paintings, woven goods and more.
Top summer activities to experience in Les Deux Alpes
Please note Peak Retreats do not book any activities and most activities are payable. For more information about pricing and availability, please contact the Les 2 Alpes Tourist Office on 0033 476 79 22 00 or visit www.les2alpes.com
Summer skiing on the glacier*
Les 2 Alpes has Europe's largest skiable glacier. Skiers and snowboarders can ride every morning from late May to early June (opening periods vary) between 7am to 12.30pm, on 30km of slopes located between 3,200m and 3,600m. The glacier is accessible to all levels: with a beginner area, and plenty of run for intermediates and advanced riders. Pro riders also come in the summer to train in alpine skiing and freestyle in the snowpark.
For the best summer skiing, Les 2 Alpes has a well-preserved glacier. The resort spends a lot of time working on the glacier all year round to ensure it is in optimal condition and to preserve it. This includes harvesting snow on the glacier and distributing it daily to ensure great snow coverage and well-maintained pistes.
The glacier is open every day from 7am to 12.30pm (from late May to early June for summer skiing)
There are 100 hectares of slopes.
The glacier is at 3,200m and is accessible from the resort via a 30-minute ride with the Jandri Express cable car.
The glacier is served by 2 gondolas, 1 cable car, 1 chairlift, 9 draglifts, 2 small lifts for beginners and 1 funicular.
There's also a snowpark with a BigAir bag, slopestyle, superpipe, rails, and a halfpipe.
Call us to ask about lift passes and equipment.
* Please note that due to changes in temperature during current years, preventative measures may possibly be taken by local authorities at fairly short notice, in order to protect the glacier. This could include restricting opening hours, partial closure or even premature closure. 
Les 2 Alpes Bike Park - European leader in its field!
Les 2 Alpes Bike Park is the official name for the entire Les 2 Alpes mountain biking area, open in July and August. 2,300 metres of vertical drop, going from altitudes of 3,200 metres to 960 metres in one fell swoop makes it one of the largest bike parks in the Alps! If you're the adventurous type, you'll want to head to the area's more 'hard-core' routes. From the fast, high-altitude downhill tracks to the more technical single tracked enduro-style routes, you definitely won't have time to be bored! Here are the stats:
4 sectors: VALLEE BLANCHE, JANDRI, LE DIABLE and VENOSC
6 ski lifts
91 km of runs
22 downhill runs including 2 green, 8 blue, 8 red and 4 black with 1 élite trail "la Fury". 
5 enduro itineraries and 2 cross country itineraries.

 

1 dedicated beginners' site: VALLEE BLANCHE, with green runs and Alpine mountain biking discovery workshops (handling park)
One brand new video zone on Les Lutins slope
One PUMP TRACK zone
4 bike wash stations: Vallée Blanche, Diable, Venosc and resort centre.
Geolocalisation system for rescue on the LES 2 ALPES App.
Mountain Guides Office
Mountaineering, hiking, via ferrata, glacier treks, mountain biking and climbing.
Information and reservations
Maison des 2 ALPES - ESF
www.guides2alpes.com 
Les Deux Alpes Walking
Situated where the northern and southern Alps meet, in the heart of the Oisans and on the doorstep of the National Ecrins Park, Les Deux Alpes is an ideal starting point for some incredible hikes. From footpaths through mountain pastures to steep ridges, a secluded stream to a large lake, an urban resort to a forgotten hamlet, the region nurtures its differences. The tourist office has edited a guide of daylong hikes. Ask at the tourist office for a copy. If you wish to be accompanied, the Mountain Guides office is always ready to help you.
Discovery walk to Venosc village
At the end of the resort, a footpath goes down to Venosc village under the telecabine. The sloping track leads to the green Veneon valley, with a nice viewpoint on the Muzelle spring in background. From this path, you can also access to the Perron via ferrata. Be sure to take time to visit Venosc, a typical mountain village with charming small local shops and craftsmen.
Time for the way down: 1 hour / For the way up: 1:45 hour
La Buissonnière Swimming Lake
Leisure lake located at the entrance to the resort, with a children's play area and boules. Open to the public from June to September. Supervised bathing periods.
Skate park
The slopestyle skatepark, built in 2018, sits in a bowl (a permanent module recessed into the ground, located between the street and the ramp). The €250 000 park can be found in the resort centre at 1,600m.
Summer toboggan
Take the Alpette ski lift.
La Croisette swimming pool
2 heated open-air pools measuring 25 m x 12 m
Swimming lessons: Ask on site for details and to register.
Rue des Sagnes
Immeuble la Croisette
Les Deux Alpes Bowling
Open every day from 5 pm to 2 am. 6 Lanes (child-friendly) for up to 8 players per lane. Le Strike has a bar, pool tables, table football and arcade games.
Other Activities in Les Deux Alpes (so many to choose from!)
Beach volley, volleyball, golf, football, squash courts, paintball, grass hockey, paintballing, quad-biking, 9-hole golf course, trampoline, horse riding, water chute, treasure hunts, street hockey, skateboarding, rollerblading, BMX, basketball, water sports, badminton, karaoke, a bouncy castle area, boat/pedalo rides, fishing, beach soccer, table tennis, big airbag, ice cave…
Other activity contact details 
Restaurants and bars in Les Deux Alpes
From themed restaurants to haute cuisine, local specialities or traditional French dishes, whether you want fine dining, home delivery or a take-away, Chinese, Indian, Italian - it's all available!
At the end of the day, the après-ski scene starts revving up. There's a warm welcome at the resort's bars and pubs and you can party right from happy hour until the disco-ball finally stops turning above the dancefloor at 4am!
Les Deux Alpes is a very lively resort.
Amenities in Les Deux Alpes
120 shops from newsagents, butchers, bakeries, sports shops, gift shops, clothes shops, supermarkets...
Also: cash points, doctors, pharmacies, physiotherapists… All the facilities and services that you would find in a large resort.    
There is also a self-service 24/7 petrol station.
Accessing Lake Annecy
By Road (self drive options pre-bookable with Peak Retreats): 
Driving distance from Calais to Annecy 817km (approx 7hrs30)
Driving distance from Calais to Les Deux Alpes 587 miles (approx 8hrs25)
From Calais, take A26 Motorway towards Reims and Troyes, then Dijon, Lyon, A480 Motorway to Grenoble, exit no8 (Stations de l'Oisans), then N91 road to Briancon via Bourg d'Oisans. At the Chambon dam, take D213. It takes approximately 1 hour from the motorway exit to Les Deux Alpes
By Rail (pre-bookable with Peak Retreats): 
Grenoble station 85km
By Plane (not pre-bookable):
Grenoble Airport is 118km from Les Deux Alpes (1 ¼ hours)
www.grenoble.aeroport.fr - Shuttle bus Monnet +33 476 93 40 00

Chambery Airport is 140km from Les Deux Alpes (1 ¾ hours)
www.chambery-airport.com
Lyon Saint-Exupery is 160km from Les Deux Alpes (2 hours)  
www.lyon.aeroport.fr - Shuttle bus Satobus
Turin Airport is 182km from Les 2 Alpes (2 ½ hours)
www.aeroportoditorino.it
Geneva Airport is 219km from Les 2 Alpes (2 ½ hours)
www.gva.ch/en
Les Deux Alpes Airport Transfer or Car Hire (pre-bookable with Peak Retreats):
Call our reservations team for details on 0844 576 0170 or email reservations@peakretreats.co.uk for a quote and availability.
Les Deux Alpes free shuttle
During the season there are free shuttle buses running in the resort every day. At various stops, flash the code with your smartphone, track the position of the shuttle and the waiting time.
Summer events in Les Deux Alpes 
Events:
Summer Skiing

May to June 

Fête de la Musique June - it's a free event that spills out from the bars and restaurants onto the streets and encompasses every type of music imaginable.

Mountain of Hell Usually in June -

The MOH is 3 intense days of mountain bike racing; course reconnaissance, a qualifying round, a final and a unique atmosphere.

Mountain of Hell For Kids Usually in June -

Just like its big sister, the MOH, the "Kids" will have the same great programme: course reconnaissance, a qualifying round and a grand final, all in an unbeatable atmosphere.

Le

 Défi de la Muzelle Late July-early August - Between 800m and 3200m above sea level, the Défi de la Muzelle takes its runners to cover the most beautiful trails around Les 2 Alps. For more information visit www.ledefidelamuzelle.com 
End of Summer Season August
Read about these events and more via the Les 2 Alpes events page!
Les Deux Alpes Summer Ski and MTB Opening