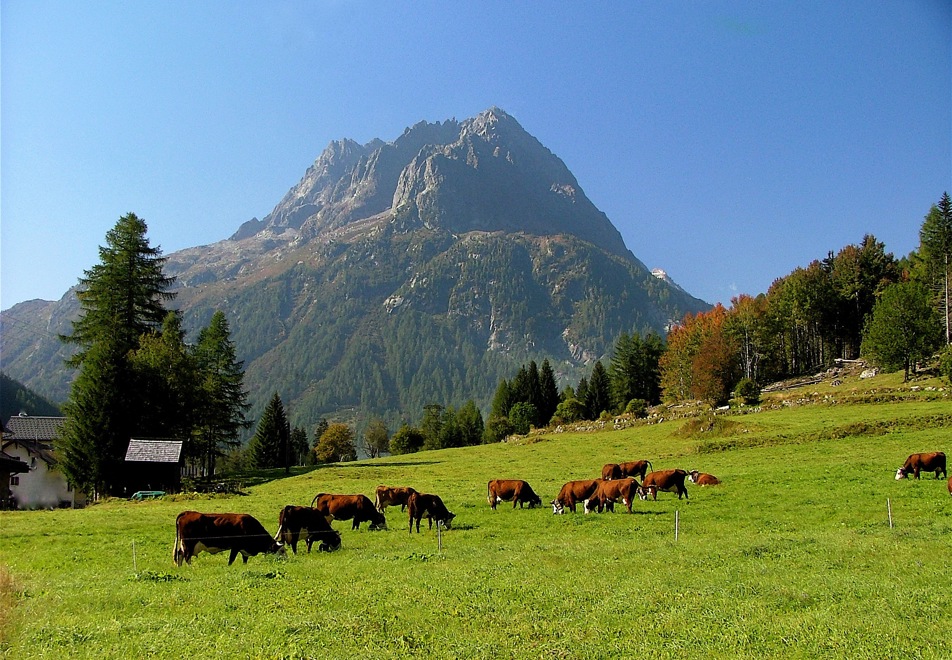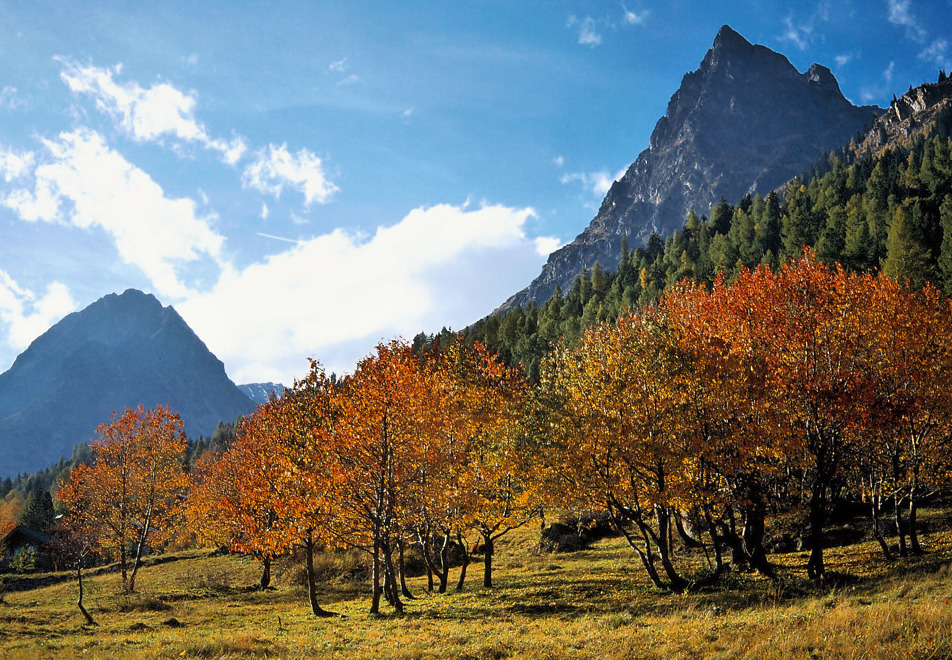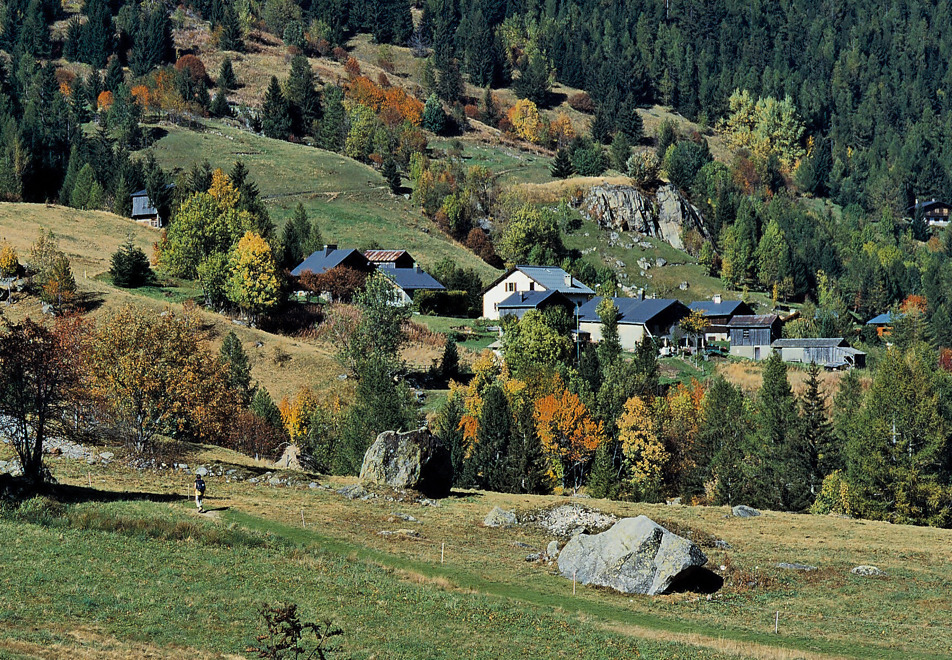 The tiny, unspoilt village of Vallorcine is superbly located at the foot of Mont-Blanc, 20km from Chamonix and close to the Swiss border.
The last village in the Chamonix valley, Vallorcine is a peaceful mountain village. Hidden behind the col des Montets, at the foot of the Aiguilles Rouges, La vallée des Ours (the valley of bears) has retained all the charm of a traditional mountain village while developing its various tourist attractions.
Vallorcine is made up of several hamlets on the foothills of the surrounding mountains stretching to the Swiss border. The scenery is stunning and Vallorcine is a family-friendly resort with a relaxed atmosphere. It offers many excursions, hiking and walks in the mountains being surrounded by forests and at the gates of the Aiguilles Rouges and Berard Valley nature reserves.
The Barberine and Bérard waterfalls can easily be reached from Vallorcine. You can also head for the Emosson dam in Switzerland, where a series of dinosaur footprints can be seen.
Facilities in the Vallorcine village itself are blessedly limited. There are a handful of simple restaurants. However, if you're looking for a livelier night out or more extensive facilities, it's easy to get Chamonix.
Chamonix, 10 miles away, is a fascinating traditional resort with a bustling atmosphere and is excellent for activities of all kinds. Chamonix offers a good range of attractions, over 100 shops, bars and restaurants, a casino, as well as an Olympic ice rink, a sports complex with swimming pool, water slides & fitness centre, 19 tennis courts, a climbing wall, bowling and a 3-screen cinema.
Describing all the activities that are available in Chamonix area would be long but with more than 46 different sports activities you will be spoilt for choice. There is even an incredibly scenic 18-hole golf course designed by Robert Trent Jones senior. 
Whether you are a beginner, an experienced hiker or somewhere in between, the Valley offers 430km of well-maintained and equipped hiking trails to suit all abilities. 
Chamonix is the world's top trail running destination. Set in an exceptional natural environment, the Chamonix Mont-Blanc Valley offers a variety of spectacular trails for all abilities. Every summer the valley hosts major international competitions and attracts athletes from all over the world. Not to be missed: the now famous Mont-Blanc Marathon and the must-see UTMB®.
About its location
The Chamonix valley is situated in the north-westerly part of the Alps, just 15 km from the Swiss border via the Col des Montets and 15 km from Italy via the Mont-Blanc tunnel. This valley, comprising Servoz, Les Houches and Vallorcine, also contains Mont Blanc, Western Europe's highest peak at 4,810.45m. 

The valley is of glacial origin and measures 17km, from the Col des Montets at the northernmost point to the Taconnaz torrent. 
Some recommendations for visits in Chamonix Valley this summer
Europe's highest cable car in Chamonix will take you to the fascinating Aiguille du Midi. The views from Europe's highest cable car station (3842m) are literally breathtaking. It is the closest you can get to the Mont-Blanc without climbing training! From there you can walk back to the famous 'Mer de Glace' with ease and catch Montenvers train back to town
The Montenvers romantic red train journey to the famous 'Mer de Glace' or 'Sea of Ice' is also captivating. Discover what a real glacier is: 7km long, 40sq km in area, 200 metres thick. Also available on site is a crystal gallery, a wildlife exhibition and the famous ice grotto
For more ideas read our blog about the '9 Summer Holiday Experiences Not to be Missed in Chamonix'!
Top summer activities to experience in Chamonix Valley
Please note Peak Retreats do not book any activities and most activities are payable. For more information about pricing and availability, please contact the Vallorcine Tourist Office on 0033 450 54 60 71 or visit info@vallorcine.com
MultiPass Mont Blanc 
You can book your Multipasses online including mountain biking here - https://www.montblancnaturalresort.com/en/nos-forfaits-ete
Aiguille du Midi
From the centre of Chamonix, a 20 minutes ride in the Aiguille du Midi cable car takes you to the gateway to the high Alps. From its height of 3,777m, the Aiguille du Midi and its laid-out terraces offer a 360° view of all the French, Swiss and Italian Alps. A lift brings you to the summit terrace at 3,842m, where you will have a clear view of Mont Blanc.
Step into the Void
Step onto a 2.50m glass cage out over a 1000m precipice. 
The pipe
A long steel gallery of 32m to make the full rotation of the central peak of the Aiguille du Midi.
Restaurants
A cafeteria and a souvenir shop are open all year round. In the summer, the "3842m" restaurant invites you to taste Savoie culinary specialities in a unique setting.
Panoramic Mont Blanc gondola
Once at the top, do not miss the gondola lift ride over the Glacier du Géant to the Pointe Helbronner in Italy. It is open from June to September.
Plan de l'Aiguille
The cable car ride between Chamonix and Aiguille du Midi is in two stages. At the intermediate stop, at a height of 2,310m, the Plan de l'Aiguille is the departure point for the Balcon Nord hike to the Montenvers site. Food and refreshments are available at lunch-time at the Refuge du Plan, 5 minutes' walk away.
Important info:

Wear warm clothing, sunglasses and sunscreen

Tour is forbidden for children under 3 years and not recommended under 5 years old

Time of outward journey: 20 mins in 2 cable cars climbing 2700m, with a stop on the way at the Plan de l'Aiguille

Duration of visit: including the journey, allow an average of 2 to 3hrs
Montenvers - Mer de Glace
Departing from Chamonix, this famous rack and pinion railway brings you to the Montenvers site at 1913m. An imposing panorama of the Mer de Glace glacier, the Drus and the Grands Jorasses. Stay in the hotel Refuge du Montenvers for a really special experience.
Ice cave
The tour of the "Grotte de glace" takes visitors into the very heart of the glacier. Re-sculpted every year, it describes the life of mountain people in the early 19th century. It can be accessed via a footpath taking 20 minutes or by gondola lift. Note: there are about 480 steps from the arrival of the gondola lift to the entrance to the cave.
The Glaciorium
Here the creation and evolution of the glaciers over the centuries are explained in detail in the exhibition centre.
The Temple of Nature
An innovative optical theatre takes visitors on a trip into the past where they will meet the likes of Forbes (the Scottish geologist), Chateaubriand, Louis Pasteur and Agutte the artist.
Note: the complete tour (including the cave and travelling time) takes an average of 2 to 3 hours. The time required for the tour may be doubled during peak periods.
Hiking
Hill walks include the hike from Montenvers to Plan de l'Aiguille via the Grand Balcon Nord hill-walking trail, and also the return descent down to Chamonix via Les Planards or Les Bois village.
Restaurants
There are 3 choices - either a Savoyard or traditional meal at the Restaurant du Refuge du Montenvers, or a lunch in the bistro with a view at Panoramique Mer de Glace or finally a quick snack at the Glacier Bar.
Chamonix Valley hiking and lakes
The valley offers 350 km of superbly maintained hiking trails, with 170 different itineraries offering walks adapted to all. You don't have to be a great walker to go and see the region's loveliest lakes. The Mont Blanc area has numerous lakes at altitudes between 2,000 and 2,500m which are attractive destinations for hillwalking. A walking map is available from the tourist office.
Interactive exploration of the Chamonix Valley
Itinério is a collection of 5 GPS-guided routes accessible to everyone that explore the Valley's natural and cultural heritage through different themes. Presented in the form of an app featuring the different routes that are downloadable free of charge. Vallorcine route: allow 2 hrs for the walk.
Vallorcine gondola lift
Hiking and mountain biking in France and Switzerland. Take the Vallorcine gondola lift up to the extensive Alpine meadows where you'll find footpaths suitable for all abilities. You can also enjoy prepared and waymarked mountain biking trails for both beginners and experienced downhillers.
The Trient Valley
Extends from Vallorcine to Vernayaz at the heart of the Mont Blanc area and invites visitors to enjoy an authentic and unforgettable experience. The area offers easy road access and is also linked by the spectacular Mont Blanc Express. Just 15km from Vallorcine, the Émosson Dam (1,931m) at the Col de la Gueulaz is Switzerland's second-largest dam evidence of the close link between the Trient valley and hydroelectric power generation. It is the starting point of a number of hikes and from here there is an uninterrupted panoramic view of Mont Blanc.
To get there, you have 3 options:
On foot: a day's walk so allow 6hrs there and back
By car: a 30-minute drive. Large car parks on site
Bus: from Finhaut railway station
Verticalp Emosson - this park includes three installations that take visitors from Châtelard village to the crest of the Emosson dam in less than an hour: the steepest two-cabin funicular railway in the world (87% gradient), a small-gauge railway with an amazing view over Mont-Blanc and a mini-funicular.
Marécottes Zoo and Alpine Swimming Pool - it is home to examples of most of the Alps' wild animals in their natural environment: black bears, wolves, lynxes, foxes, marmots, red deer and many other species. Accessible by train from Vallorcine - www.zoo-alpin.ch
Pony rides in Vallorcine
Pony rides and inflatable castles, near the train station. À Val'burgers snack on site. Open July/August.
Hiking with Huskies
Dog-led walks consist of just that - being guided by a trained Husky dog, giving commands by voice and visual signal. The dog keeps contact with the walker, be it a child or an adult, via a harness and tether. With help from your four-legged navigator, it is possible to travel great distances without fatigue, at the same time creating a bond with your animal that opens one to a new way to experience nature's pleasures along the journey.
www.huskeydalen.com
Tel: 0033 684 99 34 67
Evasion Nordique
In the summer months, there are kennel tours and "cani-rando hikes" for families and groups of children. You can even learn about the history of dog sledding. Summer activity is especially suitable for groups of kids!
Le Crot, Vallorcine
www.evasion-nordique.com
Tel: 0033 682 09 50 03
Chamonix Valley Mountain biking
Chamonix Valley-Mont Blanc mountain biking map is available free of charge from the Tourist Offices. It features around twenty waymarked circuits.
Head for the Balme / Vallorcine biking area, the perfect spot for mountain biking, with a variety of slopes for all abilities. Using the ski lifts you can easily get to the prepared and waymarked trails.
The Marmottes green downhill trail - Charamillon-Le Tour, start 1,912 m / ends at 1,460 m
Les Cerfs, red downhill trail - Start at 1,850 m / ends at 1,460 m
Chamonix Climbing
Chamonix's granite attracts climbers from all over the world. Superb mountain routes, prestigious north faces or more accessible rock faces and boulders for amateur climbers and beginners.
There is also an indoor climbing wall at the Richard Bozon sports centre: 180 m2 climbing surface, 800 holds, height 3,60m.
Chamonix Richard Bozon Swimming pool
25m swimming pool, amusement pool with waterfall, river rapids, water jets and massages, 130m covered toboggan, solarium, solarium, hot tub, hamman, sauna.
During the summer season, opening of the Chamonix-Mont-Blanc outdoor swimming pools:
A swimming pool of 50 m with 6 lines of water

A fun pool of 141 m² with massaging jets

A Pentagliss' (easy slide of small size) of 17 m with 3 different corridors for the children.

Beach and snack bar
Chamonix Richard Bozon Indoor ice rink
All year-round, you can go ice skating on the 60 x 30 metres indoor Olympic rink. The skating rink now has a seating capacity of 1,700. 

Chamonix Leisure Park
The Chamonix Amusement Park is an ideal place to spend a great day out with the family. For starters, there is the Chamonix Luge Alpine Coaster, a real Roller Coaster in the mountain! But there are also slides, toboggans, trampolines, a playground…Not forgetting the electric motorcycles, indoor and outdoor play areas, giant swing, flying boat, looping machine, a Tyrolean rope, 2 water pistols and more! All games and activities for children aged from just 3-year-old. The 4 seat chairlifts of Les Planards will bring you up to 4 000 ft!

You can enjoy lunch and snacks at the bar restaurant or bring your own and relax at one of the picnic spots.
Merlot Wildlife Park (Les Houches)
Situated at 1500m, in front of the Mont Blanc, the animal park of Merlet is a magnificent 50 acres park where ibex, chamois, marmots, stags, deers, hinds and llamas move around in freedom!
Mont Blanc Forest (Les Houches)
info@indianaventures.com
2185 Route de Coupeau
74310 Les Houches
Travel from tree to tree, in a magnificent forest situated in front of the Mont Blanc massif. Sky-high thrills in complete safety: take zip-wires, rope bridges, tunnels, rope ladders and skywalks...
For adults: 7 circuits of various levels and 75 aerial challenges from tree to tree on a trail covering 3 hectares.
Introduction and accompaniment by a professional instructor for the 5 first activities. Technical equipment provided.
Minimum height 1m35 (4 ft 5).
For children: different circuits by height range including:
I

ndiana Parc: 75 obstacles from tree to tree from 1.35m

Indiana Kid: Secure in a splendid forest facing the Mont-Blanc child route (from 105 cm to 135 cm)

Small Kid: From 105 cm. The route is completely secure
Other activity contact details 
Restaurants and bars in Vallorcine
Vallorcine has a very small number of restaurants, a couple max. But the village is very small so it's not surprising. However, Chamonix is only 10 miles away.
There is a snack bar near the train station, only open in Summer.
Restaurants and bars in Chamonix
Chamonix hosts a wide selection of typical cafes and tempting pastry shops along with around 20 bars, over 80 restaurants, 100 shops and a number of clubs. 
Chamonix has very lively nightlife should you wish to indulge in this...
Vallorcine amenities
Vallorcine is only small, so there isn't a huge number of shops. Check out the gift shop at the Vallorcine Office. There is a wide range of products and gift ideas.
There is a Bar-Tobacconist-Newsagent in the main village which is open most days. And a grocery store for your everyday food needs. Larger supermarkets can be found in Chamonix.
Organic red fruits & vegetables - the produce is for sale in the afternoon on Tuesdays, opposite the bar/tobacconist/ newsagent in the main village. 
La Ferme de Vallorcine also has direct sale of cheese.
For bigger shops or more variety, Chamonix has it all. Saturday is market day here.
Accessing Vallorcine
By Road (self drive options pre-bookable with Peak Retreats): 
Driving distance from Calais to Vallorcine 530miles (8hrs)
Direct access by the 'Autoroute Blanche' (Motorway), connected to the European motorway network, all the way to Chamonix. Then on the RN 506 to Vallorcine (17 km), heading towards Switzerland. 
By Rail (pre-bookable with Peak Retreats): 
TGV to Saint-Gervais (35km transfer or regional train).
The Mont Blanc Express train line makes travelling between Saint-Gervais les Bains le Fayet and Vallorcine very easy, via the villages of Les Houches and Chamonix. It extends into Switzerland to the city of Martigny.
With an average of a train per hour and 18 stops, take a nice and easy ride along this beautiful valley. 
Connecting TGV trains to Annecy and Geneva.
By Plane (not pre-bookable):
Geneva Airport is 116km from Vallorcine (1 ½ hours)
www.gva.ch/en   
Chambery Airport is 149km from Vallorcine (1 ¾ hours)
www.chambery-airport.com
Lyon Saint-Exupery is 236km from Vallorcine (2 ½ hours)
www.lyonairport.com
Grenoble Airport is 243km from Vallorcine (2 ½ hours)
www.grenoble-airport.com
Vallorcine Airport Transfer or Car Hire (pre-bookable with Peak Retreats):
Call our reservations team for details on 0844 576 0170 or email reservations@peakretreats.co.uk for a quote and availability.
Getting around the Chamonix Valley
Mont Blanc Express - The SNCF line serves all the villages from Saint Gervais-le Fayet to Martigny (Switzerland), passing through Servoz, Les Houches, Chamonix and Vallorcine. One train approximately every hour. The SNCF line from Servoz to Vallorcine is free of charge for holders of the Carte d'Hôte pass, which is given to you on your arrival by your accommodation host.
Chamonix Bus - Regular urban transport serves all the Valley and it is free from Servoz to Le Tour for holders of the Carte d'Hôte pass.

Chamonix Valley Events Summer 2018
Marathon du Mont Blanc - 28th June-1st July 2018
A trail event gathering 8 races. Several distances are offered to riders from all over the world to participate in family or friends. Under the name Marathon du Mont-Blanc, the 8 races are organized: 80km from Mont-Blanc, 42km from Mont-Blanc, 23km from Mont-Blanc, KM Vertical du Mont-Blanc, Star Race, Young Race Marathon, Blanc and Mini cross of Mont Blanc (800m to 3km reserved for children according to their age categories). 

For 4 days, the Chamonix Valley will vibrate with the rhythm of the races, 30 000 people will be present on Chamonix to attend or participate in this event, and everything is done to welcome runners, accompanying people and spectators in the best conditions.
UTMB - 27th August-2nd September 2018
Unique in its kind, this event crosses 3 countries on foot (France, Italy and Switzerland), covers 166 kilometres and 9,400 metres climb in one fell swoop.