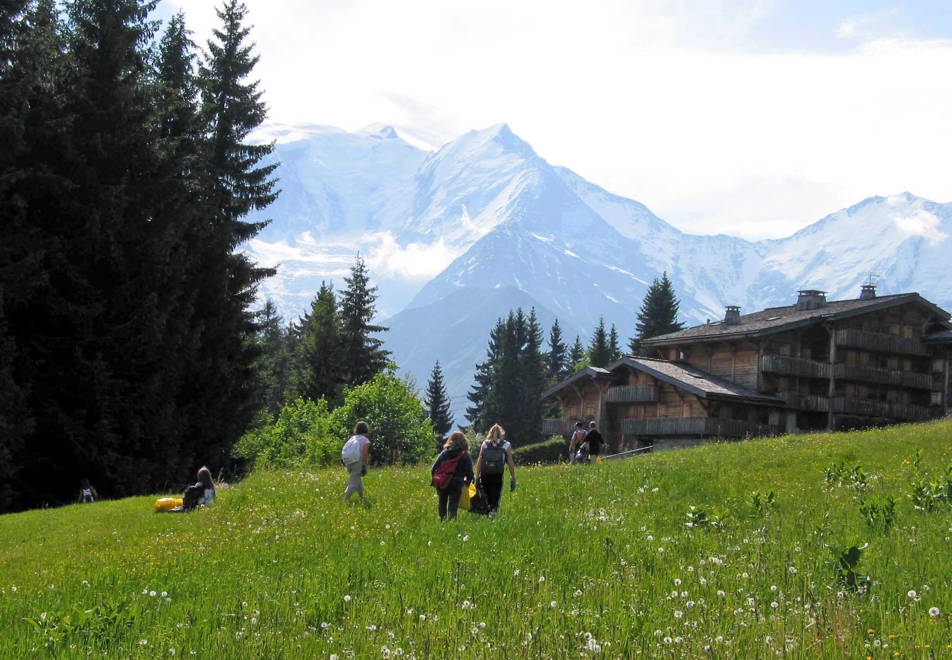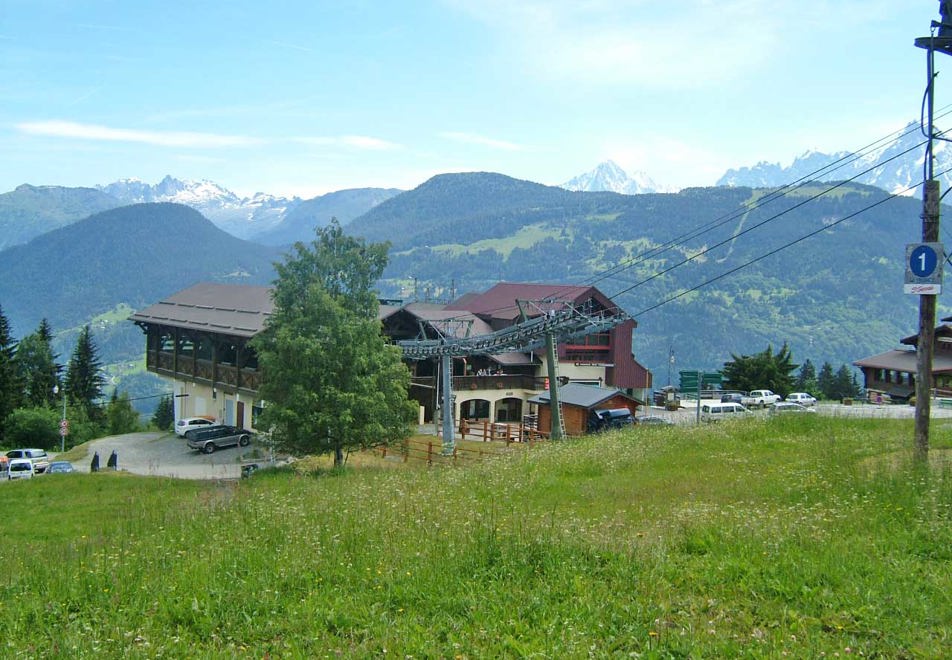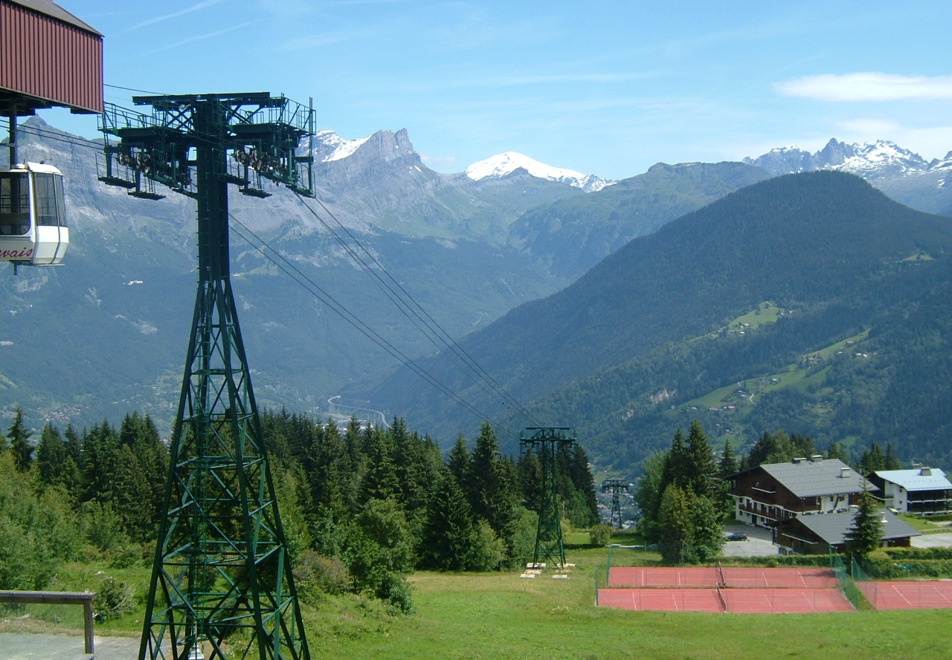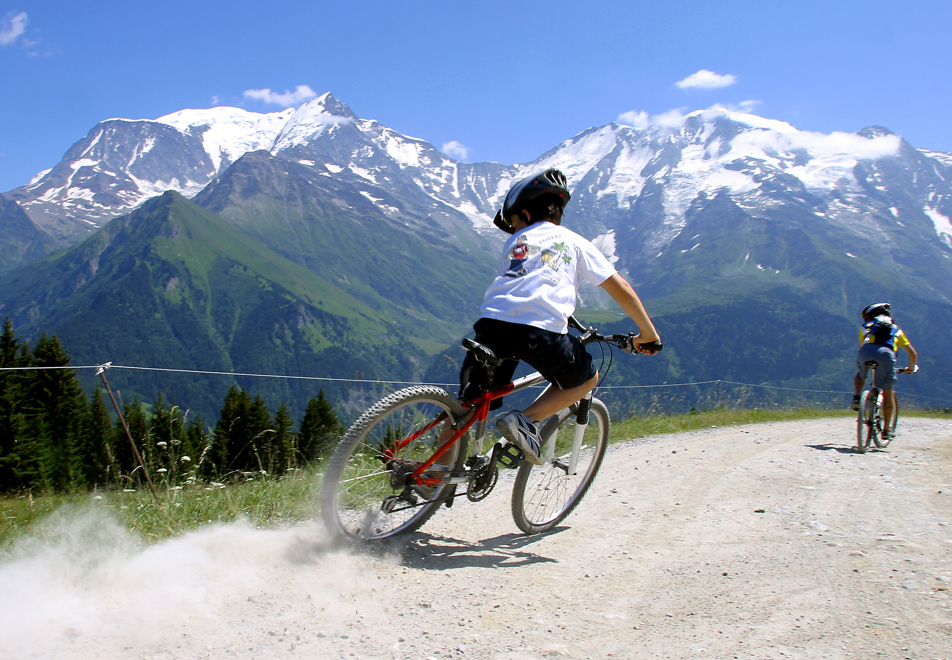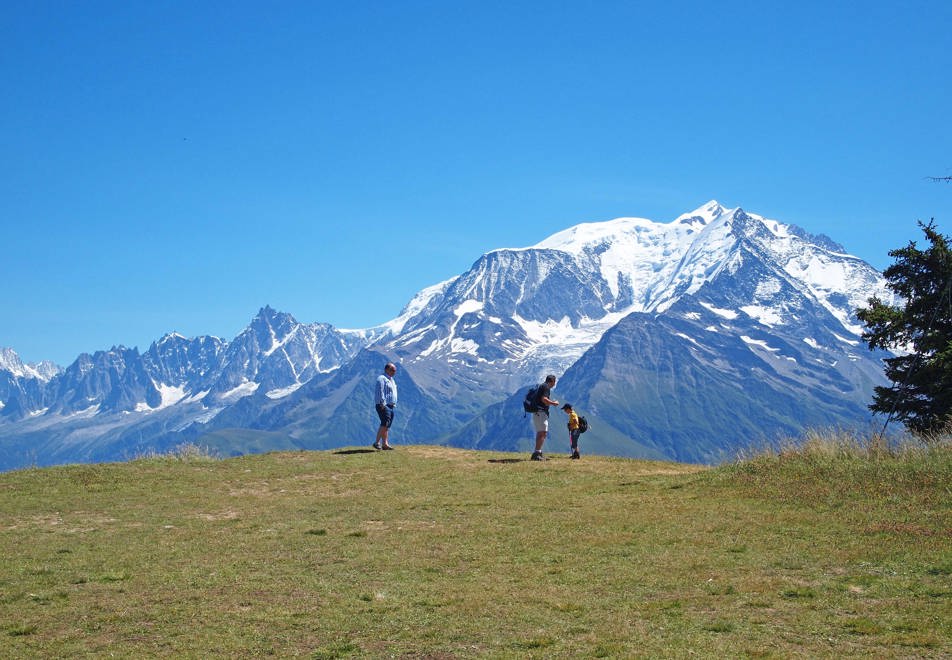 Situated at the foot of Mont-Blanc and 20 minutes from bustling Chamonix, the spa resort of Saint-Gervais with its Baroque church and pedestrian areas has attracted tourists since 1806.
Set in a narrow river gorge halfway between Megève and Chamonix, the landscape is impressive wherever you look. This small Savoyard market town offers an excellent selection of interesting food shops, cosy bars, nightclubs and restaurants. Every Thursday morning in Saint-Gervais there is a superb genuine market
Among Saint Gervais' attractions are thermal baths with spa treatments, a cinema, casino, and many outdoor activities available such as an Olympic skating rink or unforgettable walks and rambles with over 180km of marked paths and trails, including a Baroque footpath. There is also a great children's club offering plenty of games and activities and you can visit a traditional old farmhouse with a trip to the Ecomuseum. Finally, an excursion up the mountain on the Mont-Blanc Tramway is not to be missed.
The Mont Blanc Tramway is one of the last rack & pinion trains in France although the locomotives are no longer steam powered. In summer, the Tramway takes you to the foot of the Bionnassay Glacier, the Nid d'Aigle, at an altitude of 2372 metres. From here experienced mountaineers can climb to the Tête Rousse and Goûter mountain huts, and the Mont Blanc.
Places of interest around Saint-Gervais
·          Chamonix: The world capital of mountaineering is only a short drive away. Very cosmopolitan it boasts first-rate leisure facilities and a huge range of shops and restaurants.
·          L'Aiguille du Midi is reached by cable car from Chamonix. The views from Europe's highest cable car station (3842m) are literally breathtaking. From there you can walk back to the famous 'Mer de Glace' with ease and catch Montenvers train back to town.
·          During the course of you stay, discover the benefits of health and beauty spa treatments at the hot springs. Saint-Gervais is the only 'Alti Forme' resort in the Alps
·          Tramway du Mont Blanc
Top summer activities to experience in Saint-Gervais
Please note Peak Retreats do not book any activities and most activities are payable. For more information about pricing and availability, please contact the Saint-Gervais Tourist Office on 0033 450 47 76 08 or visit tourisme@saintgervais.com
New Ninja Course 
A Ninja course opened next to the St Gervais-Mont d´Arbois gondola, at an altitude of 1800m, facing Mont-Blanc. The "Ninja course" is an obstacle course with several levels of difficulty. Between zip line, rope games, balance tests, barrel rolls and around twenty other obstacles, it offers a variety of challenges that will appeal to everyone. The Learner Ninja will need to demonstrate agility, courage and strength to rise to the challenge! Course available from 6 years old. Free access, open every day. 
Games for young children: toboggan, swing, treehouse and zipline
Access: with the lift from Saint-Gervais (20min), with the lift from le Bettex (10min) or hiking from le Bettex (1.5 hours approximately)
The Valmontjoie Leisure Pass
To gain access to even more activities and take full advantage of the Valmontjoie Valley, the resorts of Saint-Gervais and Les Contamines-Montjoie have teamed up to give you access to more leisure activities this summer. With your Valmontjoie Leisure Pass (Pass Loisirs Valmontjoie), you have unlimited access to:
- The summer ski lifts in the Evasion Domain,
- Swimming-pool of the thermal park,
- Les Pontets lake,
- The mini-golf courses,
- The biathlon or archery,
- The library,
- The Museum of Sacred Art
St Gervais Adventure Parc
Allée de l'Escalade - Parc Thermal - Le Fayet - 74170 Saint-Gervais
www.parcouraventure-stgervais.fr  • thevenard.pierre@wanadoo.fr
Open: during the Easter holidays and in June: ON RESERVATION.
From the end of June to early September from 10.00 to 18.00 except on Saturday morning.
A treetop adventure trail in the quiet and shade of the park in Le Fayet.
Rope ladders, swings, monkey bridges, suspended bridges, nets etc.
Great fun for all the family.
Enjoy a giant step of adventure! What jumps, runs and bounces? Come and try our spring-mounted stilts! Introductory sessions from 5 years upward.
St Gervais Walking
180 kilometres of trails and footpaths. Enjoy a family stroll or an alpine hike.
St Gervais Paragliding
A2L - Parapente
Ecole label FFVL et DDJS
Triball'Shop (opposite the cable-car)
74170 Saint-Gervais
www.A2L-parapente.com  • contact@A2L-parapente.com
No vertigo and minimum physical effort on your part - dare to go on a 15- to 60-minute Caliente, Salsa or Fuego plane ride, accompanied by professional, qualified pilots (1st and 2nd level BEES). Every day, depending on the weather. Meet Sam Sperber, who has completed more than 16,000 tandem flights in 25 years, and his team opposite the cable car from April to October. Plenty of parking.
St Gervais Hot Air Balloon
Alpes Montgolfiere
Gerard Issartel
673, route du Val d'Arly - 74120 Praz-sur-Arly
www.alpes-montgolfiere.fr  - alpes.montgolfiere@wanadoo.fr
Open 7 days a week all year round. Minimum height required: 1m30.
St Gervais Swimming
Indoor swimming pool
Parc Thermal - Le Fayet - 74170 Saint-Gervais
www.monpaysdumontblanc.fr  • centresportif.pmb@orange.fr
Open in July & August, every day except Sundays and bank holidays, from 14.00 to 19.00.
Children under 8 must be accompanied by an adult.
St Gervais Minigolf
Avenue de Miage - 74170 Saint-Gervais
Open every day from June to September. Closed when the weather is poor.
St Gervais Tennis 
Stage de Tennis
Emmanuelle Durand
manou68@orange.fr
 Minimum age: 4 years old. Course from Monday to Friday (minimum 4 people):
Mini-tennis
Beginners and improvers 
Private or group lessons are available.
St Gervais Fishing
www.pechefaucigny-montblanc.com
Enjoy fishing in mountain lakes and streams. Fishing licence: fishing licence for sale at the Tourist Information Office in Saint-Gervais or at the local newsagents.
St Gervais 2 Wheel All Terrain
Dirt Monster - Claude Penz Sports
Gare de la télécabine du Bettex - 74170 Saint-Gervais
www.claudepenz-sports.com • info@claudepenz-sports.com
Open from 20th June to 1st September
Discover the "Dirt Monster", an all-terrain scooter with Quad tyres and disc brakes. Hurtle down the slopes of the ski resort after taking the Mont d'Arbois cable car. Helmets were provided for safety.
St Gervais Scooters
394, avenue du Mont D'arbois - 74170 Saint-Gervais
Open from July to late August.
A fun, easy outing to enjoy the mountain in a very pleasant, relaxed way, in total freedom. So join in Saint-Gervais at the Booking Office at Tout Le Monde en Parle,
394 Avenue du Mont D'arbois. For ages 10 and up.
St Gervais Mountain Bike
You can ride freely on the mountain bike trails in Saint-Gervais, a peaceful way to discover the exceptional landscapes that surround Mont-Blanc! Follow the signposted circuits around the impressive natural sites. Each trail has its own special features. Whether you're a novice or a mountain biking expert, there are many paths to choose from, so you can enjoy a new outing every time. Most of the trails can be accessed via the ski lifts, so you can enjoy a downhill mountain bike ride with minimum effort in the Evasion Domain or on the slopes of Le Prarion. We strongly recommend wearing a helmet!
MTB rental
193, avenue de Genève - Le Fayet - 74170 Saint-Gervais
Information and itineraries are available from the Tourist Office.
ADVENTURES Payraud - Session Raft
Rafting - Kayak Raft - Hydrospeed - Canoraft - Canyoning
Benjamin Payraud
www.sessionraft.fr  • contact@sessionraft.fr
From a simple outing to a sporty descent, the team at Session Raft are eager to share their passion for white water sports in the local rapids: rafting, hydrospeed, canoraft & inflatable kayaks on the rivers in the Mont-Blanc region.
St Gervais Hike with a donkey
Randonnée avec un âne Hiking with a donkey
Les Ânes Montagnards
55, chemin du Creux - 74170 Saint-Gervais
Tél. +33 (0)6 51 28 56 35
www.lesanesmontagnards.com  • xavier.tuaz-torchon@lesaem.org
Open from 15th June to late September at Crozat in Bionnassay.
Spring and autumn in Saint-Gervais. Opening times: 9.00 - 18.00.
In solo or with a professional, discover the joys of hiking with a donkey. Discover the charms of Saint-Gervais with a pack donkey.
In summer the base camp is situated in Bionnassay, an authentic alpine hamlet and departure point for numerous hikes.
Dolly, Nestor, Momie, Léon and all our 4 legged friends await to share an exceptional adventure. 
St Gervais Indoor ice skating
77, impasse Cascade - 74170 SAINT-GERVAIS
Indoor Ice skating rink
St Gervais Bungee Jumping
Come and enjoy a bungee jump from the new Saint-Gervais Bridge. A rather special way of seeing the Bonnant Gorges, with professional supervision.
Contact the Tourist Office for more information.
Saint Gervais Spa
Saint-Gervais natural spring water
Saint-Gervais natural spa water springs from Mont-Blanc at a constant temperature of 40°.
Spa Circuit
The Mont-Blanc Baths are a unique experience dedicated to your health and well-being. A modern 1000m2 decor is conducive to deep relaxation and reflective of the mineral properties of Mont-Blanc water renowned for the past 200 years. The 2 ½ hour spa circuit is composed of three different stages.
Free of charge!
• To prolong this exclusive spa experience, a beauty therapist will massage your face for 2 to 3 minutes with Saint-Gervais Mont-Blanc Spa Water Moisturiser!
• For optimal recovery, help yourself to a choice of herbal teas, dried fruits and fresh fruits of the season.
Ice Spa
999, avenue de Miage - 74170 Saint-Gervais
www.icespa.fr  • florian@icespa.fr  
Late night opening with a meal on request.
Latest generation venue: Sauna, Steam room, hot tub, water bed, fun showers, outside Jacuzzi, Lounge Bar, relaxing cocktail evenings.
Massage: Californian, Hot Stone, deep tissue, Ayurvedic, candle, exfoliating, face treatments, etc. Carried out by our team of professionals.
Themed evenings, special events, promotional offers, etc.
Tramway du Mont Blanc
Tramway du Mont-Blanc Mont-Blanc Tramway
Gare TMB - Saint-Gervais / Le Fayet
www.compagniedumontblanc.com

More commonly known as the TMB, the Mont-Blanc Tramway enables you to access some of the most extraordinary panoramic views. It is the departure point to numerous alpine hiking itineraries of which certainly give access to high altitudes. For a family walk or a sporty outing, there are plenty of reasons to ride this legendary rack and pinion train. Discover a variety of alpine landscapes along the journey and some of the most sumptuous views from the top. More than a simple excursion, a true discovery!
Onboard the last train of the day, go for an unforgettable experience! Accompanied or not by a mountain leader, discover the scenic beauty of dusk to dawn enjoying the warm welcome of the first refuge on the "Voie Royale", the Refuge du Nid d'Aigle.
St Gervais Climbing
Companie des Guides et des Accompagnateurs
www.guides-mont-blanc.com
Climbing and Mid-range Mountains
Children: the guides offer weekly climbing courses with 3 half-days on the learner slopes of Le Fayet.
Adults: from 3 hours to full-days or as 2-day courses. The Massif has plenty of opportunities for learning and improving.
Chemins d'en Haut
51, impasse de la Chaudanne - 74170 Saint-Gervais
www.cheminsdenhaut.fr • sylvie.marsigny@gmail.com
Varied programme of hikes for all levels of experience.
Monday morning: Medicinal and Culinary Plants hike
Tuesday: Between two glaciers: the Mont Vorassay Tour
Wednesday afternoon: The World of Red Ants. Walk for 5 to 10-year-olds accompanied by an adult.
Thursday: Panoramic Mont-Blanc hike (Grand Croisse-Baulet, Aiguillette des Houches, etc.)
Friday: Inside the Valmontjoie Valley, the Rocks speak... (Col de la Fenêtre, Lac Jovet, etc.)
Experience the new climbing centre in the pile on the right bank of the new Saint-Gervais Bridge. Discover all the paths in this unusual climbing room, with a tutor or on your own! Contact the M.J.C in Saint-Gervais for more information.
St Gervais Casino
Rond-point des Cristaux - Route de l'Artisanat
Le Fayet - 74170 Saint-Gervais
700m² of pure amusement. Open all year round, 7 days a week from 11.00 to 2.00 Sunday to Thursday and 11.00 to 3.00 on Friday, Saturday and evenings
before bank holidays.
The team at the casino invites you to enjoy 60 one-arm bandits and 2 Texas Hold'hem Poker tables. Over 18s only.
Bar Restaurant - Open from Thursday to Monday evening. Service until 23.00. Open to all the family.
9 Bars, 20 restaurants (St Gervais and surrounding areas), shops, a cinema with 2 screens, casino, and a youth club.
There is also a nightclub in the centre of the village, right below the Tourist board office: 'Le Duplex'.
Secteur du Prarion
La Charme Christian & Claudy Fournier
Tél. +33 (0)6 10 24 24 53
Sale of goats' cheese and farmhouse snacks. Open from late June to mid September 2013.
Le Chalet des Grands Prés
Tél. +33 (0)6 19 17 03 65 - denis.pelloux74@orange.fr
From 1st July to 31st August 2013. A former shepherd's chalet surrounded by pasture, located at an altitude of 1,500m. Panoramic view over the Mont-Blanc chain, the Les Fiz chain and the Aravis chain. Midday meal provided. Farcement (potato loaf with bacon, dried fruit and spices) is available from Tuesday to Saturday (reservations before midday the day before). Salad, Alpine hash, charcuterie, omelettes, etc. Easy to reach (30 min).
Restaurants in St Gervais (others available in surrounding villages)
4 Épices +33 (0)4 50 47 75 75
Bistrot Le Saint Ger +33 (0)4 50 53 98 31
Brasserie du Mont-Blanc +33 (0)4 50 90 44 84
Brasserie du Tramway du Mont-Blanc +33 (0)4 50 78 09 78
Café Rodolphe +33 (0)4 50 96 53 80
L'Affiche +33 (0)4 50 93 16 53
L'Édelweiss +33 (0)9 83 24 75 86
L'Éterle +33 (0)4 50 93 64 30
La Pizza Pava +33 (0)4 50 90 44 59
Le BistrotSérac +33 (0)4 50 98 43 35
Le Corti +33 (0)4 50 47 78 42
Le Four Restaurant Grill +33 (0)4 50 78 14 16
Le Galeta Restaurant Montagnard +33 (0)4 50 93 16 11
Le Royal +33 (0)4 50 91 32 44
Le Sérac Gastronomique +33 (0)4 50 93 80 50 (Le Sérac has earned it first Michelin star in 2014)
Le Troubadour +33 (0)4 50 47 76 41
Lou Grangni +33 (0)4 50 47 76 39
Pur +33 (0)4 50 18 62 76
Val Joly & Spa Hôtel-Restaurant +33 (0)4 50 93 43 31
Takeaway food
L'Annexe +33 (0)4 50 93 55 62
L'Edelweiss +33 (0)9 83 24 75 86
L'Éterle - Pizzeria +33 (0)4 50 93 64 30
La Brasserie du Mont-Blanc +33 (0)4 50 90 44 84
La Brasserie du TMB +33 (0)4 50 78 09 78
La Pizza Pava +33 (0)4 50 90 44 59
Pizzeria "Tout le Monde en Parle" +33 (0)4 50 47 71 39
Mountain restaurants (accessible via foot or cable car)
Le Bettex
La Causette +33 (0)4 50 93 13 92
La Ferme de l'Avenaz +33 (0)4 50 93 12 35
Le Boitet (hiver) +33 (0)4 50 93 14 58
Les Grands Prés +33 (0)6 19 17 03 65
Les Communailles
La Grand Montaz +33 (0)4 50 93 12 29
La Ravière +33 (0)4 50 93 15 71
Mont d'Arbois
Chez la Tante +33 (0)4 50 90 80 18
Espace Mont Joux +33 (0)4 50 58 99 67
L'Idéal 1850 +33 (0)4 50 21 31 26
Sous les Freddy's +33 (0)6 99 49 17 70
Terrasse du Freddy +33 (0)6 69 25 14 62
Untitled +33 (0)4 50 93 05 84
Le Mont Joly
Chalet du Mont Joly +33 (0)4 50 93 10 10
Col de Voz a / Bellevue / Prarion
La Cha +33 (0)4 50 54 30 45
La Chalette +33 (0)6 80 51 06 26
La Tanière +33 (0)4 50 93 42 57
Le Courant d'air +33 (0)4 50 54 44 04
Prarion
Refuge du Fioux +33 (0)4 50 93 52 43
Snack du Col de Voza +33 (0)4 50 54 44 65
Saint-Nicolas-de-Véroce
Chez Ernestine (hiver) + 33 (0)4 50 93 13 08
Le Gouet (hiver) + 33 (0)4 50 93 20 97
Le P'tit Riquet +33 (0)6 81 86 07 42
Porcherey +33 (0)6 80 64 01 43
Snack le Schuss + 33 (0)4 50 93 21 93
By Road:
Driving distance from Calais to Saint Gervais 545 miles or 7hrs30
By Rail:
Direct TGV from Paris to Saint-Gervais
Saint-Gervais/Le Fayet railway station Tel. +33 836 35 35 35

Connecting TGV trains to Annecy and Geneva.
More information at any train station in France, by phone (from France): 0891 67 68 00 or Internet
Airports:
Geneva Airport is 86km from Saint Gervais (1 hour)
www.gva.ch/en  
Chambery Airport 124km (1 ¼ hours)
www.chambery-airport.com
Lyon Saint-Exupery is 206km from Saint Gervais (2 hours)
www.lyonairport.com
Grenoble Airport is 214km from St Gervais (2 hours)
www.grenoble-airport.com
Regular bus transfers from GVA to Le Fayet (nr St Gervais) via SAT bus,
40, place de la gare
74400 Chamonix Mont-Blanc
Tel: +33(0)450530115
http://www.sat-montblanc.com
Getting around the area
'Mont-Blanc Express' Train. The SNCF-CFF Saint Gervais-Chamonix-Martigny line serves all the villages from Saint Gervais/Le Fayet to Martigny (Switzerland), via Servoz, Les Houches, Chamonix, Argentière and Vallorcine. Use of the rail network between Servoz and Vallorcine is free of charge on presentation of a carte d'hôte.
Free travel on trains applies only to journeys starting and ending at stations between Servoz and Vallorcine.
Trains run hourly every day from 7am to 9pm. In France, no more than 5 bicycles may be taken on board a train.
During peak times, SNCF staff reserve the right to refuse to allow bicycles on trains.
In Switzerland, a fee is charged for carrying bicycles on trains.
The resort offers a shuttle bus service between villages and around Saint Gervais town centre. Prices from €1/day, €5/week and €20/season.
Airport transfer
Need an Airport Transfer? Prices from £89 per person based on 4 sharing a private return taxi from Geneva Airport to St Gervais. Call our reservations team for details on 0844 576 0170 or email reservations@peakretreats.co.uk
Sainte-Gervais News and Events 2021/22
News:
A ninja course opened in 2021

next to the St Gervais-Mont d´Arbois gondola, at an altitude of 1800m, facing Mont-Blanc.

 

The "Ninja course" is an obstacle course with several levels of difficulty. Between zip line, rope games, balance tests, barrel rolls and around twenty other obstacles, it offers a variety of challenges that will appeal to everyone. The Learner Ninja will need to demonstrate agility, courage and strength to rise to the challenge! Course available from 6 years old. Free access, open every day. 
Events:
Music and Heritage Festival August 2022.