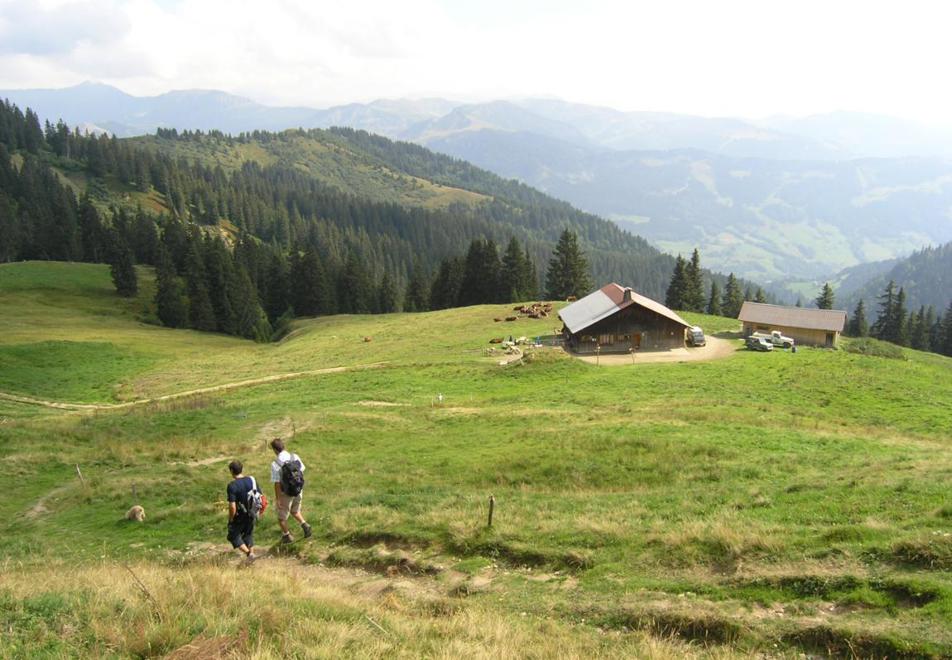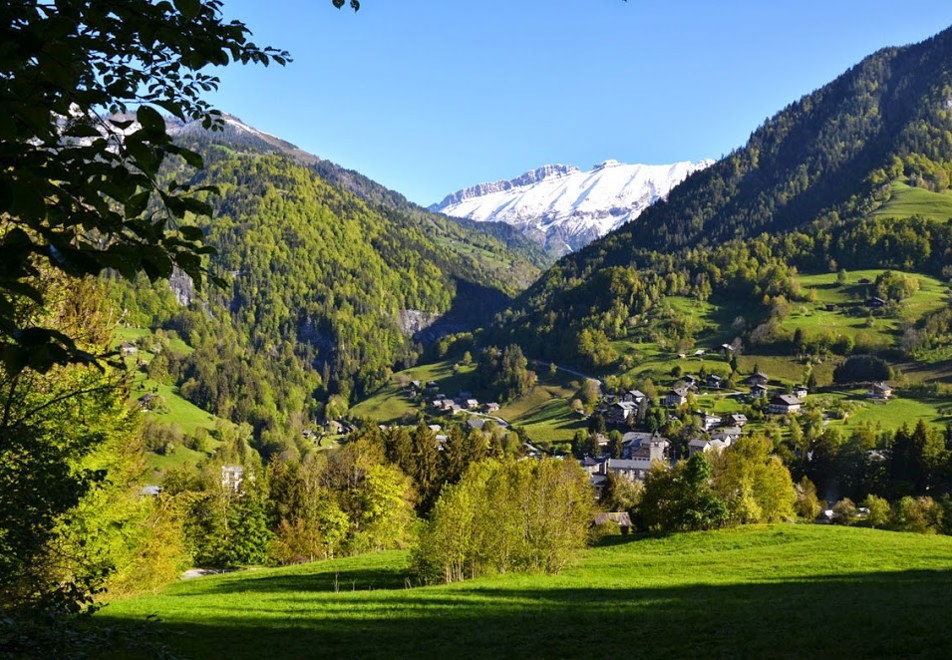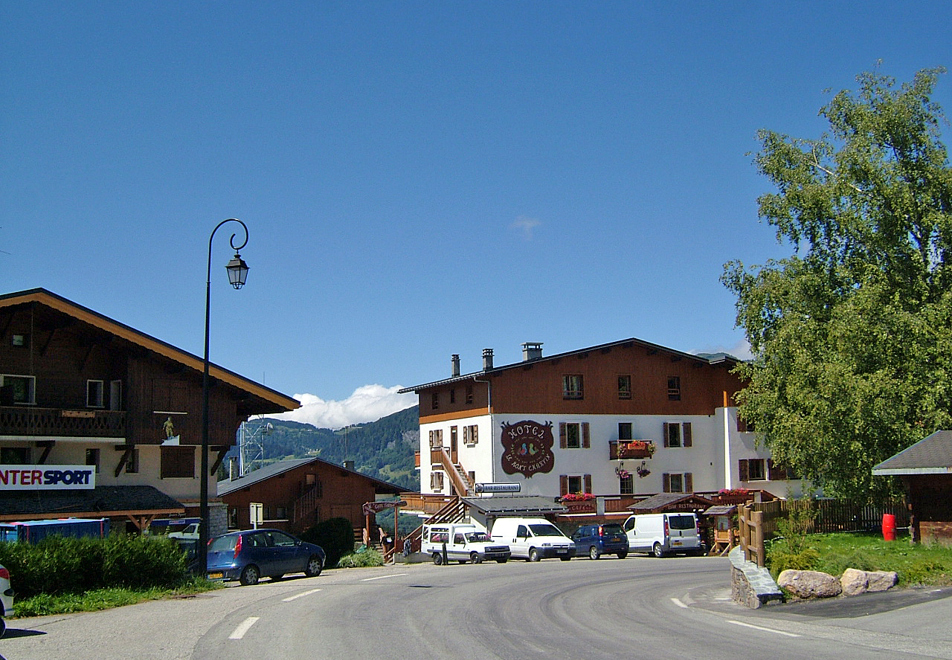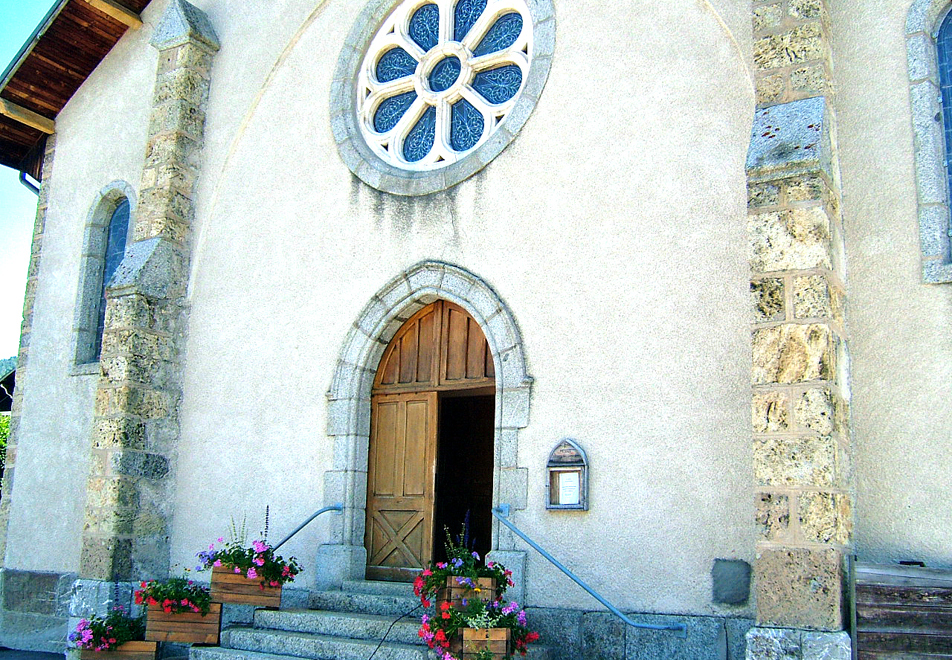 Notre Dame De Bellecombe is one of the most picturesque of all the French alpine resorts nestling just above Flumet in the splendid surroundings of the Val d'Arly.
It is located between the Aravis and Beaufortain mouintain ranges. The landscape in Notre-Dame de Bellecombe consists of spruce forests, alpine chalets set on mountain pastures, and snow capped peaks. It is easy to get to, from the south via Alberville or from the north via Sallanches – both 25 km from the motorway exits, or by TGV and connecting buses.
Words do not do justice to the village of Notre-Dame de Bellecombe, with its Baroque steeple as a centre piece and traditional wooden chalets spreading over 11 hamlets. The long sunny days are filled with traditional trade exhibitions and wine festivals as well as walks through the stunning scenery with fascinating wildlife and beautiful flowers. A local market is held every Monday morning in Notre-Dame de Bellecombe.
The town of Notre-Dame de Bellecombe and its charming inhabitants offer many facilities, including a theme park to learn more about life in the mountains, archery, childrens play parks, horse and pony riding, tennis, Street Hockey, Basket ball, Badminton, Volleyball, Mini golf and, of course, many delightful restaurants and bars.
Golfers can enjoy the diversity of 3 golf courses in the surrounding area, a 5 hole training course with driving range and putting green, and an open air driving range with instructors available. There are 16 marked footpaths and 27 mountain bike trails with varying levels of difficulty. The Lac chairlift opens twice a week for walkers and mountain bikes to get closer to the fabulous views of Mont Blanc.
Places of interest in Notre-Dame de Bellecombe
·          St Nicholas La Chapelle: Interesting 18th century church with bulb shaped bell tower
·          "Loue Croue" leisure centre, Flumet: Swimming pools, horse riding, archery, rafting and outdoor games
Top summer activities to experience in Notre Dame Bellecombe
Please note Peak Retreats do not book any activities and most activities are payable. For more information about pricing and availability, please contact the Notre Dame Bellecombe Tourist Office on 0033 479 31 61 40 or visit www.notredamedebellecombe.com
Notre Dame de Bellecombe Mountain Biking
The Espace Diamant XC Tour is 65 km between Crest-Voland, Notre-Dame de Bellecombe, Praz-sur-Arly and Flumet villages. You can start from everywhere to ride this tour and take the lifts on Tuesday, Thursday & Saturday to make it easier. Beaufortain region is famous for his freeride trails such as "la Dév'Albertville". This 19 km single track starts from Bisanne summit (2000 m high) in Les Saisies to arrive in Albertville (300 m high). 
Nature Beaufortain & Trans Val d'Arly lines: shuttles in Beaufortain & Val d'Arly, from Albertville to Aravis pass through Queige, Villard sur Doron, Arêches-Beaufort, Hauteluce, Les Saisies, Crest-Voland, Notre Dame de Bellecombe, Flumet, La Giettaz... All buses are equipped (with trailers or hold) to transport riders and their bikes.
Canyoning 
Come and play in a natural aquapark! Jump, slide, abseil down a waterfall - there's adventurous fun to be had in the middle of this natural environment. 
Outdoor laser game
Outdoors Laser Game, come and discover this activity at Les Praz ground. Without danger (no projectiles), accessible from 7 years old. You will be able to move in full nature like Rambo or Lara Croft (unlimited ammunition). 30 minutes to 2 hours session.
Quad and 4x4
Driving lessons and guided excursions in quad and 4x4 from the Col des Aravis for adults and teenagers, groups and seminars. Private pilot lessons for children from 6 years.

Climbing and Via Ferrata course
Collective and individual climbing courses (3 to 8 persons) from May to October. Climbing and Via Ferrata, on the climbing rock of Les Mottets or other nearby climbing areas. Sessions from 2 hours to 1 day. From 8.

Notre Dame de Bellecombe Cycling
More than 600km marked out the road in the region. The Tour de France often crosses the passes and valleys.
You can buy cycling maps at the Tourist Office. 
With the Timtoo Timing system, you can time yourself in the main passes rises. A microchip that you will rent at the Tourist Office will keep your time in memory. When you will come back home you can check your rising time on a dedicated website.
Aeroplane trips
Aeroplane trips in the Mont-Blanc mountain range. Fly over the roof of Europe with professional pilots for a bird's eye view of the Vallée Blanche and the glaciers of the Mont-Blanc mountain range. You cannot fail to be moved by the sense of wonder...

Leisure centre in nearby Les Saisies
Le SIGNAL, an area full of activities
- Leisure pool: paddling pool, swimming pool with streams for fun and lines for swimmers
- Welness: massage, hydrojet, hot tub, hammam, sauna,
- Sports: gymnasium (team sports & climbing wall), 2 squash courts and weights, cardio training & fitness area.
 Le 1650, bowling bar restaurant
- 6 bowling alleys
- Restaurant: inside & outside terrasse with a panoramic view over Aravis
- Bar lounge: special theme nights, big screen for sports events shows...
- Video games, billard, babyfoot
Paragliding in nearby Les Saisies
Les Volatiles
contact@les-volatiles.com - www.les-volatiles.com
Rafting in nearby Crest Voland
CREST-VOLAND / COHENNOZ
Bérod Sports - berod-sports@wanadoo.fr - www.berod-sports.com
Adventure Parc in nearby Crest Voland
Unique in the region, located in the "Nant rouge" canyon, in the middle of the woods, this treetop adventure park gives both children and adults the opportunity to try the following: monkey bridges, Tyrolienne slides (150 meters long), mini via ferrata.
Night outings. Fun trails for thrill-seekers.
Escaladventure - contact@escaladventure.com
www.escaladventure.com
Guide publisher Cicerone is worth a look at for books Walking in the Haute Savoie: South visit www.cicerone.co.uk
Bars, restaurants, cinema, nightclub, shops
2 mini-markets, cash point, bakeries, several sport shops, hairdresser, library, launderette.
Doctors, pharmacy, physiotherapist, dentist…
By Road:
Driving distance from Calais to Notre-Dame de Bellecombe 556 miles (approx 8hrs)
From Calais, take A26 Motorway towards Reims and Troyes, then Dijon, Mâcon then 'Autoroute Blanche' Motorway (A40 Mâcon – Cluses) exit Sallanches (no 20). Follow signs to Megeve, then Notre-Dame de Bellecombe. Notre-Dame is 13km after Megeve.
There are approximately 25 km from the motorway exit to Notre-Dame de Bellecombe.
By Rail:
Albertville 25km from Notre-Dame - Shuttle bus (Info at Tourist Office +33.479.31.61.40) or Taxi +33 479 31 63 36
Airports:
Chambery Airport is 86km from Notre-Dame de Bellecombe (1 hour)
www.chambery-airport.com
Geneva Airport is 98km from Notre-Dame de Bellecombe (1 ¼ hours)
Shuttle bus to Megeve then taxi (13km)
www.gva.ch/en 
Grenoble Airport is 153km from Notre-Dame de Bellecombe (1 ½ hours)
www.grenoble-airport.com
Lyon Saint-Exupery is 164 km from Notre-Dame de Bellecombe (2 hours)
www.lyonairport.com
Airport transfer
Need an Airport Transfer? Prices from £88 per person based on 4 sharing a private return taxi from Geneva Airport to Notre-Dame. Call our reservations team for details on 0844 576 0170 or email reservations@peakretreats.co.uk