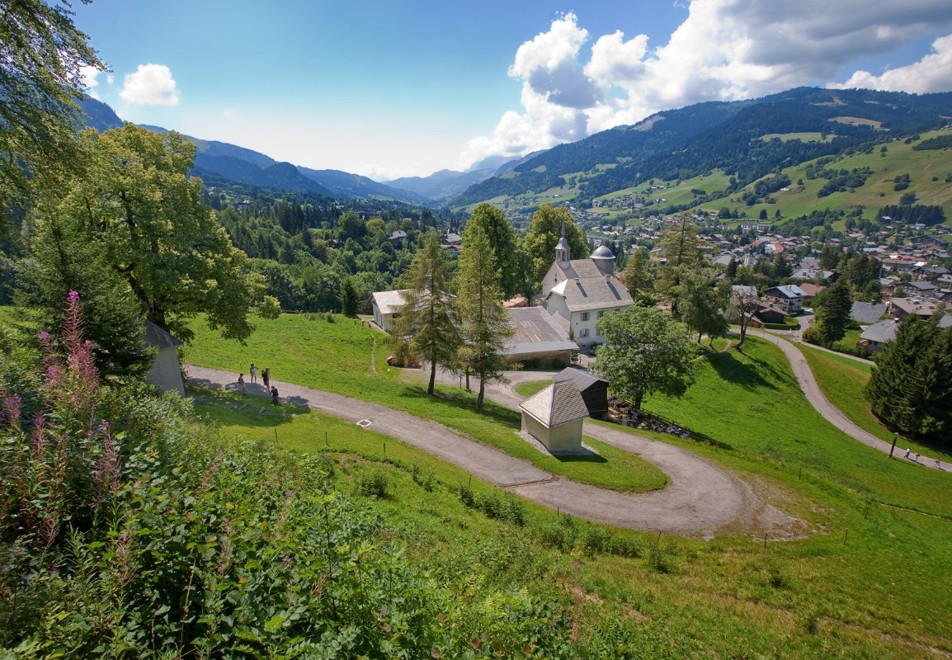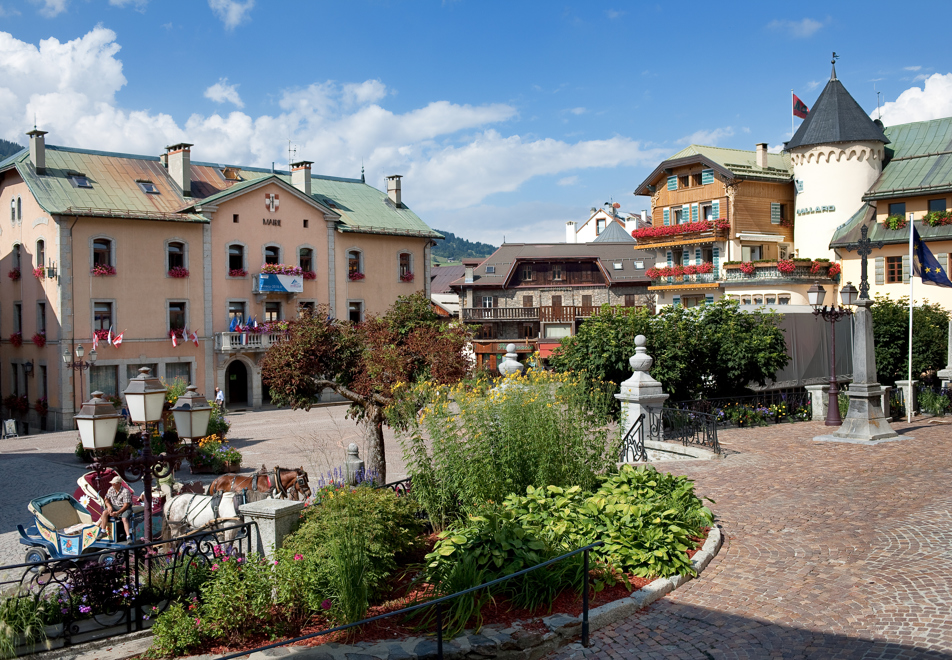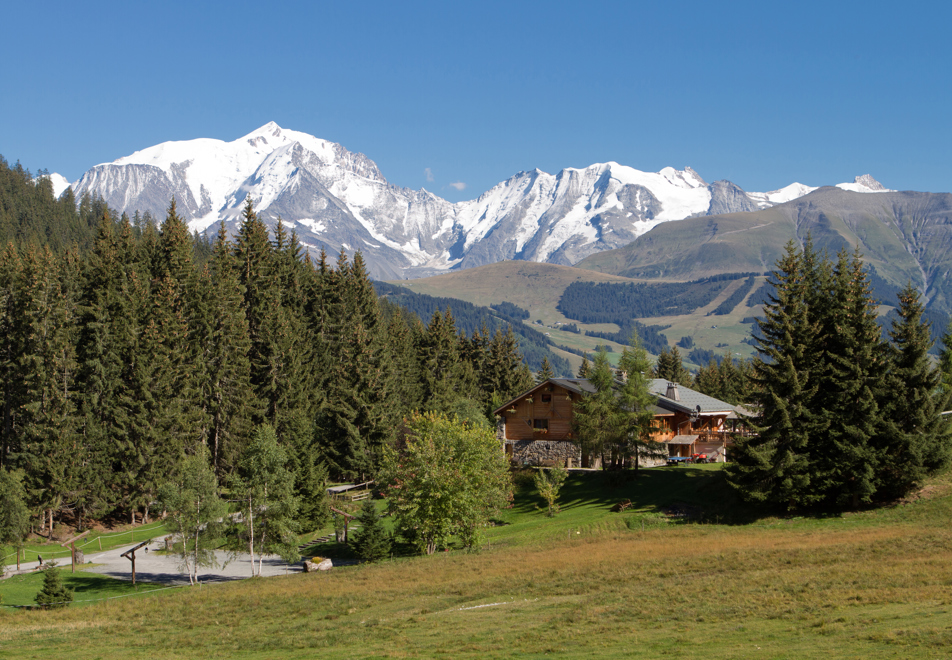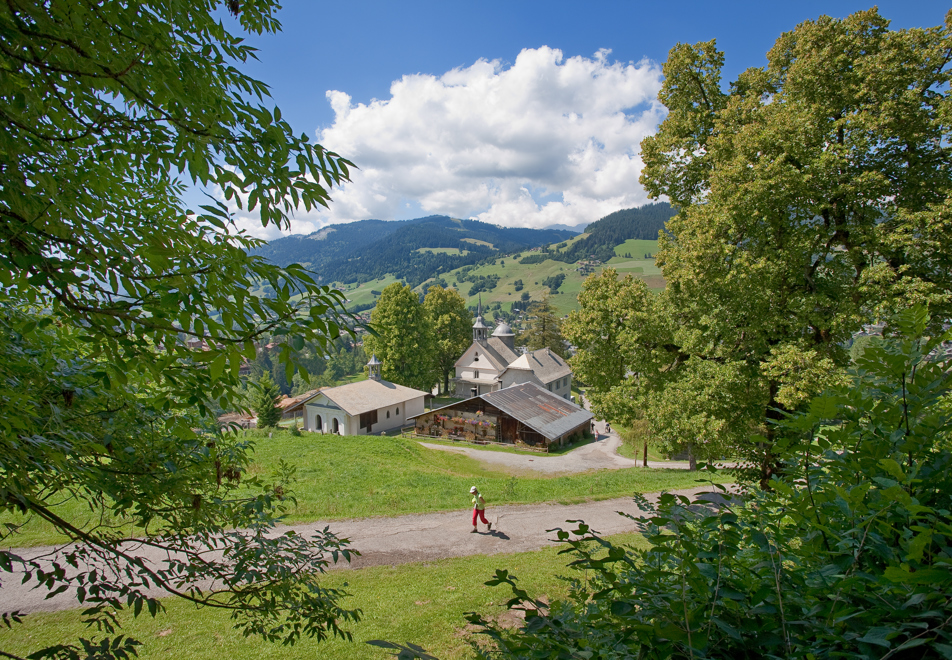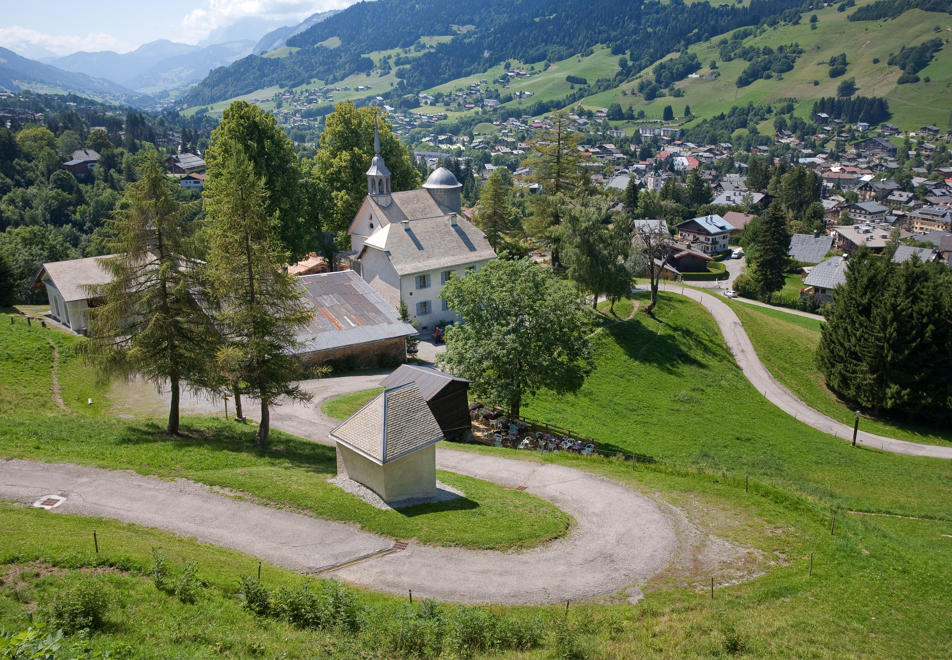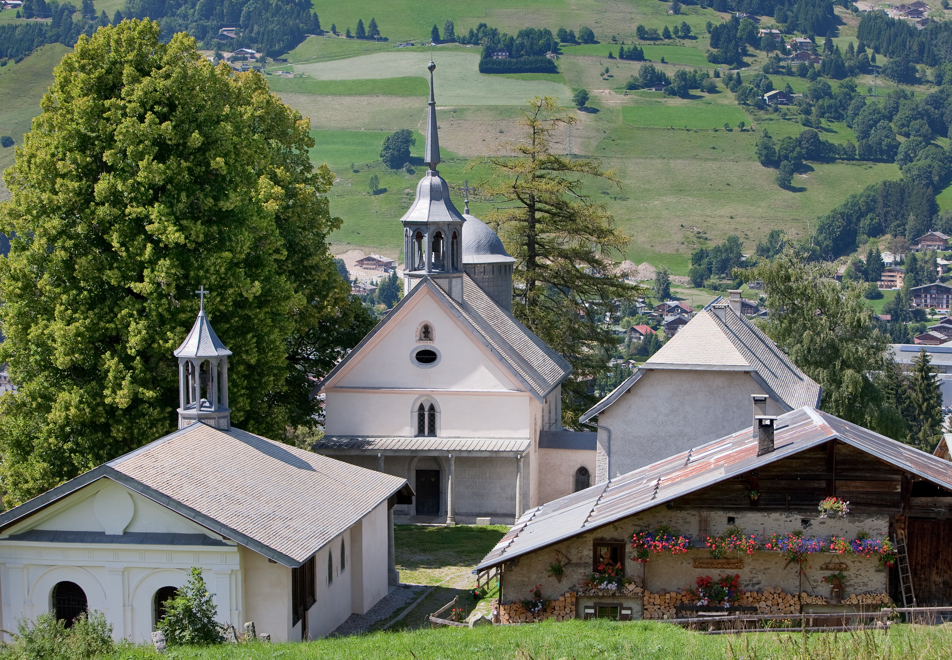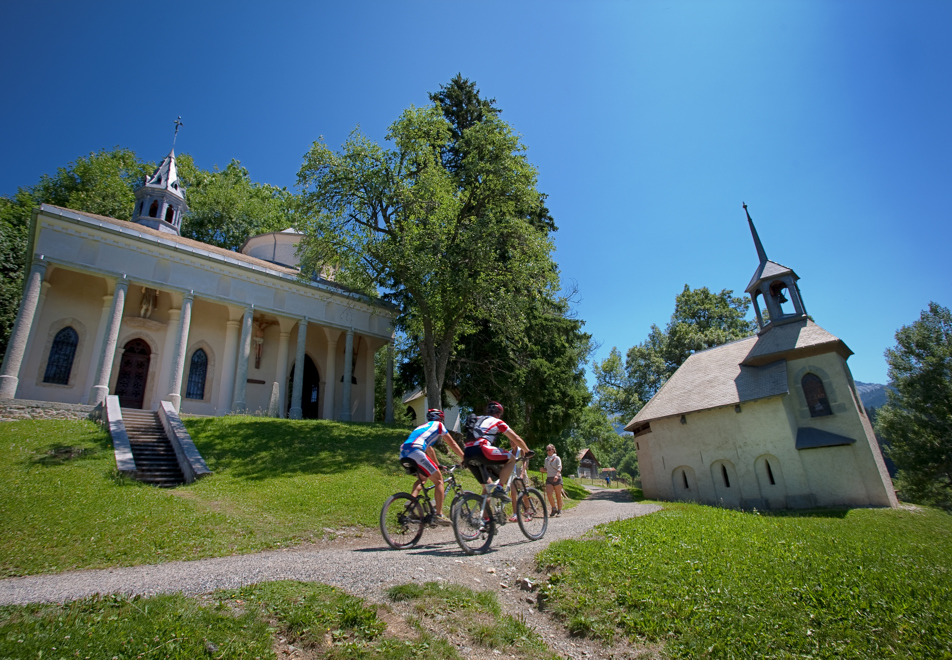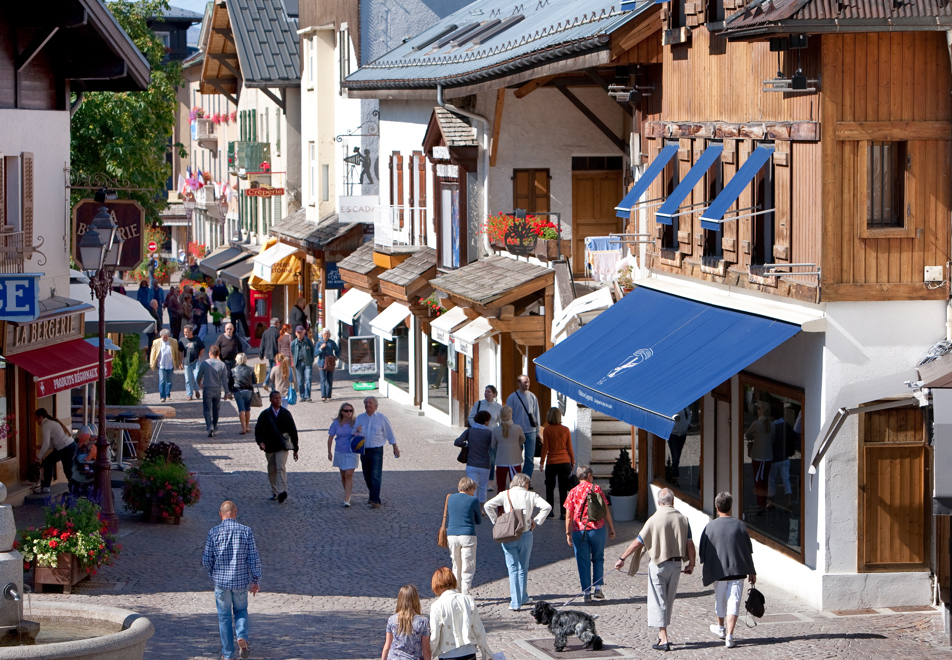 An enchanting town set in a lovely sunny setting which has retained its heritage and old rustic charm to become a popular resort in France both winter and summer.
The mountain is accessible by foot, by mountain bike, by horse, by donkey and by cable car, and as you would expect, the views are tremendous. It has a beautifully preserved medieval centre with narrow cobbled streets, tastefully restored buildings, fountains, a pretty church, horse-drawn sleighs, and a market on Friday mornings.
There are lots of smart clothing, jewellery, food, antique and gift shops in Megeve. Or you could pamper yourself instead at the various beauty centres offer reflexology for face and body, Thalassotherapy treatments, facials, massages and body scrubs. There is a sports centre with ice rink, swimming pools, climbing wall and gym, plenty of marked paths for walkers and cyclists surround the area, an adventure park, clay pigeon shooting, horse riding and much more. Golfers can enjoy the diversity of 3 golf courses in the surrounding area, a 5 hole training course with driving range and putting green, and an open air driving range with instructors available.
Throughout the summer there are various traditional shows, festivals and exhibitions to entertain visitors and locals alike in Megeve.
Framed by the Massif du Mont Blanc and the Chaine des Aravais mountains, Megève is accessed from Sallanches (13 km – motorway exit and TGV train).
Places of interest in Megeve 
·          Haut Val d'Arly Museum: Over 600 exhibits showing the history of winter sports and the life, customs and crafts of the village people.
·          Medieval Megève: Very pretty area, 13th century church with bronze dome, priory and tower, cobbled alleys and stone bridges.
·         The Calvary trail: a former place of pilgrimage and a replica of the Way of the Cross, in Jerusalem. It ascends the heights of the village, dotted with chapels and oratories retracing the scenes of the passion of Christ, and offering an outstanding panoramic view over Megève and its surrounding area
Megeve Mountain Biking
Over 300 km of paths and trails, backed up by a vast network of ski lifts, this activity reveals itself in turn to be relaxing, fun or even extreme.
Setting out from the village and reaching the heights of Megève, the itineraries adapt to everyone.
Family rides on the flat or more gentle slopes, steep altitude paths or downhill pistes, the Gateway to Mont-Blanc (Portes de Mont-Blanc) Mountain Biking Area has
a special place in the hearts of all mountain bikers, labelled by the French Cycle-Touring Federation.
You can prepare your next ride on www.megeve-gps.com by downloading the itineraries onto your smartphone or GPS.
Megeve pass
Freedom, easy to use, variety and of course, the Megeve Pass has many advantages.
Access to cultural and sports activities: summer sledding (5 passages, excluding nocturnal), aquatic centre, ice rink (skate hire included), table tennis, mini-golf, media library (excluding loans of books etc…), ski lifts and the Meg-Bus.
Megeve Summer Sledging
Activity included in the Megève Pass (number of passages limited, except nocturnal).
Open July and August.
Prellet chairlift
Tel. +33 (0)4 50 21 01 50
contact@lesportesdumontblanc.fr          
Megeve Pedestrian hikes
Mountain guides office
Themed hikes: fauna, flora, animal tracks, orientation, geology…
Family rates on request.
Tel. +33 (0)4 50 21 55 11
www.guides-megeve.com 
Megeve Sports centre
Climbing Wall - Artificial structure of over 200m
Swimming Pools - Heated Olympic outdoor pool (50 x 21m), outdoor water slide (70m), and outdoor paddling pool.
Heated indoor pool (25 x 12.5m), heated indoor children's pool.
Saunas, Turkish bath, Trampoline, parasols, lounge chairs.  
Gym with weight-training room and dance studio.
Tennis - 10 outdoor courts, 2 of which are clay, 1 indoor court, for instructors and lessons.
Olympic ice rink
Musical animations, late evening openings.
Reservations, Tel. 33 (0)4 50 21 15 71, Fax: 33 (0)4 50 21 59 22
palais@megeve.fr
Megeve Climbing
From 6 years of age, harness and helmet provided. On a cliff at the new village site of Martinet, in the mountains or on the Sports Centre's artificial indoor climbing wall (200m2): initiation, discovery and perfecting.
Megeve Fitness trail
Why not give in to a more voluptuous kind of enjoyment and get some fresh air in the woods around Cote 2000. They are packed with woodscented exercise rooms and, at an altitude of 1500 meters, it's a sure way to build up your red blood cells. 
Megeve Acrobatic tree climbing
Long run: 50 pieces of apparatus between 6 and 11 meters above the ground.
Adults: €25, Children: €10, Teenagers: €17.
Cote 2000 Aventure
Tel. +33 (0)6 76 29 71 04
www.cote2000aventure.com           
Megeve Clay Pigeon Shooting
Stade du Christomet
Tel. + 33 (0)4 50 21 33 13
Tel. +33 (0)6 22 28 58 93 
Megeve Running
To train in Megève 4 signposted itineraries from 7 to 14km. In order of difficulty, from the easiest to expert: The "Petit Bois", Cassioz, Javen and Jaillet.
Megeve Canyoning and watersports
Under professional guidance, canyoning is a fun white water mountain sports activity: sliding down natural slides, jumping into pools of clear water, abseiling down a waterfall!  
Hydro speed, kayak raft and canoe raft.
Maison de la montagne
Tel. +33 (0)4 50 21 55 11
www.guides-megeve.com
Megeve Golf 
Tel. 33 (0)4 50 21 29 79
Tel. 33 (0)4 50 21 31 51 (off-season)
www.golf-megeve.com 
Megeve Paragliding
Mountain guides
Discovery tandem flight
Half day (3 flights)
Day (6 flights)
Tel. 33 (0)4 50 21 55 11
guides.megeve@wanadoo.fr  
www.guides-megeve.com
Megeve Aquatic centre
Heated Olympic outdoor pool (50 x 21 m), outdoor water slide (70 m), paddling pool, parasols, lounge chairs. Indoor area with 2 inox pools. Children, students, large
families prices. Lessons: Tel. +33 (0)4 50 21 59 09
Megeve Tennis
10 outdoor courts, 2 of which are clay, indoor court.
Megeve Skydiving
Maiden tandem sky-diving experience.
1 week on June, September and one weekend per month from April to October.
Tandem from plane
Tandem from helicopter
Parachutisme 74
Tel: +33 (0)6 78 24 94 29
www.parachutisme74.com
Megeve Mont-Blanc helicopters
Discovering the Alps, tours over Mont-Blanc, with lunch or a weekend in enchanting places. We invite you to discover a magical circuit and stunning views during a tour of Mont- Blanc.
Tel. +33 (0)4 50 92 78 00
info@mbh.fr - www.mbh.fr
Megeve Hot-air balloon rides
ALPES MONTGOLFIÈRE
673 Route du Val d'Arly
Praz sur Arly
Tel. +33 (0)4 50 55 50 60
alpes.montgolfiere@wanadoo.fr
www.alpes-montgolfiere.fr
Please note

: All the above information is for information only. For the most up-to-date information please visit the resort tourist office website. All prices for activities are in local currency (€ Euros) and are bookable and payable locally in resort.

Megeve Tourist Office      
Tel +33 450 21 27 28
www.megeve.com
Numerous bars, restaurants, cinemas. Sports centre, beauty centres, bowling, casino
Lots of smart clothing, jewellery, food and antique shops
Luxurious Chalet Zannier in Megève is opening its wine bar to non-guests. Savoie wines are served by the glass, with small plates of food, in a classy and cosy décor.
Gastronomy: 91 restaurants in the village.  
Bars and clubs
Le Bar des Alpes
Rue de la poste
Tel. +33 (0)4 50 93 08 15
La Calèche
Place de l'Église
Tel. +33 (0)4 50 58 99 13
Le Cocoon Club
Route Edmond de Rothschild
Tel. +33 (0)4 50 21 09 91
Le Deli's Corner
Rue Charles Feige
Tel. +33 (0)4 50 21 02 61
Le Georges
Hôtel Mont-Blanc
Tel. +33 (0)4 50 21 20 02
Le Kitschen Café
130, route Edmond de Rothschild
Tel. +33 (0)4 50 21 69 33
Le Palo Alto
Rue Charles Feige
Tel. +33 (0)4 50 91 82 58
M le vin
50, rue Saint François
Tel. +33 (0)4 50 34 41 49
Le Saint Paul
Impasse Saint Paul
Tel. +33 (0)4 50 91 93 03
Mini-supermarket, cash point, doctors, pharmacies, physiotherapists, dentists, launderettes/dry cleaning, bakeries… 3 beauty parlours, several hairdressers…
Casino
68 slot machines From €0.01 to €5.
English roulette, Black Jack, Texas, Hold'em Poker.
New: The Casino of Megève is one of a hundred casinos who have created a joint Jackpot of several thousand euros, Bar-Restaurant, open until midnight.
Purple Lounge: Live music and Bar
199, rue Charles Feige
Tel. +33 (0)4 50 93 01 83
www.casino-megeve.com
Discothèque Palo Alto
www.palo-alto.fr
Cinemas
Panoramic - 3D
Chemin des Roseaux
Tel. +33 (0)4 50 21 29 34
Rochebrune 1 et 2
Rue Charles Feige
Tel. +33 (0)4 50 21 03 52
By Road:
Driving distance from Calais to Megeve 549 miles (7hrs35 mins)
From Calais, take A26 Motorway towards Reims and Troyes, then Dijon, Mâcon then 'Autoroute Blanche' Motorway (A40 Mâcon – Cluses) exit Sallanches (no 20). Follow signs to Megève (13 km from the motorway exit)
By Rail:
Sallanches 12 km (7 miles) from Megève (terminus St Gervais les Bains / Le Fayet).
• TGV train from Paris, change at Annecy on weekdays. Direct at weekends.
• Shuttle Bus service to the resort from Sallanches and from Geneva bus station.
• Shuttle Bus service to the resort from Geneva bus station (Dorsière square).
• SNCF info and booking.
Tel. +33 (0)892 35 35 35
www.voyages-sncf.com
SNCF Megève Bus station information and booking on the spot.
Autocars SAT
Tel. +33 (0)4 50 21 25 18
sat17@wanadoo.fr
www.sat-montblanc.com
Airports:
Geneva 70km +41 22 717 71 11 - Shuttle bus to Megève. For further information on car parking, transfers, etc: www.gva.ch/en (then select Transportation in menu)
Lyon Saint-Exupery 160 km +33 472 22 72 21. Shuttle bus Tel: +33 472 35 94 96   mail@satobus-alps.com
Airport transfers
Need an Airport Transfer? Prices from £81 per person based on 4 sharing a private return taxi from Geneva Airport to Megeve. Call our reservations team for details on 0844 576 0170 or email reservations@peakretreats.co.uk