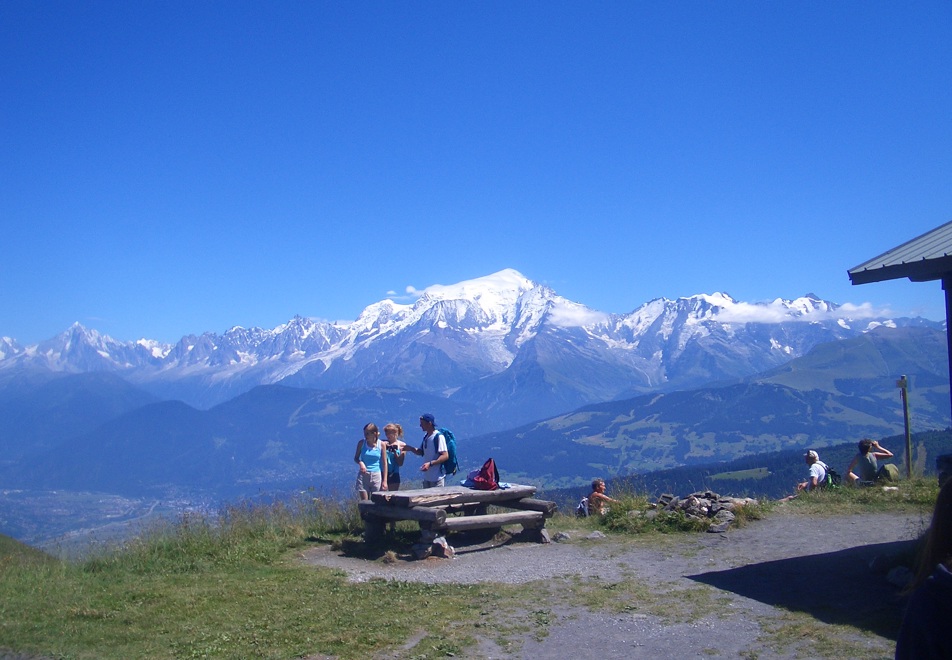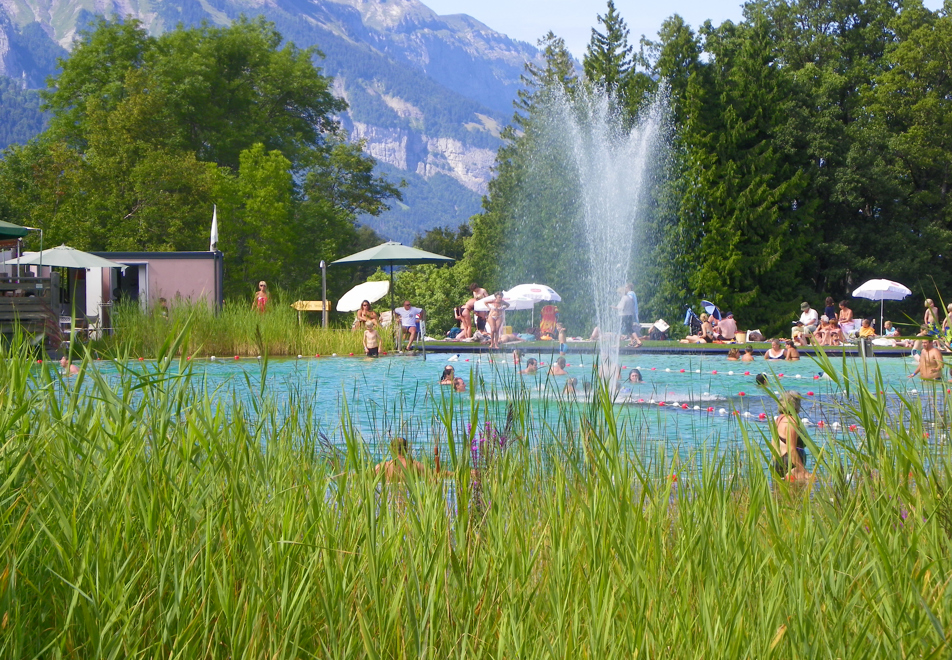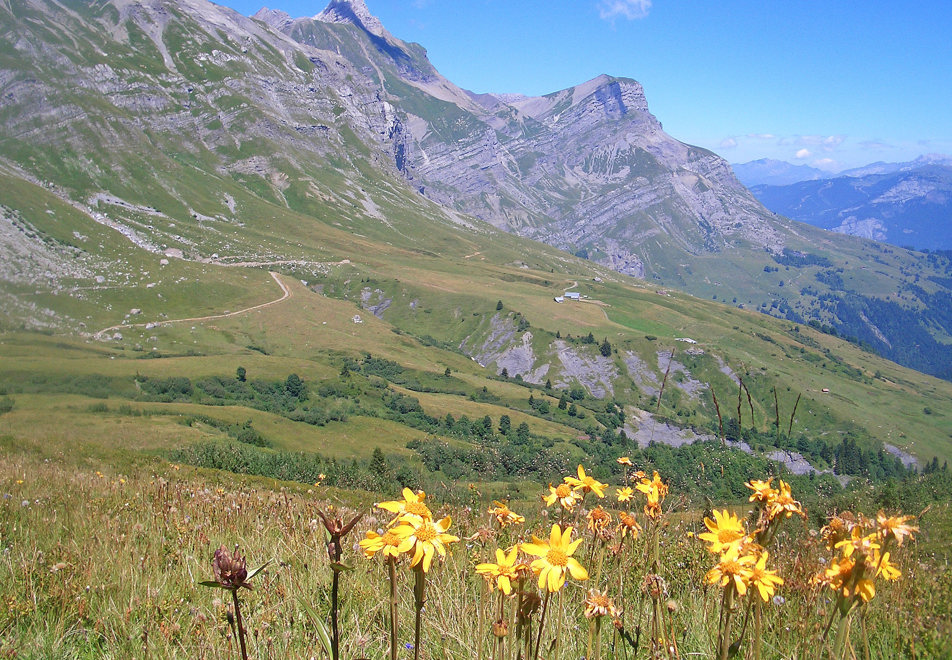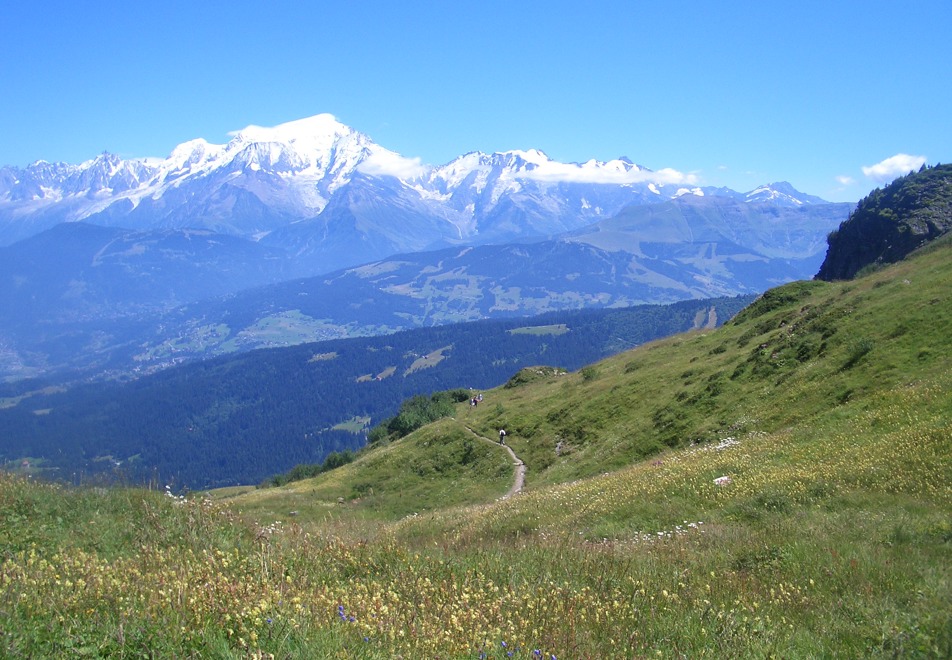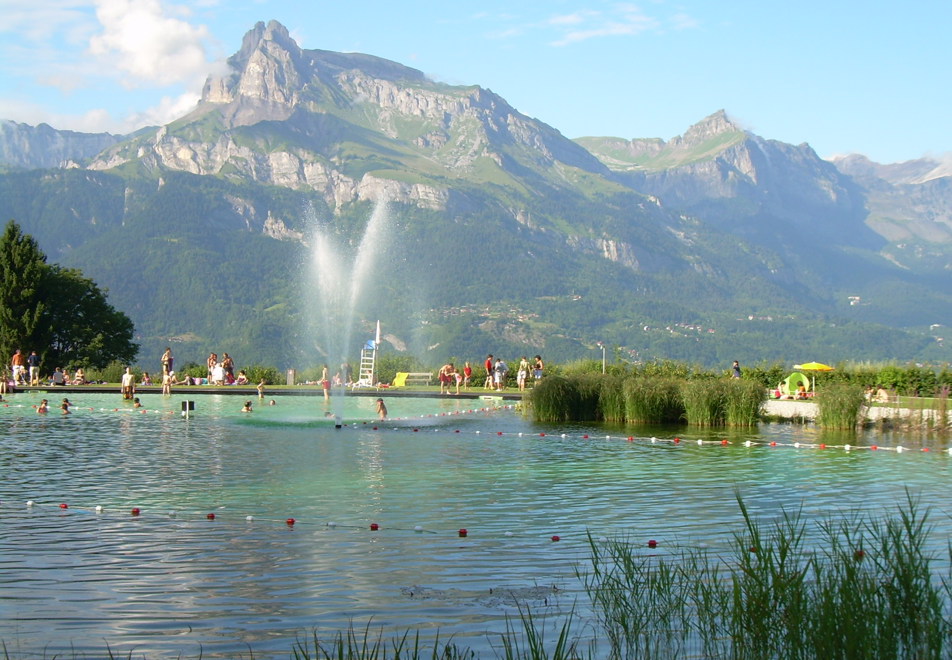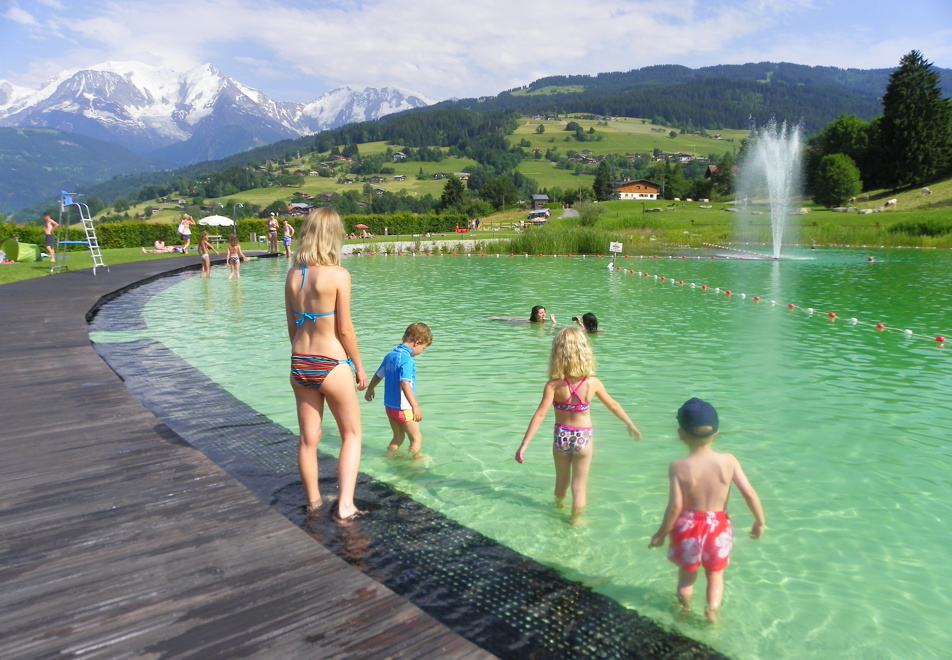 Facing the majestic Mont-Blanc, Combloux is a traditional Savoyard village situated in a beautiful setting.
Unspoilt by tourist developments, and with a 360-degree panorama of Mont-Blanc, Combloux is often aptly referred to as 'the Pearl of Mont Blanc', respectful of the traditions of the French Alps with its ancient church, medieval fountains, old rustic buildings, traditional farmhouses and wooden chalets. 13 farms still operate.
Combloux is only few minutes from prestigious resorts such as Megève (4 km) and Chamonix (30 km) and is very easily accessed from the motorway exit (Sallanches, 8km); TGV station and is only 70km from Geneva airport.
Despite growth on the outskirts of Combloux within the last 10 years, the traditional-style bars and restaurants still give a feel for the 'real' rural alpine France.
The resort of Combloux is perfect for a summer mountain holiday where traditional style and beautiful scenery are paramount to your itinerary. There are plenty of activities to keep everyone happy, including tours of the village on horse-drawn carriages, numerous scenic walks and farm visits with many more sporting activities in nearby. For more things to do, serious shopping and famous restaurants, a visit to close by cosmopolitan Megève is a must.
Wednesday is market day in Combloux.  
From Combloux village itself, enjoy a variety of scenic views of beautiful Mont-Blanc, Fiz and Aravis mountain ranges. Numerous viewpoints from the village or the top of Combloux; orientation tables can be found at La Cry, in the village centre and by the Plan d'eau Biotope, a beautiful ecological lake - perfect for family swimming (to keep the water quality high, the number of swimmers is limited, so ensure you book). Our featured residence, Les Fermes du Mont Blanc, has the most spectacular views of the Mont Blanc.
Top summer activities to experience in Combloux
Please note Peak Retreats do not book any activities and most activities are payable. For more information about pricing and availability, please contact the Combloux Tourist Office by visiting www.combloux.com
Combloux Ecological lake
This beautiful mountain lake has been created for the enjoyment of swimming in clear, pure water, with no chemical products. The water is naturally purified by a variety of plants and is heated by the sun rays, with temperatures reaching up to 26°C. Long swimming trunks are not allowed.
In a breath-taking setting facing Mont-Blanc, Combloux lake has been the first ecological lake opened to bathing in France. The lake is filled with water sourced from the local drinking water network and is naturally heated by the sun rays. More than 10,000 plants, a water fountain and a gently running cascade ensure the highest quality of water to the 1500 m² of the swimming area. A special flooring helps save the natural heat of the sun to keep the water's temperature between 19 and 26°C. With a maximum depth of 1.80m and access via a gentle slope into the water, Combloux ecological lake is the ideal place to spend time with family. The lake itself is surrounded by a grass area, next to a restaurant and enjoys a stunning view of the Mont-Blanc massif.
Please note that no reservation can be made, but you can purchase your place using one of the following methods:
- The day before via the website (www.combloux.com)
- Between 9:00 am and 10:30 am at the Tourist Office
- Directly at the lake from 11:00 am onwards
At the entrance, you will be given a bracelet that allows you to enter and exit as many times as you like during the day.
Facts:
Dogs are not permitted within the lake enclosure
Picnic authorised on your towel only
80 holes in the ground for parasols (rental at the entry of the biological lake: 5€ + 30 € deposit)
Armbands loan with a 5 € deposit
Baby changing facilities + possibility to reheat the baby's food.
Swimming lessons in the lake: (accessible from 3 years old) on booking
Combloux mountain biking
The Les Portes du Mont-Blanc mountain bike area offers sensational panoramic views of Mont-Blanc, the Fiz and the Aravis Ranges, a network of qualified guides to accompany you on your rides, and ski lifts open throughout July and August to get you and your equipment up the hill. 
400 km of marked itineraries including 100 km of downhill trails. There are trails to suit everyone – families, novices or experienced riders. Enjoy 50 varied circuits where the trails offer connections across a vast area, taking in Magland, Sallanches, Cordon, Megève, Combloux, Demi-Quartier, Praz-sur-Arly and La Giettaz.
10 of the downhill trails are hand sport accessible
Cross-country: free access to all trails
Enduro: all trails accessible by ski lifts
For the past 5 years, the Les Portes du Mont-Blanc mountain bike area has been home to the 'MB Race' – the most difficult mountain bike race in the world.
Combloux weekly market
Every Wednesday morning at the Tourist Office car park, you can buy a variety of local products directly from the farmers.
Sallanches weekly market
The valley's largest and most popular market. Numerous stands selling food, gardening equipment or plants and fashion items. Every Saturday morning.

Megeve weekly market
A warm, friendly atmosphere for this market proposing natural goods, fruit and vegetables and traditional fare. Every Friday morning.

St Gervais weekly market
Flank on our market and discover our local products. Every Thursday morning.

Combloux potholing
Several options:
Family: Discover a beautiful horizontal cave with no particular difficulty. Half a day, accessible from 6 years old.
Discovery: Underground path with vertical obstacles. Basic use of a rope. Half a day, accessible from 10 years old.
Adventure: Large cave with beautiful vertical rappelling descents. Need to know how to use a rope. Full day, accessible from 16 years old.
The potholing equipment is provided: helmet, lights, suit, harness. Do not forget to bring two pairs of trainers.
Booking at the Tourist Office is possible.
Tennis courts in Combloux
3 tennis courts are at your disposal next to the ecological lake, facing the Mont-Blanc massif. Booking is required in July and August.
Paragliding
Discovery flight: Over the Megève Valley and lasting 15 to 25 mins. Access to the take-off point by ski lift. If the conditions allow it, you may also have your first taste of piloting or take wonderful souvenir photos.
Mountain Flight: From one to two summits in a day, reached by sheer calf strength or thanks to mechanical means, different possibilities are now offered.
Performance Flight: You have already done a discovery flight and would like to try a longer flight to discover the entire valley and especially to experience the thrill of an ascending flight: the performance flight is the ideal way to reach your goal. You will fly for about 40 mins, higher and further.
76 rue Ambroise Martin, Megève - 74120
Hot air ballooning
Flight in a hot-air balloon in the heart of Val d'Arly. Follow the tracks of Jules Verne for a hang-gliding in the Alps, an outing in a hot-air balloon that will allow you to discover the highest summits of the Alpine Massif.
673 route du Val d'Arly, Praz-sur-Arly - 74120
Horsedrawn carriage
49, chemin des Passerands, Combloux - 74920
Daily during the summer.
Skatepark
Track for skateboard or rollerblade, with bumps, springboards, rails. For beginners to experts. Free access.
Children's playground
Playground for children near the Baroque Church.
Small playground for children with swings, a small wooden train and a slide.
Louparc
Discover "Louparc", a new playground in Combloux with a pump track, a skate park, and a playground for children.
Mini adventure park
For children aged between 3 and 10 years old. This playing area is located above the biological lake, between the two stairs. Children will enjoy the different facilities: net, zip-line, rope bridge, swings, rope ladders and picnic tables.
Other activity contact details
Bars and restaurants in Combloux
Nearly 20 restaurants and bars including the hotel restaurants in Combloux itself; a world of choice in cosmopolitan Megeve, which is just a few kilometres away.
Combloux amenities
Butcher, patisserie, bakery, mini markets, dentist, 2 banks, souvenir shops, local produce, post office, hairdressers…
Accessing Combloux
By Road (self drive options pre-bookable with Peak Retreats): 
From Calais, take A26 Motorway towards Reims and Troyes, then Dijon, Mâcon then 'Autoroute Blanche' Motorway (A40 Mâcon – Cluses) exit Sallanches (no 20). Follow signs to Combloux (8km from Sallanches)
By Rail (pre-bookable with Peak Retreats): 
Direct access by high-speed train to Sallanches, then bus or taxi to Combloux (8 km). Direct trains from most big cities in France including the Paris/Saint-Gervais line.

By Plane (not pre-bookable):
Geneva Airport is 64km from Combloux (1 hour)
www.gva.ch/en
Chambery Airport is 115km from Combloux (1 ½ hours)
www.chambery-airport.com
Grenoble Airport is 165km from Combloux (2 hours)
www.grenoble-airport.com
Lyon Saint-Exupery is 202km from Combloux (2 hours)
www.lyonairport.com
Regular bus transfers from Geneva to Sallanches (nr Combloux) via SAT bus.
http://www.sat-montblanc.com
Combloux Airport Transfer or Car Hire (pre-bookable with Peak Retreats):
Call our reservations team for details on 0844 576 0170 or email reservations@peakretreats.co.uk for a quote and availability.