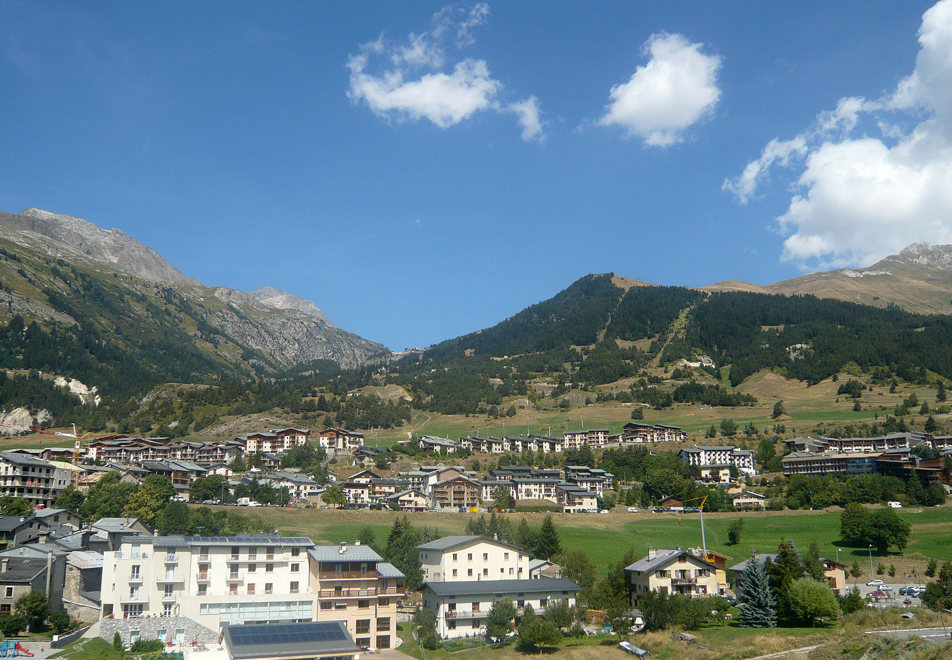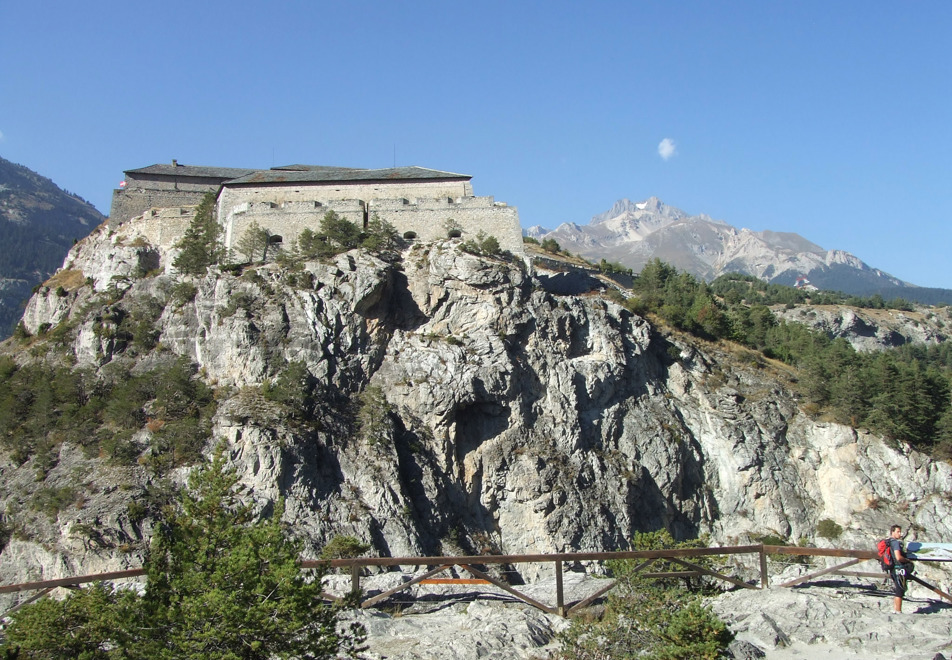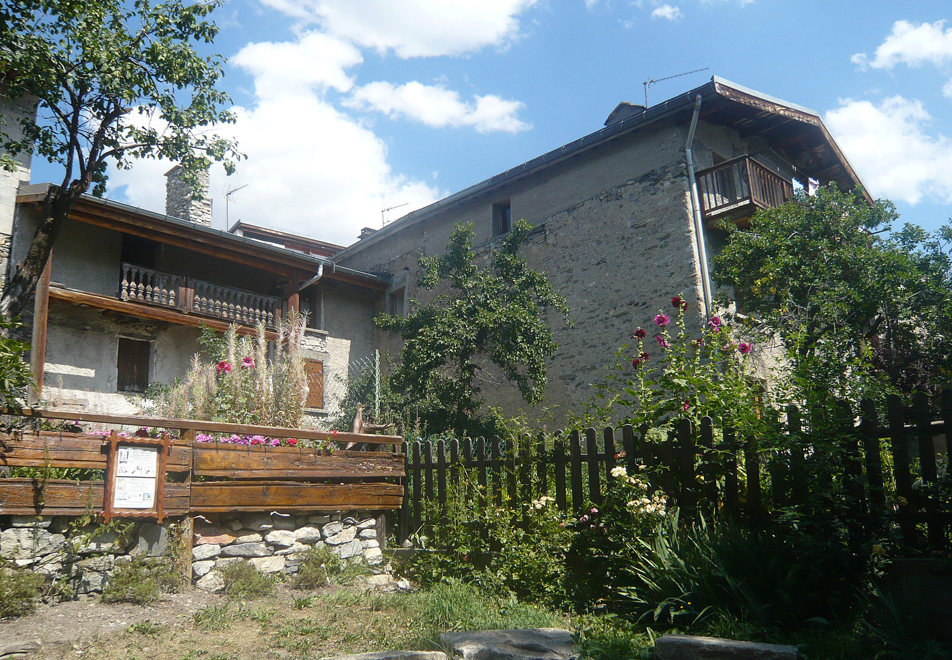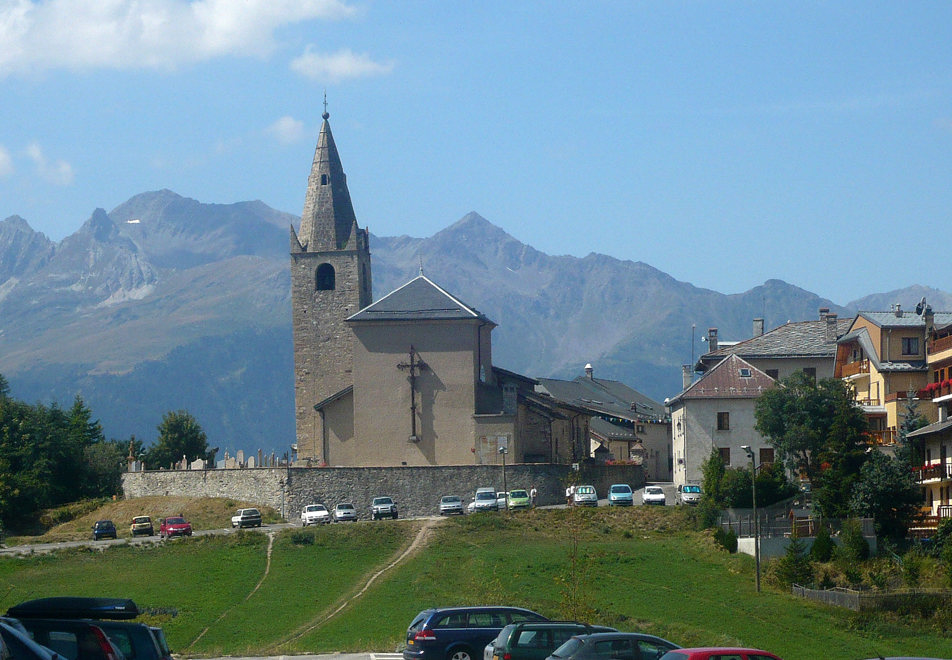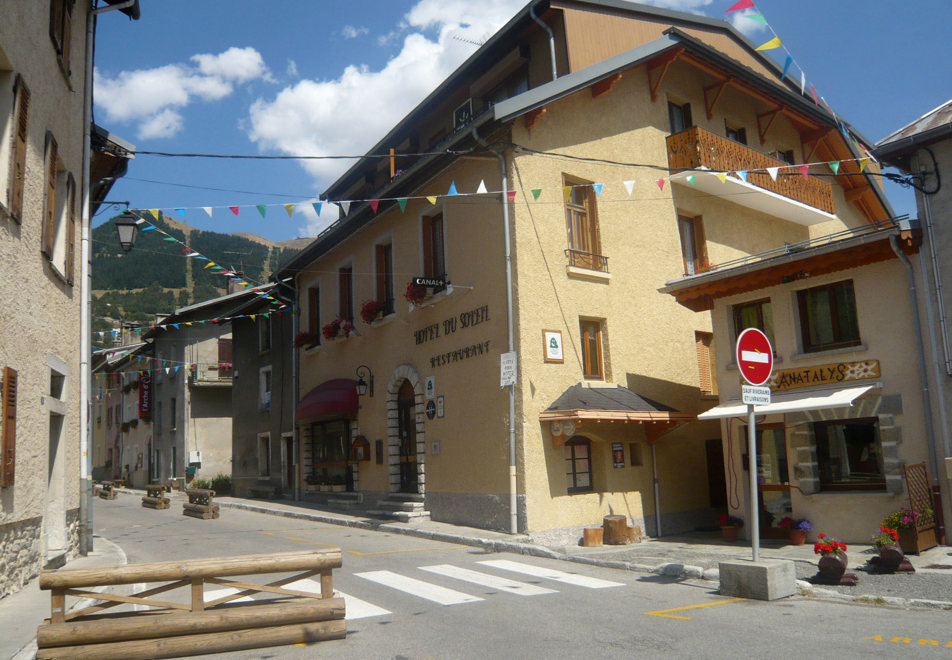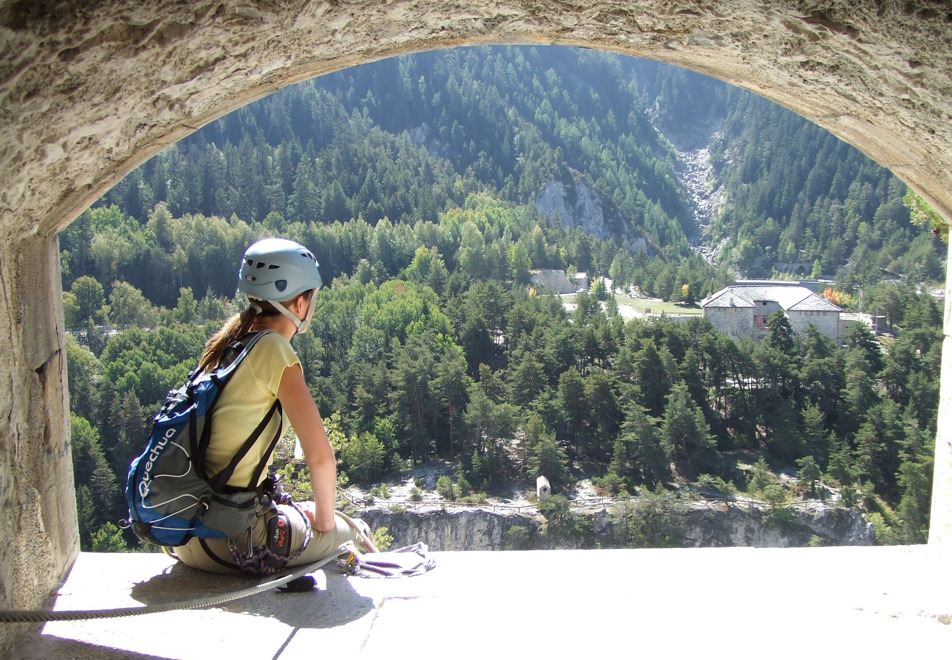 Aussois is first and foremost a charming and friendly village, which has retained its traditional appeal.
Over the centuries, the village has conserved its cross-shaped radiating disposition, with the square's fountain as its centre. All through the summer season the Tourist Office, Maison d'Aussois, organises a varied choice of events as well as themed walks, concerts, nature treks, exhibitions, discos, shows for young or older audiences... and numerous sports activities...
At the foot of the 'Dent Parrachée', one of the highest summits in Vanoise, Aussois is on a vast sunny plateau offering a magnificent panorama of the surrounding massifs and direct access to the Vanoise National Park. All through the summer season the Tourist Office, Maison d'Aussois, organises a varied choice of events as well as themed walks, concerts, nature treks, exhibitions, discos, shows for young or older audiences... and numerous sports activities...
Once a week Aussois's musher invites you to discover the world of Siberian huskies and Greenland Eskimo dogs. Visit the doghouse, and learn about dog care and breeding.
Approved by the French Cycling Federation, there are 200km of marked and maintained trails. A quad chairlift runs all summer for cyclists and walkers.
A must 'do' is a visit to the restaurant in the fantastic setting of XIXth century Fort 'Marie-Christine'.
It is a very accessible resort, only 10 minutes drive from the motorway exit near the TGV station of Modane (4 hrs from Paris by train).
Places of interest
·          The Aussois Museum - Exhibits of objects and tools give a vivid image of daily life for Aussois's inhabitants in yesteryear. Complemented by the "Bread Museum", in the former and recently restored communal oven in the heart of the village. A permanent exhibition explains the making and uses of bread in the mountains. The communal oven is at times still used on special occasions.
·          The Esseillon Forts - Built for military purposes, these fortifications testify to a rich and eventful historical past. Built by the Sardinians between 1817 and 1834 to protect Piedmont and Europe from French invasions, they illustrate Marquis de Montalembert's defensive theories.
·          The stone engravings of Aussois - The engravings, discovered in 1977, testify to human occupancy on the passageways to Italy between the Neolithic era and the Iron Age. They were made on glacier-eroded stone slabs by pecking or chiselling the rock with stone utensils.


Top summer activities to experience in Aussois
Please note Peak Retreats do not book any activities and most activities are payable. For more information about pricing and availability, please contact the Aussois Tourist Office on 0033 479 20 30 80 or visit www.aussois.com
Aussois Donkey Walks
Nathalie Choiseau, MA graduate, offers to hire donkeys to guide you during your hike or just carry the little one!
Aussois Via Ferrata
The via ferrata du Diable combines seven independent sections of various difficulty (easy to very difficult), the total length is 3 760m and varies from 6 to 8 hours. 
Aussois Walking
Aussois is the "recreation ground" for alpinism and high mountain treks. The summits are accessible to all levels: beginners who wanted to know the happiness of reaching the top or confirmed alpinists.
The classic ways
The Dent Parrachée 3697 m in altitude. One of the most beautiful summits of the Alps with a 360° view from the Mont-Viso to the Cervin via the Mont-Blanc.
The Pointe de Labby 3530 m. A nice mixed pic in the heart of the Vanoise glaciers.
The crossing of the  Vanoise Dômes: this trek is a classic one which allows crossing the biggest glaciers of the Alps in dome shape (Labby, Mature, Airport, Génépy, Chasseforêt glacier)
Some superb glacial summits :  
Dôme de Chasseforêt (3585 m.)
Albaron (3630 m.)
Grande Ciamarella (3676 m.)
Charbonnel (3752 m)
Grande Casse (3852 m.)
Aussois Swimming
Lifeguard in leisure pools, children can take a dip in two sumps to their attention: 1 pool of 65 square meters of water and 1.20 meters deep surface 1 pool of 15 square meters of water and 0.50-meter deep surface.
Aussois Big airbag
Get out of the springboard and try tricks by bike safely on a giant air cushion with an instructor at the L.A.Bike School in Aussois.

Aussois Cycling
La Maurienne labels itself 'the world's largest cycling area' and has the most impressive climbs in the Alps - Galibier, Glandon, Madeleine, Iseran and Croix de Fer. La Maurienne offers 56 000m of ascent over nine passes which are all marked with cycling milestones counting down your distance to the top. 19 routes are also equipped with the timing system Timtoo.
www.cyclo-maurienne.fr
Virtual tour of famous mountain passes - http://img.for-system.com/cyclo-maurienne/360/
Aussois Mountain biking
The "Espace VTT de l'Esseillon n°30" managed by Aussois offers 200 km (138 km only on Aussois) of marked trails agreed by the Fédération Française de Cyclisme. The classification of circuits is the same as for the ski slopes: Green (very easy) - Blue (easy) - Red (difficult) - Black (very difficult)
Aussois Chairlift
The Gran Jeu 4-seat with controlled access for pedestrian and mountain bikers is open in Summer. Its the starting point for numerous hiking paths and trails for bikers, the arrival altitude is  2 150m. You will find some easy walks to do from the arrival of the chairlift. Pets are not allowed on the lift.
During storms and lightning storms, the chairlift will be closed for security reasons.
Aussois O'Soi - Espace spa
Spa area dedicated to wellness and relaxation with stunning views of the surrounding massifs and maximum sunshine.
2 saunas, 2 hot tubs, 1 hammam and a relaxation room area at your disposal for maximum relaxation.

Aussois Tennis
2 outdoor tennis courts, a training wall.
Located near the camping, the playground, route de Cottériat. Equipment loan at the Chalet de la Base de Loisirs.
Booking at the Chalet de la Base de Loisirs (nearby the courts)
Aussois Archery
Shooting 10m, 20m, 30m
Aussois Minigolf
Free access, equipment loan from the tourist office.
Closed from 12 am to 2 pm. Evenings until 9 pm on Tuesdays and Thursdays.
Aussois Mountainboard
Mountainboard is a board suitable for riding in skate paths and different modules. 
Aussois Airtubby
Take your swing on a synthetic surface, buoy on board and land softly on the big airbag. Appointment at the "Espace sensations La Dotta" located under the church.
Provision of buoys and helmets (mandatory). Accessible from 5 years
Aussois Paragliding
Tandem flights over mountain pastures. Flying over the most beautiful peaks of the Vanoise with a professional driver confirmed, safely and with passion.
Philippe HAMACHI
Aussois CityStade
Basket, foot, hand, volley...Loan of balls (foot, basket, volley) with deposit at the Chalet de la Base de Loisirs open every day from 10 to 12 am and from 2 to 7 pm until August 31st. The city-state Agorespace is located on the Base de Loisirs de la Buidonnière in direction of the campsite, route de Cottériat.
Aussois Canyoning  
A selection of canyons "discovery" for a first playful approach to the business. Ideal for 8-12-year-olds and their parents! If adventure tempts you, the canyons as a day for you! Get set for a fun day with jumps, slides and concepts techniques!
Transportation is available in limited places available.
Discover the Fort Victor Emmanuel
This walk will offer 2 courses accessible to all, including a course specially designed for
Families with strollers, seniors and Wheelchairs together. Equipped with a bundle containing a map of the route and some necessary utensils, visitors will walk in the footsteps of a Sardinian soldier stationed at the fort during the years 1841 and 1842, whose ghost it seems, still haunts the walls ...
Information: Tourist Office of Aussois
Aussois Adventure Park
Adventure and cultural course through the trees for all ages and all levels, located near the fort Marie-Thérèse (D1006, at 5 km from Modane).
"Petits diables": a path along the ground to learn about the adventure from 3 years.
"Les Diablotins": for children under 8 years, green, blue, red and black paths... as for adults!  Fun workshops, tyrolienne low heights.
All paths will take you to discover an exceptional site and its history using interactive kiosks.
The site as a whole is examined and tested by an approved body.
www.parcdudiable.fr 
Tyrolienne des Anges: 200 m long and 150 m high
Tyrolienne du Paradis: 640 m long and 180 m high
Actually the longest of the world in Adventure Park!
From July 1 to August 31: daily 9am-13h and 14h-18h days. No reservations.
Aussois Hike with Dogs 
Hiking with a dog sledge: having become acquainted with your dog, you are now heading for a hike with him.
Horseback-riding
Horseback riding one hour, two hours or day, raids of several days and courses.

Aussois Picnic area
A picnic area with barbecue and tables is for you near the brook Saint-Pierre at the Croué. Free access.
Take Saint-Nicolas street until the parking of La Tompaz, then continue on the road in direction of the climbing rocks of the Croué and Donkey farm. After the brook, the area is on your right.
Cultural activities
Discover the Savoie-Maurienne with the Latitude-Gallimard internet series            
A variety of bars, restaurants and shops
A must try during your stay is the restaurant in the fantastic setting of XIXth century Fort 'Marie-Christine', it offers excellent value for money, and was praised by the famous Gault et Millau guide. Italians even make the journey just to eat there!
Eric and Philippe offer in their restaurant:
•Traditional and Savoyard cooking
•Gastronomic cooking
•Menu from € 12.50 to € 27.90, carte and specialities
•Recommanded by le Guide du Routard, le Gault et Millau, le guide Champérard, le Bottin gourmand.
•An unusual and warm setting place
Site: http://www.fort-mariechristine.com
Mini-supermarket, bank with cash point, laundry, bakery, fromagerie, butcher/delicatessen, hairdresser, regional specialties, several sports shops, doctor.
By Road:
Driving distance from Calais to Aussois 583 miles (approx 8hrs30)
From Calais, take A26 Motorway towards Reims and Troyes, then Dijon, Lyon, Chambéry. Follow the A43 Motorway to Modane. Aussois is 7km (10 minutes) from the motorway exit at Modane.
By Rail:
Modane (4hrs from Paris by TGV). From the station, Alpe Taxi Transport Aussois Mr Richard Torchala Tel +33 479 05 03 23 / +33 611 33 41 42
Transavoie coaches.
Airports:
Chambéry is 118km from Aussois (1 hour)
www.chambery-airport.com
Turin is 125km from Aussois (1 ½ hours)
www.aeroportoditorino.it
Grenoble (St Geoirs) is 185km from Aussois (1 ½ hours)
www.grenoble-airport.com
Geneva is 197km fro Aussois (2 hours)
www.gva.ch/en
Lyon Saint-Exupéry is 196km from Aussois (2 ½ hours)
www.lyonairport.com
Aussois News & Events 2021/22
Events:
Tourist Market 15th June-31st August 2022 

Visit of the brewery of

Oé 22nd June-9th September 2022 Come and discover the Oé brewery, where an organic and local beer is made, located in the heart of the village of Aussois. Visit of the brewery and discovery of the beer-making process followed by a tasting.
Demonstration at the Miellerie 1st July-31st August 2022 Félicien Detienne, a beekeeper in Aussois, invites you to discover his passion for bees. Discover the extraction of honey from beehives. 
Visit of the Asinerie July 5th-23rd August 2022 Immerse yourself in the fascinating universe of the donkey and discover with wonder this little prince of the mountains ... An interactive meeting in a friendly atmosphere with loving and passionate Nathalie! For the whole family.
Visit of the Kennel Polar Park May 1st-15th September 2022 Come and meet our dogs in their daily home in Aussois. You can caress them afterwards after a few instructions in order to respect their well-being by knowing how to better understand them.