Friday, 05, July, 2019
If you're thinking of how best to explore the Alps whilst on holiday this summer, then we suggest taking an e-bike for a spin! Piqued your curiosity about what an e-bike is, which one to choose, and where to go to make the most of it? Then read below...
What is an e-bike, and why choose it?
An electric bike (e-bike for short) is an electric-assisted hybrid of a standard pedal cycle. When you pedal, the fitted motor kicks in to help you on the ride - so you can make your way up those steeper mountain trails with ease! E-bikes can also quicken the pace of your cycle so you can cover more ground in a shorter amount of time, and it makes it a lot easier to reach the summits when lifts aren't available! Meaning that you get to enjoy more of the mountains and the alpine scenery with much less effort - a win-win in our eyes!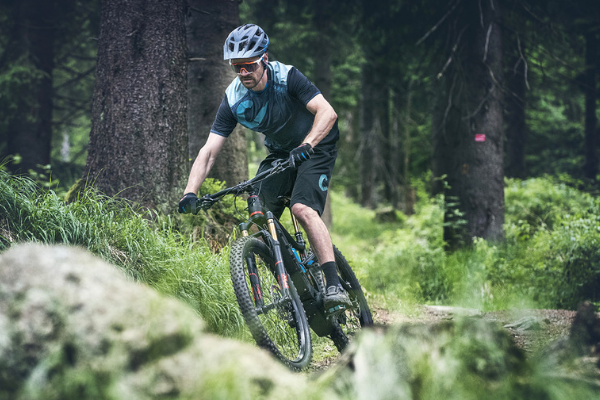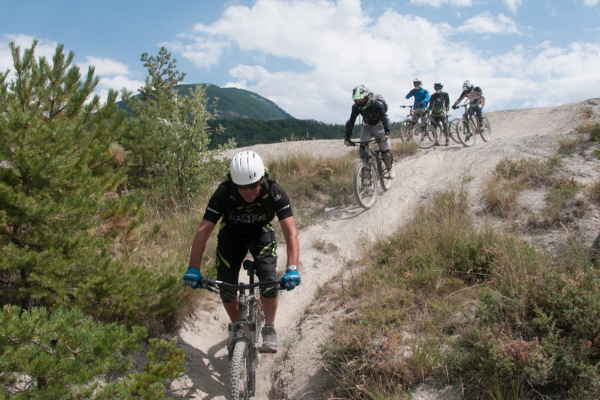 What types of e-bikes are there?
The most common thing people are looking for in an e-bike is a comfortable ride, which can handle both roads and tracks - and most types can offer just that, with many of them having differing levels of 'assist' to choose between on a gear-like system. There are several types of e-bike, but the main one is the pedal assist (pedelec), which makes pedalling easier from the help of the motor. The motor can be fitted at the hub (for pedelec type e-bike this would be at the rear of the bike), or mid-drive (motor is placed in the centre of the bike frame) - which is the preferred design. Some e-bikes have also been retrofitted with the motor assist! 
There are also specific electric road bikes and electric mountain bikes, allowing you to choose a bike best suited to your needs. We recommend renting an e-bike from one of the shops in resort before getting your own one. Most shops allow you to rent an e-bike on either an hourly, half-day, or full-day basis, rates do vary between resorts and depends on the type of bike you go for, more resort specific information is below...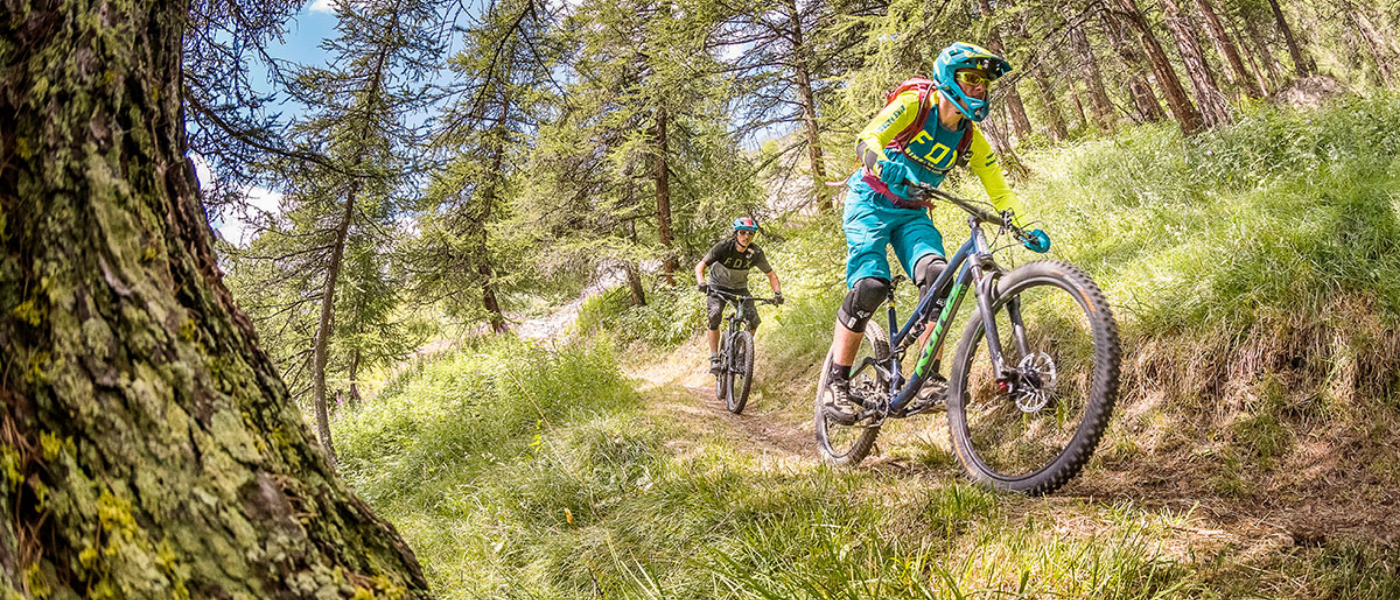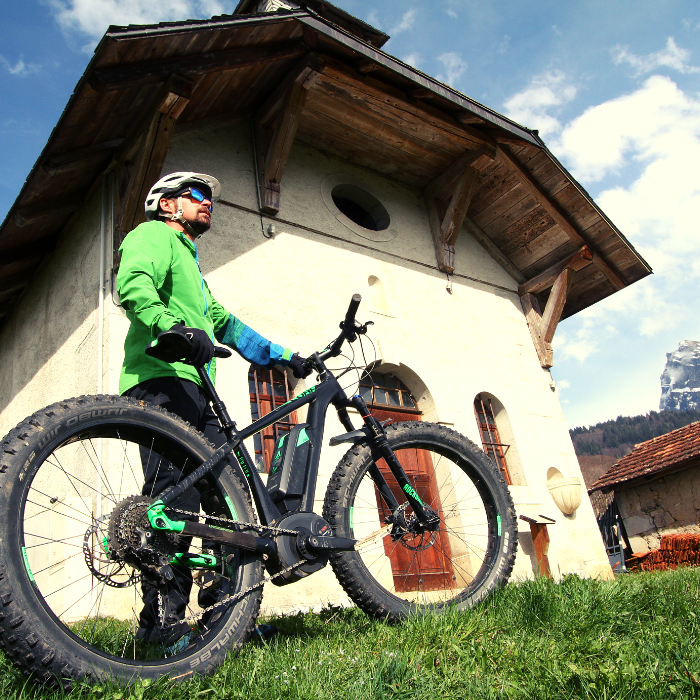 Where to go e-biking?
Samoëns is a great base for exploring the alpine region of the Grand Massif, there are 184km of mountain biking trails to enjoy, with links to nearby villages of Morillon, Sixt and Verchaix, and some routes amounting to a 1,400m vertical drop! Samoëns has established itself as a perfect location to try e-biking, there are several shops offering e-bike rental, with a choice between road and mountain bikes. There's even an annual e-biking festival at the end of the summer - called the Mégawatt, 31st August to 1st September 2019. This is a great opportunity for beginner and even regular e-bikers to embark on a trip around the valley supervised by an experienced guide. Other e-biking tours are also available throughout the season. 
Rates for rental average at 6€ an hour, 20€ half-day, and 39€ full-day.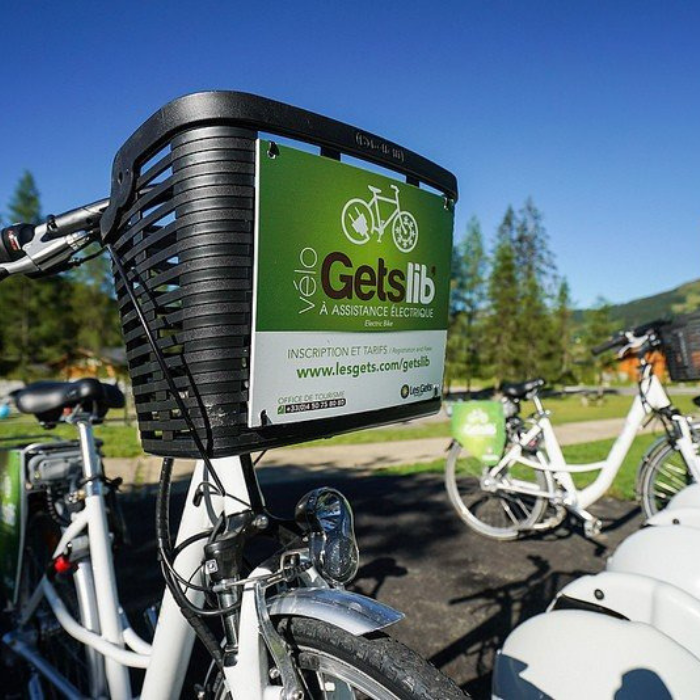 Another renowned destination for some great biking routes is Les Gets. The resort offers a total of 34 trails amounting to 300km, and there is even a dedicated e-biking route map so you can make the most of your biking trip! There are planned routes for all abilities, rated green, blue and red varying both in length and difficulty. Les Gets also has 'self-service' e-bikes known as GetsLib', and are available for collection and drop-off in 5 different locations around the resort. These are suited for more of a leisurely bike ride than on an MTB trail, but they are great introduction to e-biking and have very reasonable rates! Before using the service for the first time you must register online with the tourist office.
Rates for the GetsLib' bikes are 30 minutes free, 7€ half-day/4 hours, 27€ full-day/8 hours.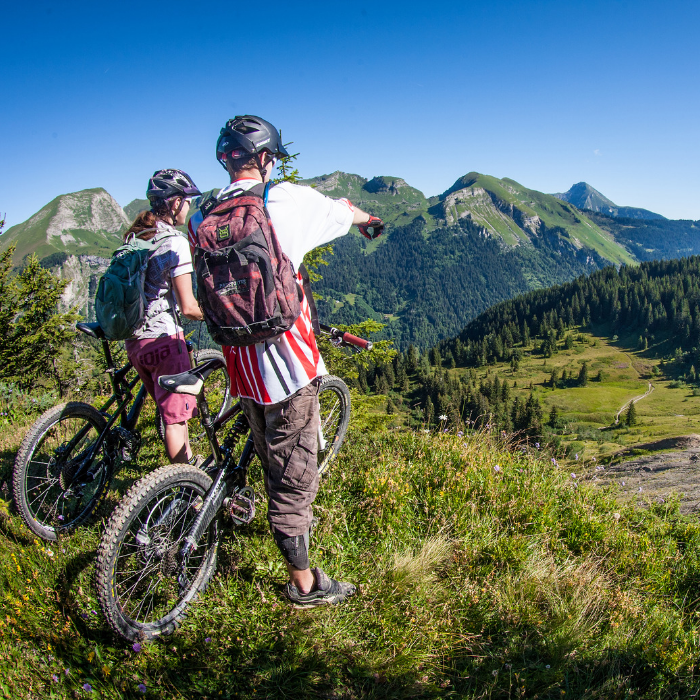 Morzine is found in the heart of one of the world's biggest MTB areas - the Portes du Soleil region of the French Alps. The mountain village is well linked via the network of lifts to the 12 resorts making up the mountain biking area. Morzine also benefits from a beginner area, recreational routes, and downhill runs suiting all levels and abilities. The resort also has specialised routes suited for e-bikers, and there are 12 battery charging stations to ensure that you never run out of power during the day! 
Rates may vary between rental shops in resort.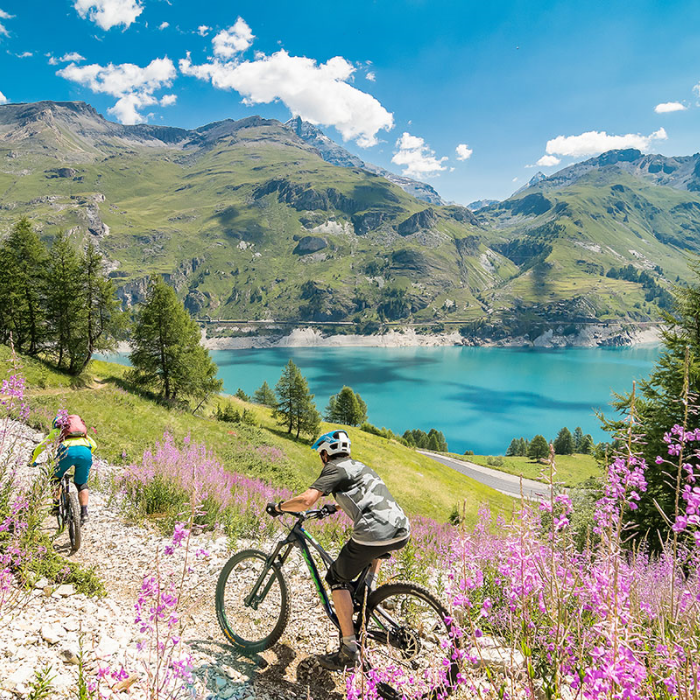 The extensive activities on offer in Tignes throughout the summer months of course also includes e-biking. There's a fantastic bike park in the resort with its own mountain biking school, so you can brush up on your skills before heading to the challenging and exhilarating trails! Access to the 5 mountain bike lifts and slopes is free with the "My Tignes" activity card as well as a choice of 2 other great activities per day! The card is also completely free for the duration of your holiday when staying at selected residences.
Rates may vary between rental shops in resort.
Do I need insurance?
When taking out your travel insurance for your holiday, it is always best to make sure that all of the activities you and your group intend to do whilst enjoying your holiday are covered under the policy. E-bikes are usually covered within a standard travel insurance policy, but do double check with your provider that this is the case. Separate specialised cover is also available if you prefer. 
If you're ready to book your next mountain holiday and give e-biking a whirl, or if you need some advice on where to stay- Call us on 023 9283 9310 or request a quote and we will find you the perfect Alpine holiday! Don't forget to sign up to our newsletter to get all the latest news and deals.