Tuesday, 24, April, 2007
Having spent a couple of days in Valloire in Summer, I decided to spend a whole week in Valloire in winter, with my husband Dave, at the end of March to try out the snow.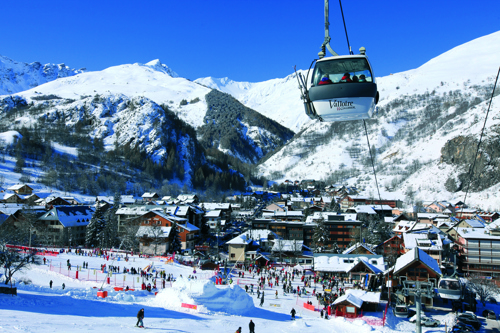 We managed to get a great deal on flights from Stansted to Turin and hired a car on the other side. The motorways and dual carriageways in Italy and France are extremely good and we only got lost once, and even that was inside the airport car park! It only took a little over 2 hours to get the Valloire. We arrived at about 15.00, which was ideal and gave us plenty of time to enjoy a relaxing glass of wine, collect our ski hire, lift passes and ski school cards before checking into our apartment.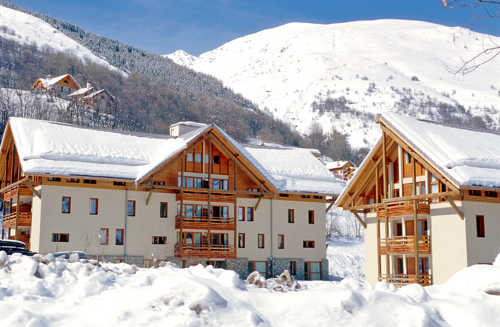 I would highly recommend Les Chalet du Galibier. The residence can be found in the Les Verneys Hamlet and is right opposite the Moulin Benjamin chair lift. The apartments are spacious and nicely furnished. The indoor swimming pool, sauna and steam rooms are great to unwind in after a day on the slopes! There is a pool table and hot drinks machine in the main reception area (payable). The residence has a very friendly and relaxed feel to it, you can even borrow indoor games from reception to play in the evening! There is a mini supermarket opposite the residence and a great take-away pizza place that also does paninis, cold drinks and mulled wine. They open every day from 17.00 – 20.00 approx and at busy times it is best to order in advance. You pay for it there and then and tell them what time you will be back to collect it.
Although it is 1km to the centre, this is quite an easy walk and only took us 5 minutes max to reach the beginning of Valloire centre (slightly longer coming home, as it is slightly up hill, but nothing too strenuous). There are lots of shops including 2 supermarkets, bakeries, butchers, newsagents and some lovely gift and craft shops. There is an excellent choice of restaurants which are very good value including Le Don Camillo (top part of the centre), Bistrot Chez Fred (the main strip), La Maison d'Angeline (near the church) and various Creperies and Pizza places dotted about. My husband is sport mad and was a little worried that he would not get to see the England football matches or the cricket whilst we were there... He needn't have worried as on our first night we discovered a sports bar just past the Tourist Office and opposite the church that is run by an English company and has all the Sky TV Sports Channels - needless to say, he was made up!!!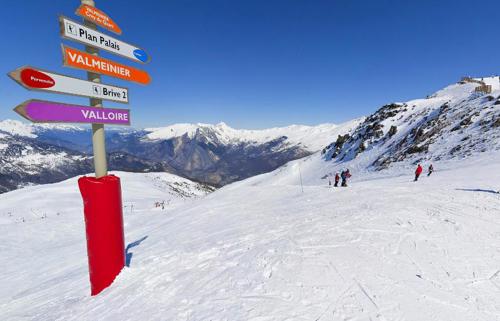 Considering the overall snow conditions this season, the snow was very good at the top of the Cret de la Brive and La Sétaz cable cars and also is Valmeinier. There are slopes to suit all abilities and the half-pipe and Snow Park looked great for the snowboarders. On the other side towards, Moulin Benjamin and Les Verneys we found it to be quite icy. The Crey du Quart sector was totally green, rather than the expected white, which was really unlucky for the people who own a bar halfway up, it was all locked up as nobody could reach it! The lower slopes by the gondolas were kept exclusively through artificial snow.
We had both skied before but not for a while and this time my husband wanted to try snowboarding so we both went with the Valloire ESF ski school. The Instructors were very professional and friendly. I had to stop on Tuesday due to problems with my knees but Dave carried on until the end of the week and made amazing progress – especially considering at the beginning of the week he didn't even know how to put a snowboard on! At the top of the Cret de la Brive cable car, there is a decked area with deck chairs and hot drinks and snacks machines. It was lovely sitting there with a book, a cup of hot chocolate and taking in the fresh air and beautiful views.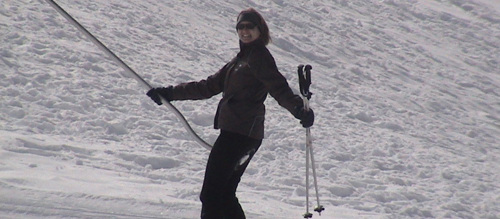 Gemma on the drag lift
It snowed a couple of times during the week but the main downfall was Friday night – the night before we were due to leave at 05.00 in the morning – typical! As expected, the main road was totally clear and fully gritted, however, the small road of the car park was not. Out came the snow chains that we had hired with the car, unfortunately with no instructions! We only had a few metres to drive uphill to the main road but it took us nearly an hour in the freezing cold trying various different ways of rocking the car – we can laugh about it now but we warned!