Wednesday, 07, June, 2023
The French Alps is home to many unique events, we've scoured the web to find our favourites, that we think you will love - check them out below!
---
Trophee Andros 
Val Thorens
The largest Ice Race in the world kicks off in Val Thorens this season, for Stage 1. Since 1990, the Trophee Andros has been touring the French Alps for its 6 stage competition, bringing together some of the best drivers in the world. Since 2020, the use of sophisticated electric cars has taken over from the traditional engines, upkeeping this event to modern times. The best drives mixed with passionate fans, what more could you ask for?! If you're after more information on Trophee Andros, you can find out more here.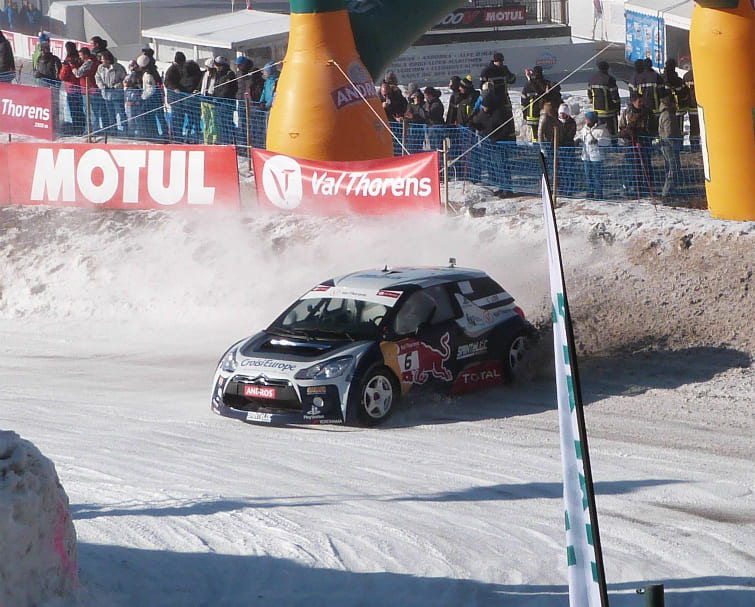 Mountain of Hell (Summer)
Les 2 Alpes 
23, 24 & 25 June 2023
It's a free for all, no wave of races or race heats - start from the top and the first one down wins! 
Starting off in the snow, this mountain bike descent is known for its crazy atmosphere. Descend down a 25km enduro marathon, with 2500m of vertical drop, riders encounter all types of terrain - snow, rocks, single tracks, grass. 
A 'hellish' race, but not one to be missed - find out more here.
Grande Odyssee 
13 > 25 January 2024
Back for its 20th year, the Grande Odyssee is a sled race that covers 900km, climbing more than 25,000m in elevation - making it one of the longest and most challenging races of its kind! Every year, 65 mushers and over 600 sled pulling dogs (a mixture of Malamute, Husky and Greenland Dog's), are watched by over 50,000 spectators. An exciting even to attend, as it passes through some of our French Alps resorts, with each decorating and celebrating the occasion with music, games and more!
Catch it passing through Megeve, Chåtel, La Toussuire, Le Corbier, Aussois, Val Cenis, Valmorel, Doucy and Villard de Lans! Find out more about it here! 
Les Lumières de la Muzelle
Les 2 Alpes 
January 
This unique running event takes place from the top of Les 2 Alpes, and leads back down to the village. Enjoy the stunning sunset, run throughout dusk and into the night where you can enjoy the night sky along your trail. Choose from 3 choices of trails - a 10km, a 21km and a 42km race, you can pick to your ability. If you're more a sprinter than long distance, you can take part in the slalom races closing to the village centre - in waves of 4, race down a slalom trail in the dark! 
Find out more here!
Vars Speed Master 
Around March
A yearly event that takes place with the main purpose of breaking the World Speed Skiing record. This is the fastest ski competition on the planet. This past year, Simon Billy broke the world record on Wednesday March 22nd - with a speed of 255.50 km/h. Will this speed be beaten next year...? 
Find out more here.
La Fête de la Coquille St-Jacques
Villard de Lans
Around March
This gastronomic event is not your average day in the Alps - a foodies delight, the Scallop Festival invites talented chefs with scallop[s arriving directly from the Bay of St Brieuc. 
Around 40 tons of scallops are delivered to Villard de Lans overnight - that's a lot of scallops! Find out more here.
Defi Foly
La Clusaz 
Around April
Since 1987, this spectacular (and completely crazy!) event has brought together hundreds of participants and thousands of spectators over the years. 
The concept is simple - cover the greatest distance you can on Lac des Confins. Starting on a 40° steep snowy slope, and fly down on skis, monoskis, snowboards or any similar sliding equipment before hitting the water's edge.
Either skim across the water surface, or.... face plant as soon as you hit the water. At a positively balmy 6°c, it's not for the faint of heart! Find out more here.
Mountain Shaker
Tignes 
Around March
Mountain Shaker is an entire week dedicated to everything 'Board Culture'. From snowboarding to skateboarding, this event has it all! 
Watch the free riders and slopestyle experts compete in the French Free Ride Series or the Slopestyle World Cup out on the slopes, before heading indoors to the indoor skatepark in Tignes where you can watch the FISE Experience Series. 
Find out more here.
---
Feeling inspired and ready to book your next French Alps holiday? Want to head to the French Alps to witness these events for yourself? 
If you're ready to explore your options, our expert and award-winning team can help with planning the perfect holiday for you! Call us on 023 9283 9310, email on reservations@peakretreats.co.uk, or you can request a quote and we'll be in touch. Keep up to date with all the latest news from us and our French Alps resorts by signing up to our newsletter.