9 Summer Holiday Experiences Not To Be Missed In Chamonix
Chamonix first became famous in 1924 for hosting the Winter Olympics. Since then, the popular ski resort has blossomed…but what does it offer summer holiday-makers?
The natural scenery, which looks so picturesque in the winter, is equally as beautiful in the summer. The Aiguille Rouges Nature Reserve springs to life and the animals awaken at Parc de Merlet.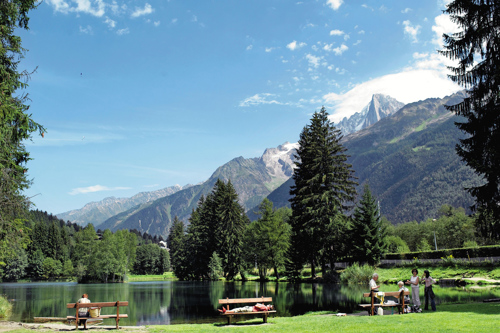 At just eight hours from Calais and one hour from Geneva Airport, Chamonix is easily accessible for UK visitors. The resort is perfectly positioned one hour from Lac Annecy and also resides close to the Mont Blanc Tunnel to Italy.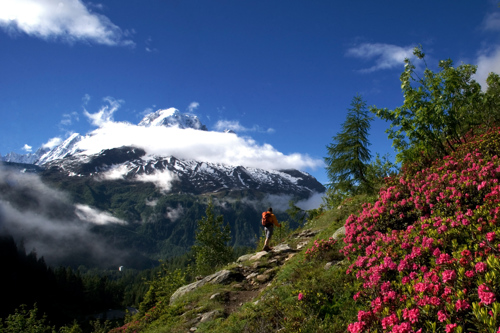 Chamonix hosts a range of summer holiday experiences, suitable for couples, families and large groups. Dreaming of a summer in Chamonix? Here is our 'Top 9 Chamonix Activities' tick list! 
9 Experiences for a Summer in Chamonix
1. Relax at Yoga Rando
Leave stress and worries behind with a morning of yoga in the mountains, followed by an energising afternoon of hiking. A 'Yoga & Hiking Day' is the perfect way to start your holiday in Chamonix, an experience 'all about making you feel good, focusing on your health and wellbeing' in the mountain air.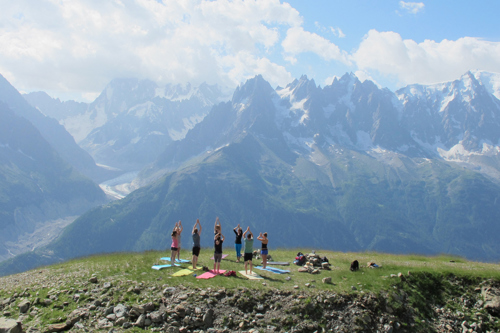 The session is held by a full-qualified yoga instructor, and includes an organic, vegetarian lunch. There is even an option to book a massage for the evening! 
A perfect activity for large groups or families, each session is tailored to the group.
Note: you will need a lift pass for this session, but they are not included.
2. Discover the Aiguille du Midi
View the 360-degree views of the French, Swiss and Italian Alps from the Aiguille du Midi.
The viewpoint sits at 3842m with a 32m walkway offering spectacular panoramic views, including the Mont Blanc (no wonder it's quickly becoming a world attraction).
Make a day of it! There's a high-altitude terrace restaurant at the summit which offers French cuisine in a truly unique setting.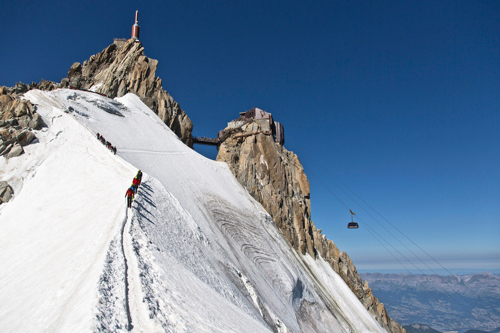 Take the cable car from the centre of Chamonix (30-minute ride), and allow between 2 - 3 hours for the visit. 
Note: this is not recommended for children under 5, and children under 3 cannot participate.
3. Run up a Mountain
Are you seeking an exhilarating activity? What about trail running up a mountain? 
Chamonix has fast become a favourite trail running destination because of it's easy layout and stunning views.



There are 18 trail paths of varying lengths, heights and difficulties, from easy to expert, ranging between one hour and eight hours, all dedicated to trail runs. They are easy-to-access and easy-to-navigate, leaving you free to enjoy the spectacular scenery. 
For ease, there is also a special app to help navigate the routes.
4. Explore the Ice Cave 
Head to the heart of a glacier!
Chamonix is home to the 'Grotte de Glace' ice cave, an underground museum full of ice sculptures.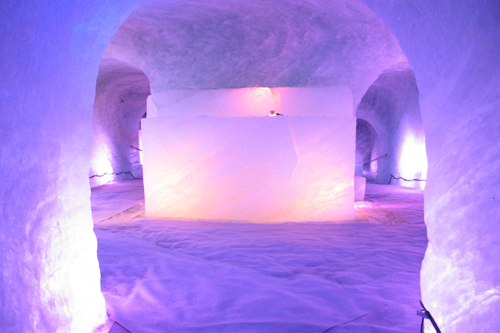 The Grotte de Glace by Chamonix Tourist Office
Every year the cave is sculpted to create an amazing array of ice art which shows the life of mountain people in the early 19th century. There are several different rooms which show the creation and evolution of the glaciers and the life of the local people over the centuries.
5. Party at the CosmoJazz Festival 
"The most beautiful concert hall in the world, in the most beautiful valley of the world."
For 9 days in July, Chamonix will be taken over by a host of talented musicians for the CosmoJazz Festival!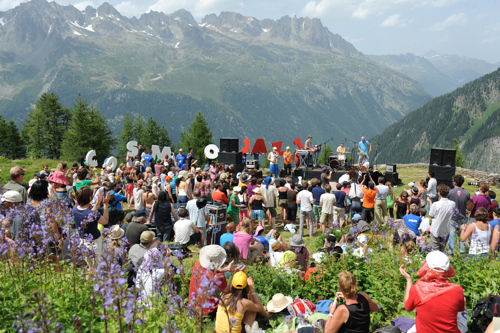 The CosmoJazz Festival in Chamonix by Christophe Boillon
During the day expect performances in high-altitude locations, from the edge of the glacier to the foot of a rock face. In the afternoon Chamonix's streets and town squares will come alive with music, followed by evening performances in many of the local bars. 
Note: the concerts are free but you will need a lift pass to get to the high-altitude locations.

6. Take a Famous Train to see the Famous Glacier
Take Chamonix's Montenvers railway train through forests, tunnels and over viaducts, to the heights of the mountain. You'll arrive at the famous Mer de Glace glacier (1913m). France's largest glacier at 40km2, 7km long, and an altitude of 1913m.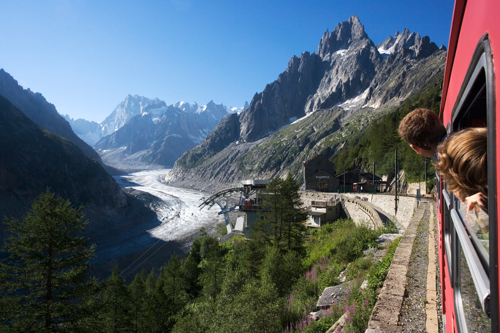 "A stunning panorama opens out before you, with the glacier below, an excellent testament to the climate change in this day and age." Mont Blanc Natural Resort 
7. Zoom down a Summer Luge
Zoom down the Chamonix roller coaster in the mountains!  
Head to Parc d'Attractions de Chamonix for trampolines, electric bikes, 'boat splash', outdoor playgrounds, giant swings and many more family-fun activities. It's also home to the 'Chamonix Luge-Alpine Coster'...a roller coaster in the mountains at 1300m with jumps, turns and up to 540-degree spins!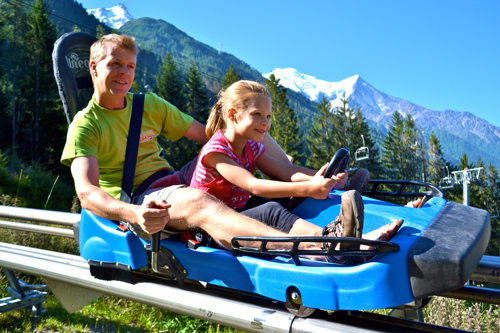 Just 5 minutes' walk from Chamonix town centre, with a picnic area and a restaurant nearby, it makes for a perfect family day out!
8. Step into the Void
If you choose to visit the Aiguille du Midi, and are feeling fearless, you can test your nerve at the 'Step Into The Void' attraction - A 2.5m glass cage jutting out over a 1000m precipice!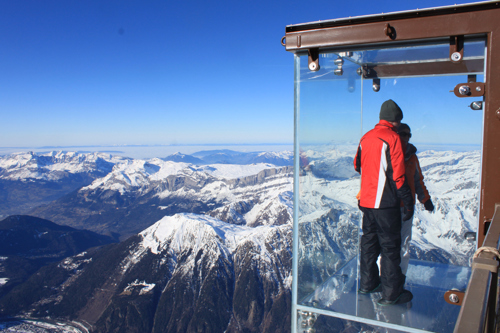 Step Into The Void by Chamonix Tourist Office
9. Canne Rondo (Hike with Huskies)
A new type of tour guide!
Navigate the mountainside with an adorable husky companion. Your four-legged companion is fastened (by a lead) to your waist, helping to pull you up, allowing you to travel greater distances without getting tired!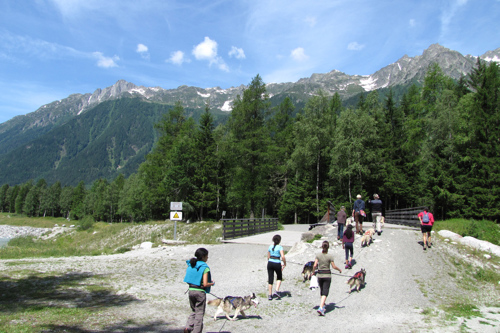 Husky Walking by Huskydalen
Suitable for adults and children.