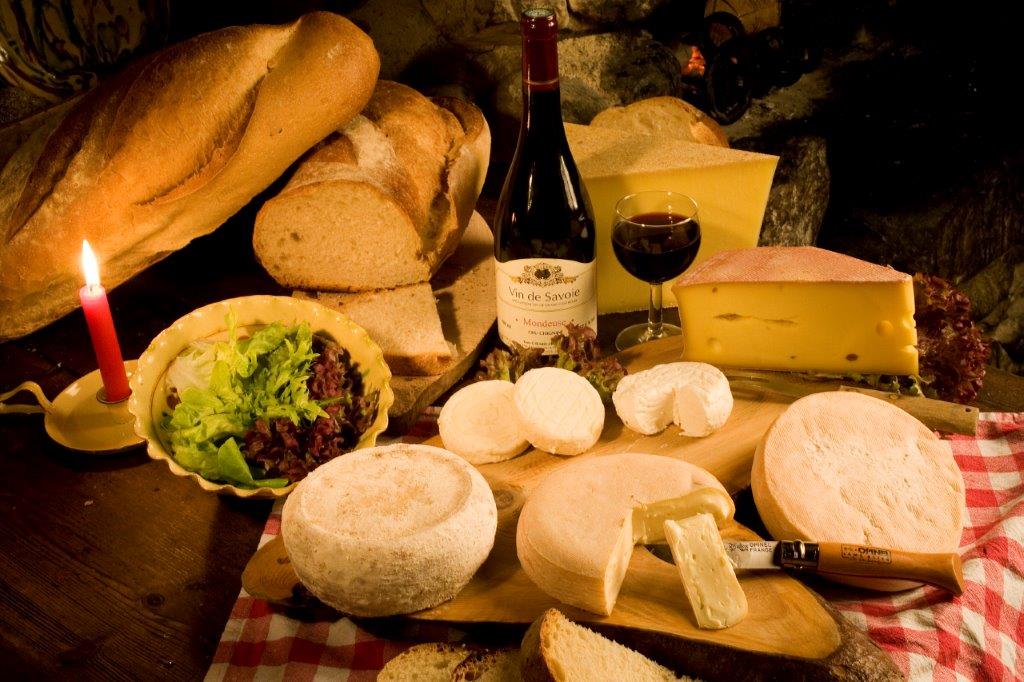 Friday, 13, August, 2021
France provides us with thousands of different cheese varieties, and let's be honest, we all love delicious cheese accompanied by a perfect wine pairing! France is known for its spectacular cuisine and tasty range of cheeses, therefore, we figured you deserved to know which (in our opinion!) are the best ones. Whether it's all-time classics to enjoy as a snack or seasonal favourites for après ski, France has really got an exceptional line-up.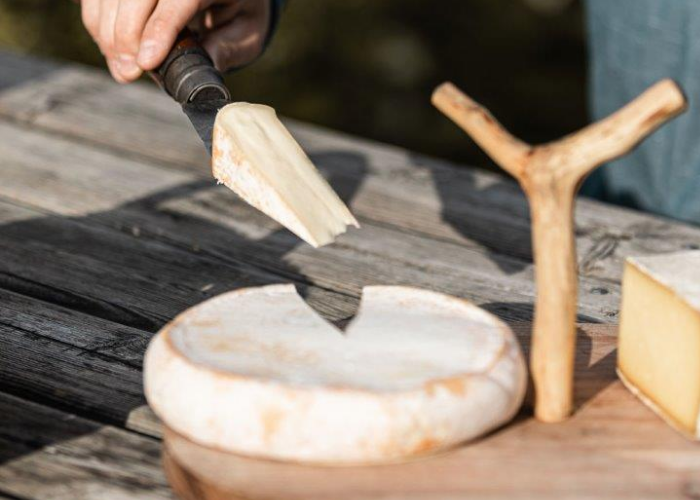 1) Reblochon
With a delicate flavour and creamy texture, Reblochon is a French unpasteurised cow's milk cheese. This creamy and smooth cheese was first produced in the Thônes and Arly valleys, in the Aravis massif. It's still produced in the local cooperatives in the village today! Its distinct mellow flavour is part of what makes this so popular alongside it being the main ingredient of one of our favourite French dishes, Tartiflette.
At the time Reblochon was invented, farmers would pay their rent in the form of cheese, milk or other dairy products! You can discover more about farm life and the history of Reblochon in Le Grand Bornand. Reblochon is paired well with the local accompanying white wine Roussette de Savoie; with fragrant, floral and spicy notes, this wine counterbalances the creaminess of the cheese. We recommend a sophisticated evening in to try this tasty cheese and wine combination. Want to make your ski holiday even easier? You can order Tartiflette through our food delivery partner in the French Alps.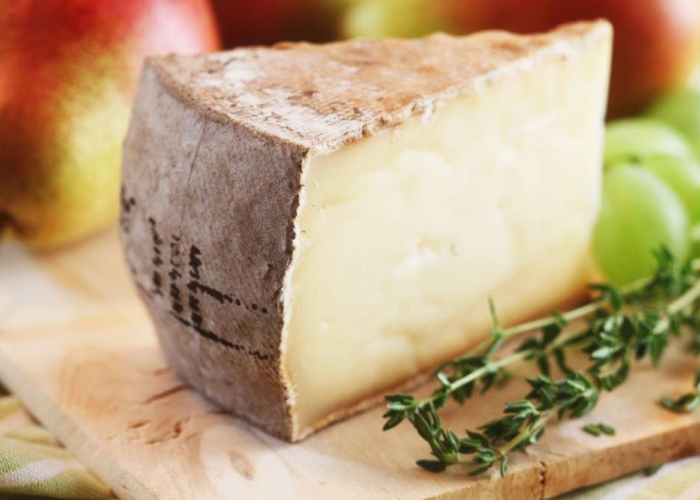 2) Tomme de Savoie
Tomme de Savoie is one of the oldest recipes in the Savoie, mentioned in texts as early as the 16th century. This semi-soft Savoie cheese is made from raw cow's milk and pressed dough and has a milky, gentle nutty finish, however, most people love it because of its delicious creamy flavour. The flavours in this cheese vary dependent on the season, sometimes you can even get a hint of grass when made in the summer! Surprisingly, the suede-like natural rind has an earthy aroma and is responsible for mushroomy notes. This flavoursome cheese pairs well with a medium-bodied red wine, particularly the local Savoie wine, Le Gamay. Le Gamay is described as a light and fruity wine with bright fruits and delicate aromas which complement the Savoie cheese by sweetening the taste. So when you next visit one of our Savoie resorts, including Tignes and Vaujany, let us know if you gave this yummy cheese a try!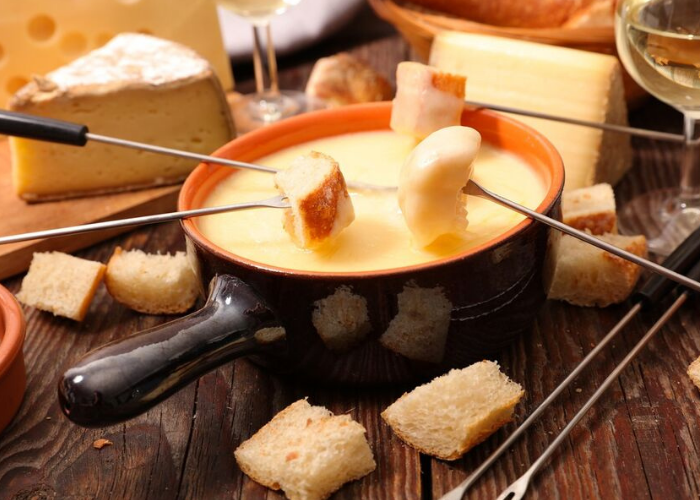 3) Raclette
Raclette is a cows' milk cheese that has a light-brown rind and a semi-firm texture. Although this alpine cheese can be consumed as a slice, it is most commonly used for melting in front of a fire or under a hot grill! The full nutty, sweet and slightly fruity aroma intensifies and the elasticity of the melting cheese and makes it truly magnificent. Raclette dates back in writings as early as 1291 and was eaten by peasants and shepherds in the medieval period. Food was not to go to waste then, so the herders scrapped off the bubbling part of the cheese from the stone and spread it on their potatoes and bread, incidentally, the name raclette comes from the French word 'racler', which means 'to scrape'. A classic wine pairing we would recommend is a light-bodied dry white wine such as Rousette from Savoie. The crispness of the white wine will cut through the creaminess of the cheese, but the dry profile won't overpower the raclette's delicate flavours. When booking with us, let us know that you are interested in trying this cheese as many of our residences have a raclette set you can loan!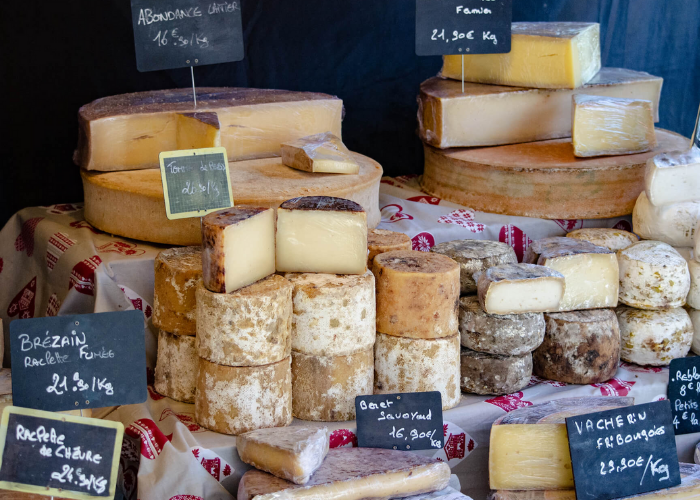 4) Tomme d'Abondance
Tomme d'Abondance is a fruity flavoured cheese with a hint of hazelnut that dates back as early as the 11th century. It was in 1381 that the cheese was identified for its quality when it was served at the conclave table during the election of Pope Clement VII in Avignon. For centuries, this deep golden cheese has been made in mountain chalets with traditional methods and using milk from specific cow breeds from Savoie area of France. The sparkling wine le Crémant de Savoie is recommended by experts as the perfect accompanying wine pairing with this cheese. The light sugars of the wine soften the slight bitterness of the cheese and enhance the creamy and buttery flavours on the back of the palate. When you are in the Haute-Savoie region why not try this cheese, some of our many resorts in this region are Chamonix, Les Gets, and Samoens!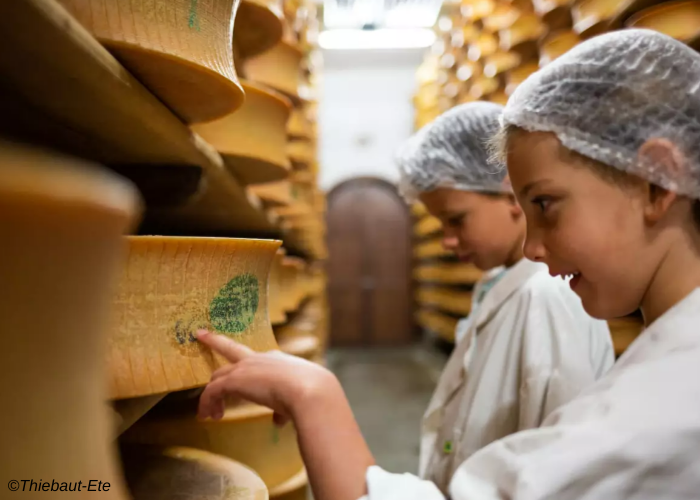 5) Beaufort
Already known at the time of the Romans, this firm and fruity cheese is very popular in the French Alps. Made from unpasteurised cow's milk, this creamy and smooth cheese is used in dishes such as fondue, pasta sauces, risotto and dauphinoise potatoes. When you are exploring Arêches-Beaufort and the surrounding resorts, you'll find this cheese in dishes in restaurants as well as a cheese vending machine in the local village! It's an authentic cheese; protected by the 'Appellation d'origine protégée' label - cheese produced elsewhere can not call itself Beaufort. When exploring the mountains with the family, look out for the cows that are brown with a white face and underside, these are the 'abondance' cows that are used to produce the local Beaufort cheese. For a harmonious match beginning to end, we recommend waking up and filling the taste buds with the local Savoie wine, La Roussanne. The full-bodied wine with floral notes on the nose is perfectly light and elegant and a great match for this desirable cheese. 
So on your next visit to the French Alps what cheese are you going to try first? 
If you want to organise your ski holiday with a multiple award-winning French Alps specialist, then you've come to the right place! You can book online, call us on 023 9283 9310 or request a quote and we will find you the perfect ski holiday! Don't forget to sign up for our newsletter to get all the latest news and deals! You can also find us on Facebook and Instagram for regular updates on all things French Alps related!