Tuesday, 01, October, 2019
Alison from the Peak Retreats team picked La Rosière as the destination for her group ski trip with eight other families! Find out all about the trip in her blog below...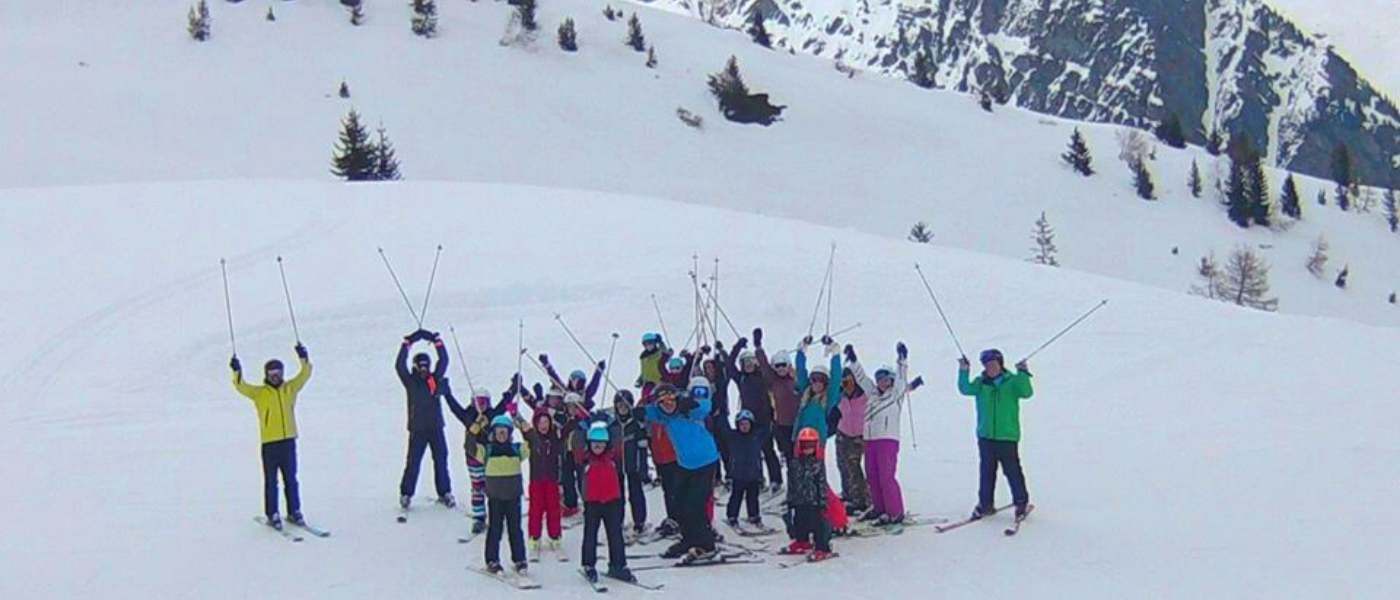 After having an amazing time skiing in Val Cenis previously, the families that we travelled with were keen to get our next trip booked. Only this time we'd been so enthusiastic about our trip that four families became nine and our modest group of 16 ended up being 40!!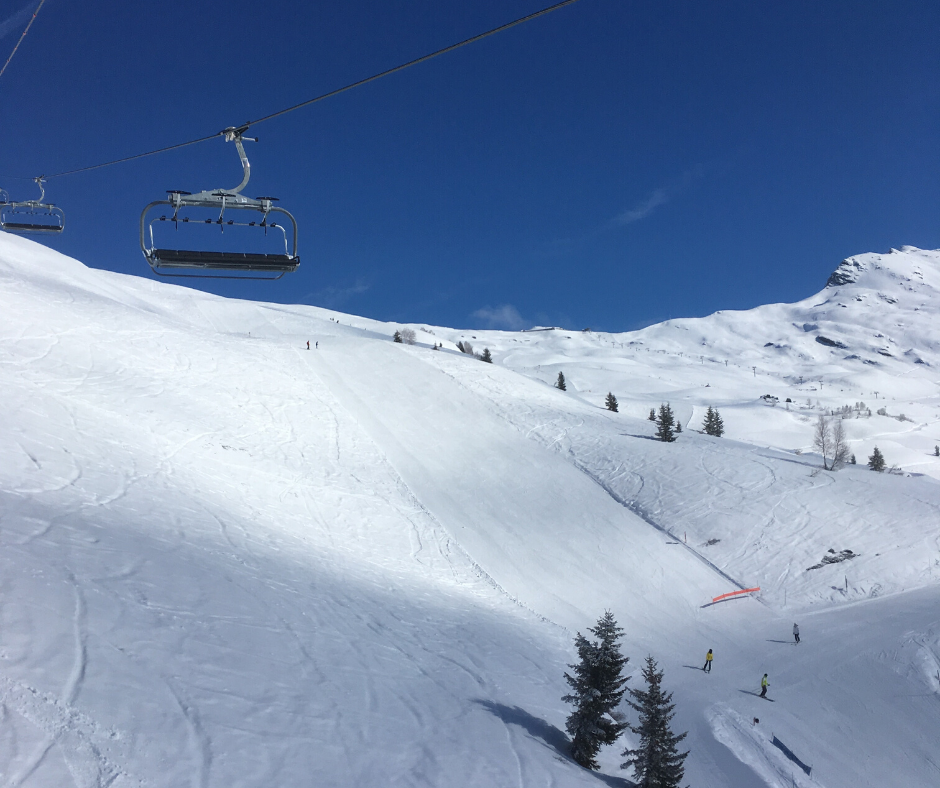 Choosing where to go
La Rosière had a pretty unbeatable reputation – clients, colleagues and the press were all telling us how great it was and the fact that it was opening a whole new area (with five new red runs and lots of freeriding opportunities in the new Mont Valaisan sector) and boasted lots of new developments for the 2018/19 season meant that it felt like the hot ticket.
Our group included some complete beginners, who couldn't wait to get on the slopes and so the fact that La Rosière has a brilliant ESF (French ski school) and a range of slopes for beginners was a definite plus. We also had some hard-core skiers in our group who had done seasons all over the Alps and wanted an area that would challenge them and give them plenty of ground to cover. La Rosière's ski area is vast (with 198km of slopes) and high; you can even ski over to Italy to La Thuile. It was also snow-sure and, as we were going at Easter, this was another important factor. So La Rosière it was.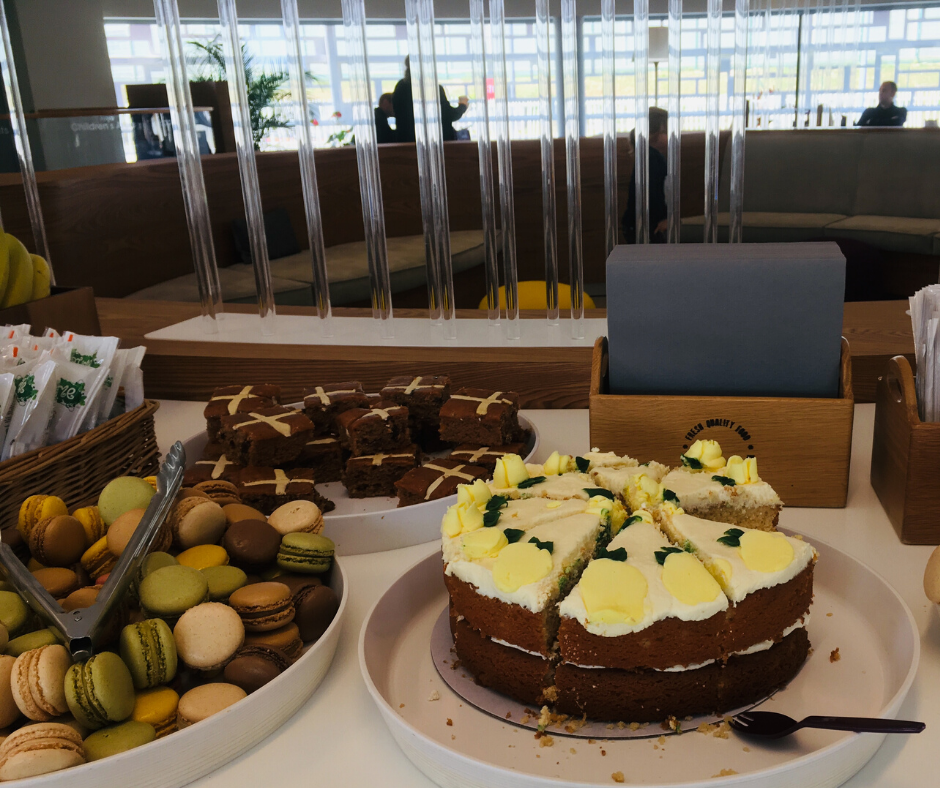 Getting there
Eurotunnel FlexiPlus feels like it was designed for people like me! It was ideal not to be tied to a set departure time as, as invariably happens just before a holiday, my plan to leave straight after school went out the window and we left later than intended. However, with FlexiPlus allowing you to just turn up and get on the next available shuttle (on your booked day of travel), it didn't matter and the journey was stress free as a result.
The children were wowed by the FlexiPlus lounge and excitedly stocked up on goodies to keep them going on the journey. My husband is vegan and the Eurotunnel team couldn't have been more accommodating – so he too came away with a tasty picnic tea.
We stopped en route in Reims, which gave us a head start the next morning. Using the interactive navigation app, Waze, meant that we were diverted around any small hold ups and, although long, the journey was smooth all the way. We stocked up at the Super U in Bourg St Maurice before heading up the winding mountain road to La Rosière.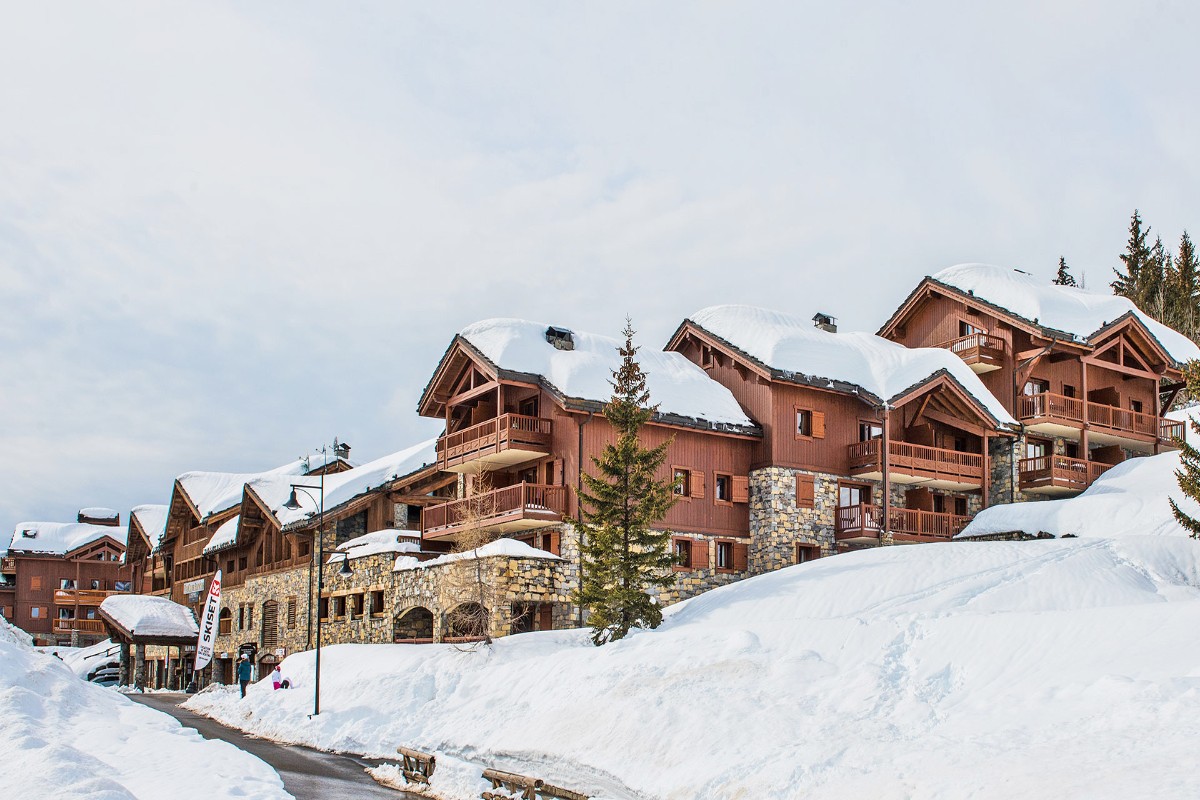 Where to stay
The 4-star Cîmes Blanches apartments in the Les Eucherts area of La Rosière came highly recommended and suited us perfectly. The apartments were comfortable and spacious and the views from our balcony were stunning. The pool was a great place to gather at the end of the day - not much can beat looking out over snowy mountain peaks from a hot tub after a day on the slopes.
Les Eucherts has a few bars and restaurants, ski hire shops, a bakery and a little mini-market, but it's a pleasant walk along a snowy path through the forest to La Rosière centre, where there is a wider choice of places to eat out, some lovely little shops and another mini-market.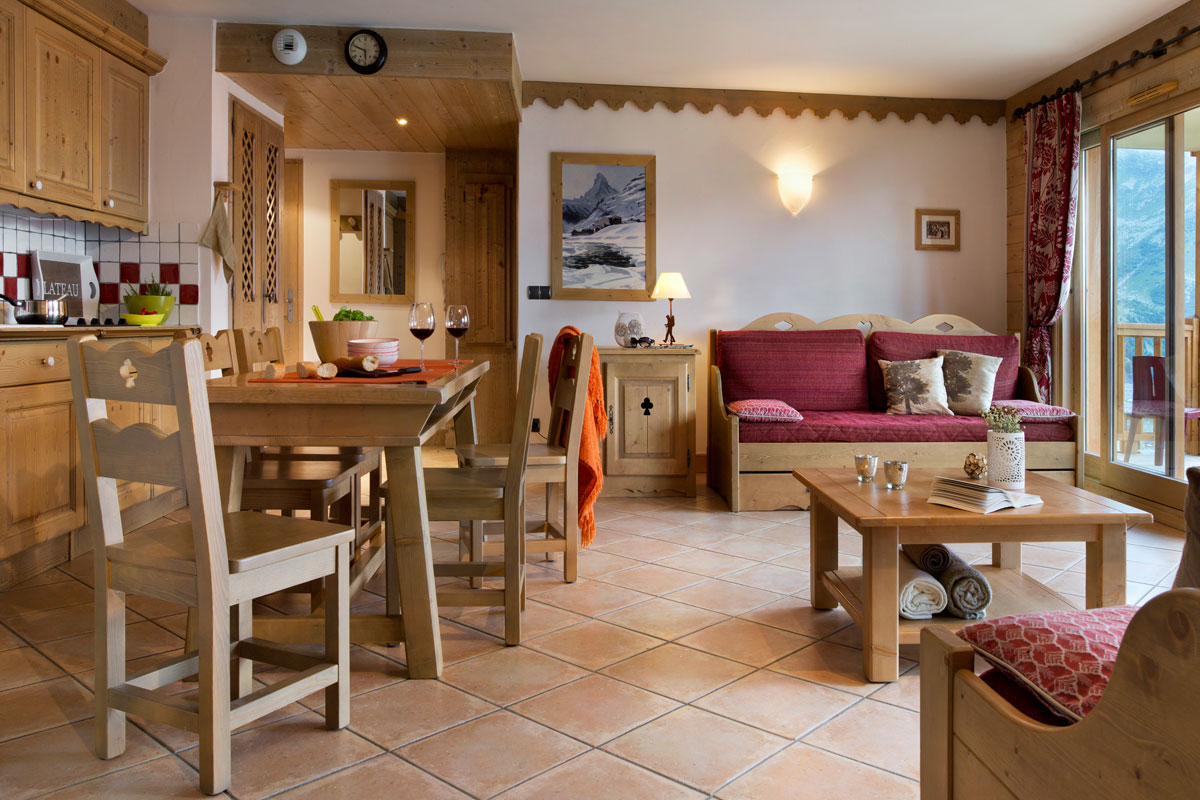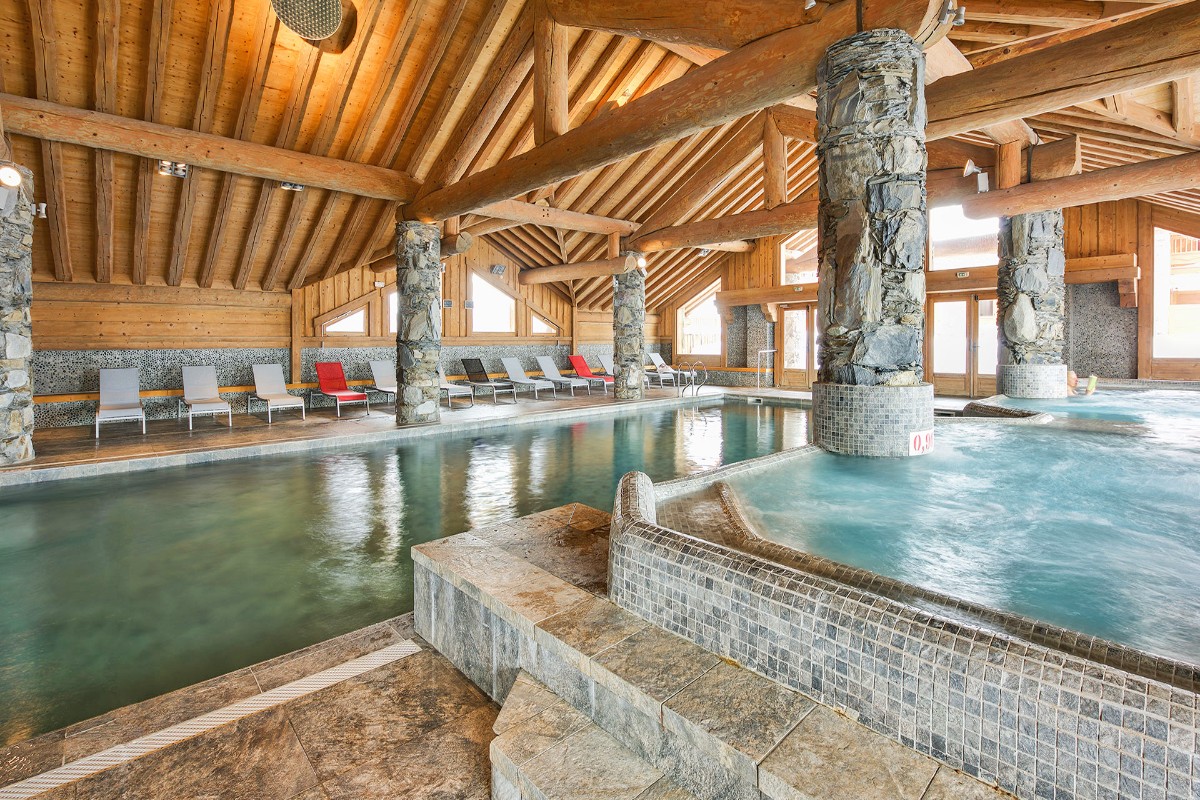 "I can't recommend skiing with a group of friends highly enough. It was great to always have someone to ski with. The children loved having their friends around for skiing, swimming and snowball fights. Staying in apartments meant that each family had enough privacy, but that there was plenty of space for the children to hang out when not on the slopes."
- Alison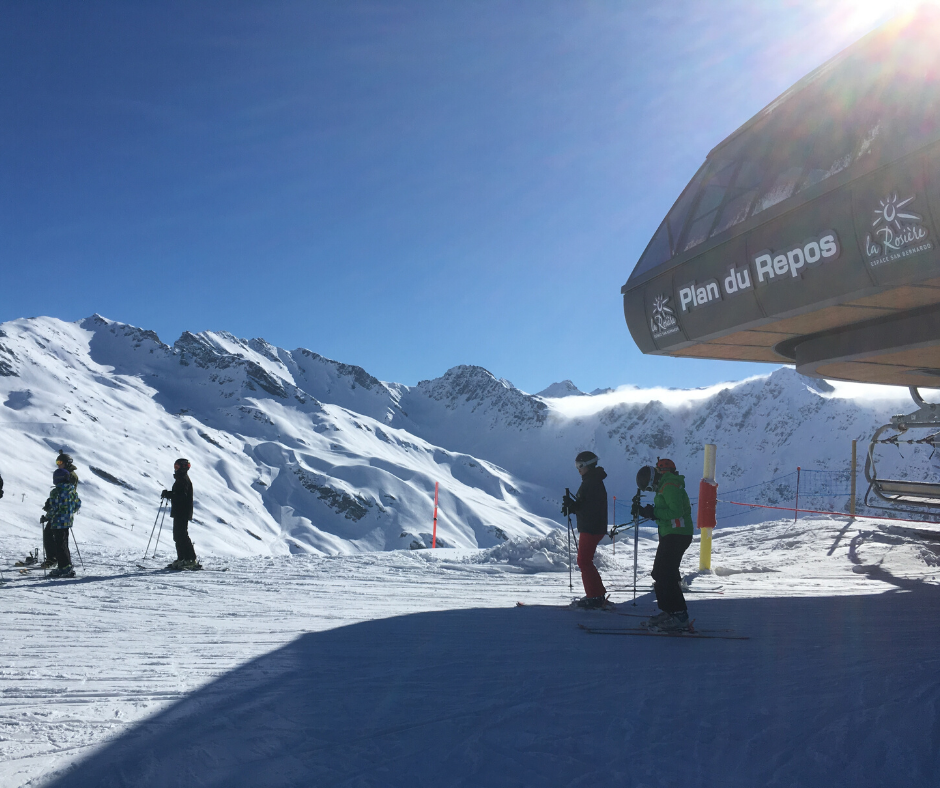 The skiing
We'd pre-booked all our ski extras through Peak Retreats before we left. Turning up with our lift passes all ready to go was a definite bonus! Most of our party had also pre-booked lessons through Peak Retreats with the excellent ESF (French ski school). I'd definitely recommend getting these organised in advance as it was great being able to just turn up on Sunday morning and check them in. Having safely delivered our children variously to the Flocon, Ourson and Piou Piou classes, those who were in lessons headed off to meet their own instructors.
The huge advantage of having lessons, even as an intermediate, is getting to know the ski area. On days when it was cloudy our instructor, Pierre, always knew the best places to take us so that we'd get the most of out the morning session. We headed through the trees when the cloud was low, tried some jumps on the Petit St Bernard fun track, nipped across virgin snow fields to a get to a less busy slope; we were completely in awe of his ability to tailor the lesson to our varied group and ensure we were all challenged but happy.
We got adept at making a quick picnic to eat together at the bottom of the slopes (an advantage of self-catering) before heading out to ski in the afternoons – re-exploring the slopes we'd been on in the morning, heading to the fun tracks with the kids, or discovering something new. More often than not, my son would want to show my something they'd done in ski school in the morning and as there were rarely any queues we were able to fit in a lot of skiing.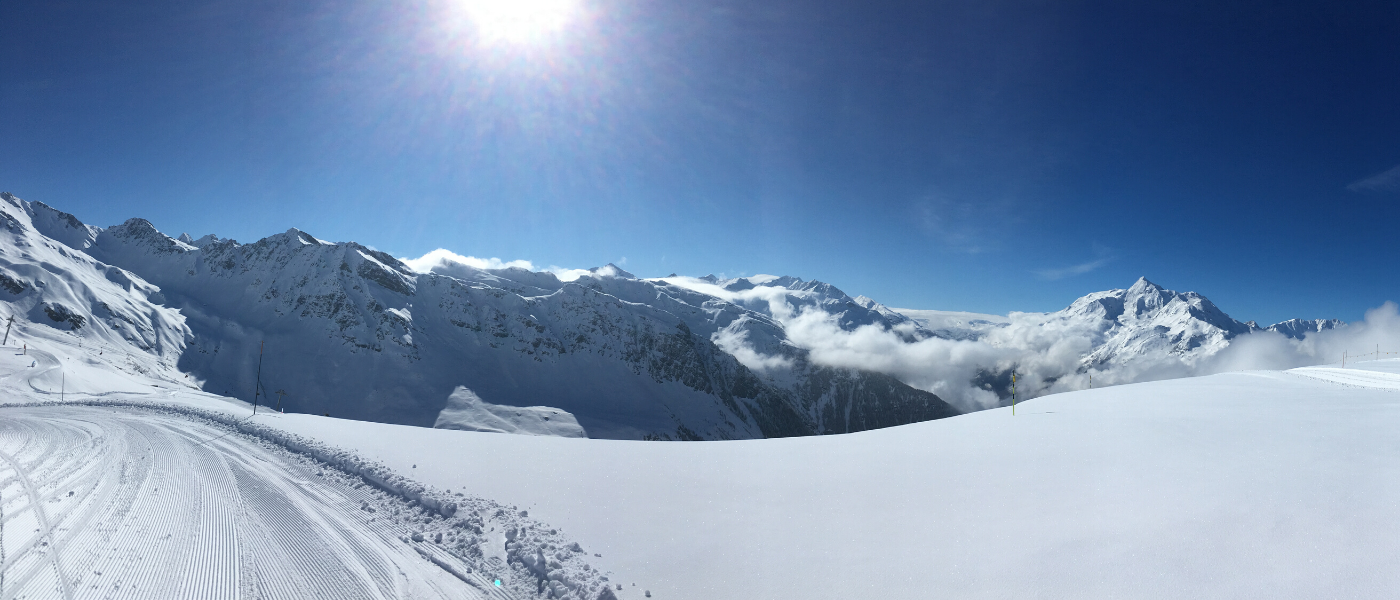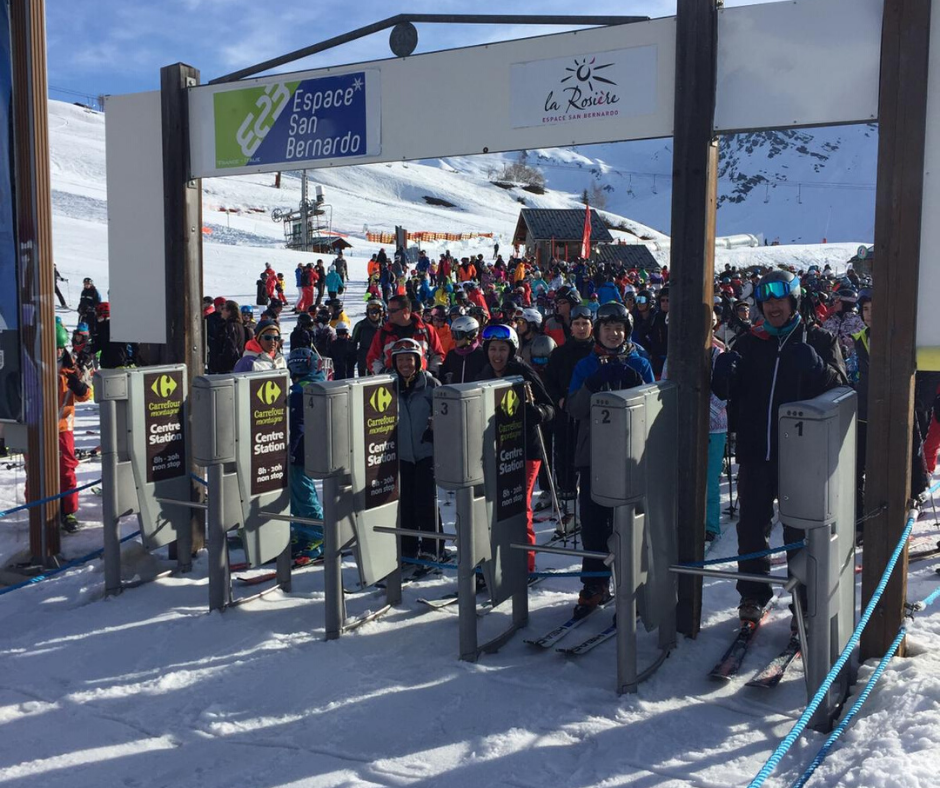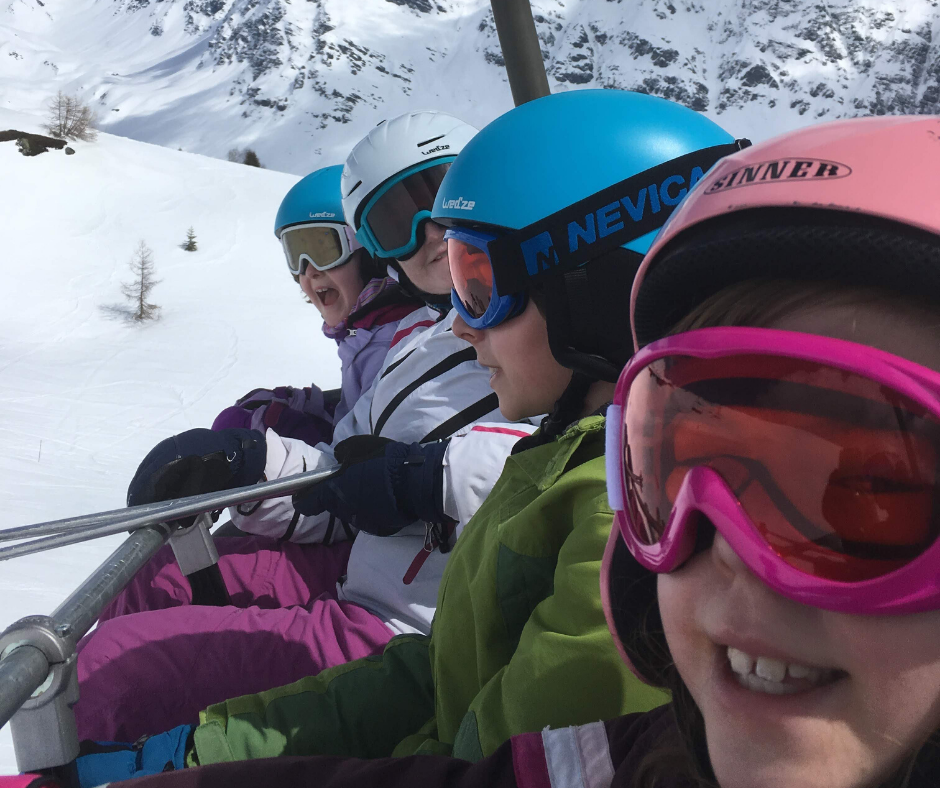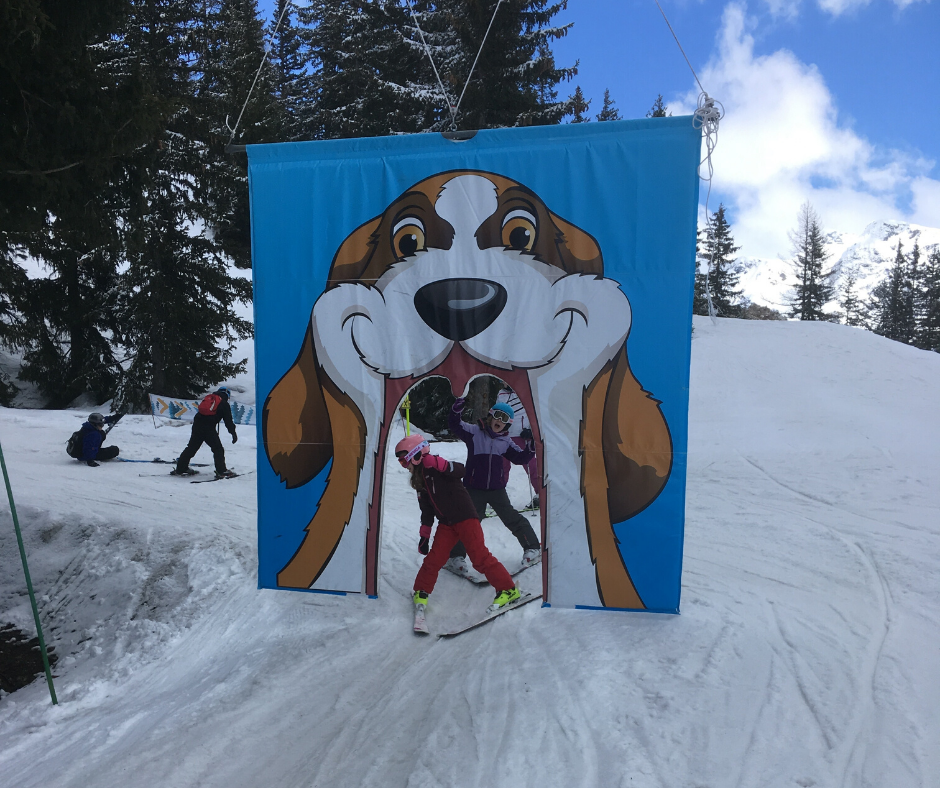 The beginners in our group took advantage of the free resort shuttle bus to head to La Rosière centre and practice on the gentle green slopes there in the afternoon, having explored the greens and blues in Les Eucherts in the morning.
Intermediates will love the number of blue runs. At the top of the main lifts (Fort – at 2390m – and Plan de Repos and Roches Noires, which meet at 2330m), there's an option to either take a blue down or a choice of reds so intermediates can access some the highest parts of the ski area and can also choose how much they challenge themselves with a choice of descents. Intermediates can also make it over to the Italian side and enjoy some fabulous wide reds.
The experts in our group were able to zip all over the ski area and found plenty to like. There are a few blacks runs and lots of reds. The new Mont Valaisan area has opened up secure freeriding opportunities and it's a great place to try this.
La Rosière really does have so much to offer for all levels.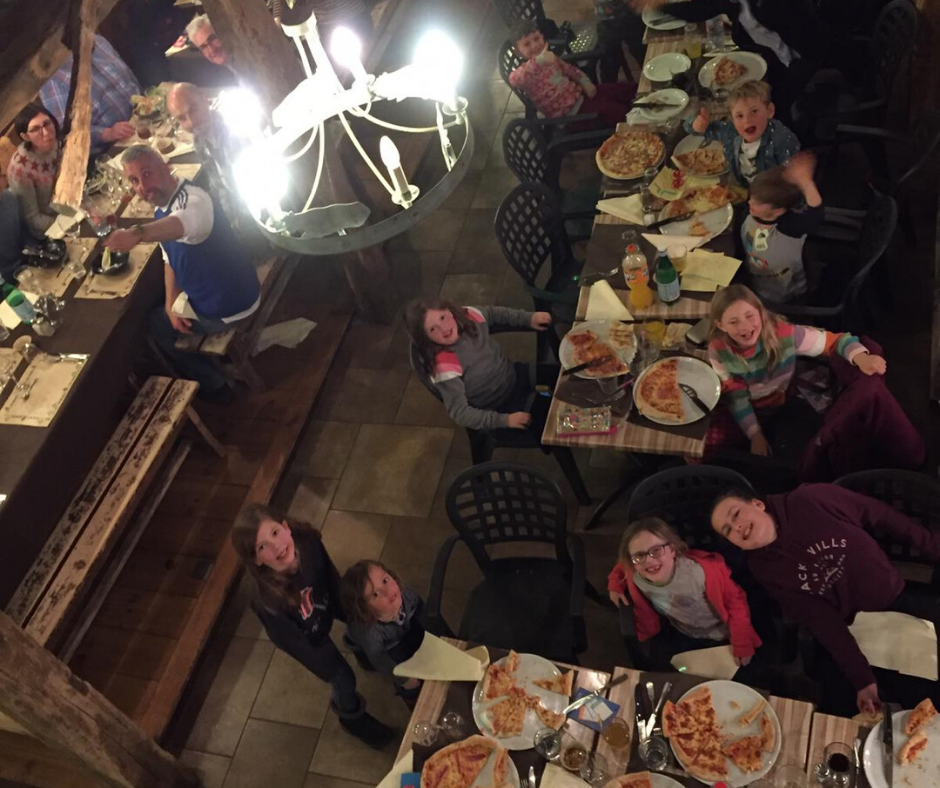 Eating out and in
As we were such a big group, we'd arranged a dinner in a local restaurant, La Grange, in advance. The team there were brilliant, especially considering there were 20 hungry children with us! With pizzas all round for the kids and Savoyard specialities for us (copious quantities of salad, raclette and tartiflette – delicious!), we all had a warm and fuzzy feeling when we eventually left.
On our last night we all headed out to the Moo Bar, a friendly bar in Les Eucherts that had plenty of space to accommodate us all.
We also tried using Huski's resort food delivery service while we were there. Ordering ready made COOK meals and Savoyard specialities from Huski's own kitchen online from home before we left and arriving to find the freezer of our apartment already stocked was fantastic! We'd even had a text from the delivery driver letting us know that everything was waiting for us. Their tartiflette, created by their own head chef (they are based in Bourg St Maurice), was delicious and it was so easy just putting it in the oven, sitting down and putting our feet up with a glass of wine, while it cooked. We'd definitely choose to use Huski again.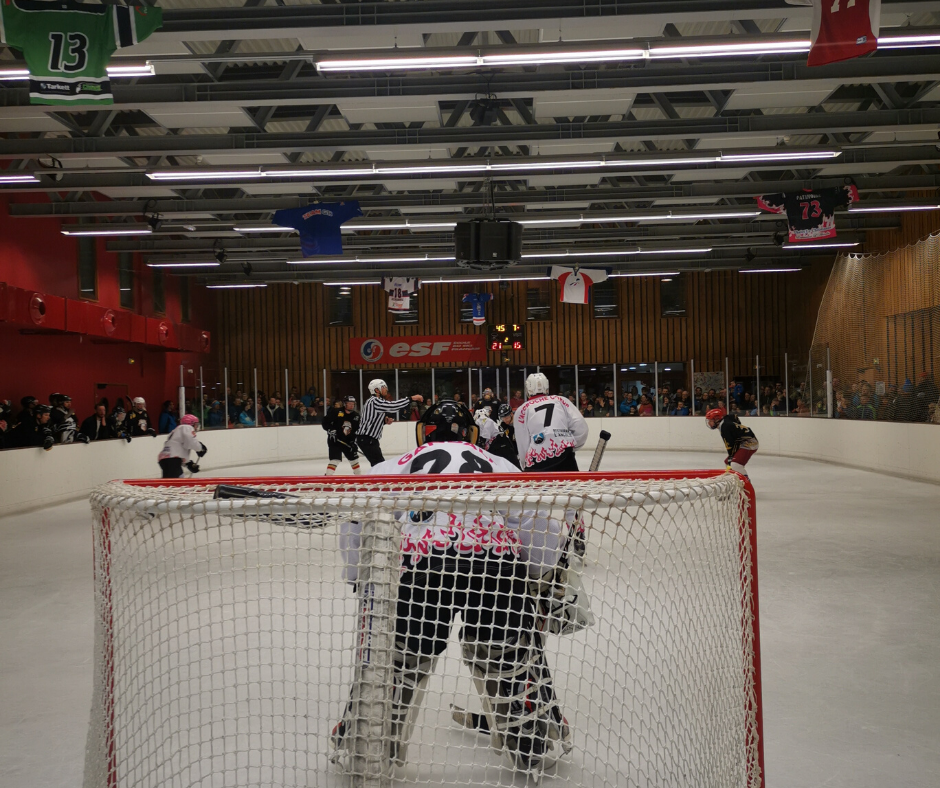 Après ski
With lots of offer, our highlights were: Ice Hockey – the local team, les Tigres Blancs, plays weekly and the atmosphere was awesome. Cheer on the team, grab a drink, meet the players afterwards, play a random puck challenge game at half time… this was a brilliant evening out and only three euros each. Not to be missed!
Le Bal des Moniteurs – if you happen to be in La Rosière when this is on (it's a celebration of the young ski instructors) then definitely go. There was an ice bar where drinks, crepes and waffles were served by the ski instructors themselves (the children loved this!), ski boot wanging (think welly-wanging but with ski boots!) and a tug-of-war, all followed by a disco.
Piste basher garage visit – once a week you could visit the piste basher garage to find out more about these impressive machines. Get up close and personal, and even sit in the driving seat!
Where's next for Alison, her family and friends?
After a brilliant trip, and probably due to the fact we haven't stopped talking about it, our group of families has expanded yet again and over 45 of us are off to Les Carroz at Easter… we can't wait!
What are Alison's top tips for skiing with a group of families?
Choose a residence that has plenty of apartments so that everyone can be as close together as possible
Choose to go self-catering; apartments give each family flexibility and their own space
Make sure you tell our reservations team that you are part of the same group – they can make a request for you all to be near each other
Find a resort that has a wide range of slopes
Book ahead if you all want to eat out together
Start a messaging group so you can all plan and communicate in resort too
Don't miss the welcome meeting if there is one in your residence
Take full advantage of in resort activities