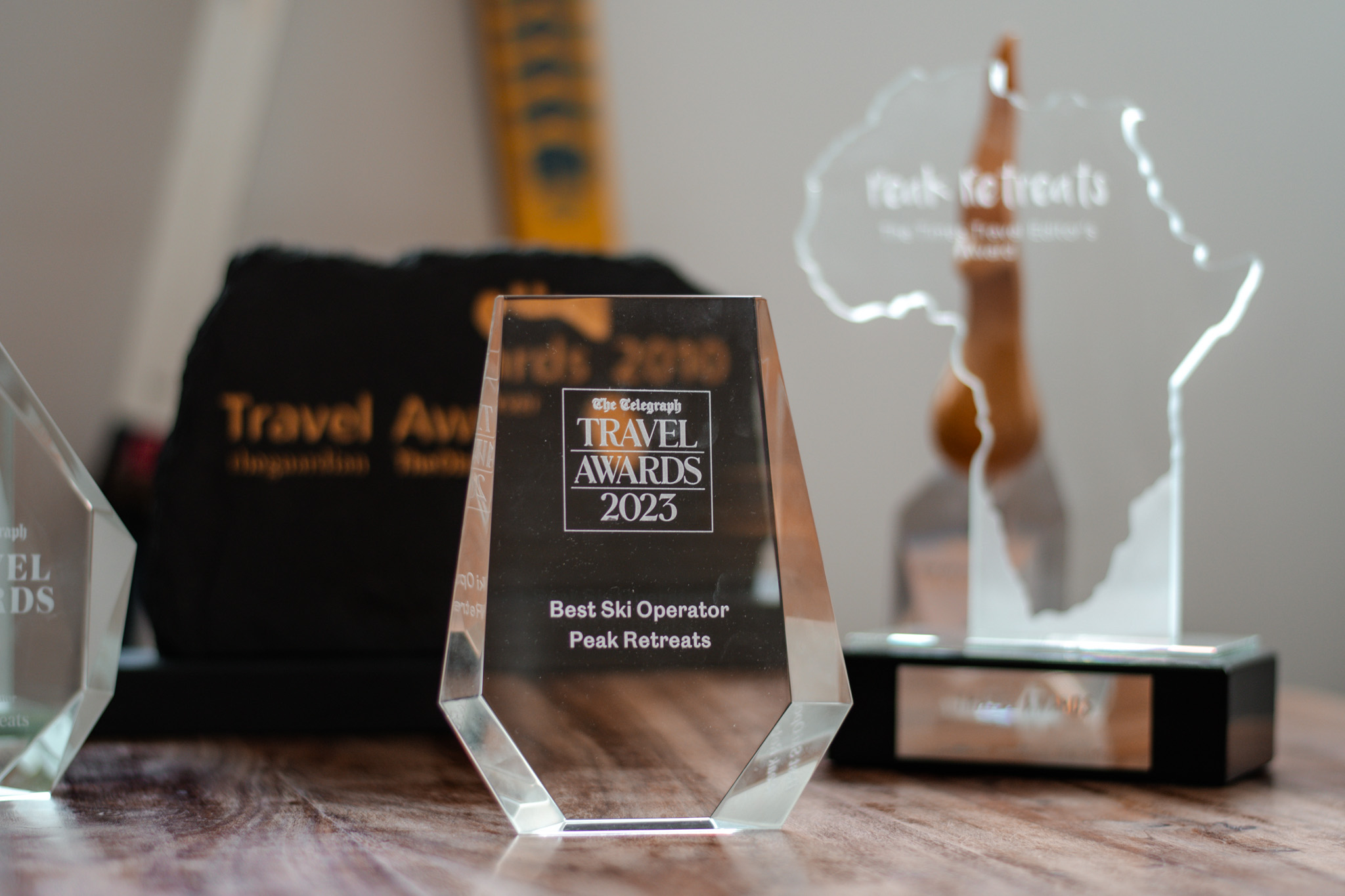 Thursday, 13, July, 2023
We've had an incredible week in Peak Retreats HQ, as we were recognised as Best Ski Operator at the Telegraph Travel Awards 2023! The Peak Retreats team is so grateful to everyone who supported us with their votes and to the Telegraph for crowning us! Read on below to find out more from the day... 
The awards ceremony held on 11th July at the Hotel Café Royal in London, recognised 20 of the top travel companies and destinations around the world, as voted for by nearly 30,000 Telegraph readers! The event was introduced by Joe Doherty (Director of Client Sales and Development at the Telegraph Media Group), and hosted by Ben Ross (Head of Travel at the Telegraph). Alongside lots of worthy winners at this year's Telegraph Travel Awards, Peak Retreats was named Best Ski Operator.
The team were so excited that we've been named the winner of this award, especially as we were up against some great competition - such as VIP Ski and SunWeb, who took second and third place this year. This isn't the first time has Peak Retreats has been recognised with a Telegraph Travel Award, as we achieved the same title in the previous awards in 2019! 
"Peak Retreats has defended its position as champion in this category - a victory that is a testament to the operator's ability to understand the changing demands of British skiers. Since its last success - having been named Best Ski Operator in 2019 - the self-catered specialist Peak Retreats has come into its own. Peak Retreats, which celebrated its 20th anniversary last winter, has been at the forefront of [the self-catered] revolution. Its properties across France have shattered any misconceptions about apartment accommodation, with five-star facilities, including spas and swimming pools, and spacious living spaces the new norm."

~ Lucy Aspden-Kean, Commissioning Editor for the Telegraph Ski writing on Telegraph.co.uk
"We are thrilled to have been named Best Ski Operator by the Telegraph for the second time in a row. It means so much to us that discerning Telegraph readers, who we know are keen skiers, have recognised us with this award. We're delighted that this award confirms that what we offer, from our service to our range of resorts, resonates with UK skiers. We couldn't have achieved this without our brilliant team, who know our resorts inside out, enabling them to help clients find a ski holiday that is perfect for their party. Thank you to everyone who voted, we look forward to sharing our passion for the French Alps with even more skiers in the coming winters."

- Xavier, one of our co-founders
If you want to organise your ski holiday with a multiple award-winning French Alps specialist, then you've come to the right place!
You can book online, call us on 023 9283 9310 or request a quote and we will find you the perfect ski holiday! Don't forget to sign up to our newsletter to get all the latest news and deals! You can also find us on Facebook, Instagram, and Twitter for regular updates of all things French Alps related!