Friday, 11, August, 2023
Our resorts and accommodation really do care about the mountains and the impact they are having. We're constantly getting updates from our fabulous resorts about all they're doing to make your next ski holiday even more sustainable. Here are some of our favourites... 
Awarded the Flocon Vert in 2020 and it's eco-credentials start with getting there; taking the train via Paris to Bourg St Maurice then the (electric) funicular up to the resort has to be one of the greenest journeys to the Alps.
In resort, 60 solar panels have already been installed across the Varet and Aiguille Rouge lifts and from this year, the ski area will produce 12% of the electricity it consumes using hydro-electricity generated from its snowmaking installations.
Rather than use plastic water bottles, you can top up your own reusable bottle at various points on the slopes.
The resort has also created 'quiet zones' across the ski area, which allow the rare, protected Black Grouse to hibernate and reproduce undisturbed, and a new visitor space lets skiers learn about the area's exceptional biodiversity.  
Where to stay: Chalet Altitude - This comfortable residence is located just below Arc 2000's central square, which is easily accessible by a pedestrian lift, or a short drag lift if on skis (both are just opposite the residence). Apartments are built in a traditional style and the residence has the advantage of having some big apartments (the largest has 7 bedrooms!), which are great for family groups. There's an indoor pool and a handy mini-market at the property too. 
Held the Flocon Vert Certification since 2013 - Chamonix is known for being a driver in change for the ski industry and sustainability. 

In 2009, Chamonix set out a plan to reduce their greenhouse gas emissions by 20% by 2020.

Developed their own free public transport to all locals and tourists.

All buses are now 100% electric.

Charging points for electric cars around the resort.

Bicycle racks and cycling paths can be found throughout the town centre. 

Chamonix identified large quantities of greenhouse gases were produced by housing and are now ensuring local funding is available for those wanting to make their homes more energy-efficient!
Where to stay: Le Cristal de Jade - Perfectly located next to the famous Aiguille du Midi cable car and just 200m from the centre of Chamonix, Le Cristal de Jade enjoys one of the most convenient positions in the resort. Relax in the pool, or enjoy the hot tub, sauna, steam room and fitness room. 
This ski resort is strongly committed to preserving the local ecosystem and was the first to carry out a carbon footprint report in 2007. 
The resorts ski lift operator is BIOM certified, an indicator that measures the social, economic and environmental impact of the area.
Les Menuires was the first French ski resort to join the international association Protect Our Winters in 2018.
Ski lifts have been running on renewable energy (hydroelectricity) for 10 years and their speed adapts to passenger numbers.
Slope management is committed to training their drivers in eco-driving to reduce their energy consumption when grooming the slopes. 
Free shuttle service to the heart of the resort for holidaymakers without cars.
Les Menuires has created eleven Rézo-Pouce hitch-hiking stops in the villages and resorts.
There is a daily bus service for permanent and seasonal workers from Moûtiers to Les Menuires which has been running for 20 years.
Recharging stations are available for electric vehicles in Saint-Martin and Les Menuires. 
Ski passes are now rechargeable and reusable cards. For ski lessons, you no longer have to show the instructor a card. You show an eTicket instead! 
Where to stay : Les Chalets du Soleil - Ideally located at the foot of the ski slopes and ideally located in the Reberty 2000 area of Les Menuires, this residence enjoys a great doorstep skiing experience. Facilities include private ski lockers with heated boot rack, free Wi-Fi, bakery delivery service and some apartments have access to a sauna and hammam.
Awarded the Flocon Vert certification in November 2021.
The resort is committed to a rational use of energy and resources, as part of the sustainable development of leisure activities.
Takes daily actions to preserve the flora and fauna, to prepare the slopes, transport the skiers on the ski lifts, or to produce the right amount of artificial snow.
Val Cenis is one of the 3 pilot areas of the European project POIA Birdski - this aims to monitor the black grouse, an emblematic bird of the alps.

This involves creating quiet zones for the birds and equipping certain ski lift cables to avoid bird strikes.

Val Cenis is the first French resort to be equipped with fully electric piste groomers. 
Where to stay: Les Chalets du Flambeau - One of our directors' choice residences', these luxury apartments sit right by the Pré Novel chairlift and ski school meeting point. Facilities include indoor heated swimming pool, children's paddling pool, on-site spa and ski lockers with heated book rack.
Flaine is one of the closest resorts to Calais, and therefor allows you to opt for environmentally-friendly access to the slopes by driving from home.
If you are driving by electric car, you'll find recharge points in the Flaine Forum. 
Built right on the mountainside, amenities are easily accessible by foot, ski or by shuttle bus.
The whole resort is traffic-free.
The surrounding Grand Massif ski area was the first to receive the Green Globe certification which recognises the effort made to sustainable tourism.
Everything runs on renewable energy .
The environmental observatory of Flaine was established in 2007, and is the only one of it's kind in France - monitoring local biodiversity and investing their time planting local species.
Flaine has an environmental policy that aims to prevent pollution and reduce its impact as much in day-to-day activities as in the planning and development of the ski area. 
Where to stay : Le Centaure - This luxury property offers ski-in/ski-out possibility and is close to the 'Les Grandes Platieres' cable car. Facilities include wellness area with swimming pool, hot tub, sauna and steam room, as well as free Wi-Fi and ski lockers with heated boot racks.
The first ski area in the Southern Alps to be awarded the Green Globe certification. 
Since 2021, the resort has produced 30% of its own electricity from renewable sources. 
Invested 3.6 million euros in sustainable energy, and uses hydroelectric power, solar power and wind energy.
The water pumped through the snow cannons during artificial snowmaking passes through turbines to generate electricity. 
Have installed over 1400 solar panels on buildings and lift stations angled to avoid snow accumulation, meaning they can generate 20% more power. 
Where to stay: Le Hameau du Rocher Blanc - Stay at the 4-star residence Le Hameau du Rocher Blanc in Chantemerle, a prime position close to the slopes and lifts, and depending on the snow levels, you can ski back to this residence. Facilities include a swimming pool, fitness room, sauna, steam room, reception lounge with comfortable sofas, and pool table. 
The resort is recognised worldwide for complying with international standards for sustainable development in tourism.
Tignes has Green Globe accreditation and holds the ISO 14001 certification, which provides a systematic approach to addressing environmental concerns
More than 100 lift towers have been dismantled and removed from the ski area. 
Tignes has also introduced various waste management initiatives; ski pass recycling, waste sorting, free distribution of pocket ashtrays, cleaner electric equipment as well as eco-responsive products being used wherever possible
Skiers are encouraged to leave their cars parked in the resort, as they run their own public transport to offer guests efficient and environmentally friendly travel. 
Each year, grass is planted to integrate the ski runs into the landscape and provide a more stable base for the snowpack
Where to stay: Le Lodge des Neiges - This prestigious 'boutique' residence is ideally located in a ski-in/ski-out position near the foot of the 8-seater Boisses gondola in Tignes 1800. There are 46 luxurious apartments that combine traditional Savoyard architecture with excellent modern facilities, that include, a leisure area with a swimming pool, hot tub, sauna, steam room, and fitness room and you can relax in the lounge area by the open fire. 
Through employee safety, nature protection and controlled energy management, Val d'Isère has obtained the Green Globe Certification.
In 2003, the resort obtained the ISO 9001 certification and a few years later proceeded to obtain the ISO 14001 certification, the first recognition of its sustainability engagement. 
In the summer months, Val d'Isère hosts an educational walk on the theme of the environment which involves contributing to the preservation of the mountain, from waster collection to weighing - be guided by a mountain guide through the trails of Val d'Isère in the "Eco-rando"!
Created to protect nature, the Vanoise National Park's main mission today is to safeguard its landscapes, the diversity of its plant and animal species as well as its cultural heritage. 
By 2022, 100 pylons will have been removed from the Val d'Isère resort
For every tree cut down, 5 are planted.
Ski lift cables are more visible to avoid bird collisions.
Where to stay: Alaska Lodge - Formed of just 6 apartments, this residence is located just 600m from the lifts and close to the village centre. Facilities include ski room with individual lockers, underground car park, and some apartments even have an outdoor hot tub to enjoy!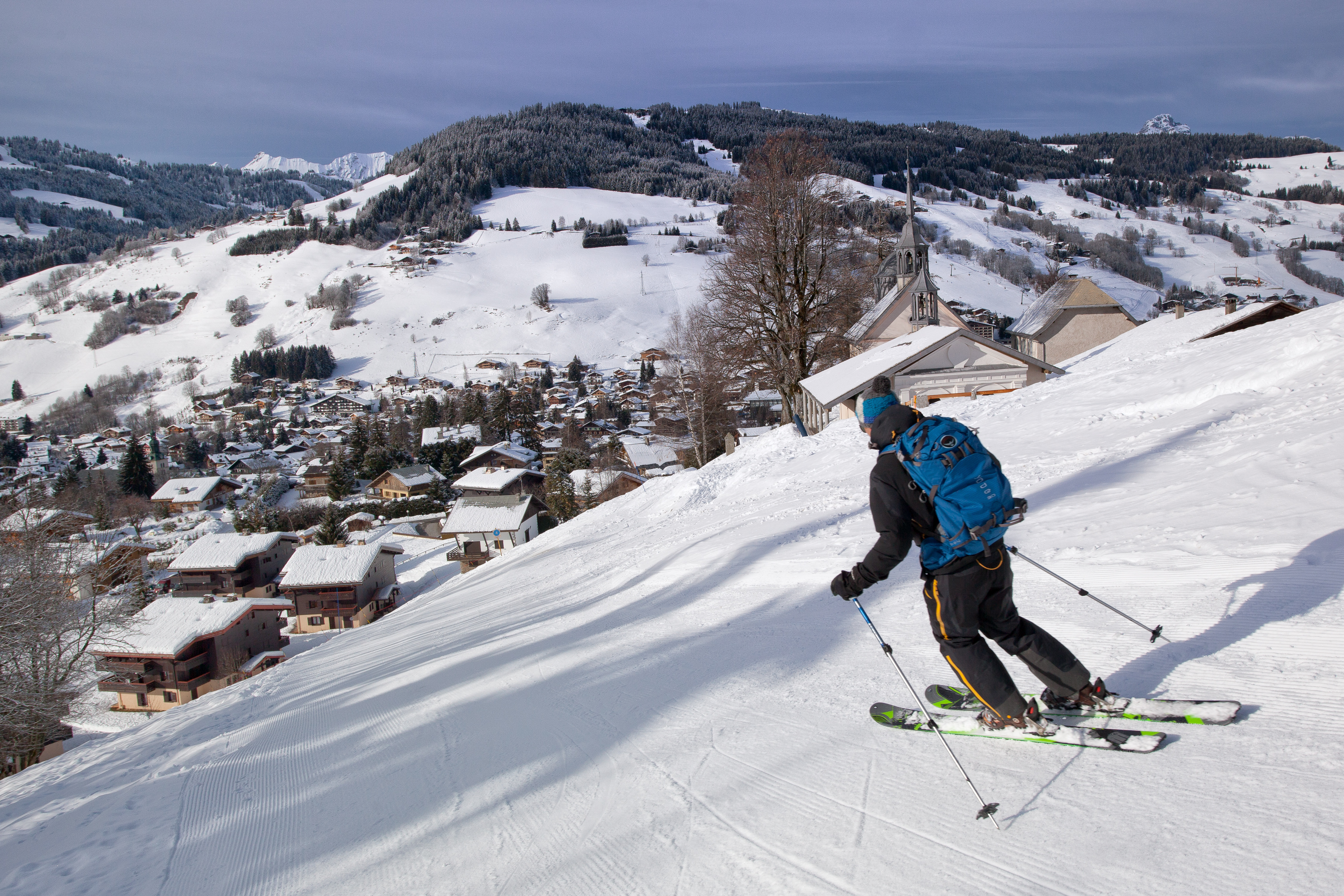 Megève became the first French tourist office to have obtained the ISO 14001 certification and holds the Flocon Vert certification.
Installed various sustainable solutions 

A rainwater recuperation system for the restrooms
Solar-powered heating system for hot water

Resort encourages tourists to trade in their personal vehicle for car share schemes and public transport through their "Megève without your car" campaign.
Where to stay: L'Altima - This luxury residence is due to open in December 2023 and is set within a 3-hectare park in the Les Vériaz district, just a 10-minute walk (800m) to the village centre and slopes (a free shuttle bus service is planned). This beautiful new residence has stunning 360-degree panoramic views over the surrounding peaks, including Mont-Blanc. Facilities in this residence will include a private sauna and wood burner within the accommodation plus a pool and spa area to use. 
---
If you want to organise your ski holiday with a multiple award-winning French Alps specialist, then you've come to the right place! You can book online, call us on 023 9283 9310 or request a quote and we will find you the perfect ski holiday! Don't forget to sign up for our newsletter to get all the latest news and deals! You can also find us on Facebook and Instagram for regular updates on all things French Alps related!