Fancy A Brew Or 2? Taste The Beers Of Savoie!
Microbreweries creating craft beer are an ever-popular trend. We've noticed they are becoming more and more popular across the Savoie region of France (in the French Alps) where their beers are made using fresh water from glaciers and alpine lakes. This fresh water contains minerals which make the beers of Savoie Mont Blanc so unique tasting.
Whether you're in the mountains for a ski holiday or a summer break, it's always a good time for a craft beer! There are 24 craft breweries in the Savoie Mont Blanc area alone - so there's plenty to try.
Here are eight of the best beers in the Alps...
1. La Brasserie Alpine
La Brasserie Alpine makesa blonde beer for the 3 Vallees region. It's 100% brewed in the Tarentaise Valley and bottled at La Brasserie Alpine. Recent additions to their menu include a  3 Vallees white beer and a red ale. These 3 Vallees beers can be tasted at some of the most exclusive restaurants in the Alps including Le Chabotté in Courchevel and Le Farçon in La Tania.
2. Brasserie du Galibier
At 1430m, the Brasserie du Galibier, in Valloire, is France's highest microbrewery and in fact it's one of the highest in Europe! This brewery uses exceptionally pure water straight from the glacier of Le Galibier, a famous summit in the French Alps. Thanks to the high-quality water and the knowledge of the Master brewer, Le Galibier brewery makes three types of excellent beer.
3. La Marmotte Beer
Brewed and drank in the friendly year-round resort village of Saint Gervais, La Marmotte Beer is made at the foot of Mont Blanc and can be bought at the Pur Bar in Saint Gervais.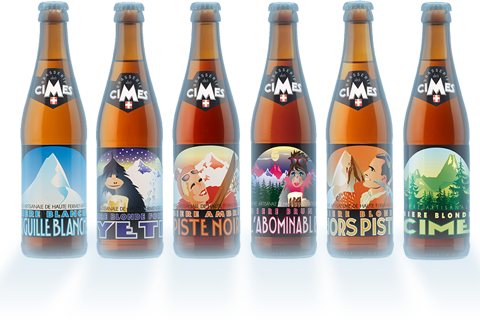 4. Brasserie du Mont Blanc
The two time World Champion, the Brasserie du Mont Blanc in Chambéry, has been recognised multiple times at the World Beer Awards! Back in 2013 it won an award for its white beer and two years later, the Rousse du Mont Blanc took the title for the world's best amber ale.
5. Brasserie des Cîmes
La Brasserie des Cîmes, located in Aix-les-Bains, makes six excellent beers and each of them with a funky label. There are three blonds (Cimoise, Hors Piste and Yéti), a white beer (l'Aiguille Blanche), a pale ale (Piste Noire) and a dark ale (Abominable).
6. Brasserie de la Vallée du Giffre
The Brasserie de la Vallée du Giffre in Morillon makes 30 types of beer. The range is huge, there's something to accompany every dish or occassion and all are low in alcohol.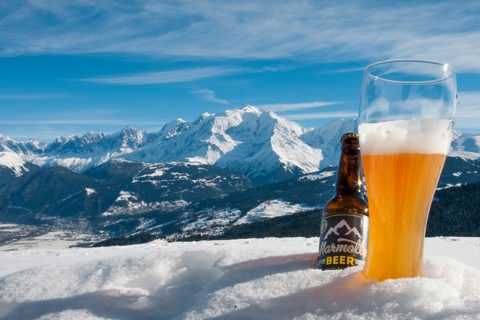 7. Bec Jaune Brewery
The Bec Jaune Brewery in Morzine, a friendly resort in the heart of the Portes du Soleil region, brews its own beer as well as importing a large selection of beers. Enjoy a beer with some of their delicious food made with local and seasonal products!
8. Micro Brasserie de Chamonix (MBC)
In Chamonix, the MBC (Micro Brasserie de Chamonix) makes its own delicious beer, perfect to enjoy with their large variety of burgers or one of the many other tasty treats (they have been known to hold a chicken wing challenge on Mondays where their wings are half price and you can try to see your way through a basket of 24!).