Wednesday, 25, May, 2011
This year, for our annual ski holiday we decided on the resort of Sainte Foy Tarentaise because it had great reviews, especially for families. As we were travelling with two first time skiers and our 3-year-old, this resort seemed to fit the bill.
We travelled on the Eurotunnel with a free flexi plus upgrade which was fantastic, we arrived at the terminal in Folkestone earlier than our pre-booked crossing and had time to stop at the FlexiPlus lounge to pick up a packed lunch and a cup of coffee before boarding an earlier crossing. The packed lunch was great and certainly kept us going for the day!
Normally we would book an overnight hotel in somewhere like Troyes or Dijon, however, this time we took the decision of making the journey in one hit and stayed one night at Le Coeur d'Or in Bourg St Maurice (which is just at the foot of the road leading up to La Rosière, Tignes and Sainte Foy). Although it was a long drive, shared between 2 drivers it really wasn't too bad and the best thing was we had arrived in the French Alps! We went out for a pizza in the evening and enjoyed a well-deserved glass of wine.
After a relaxing night's sleep, we went into the centre of Bourg St Maurice and had a lovely chilled out late breakfast before stopping at the Intermarche supermarket and stocking up on supplies.
The journey up to Sainte Foy only took about 15 minutes and so we arrived fairly early. We were able to collect all our ski equipment and the beginners were able to try out the nursery slope as the 'magic carpet' lift was free! After a while, we were able to check-in and we were happy to discover we had been allocated an apartment overlooking the nursery slope.
The actual resort of Sainte Foy Tarentaise is pretty small and the activities and entertainment offered are fairly limited. If you are used to resorts with a lot of nighttime activity then Sainte Foy probably isn't the best for you. There are a couple of bars and restaurants in the resort, a mini-market and a bakery all within walking distance of the residence.
The residence Les Fermes de Sainte Foy is fairly large and impressive, with a lovely swimming pool and spa area. The ski hire shop is located in the residence too which is even better for transporting your equipment. You couldn't wish for a more centrally located residence. Both the lift pass office and the ESF ski school meeting points were all just a short walk away.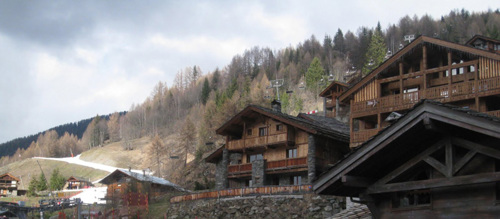 We decided to pre-book some spa treatments which were amazing. The six-hour package was split between four of us meaning we had an hour and a half each for treatments. We all decided to have a half-hour massage and then an hour hot stone massage.
We were able to leave our apartment each morning and be at the Grand Plan chair lift within a matter of minutes. In fact from our apartment balcony, we could see the lift departure point. The short ascent to the foot of the L'Arpettaz chair lift meant you were left with either the choice of a gentle green, blue or red run back to the village centre. Otherwise, you could take L'Arpettaz lift to more challenging red and black runs. The ski domain at Sainte Foy is admittedly small but with it fairly quiet – no queuing for lifts was required. What really impressed us was whatever run you decided to come back down to the village they all ended up in the same place.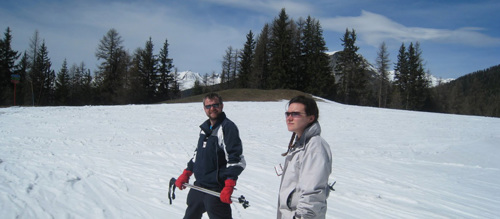 All in all, we had an excellent holiday in Sainte Foy and will certainly be returning, the more traditional style buildings, calmer ambience and well-situated accommodation all led this holiday to be a great success.