Wednesday, 16, January, 2019
Claire from the Peak Retreats team headed to Les 2 Alpes for an early season ski holiday with ten of her family and friends with ages from 3 to 69!  
Finding the right resort for such a mixed group of skiers was key in ensuring this ski holiday was going to be a success. We had everyone from first time skiers to those that will tackle the trickiest of runs! Thankfully, I work with a team of incredibly knowledgeable Alpine experts, many of whom have young families, so the right resort was quickly identified and off to Les 2 Alpes we went!
Les 2 Alpes is part of Isère, France's third biggest mountain destination. Best known for the resorts of Les 2 Alpes and Alpe d'Huez, it has 21 other ski resorts in its four famous massifs - Belledonne, Chartreuse, Vercors and Oisans. The latter is where you'll find Les 2 Alpes.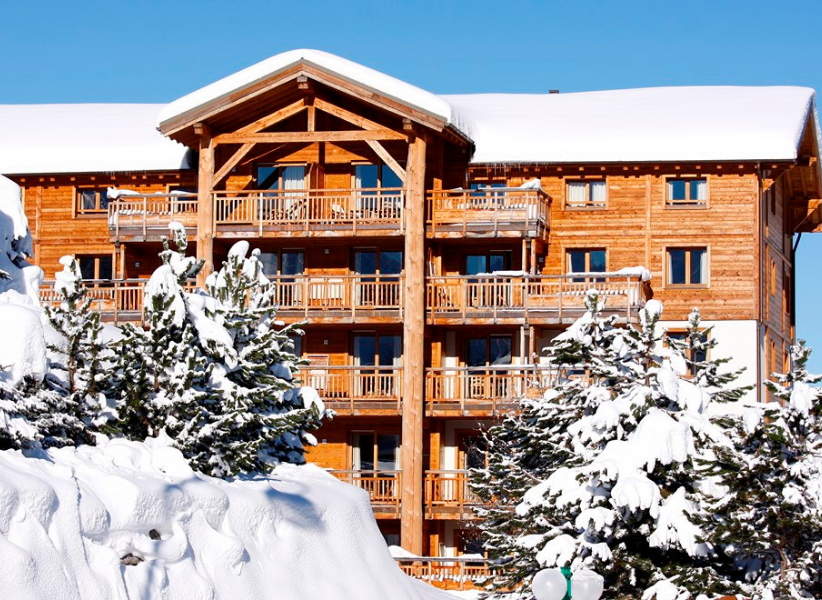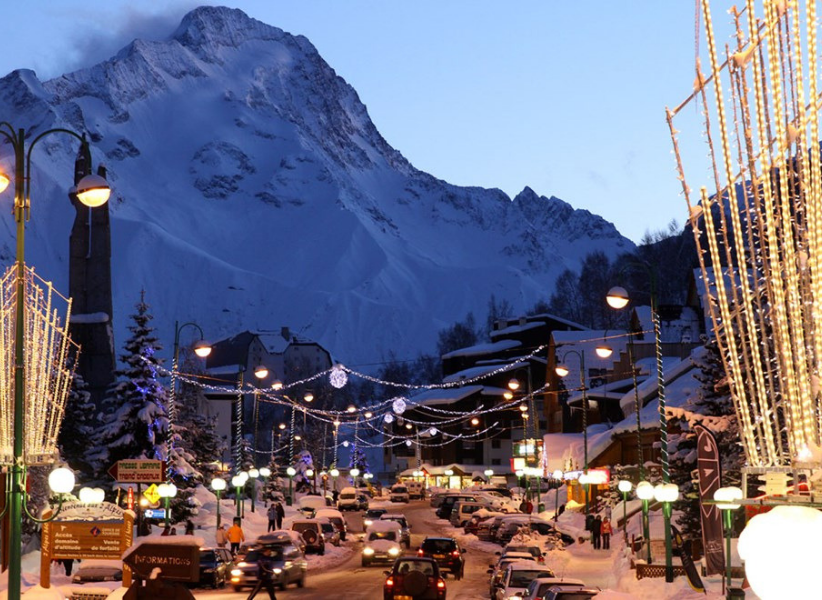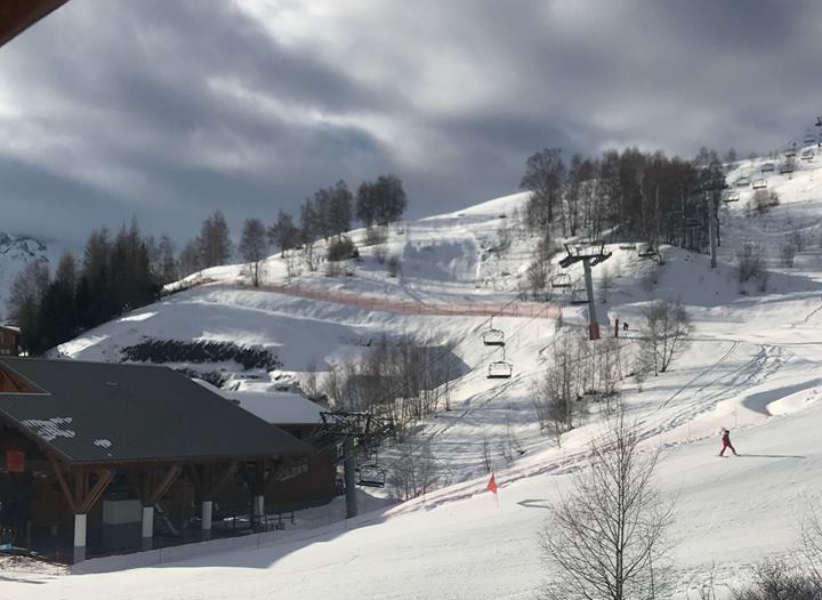 We decided to stay at the 4* Residence Alba. It's located adjacent to the Vallée Blanche chairlift, at the lower end of the resort main avenue and the foot of the Pied-Moutet mountainside. From the moment we arrived we were welcomed. Check-in was easy. Parking ample. The apartment was spacious and even with 10 of us, we didn't feel on top of each other. We had a good size boot locker and just look at the view from our balcony (above)! Plus it was perfect for a bit of sledging after the lifts closed!
We pre-booked everything we needed - all our ski extras - before we left, and we raved about this, especially when we saw the lift pass queues! Once checked in, we headed down to the equipment hire shop to get kitted up. It was simple, straightforward and very friendly. I recommend pre-booking as you just hand over your voucher and they get everything sorted - great for a party of 10!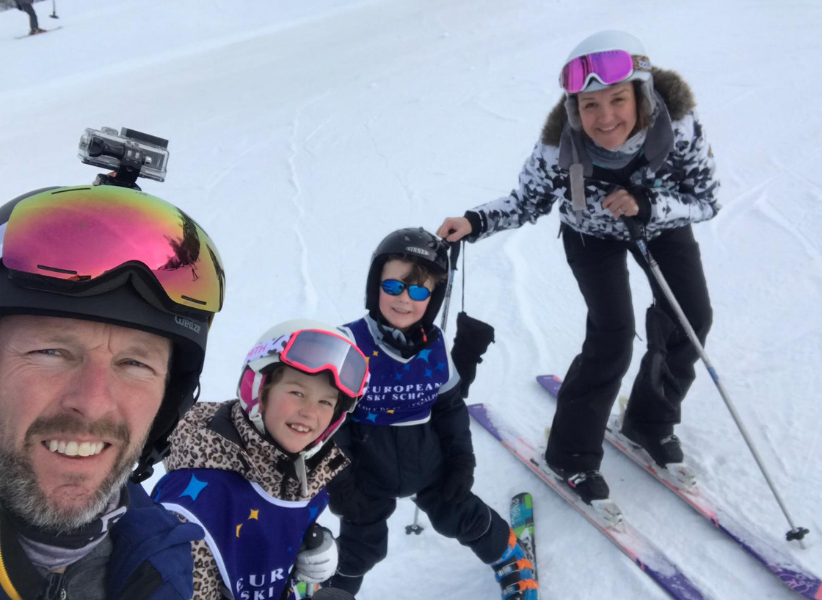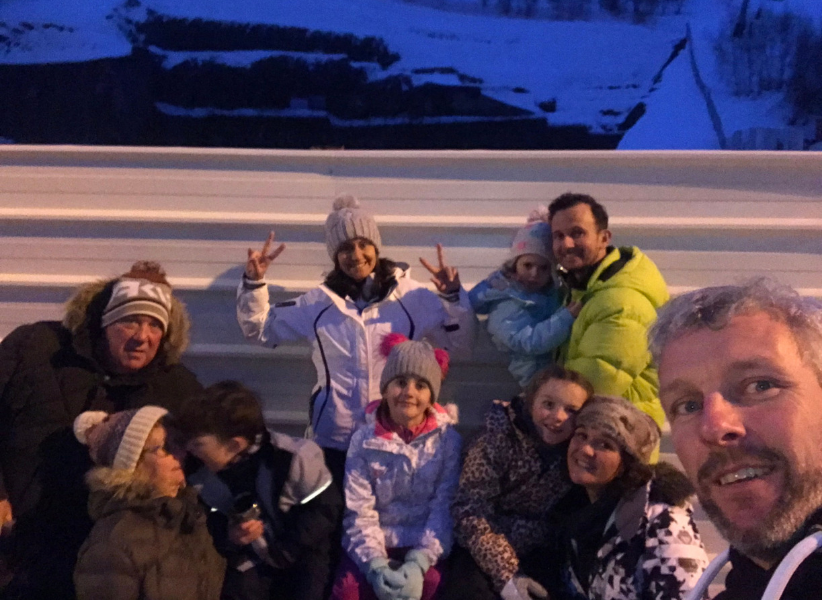 We all loved Les 2 Alpes, a week really didn't feel long enough. Here's why...
Accessing the ski area was incredibly easy
We could just pop out the apartment and jump on the Vallée Blanche chairlift. It seems like a lot of people never ski this area as it was really quiet - at times, we felt we were the only ones on the mountain. There are some beautiful views back over the valley and onto the stunning Ecrins National Park. The skiing here is lovely. Note though, the blue runs are challenging compared to most!
The other side of the valley is the 'main' ski area where a number of lifts give access to the mountain. The Jandri Express gondola takes you all the way up to the foot of the glacier. It can be a little busy first thing, and eager to get to up there, we headed over to the Diable, which if you get to before the ski schools, is a quick hop on and go. 
At the foot of the mountain there are a couple of free button lifts which, if it's your first-time skiing, are enjoyable. My 5-year-old honed his skills here! They're by the bars so you can relax while the kids enjoy the beginner slopes. 
It was easy to drop the kids at ski school and get going. There's a brilliant shuttle bus we all hopped on and off all day, it picks up just by Alba. As the resort is pretty flat it was easy to walk in ski boots - not too many grumbles from the kids! The shuttle stops around 9:30pm though so remember that when you're enjoying the après ski! 
Brilliant Ski Schools
I am a huge advocate of ski schools so all four children with us were booked in to morning lessons. Our 8 and 9 year olds were with European Ski School and had a great time. Both could already ski, but we were impressed with how much they'd improved and just how much of the mountain they had explored. It did get a little amusing every time we said "today we're going to ski to XX" and they replied "we've already done that with ski school". At one point, skiing down from glacier heights, the girls veered off down a very fun run we didn't know existed! Just brilliant! Gaia, their instructor, was personable and the kids loved her. The girls were challenged in the best way. They also did lots of fun things like little slalom competitions!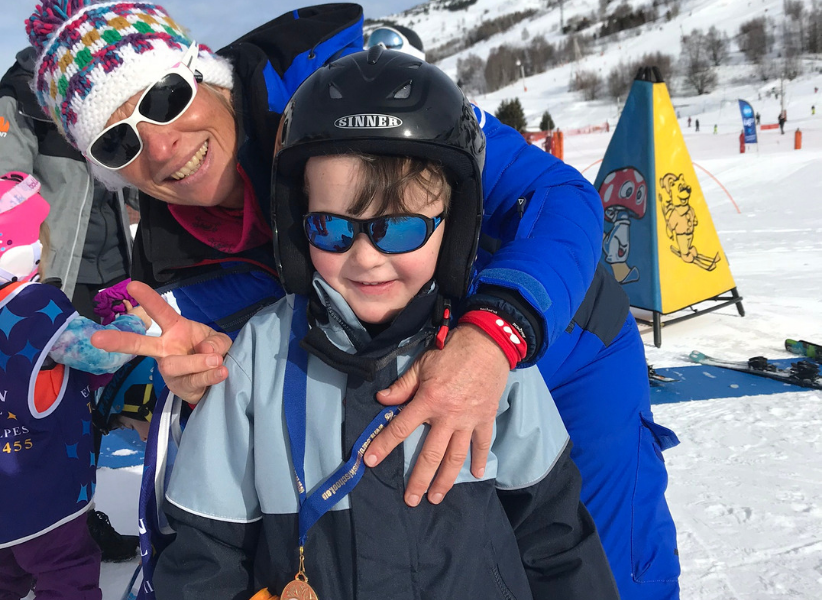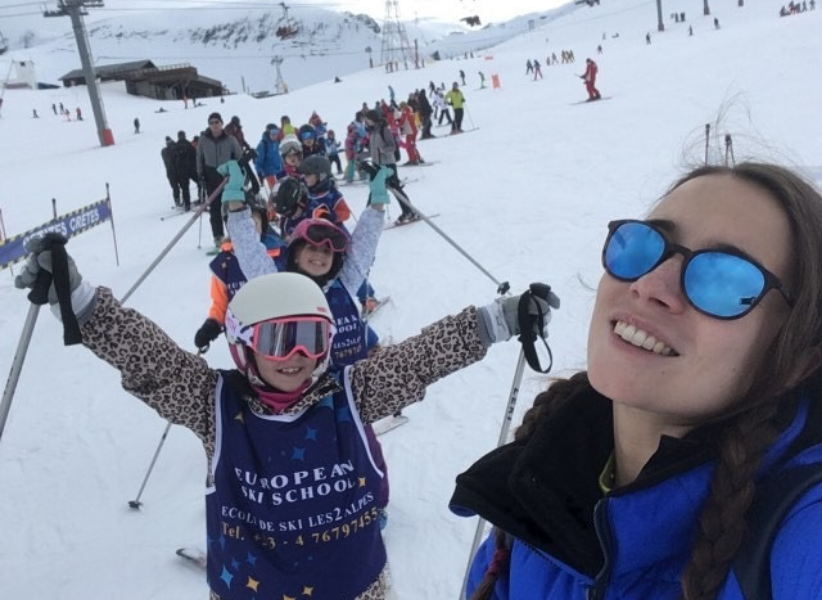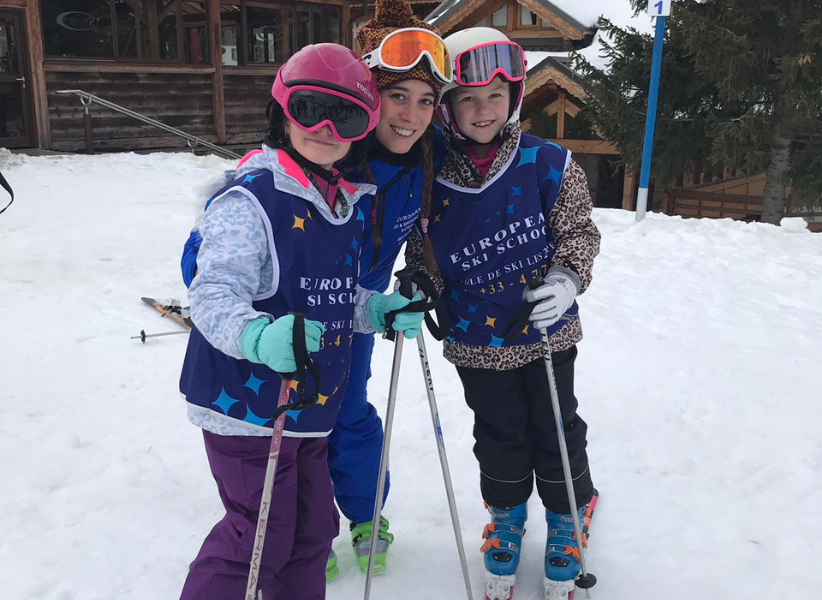 My 5-year-old was in with ESS 'Little Ones'. It was his first ski holiday and he isn't always the most confident of children so this class was just perfect as it's just for 4 and 5 year olds. He went in knowing how to put his skis on but that was about all, and came away incredibly happy, confident, able to use the drag lifts and ski down the beginners' slopes safely, with beautiful little turns. His Level 1 Medal is his most treasured possession! Valerie, his instructor, was fabulous. He started the week not wanting to go to ski school and ended the week with tears because he didn't want to go home! He even informed everyone he would be back at Easter. As a family, our first ski together is a memory we will always treasure and we thank ski school for that.
The youngest in our group was just three and had lessons booked with the Ecole de Ski Français (ESF). The instructors were so helpful and accommodating, and easy to talk to. When she decided she wasn't keen, they helped re-arrange her lessons and book her in for some one-to-one tuition with them. We saw lots of little ones loving their lessons but if your little one is hesitant read our advice on family skiing.
Family Friendly
Les 2 Alpes is a great place to take the kids for a number of reasons and is a FAMILLE PLUS resort. 
Firstly, it is easy to arrange a place to meet up. You always end up in the same valley and everything is really well signposted. There are a wide selection of beginner slopes meaning learners don't get bored going up and down the same run. These are spread along the length of the town at resort level so the kids can get some practice while you're enjoying the après! 
There's a snow park at La Toura with some kid-sized jumps and boxes to have a go at on the way, and of course the famous 'Les 2 Alpes' sign which you have to get a photo of!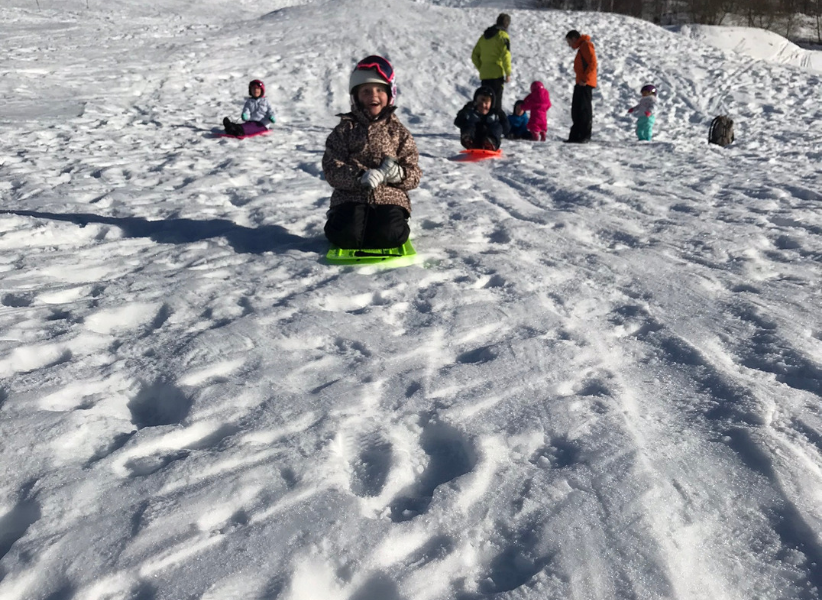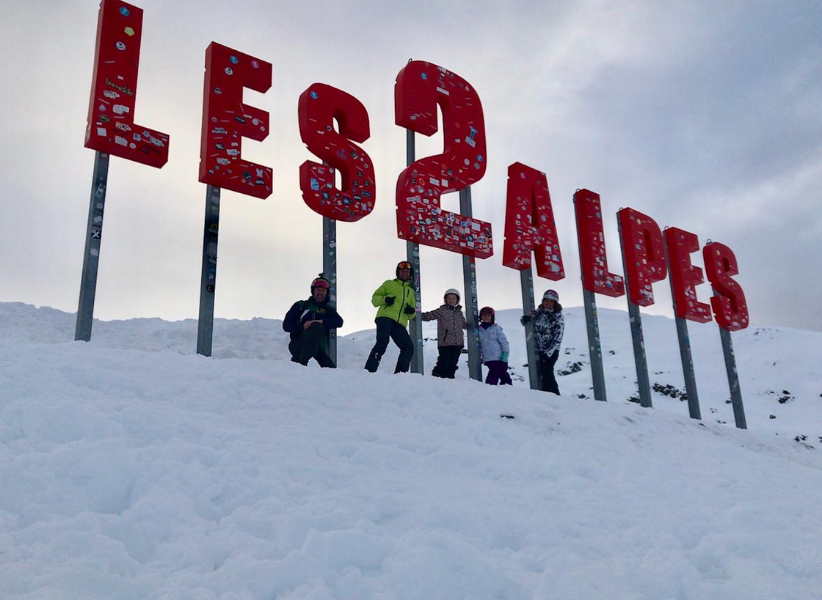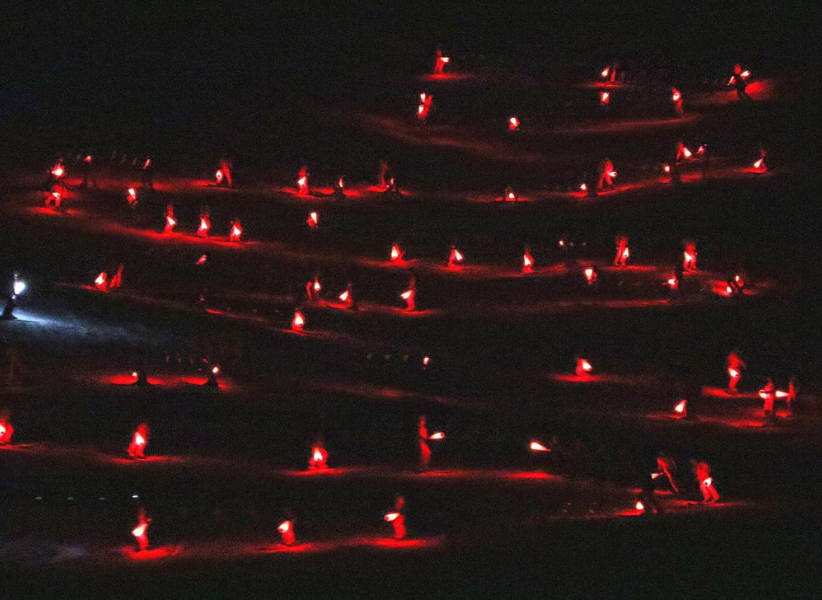 A number of the ski lifts are open to pedestrians, so the non-skiers or learners can meet you at a mountain restaurant or visit the glacier without having to ski back down. We enjoyed our family visit to the glacier. Half of us skied down, the rest took the gondola back. Everyone enjoyed the experience of going up high, it's breathtaking!
The children were welcomed and accommodated in all the bars and restaurants we visited - they loved the whole vibe of the Polar Bear Pub (104 Avenue de la Muzelle), and we stopped frequently at l'Igloo (26 Avenue de la Muzelle) for hot chocolate and vin chaud. We also recommend pizza at Le Tribeca (8 Route de Champame), delicious!
There's plenty going on for the kids - from dedicated sledging areas to organised entertainment - such as the amazing torchlit descent - an ice rink and swimming pool (which are included in the price of your lift pass but you do have to pay to hire the skates). On Thursday evenings the ice rink is taken over by 'Ice Gliders', basically dodgems on ice. Other activities include a mini-skidoo circuit, husky sledding, paragliding - which looks amazing, we watched from the chair lifts in awe - a cinema (you'll find English films on Wednesdays) and more. We hardly did any of this because there's just so much to do and we skied a lot!
Brilliant ski area
As I mentioned, the resort is fab for beginners. They can enjoy the magnificent views from the top of the glacier with wide, easy runs - or the nursery slopes at resort level beside the village. There are five lifts which are free for all skiers on the lower slopes, which is brilliant.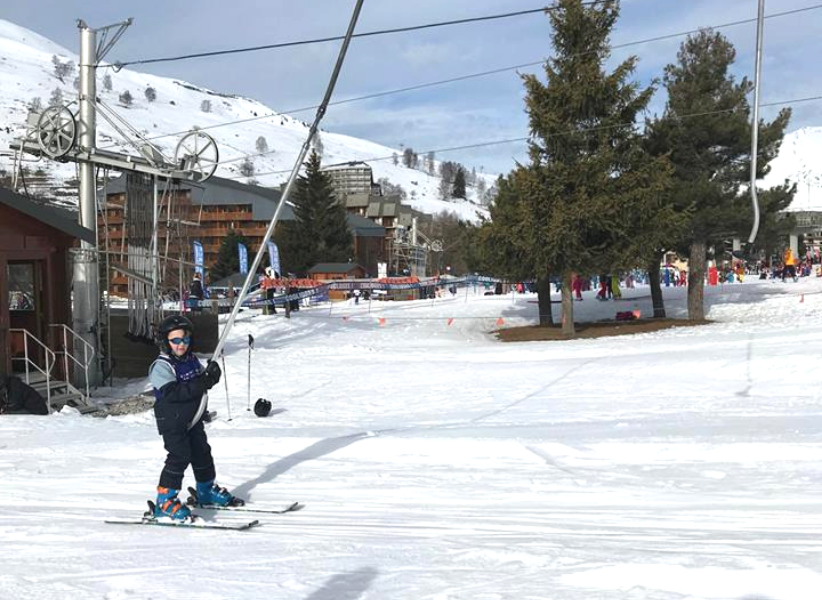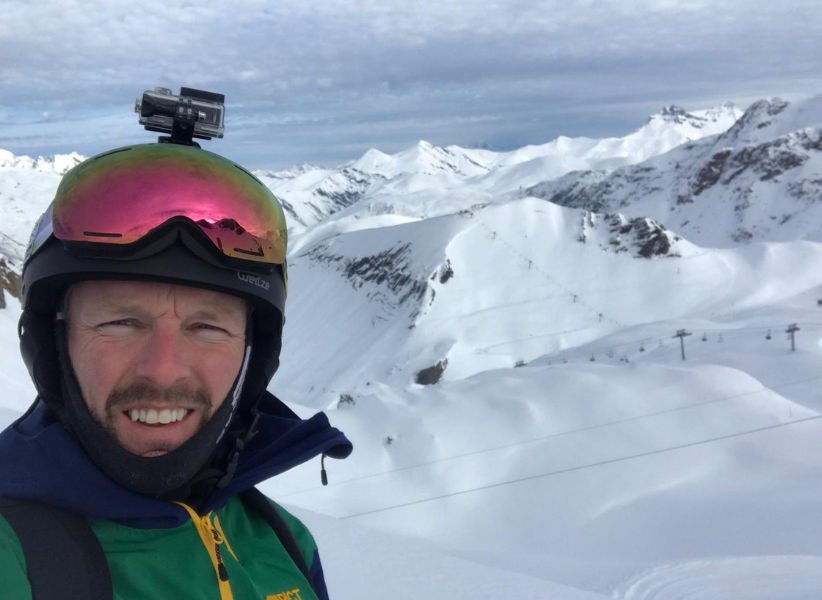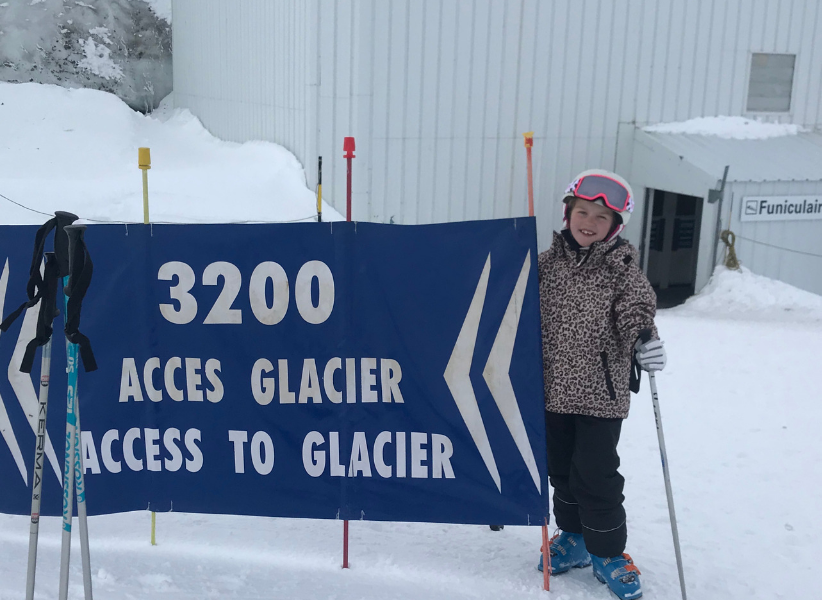 Intermediates are well catered for with a good mix of blue and red runs. The top Glacier du Mont de Lans area has some easy slopes with superb views. You can ski all the way from the top down to Mont de Lans (a descent of 2270m vertical!) 
There are some challenging black runs and off-piste descents to keep the expert skier busy. For the more adventurous, an outing to the slopes of La Grave is recommended - it should be on your ski bucket list (when your ski level is up to it!) La Grave is reached by snowcat from the top of the ski area to the Dome de la Lauze (3568m) or a short walk. We'd recommend a guide. 
The extensive off-piste terrain is huge (with five different areas) and challenging. There is a good selection of serious routes with impressive vertical drops.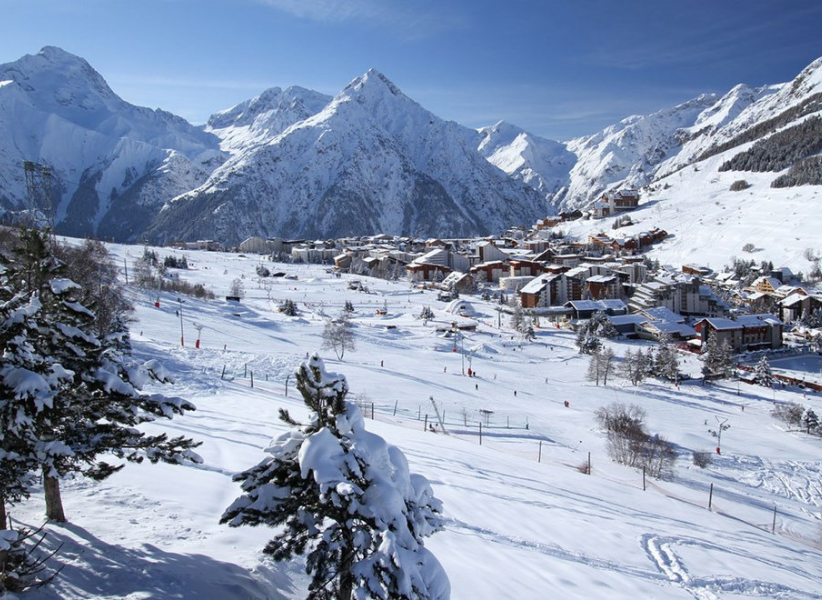 Les 2 Alpes ranks amongst France's best resorts for snowboarding. There are two boarder-cross courses and a big terrain-park. Higher up there are ledges, gullies and canyons. My husband, the only snowboarder in our group, throughly enjoyed himself. Be warned the Demoiselles green run is very narrow and flat in places - it was a little icy when we were there and he'd recommend avoiding it.
The blues lower down are more challenging than the fun ones higher up. Jhandri 1 can be particularly difficult later in the day - especially after the lovely cruisey blues that come before it. Personally, I loved skiing the Bellecombes slopes accessed from the top of the Super Diable. Great fun!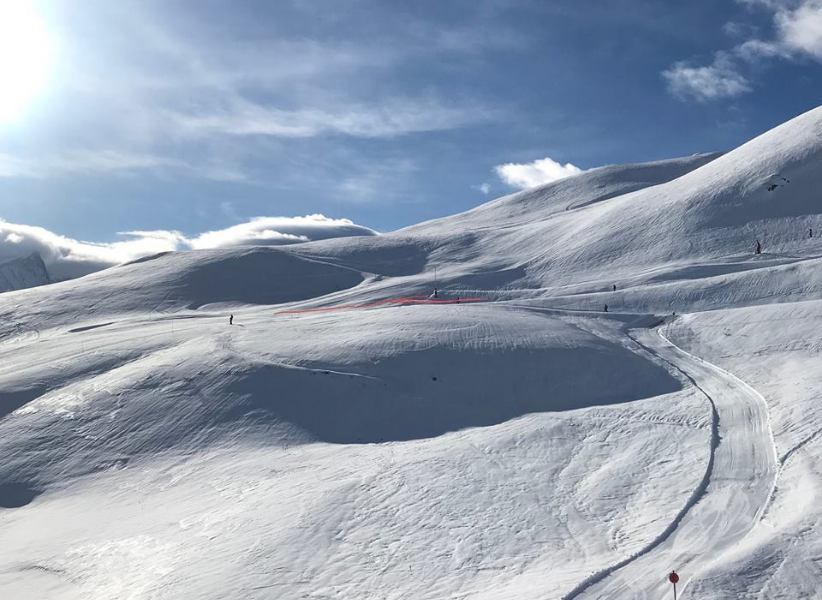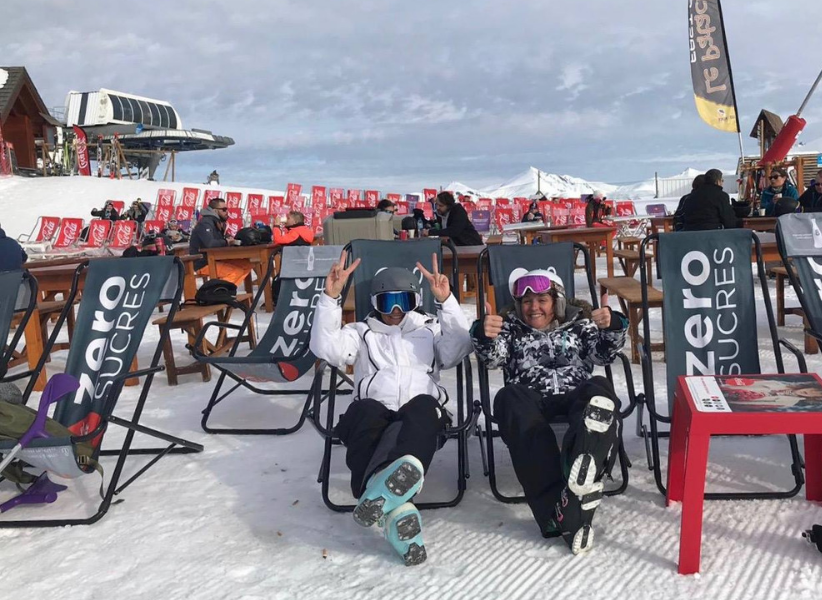 So in summary...
Les 2 Alpes is a great resort with something for everyone! Easy drive from Calais, has plenty of charm, great facilities and is snow sure. We all loved it so much we're going to try to get back at the end of the season for another ski!