Thursday, 24, April, 2014
Several members of our team spent the Easter bank holiday weekend in the ski resort of Tignes! Here's what Nicola thought of her first snowy Easter ski holiday!
This was my first visit to Tignes so I was very excited to say the least, and can honestly say, I wasn't disappointed. It was certainly a great way to spend the long weekend!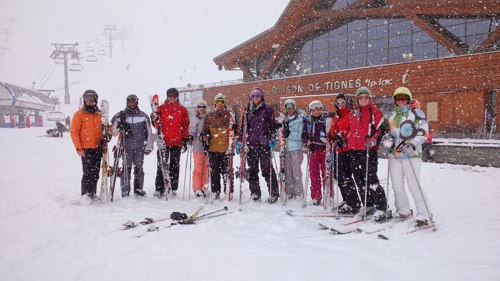 The Peak Retreats team after our second ski lesson
After a 4am start, we flew from Gatwick to Geneva, picking up a hire car at the other end. We then took the mostly scenic drive down to Tignes, driving past the very beautiful Lake Annecy on the way.
We stayed at the brand new 4* luxury residence, Kalinda Village in Tignes 1800. A 10 minute drive from the main resort, Tignes 1800 (Les Boisses) is its own self-contained village, with Kalinda Village and the church at the centre of it. With a ski hire shop, ESF ski school office, bakery and convenience store plus a bar and restaurant on their way for Winter 2014/15, everything is on the doorstep, which I can imagine will be great for families. There is also easy access to Tignes Le Lac and Val Claret and we made use of the regular free shuttle buses to get us up to the main resort.
I stayed in a 2-bedroom apartment - it was very clean, with modern decor and plenty of space. We had a lovely large balcony overlooking the front aspect of the residence. It made for a very comfortable base!
During our stay, we took the opportunity to make use of the residence's indoor swimming pool and spa facilities. There was a large general swimming pool plus a themed children's pool complete with inflatables. I particularly enjoyed the use of the Jacuzzi, sauna and hammam!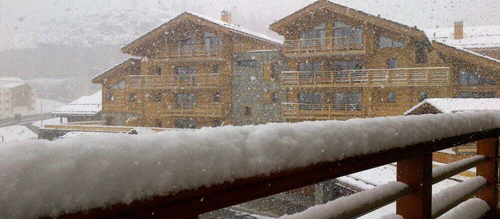 View from my balcony at Kalinda Village
We hired our ski equipment from the Sport 2000 shop which was located right next to the residence in Tignes 1800. The staff were very friendly and although there were nine of us hiring our equipment that day, it didn't take too long to get us all sorted.
Our ski lessons were with ESF ski school. We were split into two groups of different abilities for our private ski lessons and the more advanced skiers went off to do their own thing. I was in a group of four with the instructor Olivier who was very encouraging and helpful with us beginners and he spoke very good English. We had two 3-hour lessons and by the end, we were zooming (well it felt quick to us!) our way down a blue run.
Another significant part of the trip was the food. Being a bit of a foodie, I love sampling all the local dishes and Tignes didn't disappoint. There was a whole variety of bars and restaurants, for varying budgets. We ate in a range of places for lunches and dinners. The meal that sticks in my mind the most was on our first night where we dined in Le Chalet Bouvier in Tignes Val Claret and tasted not one, not two, but three Savoyard specialities and they all contained cheese! We enjoyed delicious fondue, raclette and tartiflette – and they were all scrummy. The traditional decor in the restaurant was lovely and the staff were very friendly. Along with some fab wine, we also got to try the local liqueur, genepi which is a bit of an acquired taste!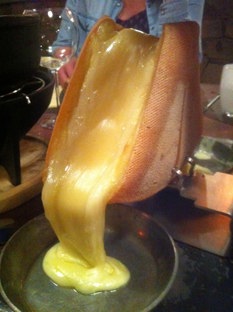 Our very cheesy first night meal - traditional raclette
On our final night, we ate in the very quaint Tignes Le Brevieres at Restaurant L'Armailly. The restaurant offers a free return shuttle service for guests staying at Kalinda Village. Again a great atmosphere and delicious food. Here I tried a local sausage dish called Diots which was very tasty. Before the meal we also got to go down to the historic and cosy wine cellar and sample some of the wine along with some cold meats.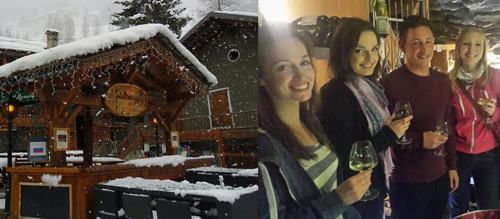 Outside Restaurant L'Armailly and some of the team hanging out in the wine cellar
We were really quite blessed with the weather while we were in Tignes, with a good mixture of sunshine and snowfall. On the day we arrived, there was clear blue sky and lots of sunshine. There was plenty of snow on the pistes but the roads and paths were clear. The next day, in the afternoon it snowed...and snowed and snowed! We had over 24 hours of quite heavy snow. Although we did get a bit wet at times, we still managed to do our ski lessons and really enjoyed skiing on lots of fresh powder. Plus the resort looked absolutely beautiful covered in all that white stuff! Our final day was sunny again and we enjoyed pottering around the resort in the sunshine and snow on the ground. Having been my first experience of late season skiing, I was really very impressed with the conditions.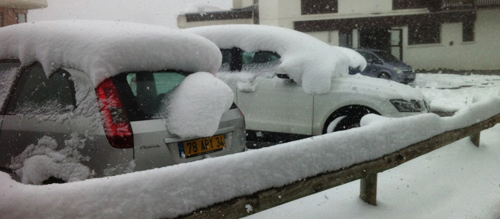 Heavy snowfall during our stay
So why would I recommend Tignes? I thought it was great staying in the chilled and quieter Tignes 1800 and having easy access to the busier areas of the resort as well as the quaint Le Brevieres a little further down the mountain. As all the different areas of the resort each have their own distinct identity, there really is something for everyone, which I think would be really appealing to groups or several families going away together. There are also so many activities from all the ski and snowboard activities to mountain biking in the snow, and the cinema to relaxing at the spa or indoor rock-climbing that there is more than enough to keep the family (and children of all ages) entertained.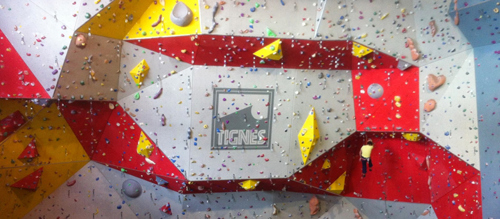 Plethora of activities - indoor rock climbing
There are also over 60 bars and 60 restaurants within the resort so there is plenty of choice. In terms of skiing for different abilities, all are catered for. There are excellent beginners areas within the resort as well as more challenging runs spreading out from the resort. I also think it's a great location, as the main part of the resort is high altitude and snowsure which means guaranteed skiing even early and late in the ski season.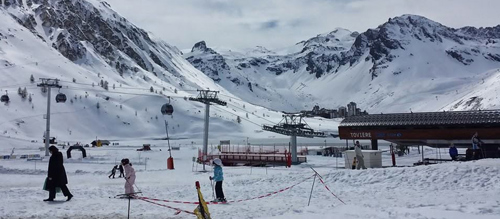 Nursery slopes in Tignes Le Lac
Overall I had an absolutely fabulous time and I cannot wait to return to Tignes with my family!