Friday, 21, October, 2016
It can hardly be debated that gastronomy is a huge part of the French Alps holiday experience. Here is a guest post by Caro Blackwell on how you can make a Brioche de Saint Genix, a delightful french recipe easily made at home.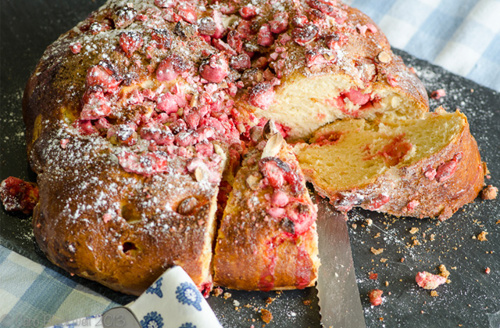 The Brioche de Saint Genix Recipe
1 sachet of dried yeast
350g strong flour (in France it is possible to buy brioche flour)
2 eggs (if you're using brioche flour you need only add 1 egg), plus egg for glazing
75g butter cut into small pieces
1/2 teaspoon salt
2 dessertspoons of sugar
175ml of cold milk 
200g Pink Praline
50g of crystallised sugar
If you want to make the dough traditionally, you will need to warm the milk and add the yeast to it, followed by the butter, eggs and sugar. Mix in the flour and knead the mixture for as long as you can; this develops the gluten and helps the brioche keep its shape.The dough needs to have a pliable elastic type consistency. Leave the dough in a large bowl to rest overnight in the fridge. The following day knead the dough again and then roll the dough out and turn and fold it a few times as you would when making puff pastry.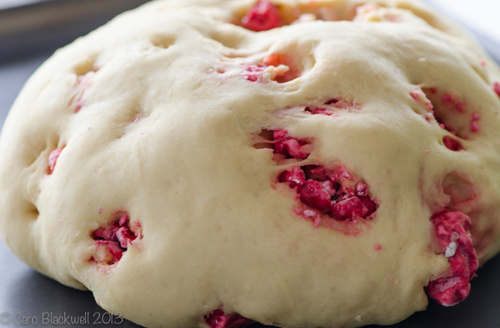 Lightly crush most of the praline (reserve some for the topping) and incorporate the into the dough. Shape the dough into a round loaf. Brush the brioche with egg wash, then sprinkle the pralines and sugar on top. Bake in a hot oven around 190C for about 30 minutes until a deep brown colour and hollow sounding underneath.
The History of Brioche de Saint Genix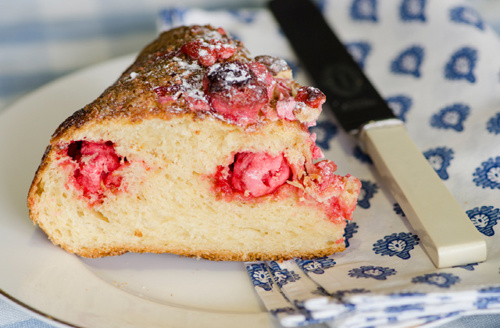 The Brioche de Saint Genix originated in a small Savoyard village called Saint-Genix-sur-Guiers, about 30 kms from Chambery in the Savoie. It is known as either a brioche, a gateau or just a Saint Genix. It is traditionally round, made with a leavened dough that is kneaded twice, with pink pralines added to the dough before baking. More pralines are sprinkled on top with white sugar crystals. The sugar around the pralines melts a little during cooking, which gives it a unique taste. Traditionally these Saint Genix brioches are wrapped in a red and white paper with decorations on top; the paper symbolise the colours of the Savoie.
Pastry Chef Pierre Labully from Saint-Genix-sur-Guiers invented this recipe around 1880 from a traditional 18th Century recipe given to him by his wife. It originated from a nearby village, but he made it his own by adding the rose praline.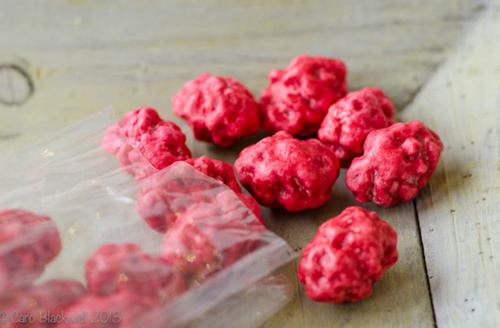 I see this brioche in all our local boulangeries and I've seen variations; such as the flatter brioche, looking more like a tart, spread with a creme patisserie with praline crushed all over, it's called a Pralinette. The pink praline is a Lyonnaise speciality. It is a sugar-coated almond, the sugar coating is naturally coloured pink and lightly flavoured. During my research I discovered several varying recipes for the brioche but this one if my favourites!
This is a guest blog post written by Caro Blackwell of 'Taste of Savoie' - a blog dedicated to food from the French Alps. For more information, please see Caro's blog: www.tasteofsavoie.com.