Monday, 15, May, 2017
Having visited Morillon and the Grand Massif ski domain twice in the past we were really looking forward to returning this Easter and skiing the wonderful scenic pistes where we learnt to ski over 5 years ago.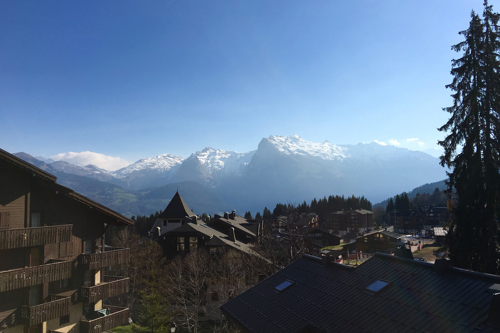 View from Le Refuge de l'Alpage


Our group this time had grown from the three families of our first visit to six families; 23 of us of varying abilities. We stayed in apartment C6 in Le Refuge de l'Alpage which was wonderfully comfortable, well equipped and a 3-minute walk to the lifts which could be viewed from our balcony. 
However, whilst looking down in anticipation at Morillon's lovely long Sairon piste on our first chair up, we had a score to settle first...Tourmaline. Our first ever run on snow, years previously as naive beginners, was the Tourmaline run (in the neighbouring resort of Flaine). That year we had booked Morillon as our base, but a poor season across the Alps caused the resort to close a week before we were due to travel! Within a day of learning this though, Peak Retreats had moved our whole group to the higher resort of Flaine, accommodating us in fantastic apartments and took care of changing our ski hire and passes.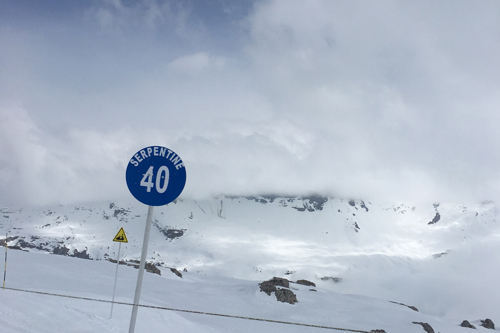 Serpentine Piste in Flaine


That year we had overestimated our abilities after a series of lessons on a dry slope at home and Tourmaline was a disaster, with most of our group falling rather than skiing down it! I remember sitting in the bar at the bottom afterwards seriously contemplating whether this skiing thing was a huge mistake...Fast forward to this year and we had a totally different experience. The link from the top of Morillon into Flaine is just two lifts and we were across and down into Flaine within half an hour, conquering our nemesis Tourmaline along the way!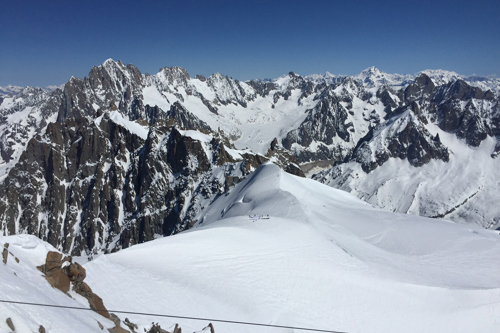 The pistes in Flaine are just superb, wide and long with some stunning views of Mont Blanc from the top of the Grand Platieres gondola. However, we were keen to get back to Morillon which has equally scenic slopes, zero queues and a lift system which meant all abilities in our group could loop the lifts on varying runs, always catching up with each other somewhere. 
Our favourite meeting point was L'Igloo restaurant, hidden away amongst the trees at the top of the Bergen lift. It has arguably the best Coffee Vienoiss in the Alps, along with a lovely large patio with deck chairs to soak up the glorious sunshine which we were blessed with all week.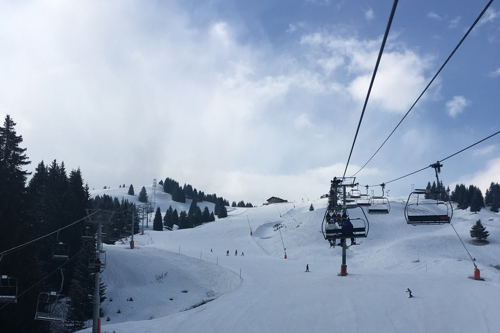 The high temperatures did mean the slopes suffered a little in the afternoons, and the 7km green Marvel run was unfortunately closed, but the pisteurs worked their magic each night to ensure the slope back down to Morillon 1100 was kept open all week. Most days we skied during the quiet lunchtime period, with a quick pit stop to wolf our bakery baguettes. Mid-afternoon would see most of us regrouping at the central La Combe bar at the bottom of Sairon slope. It has friendly staff, sunny tables and free wifi to upload that day's smugshots! 

Evenings are peaceful in Morillon, the piste groomers head up the slopes early, rendering the base of the slopes safe for the children to sledge. After a fantastic meal on our first night in L'Etoile des Neiges restaurant we chose to return there three more times due to its good value, delicious local specialities (a lot of tartiflette was consumed...) and pizzas (which you can also take away).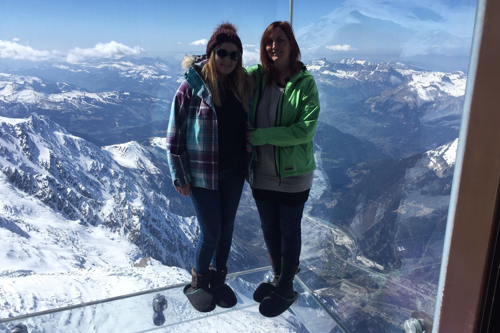 Step Into The Void


On our final day, we headed to nearby Chamonix after hearing that we could ascend the famous L'Aguille de Midi peak via two cable cars. This was pretty expensive but worth every penny. There are viewing stations at its peak (3842m) with stunning views, museums and a cafe. You can watch the fearless ski down the expert-only Vallee Blanche route but we chose the surreal, safer option of 'Step into the void' a toughened glass box hanging off the side of the peak. 
An exhilarating end to what was a simply perfect week; we will definitely not be leaving it another 5 years before we return to Morillon! 
This blog was written by our client Donna.