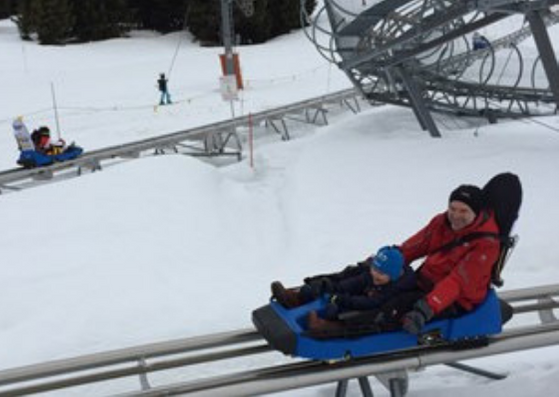 Monday, 18, April, 2016
Our Director, Xavier Schouller, recalls his Easter ski holiday to Les Saisies.
Travelling to Les Saisies
We took to the road for our Easter ski trip, kicking it off with an overnight Brittany Ferries crossing from Portsmouth to Caen. Taking the night ferry means you can sleep the whole way and begin your drive at 06.45 French time, a perfect time for an afternoon arrival in resort. It is also the same distance to the Alps from Calais, so no extra miles in the car. The only potential drawback about the journey is the drive around Paris and onto the A6 but it all was fine as there was no French school holidays that week.
In total the drive took around 8hrs but we stopped a few times including for a spot of lunch, so in all the journey was around 10 hours. It was certainly a stress-free way to get there and we managed to pack an awful lot in the car (including some of the children's essentials like the XBox and even their favourite breakfast cereals) than if we had been flying so I feel confident recommending this option to all our clients.
Accommodation in Les Saisies 
We arrived in resort and headed to our residence Le Hameau du Beaufortain that sits high up amongst the pine trees in a wonderful setting on the side of the slopes.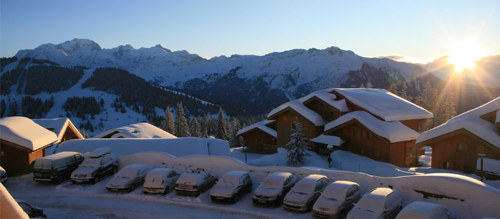 View from Le Hameau du Beaufortain
The apartments are nice and well equipped but it is the facilities that are a real bonus. There is an indoor pool with Jacuzzi, sauna, steam room and fitness room plus a spa area. Another advantage is having your beds made on arrival as well as not having to do a full clean when you leave.

Indoor pool, Le Hameau du Beaufortain
The best part about the location of the residence is that you can ski right back to the front door. It is a blue slope back down so not that ideal for complete beginners but perfect for those who have done at least a week of skiing. The residence is too far from the village to walk however there is a free ski bus that stops right outside and we also used the car the few times. Even though it is only a 5 minute drive, it is still better to have your own allocated parking space, otherwise when you come back to your space it may have been taken and I would strongly advise pre-booking an underground parking space with the residence.
We hired our skis from Skiset, who have a good size range, an extremely well stocked ski shop and friendly efficient staff all within the residence. It is actually owned by three times Olympic downhill ski champion Franck Piccard who also owns just about every other ski shop in the resort. If there is anything that this shop does not have they will be sure to stock it in one of the other larger stores in the village.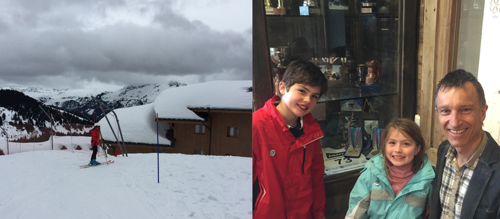 (Left:) Ski to the front door (Right:) Olympic downhill ski champion 
There is also a little deli on site that provides you with most essentials and specialises in quality mountain products, as well as offering excellent freshly made pizzas (pre-ordering required) and home-made lasagne portions and other similar ready-made dishes. For breakfasts there is a bread and croissant ordering service that is available from the main reception that we used every single day.
The ESF Ski School in Les Saisies
Every morning we would ski down from the ski-in ski-out residence to the main ski school meeting point (taking the Carrets chairlift), which allowed us to be there in just over 10 minutes.
The ESF does have 3 different meeting points, two of which are closer (one being just below the residence) but the competition classes were at the main meeting point.The instructors were excellent. Michel for the 3rd star and Mathias for competition.The children loved their instructors and they made excellent progress within the week.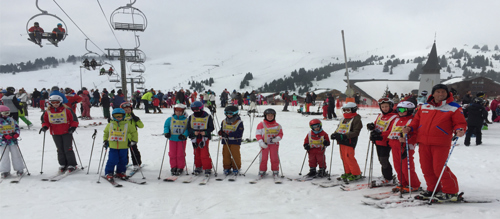 ESF 3rd Star Michel
Facilities and Activities
The village has plenty of shops and a good choice of restaurants although we were just happy to eat in most evenings. We stocked up at the big supermarket just outside Megeve. You drive past two on the way so you can't miss them.
The brand new 'Le Signal' leisure center offers a good alternative to the residence facilities. We thoroughly enjoyed our evening there. The centre offers bowling, climbing, and an aquatic centre ideal for those after ski activities with the family.
However my 7 year old says the best thing about Les Saisies is the Mountain Twister. A Sled on rails open both for winter & summer runs with a 750 meter long track going up to 8 meters high.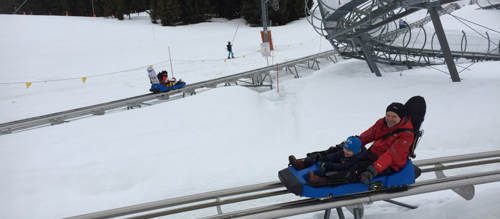 Mountain Twister
Unfortunately during our trip we had to pay a visit to the medical centre. It looks like a big porta cabin at the foot of the slopes that actually works really well with several doctors on duty. There is no need for an appointment, just turn up and wait for your turn to be seen.
Important note: Do ensure you have your EHIC card and travel insurance with you or you could be looking at some expensive bills.
Ski Area
The skiing in Les Saisies is perfect for intermediates with plenty of easy blues and reds connecting every single part of the Espace Diamant ski area. There is less for the more experienced skier who is looking for challenging slopes, but then you don't come to Les Saisies for this.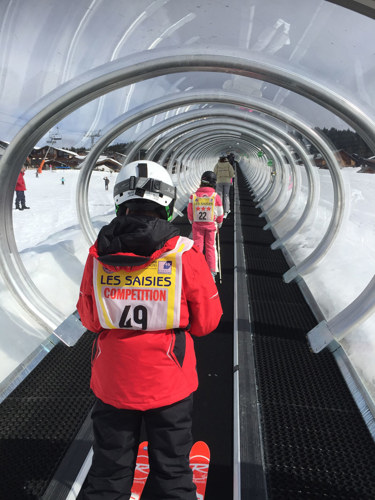 Magic Carpet
The new fast chair lifts make a real difference although plenty of the more mature skiers were enjoying the incredible views and the conversation on the few slower lifts left. When you are skiing all day this is actually a wonderful way to enjoy the fresh mountain air, the scenery and the conversation whilst having a well-deserved rest between two slopes.
The ski area is never crowded and the kind of skiers who come to Les Saisies all seem very considerate and quite different from the slightly younger, reckless skiers and boarders you may find in some of the other resorts. It felt like the kind of place where I will want to ski when I am in my 80s (if I am lucky to still be able to enjoy my favourite sport!).
We also really enjoyed the new Bellasta slopes which did not exist on our last visit.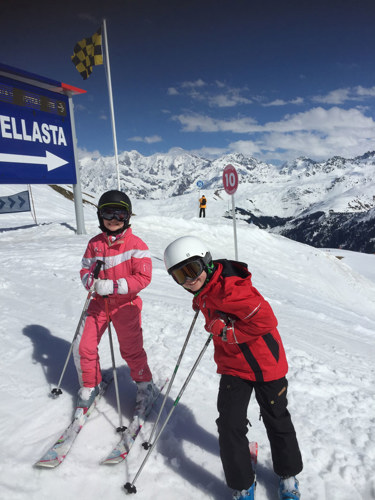 The Bellasta slopes
We had a few lunches in the linked villages. Chez Julien at Le Mont Rond Notre Dame de Bellecombe was one the whole family enjoyed, especially their famous potato cakes! Crest Voland was also an ideal stop for lunch.
The downhill skiing lift pass gives free access to the cross country ski area so we were very tempted, (as it is above 1600m you are guaranteed snow unlike many other cross country ski areas, probably the reason why it was the base for all Nordic sports at the 1992 Winter Olympics, held in nearby Albertville) but we simply did not have enough time.
In summary Les Saisies is a lovely family resort with plenty to offer for a relaxed week of skiing.
If you would like an authentic alpine experience where you rarely hear any spoken English, then Les Saisies is a good bet. Less than 2% of its visitors come from the UK, most of them being French or you may come across the odd Belgian. Clearly a very well-kept secret amongst those in the know!