Client Review: Serre-Chevalier March Skiing
Spent a whole week in Serre-Chevalier, Chantemerle at the beginning of March.
Ski area is much improved since we last visited. The few new 6 pack chair lifts have made a massive difference to fluidity and ease of access to various parts of ski area. Snow was very good apart from the very bottom ('Easy' Black Luc Alphand slope in particular) which got slushy in afternoon (nothing unusual). They have a fair number of snow cannons and all the lower slopes were kept exclusively through artificial snow. Best snow/runs were towards top of Monetier so larger Grand Serre Che lift pass is a must for anyone above low intermediate level. Briancon side was pretty awful so bet avoid unless there is a lot more snowfall (Prorel chair lift leading from Chantemerle side to top of Briancon has two excellent slopes though).
Chantemerle is probably the best village within Serre Chevalier as in middle of ski area so you can ski in Chantemerle, towards Villeneuve and Monetier to the right and Briancon to the left
It's highly functional with everything right by main lift: kiddies ski kindergarten, nursery, ski school office, shops, lift pass office, ski school meeting point, our Sport 2000 shop (the later has direct access to the slopes and a dedicated ski locker where they keep all your ski gear - you can literally ski back to the shop - shop is brand new and very well equipped and is owned by famous French downhill ski champion Luc Alphand (you will see his name plastered everywhere throughout the resort and ski area!) - this is the best ski shop arrangement I have ever come across).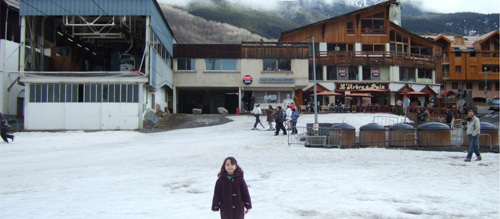 Nursery is right by slopes/main lift and well managed (had a little one there and they speak English). It has direct access to the ski kindergarten so kiddies over 3 can do a mixture of both.
We had 3 children with us (two of whom were at the ESF ski school) and one 2 year old at nursery and we all really had a great time.
The residence is brand new and opened back in December 2006. Location is very good only 250m (3 mins walk - flat) from main lift and central square.
The apartments bear the MGM trademark and are top quality, nicely furnished and stylish. The leisure area is large and wasn't busy despite being the last week of the French school holidays. Pool is large and heated to 30c, 2 good size hammams plus 2 saunas and really large fitness with quality equipment. Did not have to pay for any of these but it could change.
Restaurants and shops very close by including the excellent Le Petit Chalet restaurant which is 50m from residence. Le Tryptique by main lift is good too so is Le Loup Blanc by the slopes.
Le Hameau du Rocher Blanc is very easy to find, at the entrance of Chantemerle (coming from Grenoble side). As you see the Chantemerle road sign (before overhead colour lit sign saying Bienvenue) turn right into a large car park area. You can then see the residence right in front of you. Drive into underground car park entrance and park at far end (parking is free). Reception is at that end. Once you have checked in you will be able to park alongside your apartment block entrance to offload your bags. You can then park back in the free section of the underground car park (suggest level -1).