Thursday, 17, October, 2013
Want to know more about skiing in Val Cenis?
Here's the second part to one family's skiing holiday in Val Cenis Vanoise...
The first morning of the Val Cenis ski holiday got off to a perfect start as we woke to the sight of snow falling. After dropping the children off at the ValCenis ESF meeting point, we were soon heading off to explore the ski area.
Whilst Val Cenis is not a large resort, the thing we liked about it is that has a range of slopes above and below the tree line. At the very top of the resort at 2800m there is a viewpoint with a breath-taking view towards the Lac de Mont Cenis and Italian Alps. Even in late March the lake was completely frozen over and partly covered in snow, making it look a lot smaller than in summer. From there you could choose between a short black mogul run, and red or blue runs. One of our favourite pistes was the Arcelle red run which has a long tree-lined section and comes down towards Val Cenis le Haut.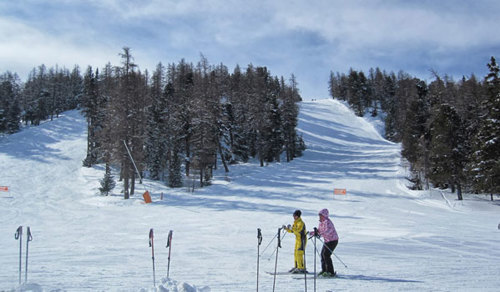 Over in Termignon there are further runs through the forest and these runs were particularly picturesque when we skied down them first thing in the morning, when the trees were laden with fresh snow. One downside is that the highest runs in Termignon are accessed by long drag lifts and a couple of runs above Lanslebourg are accessed by an antiquated two-man chairlift. These slow lifts were less popular, and once we had taken the drag or slow chair we enjoyed skiing down some very quiet runs. The Val Cenis Vanoise plan des pistes indicated that a couple of new chairlifts will be constructed soon so these slower lifts may not be there for much longer.
The long green Escargot run from the top of the Ramasse chairlift to Lanslebourg would be ideal for beginners to gain confidence. However, it did live up to its name, particularly in the afternoon, when the snow lower down became a bit heavy going. We soon discovered the blue and red short cuts so did not need to ski the entire Escargot to get home each day.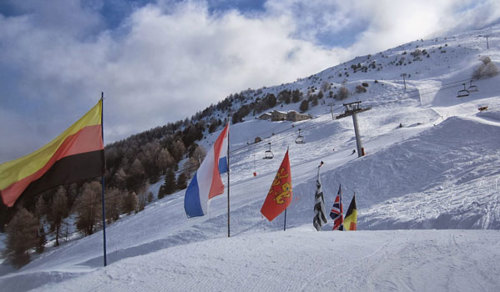 Val Cenis could win a prize for interesting and unusual mountain restaurant experiences. We stopped at a restaurant called L'Arolle above Termignon which had a revolving dining room, although sadly it was not turning during our visit. The most exciting dining experience we had was going to the Relais du Col restaurant. To get there we took the fast Ramasse chairlift up from Lanslebourg. At the top there is a sign which indicates that you should wait for the restaurant taxi. After waiting a few minutes, some members of the family started to become impatient, not believing the "taxi" would arrive. In the distance we could just make out a snowplough coming towards us and this turned out to be our taxi to the restaurant – it was great fun travelling by snowplough!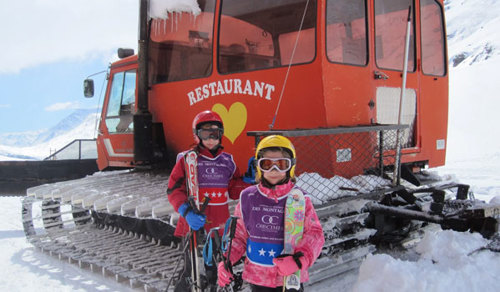 Once we reached the Col, and the snowplough had turned round and departed, we took in the magnificent view towards the Lac de Mont Cenis and enjoyed walking a little way through fresh untracked snow. The Relais du Col restaurant served a range of Savoyard specialities and enormous bowls of "frites", cooked to perfection. Our favourite restaurant in Val Cenis for an evening meal is L'Arcelle in Lanslevillard. We first visited it in the summer and it was noticeably the only busy restaurant when the resort was a lot quieter, which is always a good sign. When we arrived at L'Arcelle in the winter there were festive lights on the outside of the building and it was warm and cosy inside. L'Arcelle has an extensive menu which includes fondues, hot rocks and mini barbecues. We enjoyed another delicious meal there, although the service could have been friendlier.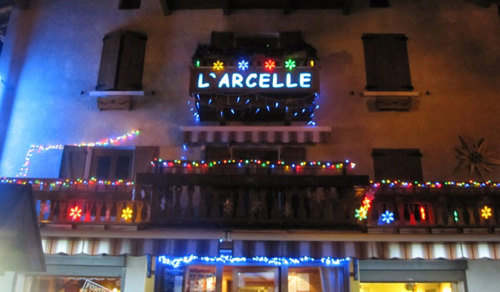 On another occasion we borrowed a fondue set from the reception at Les Chalets de Flambeau. Although most MGM built residences loan out fondue sets, at the one in Val Cenis you can also order the fondue or Raclette ingredients and accompaniments, which are delivered by a local Traiteur. We had a most enjoyable week skiing the slopes of Val Cenis and the resort seemed just the right size for the children to gain confidence and progress with their skiing. We loved the comfort and peaceful location of Les Chalets de Flambeau, and liked the slightly "back of beyond" feeling of the resort.
We would definitely recommend Val Cenis as a relaxed location for a family skiing holiday in France.