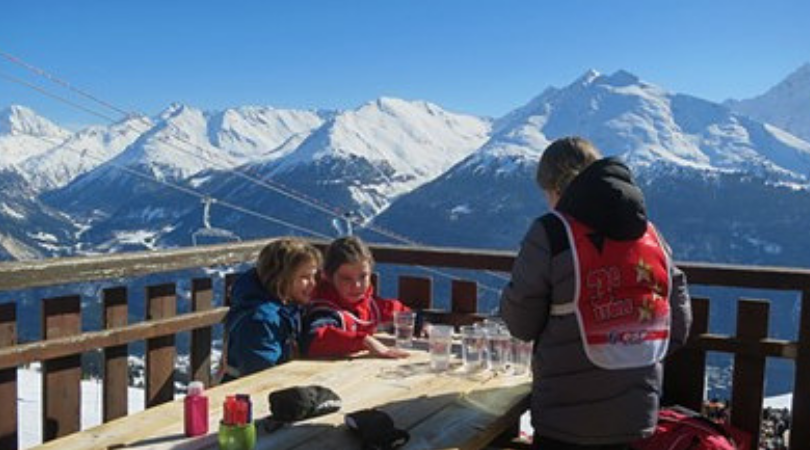 Wednesday, 12, April, 2017
In the weeks leading up to the holiday, there are so many things to consider, have we got our passports? Are they in date? Do we have the right ski gear? Have we got enough warm clothes? And the list goes on. The one thing that I don't really need to worry about is, do we have our tickets and have we booked the right lessons, ski hire etc. The reason being is that we book everything through Peak Retreats and they are fantastic. Your travel pack arrives with the Eurotunnel tickets, your apartment vouchers, your ski vouchers, etc and everything is taken care of. Their attention to detail is second to none and it really does make a huge difference. Their service in the lead-up to and even post holiday is excellent and I think they would be hard to beat.



A view of Aussois from the chairlift
We were due to head off on the Friday of the UK children school mid-term break and we knew it would be busy, friends of ours had decided to join us this year with their children and given our past feedback in previous years, they had high expectations of a week in Aussois. As we were driving, the plan was to do the drive in two legs to break up the journey, by leaving on the Friday evening, we hoped to get to Troyes for our overnight stop and then drive the rest on the Saturday morning. We had arranged for the flexi plus ticket on the Eurotunnel crossing which is definitely worth it. On arrival to Folkestone, we had a quick stop in the flex plus lounge, packed up with sandwiches, crisps and drinks, and we were on the next crossing. It was really so easy.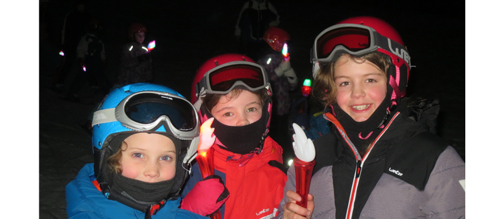 Enjoying the torch-descent
30 minutes later, we were in France and on the first leg of our trip. We both had the Liber-T tags in our cars which meant there is no queuing at the tolls and you just drive through, again well worth it and it saves a huge amount of time at some of the busy toll booths. We drove for 4-5 hours and pulled into our overnight hotel. We had booked this directly ourselves but Peak Retreats can also arrange if you wish. After a quick stopover, we were back on the road at 7.30am on Saturday morning. Traffic can be quite busy as the UK mid-term tends to coincide with the French (Paris) mid-term. We normally drive for 2 hours and then stop for some breakfast as the kids tend to fall back to sleep. After another 6 hrs in the car, we leave the motorway as you approach Modane and start the 15-20 minute ascent into Aussois. The fact that its only 20 minutes makes it an easy drive for anyone that really fears the long and windy drive into other resorts.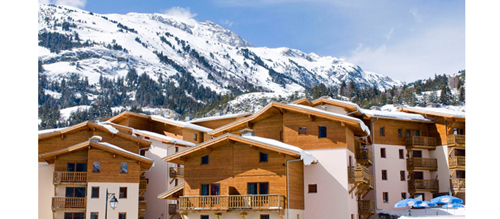 Apartments at Flocons d'Argent
We arrived at Aussois around 3.30pm and went straight to the check in at Les Flocons d'Argent. Having stayed there previously, I had requested an apartment facing the slopes and had also pre-booked an underground car park. This makes unpacking much easier. Check-in was fine and my friend and I were given apartments next door to each other which was great. Our lift passes were waiting for us on arrival, again having been pre-booked through Peak Retreats. As we drove, we opted not to take the linen and towel option as we had space to bring our own and it's quite a pricey option. What is worth paying is the end of apartment clean which costs €41.00 and is well worth it on your last day/check out.



Check-in done, we unpacked the cars and then went to collect all the ski gear from Sports 2000. Again everything had been booked through Peak Retreats and on arrival everyone tried on boots to get ones that were comfortable etc, the younger kids tried on 2 or 3 pairs but the team in the shop didn't mind and were very helpful. Having picked up the skis, boots, poles, and helmets were drove back up to the apartment. It's only 200-300m but with equipment for 9 people it's easier to drive. Each apartment comes with a ski locker just beside the slopes, which we found to be plenty big for a family of five. We did bring our boots up every night and the apartment provided sturdy bags for this.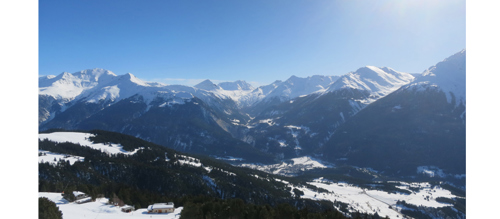 Looking over Aussois
We had brought the basic supplies but there is a very good (small) supermarket in the apartment complex, they stock everything you will need and if you feel like doing a big shop, there is a hypermarche in Modane and it's like a big Sainsburys. In the middle of the town, there is a fantastic local bakery and you can pick up bread, croissants and cakes of all descriptions, or again you can pick up the basics from the little supermarket.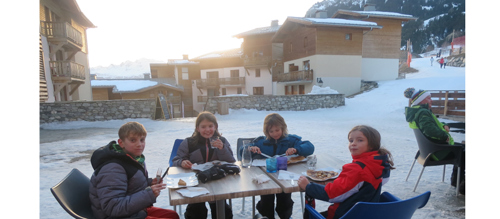 Trying a new restaurant
Now that we unpacked and had everything ready for the next morning, it was time for a well-deserved beer and then some dinner. The resort is really quite small and in previous years we ate at the restaurant which is right under the apartment. Unfortunately, Les Bouquetins is no longer there and has been replaced by an Italian restaurant. Tired and hungry we gave it ago but to be honest it wasn't that great and wouldn't be running back.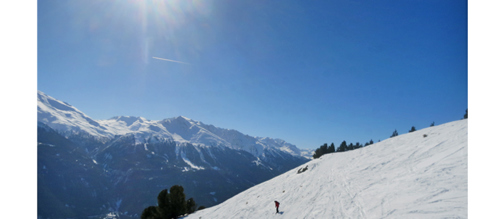 A lone skier
Come Sunday morning, everyone was excited and a little apprehensive as our friends' kids had never skied before and it had been some years since they been on the slopes. We had booked ski lessons for everyone but decided not to go for the 9.00am lessons but the more relaxed start time of 11.00am. Again everything was booked through Peak Retreats and we had been issued with our lift passes and we were ready to go.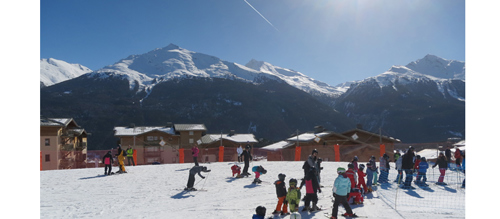 The ski school meeting point
The ski lessons worked out really well and even with a 15 minute overlap between the children and adult lessons, the children were supervised until we arrived. The skiing in Aussois is perfect for families and up to intermediates as it's not a vast resort but the benefit is virtually no queues and it's a pleasant/safe environment.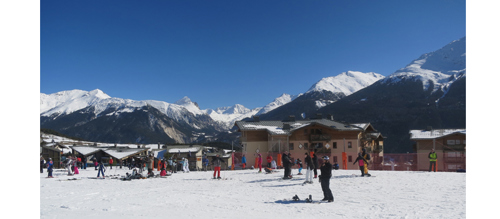 Front de Neige
The skiing holiday was excellent with the exception of me taking a bad fall on the second day, unfortunately this was to be the end of my skiing for the week!!! I can however, speak with some authority about the medical centre run by Dr Adra located in the village. The morning following my accident, I was able to arrange an appointment and it all ran very smoothly. The doctor was able to take x-rays on site and we could look at the results instantly on the PC. Thankfully nothing broken but some cartilage or ligament damage, the doctor prescribed some anti-inflammatory medication and suggested a strong knee brace. The doctor also provided a letter for physio on my return to the UK and also a letter for insurance purposes. He didn't take personal health insurance or the EHIC card, however at €51.00 for the Xray + consolation and €31.00 for the drugs, I thought this was excellent value and great service.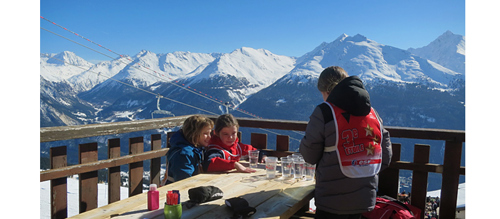 Eating at a mountain restaurant
During the week we did have excellent meals at Les Barillon and L'Etagne. Both were really excellent and I would highly recommend, booking is essential. We also ate at La Delta which in previous years was very good but no so much on this occasion but I would still give it a go next time. Lunch on the slopes is limited but we tended to have lunch in the apartment as our ski lessons finished at our apartment block. We did however have lunch in La Montana on one occasion and opted for the Raclette Table which was a novel way to have lunch. Food was excellent and plentiful and not too expensive. For the nine of us on the day it came to €160. We also sampled the food in Le Panoramic which was also very good, especially their dessert selection!!!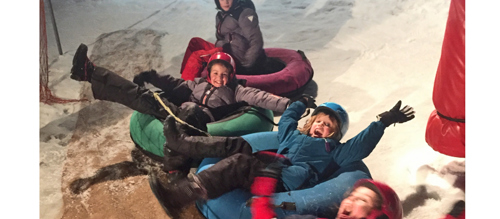 Having fun at snow tubing!
During the week, we also ventured to the snow tubing in the town, this is a must for adults and children and even as a spectator it was good fun. Wrap up warm as it gets chilly when the sun drops.
Normally we would like to try different locations / holidays but with Peak Retreats and Aussois it just seems to work and, leaving the knee accident, it was a fantastic holiday and we have already booked for again for 2018!!
This is a Guest Blog by our client Jeremy.