Monday, 22, May, 2017
Thinking about a summer holiday in the Alps?
Samoëns is one of the four authentically French villages in the Grand Massif, in the heart of the Haut Giffre Valley. Beautiful, traditional, and family-friendly, Samoëns is ideal for those seeking relaxation, beautiful scenery, culture, and plenty to do. 
1. Things to do in Samoëns: Calm, Cultural and Child-friendly
Samoëns is a fantastic base to access a huge variety of activities. 
What about...
Looking around the alpine garden, La Jaÿsinia Botanic Garden, which has 5000 varieties of mountain flowers!
Having a guided tour of Clos Parchaet Farm and Folk Museum (which ends with a free tasting session!)
Heading to the mountains to explore the mystical huts set deep in the mountains 
Going for a ride on a pedal-powered chariot
Trying water golf where you aim for hoops in the lake
Heading to the Indiana Adventure Park for high ropes obstacle course in the trees! 
Riding the village SeptiTrain train
2. Easy to Get to, Easy to Explore, Easy for Everyone
At just one hour (55km) from Geneva Airport, and under eight hours from Calais, Samoëns is one of the most easily accessible resorts that we feature.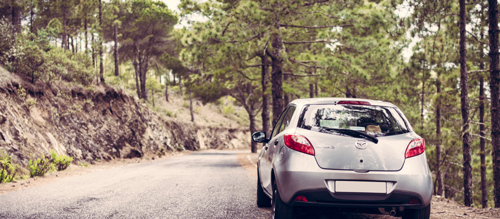 Once there, Samoëns is in a great location to take day trips exploring other local villages. You can easily visit other resorts in the Grand Massif area, including Les Carroz, Sixt Fer à Cheval and Morillon; or further afield is the Portes du Soleil region. 
For those with reduced mobility, Samoëns prides itself on its services including specialised paths and adjusted parking. 
3. Cycling in Samoëns
It's well-known that France and cycling go hand-in-hand, so it can come as no surprise that Samoëns had some exciting cycling opportunities available.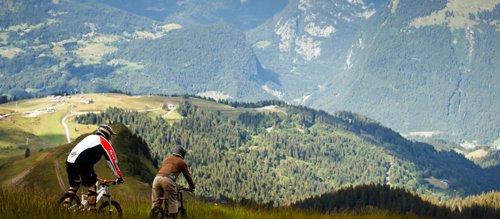 For families, there are plenty of mountain biking trails of varying abilities. You can even hire a guide to teach you mountain biking or take you to the best spots! Explore the banks of the Giffre, the lakes at the Lac aux Dames, Samoëns 1600 or the Fer à Cheval!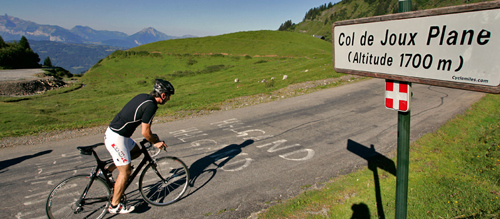 For the hardcore cyclist, Samoëns' most notable opportunity is the 'Col de Joux Plane', often used in the Tour de France race. It requires a good level of training to tackle, but it's definitely an achievement to add to the bucket list! If you can make it to the top, there are some wonderful views of the valley followed by stunning views of the Mont-Blanc range. 
4. It's a Rustic Village, Full of Character
The beautiful buildings of Samoëns hold plenty of history. Originally Samoëns was a stonemasons' town, today you can go on an organised tour with a stonemason to learn how culture, tradition and architecture have shaped the town.
Or visit the 'Gros Tilleul', a large lime tree planted by a Duke in 1438, which the locals say 'has been immortalised by numerous local authors, poets and musicians through the ages' Samoëns Tourist Office.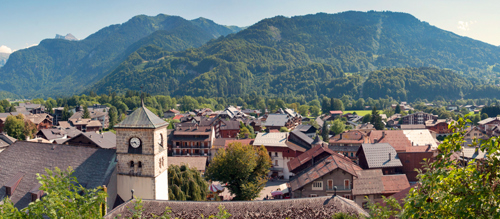 Further afield, in the wooded mountainsides that surround Samoens, there are nine hamlets. Each has a chapel, and most date back to the 17th century - exploration and culture in one trip!
5. Get Your Adrenaline Pumping in Samoëns
Samoëns is a great base for adrenaline-seekers, you can pack the holiday full of quad biking, paragliding, canyoning and rafting! 
For a great day out visit the Via Ferrata, it's the best way to climb the steepest mountain walls which overlook the Giffre Valley and Sixt Fer à Cheval!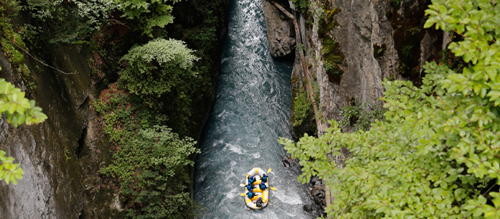 Samoëns is also home to the world's deepest pothole and famous caves, perfect for exploring.