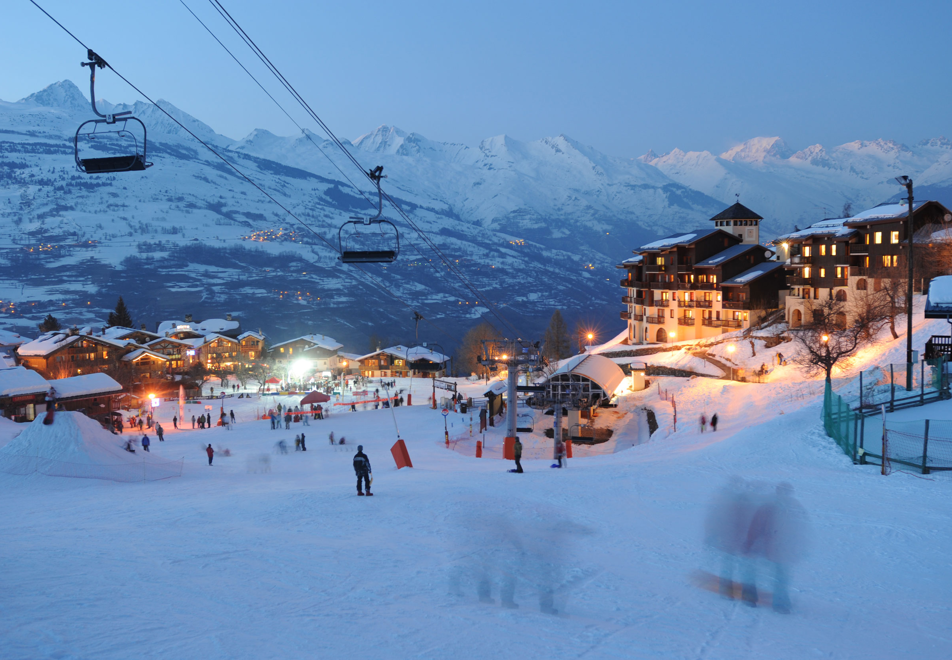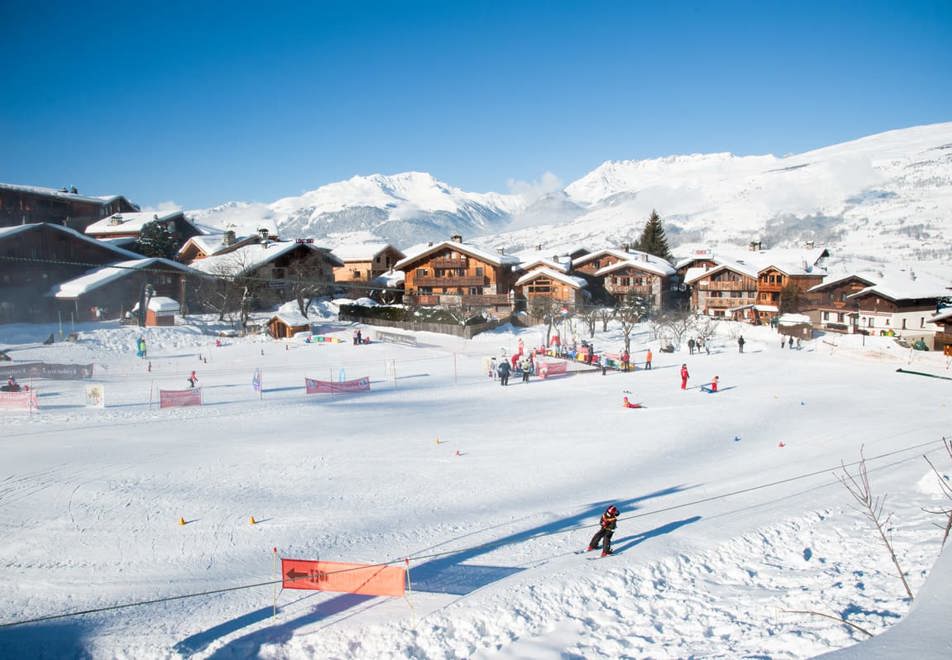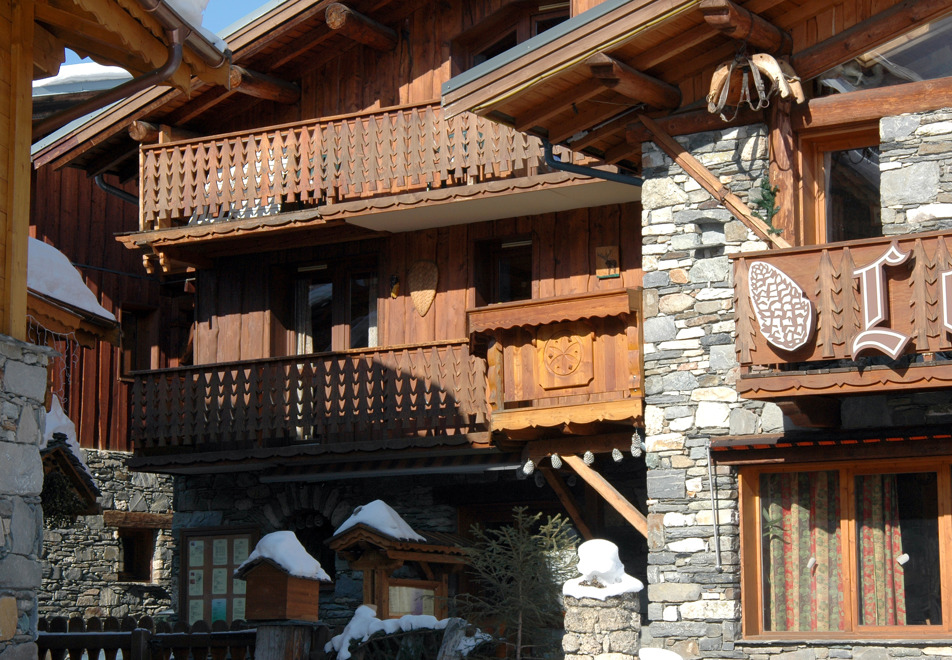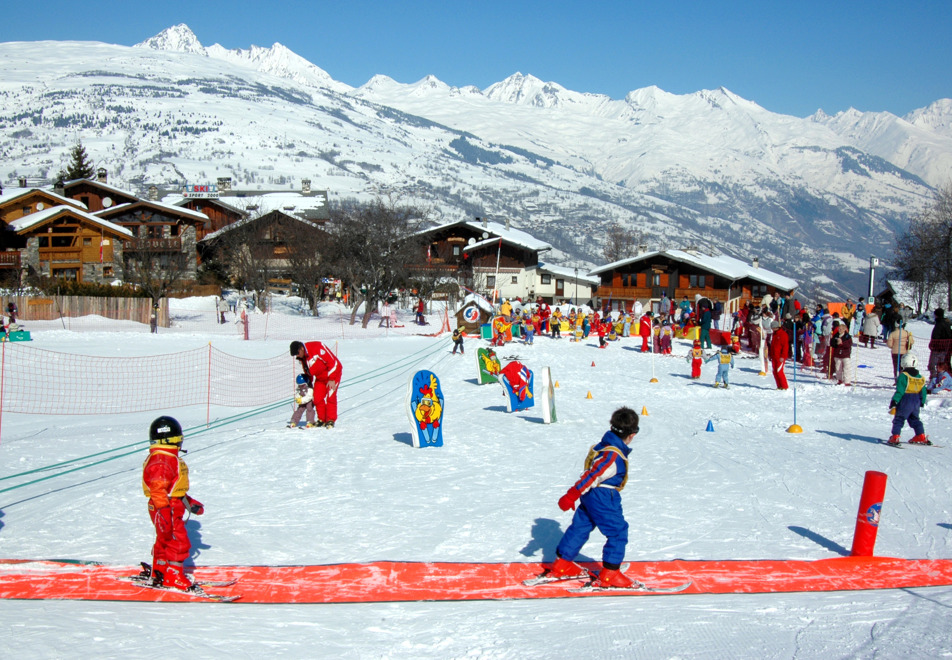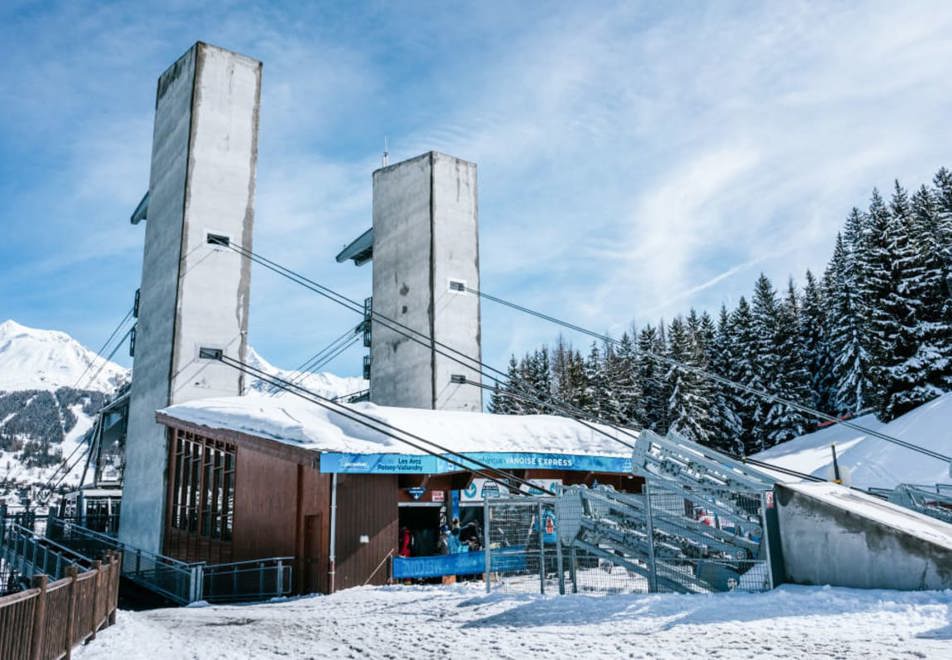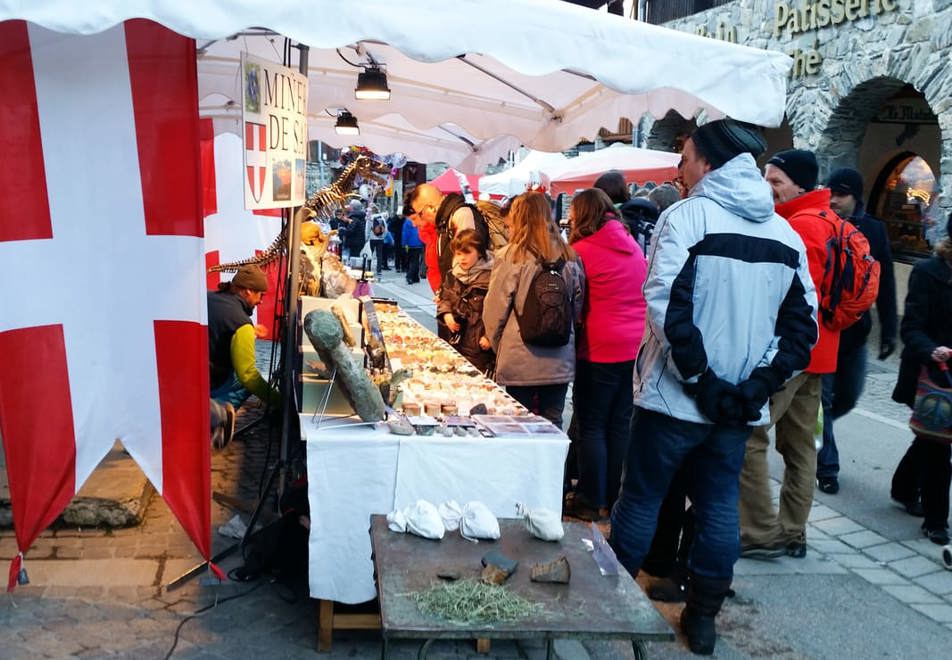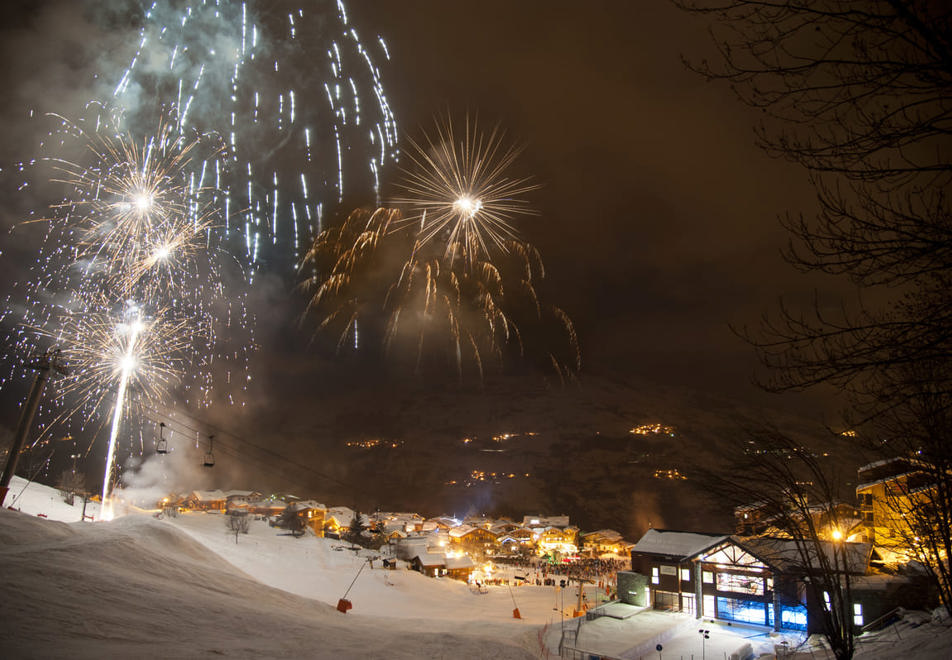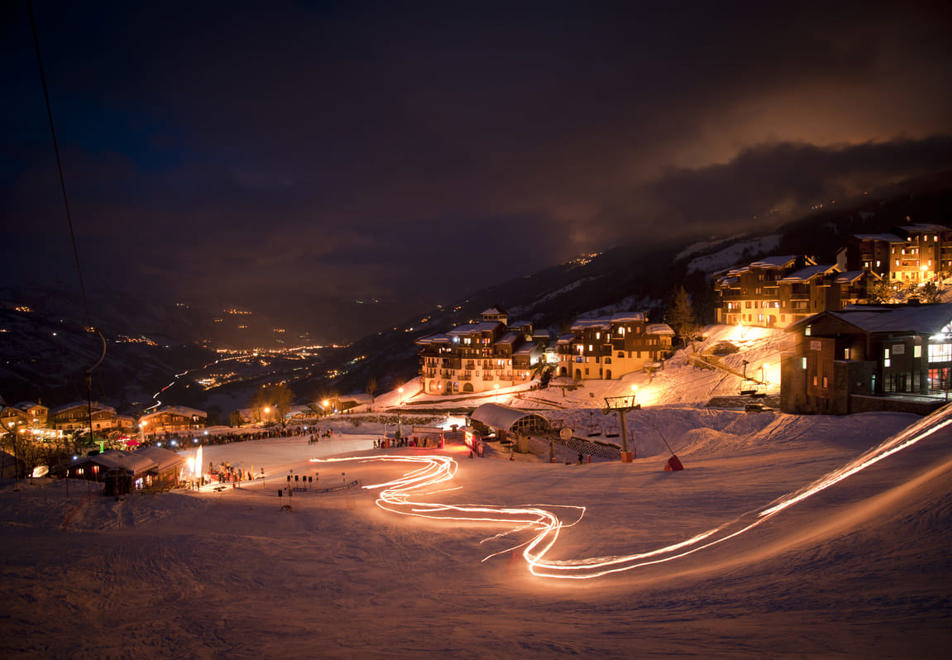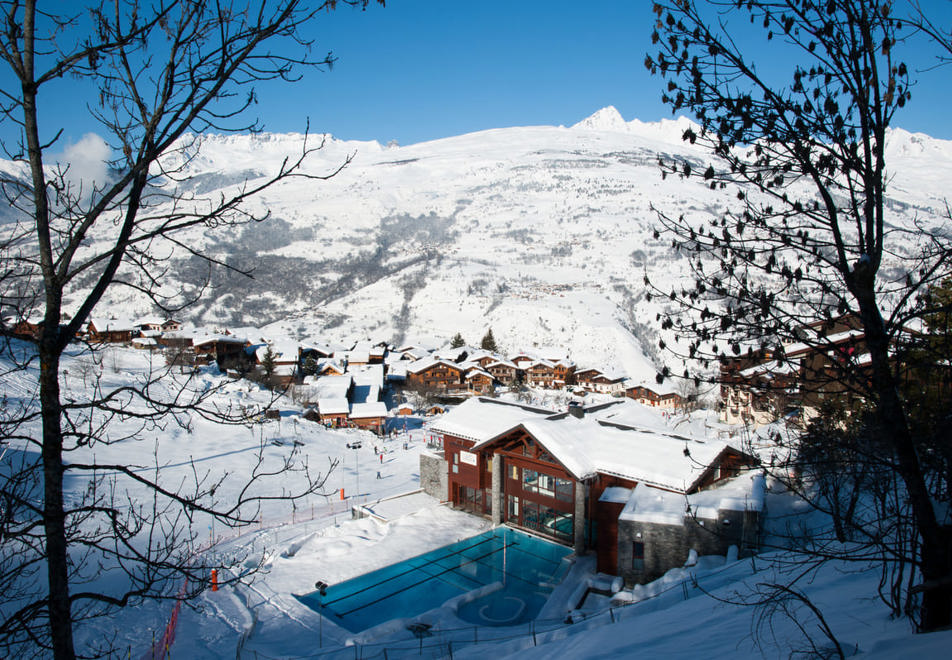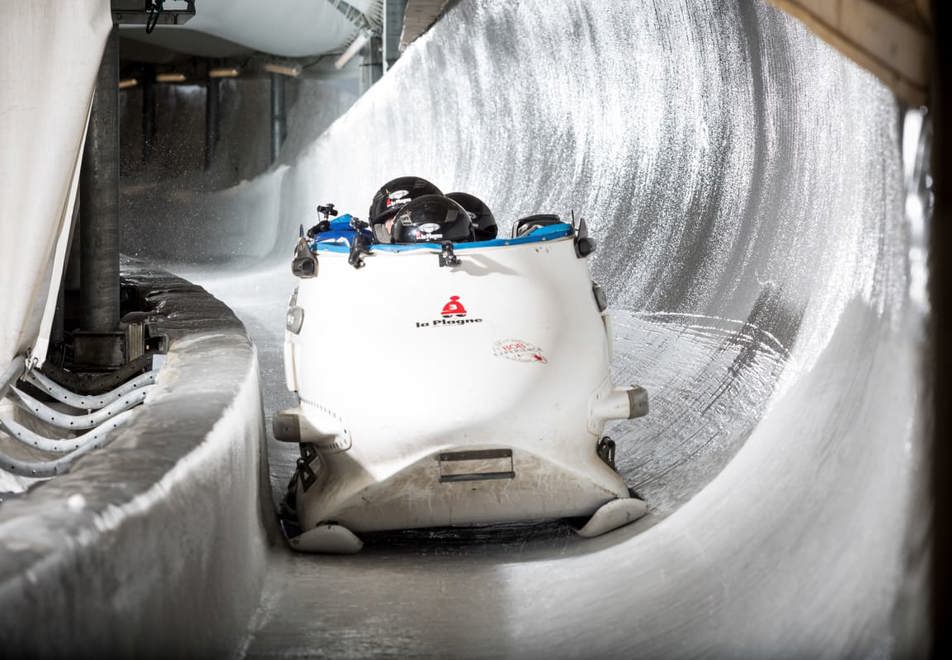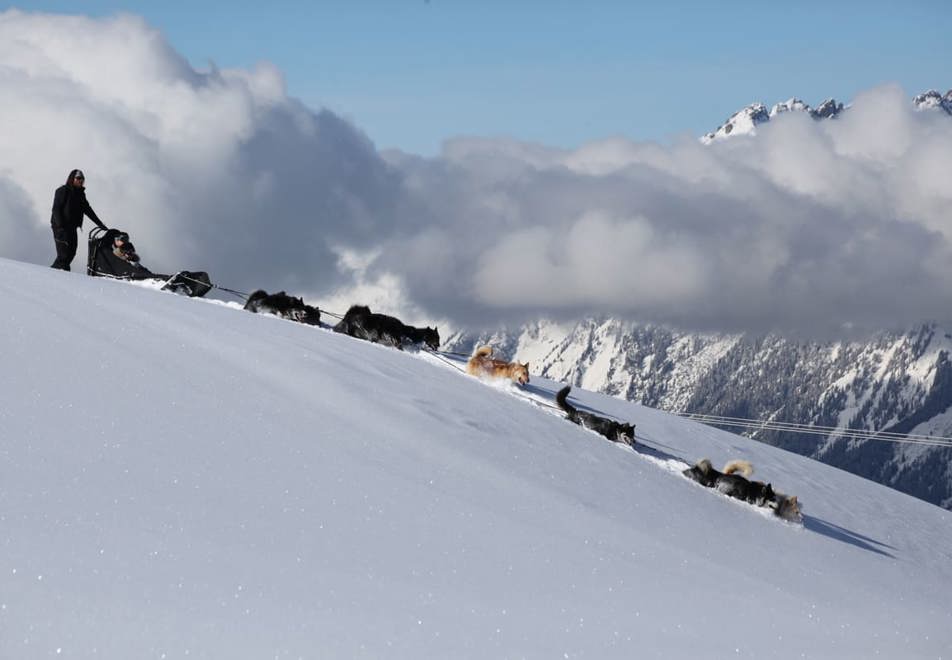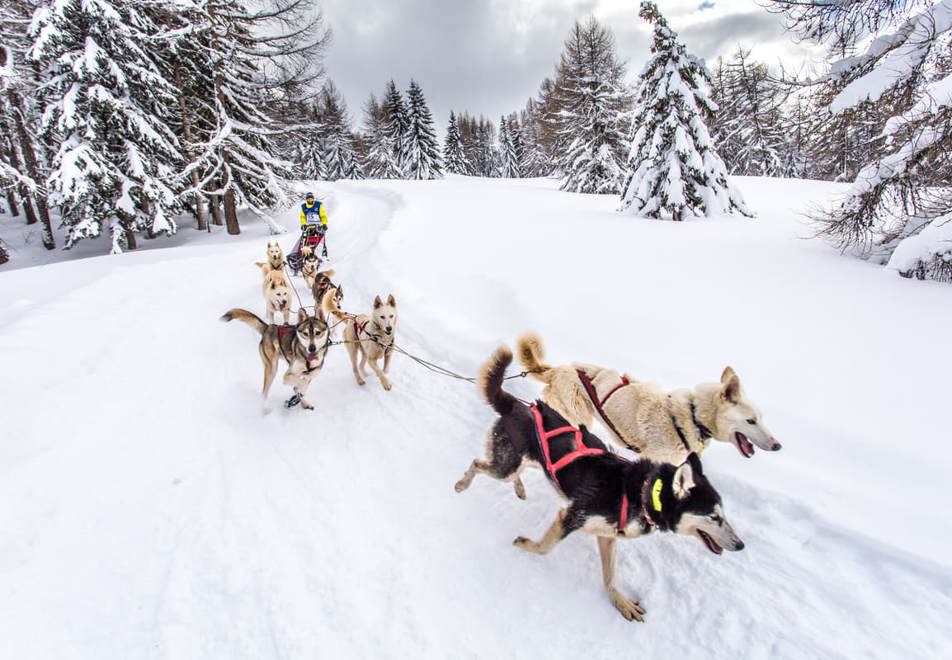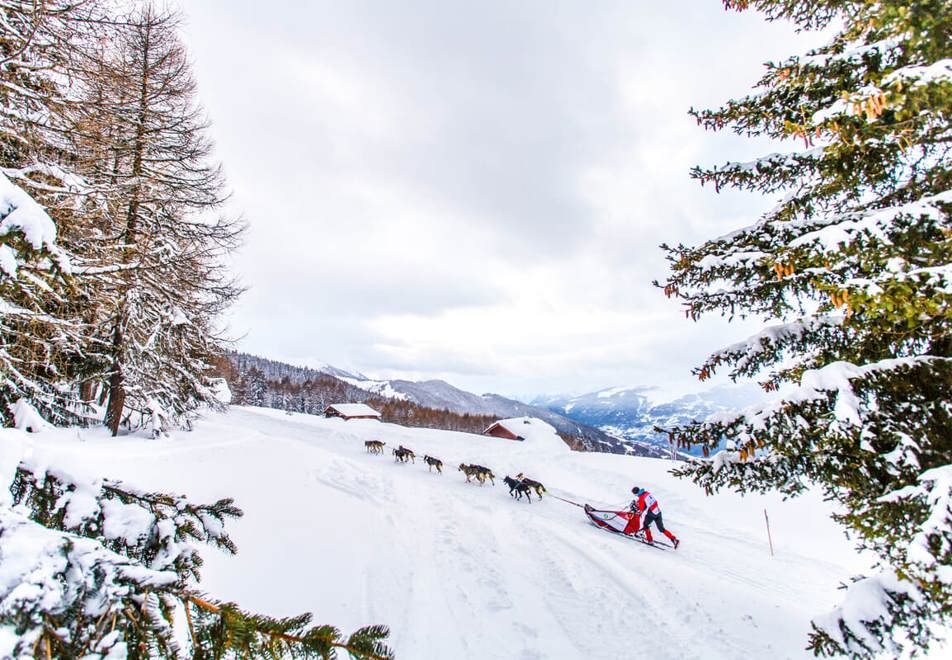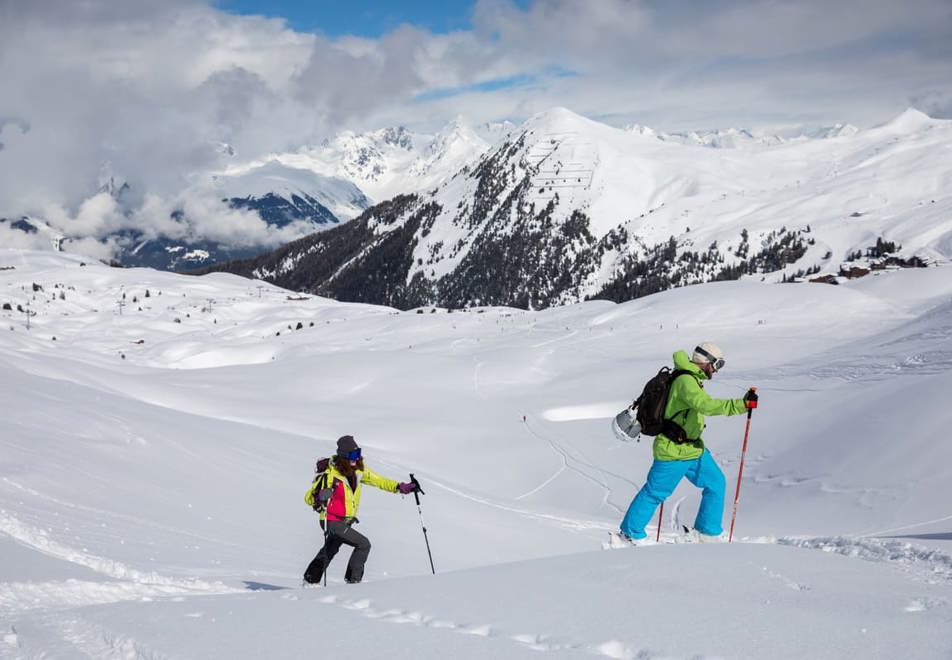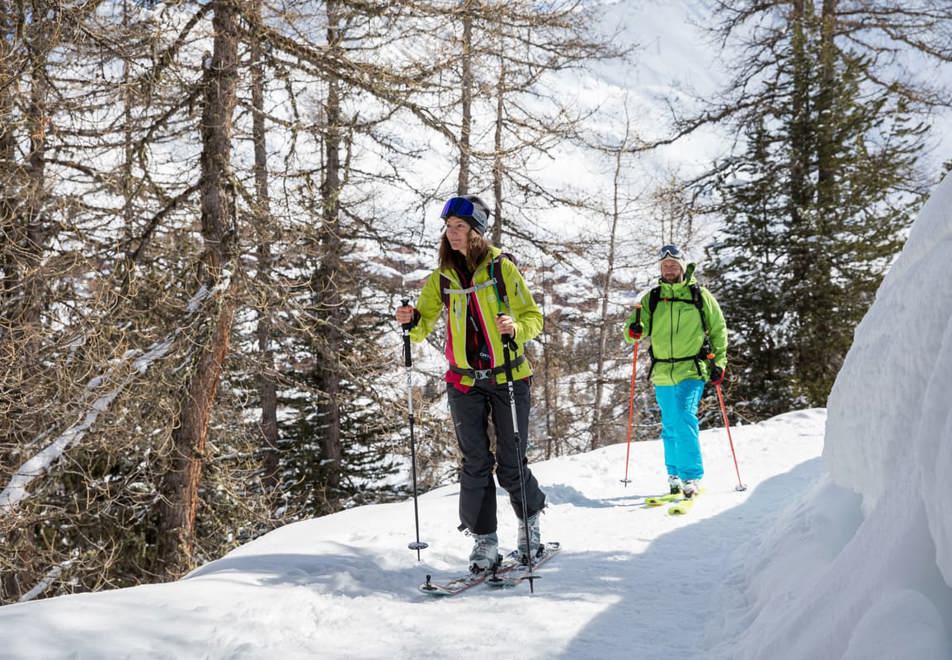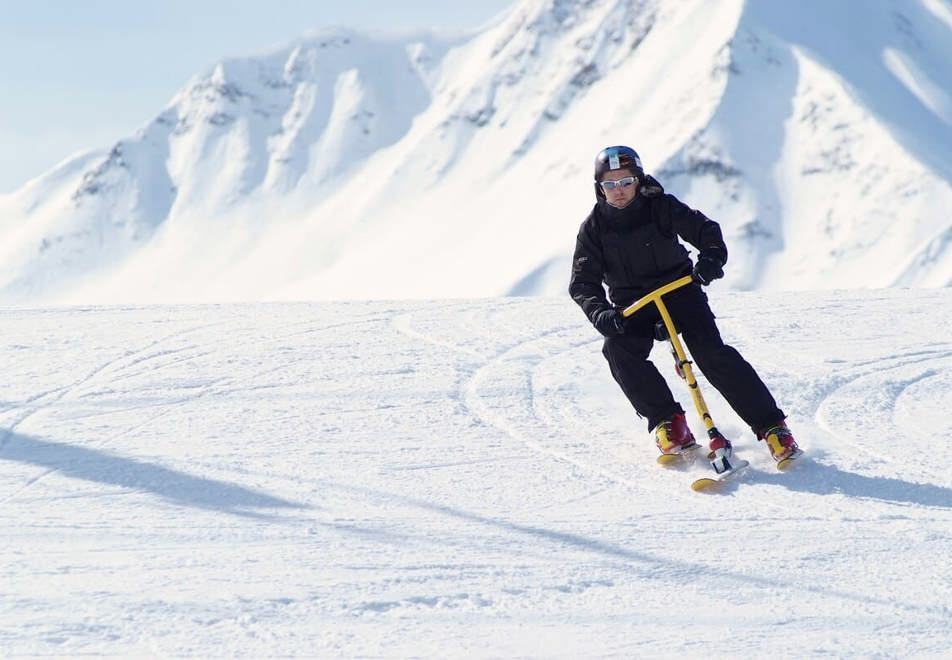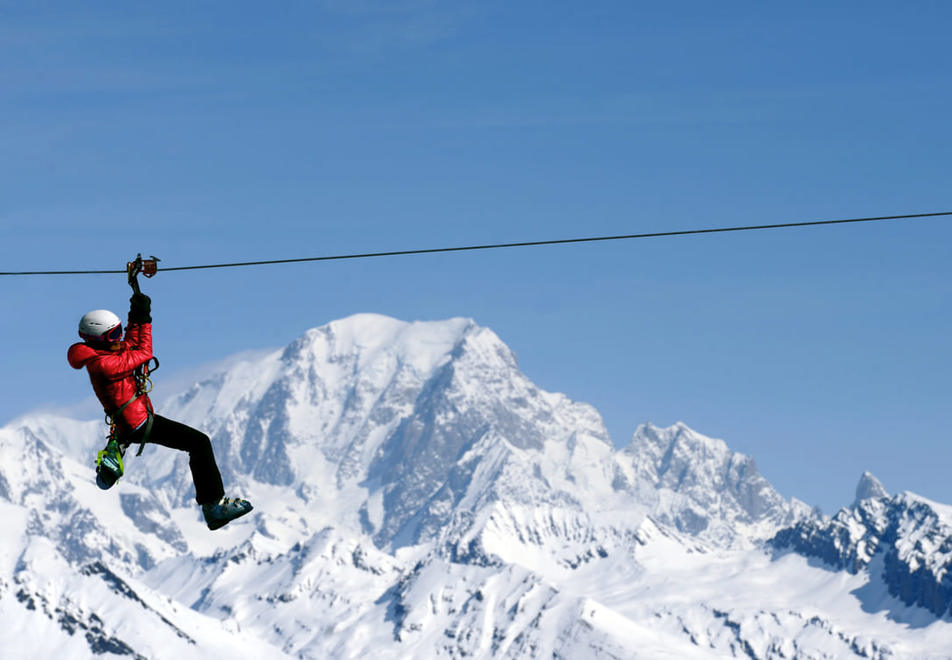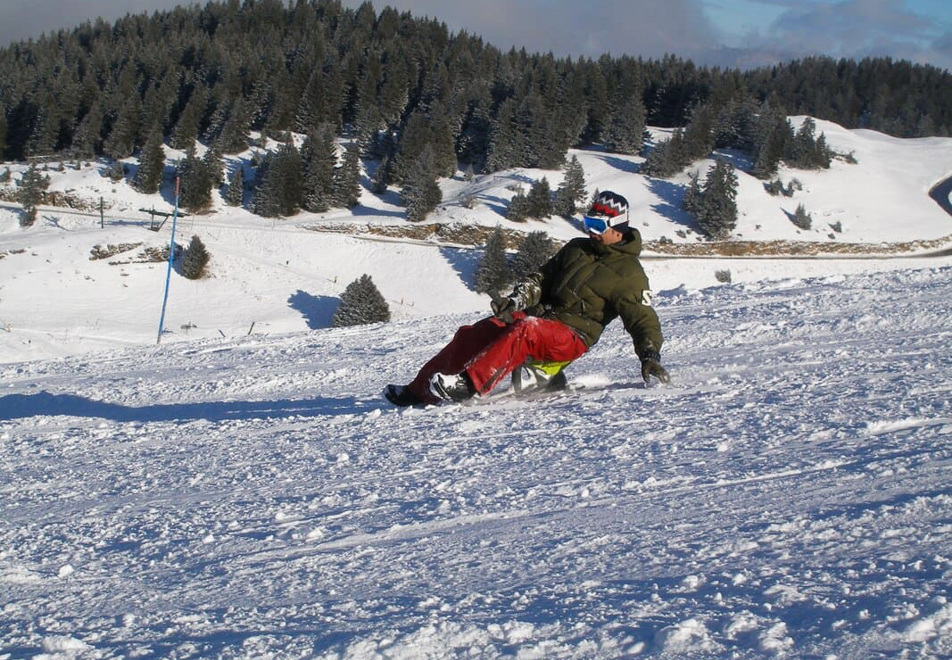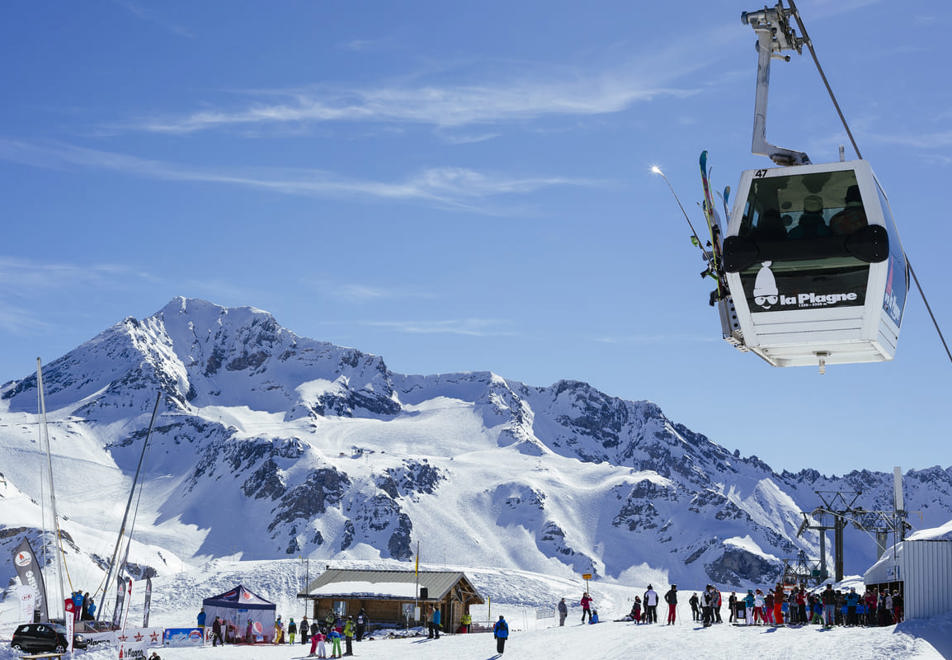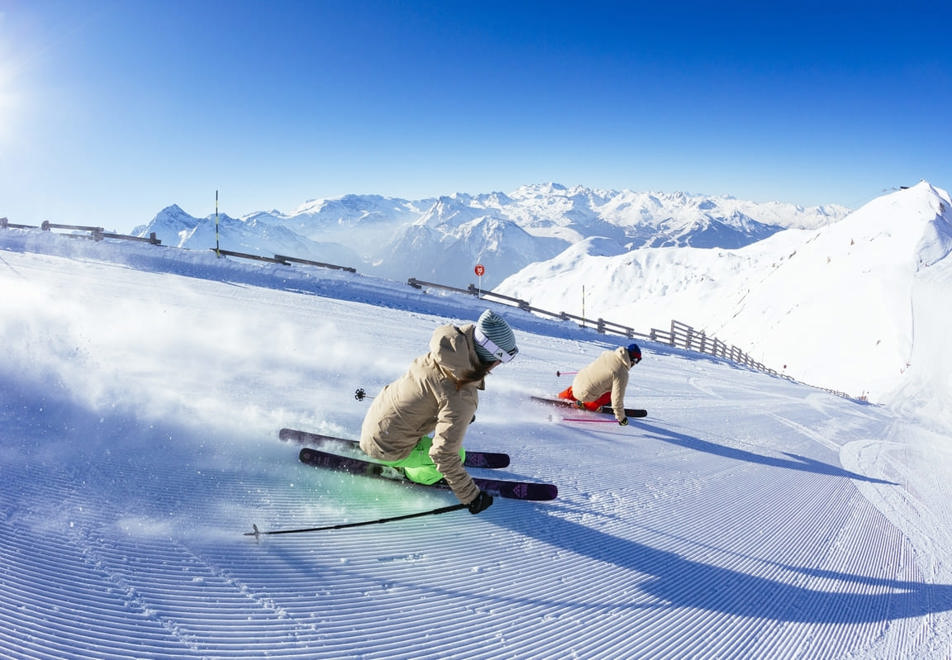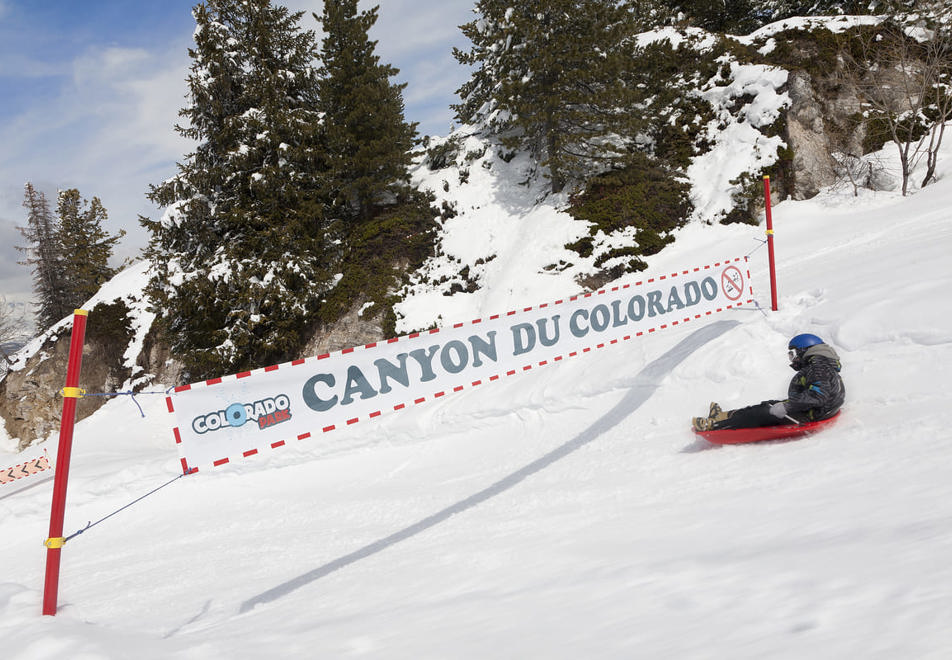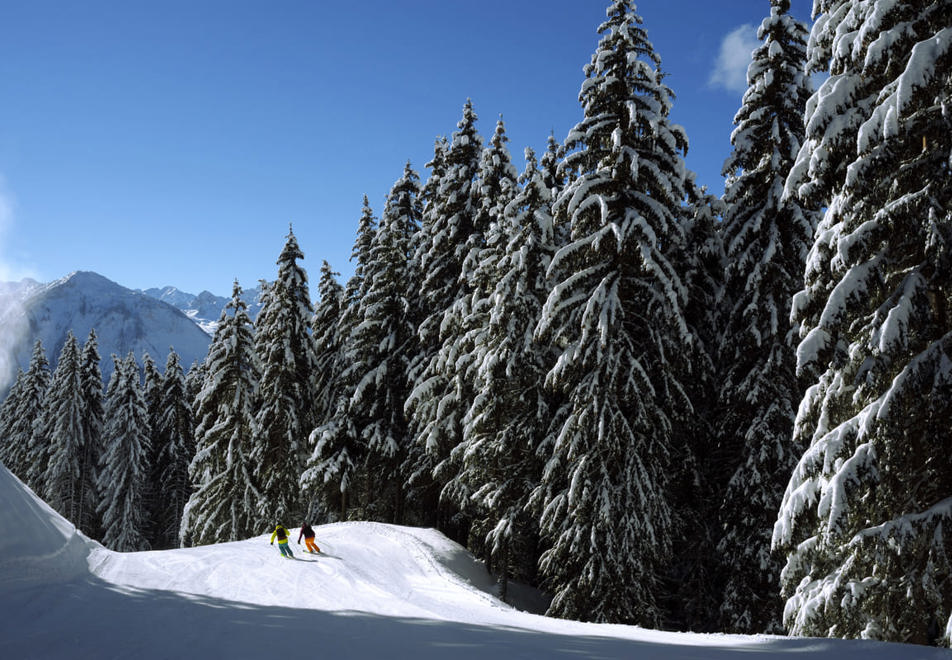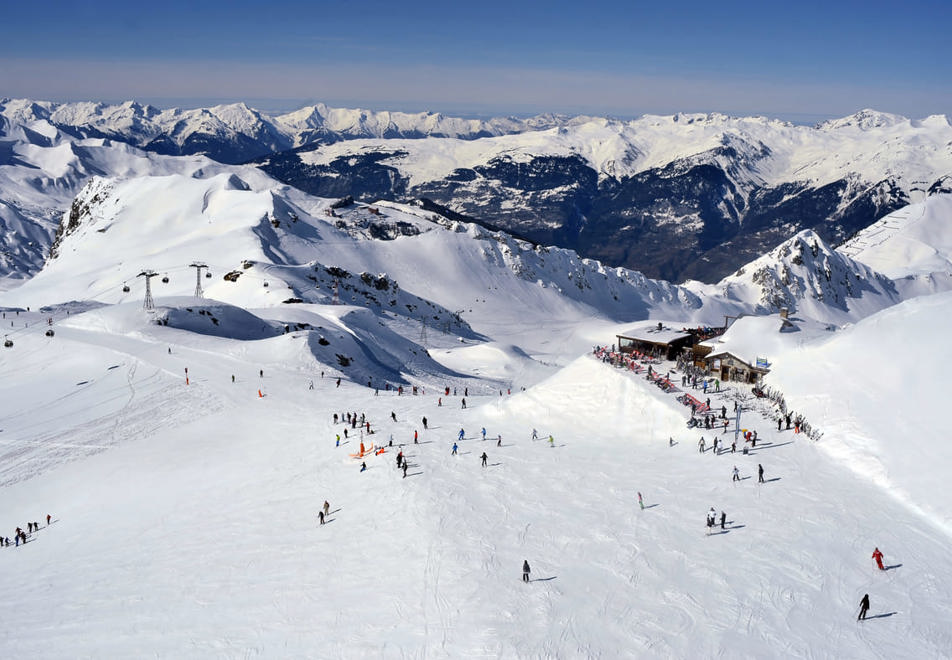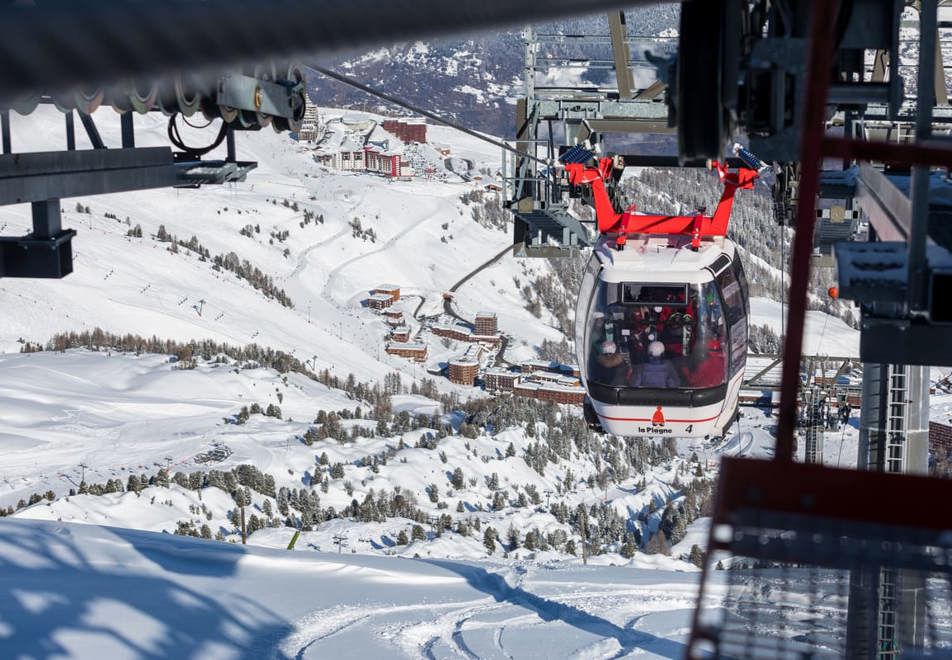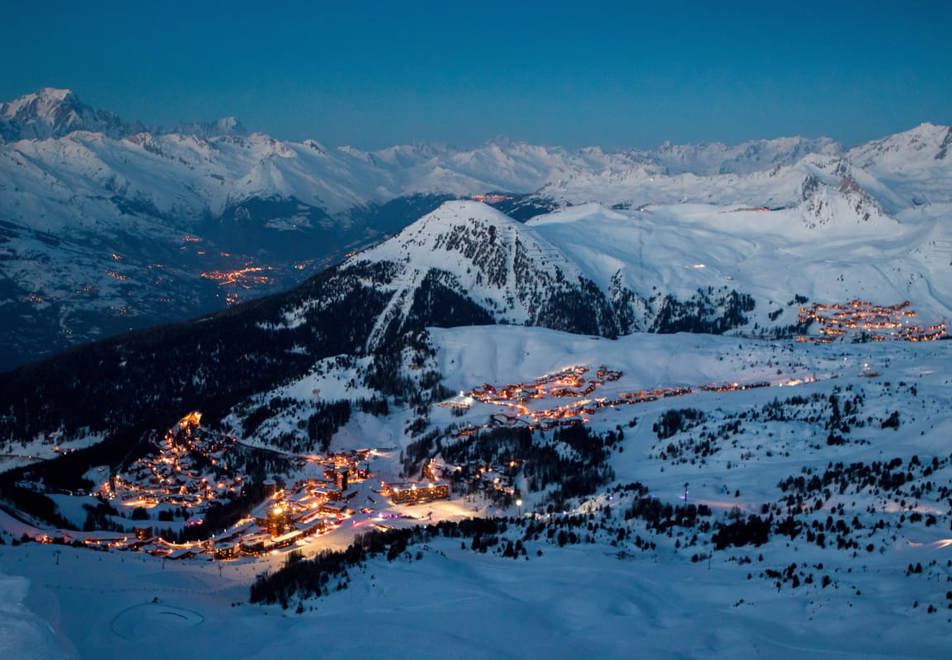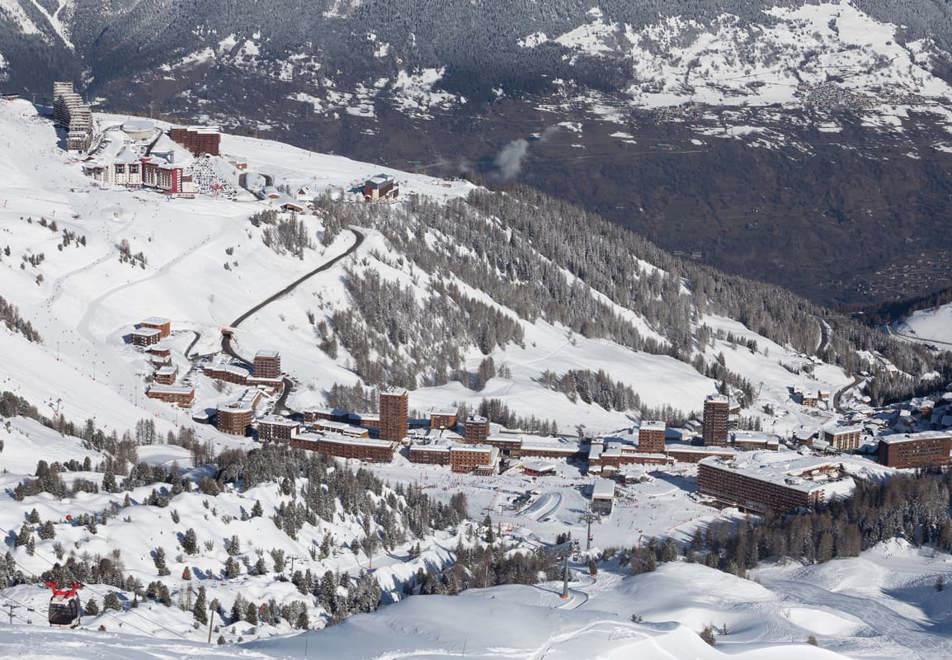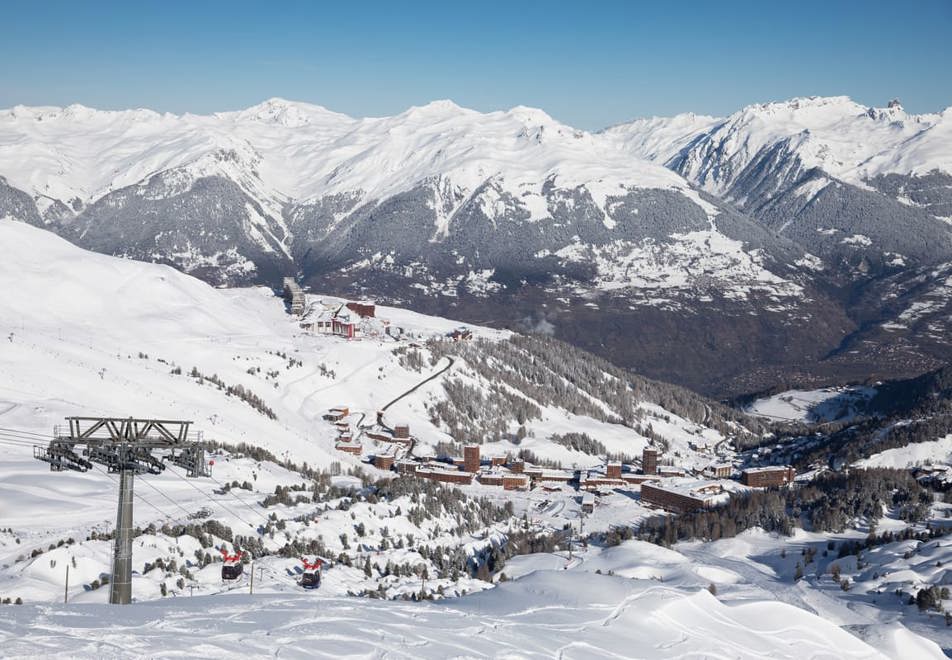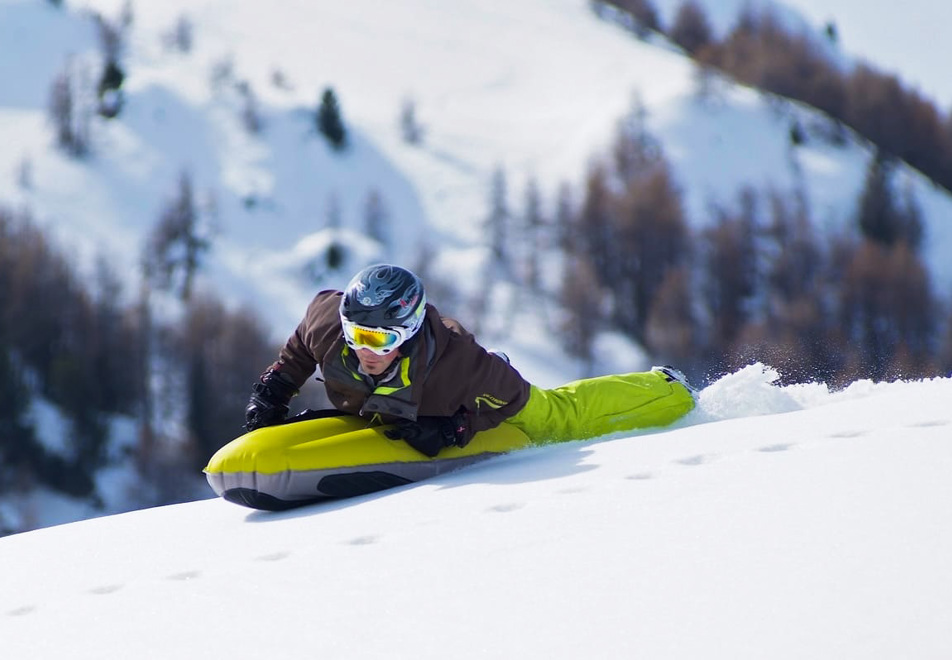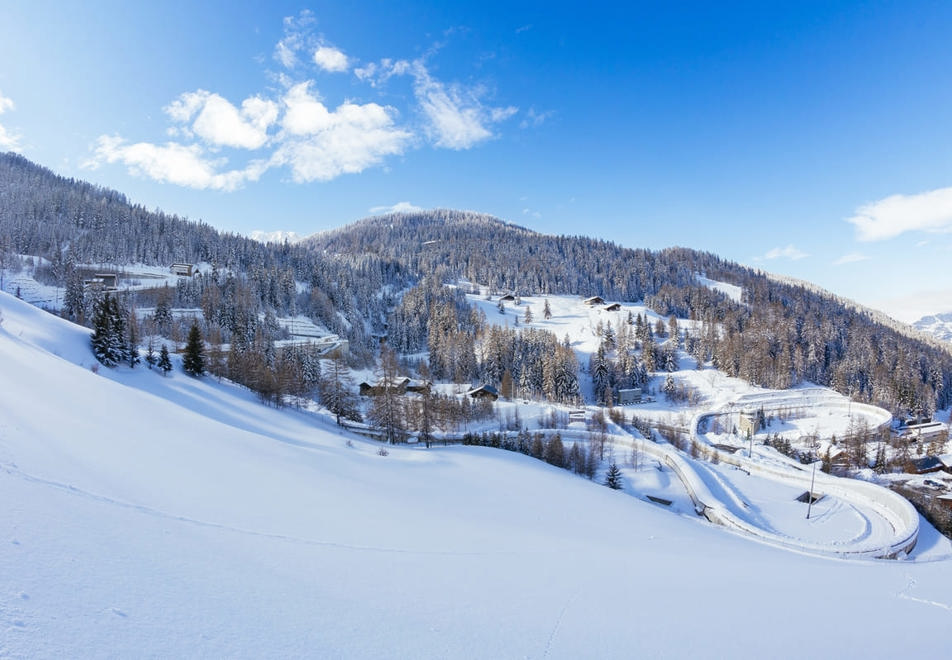 Thinking of skiing in Montchavin? Montchavin is a charming village that provides a quieter alternative to neighbouring La Plagne and access to the giant Paradiski ski area.
Why Montchavin Ski Resort?
Direct ski access to the north-facing slopes of La Plagne
Close to the La Plagne-Les Arcs Paradiski area
'Famille Plus' resort - good children's facilities and great for families
A quiet alternative to La Plagne
Montchavin (Paradiski) Resort Information
Montchavin is a charming village that has grown up from an old farming hamlet and retained its ambience despite development and expansion. It is a quieter alternative to bustling La Plagne yet it shares its giant neighbour's Paradiski ski domain, one of the world's largest.
Montchavin has a small selection of bars and restaurants as well as a nightclub, supermarket, boulangerie, and laundrette. There's a further selection of bars and restaurants in nearby Les Coches, linked by ski lifts and a shuttle bus.
The village has a natural appeal for families, which has earned it the Famille Plus accreditation for the quality of its services awarded by the French government's Ski France organisation. Montchavin is traffic free and offers children's clubs and a nursery, so it's an ideal location for families.
Child-minding facilities (with state accreditation) include the Baby Club Montchavin which provides indoor and outdoor activities including drawing, painting, games, sledging, walks, snowman building and time for a nap, if required, for one-to-three year olds.
Activities in the village include snowshoeing, an ice rink at the top of Montchavin gondola, with 800 sq. metres of artificial ice rink, a cinema and a wellbeing centre with Turkish bath, sauna, massages and beauty treatments. 
In other La Plagne villages nearby there are more activity options, including the rare chance for the brave to descend a bobsleigh run, in this case built for the 1992 Winter Olympics staged in the area. You can either take a 'taxi' bobsleigh at top speed behind a professional driver or jump in a 'self-steering' craft with friends which goes a little slower but is still fast enough.
Peak Retreats offers a range of Montchavin accommodation options. Our hand-picked hotel and self-catered apartments are of a high standard (3 & 4*) and provide an ideal base for a Montchavin ski holiday.
MONTCHAVIN SKI AREA
Paradiski is one of the largest ski areas in the world and one of the largest interconnected areas. The ski lifts rise for an incredible 2000 vertical metres above the village to snowsure glacier snowfields, a figure matched by fewer than a dozen other resorts on the planet. The massifs of Les Arcs/Peisey-Vallandry and La Plagne are linked by the Vanoise Express, the world's largest cable car. This ultra-modern lift is a two-level panoramic cabin and crosses between the massifs of the three resorts in just four minutes. It can carry 4000 people per hour. The Paradiski lift system is one of the fastest and most modern that exists. The double-decker cable car has, in addition to the 360° panorama, a 3-dimensional outlook courtesy of a transparent glass panel inserted into the floor of the lower level of the 2 cabins.
The lifts in the Montchavin/Les Coches sector are fast. And with 70% of the ski runs at over 2000 metres and one of the world's most modern artificial snow systems, Paradiski guarantees top-quality snow conditions from December to April. With the best-known peaks, such as Mont Blanc and the Pierra Menta forming a panoramic background, Paradiski is also the gateway to the Vanoise national park, a nature reserve of 53,000 hectares.
To get to La Plagne there are a few lift systems you can take but the local slopes have a number of easy-intermediate runs. Montchavin is a little Alpine village linked to the large Paradiski ski area so you can enjoy the best of both worlds.
The slopes of the La Plagne side are mostly north-facing and between 2000m and 2700m making most of La Plagne's slopes snowsure. The local Montchavin-Les Coches slopes are tree-lined, whereas higher up at altitude the terrain is largely wide open.
In winter, the Vanoise Express 200-person cable car ride (the two-kilometre journey takes just four minutes) is accessible to skiers and pedestrians.  On the Montchavin side though, the cable car arrives directly onto the slopes. So you can't reach Montchavin on foot from Les Arcs. To get to the cable car from the Montchavin centre, you need to take one lift and then ski on blue runs - so it's pretty quick and easy.
Montchavin is the closest resort to the Vanoise Express on the La Plagne side (followed by Les Coches). It's much quicker to access the Vanoise Express from either Montchavin or Les Coches than from the higher altitude La Plagne villages which are further away.
Additional ski fact info,
main ski info in resort facts box at top of page

(21/22):

La Plagne local area

225km of pistes, 76 lifts, 135 slopes:

Green slopes: 8
Blue slopes: 74
Red slopes: 35
Black slopes: 18
MONTCHAVIN SKIING
MONTCHAVIN BEGINNERS
La Plagne is a good place to learn to ski or snowboard with 18 free ski lifts in the whole region. Each village has at least one. There are beginners' areas in Montchavin/Les Coches (as well as Plagne Centre, Plagne 1800, Aime la Plagne and Plagne Bellecôte - bookable with our sister company Ski Collection).
La Plagne and its Villages have reinvented the beginner ski areas from each main village. There are now areas called COOLSKI zones which are specially created to allow you to learn in complete safety. The pass is €28 per day per person.
COOLSKI areas offer:
1. Protected zones starting from each main centre
2. Specific signposts on the slopes
3. A selection of suitable lifts
4. Easy, wide and well-groomed slopes
5. Suggested circuits for your first ski outside the protected zone
Skiers can enjoy the whole Paradiski area using just blue pistes to get going (again) gently.
MONTCHAVIN INTERMEDIATES
Intermediates will find a huge variety of interlinked blue and red runs across the entire region; in fact 80% of La Plagne's 225km of pistes are blue or red. It's an intermediates' paradise! It can be fun to try to see how far across this giant ski area you can venture in a day - the lifts and runs seem to go on and on. Paradiski has extensive intermediate slopes with big lift networks. The blue runs on either side of Arpette, on the Montchavin side of the main bowl, are great cruises but blue further down towards Montchavin.
MONTCHAVIN EXPERTS
Experts will be happy if they sign up with one of the ski schools to tackle the under-rated off-piste or attempt the near 2000m vertical down from the north face of the Bellecôte glacier, one of the world's longest and toughest runs. High-altitude skiing with helicopter drop-offs, ski safaris, ski touring and even ascents of Mont Blanc are possible, always with a professional guide.
MONTCHAVIN OFF-PISTE
Hire a guide and explore the vast off-piste potential in La Plagne. The glacier and Biolley sectors have some excellent off-piste terrain. For the more experienced, the north face of Bellecôte presents a splendid challenge. Within the ski domain there are also 'Natur' Pistes. This means you can learn to ski in an off-piste style safety but within the ski area on ungroomed runs patrolled by the ski patrol.
Not to be missed when you visit Paradiski!
Don't miss the 360-degree panorama of La Grande Rochette at La Plagne. The Aiguille Rouge descent is a legendary seven-kilometre non-stop run from the glacier at 3226m all the way to Villaroger at 1200m (on the Les Arcs side). One of the steepest drops in Europe! Once at the top, climb up the observation point and enjoy the views towards the Swiss, Italian and French Alps right across to the Jura mountain range - a view like none other!
Montchavin Ski Hire
Pre-book your Montchavin ski hire with Peak Retreats.
To download the ski extras form, see 'Helpful links' further down the page.
Please note, these Pound Sterling prices are for indication only. They will fluctuate based on Euro/£ exchange rate. Please call us for the latest prices.
Special offers: *7 days for the price of 6.  Free Skis/snowboard & boots (Blue/Red) for party leaders of groups of 10 or more all taking equipment. 1 Free helmet per child aged 6 and under for every adult booking skis or snowboards & boots (must be under same booking reference and requested on form above). Other duration prices on request - Cross Country ski prices on request.
Find out more about Peak Retreats ski hire
---
Montchavin Ski Passes
Pre-book your Montchavin lift passes with Peak Retreats. Find out more about Peak Retreats ski passes
To download the ski extras form, see 'Helpful links' further down the page.
Please note, these Pound Sterling prices are for indication only. They will fluctuate based on Euro/£ exchange rate. Please call us for the latest prices.
Other lift pass on offer (to buy locally in resort in Euros):
Beginner ski passes in La Plagne can be bought in resort at one of the Ski Pass Offices, look out for "Cool Ski" 1 day passes which cost €30 for 1 day and give you access to designated beginner-friendly areas on the pistes. You can buy individual days one at a time and once you've built up your confidence, you can buy passes for progressing into the La Plagne or the Paradiski Unlimited area.  
Paradiski ski pass – ½ day and daily rates 2017/18:
Day - €48 children, €60 adults
La Plagne ski pass – ½ day and daily rates 2017/18:
1/2 day - €34children, €43 adults
Day - €42 children, €52 adults
Montchavin Ski School
Pre-book your Montchavin ESF ski school with Peak Retreats. Find out more about Peak Retreats ski school
Ski school for children is available to book from 4 years to 18 years in Montchavin, with Peak Retreats. Children can learn to snowboard from 9 years+.
For ski school times and prices, please download the ski extras form from the 'Helpful links' further down the page. Please note these are just guiding prices. Please call us for the latest prices.
Please note that lesson times are subject to change right until the last minute - you will be advised. Outside French school holidays the ski school reserves the right to cancel group lessons should numbers be insufficient.  For peak periods - Christmas, New Year, February half-term and Easter - we strongly recommend that you book as early as possible and in any case at least 6 weeks prior to the required dates. Morning lessons tend to get booked up first and therefore we may only be able to offer afternoon classes within 6 weeks of departure. In some resorts English speaking instructors may not always be available, particularly at peak times.
We cannot always guarantee that prices will be cheaper than in resort. When ski packs prices are calculated, the currency is bought at the exchange rates that apply at the time. You can be assured that once you have booked your extras, if the pound depreciates, you will not be charged more for your ski packs, enabling you to budget for your holiday in advance.
Montchavin Individual Tuition 
(18/19 prices, NOT pre-bookable)
Prices for 1 hour for 1 or 2 people from 44€
Individual tuitions can only be purchased directly from the ski school. Peak Retreats cannot pre-book these.
Please note that prices are only an indication and are subject to change
Ski school contact numbers:
Contact ski school direct to book. Tel: 33 (0)4 79 07 80 33
---
Montchavin Child Care
Montchavin has acquired the Famille Plus label for its childcare facilities. Please view here for more information on the Famille Plus label.
Montchavin Les Coches has a natural appeal for families, which has earned it the famous Famille Plus label awarded by Ski France. In addition, there are high-quality child-minding facilities (with state accreditation) designed to provide a real service for parents wanting to make the most of their day's skiing and to introduce children of all ages to the world of snow in the best possible conditions.
Nurseries
CHAT BLEU located in Montchavin welcomes children from 1 to 3 years. Indoor and outdoor activities: drawing, painting, games, sledging, walks, snowmen and of course, time for a nap, if required.
OGMC Clubs Enfants
Maison de Montchavin
73210 Bellentre
Tel: 0033 4 79 07 82 82 
www.garderie-creche-montchavin-les-coches.com
Montchavin Resort Activities
Montchavin Paragliding
Paragliding - Paradifly
73210 Montchavin-Les-Coches 
Tel: 0033 6 52 03 82 82 - contact@paradifly.com
Village Igloo
See details under eating tab
Montchavin Ice rink
At the top of Montchavin gondola lift, 800sq m of artificial covered ice. Night skating available on certain evenings during the week
Montchavin Sledge area
Two areas, one in Montchavin at the bottom of the slopes and another in Les Coches at the bottom of the slopes. Free access under the parental observation.
Espace Paradisio Wellbeing centre & pool
Situated to Montchavin-Les Coches (but in the Montchavin sector), in the heart of the resort of La Plagne, this Aquatic Complex (Espace Paradisio) and Wellness will know how to delight all visitors.
There is a well-being inside pool, sauna, hammam, whirlpool baths, affusion showers, massages, water games and aquafusion arrives. 
The Espace Paradisio aqua-centre in Montchavin-les Coches is offering Aquafusion which is a combination of 4 complementary activity groups (aqua bike, hydrotone (water weights), trampoline and weights) to improve muscle tone and physical condition, encourage weight loss and manage stress. A group session lasts 45 minutes. The exercise is intensive and repetitive. Cost: from 14€
Tel. +33 (0)4 79 09 33 20 - www.espace-paradisio.com 
Bobsleigh runs
Paradiski offers 3 bobsleigh runs - RODEO PARK is 3km long, COLORADO PARK is 1.5km long and new for 13/14 ARPETTE NIGHT BOBSLEIGH RUN is 3km long.
Taxi Bob: 1 500 meters run in a four man racing bobsleigh, 3 passengers, over 18 years, are taken for each trip.
Bob Raft: It looks like a conventional bobsleigh and carries for people without a pilot (minimum eight of 1.3m, parental approval mandatory for under 18 years olds, parental presence compulsory for under 15s).
Mono Bob: Just you and the ride of your life. At around 90km/hr, in a semi-horizontal position, all alone in a one-man bob.
Montchavin Dog Sledding
Christophe the musher invites you to discover the resort with his pack of 20 dogs.
Tel. 0033 4 79 08 95 98 - montchavin@evolution2.com
Montchavin Quad biking
Activity frame and opened to holders of a licence B. Discover the mountain by piloting your quad bike 4x4 Polaris 300 Hawkeyes in excursion around Montchavin Les Coches.
Quad - Evolution 2 
73210 Montchavin-Les-Coches
Tel: 0033 4 79 07 81 85
Please note: All the above information is for information only. For the most up-to-date information please visit the resort tourist office website. All prices for activities are in local currency (€ Euros) and are bookable and payable locally in resort.
Montchavin Office du Tourisme
73210
Bellentre
Tel: 00 33 (0) 4 79 07 82 82 - info@montchavin-lescoches.com
Montchavin Ski Activities
Snowparks in Paradiski
2 snowparks, 6 boardercross, 1 half pipe and 2 big Air Bags.
Cross-country in Paradiski
Pedestrian and X-Country skiers
Access to the x-country tracks is free. Ask for the plan at either Office du Tourisme.
There are 153kms of cross country skiing in this vast ski area (Paradiski) and access to the local tracks is free. There are 16 km of marked tracks that may be reached from the villages and from the top of the lifts at Montchavin and Les Coches, as well as from the Les Coches and Lac Noir Gondola lifts. Also try Champagny (Le-Haut) – 14 miles of stunning winding tracks in a sunny valley.
Snowparks in Paradiski
2 snowparks, 6 boardercross, 1 half pipe and 2 big Air Bags.
Pass Park for access to la Plagne's freestyle areas.
Montchavin Snakegliss
Snakegliss is an activity of collective sled which is practised in family or between friends.
Montchavin Trikke
Get ready to live one piece of new experience on the snow thanks to a really easy handling. After some simple instructions on the use of Skki, you will be ready to slide quite freely on this new machine which does not leave indifferent. Easy to check, within 30 minutes you will be able to slalom and to take advantage completely of your stay in the winter sports!
Montchavin Snowscoot
The snow scoot is a machine consisted of a frame, two similar different boards in snowboards, a fork and a guidon to direct the board before. The back board is fixed to the frame and that before stands by the fork.Only with an instructor - On the slopes.
Montchavin Airboard
Airboard: it is the bodyboard of snows... An inflatable sled on which we lengthen in flat - stomach, the head forward! The machine goes by the weight of the body.
Wednesday
* Demonstration and Initiation in front of the ESF
Thursday
* Big Descent 
- RDV is at the top of the yellow gondola in Les Coches
- Summit Chairlift of Plan Bois
Les Coches/ La Plagne Resort News and Events 2021/22
Opening this winter is the new high-speed 6-seater Lovatiere chairlift offering new direct access to Champagny from Plagne Center, via Les Verdons peak.
News: 
La Plagne Turns 60!

 In 1961 La Plagne was born ... 60 years later La Plagne is renowned as one of the most iconic ski destinations in the Alps with a variety of winter activities including the Olympic bobsleigh experience! This ski season, La Plagne blows out 60 candles. 
Escape rooms -

 

2 escape rooms opened in Plagne Bellecote. Teams of 2-6 people have one hour to escape by solving puzzles. One room is family-friendly. In French and English.
Events: 
The Elves Parade -

 

23rd December 2021 
Santas Grotto

 

23rd - 24th December 2021

 

-

 

Get a souvenir family photo with Santa and drop off your letters for him to read!
Creative Workshop -

 

23rd December 2021

 

-

 

Create your own Christmas puppets.
Torchlight Descent and Christmas Fireworks -

 

24th December 
Santa Claus Tour -

 

25th December 2021
Snow of Fire New Years Eve

 

- December 31st 2021 -

 

For its 14th edition, La Plagne's traditional New Year's Eve celebration, the "Nuit du Pompon Rouge" will be transformed into a new concept: Snow on Fire. A 360° firework display, "Snow on Fire" will be orchestrated from the "Dou du Praz" (top of Plagne Villages), in the heart of the resort, more than 2 000 m above sea level. By lighting up the starry sky and the mountain peaks, the fireworks will be visible from all of the altitude sites.
Mountain Biking Winter Cup

 

- January 23rd 2022
Winter Family Race

 

- February 9th, 16th, 23rd 2022 & March 2nd 2022
Born To Be Show

 

- February 24th 2022
Nordic Derby

 

- February 16th 2022
Nordic Marathon

 

- February 27th 2022
Chrono National Cross Country U15s

 

- 12th-13th March 2022 
Super Slalom

 

- April 2nd 2022
Check out the Tourist Office website for further information about what is going on in La Plagne: www.la-plagne.com
Montchavin Après-ski, Bars & Restaurants
Bars in Montchavin-Les Coches
Roxor welcomes you from the end of after noon for happy hours, you also can you dance on the dancefloor, to play billiards, table football, dart, poker till 4 am in the morning. Place des Commerces - Les Coches
Les Dos Rond, since 1973, is situated in the main street of Montchavin (Rue Principale). Broadcasts sports events on big screen. From 8:00 am till 1:30am.
Le Pink Marmotte - at the top of the village, next to Evolution 2 and from the yellow gondola. Snack bar in noon, bar atmosphere in the evening
Pub The Last one - this pub style evening bar is associated with Ski Republic. Welcome you in the day time & in evening to 2am. Place des Commerces - Les Coches.
Restaurants in Montchavin/Les Coches
La Zaccota 
RUE PRINCIPALE, 73210 MONTCHAVIN-LES-COCHES 
Tel: 0033 4 79 08 82 31
Le Moulin à Poivre
PLACE DU BASSIN - MONTCHAVIN, 73210 MONTCHAVIN-LES-COCHES 
Tel: 0033 4 79 07 82 01
La Ferme de César
FRONT DE NEIGE MONTCHAVIN, 73210 MONTCHAVIN-LES-COCHES 
Tel: 0033 4 79 07 85 31
Restaurant La Bovate
VIEUX VILLAGE MONTCHAVIN, 73210 MONTCHAVIN-LES-COCHES 
Tel: 0033 9 83 54 44 94
La Taverne du Monchu
PLACE DU CARREAU, 73210 MONTCHAVIN-LES-COCHES 
Tel: 0033 4 79 07 80 44
Restaurant Le Dos Rond
RUE PRINCIPALE , 73210 MONTCHAVIN-LES-COCHES 
Tel: 0033 4 79 07 83 38
Les Cavagnes 
FRONT DE NEIGE, 73210 MONTCHAVIN-LES-COCHES
Tel: 00334 79 07 58 98
La Poya
BÂTIMENT DES SAISONNIERS - LES COCHES, 73210 MONTCHAVIN-LES-COCHES
Tel: 0033 4 79 41 20 27
La Poze
PLACE DU CARREAU - LES COCHES, 73210 MONTCHAVIN-LES-COCHES
Tel: 0033 4 79 07 85 28
Restaurant Le Chaudron
MONTCHAVIN, 73210 MONTCHAVIN-LES-COCHES
Tel: 0033 4 79 07 83 30
Les Coches Pizza
PLACE DES COMMERCES, 73210 MONTCHAVIN-LES-COCHES
Tel: 00334 79 07 86 00
L'Origan
LES COCHES, 73210 MONTCHAVIN-LES-COCHES
Tel: 0033 4 79 07 81 26
In Les Arcs
Village Igloo (bar & restaurant)
For a unique break on the slopes, you can stop off at the Village Igloo Ice Bar anytime between 9am and 5pm to enjoy a warm cup of coffee or a refreshing drink in the bar, with a range of alcoholic and non-alcoholic options to choose from. The bar is in the heart of the Paradiski ski area, within easy access on a blue run from the Arcabulle chairlift. Suitable for all the family, skiers and non-skiers alike, the bar is within an easy 15-minute walk or snowshoe walk along a well-marked path from Arc 2000. Alternatively, from 7pm onwards, once the lifts have stopped and the sun has set, you can prolong your day on the slopes with a visit to the Village Igloo, by booking one of their evening activities. For these, you will be accompanied to the igloo and have the choice of a "Frosty Apéro" - a welcome drink followed by an aperitif and "polar" tapas - or a full dinner option with a traditional Savoyard fondue afterwards. Be sure to wrap up warm in your ski gear as the temperature inside the igloo rarely gets above 5 degrees!
---
Montchavin Amenities
Montchavin is served by a range of amenities including a supermarket, boulangerie and laundrette.
Several points offer free Wi-Fi access to skiers throughout the Paradiski ski area and its resorts. Ask more about this service at the ski pass sales counters.
Getting to Montchavin, France
By road:
Driving distance from Calais to Montchavin 620 miles 8hrs 50.
From Calais take the A26 motorway via Reims, Dijon and Maçon to Lyon A43/A430 to Albertville and then N90 via Moutiers in the direction of Les Arcs, following signs for Montchavin.             
By Rail:
Landry 10km - Shuttlebus +33 479 55 64 76 – Taxi +33 614 82 46 34.     
Airports:
Chambery Airport is 117km from Montchavin (1 ½ hours)
www.chambery-airport.com
Grenoble Airport is 185km from Montchavin (2 ¼ hours)
www.grenoble-airport.com
Lyon Airport is 194km from Montchavin (2 ¼ hours)
www.lyonaeroports.com
Geneva Airport is 196km from Montchavin (2 ¼ hours)
www.gva.ch
Public shuttle bus transfers from airport
Chambery Airport - Montchavin via Landry (www.lys-altibus.com). 
Shuttle service between Montchavin and Les Coches
Free shuttle between Montchavin and Les Coches each day (last shuttle at the end of the last cinema session). 
Stops: Montchavin Police Station, and Les Coches Tourism Office and Skating Rink.
Montchavin/Les Coches Airport Transfer
For pre-bookable private transfer rates with Peak Retreats, view here. 
---
Montchavin Opening Dates

The Montchavin ski area is open: 18/12/21 - 23/04/22