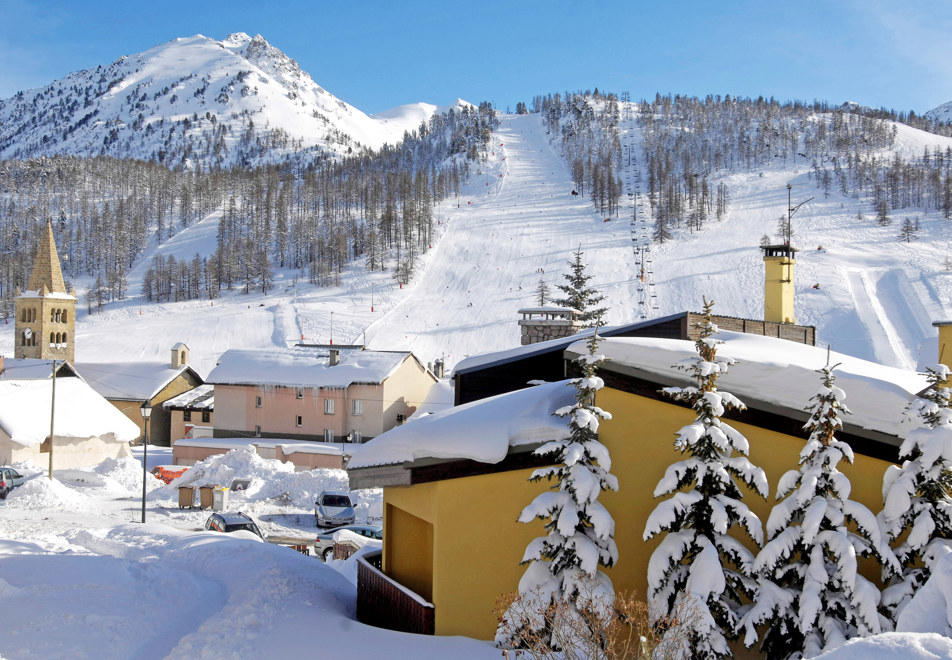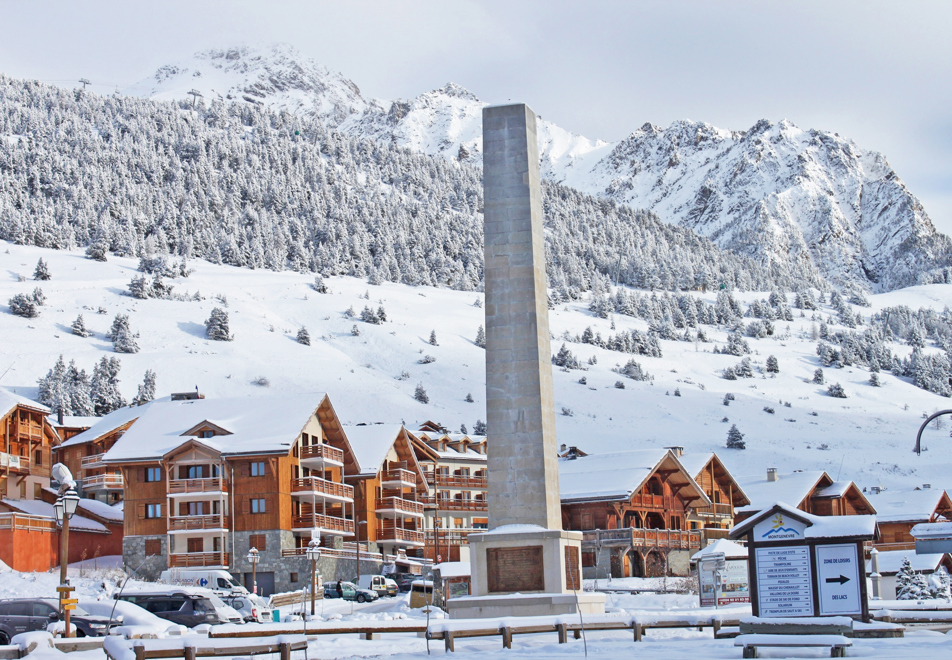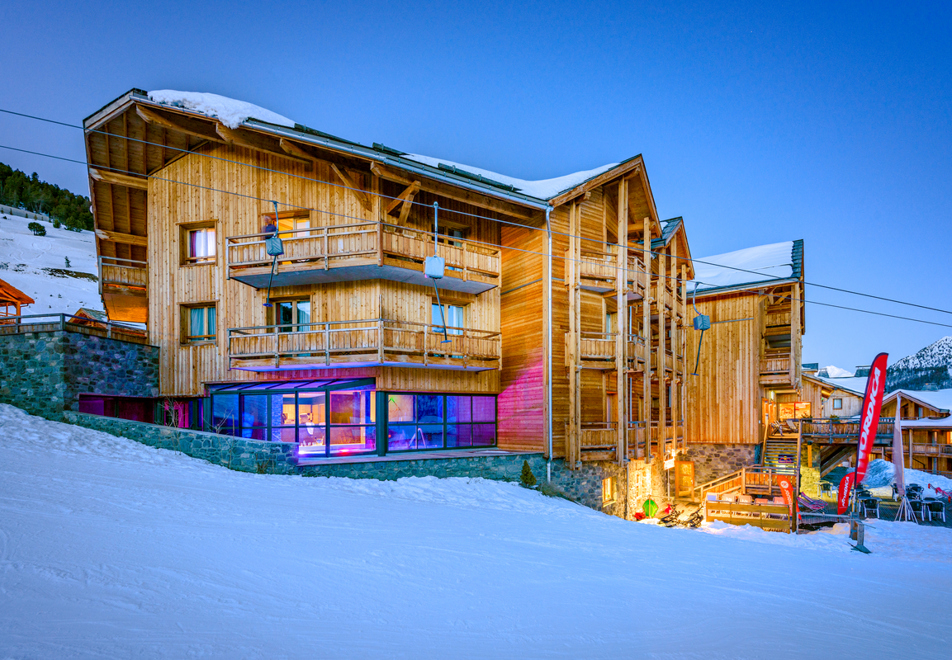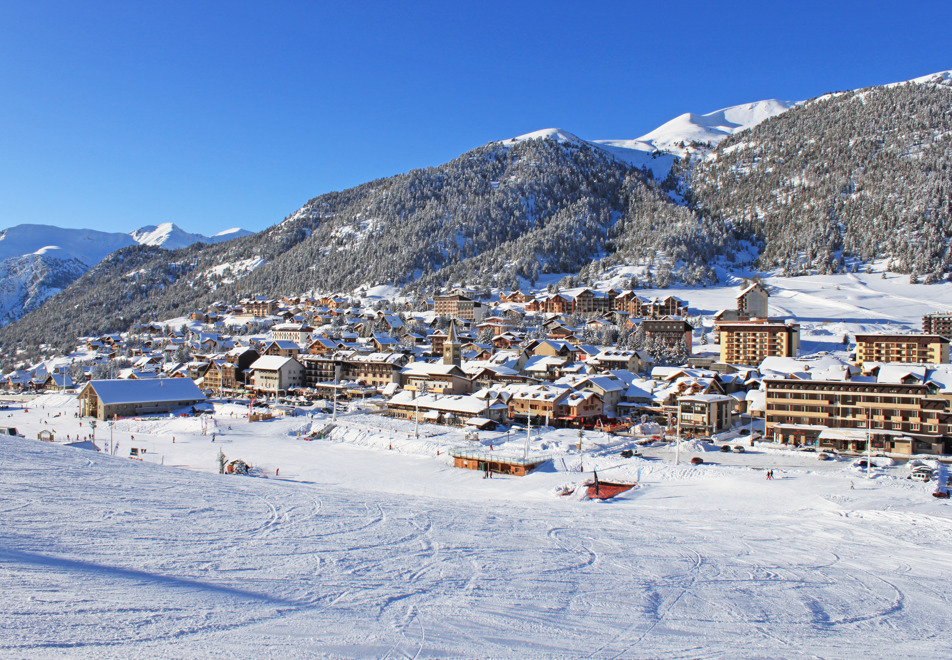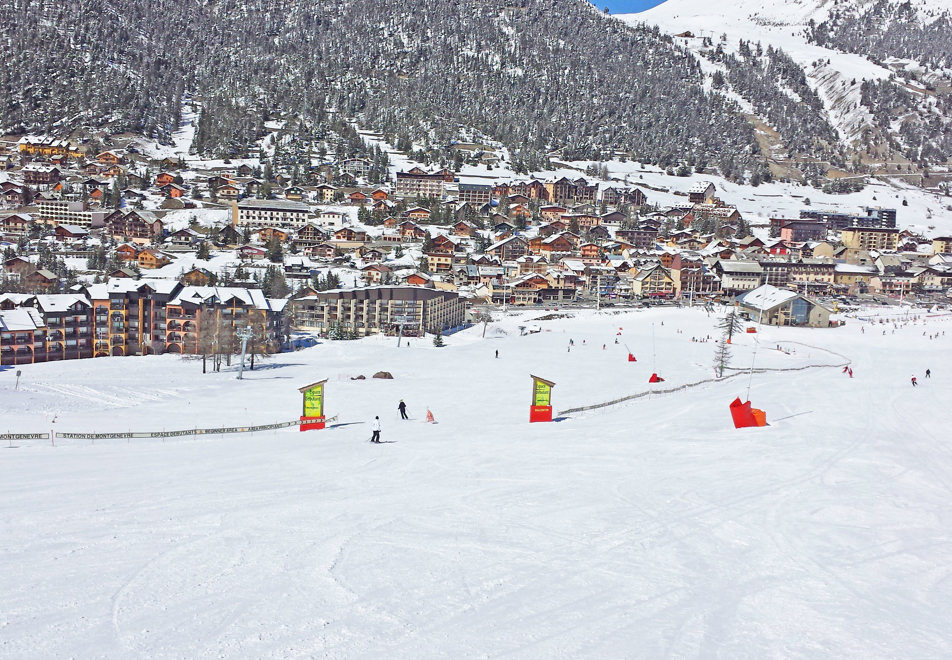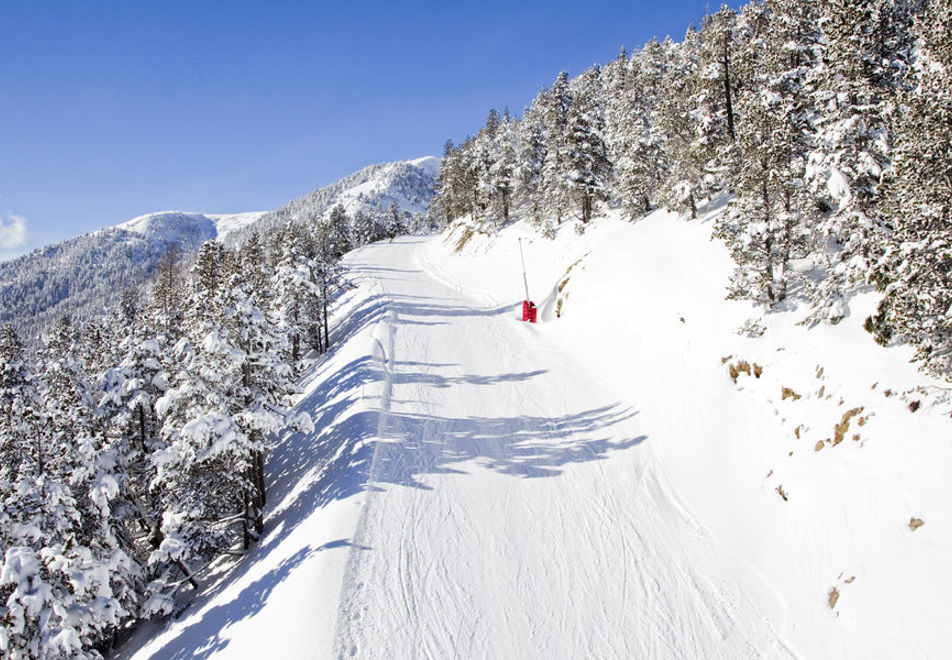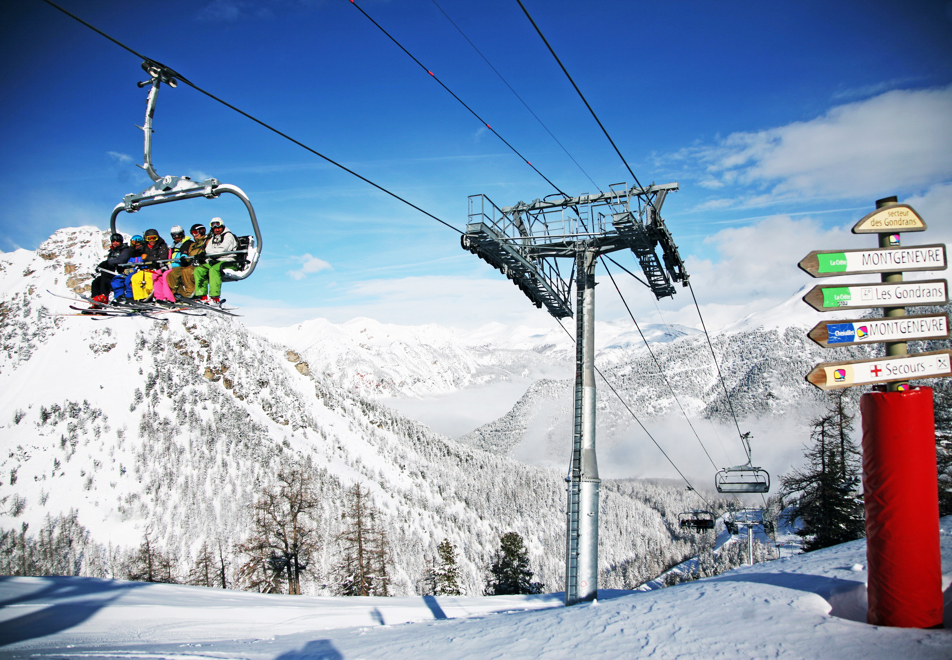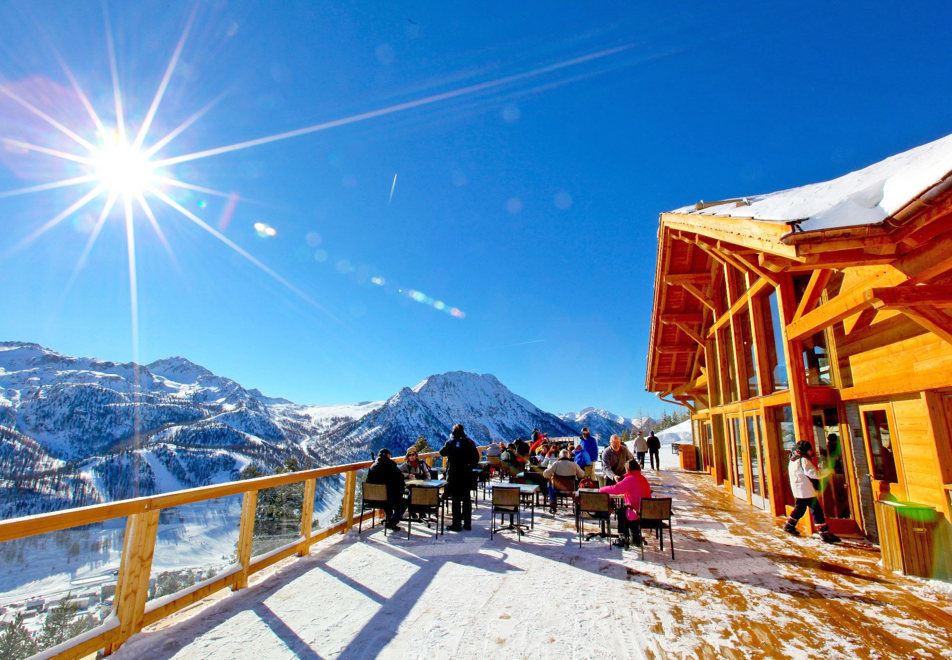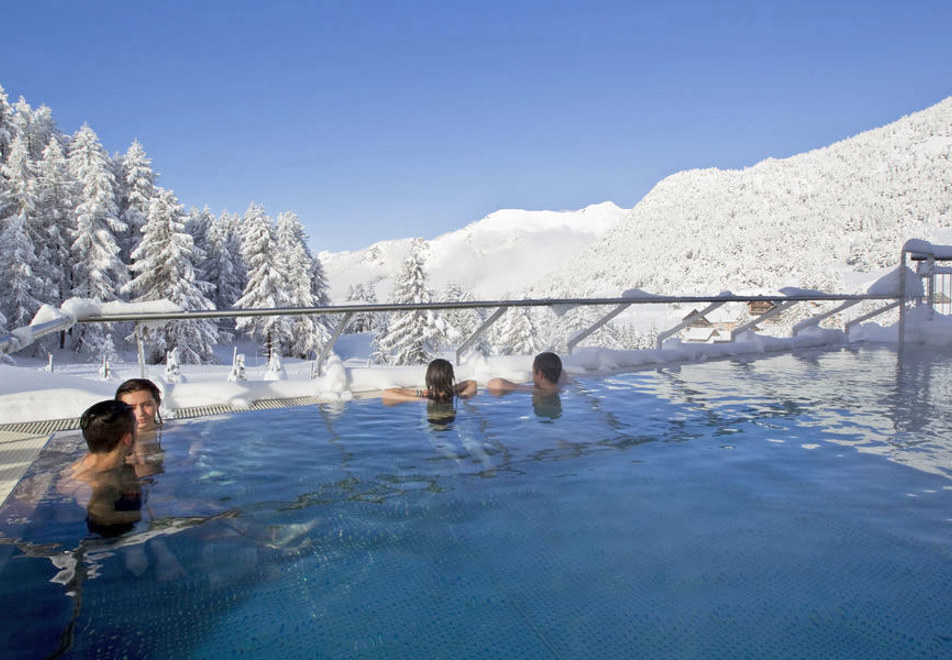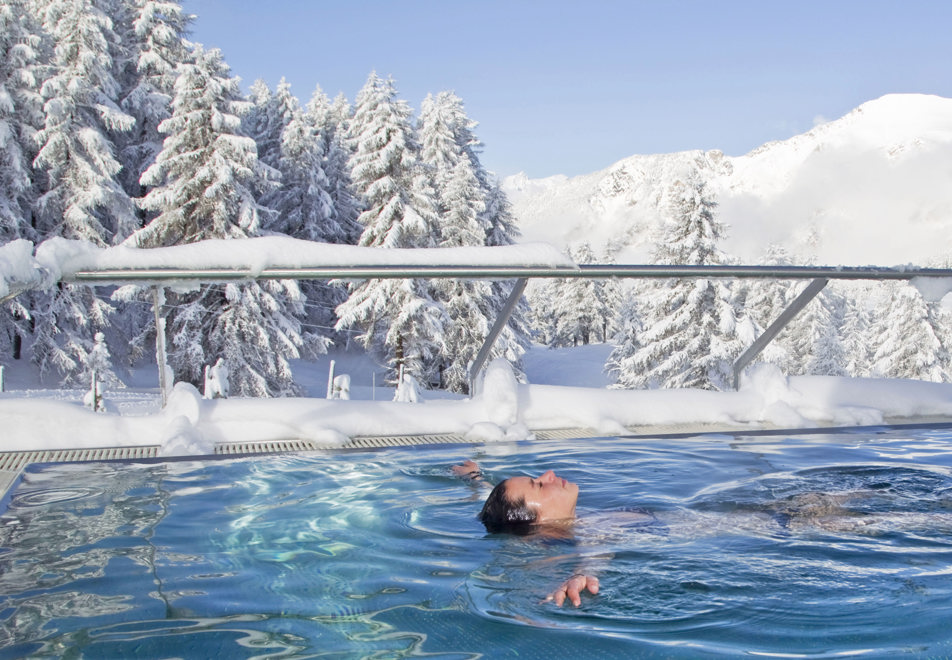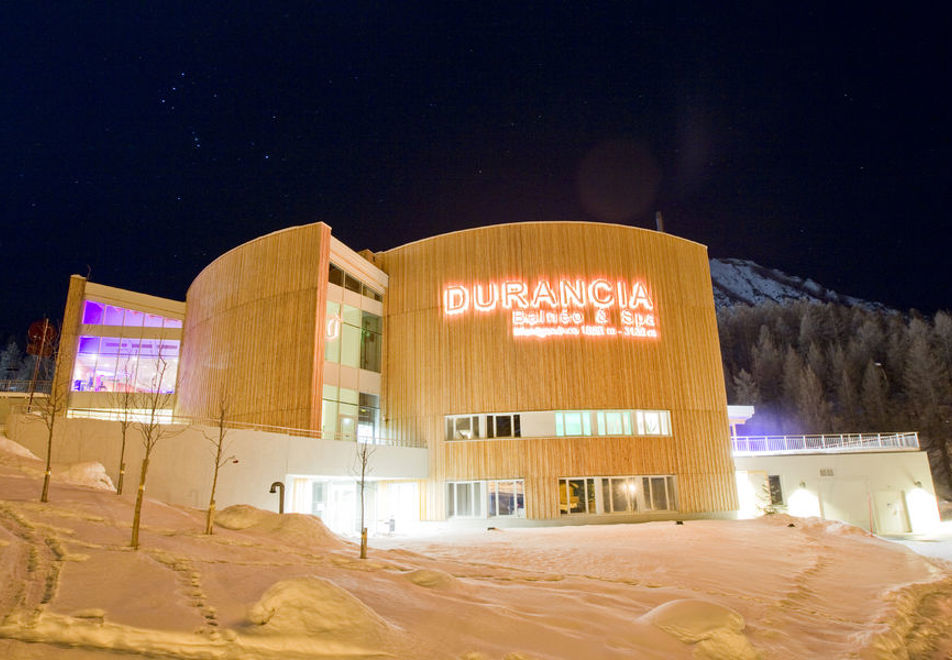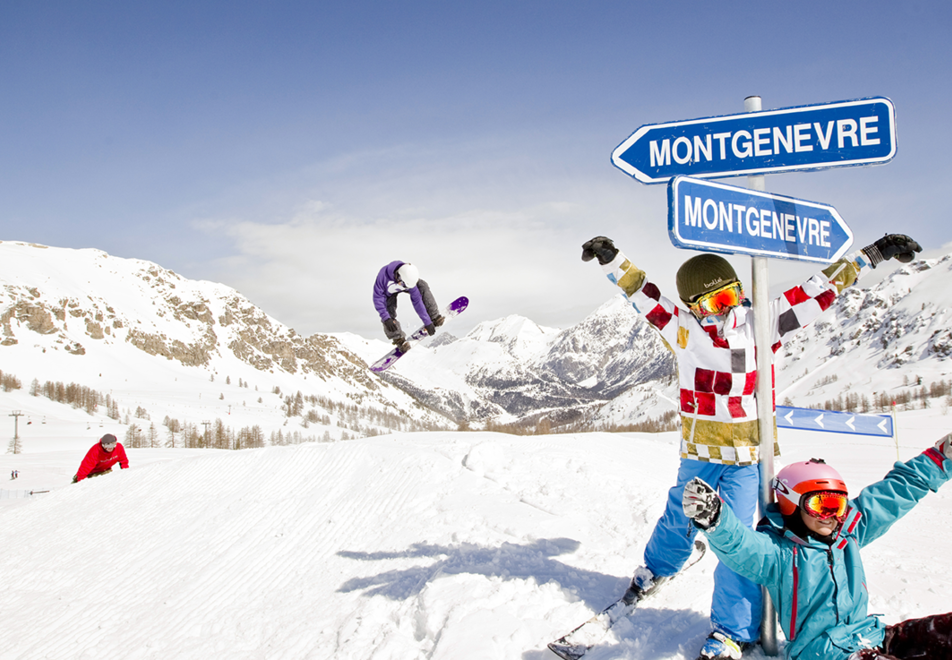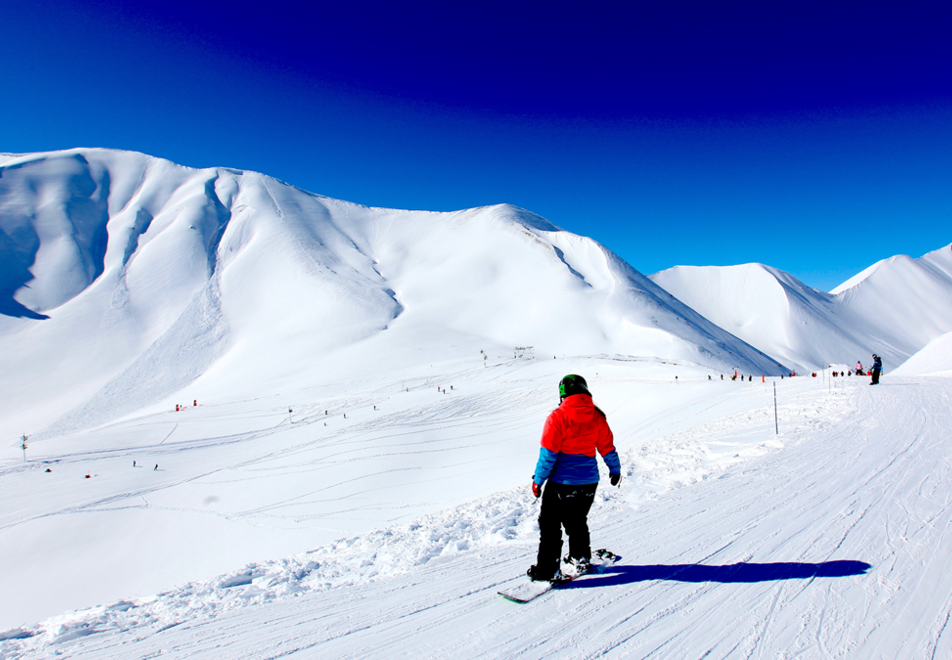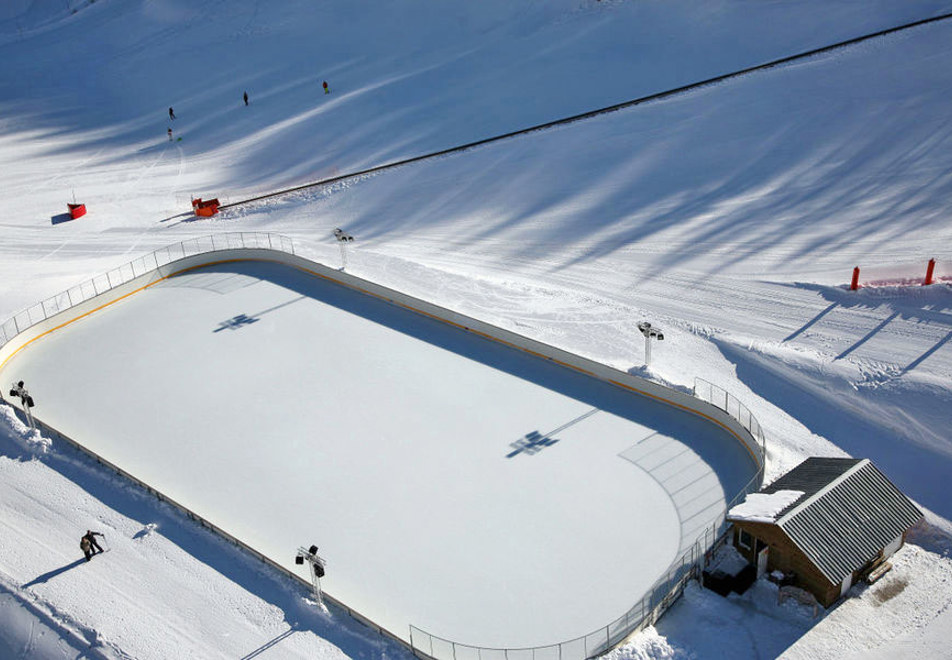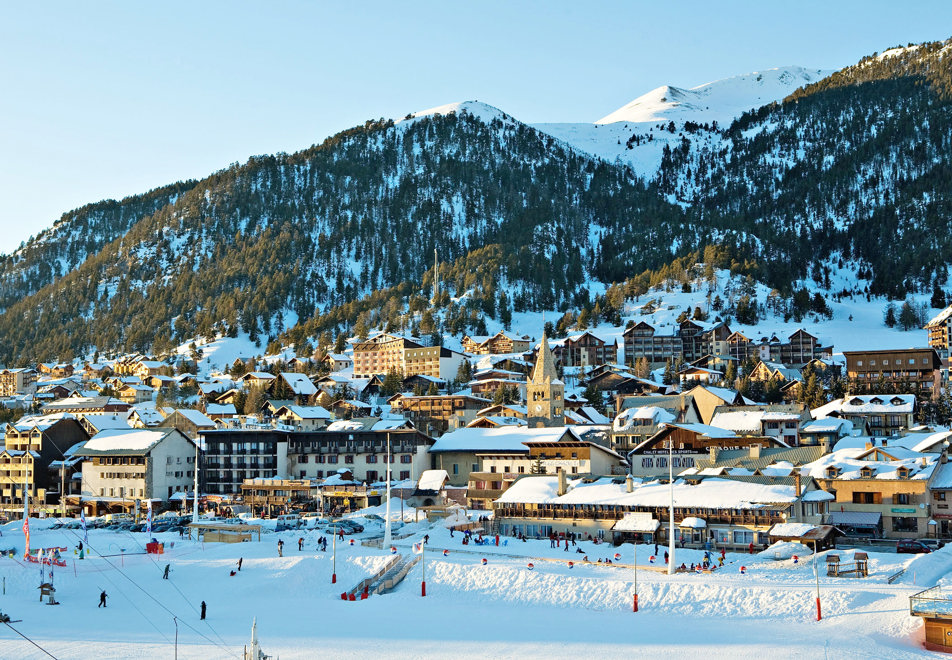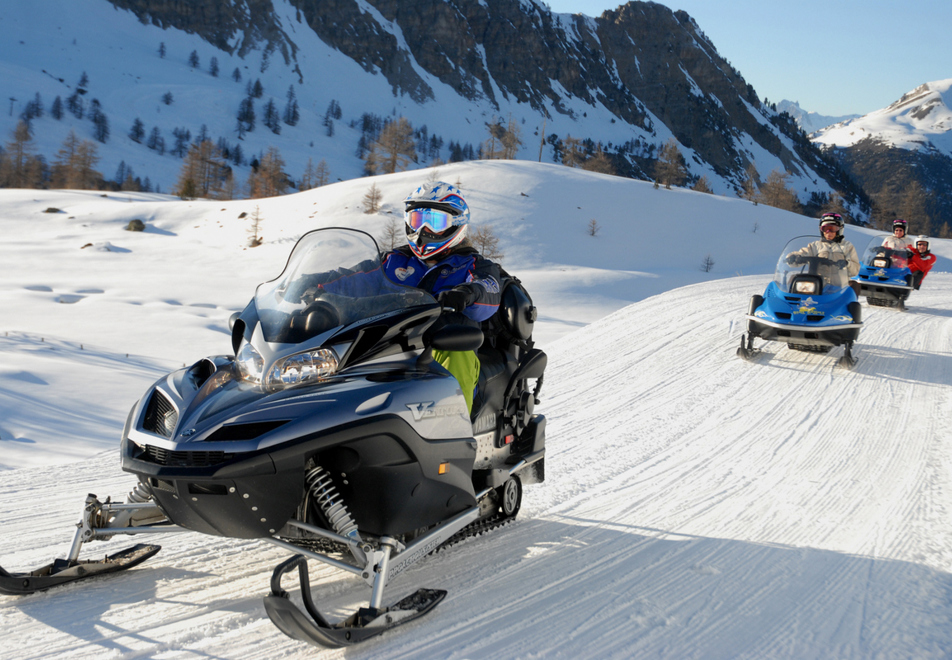 Thinking of skiing in Montgenevre? This historic ski resort, sits on the Italian border, offering snowsure conditions, plenty of intermediate cruising and new facilities including nurseries & cinema.
Why Montgenevre Ski Resort?
It has a good snow record
There's plenty of intermediate cruising
'Famille Plus' resort - good children's facilities and great for families
Nominated for a World Snow Award 2017 - Family Resort of the Year

Montgenevre links with many

Italian ski resorts (Milky Way ski area)
"Lift queues were small to non-existent, which, given that we travelled in half term, was fantastic! We wanted a quiet, family-friendly resort where everything is in easy walking distance and that is what Montgenèvre provides" - read Lynsey's full review on Snowcarbon or welove2ski.com's ultimate guide to Montgenevre.
Montgenevre (Milky Way) Information
The resort recently celebrated a century of winter sports and marked this centenary by returning some of the feel of the resort to the "pre-automobile"era: it diverted the cross-border road around the resort and revitalised the slope access from the village.
The main road traffic is now directed through a tunnel, restoring Montgenevre's charm and making it a much more family-friendly resort.
Part of one of the world's largest ski areas, the "Milky Way" (Via Lattea) Montgenevre is the only French resort on the circuit. The remainder extend across the border into Italy, with over 400km (250 miles) of pistes, and include the 2006 Winter Olympic resorts of Sauze d'Oulx and Sestriere. As well as being one of the world's oldest ski resorts, Montgenevre is also one of the highest at 1850m, and the slopes themselves reach nearly 2700m. Thanks to its geographical location and high altitude, Montgenevre and the area benefit from maximum snow coverage and the very welcome Mediterranean climate, claiming 300 sunny days a year!
The free travelator (conveyor belt) opposite the Tourist Office accesses toboggan areas for two-to- six year olds, and there's a second hill for older adventurers. Other facilities in Montgenevre include an ice rink, supermarket, boulangerie, newsagents, butcher, post office, and a doctors' surgery -  there are 17 restaurants/bars too, and a nightclub.
Activities available in Montgenevre include sleigh rides and snowmobiling - and there's a variety of snowshoeing and cross-country routes. A map with all the cross-country tracks and walking trails is available at the Montgenevre Tourist Office and at ski pass sales points.
The resort is actually part of the Provence Cote d'Azur region but the average number of days of sunshine is greater than most resorts in the Alps. That said, the resort's snow conditions have a track record of being excellent too.
Peak Retreats offers a range of Montgenevre accommodation options. All of Montgenevre's ski apartments have been hand-picked and are of a very high standard (4*), providing the ideal base for a Montgenevre ski holiday.
Interested in buying an apartment at this residence? See our Buying in the Alps section.
Read why Montgenevre is a great destination for disabled skiers in, 'Why a skiing holiday gives disabled people the ultimate sense of freedom', by Mary Novakovich, featured on The Independent.
MONTGENEVRE SKI AREA
From Montgenèvre, it is easy to get from one area of the huge Milky Way domain to another, although most connections are red slopes. 
Montgenevre's own local ski area spans two sides: 
the south Chalvet-Serre Thibaud sector - 

a sunny sector, with mainly open slopes. There are blue and green runs back to Montgenèvre and a blue run to Claviere

the north Chalmettes-Gondrans-Eagle area - 

high, wide-open slopes reached by the

 

Chalmettes

 

chondola

 

(a mix of gondolas and chairs) with a green run bringing you back. There is also a red link to Claviere
There's also cross-country skiing, a toboggan area, a 50,000 square-metre beginners' area and a half pipe.
The neighbouring French resorts of Serre Chevalier and Puy-Saint-Vincent are easily reached by car and a joint lift pass is available. However, if you prefer to keep your skis on, simply ski over the border first to Claviere, then Cesana and on to the 2006 Olympic biathlon venue of Sansicario before reaching Sestriere and Sauze d'Oulx. Although there's little skiing involved, if you wish to almost complete your 2006 Olympic set, you can take the new gondola on to Pragelato, the Nordic centre. 
Additional ski fact info,
main ski info in resort facts box at top of page

(21/22):

Montgenevre only

65km of pistes, 30 lifts 

Grand Montgenevre (includes Claviere in Italy) area

95km of pistes, 24 lifts (1 gondola, 2 telemix, 12 chairlift, 8 draglift, 1 carpet), 78 slopes:

Green slopes: 9
Blue slopes: 17
Red slopes: 39
Black slopes: 13

Largest area - Via Lattea

Over 400km (249 pistes, 70 lifts) - Italy and France

The Vialattea offers a wide choice of skiing opportunities. his International skiing area includes French Montgeneve plus Italian Sestriere, Sauze d'Oulx, Oulx, Sansicario, Cesana, Pragelato, Claviere.
MONTGENEVRE SKIING
MONTGENEVRE BEGINNERS
For beginners there's a fine selection of convenient and gentle nursery slopes for skiing in Montgenèvre with reliable snow at the foot of the north facing area. Progression to longer runs could hardly be easier, with a very easy blue piste starting at Les Anges, leading on to a green run. Skiing in Montgenèvre is certainly not a problem for beginners!
Montgenèvre has an area dedicated entirely to families and beginners. The 50,000 square-metre facility is situated at the foot of the slopes in the heart of Montgenèvre village. It's a secured area composed of a travelator (conveyor belt), a free ski lift (La Durance), and a snow garden…
The whole family can enjoy the Montgenèvre ski resort, which includes a discovery trail, half pipe, freeride zones and a children's play area at the top of the Chalvet gondola.
MONTGENEVRE INTERMEDIATES
The local slopes are best suited to leisurely intermediates, with lots of easy cruising on blues and greens, both in the woods and on higher terrain. The major north-facing Montgenèvre Les Gondrans sector offers easy intermediate slopes above the mid-mountain gondola station, with more of a mix of runs lower down. Montgenèvre has extensive intermediate slopes with a big lift network.
MONTGENEVRE EXPERTS & OFF-PISTE
There are relatively few challenging pistes, but on the other hand there's ample off-piste terrain. There's the popular option of off-piste skiing with a mountain guide to show you the way and keep you safe. From classic runs like the Doire and the La Vachette valleys to the highly technical gullies of Le Janus, there are just so many opportunities to get off the beaten track. It's just a question of choosing which magic run to try - from the nearest in Les Bois des Brousset or Le Tremplin,  and the sweeping curves of Les Mamelons to the gentle 1000-metre descent to Cervières via Les Gondrans… you'll never run  out of options! And you can get even more energetic on the slopes of La Plan or the Le Janus gullies… and a thousand other possibilities that one trip just isn't long enough to enjoy.
MONTGENEVRE SNOWBOARDERS
For boarders there are good local beginner slopes in Montgenèvre and long runs on varied terrain for intermediates. And there are some excellent off-piste areas for more advanced boarders - plus a dedicated free-ride area at Les Gondrans.
 For freestylers the half-pipe and boardercross course are located near the Prarial chair, and there's also a freeride zone higher up on the Gondrans sector, next to the Observatoire chair.
MONTGENEVRE NORDIC SKIING
There are 15km of cross-country circuits easily accessible from the village snow front (with dedicated parking) with routes that will appeal to everyone. There's even a fun practice area for those starting out who want to try Nordic skiing for the first time. 
MONTGENEVRE'S

SNOW RECORD

Nestling in a minor pass between France and Italy, where the storms funnel up the valleys, the snow record in Montgenèvre is generally excellent. The high north-facing slopes keep their snow naturally, and snow cannons cover 55% of the area, including most of the lower slopes.

The neighbouring French resorts of Serre Chevalier and Puy-Saint-Vincent are easily reached by car and a joint lift pass is available. However if you prefer to keep your skis on, simply ski over the border first to Claviere, then Cesana and on to the 2006 Olympic biathlon venue of Sansicario before reaching Sestriere and Sauze d'Oulx. Although there's little skiing involved, if you wish to almost complete your 2006 Olympic set, you can take the new gondola on to Pragelato, the Nordic centre. Altogether there are almost 100 lifts in the region.
Montgenevre Ski Hire
Pre-book your Montgenevre ski hire with Peak Retreats.
To download the ski extras form, see 'Helpful links' further down the page.
Please note, these Pound Sterling prices are for indication only. They will fluctuate based on Euro/£ exchange rate. Please call us for the latest prices.
Special offers: *7 days for the price of 6.  Free Skis/snowboard & boots (Blue/Red) for party leaders of groups of 10 or more all taking equipment. 1 Free helmet per child aged 6 and under for every adult booking skis or snowboards & boots (must be under same booking reference and requested on form above). Other duration prices on request - Cross Country ski prices on request.
Find out more about Peak Retreats ski hire
---
Montgenevre Ski Passes
Pre-book your Montgenevre lift passes with Peak Retreats. Find out more about Peak Retreats ski passes
To download the ski extras form, see 'Helpful links' further down the page.
Please note, these Pound Sterling prices are for indication only. They will fluctuate based on Euro/£ exchange rate. Please call us for the latest prices.
New for 19/20 - family ski lockers at the foot of the pistes (heated and secured).
SPECIAL OFFER:
SKI AN EXTRA 4 HOURS on the first Saturday (with your pre-booked 6 day lift pass; please advise at time of booking if you wish to take this up).
Other lift pass on offer (to buy locally in resort in Euros):
Grand Montgenevre daily rates 2019/20:
Day rate is €40.50 adults, €36 child
Montgenevre Mont de la Lune daily rates 2019/20:
Day rate is €43.50 adults, €33.80 child
Nordic ski (cross country) and pedestrian passes can be bought in resort as well.
1 day nordic pass - 10-15yrs - €6, adults €9 (under 10's free). Save 25% by buying a weekly pass.
Montgenevre Ski School
Pre-book your Montgenevre ESF ski school with Peak Retreats. Find out more about Peak Retreats ski school
Ski school for children is available to book from 3 years to 14 years in Montgenevre, with Peak Retreats. Children can learn to snowboard from 7 years+. We can also book the ski + nursery for 3-5 year olds and the mini club nursery from 6 months to 5 years with no skiing.
For ski school times and prices, please download the ski extras form from the 'Helpful links' further down the page. Please note these are just guiding prices. Please call us for the latest prices.
Please note that lesson times are subject to change right until the last minute - you will be advised. Outside French school holidays, the ski school reserves the right to cancel group lessons should numbers be insufficient. For peak periods - Christmas, New Year, February half-term and Easter - we strongly recommend that you book as early as possible and in any case at least 6 weeks prior to the required dates. Morning lessons tend to get booked up first and therefore we may only be able to offer afternoon classes within 6 weeks of departure. In some resorts, English speaking instructors may not always be available, particularly at peak times.
We cannot always guarantee that prices will be cheaper than in the resort. When ski packs prices are calculated, the currency is bought at the exchange rates that apply at the time. You can be assured that once you have booked your extras, if the pound depreciates, you will not be charged more for your ski packs, enabling you to budget for your holiday in advance.
Montgenevre private lessons 19/20 (not pre-bookable, book direct):
Individual tuitions can only be purchased directly from the ski school. Peak Retreats cannot pre-book these.
PM lessons
1h, 1-2 pers - €45, 2-3 pers - €51
2hr, 1-2 pers - €88, 2-3 pers - €100, 4-5 pers - €117

AM lessons
1h, 1-2 pers - €51, 2-3 pers - €57
2hr, 1-2 pers - €100, 2-3 pers - €112, 4-5 pers - €128
Please note that prices are only an indication and are subject to change.
Ski school Montgenevre contact numbers for private lessons:
Tel: +33 (0)4 92 21 90 46
---
Montgenevre Child Care
Montgenevre has acquired the Famille Plus label for its childcare facilities. Please view here for more information on the Famille Plus label.
MONTGENEVRE CHILD-CARE CENTRE FOR HOLIDAY-MAKERS - NON SKIING (for childcare with skiing, see below)
The mini-club organises a wide range of both indoor activities adapted to the age of child.
Your child is in qualified hands of a nursery nurse (3 to 8 children per group).
The mini-club is equipped with a welcome area, rest area and meal area for lunch (they do not supply meals but do have heating facilities). The nursery is closed on Saturday.

Peak Retreats can pre-book childcare with no ski - 2019/20 prices in £ sterling:
Mini Club Nursery – NO skiing involved, just childcare. From 6 months – 5 years
6 Half Days (either mornings 09.00-12.00 OR afternoons 14.00-17.00) - £168
6 Full Days (from 09.00-17.00) - £346
Lunch not provided but the possibility to warm it up if parents provide
Montgenevre Free sledging areas
There are 3 sledge areas for adults and children!
In the heart of the resort: 2 separate toboggan courses, open to everyone. One for the 2-6 years old, and another one for 6+. Enjoy sledging with the free travelator, located opposite the tourist office, which leads to the top of the sledge area. The 3rd one is located in Les Alberts, opposite the lake. 
Tel: +33 (0)4 92 21 91 73
CHILDCARE WITH SKIING
ESF Montgenevre also arrange kids ski and garderie formulas which Peak Retreats can pre-book: Ski + Nursery – ski in the mornings, nursery in the afternoon. From 3-5yrs. 6 Full Days (09.00-17.00) from £288. Lunch not provided. 
Montgenevre Resort Activities
Montgenevre Night-time snow shoe treks
Torchlights, snow shoes, a little "apéritif". Easy walk for about 1 hour, discover of the Tepee, stories about nature, animals and the stars... Enjoy your evening with friends or family! Arranged with the ESF.
Montgenevre toboggan track 'Monty Express'
Enjoy a downhill of 1400 meters long, slalom in the forest, on the wood bridges and tunnels. A new thrilling activity for everybody. Ideal for an "après-ski" experience in Montgenevre. Toboggan run situated behind the Tourist Office by the Chalvet gondola.
Montgenevre Balloon flights
Between 1hr 15 and 1hr 45 depending on weather. 
0033 650 85 84 02
pascal@pcadventurecompany.com
www.pcadventurecompany.com
Montgenevre Ice Rink
Natural outdoor ice rink located on the snow front. Open during the day and evening. 
Montgenevre llama walk
You can now switch up your regular family hike and take a trip into the mountains with the new unusual llama walk in Montgenevre! So get those snowshoes on and head out on a wander in this beautiful valley accompanied by a furry friend.
Montgenevre Skidoo
Guided evening snow-mobile excursions. Duration: 1 hour. Reservations compulsory.
Tel: +33 4 92 21 83 35
Montgenevre Sleigh rides
Sleigh rides. 30 minute ride to the Mas des Alberts. Ideal for groups and special occassions. 
LES SABOTS DE LA CLARÉE 
Véronique VACHET 
Villa Rose des Vents 
La Vachette – 05100 Val-des-Prés
Tel: +33 (0)4 92 20 19 46
Montgenevre Cinema
17.30-21.00 (from 14.30 in bad weather).
Montgenevre Market
Market every Wednesday until 6pm.
Please note: All the above information is for information only. For the most up-to-date information please visit the resort tourist office website. All prices for activities are in local currency (€ Euros) and are bookable and payable locally in resort.     
Montgenevre Tourist Office
Montgenevre Tourist Information 
00 33 (0)4 92 21 52 52
www.montgenevre.com
Montgenevre Ski Activities
Montgenevre Cross-Country
There is more than 80km of cross country skiing are maintained throughout the season. 23km on the nordic site in Montgenevre and 65km in total on Alberts and Rosiere. Open 9am-5pm. Label 4 Nordic site, highest honour for a nordic website.
Montgenevre Snow Park
Located on the sector Gondrans, the new snowpark at Montgenevre is accessed via a lift. Suitable for beginners as well as experts. The snowpark is maintained and secured. Montgenevre also has a boardercross, located on the Chalvet side. There is a dedicated free-ride area in the Gondrans sector. Try out your moves on the Big Air Bag - freestyle skiers and snowboarders of all ages and all levels can try the joys of acrobatic jumps safely.
Montgenevre Snowshoeing
An experienced ski school instructor will guide you around some of the hidden gems of this beautiful resort, such as the Sestrieres forest and the enchanting Clarée Valley. Every afternoon, they offer guided tours around Montgenevre. 
Montgenevre Off-Piste
Admire the Alps from the summits. Follow your guide between France and Italy.
Tel: 00 33 4 92 21 90 46
Montgenevre Night Skiing
Montgenevre has night skiing every Tuesday evening of winter school holidays (February-March).
Montgenevre Resort News and Events 2021/22
Events:
Mini-Golf on Snow 9th December 2021-11th April 2022
Smartphone Games on the Slopes 10th December 2021-17th April 2022
The Slalom of the Yooners 6th December 2021-17th April 2022 Test yourself with friends or family on the special Yooner

parallel slalom.

Who among you will arrive first downstairs without touching the cones? Initiated or not to the Yooner you are welcome!
Track Bowling 20th December 2021-17th April 2022 Take advantage of a few minutes of breaks to discover our multiple bowling games. On skis, in Snow, snowshoeing try to beat your opponents but it will not be easy.
Gourmet Givrée Walk 21st December 2021-28th December 2022 Discover the products of Montgenèvre by strolling through the village of Montgenèvre.
Snow Hockey 21st December 2021-17th April 2022 Mini Hockey is a team game. Equipped with a hockey cross you will have to put the ball in the opposing court.
Creative Workshop 22nd December 2021-17th April 2022
The arrival of Santa Claus 24th December 2021

Santa Claus will arrive in Montgenèvre accompanied by the ski instructors for his big night of distribution of gifts.

Fireworks 31st December 2021 
Snow Race 30th January The opportunity to discover in winter the scenery of the Montgenèvre Trail area which offers nearly 300km of course in summer!
Thursdays of Light 10th February-March 3rd 2022 On the program, descent to the children's lanterns, light show, torchlight descent and other surprises...
The 1000 Paws 2nd April-3rd April 2022 This colourful annual sports event brings together children aged 5 to 10 around fun and timed competitions.
Jazz in the village 9th April 2022

This quartet brings together musicians who have been friends of many years, who meet regularly at the AMI's jazz workshops in Château Arnoux, and have been participating for 20 years alongside Alain Soler in multiple meetings around improvised music.
Further details can be found on the tourist office website: www.serre-chevalier.com
Montgenevre Restaurants, Après-ski & Bars
Next to Hameau des Airelles and by the Chalet des Dolines is the Cocci Market – mini market. They offer home cooked food in the Cocci market to takeaway, different specialities each day as well, such as Fondue, Raclette, Tartiflette, Lasagne, Potato gratin. Also do roast chicken on rotisserie on different days of the week. There is a menu leaflet in store.
Also Pizza takeaway in the hut next to the Cocci market. Everyday from 6pm in winter. From €8-10.50 per pizza. Choice of 10 pizzas.
12 Montgenevre Restaurants/Bars
Les Anges
Altitude restaurant - south facing terrace
La Bergerie
Altitude restaurant - south facing terrace
Le Capitaine
Italian. Pizza to takeaway as well.
Les Chalmettes
On the piste with sun terrace. Pizzas
Le Caesar
L'Estable
Mountain specialities such as fondue
Le Graal Café
Brasserie - does great burgers (although quite rare!) 
legraalcafe@wanadoo.fr
Le Jamy 
Terrace facing the pistes
Lounge Bar de La Table Blanche

La Maison de Claire 
Mountain specialities such as fondue
Le Refuge
Le Transalpin
Mountain specialities such as fondue
OBB – The outside burger bar 
Right near to the beginners' area on the main side does burgers, sandwiches, crepes. Great value for money!
---
Amenities in Montgenevre
Montgenevre is served by a range of amenities including: mini markets, boulangerie, tabac, butcher, post office, doctors, chemist, bakery and cake shops. 
Next to Hameau des Airelles and by the Chalet des Dolines is the Cocci Market – mini market. They offer home cooked food in the Cocci market to takeaway and also Pizza takeaway. Cocci Market is open from 8.00-1.00pm and 3.30-7.30. This is located in the Obelisque area of Montgenevre.

There is also a Sherpa mini market in the main village, near to Le Napoleon and also a supermarket underneath Le Napoleon.
Getting to Montgenevre, France
Montgenevre by Road: 
Distance from Calais to Montgenevre: 611 miles. Montgenevre is between 9 and 11 hours from Calais and is motorway all the way except for the last 30 minutes. Montgenevre is situated only 30 minutes from the A32 autoroute.
Paris via the Frejus tunnel or by the Lautare pass (697km)
Lyon - Grenoble by Motorway +  Lautaret Pass or via the Frejus Tunnel (230km)
Grenoble - Briançon by National Road RN 91 +  Lautaret Pass (130km)
Briançon - Montgenèvre by National Road RN 94 (12 km)
Traffic Information Lautaret Pass and Montgenèvre Pass: +33 (0)4 92 24 44 44
Montgenevre by Rail:
The nearest railway station to Montgenevre is Briancon, 12kms away from the resort. From the UK, take the Eurostar from London St Pancras station to Paris (four hours). From the French capital, connect with one of the local trains that run regularly to Briancon. Transportation from the station to Montgenevre is provided by taxis.
Airports close to Montgenevre:
Turin Airport is 107km from Montgenevre (1 ¼ hours)
www.aeroportoditorino.it
Chambery is 155km from Montgenevre (1 ½ hours)
www.chambery-airport.com
Grenoble-Isère Airport is 222km from Montgenevre (2 hours)
www.grenoble-airport.com
Geneva Airport is 236km (2 ½ hours away)
www.gva.ch
Lyon Airport is 233km from Montgenevre (2 ½ hours)
www.lyonaeroports.com
Marseille – Montgenevre (270km). Bus service (3 hours)
www.navettesblanches.com
Getting around Montgenevre
2 free shuttle buses circulate in the village every day from 8:45 am till 17:45 pm, every 15-20mins. Besides providing a great service to skiers and tourists alike, this initiative is aimed at reducing traffic in the village.
Montgenevre Airport Transfer
For pre-bookable private transfer rates with Peak Retreats, view here. 
---
Montgenevre Opening Dates
Montgenevre ski area is open: 04/12/21 - 18/04/21 Fully. Partially open on the weekends 20/11/21 -21/11/21              27/11/21 - 28/11/21