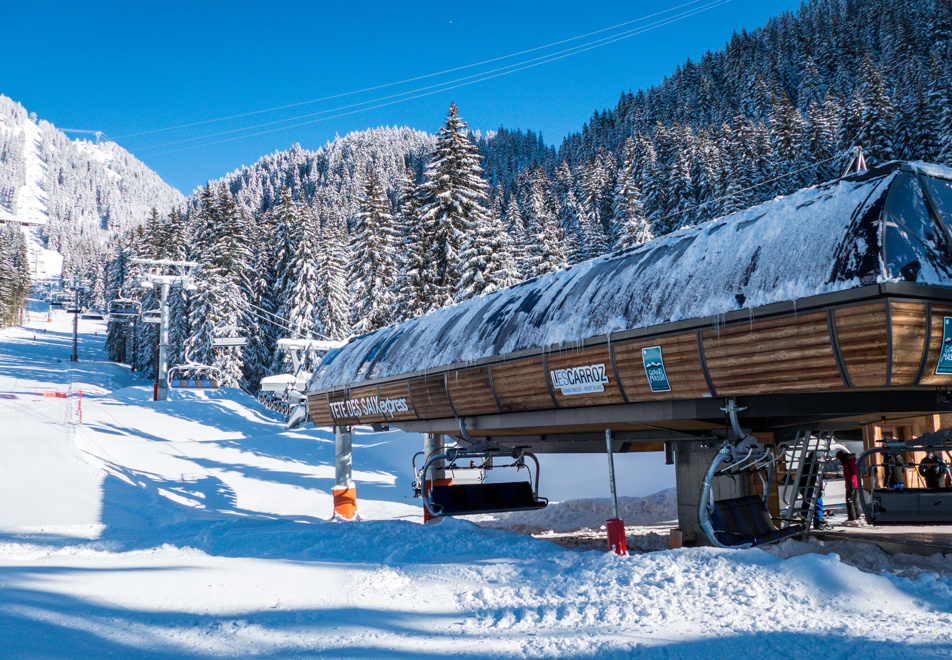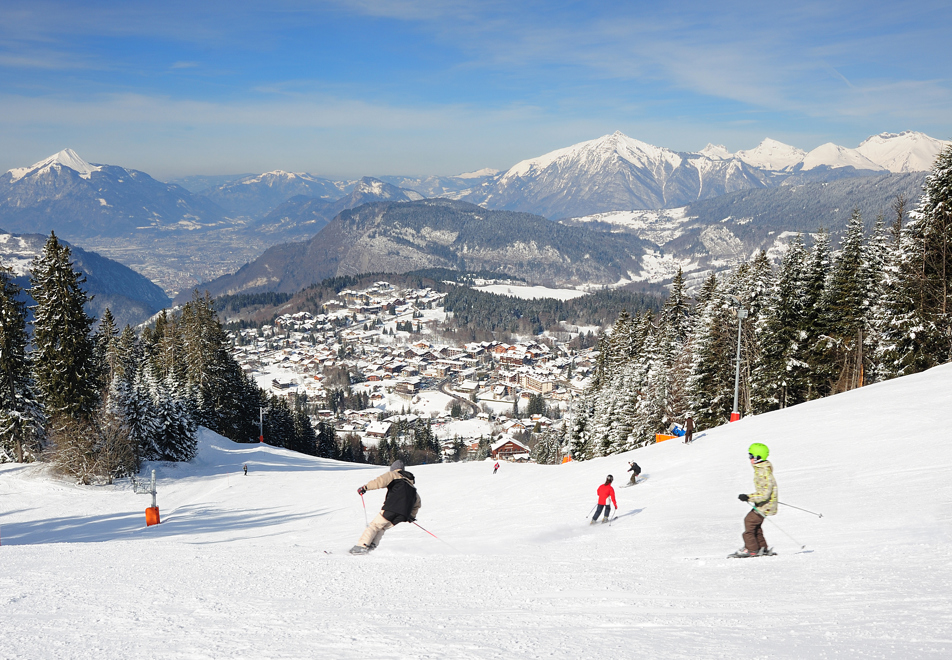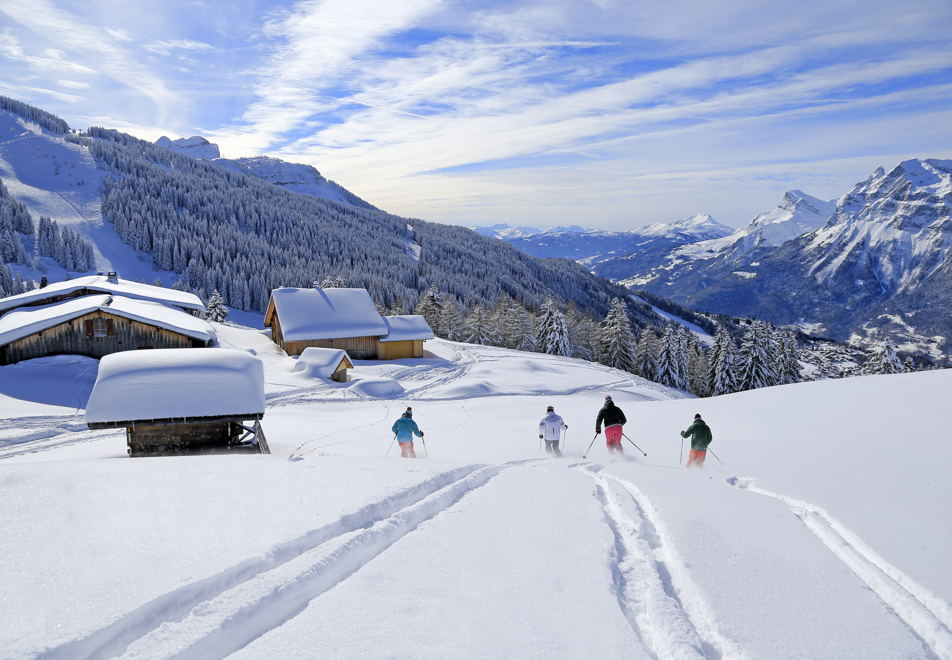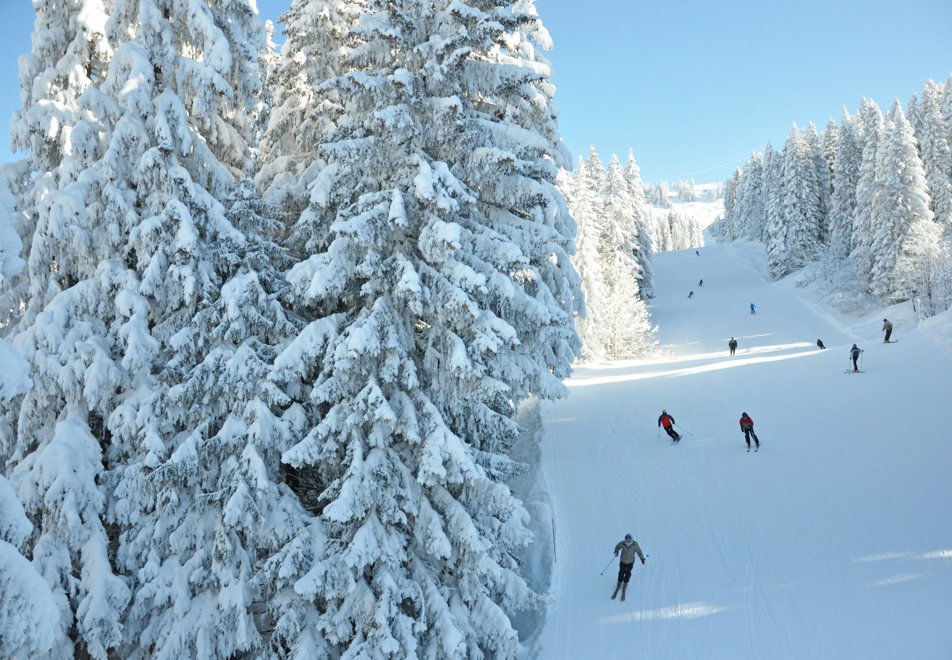 Thinking of skiing in Les Carroz? This traditional alpine village is situated in the heart of the mighty Grand Massif ski area, just one hour from Geneva and Chamonix.
Why Les Carroz Ski Resort?
One of the most accessible resorts in the French Alps - just 1 hour transfer from Geneva
Family ski resort with plenty to do
A great base from which to explore the vast Grand Massif ski area
Les Carroz Resort Information
Perched on a plateau at 1140m, Les Carroz is a spacious, sunny, traditional family resort with pavement cafés and interesting little shops which are centred on the main square. The village has managed to preserve its traditional charm in harmony with the beauty of the surrounding mountains. 
Les Carroz d'Araches has a pleasant 'lived-in' feel and animated atmosphere. It has been popular with French families since 1936 when it officially became a ski resort.
The resort has been awarded the 'Famille Plus Montagne' label for its superb facilities for children. As well as ample skiing, there's also plenty on offer for non skiers - try an air balloon flight, a night time luge, dog sledding, ice skating (some evenings until 10pm), snowshoe outings…
In 2014 a new leisure centre was opened. Its large heated outdoor pool offers an unspoilt view of the Timalets piste and snow-capped peaks. It also features an indoor pool, sauna, steam room and an impressive cardio-fitness room. There is late night swimming on some evenings.
Peak Retreats offers a choice of self-catered apartments in Les Carroz d'Araches. All our ski apartments have been hand-picked and are of a high standard (3 & 4*), providing an ideal base for a Les Carroz ski holiday.
Interested in buying an apartment in Les Carroz d'Araches? See our Buying in the Alps section
LES CARROZ SKI AREA
Les Carroz - one of the nearest major ski resorts to Geneva - is linked to the huge Grand Massif region, the fifth biggest in Europe (Samoëns, Morillon, Sixt and Flaine). From the gentle slopes at the foot of the resort to the towering peaks reaching up to an altitude of 2500m, the Grand Massif offers a broad-ranging expanse of pistes. It provides extensive skiing for all levels – with very few queues. The gondola and chairlift go straight up to the Grand Massif area.
Thanks to its geographical location, the Grand Massif enjoys abundant, regular snowfalls throughout the season, and the area is well known for its snow quality in spring. As much as 80% of the slopes are north-facing, allowing the snow to lie for longer and remain in good condition.
In Les Carroz itself, there are 103 snow cannons which get their water supply from the Airon Lake and the new Gron Lake. As soon as weather conditions are right, i.e. at least -4°C, the pistes get a top-up of snow ready for skiers the next day.
The Grand Massif offers a variety of pistes for all levels - from complete beginners through to experts wanting to seek off-piste potential. Reaching around 2500m and mostly north-facing, the slopes of the Grand Massif are relatively snow-sure.
Aside from the extensive network of pistes in neighbouring Flaine, the ski runs at Les Carroz are relatively short but offer a wide variety of trails, including more difficult sections at the top of the red runs and some good off-piste. There are some excellent woodland runs just above Les Carroz accessed via a gondola - great on bad weather days!
The ski school's torchlit descent is not to be missed – it starts off with fireworks and ends with vin chaud and live jazz in the square!
For

 

Flaine, see details with our sister company Ski Collection
Additional ski fact info, main ski info in resort facts box at top of page.
Massif (all of above exc. Flaine)
145km of pistes, 45 lifts, 81 slopes:
Green slopes: 11
Blue slopes: 38
Red slopes: 23
Black slopes: 9
254 snow cannons & 1 snow park
LES CARROZ SKIING
LES CARROZ BEGINNERS
Beginners will find nursery slopes and free drag-lifts in Les Carroz village to practise on. There's the green Mollachets run at the top of the Kédeuse gondola, and lots of blue runs to progress on. Last winter a new covered travelator (magic carpet) opened at the beginners' area at top of the Kédeuse gondola.
LES CARROZ INTERMEDIATES
Intermediates will find a variety of runs to improve and progress on with plenty of blue and red runs to choose from - quite a few are tree-lined. The Grand Massif itself has extensive intermediate slopes with big lift networks.
LES CARROZ EXPERTS
Experts will find challenging red runs and a few black runs can be found above the Les Carroz ski area. Otherwise, Flaine has some seriously challenging terrain (mostly off-piste though).
SKI BACK TO RESORT
To ski back to Les Carroz resort, there are a series of blue runs to the right of the Kédeuse gondola and Moulins chairlift, primarily the Combe run. There's also another blue run, Sarbotte, to the left of Les Carroz, and the Timalets red run, running down to the bottom-left corner of the resort.
New snow-making equipment was installed on the blue Combe piste in 2012, which means that skiers of all abilities can now ski back to the resort. There are now 26 snow cannons on the descent from the Combe de Gron, starting at the cable car, ensuring that you can ski back down to the resort on an easy run throughout the season. Other snow cannons have been added to the Chamois and Marmottes runs.
THE KEDEUSE GONDOLA
There's ample parking near the Kédeuse gondola departure point. It takes six minutes to reach the heart of the Grand Massif ski area from Les Carroz on the eight-seater Kédeuse gondola. There are also 176 ski lockers at the base area, but there's a charge to use them.  
Les Carroz Ski Hire
Pre-book your Les Carroz ski hire with Peak Retreats.
To download the ski extras form, see 'Helpful links' further down the page.
Please note, these Pound Sterling prices are for indication only. They will fluctuate based on Euro/£ exchange rate. Please call us for the latest prices.
Special offers: *7 days for the price of 6.  Free Skis/snowboard & boots (Blue/Red) for party leaders of groups of 10 or more all taking equipment. 1 Free helmet per child aged 6 and under for every adult booking skis or snowboards & boots (must be under same booking reference and requested on form above). Other duration prices on request - Cross Country ski prices on request.
Find out more about Peak Retreats ski hire
Les Carroz Ski Lockers
Although residences we feature have ski lockers, some may prefer to store them closer to the slopes.
In a specially fitted room right at the foot of the Kédeuze telecabine, Les Carroz has installed 176 ski lockers, each capable of holding 4 pairs of skis, poles and boots and equipped with dryers. Access to the ski lockers is recorded on the Skicard to automatically open the locker.
Open every day from 8am to 6pm. Locker rental from the main ticket desk (cashier no.1) at the bottom of the telecabine.
Tariffs: 6 nights 45€; 5 nights 37€; 2 nights 17€
---
Les Carroz Lift Passes
Pre-book your Les Carroz lift passes with Peak Retreats. Find out more about Peak Retreats ski passes
To download the ski extras form, see 'Helpful links' further down the page.
Please note, these Pound Sterling prices are for indication only. They will fluctuate based on Euro/£ exchange rate. Please call us for the latest prices.
Other lift pass on offer (to buy locally in resort in Euros):
Massif ski pass – ½ day and daily rates 2017/18:
4 consecutive hours - €28.40 children, €37.80 adults
Day - €31.50 children, €42 adults
Grand Massif ski pass – ½ day and daily rates 2017/18:
4 consecutive hours - €31.70 children, €42.30 adults
Day - €35.30 children, €47 adults
"Carroz Débutant" beginners area 2016/17:
26 €/day/adult   19 €/child
7 lifts: 2 Télécabine returns, Crêtes ski lift, Plein Soleil ski lift and chair lift + free beginners' pistes in the village centre: Télé-école 1 & 2, Télé-Carroz free ski lifts
There is a new covered travelator at the beginners area at top of the Kedeuse cable car.
Beginner draglifts in the village centre
Free draglifts available by the nursery slope Tele Ecole.
Draglifts Télé-Ecole 1 and Télé-Ecole 2: FREE!
Draglift Télé-Carroz: FREE!
Les Carroz Ski School
Pre-book your Les Carroz ski school with Peak Retreats. Find out more about Peak Retreats ski school
Ski school for children is available to book from 3 years to 17 years, in Les Carroz, with Peak Retreats. 3-5 year olds will go into the Piou Piou lessons. Children can learn to snowboard from 9 years+.
For ski school times and prices, please download the ski extras form from the 'Helpful links' further down the page. Please note these are just guiding prices. Please call us for the latest prices.
Please note that lesson times are subject to change right until the last minute - you will be advised. Outside French school holidays the ski school reserves the right to cancel group lessons should numbers be insufficient. For peak periods - Christmas, New Year, February half-term and Easter - we strongly recommend that you book as early as possible and in any case at least 6 weeks prior to the required dates. Morning lessons tend to get booked up first and therefore we may only be able to offer afternoon classes within 6 weeks of departure. In some resorts English speaking instructors may not always be available, particularly at peak times.
We cannot always guarantee that prices will be cheaper than in resort. When ski packs prices are calculated, the currency is bought at the exchange rates that apply at the time. You can be assured that once you have booked your extras, if the pound depreciates, you will not be charged more for your ski packs, enabling you to budget for your holiday in advance.
Les Carroz Individual Tuition (NOT pre-bookable)
Individual tuitions can only be purchased directly from the ski school. Peak Retreats cannot pre-book these for you.
Fees: Between 93€ and 93€ for 2 hours for 1-2 people. Please note that prices are only an indication and are subject to change.
Ski school contact numbers for private lesson:
ESF Les Carroz d'Arâches
Adénora Building 74300
Les Carroz

Tel: +33 (0) 4 50 90 02 38
---
Les Carroz Child Care
Les Carroz has acquired the Famille Plus label for its childcare facilities.
BOOKING IS ESSENTIAL CHILDCARE CLUBS LISTED BELOW
La Souris Verte (Creche)
Tel 00 33 450 47 95 18
sourisverte@lescarroz.com  
La Souris Verte offers all typical activities of a regular day-care establishment: indoor manual activities, singing, physical activities in the balls pool, and outdoor games. 
Situated in the centre of Les Carroz village, near to the cinema. From 3 months to 3 years, open from 8:30 to 17:00, Monday to Friday (closed on Saturday and Sunday), throughout the season. Half days available. 
Price guide:
Half-day: 23€ to 25€
Weekly package (5 mornings or 5 afternoons): 112€
Weekly package (5 full days and meals included): 192€
Children under 18 months can only do half-days.
Club des Loupiots (Nursery)
Tel +33 450 90 24 58
loupiots@lescarroz.com  
Situated 5 minutes from Les Carroz village, the club offers a wide range of activities to children, during the day, from 3 to 12 years. The club works with both ski schools and has its own minibus, which takes the children to and from their skiing lessons.
Open weekdays from 8:30 to 18:30 every day during French school holidays.
Day: 31 €
Half-day: 20 €
Package 5 consecutive days: 137€
Top winter activities to experience in Les Carroz d'Araches
Please note Peak Retreats do not book any activities and most activities are payable.
Snowsport activities:
Dog sledging
2 companies to teach you how to drive a dog sledge team. Follow the lead with a qualified instructor through the Molliets snowfields and imagine that you are in the Far North. Book early as it is a very popular activity!


Bureau des guides
day ski touring outings, off-piste skiing, free-ride (e.g. Pas de Sales, Vallée Blanche).
Snake tobogganing
Fun and laughter guaranteed! Have a go at sledging on toboggans linked together, allowing them to snake across the snow in complete safety on a closed piste. Activity for 2 hrs.
Fatbikes
Early morning or evening, come and be guided by a qualified cycling instructor to take to the ski slopes on a fatbike. Minimum 4 people. Evening runs including a mountain restaurant possible. Prices on request, contact tourist office.
Snowmobiling:
Starting just above Molliets. Fantastic evening ride along pistes and through the forest. Warm log fire welcome in a tepee. Snowmobile solo or with a passenger.
Ski joëring
Afternoons only, let a horse pull you along on skis.
Ice quad Flaine
Discover the joys of driving a quad on ice in Flaine. Open every day.
Cross-country skiing
Trails:
Red trail: Pierre Carrée 6km
Blue trail: The Arbaron 3.5km
Green trail: Combe Inverse 3 km. Two (timed)
Challenge trails: 3km and 6km
Tobogganing
2 sledging slopes at the Col de Pierre Carrée for all ages
.
Other activities:
Cinema
One screening at the end of the afternoon and one in the evening with an extra afternoon screening during French half term holidays when the weather is bad. Programme available from the Tourist Office.
Bowling alley
In Flaine (nearby). Special lanes equipped with bumper rails, for children from 2½ yrs old. Snack bar and games room. Shoe rental (size 22+). Open throughout the season. 
Swimming pool
Child tariff for 3 to 15 yr olds.
Alpine Coaster (new for 2018/19)
It is a 4-season toboggan on rails (winter/ summer/inter-season) starting from the Carroz gondola departure platform. Minimum height is 1.05m (approx. 3 yrs. old) and all children under the height of 1.25m (approx. 8-9 yrs. old) must be accompanied by an adult. One or two riders per sledge. Descent punctuated with banked turns, rollers and flip-flops; the whole run (up and down) takes about 4 minutes. Optional Virtual Reality headset: combining reality and virtual reality during the downhill run in the form of a 360 degree 3D film for total immersion in a virtual universe and heightened sensations. Self-service souvenir photosystem (tokens and credit/debit cards).
Library
You can borrow books, DVDs and family games French school holidays: from Monday to Friday. Outside French school holidays: Mondays, Wednesdays and Fridays. Closed on Saturdays and Sundays.
The Pierre a laya goat barn
Come and visit the goat barn and its farm animals and see how fresh cheeses, "crottins" (small cheeses) as well as yoghurts and goats' milk soap are made. Visits and farm shop.
Guided tours of our heritage and religious buildings
Sign up at the tourist office. Tuesdays (only outside French school holidays). Maximum 8 people.
Paragliding:
2 FFVL approved schools for you to discover the pleasures of the air or courses for perfecting your technique.
Aquacime leisure centre
Aquabike:
Sessions held every Wednesday at 11.15am. Booking necessary.
Aqua fitness:
Join in our aqua fitness classes. 30-minute sessions on Mondays and Fridays at 11.15am. Booking necessary. Minimum 3 people: maximum of 12 people.
Cardio fitness room and weight training room:
For anyone who wants to keep in shape! A variety of modern equipment suitable for all forms of muscular exercise
The sauna:
Come and invigorate yourself in these wooden rooms where temperatures can reach 70 to 80o C.
The indoor pool:
For head and body well-being why not dive into the pool with its bubbles, massage jets and waterfalls. Depth 1.30m.
The steam room:
Let yourself go in the 50 oC wet heat of this room.
The Nordic pool:
Experience the pleasures of swimming outdoors in water heated to 32o C with bubble plates and massage jets, surrounded by snow and in full view of the snowy peaks Depth: 1.50m min and 2.20m max.
The solarium:
Soak up the sun on the loungers provided whilst looking out at the pistes and the pool.
Exhibitions 
Each week, two artists display their works. Artists in all mediums and styles delight us with their art ranging from paintings, abstract art, sculptures, photographs, portraits to creative designs. Come and meet the artists every Tuesday during the Christmas/ New Year school holiday and on Mondays the rest of the season. There is free admission every day.
Hair salon
Hairdressing salon. Village centre, next to the Tourist Office. For women, men and children.
Please note: All the above information is for information only. For the most up-to-date information please visit the resort tourist office website. All prices for activities are in local currency (€ Euros) and are bookable and payable locally in resort.                  
Les Carroz Tourist Office
Les Carroz tourist information
Tel +33 450 90 00 04
www.lescarroz.com 
Les Carroz/Grand Massif Resort News & Events 2018/19
Resort news:
Luge (mountain coaster) - Opening December 2018 in Les Carroz! Riders from 3 years old (under 9's must be accompanied by an adult). Departure is at the bottom of the Kedeuze telecabine. Open from 3pm-7pm daily. 4-minute ride through the Kédeuze forest with VR capability for heightened sensations.
Investment - the Auvergne-Rhone-Alpes has invested:
In Samoëns and Morillon, a 600,000€ grant went towards installing 60 snow cannons on the 2 new pistes in the Coulouvrier bowl
In Flaine, a second grant of 600,000€ went towards integrating the 110,000m2 Veret mountains reservoir into the landscape
2 new pistes -  the Coulouvrier Bowl will have two new slopes! For 2018/19 two slopes categorised as red will be available:
"PACCOTY" on the Morillon side, running from the top of the Biollaires chairlift down to the bottom of the Coulouvrier chairlift
"CORNE" on the Samoëns side, taking the following route: from the "Marmotte" piste as far as the intersection with "Paccoty"
Events:
Starlit trek - ski touring by night - 25th January 2019 - take your fondue fork to taste it at the top! In partnership with the Grenier Savoyard and restaurant le K. Registration at the tourist office. Meeting at 6:30pm at the bottom of the telecabine. The only time you can hike at night (it's forbidden every other time)
Friends and family games - 31st March 2019 - with family or friends, come and have fun to challenge your skiing or snowboarding! Tests on the speed area, slalom, boardercross, snowpark...
More information can be found on the tourist office website: www.lescarroz.com
Les Carroz Après-ski, Bars & Restaurants
20 Restaurants and 7 bars.
1 nightclub: 'Club 74', in the heart of Les Carroz. Phone: +33 450 90 04 69.
1 Cinema: 'Le Schoucas' with 2 screens.

Les Carroz has their very own DJ on the floodlit Timalet slope in the village. Free drinks served (alcohol free). The piste is open from 5.30pm to 7.30pm from 20th Dec to 7th Feb and from 6pm to 8pm from 7th Feb to 7th Mar. On Tuesdays and Thursdays during French school holidays and on Saturdays at all other times. 5€ for children and 7€ for adults. Cancelled if the weather is bad. Take the shuttle bus from the centre of the village.
Les Carroz Restaurants
Village restaurants
Agora
04 50 90 00 78
G2 Centre - Place de l'Ambiance
A.P.O. (Aux Petits Oignons)
04 50 90 36 93
G2 entrance to Les Carroz, direction Carroz Ouest
www.apo74.fr
Les Airelles
04 50 90 01 02
H2 Foot of drag Figaro
Bistrot-Grill Le Gron
04 50 18 62 12
H2 Route des Moulins 
Les Campanules
04 50 90 15 63 - 06 74 10 01 04
Chalet des Molliets
04 50 90 05 09
HP Molliets - route de Flaine
La Croix de Savoie
04 50 90 00 26
J2 Le Pernand - direction Flaine
La Ferme du Laÿs
04 50 90 48 97
D3 le Laÿs
La Fringale
04 50 90 03 17
G2 Centre - Route de la Télécabine
Le Névé
04 50 96 53 56
G2 Centre - Place de l'Ambiance
L'Ours Blanc
04 50 90 02 77
G2 Centre - Place de l'Ambiance
Le Phare
04 50 90 38 48
G1 opposite télécabine
Le Poirier
04 50 90 05 45
H2 Route des Moulins
IL Piccollo
04 50 90 51 57
H3 Route du Serveray
Les Servages d'Armelle
04 50 90 01 62
I1 Route des Servages
La Spatule
04 50 90 07 64
G2 Centre - Place de l'Ambiance
Altitude restaurants
L'ANFIONNE
04 50 90 20 61
Télésiège de Plein Soleil
Haute Combe
04 50 90 32 91 - 06 14 83 91 55
Vallon des Molliets
Le Croc Blanc
06 61 48 26 08
Tête des Saix.
L'Igloo
04 50 90 14 31 ou 06 87 81 17 05
Sommet télésiège de Bergin (Morillon)
LE CHALET D'CLAIR
04 50 90 41 75 - 06 33 13 24 22
Sommet télésiège du Sairon (Morillon)
LE CHALET DES TRONCHETS
06 07 65 42 36 - 06 17 64 10 31
Bars and pubs
Le Carpe Diem
04 50 90 34 59
G2 Centre - Place de l'Ambiance
CAVE 59
04 50 18 31 56
H2 Centre - Route des Moulins
Le Marlow
04 50 90 05 67
G2 Centre - Place de l'Ambiance
Le Saint Jack
06 10 76 74 87
G2 Centre - Place de l'Ambiance
Les Carroz Amenities
Les Carroz is served by a range of amenities including: mini-supermarkets, cash points, doctors, 1 pharmacy, physiotherapist, dentist, hairdresser, beauty salon, bakeries, several sports shops…Library, 2 art galleries, tabac.
Getting to Les Carroz, France
By Road: 
Driving distance from Calais to Les Carroz 539 miles (approx 7hrs 30) from Calais, take A26 Motorway towards Reims and Troyes, then Dijon, Mâcon then 'Autoroute Blanche' Motorway ( A40 Mâcon – Cluses) exit Cluses Centre (no 19), follow N205 road towards Sallanches. After 3 km follow signs to 'Les Carroz d'Araches' and turn left towards Les Carroz on the D6 road.
By Rail:
Direct TGV to Paris/Cluses at weekends. Takes 5 hours. Bus between Cluses and Les Carroz. Alpbus – 00 33 450 03 70 09.
Cluses 20km.   
From Cluses to Les Carroz private transfers – from £58 per person return based on 4 people sharing. Prebookable via Peak Retreats. 
Airports:
Geneva to Les Carroz is 73km (1 hour)  
www.gva.ch/en
Chambery Airport is 111km from Les Carroz (1 ¼ hours)
www.chambery-airport.com
Lyon Saint-Exupery is 193km from Les Carroz (2 hours)
www.lyonairport.com
Grenoble is 200km from Les Carroz (2 hours)
www.grenoble-airport.com
Public shuttle bus transfers from airport
Geneva Airport - Les Carroz via Annemasse (www.coach-station.com). From 20/12/14-23/03/15 (up to 6 per day). Adult return €80.
Getting around Les Carroz
Car parks
There are 1250 free car parking spaces for you to use at the bottom of the pistes…
a. Telecabine departure Les Carroz parking – 550 spaces
b. Les Molliets sector (5km from village towards Flaine, 10 mins) – 700 spaces (there is a chairlift at Les Molliets)
There is also parking in the village (270 spaces).
Shuttle buses around Les Carroz ski resort
To get to the lifts, to the ski school or to go shopping, the shuttle buses are free and run every day from 8:30 am. View the 14/15 timetable here 
Les Carroz Airport Transfer
For pre-bookable private transfer rates with Peak Retreats, view here. 
---
Les Carroz Opening Dates
The Grand Massif ski area (Samoens, Morillon, Flaine, Les Carroz, Sixt a fer Cheval) is open: 14/12/19 –  19/04/20.