Monday, 10, July, 2023
We are often asked if there are any must-know phrases our customers could learn before travelling in the French Alps; so we compiled a list of some basic phrases and specific questions you may need on your next Peak Retreats holiday…
1.  When first exploring a ski resort you'll need to find the facilities around you; one phrase you might need to ask a non-English speaker is:
Where is the gondola station/ ski lift?
Où est la télécabine/télésiège?                                                                                                                                                                                     
You should specify which gondola you need to access, as there may be more than one in your resort; in French this would be structured like this – 'Où est la tèlècabine (name of gondola)'
2.  Nobody wants to be caught out on the slopes, so it's always good to be prepared before you set off for your day of skiing:
Where are the nearest toilets?

Où sont les toilettes les plus proches? 
3.  Many of our customers travel as families, and when first learning to ski many people enrol their little ones into ski school. Before their first lessons it's great to know where you're dropping them off, so simply ask:
Where is the ski school meeting point?
Où est le point de rendez-vous de l'école de ski?
4. One of the best parts of exploring a new country is discovering the cuisine they have to offer. France is well renowned for its amazing national and regional dishes; so when out to dinner why not ask those who know it best:
What meal do you recommend?
Quel repas recommandez-vous?
5.  After long and exhilarating day skiing in the mountains, nothing is better than the treat of a delicious hot chocolate:
Can I have a hot chocolate please? 

Puis- j'avoir un chocolat chaud s'il-vous-plaît?
6.  While many of us rely on online maps to navigate new areas, there's no harm in asking someone if you're unsure :
Where is the restaurant from here?

Où est le restaurant d'ici?         
Similarly to asking about the gondola station, make sure you specify what restaurant you are visiting, as in many of our resorts (such as Les Deux Alpes
) there are many to choose from!
7.  With skiing areas having dozens of pistes to choose from ( for both beginners and those with more experience) it's great to get the lowdown from locals on their favourite places to ski:
What slopes do you recommend in this area?

Quelles pistes recommandez-vous dans ce domaine?
8.  As a beginner, chair/button lifts can be daunting, especially when getting on and off. While not all operators are able to slow the lift to help you out, some can and are happy to. Don't forget to ask if are unsure!
Can you please slow the lift down for me?

Pouvez-vous s'il vous plaît ralentir la remontée mécanique pour moi?
9.  When you're out to eat on and off resort, one of the most simple and useful questions to be able to ask is:
Can we please have the bill?

L'addition, s'il vous plaît. (the bill, please)
10.  Photos are an amazing way to preserve memories, but when travelling as a group it can be harder to get some with all of you in. By asking someone else on the slopes you're guaranteed to get an amazing group photo:
Can you take a photo of us please?

Pouvez-vous nous prendre en photo s'il vous plait ?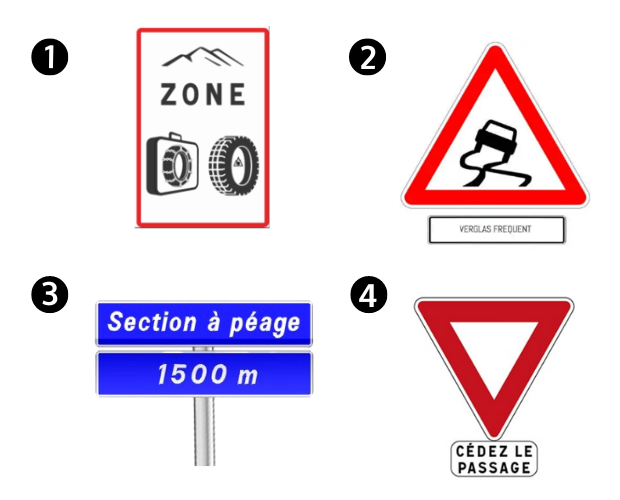 It's not only language that might be unfamiliar when travelling abroad; road signs also differ from country to country, so we have compiled a list of some road signs you might come across when travelling by car to the French alps
1.  It is mandatory to carry snow chains (and fit them if conditions required) in this area, during the winter season (November 1st to March 31st).                       
2. Verglas frequent - Frequent black ice on this road
3. Toll Road ahead, these are more common in France than the UK; and pretty much unavoidable when taking a simpler and more direct route along motorways. The number underneath is distance to the toll booth.
4. This sign means to give way to give way at the junction you are approaching; Cèdez le passage translates to 'give way'.
---
This blog created by Katie (aged 15) while on her work experience placement.