Top 10 dishes to try when skiing in France
The French Alps have plenty of local specialities to indulge in after a long day of skiing in the mountains, whilst you warm you up beside the log fire.
Alpine cuisine is known to be quite rich and calorific as it originates form when mountain villages were isolated from the roads and other regions for months at a time during long, snowy winters. They survived on what they could produce themselves and what would preserve well throughout the season.
Through the generations, the French Alps have kept all the local recipes and love sharing it with their visitors. Cheese is the main ingredient in most of their recipes, often made locally, but there are also a large selection of meat dishes and pastries that are not to be missed.
Discover our top 10 Alpine dishes to enjoy on your next trip to the French Alps!
1) Raclette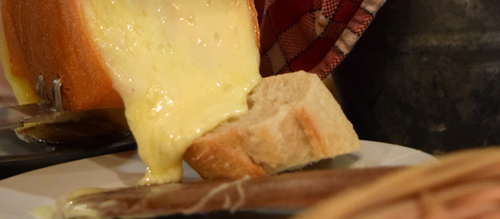 Perfect to share with your family and friends on a cold evening, raclette is the kind of winter meal you can start but never stop!
Raclette cheese is a semi-firm, salted cheese made with cow's milk. It has a very distinctive pleasant, aromatic smell with a creamy texture, similar to Gruyere cheeses.
The particularity of this meal is the way you serve it, which depends on if you are in France or in Switzerland. The French version is usually with a warm grill you put on the table, each person has their own little grill plate where you place the cheese and warm it up. Once it's brown on the top, you can take it off and serve! It is usually accompanied with small potatoes, gherkins, pickled onions, dried meats, and some Italian hams.
Some of the accommodation featured by Peak Retreats provide the raclette grill in their apartments or chalets and in others you can rent them at the reception.
For example: Chalets du Galibier - Valloire & Chalets Delphine – Les Gets.
Where to go? You can buy the raclette cheese in every supermarket or "fromagerie". Otherwise, most of the local and traditional restaurants in French Alps will have this meal on their menu.
2) Tartiflette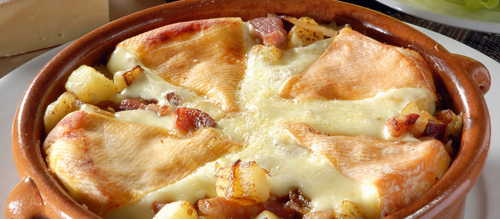 Tartiflette is one of the well-known Savoyard dishes. This amazing not-to-be-missed speciality is perfect to warm you up after a long day skiing on a cold snowy day.
The recipe is quite simple, it's a gratin served in a big plate with the following ingredients: potatoes, reblochon (typical Savoyard cheese), lardons and onions. Quite basic but…amazing!
Where to go? Albiez, famous for the Beaufort cheese, a delicious product made and sold locally. The resort also has many other specialities to offers to skiers, such as; genepi, farci, Mont Corbier etc. La Cle des Champs – Col du Mollard – A good place to enjoy the fresh air on the terrasse whilst enjoying their local dishes!
3) Fondue Savoyarde
Good cheese, French bread with friends and family, the Fondue Savoyard is the classic après ski dish on menus in the French Alps that creates a warming atmosphere after a cold day on the mountains. Similar to the raclette, the fondue savoyarde is a meal to be shared!
The concept is simple: a sturdy pot full of melted cheese into which you dip chunks, crusty bread or a French stick. The cheese is a concoction of local cheeses (depending on everyone's taste), flour to thicken, garlic and a glug of alcohol (white wine generally). Be careful, this delicious meal is rather addictive!
Where to go? You can find fondue savoyarde in almost all traditional restaurants in the French Alps.
4) Crozets (Croziflette)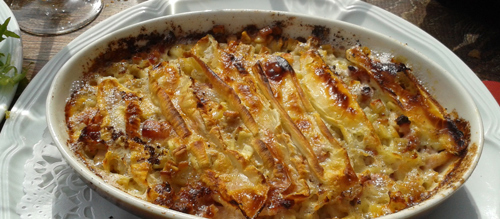 Originally from the Tarentaise Valley, this amazing meal is a true Savoyard speciality. Little pasta shells made with white flour, or buckwheat which you can use in plenty of different recipes. One of the well-known delicacies is the croziflette (tartiflette with crozets instead of potatoes).
Where to go? Sainte-Foy Tarentaise – La Bergerie. A nice place in Sainte-Foy where you can eat by the fireplace, or on the South-facing terrace. Enjoy local specialities as croziflettes with your families, your friends, in a warm and cosy ambiance. This restaurant is located in the centre of the village, close to the ESF Ski School.
5) Le Farcement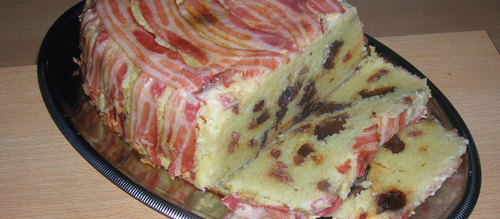 The farcement is one of the best known recipes of Savoie Mont Blanc. It requires a special mould and a couple of hours cooking. This alpine dish is a very unusual one, combining sweet and salty ingredients such as bacon, onions, prunes, raisins, potatoes, and cream. Really original and delicious!
Where to go? Even though the farcement is a historical and traditional Savoyard dish, it is not all that easy to find a restaurant that serves this unique dish. However, La Moraine in Chamonix is one place where you can be sure to give it a try.
6) Diots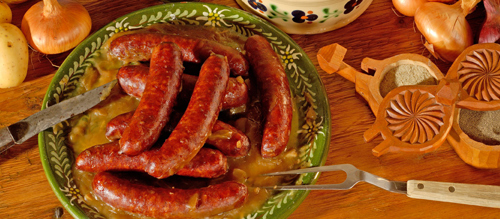 The diots are Savoyard sausages that are either natural, smoked, or have a distinctive cabbage flavour. You can cook these sausages however you want but traditionally they are cooked in wine, either red or white and onions and served with crozets or polenta.
Where to go? Really easy to cook, so best to do so yourself and add all the ingredients you like. You can buy them in most "charcuterie" or supermarkets in the French Alps. If you do not fancy cooking, some Savoyard restaurant will have it on their menu.
7) Bugnes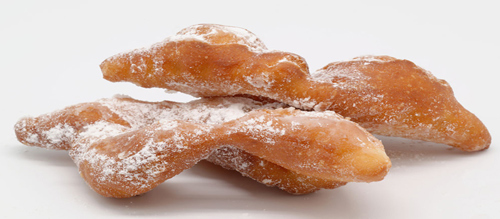 The bugnes is a typical French "patisserie" (pastry) from Savoy. Similar to the donut, it consists of: flour, butter, eggs and sugar which is then fried off in oil in a pan and covered with icing sugar to finish. It can be served as a dessert or for a little snack after a day hitting the slopes!
Where to go? You can find this speciality in almost every "boulangerie".
8) Saint-Genix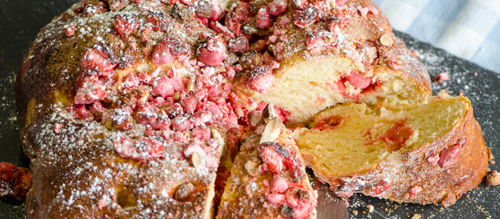 From Saint-Genix-sur-Guiers in Savoy. The Saint-Genix is basically a brioche, with red coloured pralines and sugar. It is normally served with tea or coffee, in the afternoon. This sugary treat is perfect to get your energy levels back up after a long days ski. 
Where to go? You can also find this speciality in most "boulangerie's" in the Savoy area. (Or follow Caro Blackwell's recipe to make your own St Genix at home!) 
9) Gateau de Savoie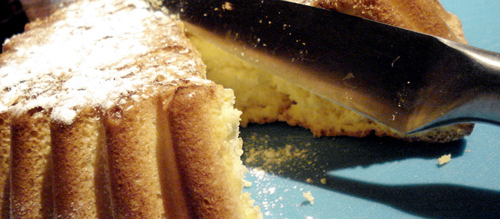 From Chambery, the cake of Savoy is made with flour, corn, sugar and eggs. It could seems relatively simple, but the secret to this delicious cake lies in its preparation: You need to beat the sugar and the egg yolk at a high speed and for a long time. Then, the cake has to be cooked for a very precise amount time. When all t done, this cake is delicious, particularly with icing sugar on the top and with some apple jam.
Where to go? Like all the others pastries, you can find this cake in the local boulangerie.
10) Le Genepi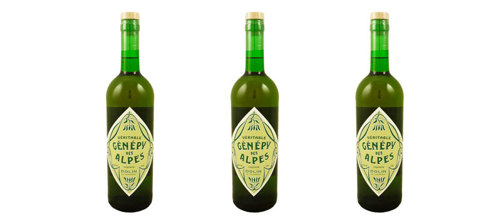 The Genepi is a common mountain plant found in the Alps, but you may know it as the traditional herbal liqueur drank in many of the French ski resorts. Typically Savoyard, this kind of alcohol is generally served at the end of the meal, as a "digestif", but it can also be enjoyed as an "aperitif". Not as sweet as other digestif's, it has a strong herbal taste that resembles chamomile or feverfew.
Where to go? You can find Genepi in the local shops, and on the menu in many typical savoyard restaurants.
Now, you just have to wait until your next holiday in French Alps to try out all these amazing specialities, or book your next ski trip with us today. You can call on 0844 576 0170. Bon Appetit!