How To Prepare Kids For Their First Ski Of The Season
If you're introducing your kids to skiing, or want to keep their skills and confidence up between seasons, there's some prep and activities you can do so that first day back on the slopes is as happy as a marmot in spring.  Our team are all Alpine specialists, here are Claire's tried and tested ways to get her family ski ready…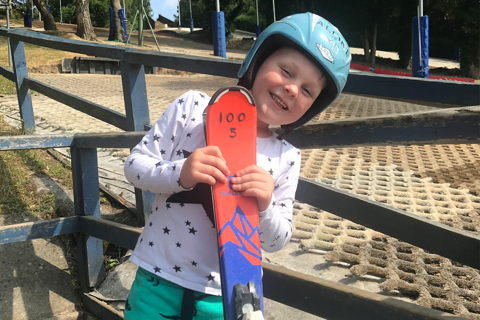 1. Before you start. Ease them into the idea of skiing
Show photos, YouTube videos (the ESF French ski school has some great videos of its classes and snow kindergarten sessions). Let them browse the resort information. Tell them about what happens, give them piste maps to look at – you can print them out from our resort pages – and let them map their wish list routes (this is also a great activity to do while travelling). Tell the kids about gondolas, magic carpets, funiculars etc. Explain how lift passes work.
Basically, make the language familiar. It really does help with in-resort confidence.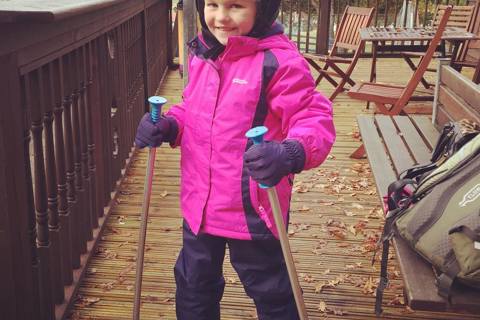 2. Have fun trying on kit
Get out all their kit, or have fun choosing something new, and take some ski-ready selfies. Goggles are always fun. You get to see that it all still fits, they get to dress up! Win, win!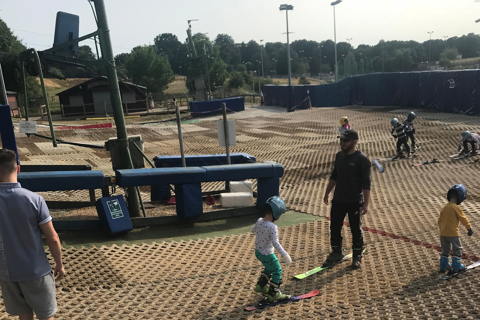 3. Take a trip to a ski centre
We love indoor and outdoor ski centres. They're a great way for the kids to experience skiing or skill up in a contained environment so they can get a feel for what it's about and/or keep their confidence up between seasons.
Don't let your child's first time trying on ski boots be the morning of their first lesson. Ski boots are hardly of the barefoot philosophy and they do take some getting used to!
Talking of lessons, dry slopes and snow centres do run beginners' courses and they're fab. They start at the very basics – how to get a ski boot on, how to click it in to the ski, slowly building confidence. With the right instruction, it's surprising how quickly the kids pick up skiing.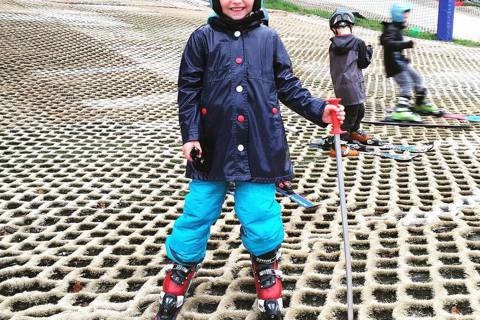 My daughter (then 6) took a 6-hour beginners course at Alpine Snowsports Southampton, a dry slope, and loved it. She got the bug, and then moved to group lessons over the summer and by the time we were back on snow, she was skiing with confidence!
On that note, unless you're a ski instructor, don't be tempted to teach them yourself. Call around the centres and see what they offer – if there's a group of you skiing together, even better, you can have a group lesson which is very pocket-friendly. Remember, out of season skiing is cheaper on dry slopes, too!
We also love the indoor snow centres, The Snow Centre Hemel Hempstead is the closest to where we live so we tend to go there. It is home to the largest lesson slope in the UK serviced by two travellator lifts (magic carpets) and the lesson set up is amazing. The instructors – or at least those we have spoken to – are very personable and encouraging. It has a 160 metre main slope with two drag lifts. It's good for watching the kids ski, too, with its alpine restaurant.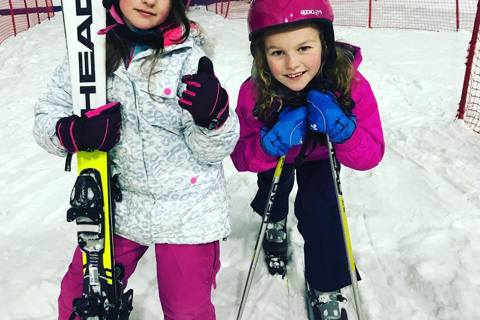 We like to take the kids up there to remember their ski legs and experience snow again! It is also useful to get them used to getting all kitted up – these indoor centres get cold, so you do need salopettes, ski jackets and gloves. It reminds us how long it takes to get little people in all their ski gear, too!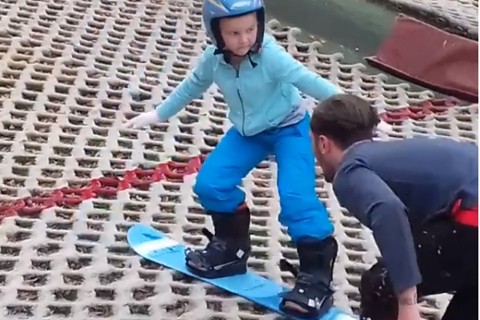 SnoZone in Milton Keynes is a firm favourite with my daughter and my snowboarding husband. They offer beginner and advanced private and group lessons for everyone from 3 years upwards. They're also the only UK indoor ski and snowboard centre to have their own snow school dedicated to teaching children and adults with a range of physical challenges and disabilities. Their main slope is 170m in length – plenty long enough to have a bit of fun!
There are standards that need to be met if you're using the outside or indoor slopes – check what they are, but basically you need to control your skis/board, and use a drag lift. You don't need to have any sort of instruction if you're just keeping your skills up between seasons.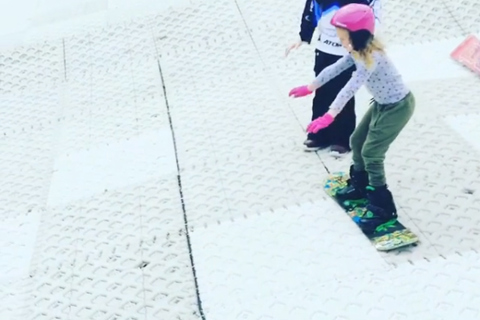 The other great thing about ski centres is it allows children (and adults!) to try new things without having the commitment. Have a skier who fancies giving snowboarding a go? Take them to a ski centre!
Although my daughter skis well, she wanted to learn to snowboard like her daddy. She had a taster session a few years ago at Alpine Snowports but no tuition, so we used a school INSET day to visit Snowtrax in Christchurch. She had a 45 minute, 1 to 1 session with an instructor and walked away with 'the buzz' – totally hooked. Snowtrax is a brilliant facility, probably our family favourite. It has a good surface, a nice range of slopes and activities for everyone, on and off the slope.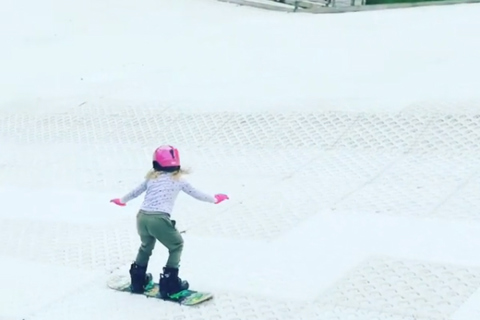 We will be visiting the dry slopes a lot over the summer months to get confidence up for our Christmas trip to Les Deux Alpes, and will then visit the indoor slopes just before we go. We are even getting our four-year-old on skis for the first time – he will be having some sessions at the outdoor centre to get a feel for it, and then on to the indoor slopes for a go on snow! We will post updates on our Instagram (@Peak_Retreats) so make sure you're following.
When on your ski holiday, we'd always advise booking lessons. Remember, lessons are by ability, so don't worry about your child being held back. In fact, if you want to, the whole family can all have lessons as they are available for all levels. We can book these for you, just call our Alpine experts if you'd like to discuss.  It's not just about learning the basics; there's advanced tuition, freestyle and more, but importantly, they help you get to know your ski area.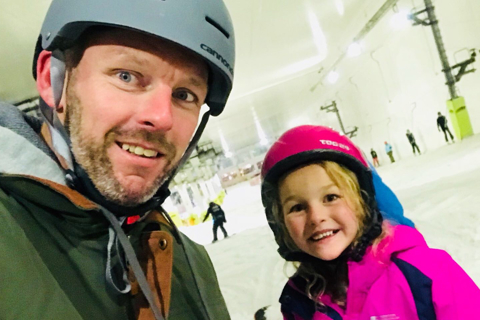 4. Remember transferable skills
Lots of skills are transferrable to being on the slopes. Activities like rollerblading and ice-skating are crossover sports for skiing and skateboarding is great preparation for snowboarding. If you can get to an indoor snow centre or dry slope, honing these skills will help, too. My daughter was brilliant on her first snowboard lesson, but she also skateboards and paddleboards. Getting out on your bikes is great for building up strength in their legs. It really does all help. I think the four year old will be receiving some skates for his birthday!
Finally, keep the fitness levels up. Healthy kids with strong cores will find it easier on the slopes – and won't suffer the dreaded thigh burn!


5. Book it up while they're buzzing!
And finally, if you haven't already, book your next ski trip.
Find out more about skiing as a family including out pick of family-friendly resorts, or give our team a call on 023 9283 9310 and they will be able to offer advice.
Top Tips: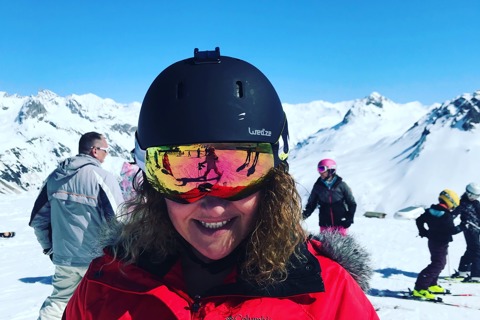 INSET days are great days to learn to ski. Most dry slopes are cheaper during term time, school hours. My daughter's 1 to 1 snowboarding session at Snowtrax cost just £19 – off peak and with a discount code!
Look out for happy hours. Snozone's Happy Hour slope pass on Tuesdays from 4-5pm is just £12.99 or FREE for Members!
Book ahead. If you're looking to go during peak times of the day, or weekends, make sure there's space. We usually ask what times are the quietest. These centres can get busy.
Make sure you wear the right equipment. For dry slopes, you need arms and legs covered and gloves. Use good gloves. Indoor snow centres require proper ski clothes else you'll get cold and wet.
Check Groupon and the like for ski lesson deals at the outdoor centres. You can get great savings.
If you're having dry slope lessons in summer, make sure they're early in the morning/later in the day. It gets hot and you need to be covered. Sunglasses are a must!
For further information on skiing and snowboard facilities in the UK, visit Snowsports England.