Wednesday, 17, February, 2016
Make sure you are prepared for the drive to the French Alps by getting familiar with the necessary equipment. Snow chains are easy to put on (honest!) and may be a crucial requirement in order for you to reach the mountain resort.
Here are some frequently asked questions about snow chains or you can jump straight to how to fit snow chains and also check out our utimate guide to driving to the Alps for more advice about your journey. 
1. Are snow chains a legal requirement in France?
Technically snow chains are not always compulsory by law in France but road signs indicate when the use of snows chains is compulsory. On certain roads after large amounts of snowfall Police/Gendarmerie often prevent any vehicle without special equipment from going any further. So, it's a good idea to keep up-to-date with the weather as well as packing snow chains.
2. When should I put snow chains on?
Whenever you are required to use snow chains there will be signs to alert you to do on pretty much all of the mountain roads in the Alps. They look a little like this: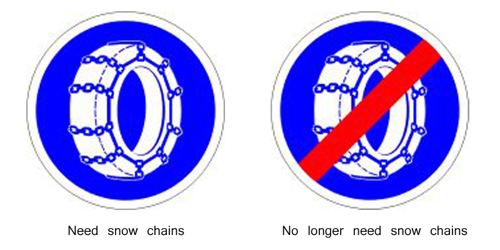 Look out for the signs and obey them. They're there to protect you and over drivers.

3. Do all vehicles need snow chains?
Yes. Even if you are driving a 4x4 vehicle, chains will still be required in certain circumstances so the advice is to always keep a pair in the boot. Snow chains are like insurance, you probably won't need to use them and hope not to, but when you do require them you are glad you have them in the car!
4. Do I need snow chains if I have snow tyres?
Cars equipped with snow tyres will only need to add chains if snow is very deep and has not been cleared (eg. getting out of a steep driveway), or if the roads have completely iced over.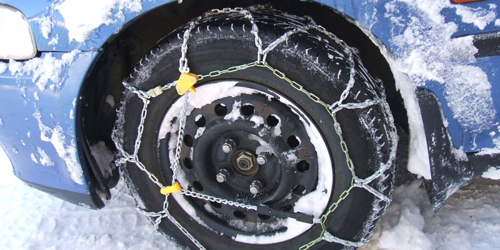 5. How likely is it that I will have to use snow chains?
95% of the time you won't need to use them. If you are amongst the 5% that does (most likely when driving out of your parking spot in resort) then you will be glad you have them.
6. How easy is it to fit snow chains?
It's a common misconception that snow chains are difficult to install, but this short video shows you just how easy fitting snow chains can be:
Always use the information below alongside your manufacturer's instructions as there are variations between brands. You can also find some brand specific instructional videos over on snowchains.com

Step One
Your car will be either front or rear wheel drive – prepare to install your chains on the drive wheels.
For traction cables, check for broken cables or links
Step Two
Drive about a foot onto the chains. Next drape the chains over the tire and fully engage the knob in the fastener.
At this point the ends of the connector cables should be on the outside of the tire
Make sure the cross-member cables are centred over the tire tread
To make it easier, turn the wheel
Step Three
Secure the cable on the inner sidewall. Pull the cable ends with knobs, up to the keyhole latch then secure the cable slack with the "S" shaped plastic fastener.
If the cables are too loose, pull some slack out of the chains.
Check the video to see how tight your show chains should be
Things to Note 
Tire sizes vary so check for the proper fitment before you use your chains
After installing, drive about half a mile and recheck the installation
Always accelerate slowly and evenly
Do not exceed 30mph
Do not spin the tires
Do not lock the wheels when braking
Do not drive on pavement that's not covered with ice or snow
7. Where can I purchase snow chains?
You can buy snow chains in certain garages, Halfords and also on Amazon. They will usually cost around £100. Enter your registration plate on the Halfords website to ensure you buy the right sized chains for your car. Or you can receive a 15% discount when you quote Peak Retreats with Polar Snow Chains.
8. Are there any alternatives to snow chains?
Yes, you can also buy snow socks that are equally as easy to fit, reusable and reliable on snow and ice however they are only acceptable in addition to snow tyres provided they are B26 approved or "homologuées chaînes". The socks are lightweight and easy to store in the boot of your car and can be purchased online on various websites such as Autosock or Snow Chains & Socks, retailing slightly cheaper than snow chains at around £60.