Monday, 12, December, 2022
Make sure you are prepared for the drive to the French Alps by getting familiar with the necessary equipment. Snow chains are easy to put on (honest!) and maybe a crucial requirement in order for you to reach the mountain resort. Below are some frequently asked questions about snow chains and also check out our ultimate guide to driving to the Alps for more advice about your journey. 
1. Are snow chains a legal requirement in France?
Snow chains are compulsory in some parts of Europe although different countries have different snow chain laws. Specific countries where snow chains must be carried at all times and used where signs dictate in mountainous regions include France. Since November 2021, it's been a legal requirement to have either winter tyres fitted or to carry/wear snow chains at all times between 1/11 and 31/03 - this is taken very seriously. Failure to carry them with result in being issued a €135 fine. In addition, if your vehicle is involved in an incident where snow chains should have been used, it is automatically considered to be your fault. You should always carry snow chains when visiting the French Alps for a ski holiday. 
To drive in specific mountain areas of France (this covers nearly all wider mountain areas in the country), between 1/11 and 31/03 you need to have either snow tyres or snow chains/approved snow socks within the vehicle. Whether there is any snow on the road or not. Even after this date, it is strongly advisable to carry snow chains/approved snow socks for your safety and that of other road users, as heavy late snow can make them essential to drive safely to, from or within resort. 
2. When should I put snow chains on?
When you see the sign below it means that carrying of chains is now compulsory whether there is snow or not, but they only need to be put on if the conditions require them (look out for signs on the mountain roads updating you on status of the road ahead). It looks a little like this: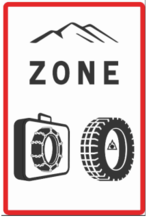 Chains will break if they are used on bare tarmac roads without snow cover. Snowchains.com told us that customers do often ask when to put them on, and what they always say is that chains should be used if the vehicle begins to lose traction or there is any loss of control because of the snow and ice. Importantly, look out for the signs and obey them. They're there to protect you and other drivers. 
3. Do all vehicles need snow chains?
Yes. Even if you ae driving a 4x4 vehicle, chains will still be required in certain circumstances so always keep a pair in the boot. Snow chains are like insurance, you probably won't need to use them and hope not to, but when you do require them you are glad you have them in the car!
4. Do I need snow chains if I have snow tyres?
Acceptable snow tyres up to November 2024, are either tyres identified by the marking 'M+S', 'M.S' or 'M&S' OR by the presence of the 3PMSF marking (3 Peak Mountain Snow Flake) along with one of these markings 'M+S', 'M.S' OR 'M&S'. 
From the 1st November 2024, the only acceptable snow tyres will be those marked with the 3PMSF marking (3 Peak Mountain Snow Flake).
Snow chains are a legal requirements on all-mountain roads displaying the snow chain sign (which accounts for most, if not all mountain roads in Europe), regardless of whether you have snow tyres or not and spot checks are very often done, especially when the conditions are bad. 
5. How likely is it that I will have to use snow chains?
Generally, roads are kept very clear but if it is snowing while you're driving (typically arriving late in the resort) then chains will often need to be used. Again, we say to use chains if there is any loss of control or traction while driving.
6. How easy is it to fit snow chains?
It's a common misconception that snow chains are difficult to install, but they're really not that difficult at all. Snow chains come with easy-to-follow instructions which you should read even if you're familiar as there are variations between brands. You can also find some brand-specific instructional videos over on snowchains.com - have a watch and you'll see just how easy it is.  
7. Where can I purchase snow chains?
You can buy snow chains in certain garages, Halfords and also on Amazon. Or you can receive a 15% discount when you quote Peak Retreats with Polar Snow Chains who will also be able to give you good advice on which set to purchase for your car.
Check out the videos below on how to fit different types of snowchain:
If you're ready to organise your next ski holiday with a multiple award-winning French Alps specialist, then you've come to the right place! You can book online, call us on 023 9283 9310 or request a quote and we will find you the perfect ski holiday! Don't forget to sign up to our newsletter to get all the latest news and deals! You can also find us on Facebook and Instagram for regular updates of all things French Alps related!