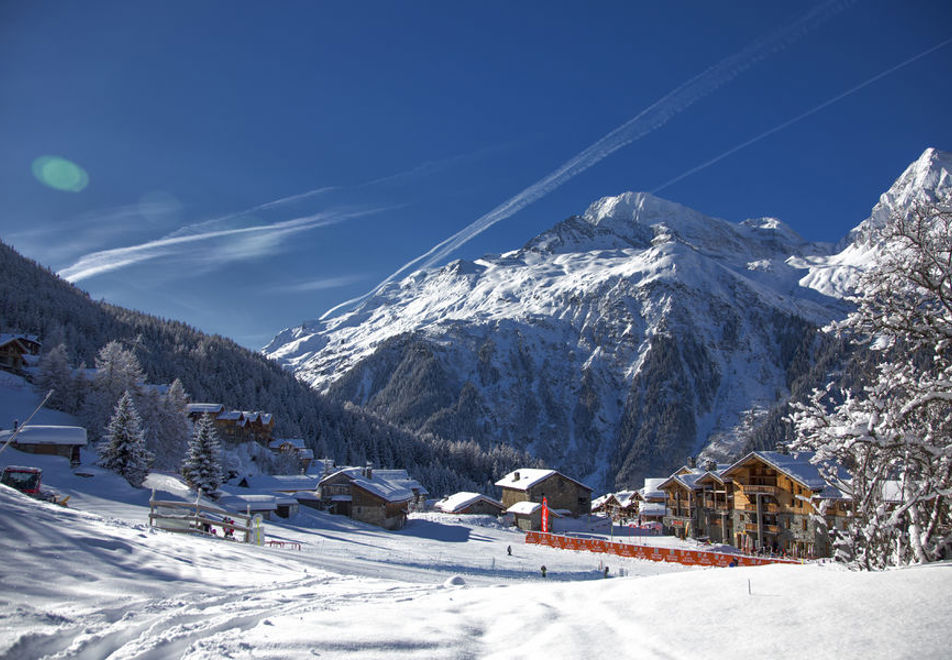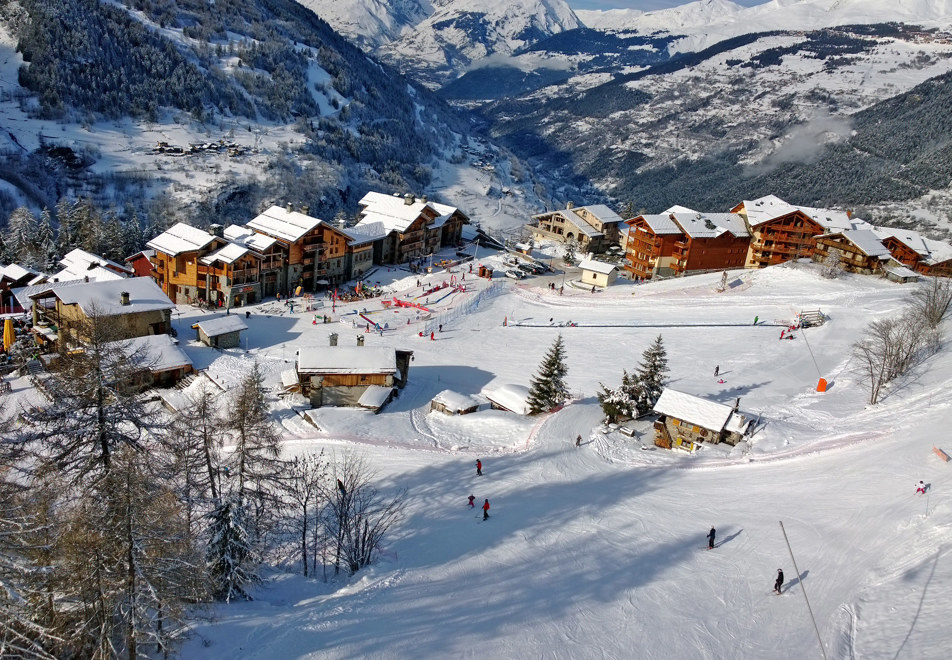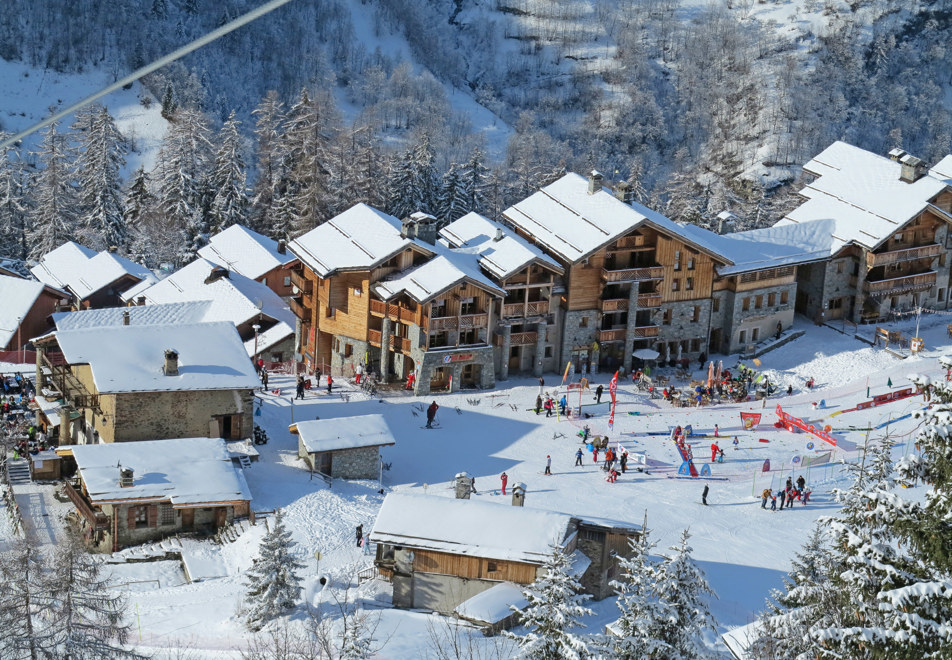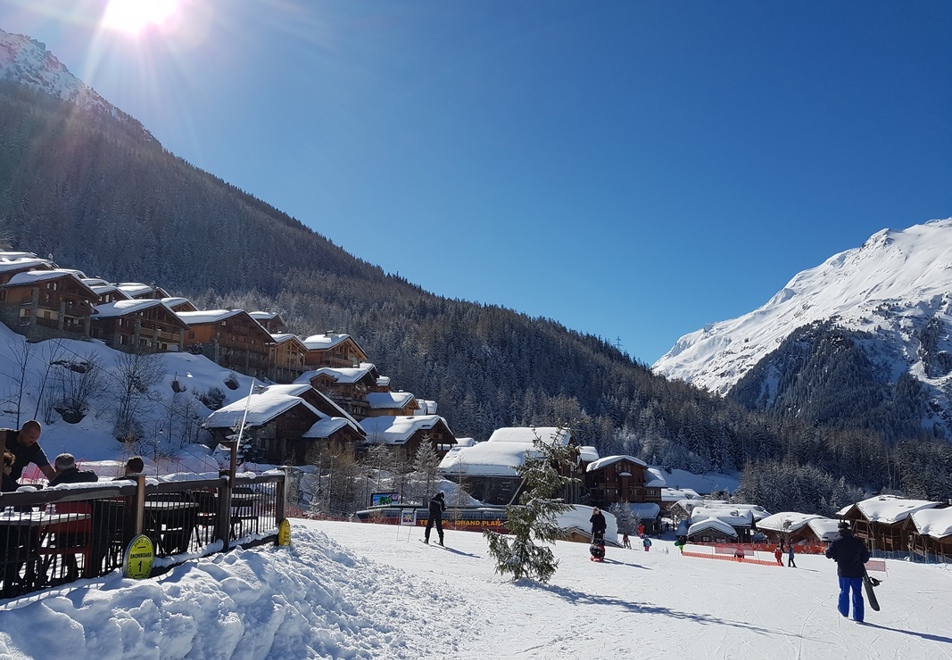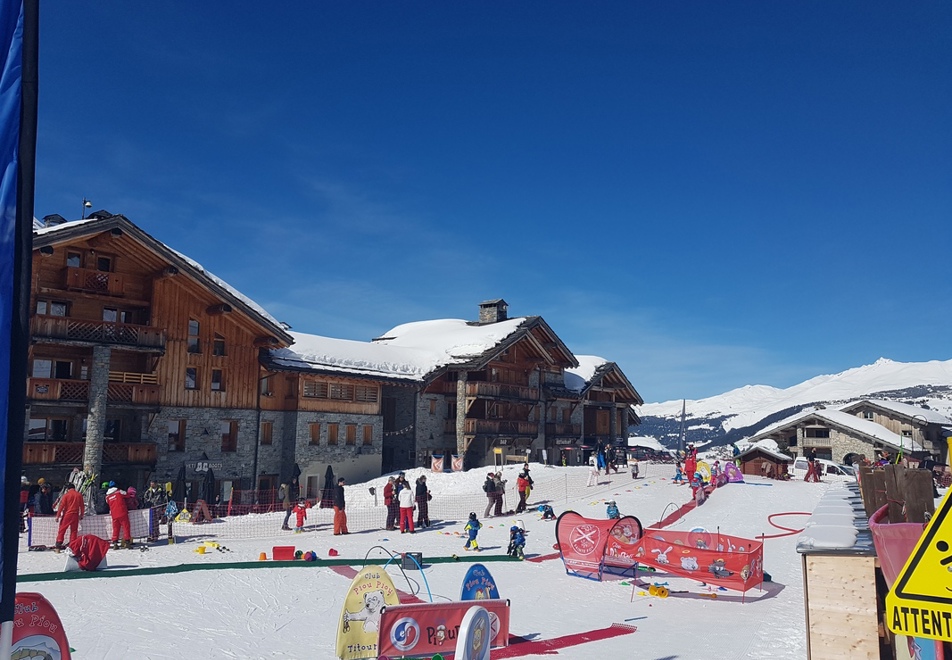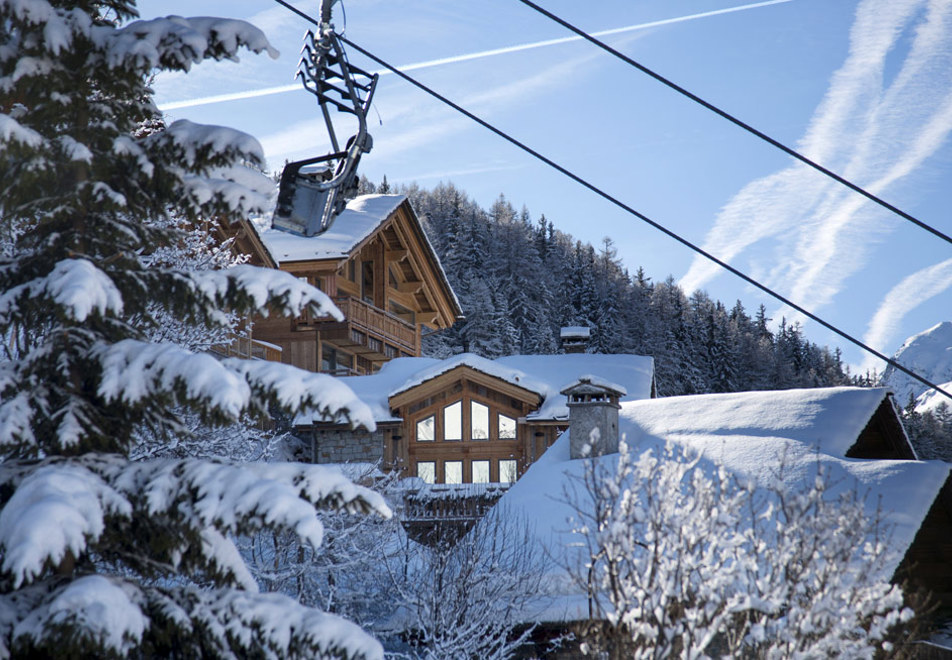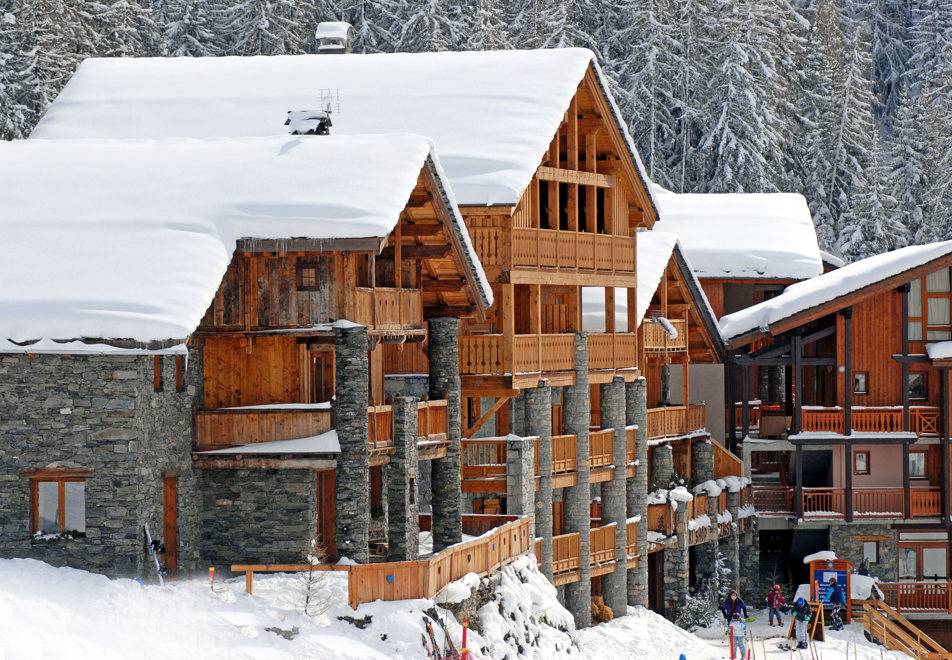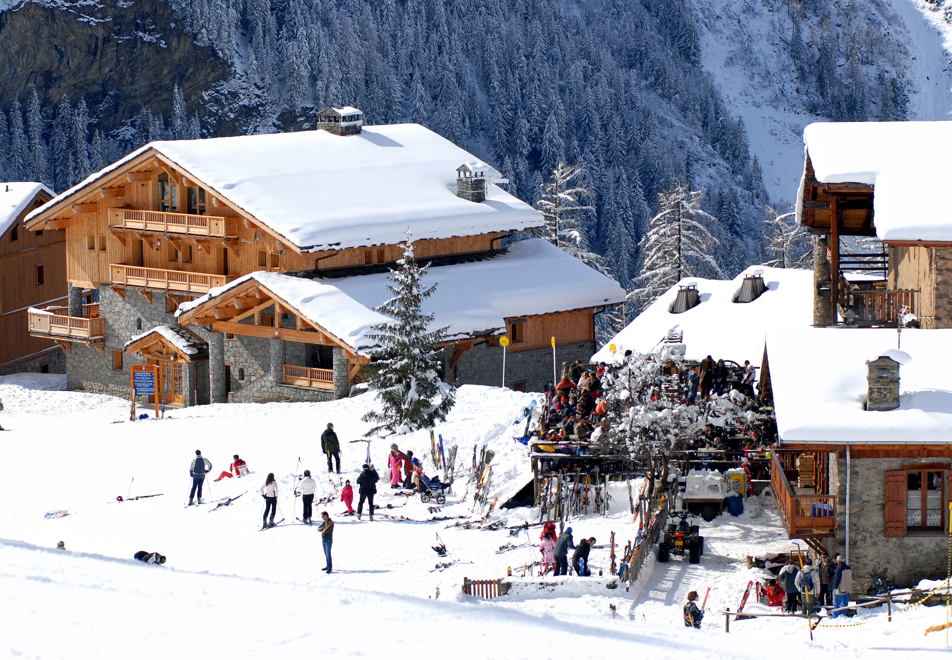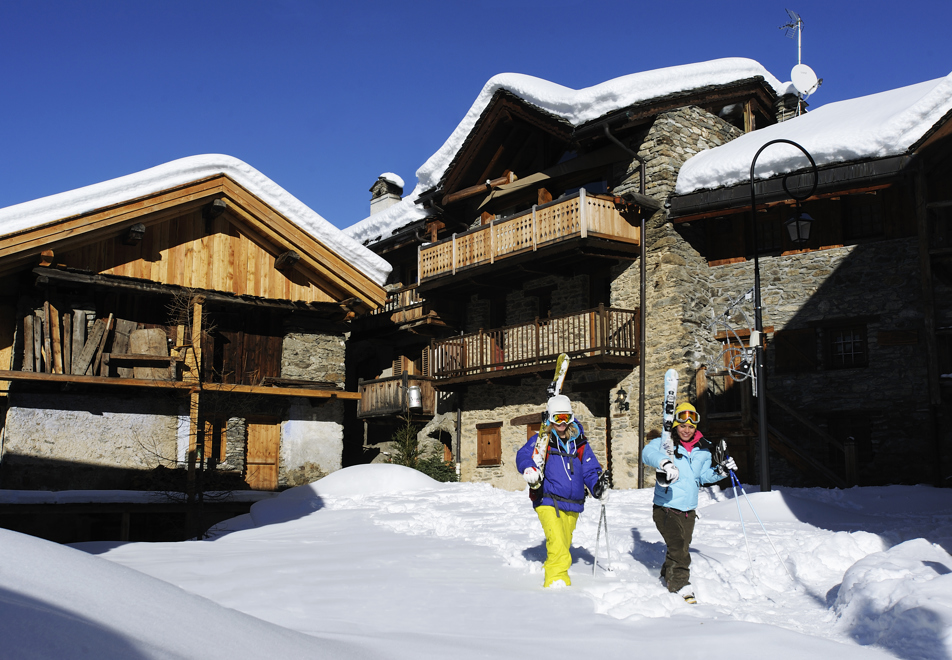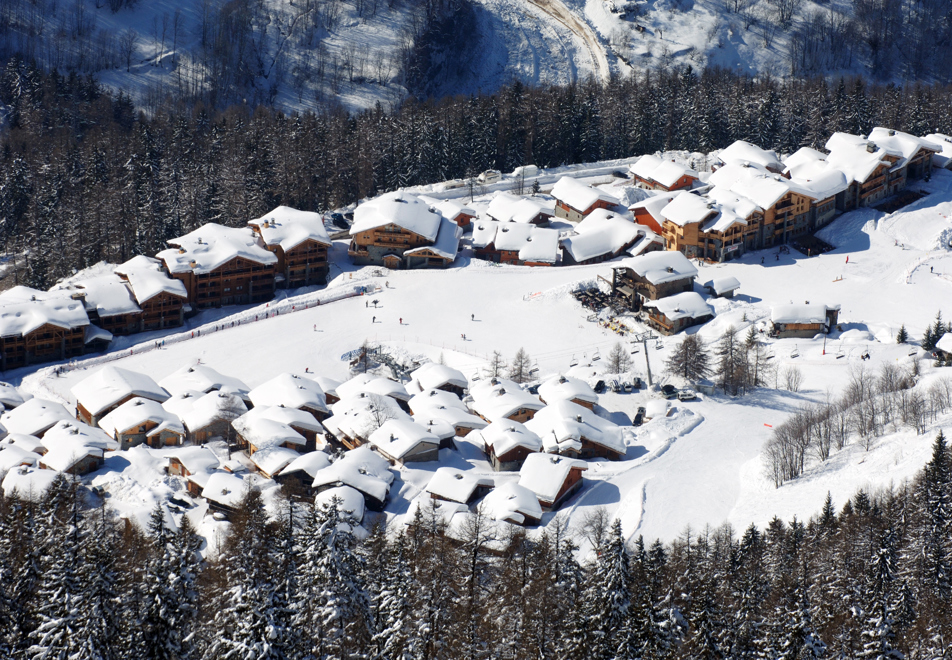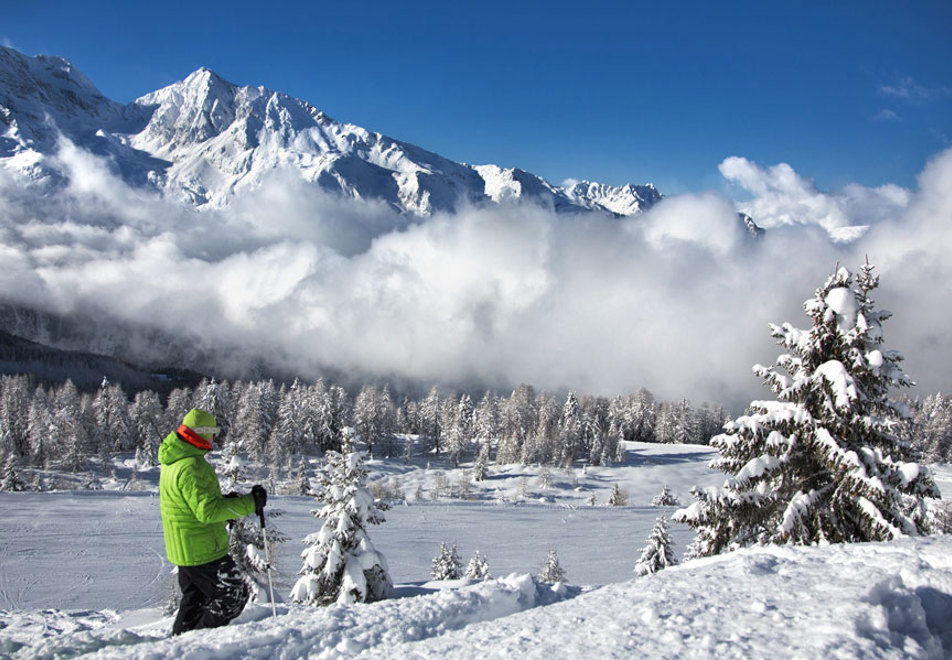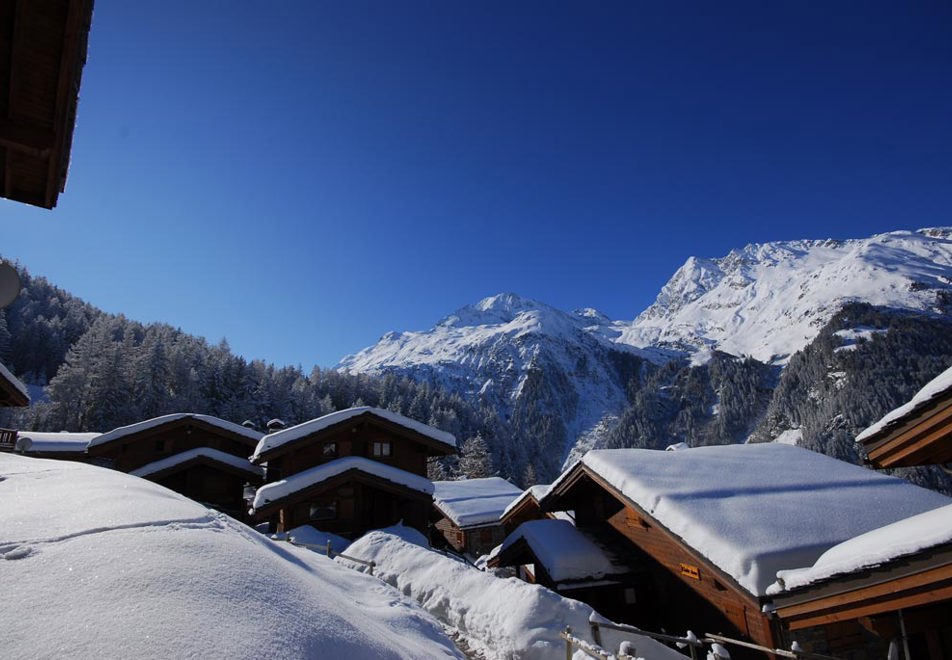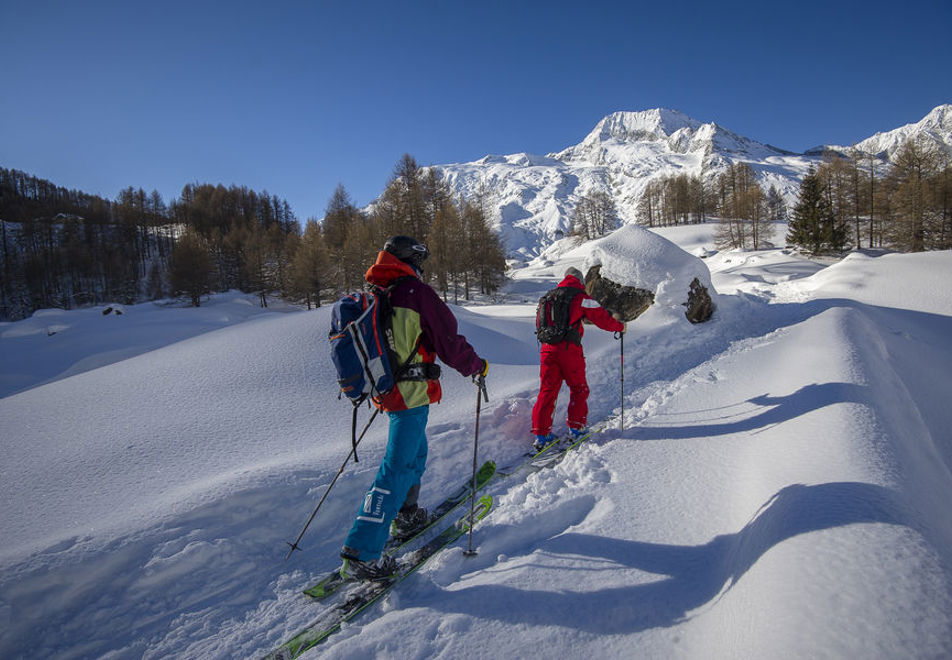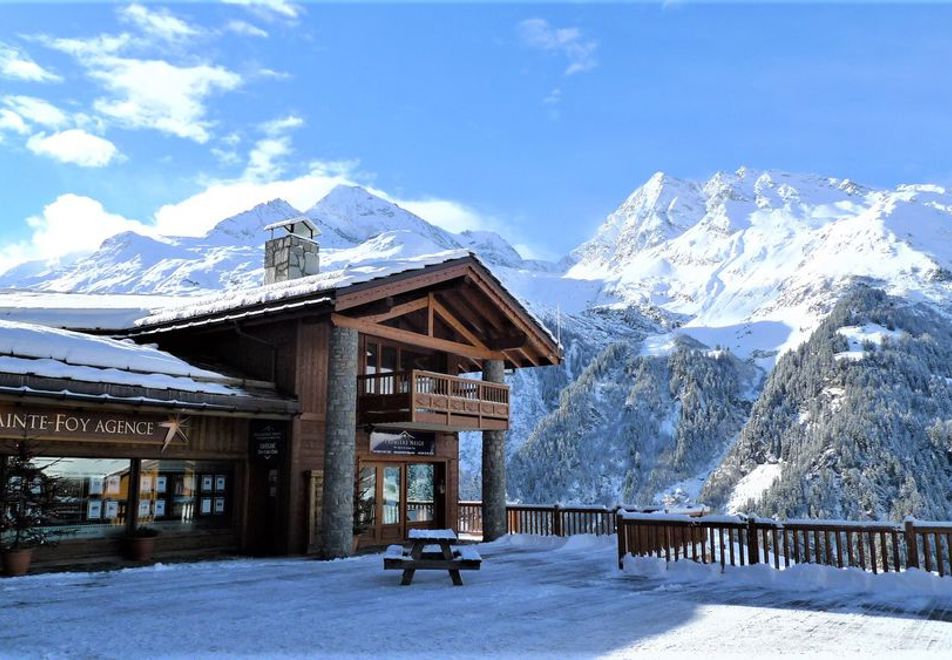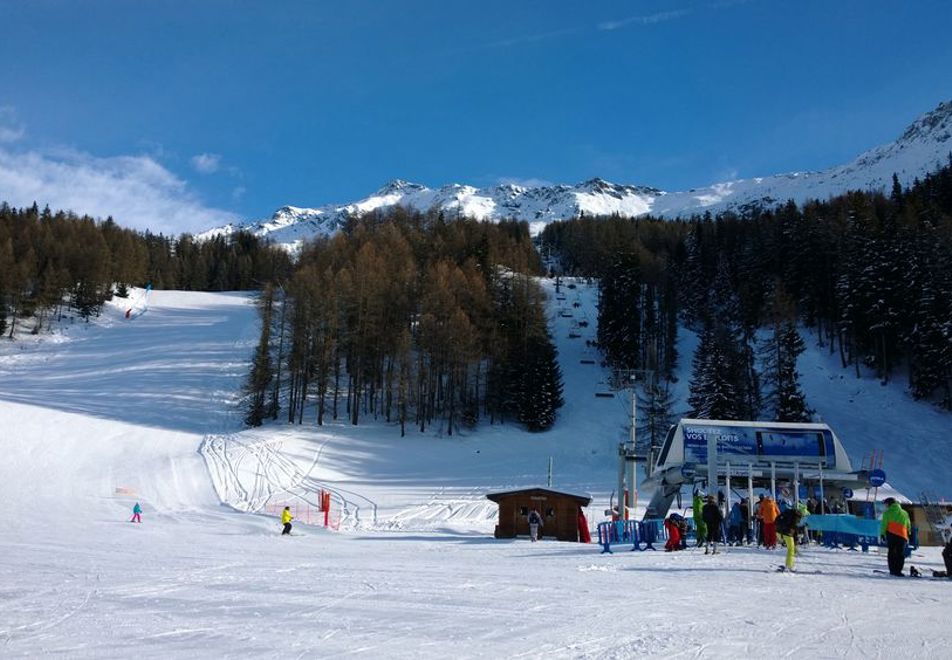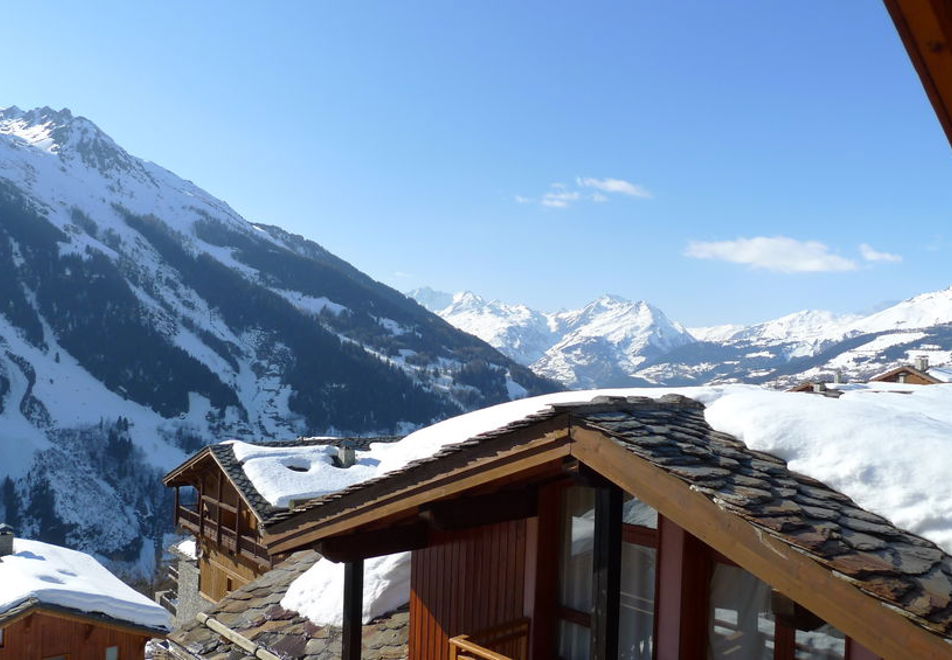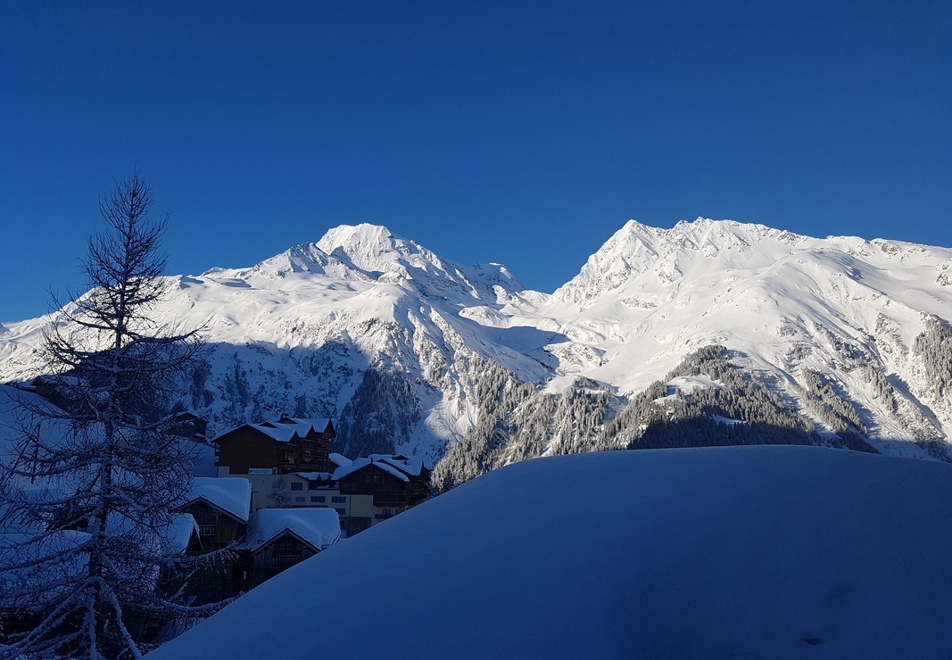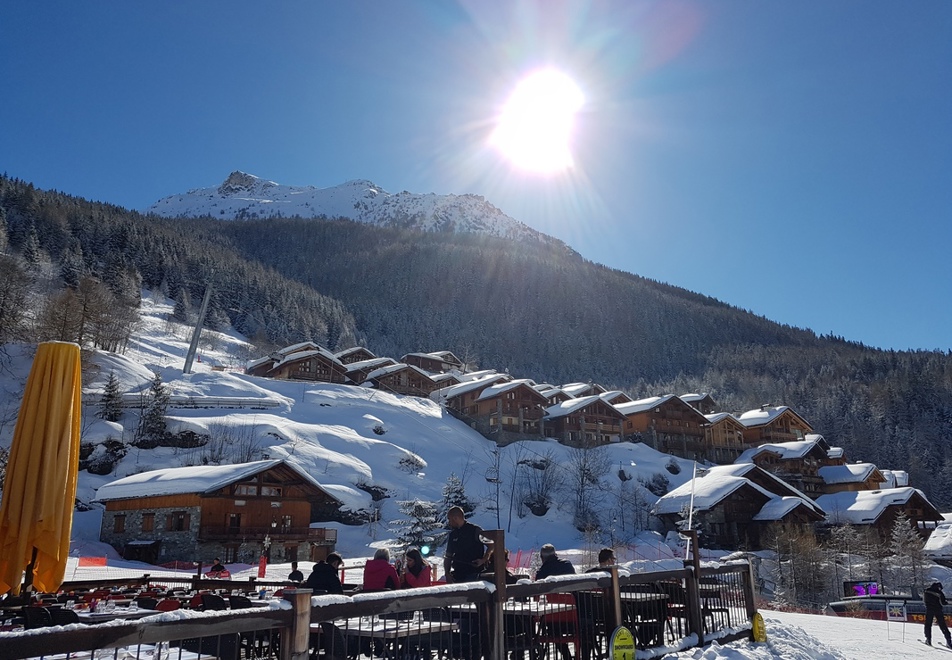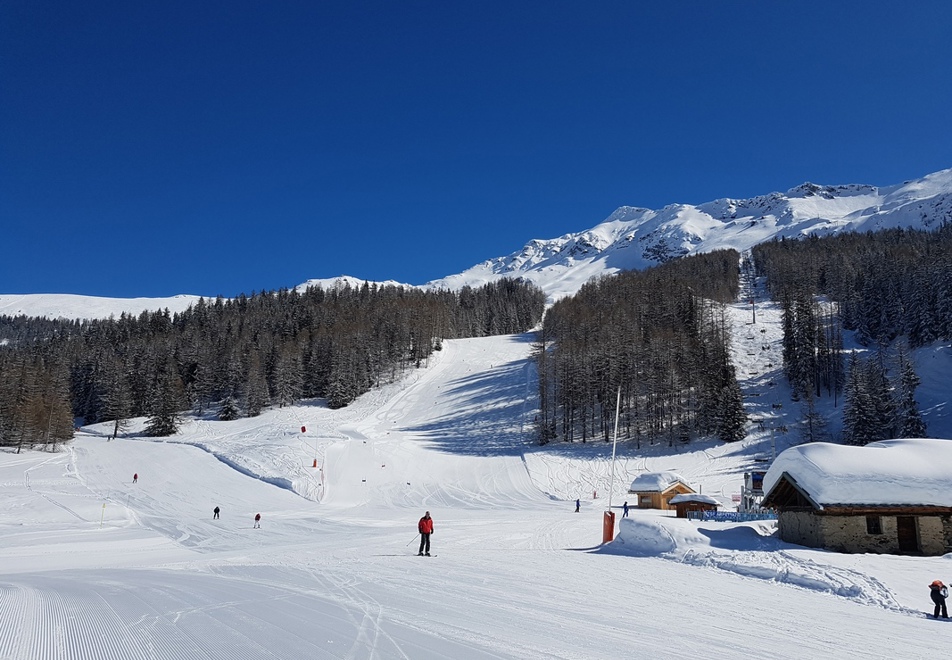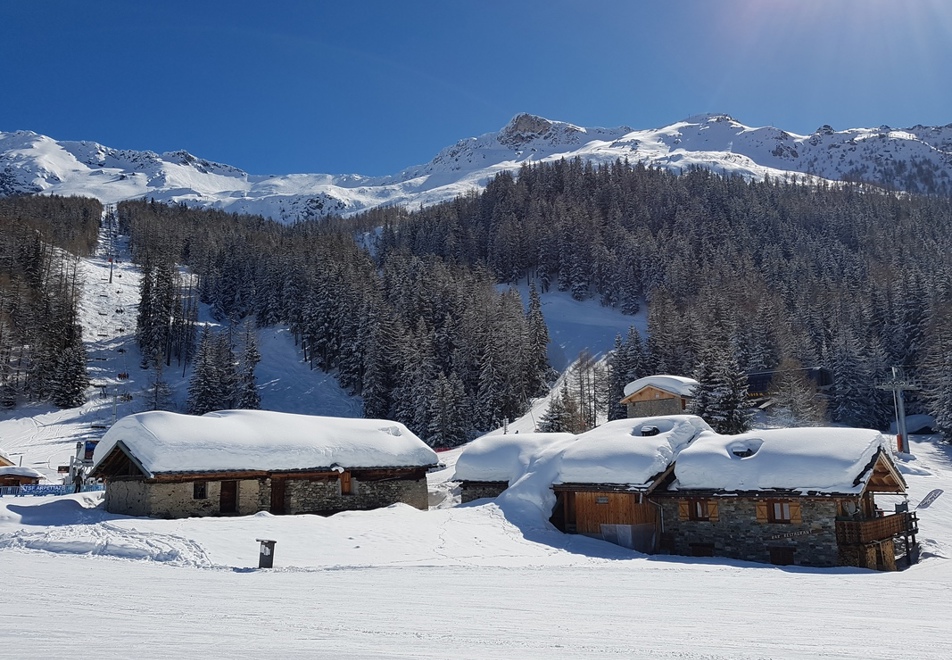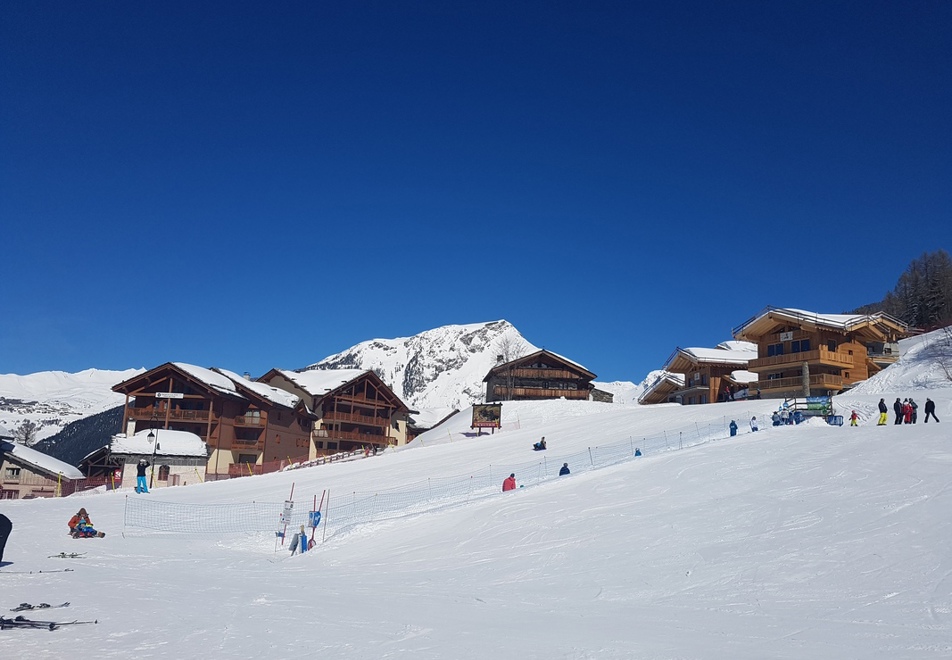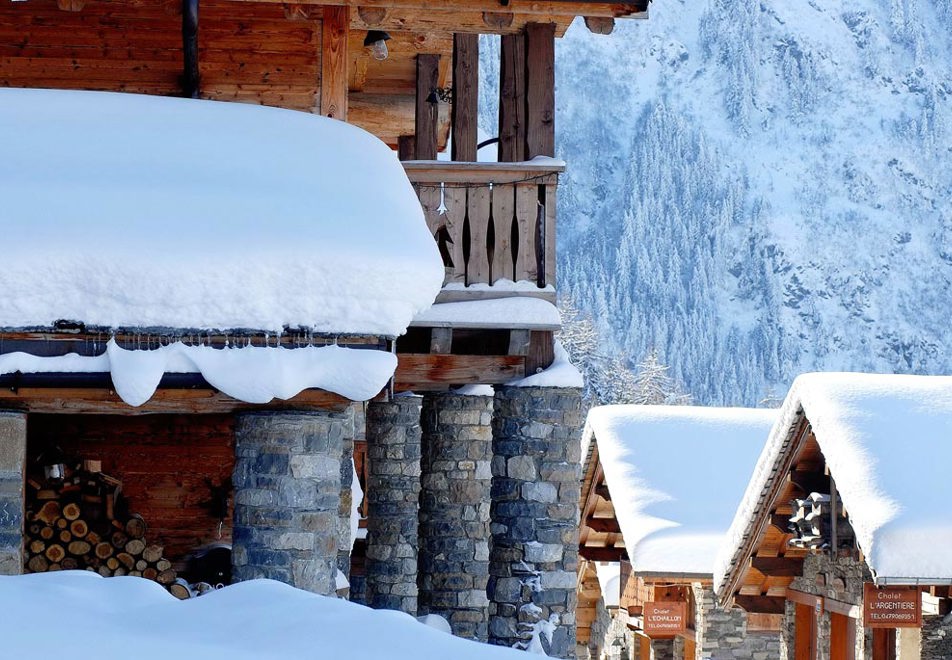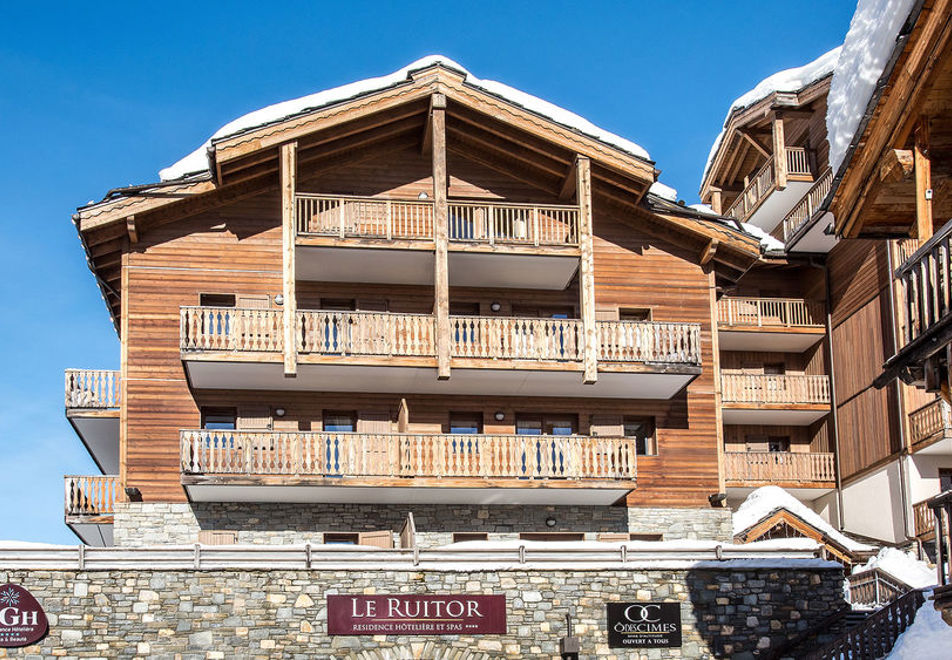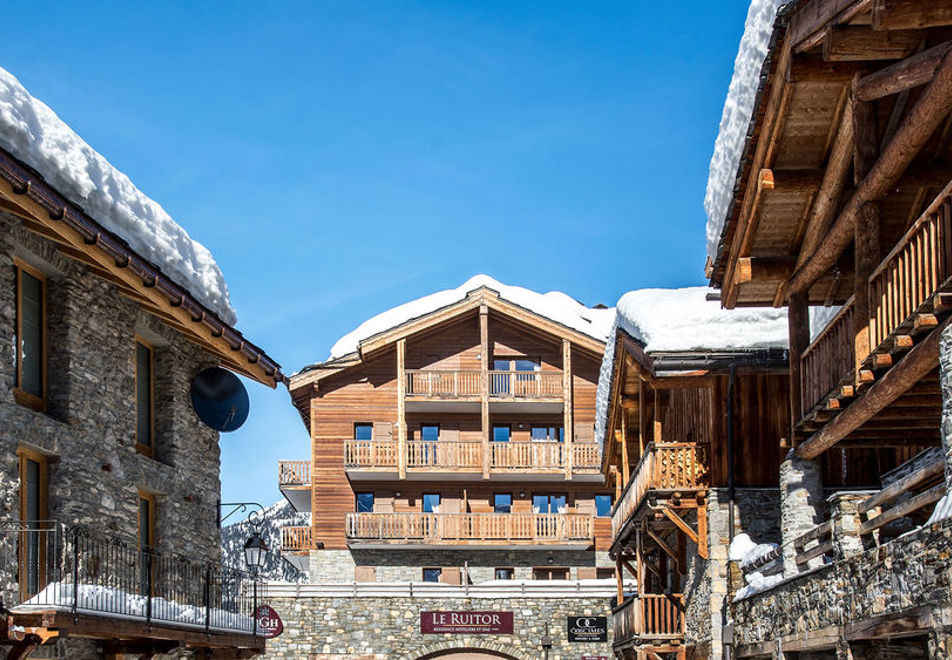 Thinking of skiing in Sainte Foy Tarentaise? Sainte Foy has been described as the "best-kept secret in the Alps" perfect for families, yet offering outstanding off-piste to intermediates and experts.
Why Sainte Foy Tarentaise Ski Resort?
No crowds in a pretty blend of old

and new and a

superb mountain setting
It's within a short drive of the renowned resorts of Val d'Isère, Tignes and Les Arcs

There's

outstanding off-piste skiing for intermediates-to-experts with great snow conditions
The resort has beautiful tree-lined slopes
Sainte Foy Information
Sainte Foy Tarentaise came into being in 1990 and is only a few miles from such big names as Tignes, Val d'Isère and Les Arcs. There's no high-rise buildings in Sainte Foy, just chalet-style buildings that nestle amongst the trees and incorporate local Savoyard features such as round stone columns and stone-lab roofs.
Sainte Foy is a seamless blend of old and new created to offer guests comfort, space and refined luxury - a refreshing change from the concrete jungles found in some of the larger Alpine resorts nearby.
Sainte Foy Tarentaise has some very good eating places. From Alpine chalets preparing dishes "like grandma used to make" to haute-cuisine restaurants; there's something for all tastes. The small selection of bars and shops is just enough for a successful Sainte Foy ski holiday. All Sainte Foy apartments are not far from the lifts or nursery slope.
Non skiers in Ste Foy can indulge in dog sledding, superb guided snowshoe walks to many local hamlets, snow biking, heli-skiing (in Italy, just across the border) and paragliding.
There's a bus service in Sainte-Foy ski resort to the surrounding Sainte Foy Tarentaise villages, but from a practical point of view a car is recommended if you want to travel outside the main Ste-Foy resort.
Sainte-Foy was recently rated by Peak Retreats' clients amongst the top 10 resorts they would recommend to a friend. And it has been voted one of the top resorts for families too.
Peak Retreats offers a range of Sainte Foy accommodation options. All of Sainte Foy's ski apartments have been hand-picked and are of a very high standard (3 & 4*), providing the ideal base for a Sainte Foy ski holiday.
Two of our loyal clients return to Sainte Foy every season:
Read Jennie's guest blog about her family ski holiday or 
Read Mr E's blog post about his family's experience
SAINTE FOY SKI AREA
Although perhaps, at first sight, the Ste-Foy ski area (1,550m-2,620m) might not appear to add up to that much, it's the place ski instructors from the nearby mega-resorts come to on their days off. That should tell you something about the quality of the skiing!
Although the vast areas of easy (and not quite so easy) off-piste are highly rated, with over 1,000 metres of vertical drop, the resort also has something to offer mixed-level skiers and boarders. Sainte-Foy has an excellent snow record throughout the winter thanks to the north-west exposure. Besides the 25 runs that snake through the larch trees and ski lifts which access many official listed nature trails (three black, one red and a blue), an exhilarating heli-drop can take you to even wilder, more awe-inspiring landscapes across the Italian border!
The Natural Zone – Natur' Grand Bois - take a trail through the heart of the forest – skiing in truly natural surroundings and accessible to all! In association with the National Forestry Office (O.N.F.), discover the locality and its history and understand the preservation of these ancient forests better. Silence prevails during this trek through bygone years, in which "returning to the source" and "serenity" are the keywords. It's a project in progress that will join up with the Marquise chairlift and offers a sheltered trail (1km).
The few pleasant and uncrowded easy green and blue pistes which run through trees are child-friendly and ideal for second-week skiers to build confidence.
Sainte Foy has predominantly north-west facing slopes, and the powder is sheltered by the trees, so it stays around for days.
Ste Foy ski resort has a new 1650m-long six-person chairlift joining Charmettes at 1800m to Marquise (2500m) which has dramatically increased the lift-accessed terrain. As a result, a new blue run, Grand Solliet and a red run, La Foglietta have been created, and more off-piste routes have been made easily accessible.
In order to guarantee regular, quality snow, every year they improve the snow production systems. Since the 2018/19, 18 new snow cannons have been set up on the lower slopes of Crêt Serru, Tobbogan and Creux de Formeïan. With these new installations, there will be a total of 100 snow cannons in the ski area, 100% equipped on slopes under 2100m.
SAINTE FOY SKIING
SAINTE FOY BEGINNERS
Skiing is free for all beginners on the village ski slopes, both adults and children, at the bottom of the piste (opposite Les Fermes de Ste Foy) but the choice in terms of green pistes is fairly limited.
Marmots and Gallopins: 2 magic carpets offering free access. To learn skiing free and safe on the two green slopes of Marmots and Galopins.
There's a long green run to progress to, plus a blue resort run - then gentle blue runs higher up. The ski area offers 7 blue slopes accessible to beginners on the first two sectors (Plan Bois slopes, Chapel, Combes, Charmettes, Grand Solliet, Natur'Renard (not groomed) Crêt Serru du Bas. Ski pass required.
It's a great ski area for beginners/families as it's usually less crowded than many mainstream ski resorts.
The chairlifts are all equipped with kid stopper fittings, fixed onto the restraining bar in front of each seat cushion, to ensure greater comfort and safety for young kids.
SAINTE FOY INTERMEDIATES
The red runs are well suited to intermediates looking to sharpen their technique. The run from the Col de l'Aiguille is one of the best.
The latest is a red south-west-facing slope in the La Marquise sector built, served by the Les Marquises chairlift. At the starting point, there is a Chamois sign that gives children and adults instructions for off-piste skiing, and advice about precautions to take.
SAINTE FOY EXPERTS & OFF-PISTE
The more daring should take a guide to explore and ski Sainte-Foy on one of the renowned off-piste routes to the deserted farming hamlet of Le Monal, or the infamous 1700 m vertical descent on the north face of Foglietta. Ste-Foy Tarentaise's proximity to the Italian border makes it easy to arrange a day's heli-skiing above La Thuile and La Rosière.
There are three dedicated areas where you can practise off-piste skiing:  the Techniride Zone, the Off-Tracks Zone (safe freeride zones where obstacles are not signposted) and Shaper' Paradise, a secured area specially dedicated to freestyle.
Sainte-Foy is also well known for its ski-touring routes with reachable summits between 3000 and 3800 metres high, such as the Archeboc and Ruitor peaks. You can also link up with the Italian valleys of Valgrisenche and Val d'Aosta just over the summit ridge that forms the border between France and Italy.
SAINTE FOY SNOWBOARDERS
There's some great freeriding terrain for snowboarders plus a dedicated freestyle area for building kickers.
SAINTE FOY RESORT RUNS
Resort runs are green, blue and red, so easy for all levels to return to the resort by ski.

OTHER EASILY ACCESSIBLE SKI AREAS
Villaroger, Les Arcs, Paradiski  – this is the closest from Sainte Foy being only about 15 mins drive away. It is the backdoor to Paradiski's huge 425km of slopes.
Tignes Les Brevieres – this is just under 20 mins drive away. It is the backdoor to Tignes Val d'Isere 's 300km of slopes (Val D'Isere village is about 30 mins drive away).
La Rosière – this is about 30 mins drive away. Ski 160kms of sunny Franco-Italian slopes.
For Les Arcs and Val d'Isere, see our sister company Ski Collection
Sainte Foy Ski Hire
Pre-book your Sainte Foy ski hire with Peak Retreats.
To download the ski extras form, see 'Helpful links' further down the page.
Please note, these Pound Sterling prices are for indication only. They will fluctuate based on Euro/£ exchange rate. Please call us for the latest prices.
Special offers: *7 days for the price of 6.  Free Skis/snowboard & boots (Blue/Red) for party leaders of groups of 10 or more all taking equipment. 1 Free helmet per child aged 6 and under for every adult booking skis or snowboards & boots (must be under same booking reference and requested on form above). Other duration prices on request - Cross Country ski prices on request.
Find out more about Peak Retreats ski hire
---
Sainte Foy Ski Passes
Pre-book your Sainte Foy lift passes with Peak Retreats. Find out more about Peak Retreats ski passes
To download the ski extras form, see 'Helpful links' further down the page.
Please note, these Pound Sterling prices are for indication only. They will fluctuate based on Euro/£ exchange rate. Please call us for the latest prices.
Other lift passes are available to buy in resort such as half or full day passes for beginners or those who only wish to ski the odd day. Some resorts also offer specific passes for beginners areas or smaller area. You can also buy cross country ski passes, one use lift passes (for non skiers) and obtain free passes for very young children.
Sainte Foy Tarentaise is located in the Savoie in the Haute Tarentaise, 6km from Villaroger in Les Arcs, 15km from Val d'Isère, 13km from Tignes – Les Brévières, and 16km from La Rosière, so there is a possibility to ski in other resorts. Please note! There is no shuttle bus or ski lift running between Villaroger / Les Arcs and Sainte Foy Tarentaise ski resort (8km) or town (2km).
Sainte Foy Group Ski School
Pre-book your Sainte Foy group ski school with Peak Retreats. Find out more about Peak Retreats ski school.
Ski school for children is available to book from 3 to 15 years, in Sainte Foy, with Peak Retreats. 3 year olds will go into Ourson lessons. Children can learn to snowboard from 10 years+. We can also book ski + lunch + childcare for 4-11 years olds with lunch.
For ski school times and prices, please download the ski extras form from the 'Helpful links' further down the page. Please note these are just guiding prices. Please call us for the latest prices.
Please note that lesson times are subject to change right until the last minute - you will be advised. Outside French school holidays, the ski school reserves the right to cancel group lessons should numbers be insufficient. For peak periods - Christmas, New Year, February half-term and Easter - we strongly recommend that you book as early as possible and in any case at least 6 weeks prior to the required dates. Morning lessons tend to get booked up first and therefore we may only be able to offer afternoon classes within 6 weeks of departure. In some resorts, English speaking instructors may not always be available, particularly at peak times.
We cannot always guarantee that prices will be cheaper than in the resort. When ski packs prices are calculated, the currency is bought at the exchange rates that apply at the time. You can be assured that once you have booked your extras, if the pound depreciates, you will not be charged more for your ski packs, enabling you to budget for your holiday in advance.
Client feedback: "ESF very well organised and well run. No concerns regarding leaving children as they were all given bibs and all carried their own contact details. The instructors spoke good English".  -  Mrs G, Sainte-Foy


Sainte Foy private lessons (not pre-bookable, book direct with ski school)
Private lessons with an instructor can only be arranged directly with the ESF ski school. Peak Retreats cannot pre-book these. Private lessons are usually around €40-60 per hour (depending on resort, time of day and period) and becomes cheaper the more hours you take and the more people you have to share the hours with i.e with family members or friends. Some resorts insist on a minimum of 3 sessions to be booked at once.
Contact ESF Sainte Foy for private lessons
Tel: 0033 479 06 96 76
Email: info@esfsaintefoy.com
---
Sainte Foy Childcare (not pre-bookable, book direct with club)
Childcare from 3-11 years (non-skiers)
Cathy, Emily and Barbara will welcome your children from 3 years old to 11 years old in Les P'Tits Trappeurs club. They offer your child outdoor/indoor activities like snowshoeing, fauna and flora discovery, games etc.
The activities are proposed according to the weather and the availability of staff. They can liaise between the ski schools of the resort and the kids club.
Open all winter season between 8.45am and 4.45pm. Closed on Saturday.
Please note children must be potty-trained.
Prices and availability - please contact club direct. Usually on offer half or full day(s) with or without meals. It is advisable to book before you go and in good time as spaces get filled quickly, especially in Peak times.
Contact Les P'Tits Trappeurs club
Tel: 0033 479 06 97 92
Email: lespetitstrappeurs@loisirs-solutions.com
---
Babysitters
List of babysitters available from the tourist office.
Top winter activities to experience in Sainte Foy!
Please note Peak Retreats do not book any activities and most activities are payable.
Snowsport activities
Off-piste skiing
Beyond the marked runs, the vast off-piste area is easily accessible from the resort's chairlifts. Enjoy a unique ski experience and discover authentic hamlets nestled under the snow. Mountain guides and ski instructors can accompany you, so you can safely hone your skills while exploring fabulous virgin slopes. In Sainte Foy, you can have serious fun powder skiing, always with safety in mind.
Ski touring
Discover an exceptional ski touring area among the peaks and valleys of Mercuel, Le Clou and Le Monal. Accessible with the ski lifts, multiple routes await you for an energizing experience, always accompanied by a mountain professional. 
Ski touring is also a great alternative in poor weather. Setting out from the resort, you can climb at your own pace through the silence of the forest along one of the three marked taster routes with a gradual ascent of 150 to 700 metres, then ski back down in safety along the pisted ski slopes.
Enjoy the thrill of speeding through the gates like a champion
Experience the exhilaration and adrenaline rush of ski racing! In Sainte-Foy, giant slalom and speed skiing are disciplines that everyone can enjoy for free on Tuesdays at the slalom stadium during the February school holidays
Heliskiing adventure
Just a stone's throw from the Italian border, where heliskiing is authorized, Sainte Foy offers an exceptional base for experiencing a unique adventure. Virgin routes down the mythical slopes of the Ruitor Glacier… The Guide Office and ski schools offer trips of varying difficulty for skiers who already have a good level. You can even ski back down to some of the most beautiful villages in Sainte Foy!
Ski as a family and discover the mountain animals and their advice
Play about as a family on Sainte Foy's natural terrain with its fun trails to develop your kids' skills on all types of slope and find out all about mountain animals and their advice for protecting the environment.
Natur'renard
Ski between the fir trees on the Natur'Renard trail, (piste n°25), an ungroomed blue piste where kids can discover the joys of natural skiing and learn all about the lives of foxes. Children can call the foxes with a series of bells before discovering one in a clearing, in the form of a wooden sculpture made by a local craftsman.
Backcountry for teens!
"Natural skiing" courses are offered in the Sainte Foy ski schools so your little thrill-seekers can discover the mountain environment through a series of 3 challenges: learning to ski off-piste, training to use an avalanche transceiver, and listening to tips about mountain safety from a ski patroller and rescue officer. The programme is suitable for children over 11. Sainte Foy's ski area offers a multitude of gentle, ungroomed slopes, which are easily accessible from the edge of the pistes.
Snowshoeing - protected forests
Step into the silence and the magic of the forest. No less than 568 hectares of forest have been classified for environmental protection. The system created in 1922 to reduce the erosion of the mountain soils and limit natural hazards, aims to compensate for forest felling to create ski slopes by protecting twice the felled surface. Our free winter snowshoeing routes partly cross through these forests.
Tobogganing
A free toboggan run on the Galopins village slope for après ski fun.
Other activities: 
Natur'marmotte
On the edge of the piste, at the intersection of the slopes of Chapelle and Grand Solliet (above the departure station for the Marquise chairlift), come and take a break in the fun "Natur'Marmotte" area, for families and children. You can visit this sunny area without skis to have fun learning all about marmots and raising children's awareness about protecting the environment.
A short distance away, kids can discover sleeping marmots in an old milk cellar, symbolizing a burrow, which hosts a wooden sculpture of 4 sleeping marmots.
The entrance of the cellar is protected by a grid for safety reasons.
We count on you to leave the site clean!
Please note: All the above information is for information only. For the most up-to-date information please visit the resort tourist office website. All prices for activities are in local currency (€ Euros) and are bookable and payable locally in resort.
Sainte Foy Tourist Office
Sainte Foy France, 73640
Tel: 00 33 479 06 95 22
www.saintefoy.net
Sainte Foy Resort News & Events 2019/20
Check out the latest news from Sainte-Foy on the Tourist Office website - saintefoy-tarentaise.com
Adding seats on the TS Grand Plan
More snow cannons (55% of runs are covered - the national average is 35%)
Natur' Squirrel trail (snowshoe)
Sainte Foy Resort News & Events 2020/21
Replacement of the Arpettaz chairlift with a new 6-seater detachable chairlift means that 3000 people p/h can travel this winter!

For your comfort, even more fluidity on the Grand Plan chairlift,  addition of 14 new seats, bringing the speed skiers per hour from 1450 to 2000 skiers per hour. (2020- 2021)
This year Sainte Foy celebrates 30 years since it was first developed as a resort!
Sainte Foy Après-Ski, Bars & Restaurants
There are several bars and restaurants in Sainte Foy. For more lively après ski Val d'Isere, Tignes and Les Arc a just short drive away.
Altitude Restaurants in Sainte Foy
Les Brevettes
At the top of the 1st chairlift (accessible by pedestrians and snowshoes)
Plan Bois, 73 640; +33 (0)6 87 26 10 11
Chez Léon
Tartiflette, gratin and lasagne cooked in a wooden stove - Calm terrace facing Mont Pourri - Reservation advised
Plan Bois, 73 640; +33 (0)4 79 06 90 83
Les Marquises
Sardinian inspiration - Terraces facing Mont Pourri and the Turia glacier - Live music
Marquises, 73 640; +33 (0)7 63 79 08 08
Restaurants & Bars in Sainte Foy
Le W
New for Winter 2017-18 - Modern - Traditional burgers with local ingredients
+33 (0)7 68 61 48 95
The Saint Germain wine bar
Tapas boards - Savoy wines
+33 (0)6 60 33 41 18
L'à Coeur
Cosmopolitan - French and South-African owners, Anglo-Japanese chef - Wine bar
Bon Conseil, 73 640; +33 (0)4 79 07 94 29
Chalet La Maison à Colonnes
Panoramic terrace - 17th-century Savoyard chalet with typical Santaferian architecture
Bon Conseil Dessous, 73 640; +33 (0)4 79 06 94 80
La Bergerie
Exquisite attention to detail in the cuisine offered by chef Guillaume Crosnier
+33 (0)4 79 06 90 16
L'Iceberg
Après-ski bar - Close to the ski school
+33 (0)4 79 04 14 86
Bar L'Après
Live concerts - Match screening - WiFi
Les Charmettes, 73 640; +33 (0)4 79 06 25 74
Le Monal
An institution for 130 years
Chef-lieu, 73 640; +33 (0)4 79 06 90 07
La Grange
Cosy ambience - Old stones and wood-fires
Chef-lieu, 73 640; +33 (0)4 79 06 97 30
Sainte Foy Amenities
Sainte Foy is served by a range of amenities including general food store, newsagents in St Foy Tarentaise
A cash machine is at your service on the parking Maisonnettes (P3).
POST OFFICE (main village): Monday to Friday 9 am to 12 pm. Closed on Saturdays. Post box at the ski resort near the cash point on the parking area, collection every day at noon.
Une marmotte au soleil: 
Newsagent, gifts, souvenirs, local produce, bread. Cheeses and charcuterie cut to order, raclette, fondue and delicatessen corner. Open 7/7 from 8.30am to 7pm. Next door to ESF. Luncheon vouchers accepted.
Ski TT shop
Tarentaise Tours are opening a specialised mountain equipment store. Customers can take advantage of the guides' expertise and guidance in addition to the major brands tested and approved by professionals.
TT Shop - Route de Val d'Isère - Sainte Foy Village - Tel. +33 (0)4 57 37 65 65
Getting to Sainte Foy, France
By road
Distance from Calais to Sainte Foy 610 miles (9hrs 15). Motorway A26 Reims, Dijon A6 Maçon A43/A430 Albertville. Main road N90 Bourg Saint Maurice and follow signs for Sainte Foy.
Circulating on snow: before leaving, remember to take snow chains appropriate to your vehicle. In case you don't buy them in the UK, there are chains on sale: Superette Utile Sainte Foy station, Sainte Foy village or Bourg Saint Maurice.
Service Stations: Val d'Isère (12 km), Bourg Saint Maurice (15km), la Rosière (16km).
All mountains passes (Col du Petit Saint Bernard, Col de l'Iseran, Col de la Madeleine, Cormet de Roselend, …) are closed during winter.
By Rail
Bourg St Maurice is the nearest train station. You can get a direct ski train from London to Bourg St Maurice on Friday night or Saturday.
Bourg St Maurice train station private transfer - from £30pp based on 4 sharing. Pre-bookable via Peak Retreats.
By bus: By bus from London
Airports
Chambery Airport is 111km from Sainte Foy (1 ½ hours)
www.chambery-airport.com
Shuttle bus from the airport – www.altibus.com
Grenoble Airport is 178km from Sainte Foy (1 ½ hours)
www.grenoble-airport.com
Shuttle bus from the airport – www.agbus.fr  
Geneva to Sainte Foy is 190km (2 hours)
www.gva.ch/en
Shuttle bus from the airport – www.alpski.com  
Lyon Airport is 188km from Sainte Foy (2 ½ hours)
www.lyonairport.com
Shuttle bus from the airport – www.satobus.com
Public Shuttle Bus Transfers
Lyon Airport - Ste Foy (www.lys-altibus.com). 
Geneva Airport - Ste Foy via Bourg St Maurice (www.coach-station.com). 
Chambery Airport - Ste Foy via Moutiers (www.lys-altibus.com). 
Sainte Foy Airport Transfer
For pre-bookable private transfer rates with Peak Retreats, view here. 
---
Sainte Foy Opening Dates

From 11/12/21 - 18/04/22