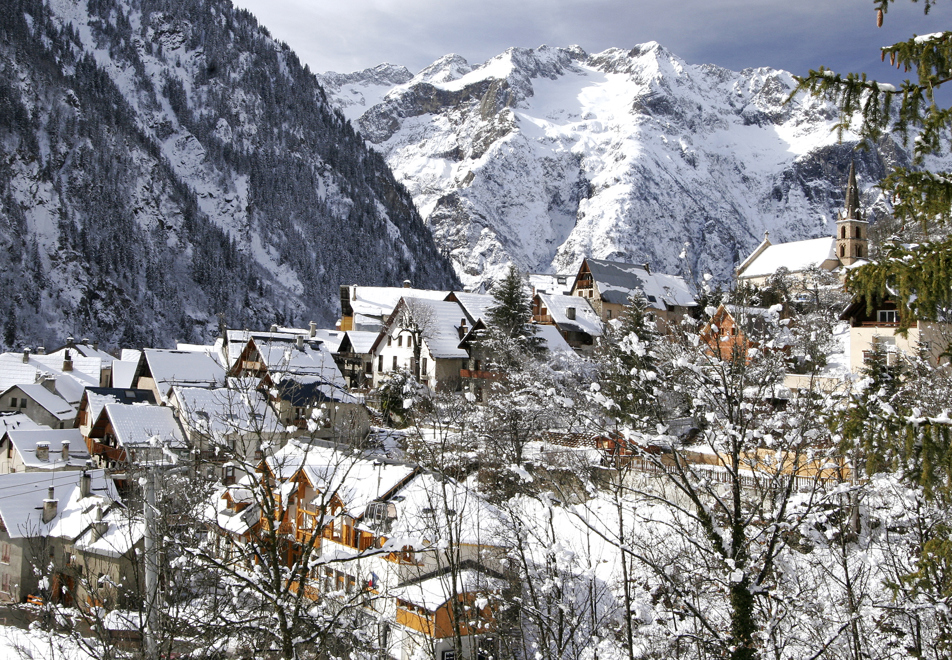 Thinking of skiing in Venosc? Venosc is a charming authentic mountain village in the Oisans region with access to high altitude skiing in snowsure Les Deux Alpes.
Why Venosc Ski Resort?
Access to high excellent altitude skiing at Les Deux Alpes
Above average amounts of sunshine
A charming, authentic little mountain village away from the hustle and bustle of the ski area
Linked to Les Deux Alpes by gondola
Venosc (Les Deux Alpes) Resort Information
Venosc is a small, mountain village in the Oisans region on the edge of the Ecrins National Park. Narrow cobblestone streets, old farmhouses, chapels and fountains are all part of the village's charm.
Venosc village hosts art and craft shops featuring wood painting, pottery, ceramics, precious wood sculptures, silk painting, watercolours, leatherwear and jewellery.
Les Deux Alpes and its ski area can be reached by a six-person cable car which is usually open until 7pm. This gives you access to high altitude skiing with an excellent snow record and one of the largest glaciers in the Alps which is Europe's largest summer skiing area.
If you want to venture to Les Deux Alpes in the evening or take part in activities during the day, the bustling resort has a varied après ski scene which caters for all ages, with various inviting bars and clubs. In addition to a heated outdoor swimming pool, outdoor ice rink and sports centre, Les Deux Alpes, just a 20-minute drive away, offers a tanking centre with flotarium, sauna and Turkish baths to help relax any aching limbs at the end of a hard day's activity.
Peak Retreats offers self catered chalets in Vensoc. Located in a pretty, quiet area of the resort and each with its own private heated pool and sauna, Chalet Planet I & II offer an ideal base for a Venosc ski holiday.
LES DEUX ALPES SKI AREA
As one of the very few internationally renowned resorts in our programme, Les 2 Alpes was chosen for its high-altitude ski area - one of the highest in the world. It boasts an excellent snow record, well above average sunshine conditions and an amazing 223km of snowsure ski slopes.
The ski area is well suited to all standards of skiers/boarders and most runs are above treeline. The pistes are separated into three areas: Pied-Moutet, Mont de Lans village and the high glacier summits (3,600m). There are two sides to Les 2 Alpes - the main side with the glacier and majority of pistes and the Vallée Blanche side opposite with blue and red runs. The main slopes are all above the tree-line.
Skiing is available to all, both beginners and experts. One of the specialities of Les 2 Alpes is that 'the higher the altitude, the easier the pistes'. Some 60% of its runs are for beginners and intermediates and 40% for experienced and expert skiers.
There are 417 hectares of signposted pistes (of which 80 hectares are on the glacier) and 1,400 hectares of off-piste including the famous link to La Grave.
Above 2200m most of the runs are north-facing and the top glacier section guarantees good snow.
LES DEUX ALPES SKIING
LES DEUX ALPES BEGINNERS
Beginners will enjoy the magnificent views from the top of the glacier (high altitude) with wide easy runs, or the nursery slopes at resort level beside the village. There are five lifts free for all on the lower slopes of Les Deux Alpes. Beginners with three or four day's experience (depending on how quickly they pick up the essentials) could potentially ski from the top of the glacier down to resort level on green runs and easy blues. That's 8kms worth of skiing! Beginners can buy smaller area passes by the day that cover certain lifts. See our lift pass price section for what to pay in resort.
LES DEUX ALPES INTERMEDIATES
Intermediates are well catered for with a good array of blue and red runs. The top Glacier du Mont de Lans area has some easy slopes with nice views. You can go from the top down to Mont de Lans (a descent of 2270m vertical, one of the world's biggest on-piste vertical drops).
LES DEUX ALPES EXPERTS
There are plenty of black runs and off-piste to keep the expert skier busy. For the more adventurous, an outing to the slopes of La Grave is recommended (guide necessary).
La Grave is reached by snowcat travelling from the top of the ski area to the 3568m Dome de la Lauze - or a short walk.
LES DEUX ALPES OFF-PISTE
The extensive off-piste terrain is huge (with five different areas) and challenging. There is a good selection of serious routes with impressive vertical drops.
LES DEUX ALPES SNOWBOARDERS
Les 2 Alpes also ranks amongst France's best resorts for snowboarding. At mid-mountain, there are two boarder-cross courses and a big terrain-park (said by many to be the best in Europe) including a half-pipe. Higher up there are several innovative terrain features such as ledges, gullies, and canyons, all of competition standard.
LES DEUX ALPES RESORT RUNS
Currently there is a long very narrow green run (sometimes icy), black runs (again sometimes icy) and (new for last winter:13/14) a red run was built down the side of the newly built Diable chairlift and under it, continuing towards the central green slopes which take you back down to the resort. So beginners who might be slightly lacking in confidence and even cautious intermediates might be better off riding the gondola back down.
Did you know?
The glacier, situated between 3,200m and 3,600m, is a great asset. To preserve it and counterbalance the wind at an altitude of more 3,000m, they have been using a specific technique in recent years: snow traps. The lift company stockpiles snow with wooden barriers or half-tubes dug into the glacier. Snow groomers then collect this snow daily to distribute it on all the glacier slopes. The work carried out during the winter allows us to guarantee high altitude skiing and ensure perfect conditions in the summer season.
AT THE SUMMIT
At an altitude of 3,400m, discover an extraordinary 360° panorama across the French and Italian Alps, from Mont Blanc to Mont Ventoux - not forgetting La Meije and the Les Ecrins mountains. Thanks to their unique geographical location, the summit slopes offer stunning and exceptional views.
UNUSUAL THINGS TO DO
The White Cruise: a 45 minute circuit in a snowcat at 3,600M to discover the mountains in all their splendour.
Visit the Ice cave, an extraordinary site created in 1993. After 17 years, it is now at an altitude of 3,200m. There's been a big change of place and decor, with 20 sculptors and six months of hard manual work. The sculptures are a surprise - you'll have to come and discover them for yourself!
There are helicopter trips to neighbouring Alpe-d'Huez for around 65 euros return and a shuttle-bus also makes the link on Wednesdays and Thursdays (booking essential).
Les 2 Alpes has night skiing using the Téléski des Lutins ski lift – open from Dec-April.
Venosc Ski Hire
Pre-book your Venosc/Les Deux Alpes ski hire with Peak Retreats.
To download the ski extras form, see 'Helpful links' further down the page.
Please note, these Pound Sterling prices are for indication only. They will fluctuate based on Euro/£ exchange rate. Please call us for the latest prices.
Special offers: *7 days for the price of 6. Free Skis/snowboard & boots (Blue/Red) for party leaders of groups of 10 or more all taking equipment. 1 Free helmet per child aged 6 and under for every adult booking skis or snowboards & boots (must be under same booking reference and requested on form above). Other duration prices on request - Cross Country ski prices on request.
Find out more about Peak Retreats ski hire
---
Venosc Ski Passes

Pre-book your Les Deux Alpes lift passes with Peak Retreats. Find out more about Peak Retreats ski passes
To download the ski extras form, see 'Helpful links' further down the page.
Please note, these Pound Sterling prices are for indication only. They will fluctuate based on Euro/£ exchange rate. Please call us for the latest prices.
Venosc Ski School
Pre-book your Les Deux Alpes ESF ski school with Peak Retreats. Find out more about Peak Retreats ski school
Ski school for children is available to book from 3 years to 12 years in Les 2 Alpes, with Peak Retreats. 
To book your ski school, download the ski extras form from the 'Helpful links' further down the page.
Please note that lesson times are subject to change right until the last minute - you will be advised. Outside French school holidays the ski school reserves the right to cancel group lessons should numbers be insufficient.  For peak periods - Christmas, New Year, February half-term and Easter - we strongly recommend that you book as early as possible and in any case at least 6 weeks prior to the required dates. Morning lessons tend to get booked up first and therefore we may only be able to offer afternoon classes within 6 weeks of departure. In some resorts English speaking instructors may not always be available, particularly at peak times.
We cannot always guarantee that prices will be cheaper than in resort. When ski packs prices are calculated, the currency is bought at the exchange rates that apply at the time. You can be assured that once you have booked your extras, if the pound depreciates, you will not be charged more for your ski packs, enabling you to budget for your holiday in advance.
Venosc Resort Activities
Snowshoeing, donkey rides, ski joering, sleigh rides, paragliding,
The donkey farm is open throughout the season non-stop, everyday.
Venosc Hikes
Venosc is situated at the edge of the National Park, a paradise for hikers.
Hikes to do by foot or with snowshoes....
Small hikes - Less than 1 hours (go/ back)
Muzelle Waterfall 30 mn by foot
Discovery VENOSC hamlets … 40 mn by foot
The CRISTALLIERES... 30 mn by foot
Hikes from 1 to 2 hours
LAIRETTE ( 1000 m ) 1h30 to go
To go to DEUX ALPES (discover path) 1h30 to go up
To go to the DANCHERE 1h15 to go/1h to come back
More than 2 hours
To go to the LAKE LAUVITEL 3 hours by foot
To go to the lake and Muzelle's hut - 4 hours by foot
Most of the activities take place in Les Deux Alpes where there are hundreds to choose from. See more resort info on Les Deux Alpes page.
Please note: All the above information is for information only. For the most up-to-date information please visit the resort tourist office website. All prices for activities are in local currency (€ Euros) and are bookable and payable locally in resort.
Venosc Tourist Office
38520 Venosc 
Tél. : +33 (0) 476 80 06 82 - info@venosc.com 
www.venosc.com
Venosc Ski Activities
Mountain restaurants in Les Deux Alpes 
9 mountain restaurants open 7 days a week.
There are mountain restaurants at all the major lift junctions.
Les Deux Alpes Snowpark
Probably the best in Europe and features: Three tables, rails, hips and boxes, a big air jump, half-pipe, kids only mini park, beginner zone and rail zone. Plus boardercross and BBQ area. In the winter it is located above Toura.
Les Deux Alpes Big Airbag
Take off on skiing and snowboarding jumps and land in complete safety on a 15 metre long by 11 metre wide
inflatable mattress. Instruction guaranteed by qualified Freestyle specialist instructors.
Open from Sunday-Friday from 2.30pm-5.30/6pm. Saturdays on request. Bottom of piste near to piste des Lutins.
Les Deux Alpes Cross-country
Les Deux Alpes: 2 marked tracks through the woods
Linked to Les Deux Alpes by cable car, the Valley of Veneon (Venosc) is an untouched natural area with 3 marked tracks from 3km to 24km.  
Les Deux Alpes Full Moon Evenings
Ski on the glacier until the sun goes down, enjoy a mountainside meal and dance, then return to the resort by moonlight. 
Les Deux Alpes - Alpe d'Huez Helicopter Trip
SAF HÉLICO .... A 04
Deux Alpes Loisirs
Immeuble Le Meijotel
Tél: +33 (0)4 76 79 75 01
saf.huez@saf-helico.com
Skiing links between Les 2 Alpes / Alpe d'Huez. Panoramic views.
Les Deux Alpes Speedriding
AIR AILES PARAPENTE A 03
ESF - Maison des 2 Alpes
BP 77
Tél: +33 (0)6 07 72 26 60
parapente.2alpes@free.fr
Les Deux Alpes Snowshoeing
Bureau des Guides (Maison des 2 Alpes - ESF - Place des 2 Alpes) 0033 608 76 73 80
The guides office is open from Monday to Friday from 3.30pm to 6.30pm and on Sundays from 10.30am to 12.30pm.
SNOWSHOEING HIKE (Snowshoes, poles and minibus transport provided)
Daily hikes for all ability levels to explore the Oisans region, from its peaks to its wildest valleys, out-of-resort itineraries.
Les Deux Alpes Off-Piste & Free-Ride
Bureau des Guides (Maison des 2 Alpes - ESF - Place des 2 Alpes) 0033 608 76 73 80
Off-piste Skiing and Snowboarding, Free Ride (safety equipment provided) Vallons de la Meije, Les 2 Alpes, Alpe d'Huez or Serre Chevalier, Oisans' legendary corridors.
Heliskiing in Italy
From family excursions to more demanding itineraries, from 90 €/ per person, or group bookings from 340€ for the day, safety equipment provided. Option of courses over multiple days.
Les Deux Alpes Ski Touring
Bureau des Guides (Maison des 2 Alpes - ESF - Place des 2 Alpes) 0033 608 76 73 80
Office open Mon-Fri from 15.30-18.30 as well as Sun morning from 10.30-12.30.
From beginner's sessions to more difficult itineraries, the wide open spaces of the mountains are all yours; From 90€/per person and 340€ for a whole day group booking.
Les Deux Alpes Resort News and Events 2018/19
Future resort news:
Alpe d'Huez, over the next few years, is investing in upgrading the ski area. The main flagship project to be undertaken is below:
The flagship project will be to build a gondola link between 

Alpe d'Huez

 

and

 

Les 2 Alpes

, which will create one of the largest linked ski areas in the world (475km). It will be larger, currently, than Tignes-Val d'Isere and Paradiski. Work should be starting in 2019, for a completion date of 2012, and will cost 60 million Euros. The cable car that will cross the valley is planned to take 18 minutes. Starting at 2200m in the area Signal de l'Homme, the cable car will cross the valley passing over Freney-d'Oisans to Mont-de-Lans in Les 2 Alpes
Events:
15th to 21st December 2018: RISE FESTIVAL

 

- 5th edition – British music and skiing event throughout the resort and on the slopes!
22nd to 28th December 2018: CHRISTMAS FESTIVITIES & MARKET
5th to 12th January 2019: PALATIN ALPS

 

- English event – Musique
Saturday 19th January 2019: LES 2 ALPES NIGHT SNOW TRAIL  - 7th edition – TRAIL running event in the snow, at night! Instead of running down snow-covered slopes, climb them by the light of the moon…

Sunday 20th January: LES 2 ALPES MAD SNOW RACE

 

- 3rd edition, walking or jogging obstacle course in the snow!
9th to 16th March: SNOWZONE, German event – a mix of snowsports and live DJs
9th to 16th March: WINTERSOUND

 

- Polish event
16th March: DEFI VERTICAL / SKI TOURING

 

- 3rd edition, a challenge adapted to suit all abilities, from beginners to experts. The mass start is at an altitude of 1,600 metres, with a finish line at 3,600 metres for real die-hards!
16th to 23rd March: UNICHAMP

 

- German sports event – inter-university ski competitions
23rd to 30th March: SNOWFEST

 

- Romanian event – a mix of snowsports and live DJs

30th March: RED BULL TO SCHUSS

6th to 13th April: BUSC

 

- English event

Saturday 14th April: MICRO KIDS / SNOWBOARDING COMPETITION

 

-4th edition, the only kids snowboarding competition of its kind in France

15th to 19th April: JUNIOR FOLIZ

-

 

14th edition, a week of madness, with skiing in the morning and family entertainment every afternoon.

20th & 21st April: FASTER THAN YOU MTB event
Further details can be found at: www.les2alpes.com
Venosc Après-ski, Bars & Restaurants
7 restaurants/bars and 1 pub with music. Over 40 bars and 3 nightclubs in Les Deux Alpes.
Restaurants in Venosc-village
Le ptit resto de Lisa
Snack bar 

Restaurant bio douces gourmandises
Candy, cakes etc
Restaurant la bombance
Located in the heart of the authentic village of Venosc, a splendid building houses a restaurant where you can enjoy nature: mountains specialities, traditional cuisine and PIZZA.

Restaurant le Château de la Muzelle
Restaurant tucked away in a castle dating from the seventeenth century along the Vénéon open from May.

Restaurant le Dolilou
Traditional restaurant in an old village house.
Venosc Amenities
Venosc is served by a range of amenities including:
Craft shops in Venosc-village
Shop '' Au terroir''
Regional quality products.
Biological shop Douces Gourmandises
Local produce
Shop '' Il était une soie''
At the heart of an old renovated barn, we offer our crafts: fragrances, fabric creations, scarves, lamps, jewelry ...
Shop J'Veux du cuir
Crafts shop, 100% leather.
04 76 79 28 71
Shop '' La miellerie''
Marie Anne proposes you in her shop, honeys from her direct production

Shop '' Les 3 Lutins''
Miniature showcase creation

Shop '' Spirale''
Create jewellery, driftwood lamps, bags, scarves and hats ....
Getting to Venosc, France
By Road: 
Driving distance from Calais to Venosc 587 miles (approx 8hrs25)
Motorway to Grenoble from Calais (exit N°8 Briançon, Vizille, stations de l'Oisans), then RN91 direction Briançon via the Bourg d'Oisans.
By Rail: 
Grenoble station 85km – Shuttle bus +33 476 80 51 22 www.vfd.fr
We can also arrange car hire from Grenoble station
Airports:
Grenoble Airport is 104km from Venosc (1 ½ hours)
www.grenoble-airport.com - Shuttle bus Monnet
Chambery Airport is 130km from Venosc (1 ¾ hours)
www.chambery-airport.com
Lyon Saint-Exupery is 152km from Venosc (1 ¾ hours)
www.lyonaeroports.com - Shuttle bus Satobus
Geneva Airport is 211km from Venosc (2 ½ hours)
www.gva.ch
Airport Transfers to Venosc
For pre-bookable private transfer rates with Peak Retreats, view here. 
---
Les Deux Alpes Opening

Dates
Les 2 Alpes ski area is open: 27/11/21 - 24/04/22