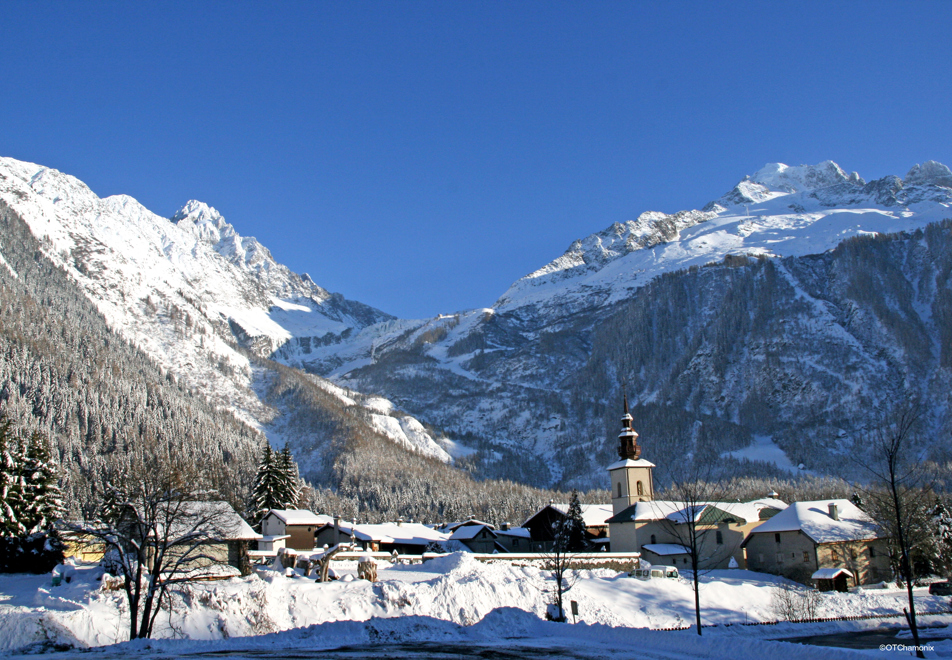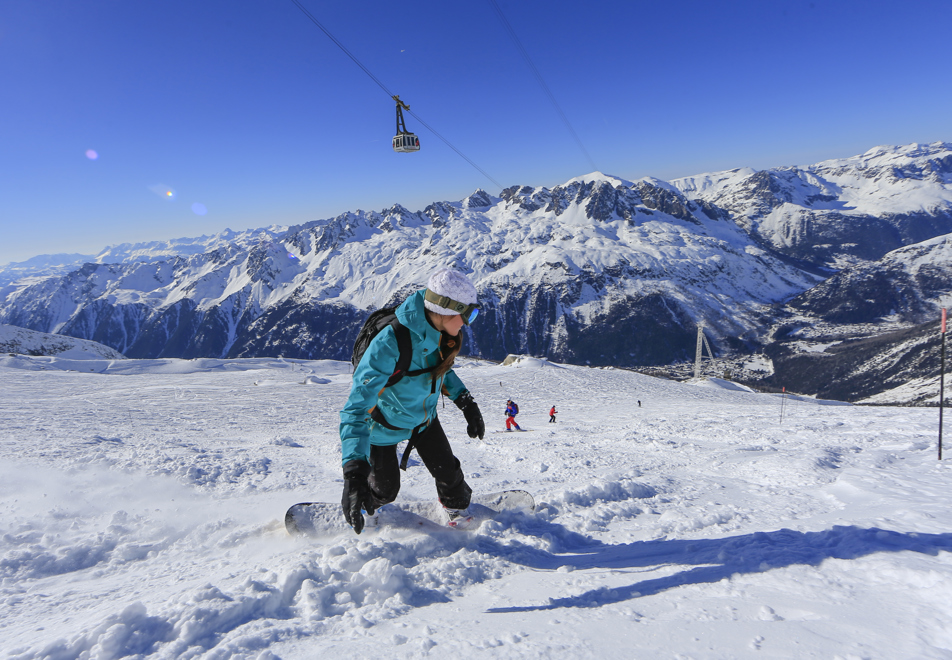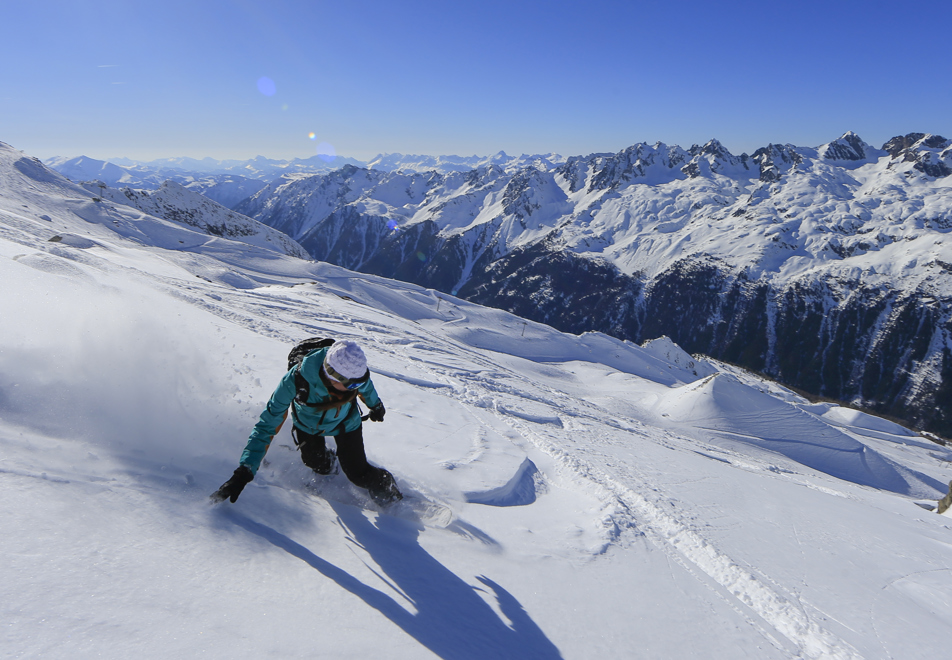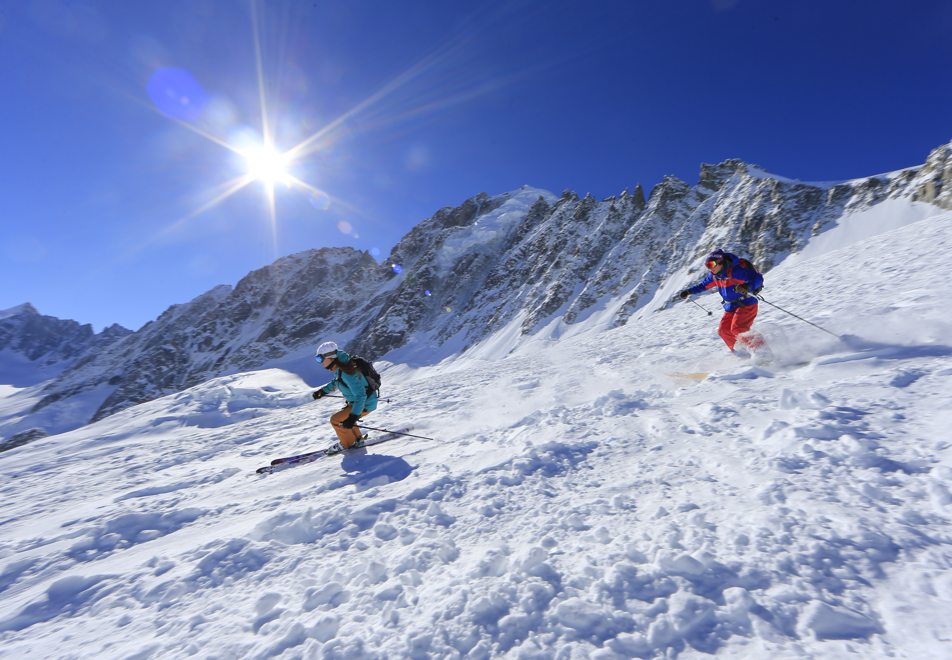 Thinking of skiing in Argentiere? As well as having one of the most exciting and challenging ski areas in the Alps, Argentiere also has a delightful village with stunning views across Chamonix Valley.
Why Argentière Ski Resort?
Challenging skiing
Spectacular scenery
Traditional charming old villages
Argentiere Resort Information
The Chamonix Valley stretches from Servoz to Barberine on the Swiss border. The main towns within the Chamonix Valley include Les Houches, Les Bossons, Chamonix, Les Praz, Argentiere, Montroc / Le Tour and Vallorcine.
The main ski lift areas (working up the Valley) are:
In Les Houches - Les Houches,
In Chamonix - Le Brevent and the Aiguille du Midi (off piste only, the Vallee Blanche)
In Les Praz - La Flégère
In Argentiere - Les Grands Montets
In Le Tour/Vallorcine - Le Tour/Balme
Situated between the altitudes of 1235m and 3300 m, the quality of the snow coverage is remarkable up until May.
Located beneath Les Grands Montets and surrounded by the most magnificent peaks and glaciers in the Alps, the picturesque mountain feel of Argentiere village is self-evident – it's long been at the forefront of Alpine sports, welcoming tourists for 200 years and skiers since the early years of the century. The old village in a delightful setting towards the head of the Chamonix valley towards the village of Le Tour.
Built beside the Torrent (River) de l'Arve, the village of Argentière retains a large number of traditional wooden houses, as well as ancient farmhouses where the farmers still subsist on mountain agriculture. Argentière provides an interesting base to explore the surrounding ski areas of the Chamonix Valley. There is a newer side of Argentière too with all the modern amenities and services, a variety of cosy bars and restaurants and a disco. A shuttle bus runs from Argentière into the town of Chamonix every 15 minutes.
ARGENTIERE SKI AREA
Argentière (Chamonix) offers some of the most challenging skiing in the Alps, although there are some beginner slopes too. Les Grand Montets is situated above Argentière and is the largest of the pisted skiing areas in the Chamonix valley. The area isn't that huge but the sheer number of combinations of possible descents both on and off piste makes this a great place for expert and off-piste skiers.
From the village of Argentière, the Lognan cable car which reaches 1972m and Grands Montets cable car (which goes all the way to 3300m), will transport you to the foot of the Aiguille Verte. From here there's an exceptional viewpoint across to the Argentière glacier, Les Drus, the Aiguilles Rouges and Mont Blanc.
Argentière pistes benefit from wide open spaces. The pistes are spread over three mountainsides (the Argentière glacier, Lognan and the Pendant) and offer excellent on and off-piste possibilities. Ski adjacent to the glacier and take advantage of excellent snow conditions right up until early May. 
The Grands Montets area is made up of various high-altitude and north-facing bowls. Access is mainly by the Lognan cable car which departs from the main car park at Argentière or by chairlift. The Lognan area is where you need to be for access to the highest runs. The Marmottons area is accessed by taking either the Tabé or Plan Roujon chairs. This is the centre of the Grand Montets ski area and from here beginners can perfect those wide carving turns. 
Additional ski fact info,
main ski info in resort facts box at top of page

(21/22):

You can choose to use the Mont Blanc Unlimited pass which covers a huge area across Chamonix Valley, Les Houches, Megève-Evasion Mont-Blanc, Courmayeur & Verbier. The ski areas and sites are not lift-linked, except for Brévent - Flégère areas in Chamonix, so you need to take the valley shuttle buses or take a car if you have one. It also includes 3 excursion sites: Aiguille du Midi, Montenvers - Mer de Glace & Tramway du Mont-Blanc.

You also have the choice of Cham Le Pass as well which is a smaller area of 120km and includes Chamonix Brévent - Flégère, Argentiere Grand Montets and Vallorcine/Le Tour Balme.

81 slopes:

Green slopes: 14
Blue slopes: 31
Red slopes: 23
Black slopes: 13

For information, here are the details for Argentiere area:

Grands Montets local area

7 lifts (2 gondola, 3 chairlift, 2 draglift), 19 slopes:

Green slopes: 2
Blue slopes: 7
Red slopes: 14
Black slopes: 6
ARGENTIERE SKIING
ARGENTIERE BEGINNERS
There are actually four particular ski areas for children, beginners and skiers who like an easy ride in the Chamonix Valley. In Argentiere, 'Les Chosalets' is situated near the Grands Montets with 2 drag lifts, snack bar and is excellent for complete beginners. At 1252m on the valley floor, it can be found at the lower end of Argentière just up from the turning for the Grands Montets car park. It's surrounded by trees and is north-facing so normally has good snow on these two slopes. One is very short and flat with its own draglift for first timers. The adjacent slope is much longer and wider and steeper in some parts.
La Vormaine in nearby Le Tour has 4 drag lifts, off-piste green slopes, 1 blue slope ('the Morraine', 1km long), snack bar and parking. Located at the foot of Charamillon on the Balme ski area, these sunny slopes are ideal for apprentice skiers and snowboarders, and for children of all ages (ski kindergarten run by the ski school) and secure area for little ones.
Also within Chamonix Valley is:
- Le Savoy, Chamonix. Situated in the heart of Chamonix, at the foot of the Brevent with 2 ski lifts and travelator. Snack bar.
- Les Planards, Chamonix town. Suitable for children/beginners/intermediates. 5 slopes (red, blue, green), only 5 mins from Chamonix with snow cannons, snack bar, restaurant and parking.
ARGENTIERE EXPERT SKIERS
Expert skiers throng to what is undoubtedly a Mecca for off-piste skiing and boarding. The world famous couloirs and steep gullies of the Grand Montets provide superb challenges. The vertical drop of 2000 metres from the summit to Argentière is not for the faint-hearted. Whilst the run down the glacier is not too difficult the Rectiligne gully is something else, with the Vallée Blanche stretching from the Aiguille du Midi at 3790m down to Chamonix 24kms later.
Then there are the Point de Vue and Pylones, steep slopes where the snowcat groomers never venture. The Grand Montets has at least 30 off-piste runs from the top like the formidable Pas de Chèvre with its 1000m drop to the Mer de Glace.
For freestyle enthusiasts, a snowpark and a boardercross are open in the Lognan area. There is also a secure beginner's freestyle area with modules and slides that is perfect trying out the moves and discovering the joys of freestyle for the first time in La Vormaine.
ARGENTIERE OFF-PISTE
La Pendant is a powder bowl par excellence and is both a good place to learn about off-piste skiing and a favourite with the regulars. Les Grands Montets is always the first ski area in the valley to open and the last to close. The lifts in the Grands Montets give access to miles of exceptional steep and deep off-piste powder and glacial terrain, but it can get tracked out on a powder day.
By far the best and most highly recommended way to explore the limitless off-piste is with one of the many local experienced high-mountain guides, who run group sessions or private days. Off-piste skiing can be dangerous if you don't have the right equipment or take a guide with you.
ARGENTIERE RESORT RUNS
You can ski back to the resort on the Pierre à Ric piste.
Argentiere Ski Hire
Pre-book your Argentiere ski hire with Peak Retreats.
To download the ski extras form, see 'Helpful links' further down the page.
Please note, these Pound Sterling prices are for indication only. They will fluctuate based on Euro/£ exchange rate. Please call us for the latest prices.
Special offers: *7 days for the price of 6.  Free Skis/snowboard & boots (Blue/Red) for party leaders of groups of 10 or more all taking equipment. 1 Free helmet per child aged 6 and under for every adult booking skis or snowboards & boots (must be under same booking reference and requested on form above). Other duration prices on request - Cross Country ski prices on request.
Find out more about Peak Retreats ski hire
---
Argentiere Ski Passes
Pre-book your Argentiere lift passes with Peak Retreats. Find out more about Peak Retreats ski passes
To download the ski extras form, see 'Helpful links' further down the page.
Please note, these Pound Sterling prices are for indication only. They will fluctuate based on Euro/£ exchange rate. Please call us for the latest prices.
Other lift pass on offer (to buy locally in resort in Euros):
Cham Le Pass ski pass – ½ day and daily rates 2016/17:
½ day - €38.30 children, €45 adults
Day - €42.90 children, €50.50 adults
Mont Blanc Unlimited - ½ day and daily rates 2016/17:
Day - €52.70 children, €62 adults
Argentiere Ski School
Pre-book your Argentiere ski school with Peak Retreats. Find out more about Peak Retreats ski school
Ski school for children is available to book from 3 years to 16 years in Argentiere, with Peak Retreats.  Ski tuition + lunch + garderie is available to book for 4-16 year olds. Club Piou Piou is available for 3-4 year olds. Children can learn to snowboard from 8 years+.
For ski school times and prices, please download the ski extras form from the 'Helpful links' further down the page. Please note these are just guiding prices. Please call us for the latest prices.
Please note that lesson times are subject to change right until the last minute - you will be advised. Outside French school holidays, the ski school reserves the right to cancel group lessons should numbers be insufficient.  For peak periods - Christmas, New Year, February half-term and Easter - we strongly recommend that you book as early as possible and in any case at least 6 weeks prior to the required dates. Morning lessons tend to get booked up first and therefore we may only be able to offer afternoon classes within 6 weeks of departure. In some resorts, English speaking instructors may not always be available, particularly at peak times.
We cannot always guarantee that prices will be cheaper than in the resort. When ski packs prices are calculated, the currency is bought at the exchange rates that apply at the time. You can be assured that once you have booked your extras, if the pound depreciates, you will not be charged more for your ski packs, enabling you to budget for your holiday in advance.
Argentiere Individual Tuitions (18/19 prices, NOT pre-bookable)
Individual tuitions can only be purchased directly from the ski school. Peak Retreats cannot pre-book these.
From €75 for 1 1/2 hours for 1-2 people.
Please note that prices are only an indication and are subject to change
Ski school Argentiere contact number for private lessons: 
info@esf-argentiere.com - +33 (0)4 50 53 22 57
Argentiere Child Care
CRECHE CHILDCARE WITHOUT SKIING (for childcare with skiing, see below):
Panda Club: 10 months - 12 year olds, telephone +33 (0)4 50 55 86 12 Chamonix Centre, or +33 (0)4 50 54 04 76 Argentiere
Baby equipment rental
You can rent a number of baby products locally in Chamonix. Baby Cham is a Chamonix based company that has a whole host of baby items available for rent.  Pushchairs, high chairs, cots, bedding, warm clothing.....
Prices start from €10 per day for a pushchair or car seat (€50 for the week).
Children's Ski Lessons in Argentiere
Children can ski from 3 years old in Argentiere with ESF. See ski school tab.
CHILDCARE WITH SKIING
ESF Argentiere also arranges kids ski and garderie formulas which Peak Retreats can pre-book.
Argentiere Resort Activities
Step into the Void (Pas dans le vide)
The latest addition to the ongoing improvements being made to the Aiguille du Midi, the Chamonix Skywalk is making steady progress and is due to open to the public in December. The new feature on the Aiguille du Midi, which already attracts millions of visits every year, is set to be a huge sensation at 3,842 metres. The Chamonix Skywalk is a glazed structure perched on the Aiguille du Midi, with a 1000 metre drop below, allowing visitors to truly step into the void. The structure is made entirely of glass to allow for maximum transparency, three glass plates of 12 mm each are binded with a transparent film of the five faces, all held together by mechanical fasteners. The unit is then fixed to a vertical support structure over the void. The bespoke design has taken years of planning, development and testing by French engineers and German laboratories. 
Natural outdoor ice rink in Argentiere
Located adjacent to the church in Argentiere. Open every day during the holidays (closed on Mondays outside holiday period) from 16:30h to 19h00 (according to ice conditions). Free access to people having their own skates.                                     
Please note: All the above information is for information only. For the most up-to-date information please visit the resort tourist office website. All prices for activities are in local currency (€ Euros) and are bookable and payable locally in resort.
Argentiere Tourist Office
Office de Tourisme
24 Route du Village
Tel. +33 (0)4 50 54 02 14 - argentiere.info@chamonix.com 
www.argentiere-mont-blanc.com
Argentiere Ski Activities
There are 3 mountain restaurants in the ski area surrounding Argentiere.
Argentiere Cross-country   
42km of marked tracks
Argentiere Snowpark
At the top of the Tabé chair-lift. A MUST ranked in the top 15 French parks!
The Boardercross (Blue line) comprises 8 woops, 4 elevated turns and 3 Blue tables 
For figure enthusiasts, the Red line has 4 jumps, 1 step-up, 1 butter table and a "bong" table 
The Black line for the more adventurous comprises 3 jumps, 1 butter table and 2 hips 
Not forgetting the 2 Black pipe lines and box for confirmed riders, our 3 Red boxes and XL Mail box for amateur riders and our cushioned box for those new to rails...
Free access at the top of the Tabé chairlift.
Argentiere Resort News and Events 2021/22
Resort news:
Flégère cable car

- the cable car has been replaced by a new Dopelmayer last generation gondola. New panoramic lift with 10 seater cabins, new departure station modern, design and digital! The entrance hall of the station will be totally dedicated to the clientele. The project involves a layout of 300m2 offering a shopping centre, an experiential space (large screen display of images from our various sites), a waiting area (cozy corner with coffee truck).
Events:
International Alpine Skiing Race in Les Houches 7th-9th January 2022

International Alpine Skiing Race - U14 Les Houches Ski Club (France) invites you to the 6th edition of the Junior Kandahar held in the Chamonix Mont Blanc Valley!

FIS Womens Slaloms in Chamonix 24th January 2022 2 FIS Women's slaloms (international) at Les Planards. 
Live Music in Chamonix 19th February A few melodies by trumpeter Ibrahim Maalouf, the most popular instrumentalist on the French music scene.
Magic Humour Made Performance 21st April 2022

Exclusive tailor-made show by Eric Antoine! Comedian, humorist, director, author, producer, illusionist, conjurer, agitator of ideas and spectators...

Live Music in Chamonix 21st May "Enfantillages 4": Singer Aldebert is back with a new musical performance for families.
Mont Blanc Marathon 23rd-26th May 2022 The Mont-Blanc Marathon is a trail running event comprised of 8 different races to suit each participant's expectations and level of practice: the "flagship" 42km race, 23km, 10km, the "Duo under the stars" (duo race at nightfall), Vertical Kilometer, as well as races for children.
Further information can be found on the tourist office website: www.chamonix.com
Après-ski, Bars & Restaurants
Bars, very reasonably priced restaurants, and a nightclub.
Argentiere Restaurants
Les Ecuries de Charamillon  - Mountain restaurant - Chalet snack-bar
Argentière Restaurants - Les Ecuries de Charamillon
Domaine skiable du Tour - Charamillon
Le Tour
74400 Argentière
Tel. +33(0)4 50 54 17 07 or +33(0)6 80 88 17 18 - lesecuries1900@gmail.com
" Les Ecuries de Charamillon" welcome you on slopes, in a new restaurant with an awesome view on the mont blanc range and the Chamonix Valley. Come and enjoy the local dishes.
Le Bistrot du Dahu  - Traditional savoyard dishes
Argentière Restaurants - Le Bistrot du Dahu 
325 rue Charlet Straton 
74400 Argentière
Tel. +33(0)4 50 55 59 96 - ledahu@serac.biz 
Discover our quality traditional cuisine and our specialties in a typical mountain atmosphere. The restaurant is located in the village of Argentière with a beautiful terrace for the pleasant view of the Argentière glacier and the of the Grands Montets area.
Bar restaurant Snack Le Passon  - Fast Food
188 place du tour
74400 Argentière
Tel. +33 (0)4 50 54 33 04
Brasserie les Marmottons  - Brasserie - Traditional savoyard dishes
56 chemin de la Glacière
74400 Argentière
Tel. +33 (0)4 50 54 10 67
Crèmerie Glacier d'Argentiere  - Traditional savoyard dishes
766 Chem de la Glacière
74400 Argentière
Tel. +33 (0)4 50 54 07 52
La Remise  - Gastronomic
1124 rte d'Argentière
74400 Argentière
Tel. +33 (0)4 50 34 06 96
Argentiere Amenities
Argentiere is served by a range of amenities including a variety of shops. And all the après-ski activities and nightlife of Chamonix, only 4km away. 
www.chamonix.com
Getting to Argentiere, France
By Road:
Driving distance from Calais to Argentiere 563miles (7hrs50)
From Calais, take A26 Motorway towards Reims and Troyes, then Dijon, Mâcon then 'Autoroute Blanche' Motorway (A40 Mâcon – Cluses) exit Chamonix. Follow signs to Argentière (4km from Chamonix) on the N506.
By Rail: 
TGV to Saint-Gervais (35km transfer or regional train) 
Airports:
Geneva Airport is 108km from Argentiere (1 ¼ hours)
www.gva.ch 
Chambery Airport is 146km from Argentiere (1 ¾ hours)
www.chambery-airport.com
Turin Airport is 181km from Argentiere (2 hours)
www.aeroportoditorino.it
Lyon Saint-Exupery Airport is 229km from Argentiere (2 ¼ hours)
www.lyonaeroports.com
Grenoble Airport is 236km from Argentiere (2 ¼ hours)
www.grenoble-airport.com
Getting around the Chamonix Valley area
(Argentiere, Le Tour, Chamonix, Les Houches, Vallorcine etc)
The Chamonix Valley has very good shuttle bus links throughout all its resorts so it's easy to hop on the resort shuttle to whatever ski area you desire. Link up to Chamonix town, Les Houches, Vallorcine; buses run from early in the morning to late afternoon and the night bus runs between 10pm-12pm, returning latest 12.30am.
The Mont Blanc Express train also provides access between the Chamonix Valley resorts. 
There are a number of ski lockers underneath the restaurant at top of the Lognan cable car at Les Grands Montets in Argentière.
Argentiere Airport Transfer
For pre-bookable private transfer rates with Peak Retreats, view here. 
---
Argentiere Opening Dates
Argentiere opens from 11/12/21 - April 2022