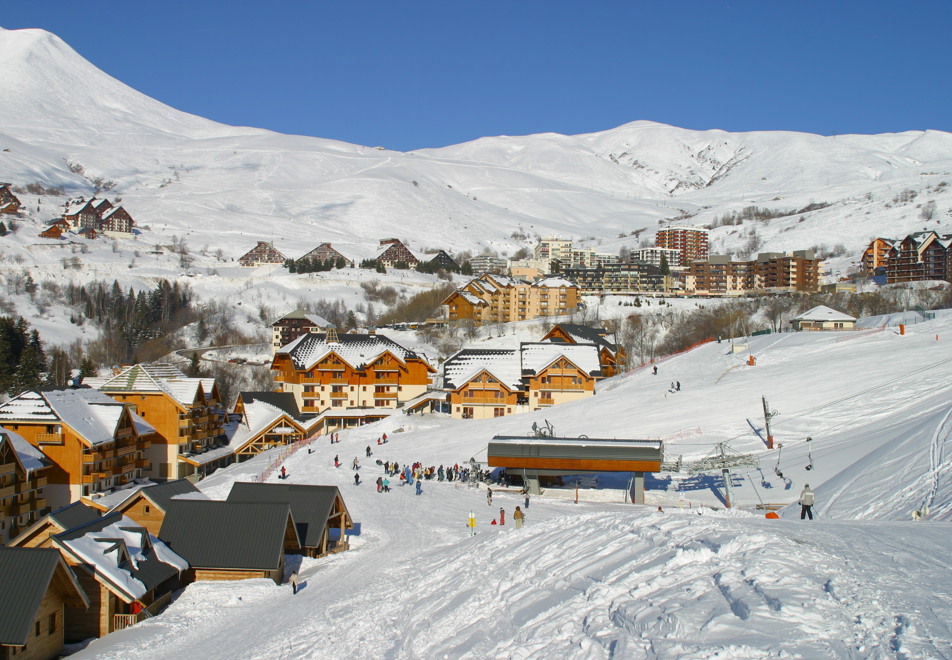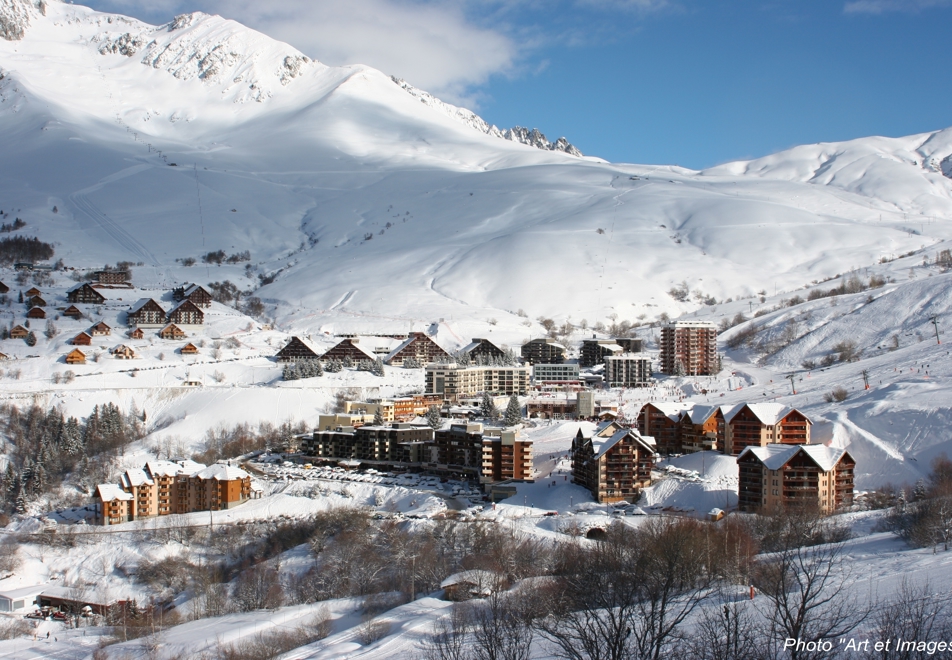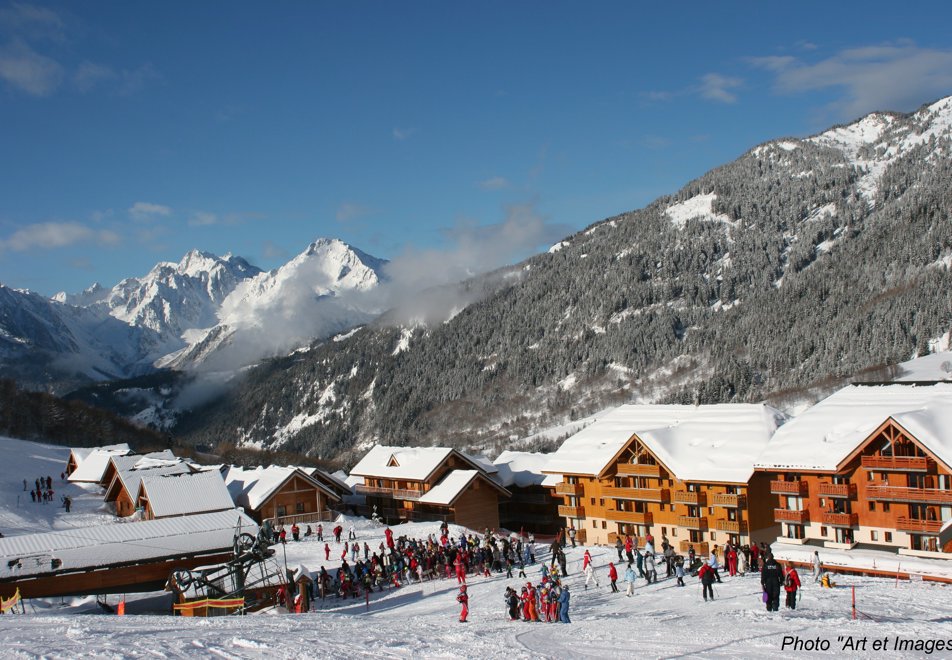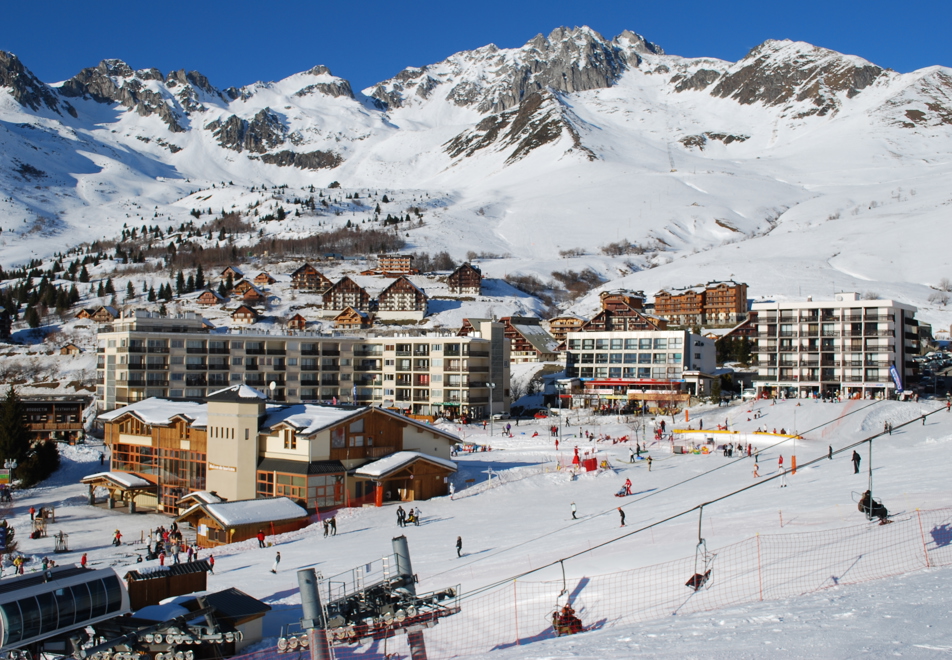 Looking to ski in St Francois Longchamp? Still largely undiscovered by British skiers, Saint Francois has plenty to offer families, offering great skiing and affordable prices.
Why St Francois Longchamp Ski Resort?
Great value
Easy access - the first resort you come to in the Maurienne Valley
'Famille Plus' resort - good children's facilities and great for families
Friendly down-to-earth resort
St Francois Resort Information
Although largely undiscovered by British skiers, but Saint-François has plenty to appeal to families, who will appreciate its reassuring pistes, down-to-earth pricing, and easy road access.
Once you're there, the architecture is mostly purpose-built, with the emphasis more on modern practicality than traditional authenticity. But things are improving and in winter it sits well enough within the bigger picture of a hauntingly beautiful bowl below the 2000m Col de la Madeleine, a famous ascent in the Tour de France.
The resort has surprisingly beautiful surroundings and outstanding scenery, with, among others, a view of Mont Blanc across to the Ecrins Massif.
Accommodation is spread between three relatively compact areas, the lowest of which (St François 1450) is connected by draglift to the gentle lower section of a blue-graded piste into Le Hameau de St François. The latter is a purpose-built apartment development which has a selection of essential services, plus convenient access to the pistes via a six-seater chairlift and a draglift, either of which will connect you via easy return pistes to the main villages of the 4 Vallées, Plan Mollaret and Longchamp 1650.  Here the accommodation is spread around two modern chairlifts, with a pair of draglifts providing access to gentle cruising over to Le Hameau and St François 1450.
For entertainment and services life mostly revolves around the 1650 sector, which in addition to the ESF ski-school, bars and restaurants, also offers a good choice of equipment, food and local produce outlets plus child-care (age-groups from three months to 12 years), cash-point, post office and more. The range of mountain activities includes cross-country skiing, parapenting, snowshoeing and dogsledding, while the Forum des Eaux aqua/fitness centre offers a range of relaxation and wellbeing facilities and treatments.
Access-wise, the A43 Autoroute from Chambéry and Albertville is just 12km away, as is the TGV train station, for high-speed rail services from Paris (with scheduled bus transfers).
Peak Retreats features apartments, hotels and chalets in St Francois Longchamp. This wide selection of accommodation has been hand-picked in order to provide an ideal base for a St Francois Longchamp ski holiday. 
ST FRANCOIS LONGCHAMP SKI AREA
As well as being near neighbours, Saint-François-Longchamp and Valmorel fit together very neatly, and between them manage to offer sufficiently varied terrain to appeal to most levels of skier. The altitudes on offer (1300-2550m) might not be the highest, but the geographical location attracts dependable snowfalls, and some 315 snow-cannon help maintain snow quality on key runs.
The Soleil Rouge chair now accesses the area between the Lune Bleue lift and Marquis, taking you to more than 2300m, with a blue run and a red run.
A Grand Domaine lift-pass allows you to cross into the Valmorel sector (in the Massif de la Tarentaise) and expand your options dramatically. The combined area adds up to a respectable 165km of pistes, spread across 3600 hectares.
Additional ski fact info,
main ski info in resort facts box at top of page

(22/23):

St Francois Longchamp only - 70km, 16 lifts (7 chairlifts, 7 draglifts, 2 carpet), 36 slopes:

Green slopes: 11
Blue slopes: 13
Red slopes: 9
Black slopes: 3
ST FRANCOIS LONGCHAMP SKIING
ST FRANCOIS LONGCHAMP BEGINNERS
Of the two destinations, Saint-François possesses much the higher proportion of gentle pistes, making this the logical choice for young families and first-timers (and it's worth noting, too, that Saint-François is an established HandiSki centre for skiers with a disability). With this in mind, it's been well thought-out; take whatever lift you like and you'll be able to cruise gently right back down on wide, green-graded pistes, or in the case of St François 1450, the gentlest of blue runs. Some of them are quite long, too, which not only allows time to enjoy the dazzling scenery but also helps build both confidence and fitness.
ST FRANCOIS LONGCHAMP INTERMEDIATES
There are also wide, blue-graded cruisers on the St Francois Longchamp side. Valmorel's own terrain is mostly blue-graded (although there are many green and red pistes too).
ST FRANCOIS LONGCHAMP EXPERTS
There are some not-too-demanding red runs plus three black pistes – all of them on the Saint-François side of the mountain. There's worthwhile off-piste to explore and a handful of black-graded pistes includes some highly-rated runs with dependable snow-quality in Valmorel.
And in addition to Le Grand Domaine's downhill terrain, there are seven snowparks, some 50km of groomed routes for cross-country skiers and walkers, plus opportunities to experience the adrenalin surge of speedriding.
St Francois Ski Hire (Pre-bookable)
Pre-book your St Francois Longchamp ski hire with Peak Retreats.
To download the ski extras form, see 'Helpful links' further down the page.
Please note, these Pound Sterling prices are for indication only. They will fluctuate based on Euro/£ exchange rate. Please call us for the latest prices.
Special offers: *7 days for the price of 6. Free Skis/snowboard & boots (Blue/Red) for party leaders of groups of 10 or more all taking equipment. 1 Free helmet per child aged 6 and under for every adult booking skis or snowboards & boots (must be under same booking reference and requested on form above). Other duration prices on request - Cross Country ski prices on request.
Find out more about Peak Retreats ski hire
---
St Francois Ski Passes (Pre-bookable)
Pre-book your St Francois Longchamp lift passes with Peak Retreats. Find out more about Peak Retreats ski passes
To download the ski extras form, see 'Helpful links' further down the page.
Please note, these Pound Sterling prices are for indication only. They will fluctuate based on Euro/£ exchange rate. Please call us for the latest prices.
Other lift passes on offer (to buy locally in resort in Euros):
If you wish to book only half day or a day pass, or perhaps a few days consecutive or non-consecutive (Peak Retreats usually only pre-book 6+ days passes), then these can be bought in resort at the lift pass office, in €'s. This may suit those who only ski a few times during the week or who only want to ski the immediate local area rather than the full area (there are usually various lift passes on offer that cover different parts of the ski area). Each resort usually has a beginner's pass too which covers a small area in which to learn, which may be all you need for a few days as a beginner (some areas are even free). Prices can be found on the tourist office website if you need a guide.
St Francois Ski School
St Francois Longchamp group ski lessons (pre-bookable)
Pre-book your group St Francois Longchamp ESF ski school with Peak Retreats. Find out more about Peak Retreats ski school
Group ski school for children is available to book from 3 years to 12 years in St Francois Longchamp, with Peak Retreats. 3-4 year olds will go into the Piou Piou lessons. Children can learn to snowboard from 8 years+.
For ski school times and prices, please download the ski extras form from the 'Helpful links' further down the page. Please note these are just guiding prices. Please call us for the latest prices.
Please note that lesson times are subject to change right until the last minute - you will be advised. Outside French school holidays the ski school reserves the right to cancel group lessons should numbers be insufficient.  For peak periods - Christmas, New Year, February half-term and Easter - we strongly recommend that you book as early as possible and in any case at least 6 weeks prior to the required dates. Morning lessons tend to get booked up first and therefore we may only be able to offer afternoon classes within 6 weeks of departure. In some resorts English speaking instructors may not always be available, particularly at peak times.
We cannot always guarantee that prices will be cheaper than in resort. When ski packs prices are calculated, the currency is bought at the exchange rates that apply at the time. You can be assured that once you have booked your extras, if the pound depreciates, you will not be charged more for your ski packs, enabling you to budget for your holiday in advance.
St Francois Longchamp private lessons (not pre-bookable, book direct):
Individual tuition can only be purchased directly from the ESF ski school. Peak Retreats cannot pre-book these. Private lessons usually start from 2 years old and have no maximum age.
How to book:
You can book online with ESF St Francois Longchamp or contact them by phone on 0033 4 79 59 10 73. It is advisable to book before you go and in good time as instructors get very busy, especially in Peak times.
Prices vary from resort to resort but are around €40-80 per 1 hour lesson for 1 or 2 people (the more people you have the cheaper it usually is so you can split the cost). Most resorts offer a choice of 1 hour, 1.5 hours or 2 hour lessons. These may be in the morning or afternoon and are usually at select times. If you only fancy just one private lesson, this is usually fine. Otherwise, you can book a course of private lessons over as many days (consecutive or non-consecutive) as you'd like. However, it is more cost-effective to book group lessons for the week (which we pre-book).
---
St Francois Longchamp non-skiing childcare (not pre-bookable, book direct)
St Francois Longchamp has acquired the Famille Plus label for its childcare facilities. Please view here for more information on the Famille Plus label.
La Maison des Enfants
La Maison des Enfants brings together all the children's clubs (Lutins, Marmottes and Cabris) and is located at the Tourist Office at 1650m. Large games room, library room, games, various activities. Spacious 800 m2 space on 2 levels, where children can play and relax.
The Lutins from 3 months to 3 years old, The Marmottes from 4 to 6 years old and the Cabris from 7 to 12 years old. Hours: From Monday to Friday from 9am to 5pm.
Heath books needed.
How to book:
Please contact them direct for prices and to book. It is advisable to book before you go and in good time as spaces get filled quickly, especially in Peak times.
Les Maison des Enfants
0033 4 79 59 15 60
Top winter activities to experience in St Francois Longchamp!
Please note Peak Retreats do not book any activities and most activities are payable
Snowsport activities:
Waouland ski cross
Enjoy a ski cross slope with bumps and turns for big sensations.
Ski touring
For a different way to explore our mountains! Whether you are an expert or a novice, the ESF offers ski touring instruction. - In the morning for experienced skiers - In the evening, an initiation for novices (and children).
Telemark
Telemark, a discipline that combines technique, physical condition and elegance. Come and learn or improve this other way of skiing with a free heel.
Snowshoes
Snowshoes in the morning, afternoon at night. Discover mountains far away from the crowd and out off the beaten tracks.
Snake gliss
The "Snakegliss" is a collective sledging activity under the direction of a ski instructor. At the end of the skiing day, you take the last chairlift for an unforgettable descent by sledge. From 8 yrs. old, booking required at the ESF ski school.
Fat bike
2 wheels driving electrically assisted Fat bike on snow, outings with a qualified instructor. Discover the «Snow scoot» with Ravoir'Sports. Ski touring outings with Pierre Ravoire, a qualified ski instructor. Visit the Ravoir'Sports ultra-modern workshop in the 4 valleys sector of the resort. Go behind the scenes of the ski man job.
Dog sledging
Suits all ages from the youngest to the oldest (pedestrians, skiers...) descent on the road taken by the Tour de France in summer.
Smooky bike school
A fun trip in Fat bike between the visit of the station and routes arranged, sensations and emotions guaranteed. A descent for all levels. Stroll under the stars: let yourself be initiated to the fat bike for a fun and magical moment around a hot drink and a local snack. Unique in France test the BDD this bike « hors standard» for the pleasure of all.
The comet 4 seasons toboggan
If you are looking for a thrill and an original look no further. Young and old alike will enjoy the Comet toboggan run where you can even regulate your descent speed. 900m long with stunning views, hairpin bends and waves finishing with an enormous final 540 degrees loops.
Snowshoes walks
Another world awaits you, far from the queues of people and off the beaten track. Snowshoeing is the easiest winter activity, the most affordable and certainly the one that provides the greatest feeling of freedom.
Cross-country skiing:
Located 12km away from Saint Francois Longchamp, the Grand Coin Nordic area is in the village of Montaimont. The cross-country ski runs drive through pine forests and used to connect typical and authentic hamlets. It is the variety that makes the beauty of the landscape. The Grand Coin area is a certified Nordic France site.
Other activities:
Spots photo
Take photos in front of a giant #MySFL or smile to the photo device on the Lune Bleue chairlift and bring back some summit souvenirs with your friends and family!
Centre de Balnéothérapie balneotherapy Centre
Take a warm-up walk in the cold water pools, try the Jacuzzis, the hydro-massage pools and the bubble massage benches. Whether relaxing or exercising, this water world provides the best in relaxation and preparation for more strenuous exercise. Discover the 150m² fitness and bodybuilding area on the first floor of the Balneotherapy Centre
Segway:
Discover the resort with our Segway, electrically assisted bikes or ski touring outings. Try out the Snooc, an original sliding gear between ski touring and sledge. Segway races every week. Information at the Eterlou ski shop or by phone.
Cinema
The cinema is located in the heart of the Saint François Longchamp resort. With a room of 160 seats equipped with digital and 3D, you can enjoy your favourite movies in a comfort identical to the cinemas of the big cities. The program is updated weekly and features the latest films.
Bowling
Discover the bar and bowling area of the Balneotherapy Centre. 4 tracks available, every day of the week, accessible to children from 5 years. Billiards, baby foot.
Please note: All the above information is for information only. For the most up-to-date information please visit the resort tourist office website. All prices for activities are in local currency (€ Euros) and are bookable and payable locally in resort
Tourist Office of Saint Francois Longchamp and Montgellafrey
Immeuble Salle Polyvalente
73130ST FRANCOIS LONGCHAMP
Tel: +33(4) 79 59 10 56
Fax: +33(4) 79 59 17 23
St Francois Longchamp Resort News and Events 2022/23
Events:
Enchantment of Christmas 17th - 23rd December 2022
Snowball Battle 17th December 2022 - 1st January 2023
Balance Bike On The Snow 19th December 2022 - 3rd January 2023
Christmas Market 20th December 2022
Torchlight Descent 21st December 2022 -

22nd March 2023

Laser Game On The Snow 22nd - 29th December 2022, 6th - 27th February 2023
Strike Luge 26th December 2022, 9th February 2023 - 2nd March 2023
Human Bowling 26th December 2022, 9th February 2023 - 2nd March 2023 A game of bowling where you are the ball!
News Years Eve Party with DJ 31st December 2022
Further details on be found on the tourist office website: www.saintfrancoislongchamp.com
St Francois Longchamp Après-Ski, Bars & Restaurants
Restaurants Altitude
La Banquise 2000
L'Alpage
La Petite Bergerie
Les 2 Mazots
Bars/nightclubs in St Francois Longchamp
LA GROTTE DU YETI 
The best after ski of the resort 
LE MACKENZIE 
LOCATED AT 1650M 
Resort 1650m - Building "Le Montjoie" 
Various restaurants across St Francois Longchamp
AU DESCENDEUR
Located at 1650m
Restaurant Bar and Pizzeria Savoyard specialties: open daily
Phone 04.79.59.17.28
AU RESTAURANT DE LA PERELLE 
Area "Plan Mollaret"
For lunch, enjoy a breathtaking view and enjoy our cuisine specialities, grilled over a wood fire, buffet at 19 €
Evening: Savoyard specialities, traditional cooking and semi-gastro
04.79.59.12.27
Reservations highly recommended
Open daily from 12 am to 11 pm non-stop!
CREPERIE DU VAL BLANC
Located at 1650m
L'IGLOO
Area "Plan Mollaret"
Snack / Pizzeria Plan Mollaret. Take away, they offer our burgers at noon, and American pizzas. For evening, remember to book your pizza by phone, you can then pick them up or they order them by delivery (free from 20 € of purchase).
Open daily from 11:30am to 10pm
LA BRASSERIE MONTAGNE
Located at 1650m
Lunch: Special ski! Sun terrace close to the slopes at 1650m. In front of snow garden and chair lift of La Lune Bleue ...
10 meals under 15 minutes / less than 10 €.
The evening version cocoon, panoramic veranda, sunset on the slopes and beautiful card.
More information at 04 79 59 11 02
LA GODILLE
Located at 1650m
Located on the slopes, the restaurant "La Godille" accompanies you throughout your days. Breakfasts. Lunch: self service, dish of the day, pizzas, paninis, fries ... Evening: Savoyard specialities, pizzeria, grill.
Enjoy at any time the sun terrace and solarium accessible on skis. Hot drinks, draft beer and pancakes, not to mention meals and takeaway pizza.
LA GRANGE
Area "Plan Mollaret"
In the shopping mall of the residence "Les 4 Vallées", the Bar Restaurant "La Grange" welcomes you in a mountain setting with the charm of erstwhile, its fireplace, sun terrace facing south. Cooking of the old tradition, with dishes and menus Savoyards.
Access on skis by the chair lift Mollaret. Snacks for lunch. Pancake house in the afternoon. Pizzas and takeaway.
LA LOUCHE PERCEE
Area "Plan Mollaret"
Warm and typically Savoyard atmosphere.
Wine tasting every Tuesday from 5pm to 6pm.
Open daily from 10am to midnight.
Discover local specialities, especially various fondues, raclette ramp with his cheese cauldron, Charolais entrecote (approx 300g) but also a fine selection of wines of Savoy and elsewhere at reasonable prices. Bottles or a glass of wine, also offer tastings every Tuesday from 5pm to 6pm. The afternoon of bad weather, warm yourself around a game of chess or card (belotte, tarot, ...)
LE GALTA
Located at 1650m
To eat in or on the terrace for lunch and dinner with our Savoyard specialities: fondue, raclette, tartiflette ... hot sandwiches, meats XL, our homemade burgers on or off the premises, prime rib for two, the famous Savoyard stew, farcement of Savoy.
But for sweet pancakes in the afternoon, the Happy Hour after ski (7 beers at half price) for the sport on the big ECAN, to enjoy a single malt Whiskey.
St Francois Longchamp Amenities
St Francois Longchamp is served by a range of amenities including: Spar, Sherpa, sports shops, regional products, boulangerie, patisserie, pharmacy, tabac, post office.
Getting to Saint Francois Longchamp, France
Access-wise, the A43 Autoroute from Chambéry and Albertville is just 12km away, as is the Gare TGV, for high-speed rail services from Paris (with scheduled bus transfers).
Motorway:
SFL is the first resort of Maurienne valley in term of accessibility.
Highway A43 Exit n°26 "la chambre"
(12kms only from the resort)

Caution, Madelaine pass is closed during winter.
Rail:
High speed train from Paris. 
Station: Saint avre La chambre (12 km). 
Public bus: Ben's Bus run ski transfers from Grenoble Airport to St Francois Longchamp every Saturday.
By plane:
Geneva (170kms) - www.gva.ch/en 
Lyon St Exupery (165 kms) - www.lyonairport.com 
Chambery Aix les Bains (90kms) - www.chambery-airport.com
Public shuttle bus transfers from airports
Lyon Airport - St Francois Longchamp via St Arve (www.lys-altibus.com). 
Chambery Airport - St Francois Longchamp via St Arve (www.lys-altibus.com). 
St Francois Longchamp Airport Transfer
For pre-bookable private transfer rates with Peak Retreats, view here. 
---
St Francois Longchamp resort season dates
Grand Domaine (Valmorel, Doucy, St Francois Longchamp) ski area is open: 17/12/22 - 16/04/23