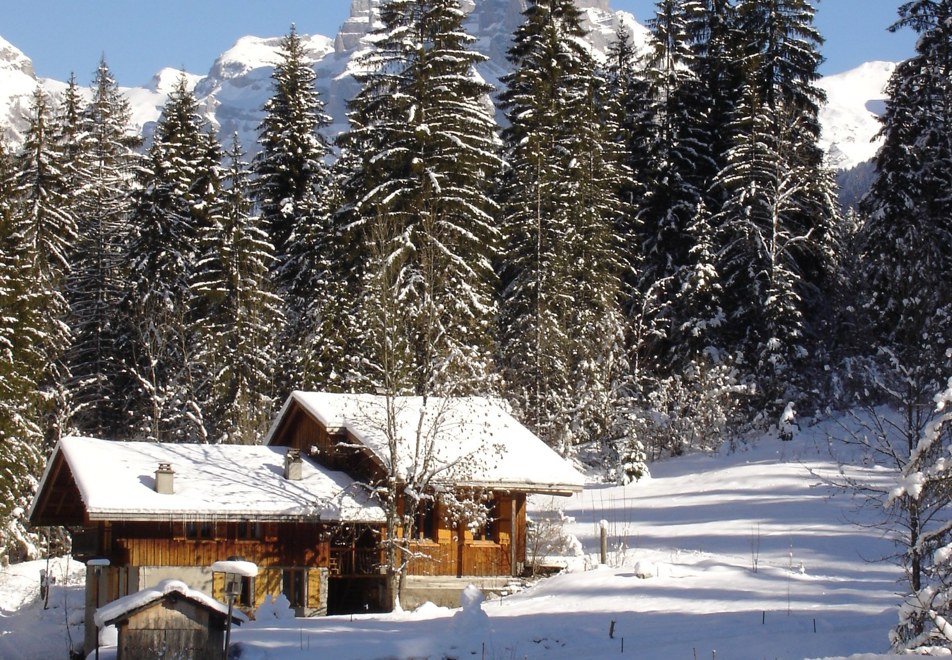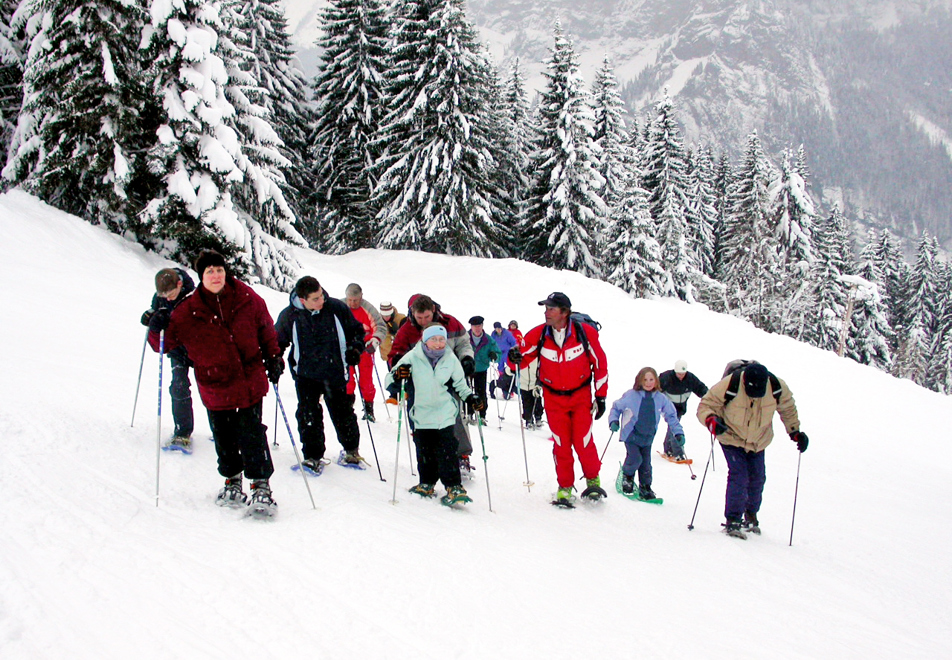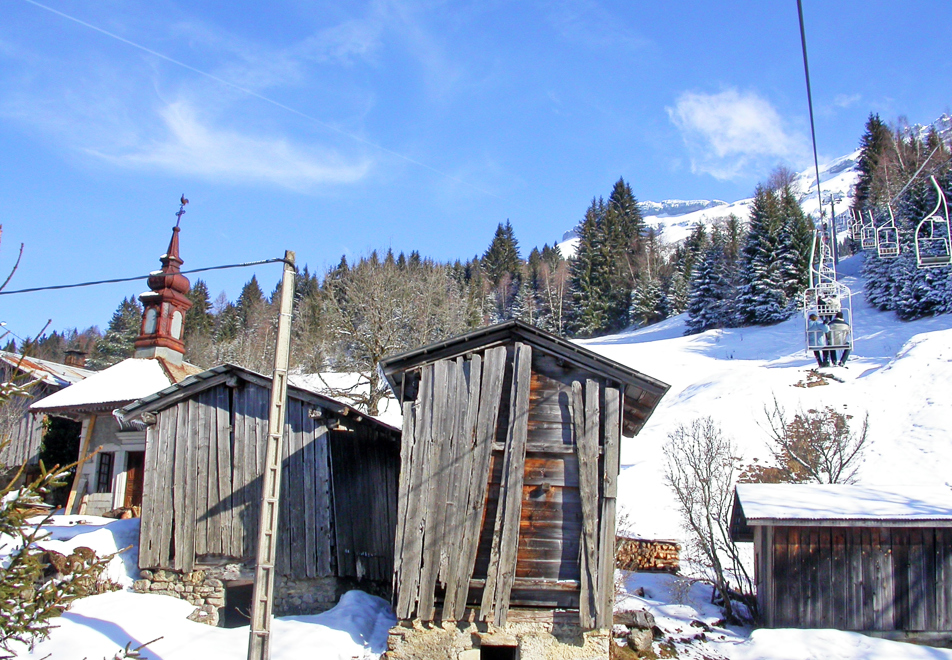 Thinking of skiing in Sixt fer a Cheval? Ranked among the "Most Beautiful villages of France", Sixt is still largely unknown outside France and yet offers great access to the Grand Massif ski area.
Why Sixt Ski Resort?
Pretty, undiscovered village, set in outstanding scenery
Superb walks, uncrowded pistes
Access to the massive Grand Massif ski domain
Easy access from the motorway, train station or Geneva airport
Sixt fer a Cheval Resort Information
At the end of the Giffre Valley, in an area of outstanding natural beauty with the 'Fer à Cheval' and its wonderful waterfalls and natural reserve, Sixt is still largely unknown outside France.
However years ago the well-known climber and founder of the Alpine Club, Sir Alfred Wills, made Sixt his base for discovering the area and built a chalet in the village.
Ranked among the "Most Beautiful villages of France", Sixt combines nature with attractive architecture and originality with 24 hamlets scattered over an area of 12000 hectares. The most notable are Mount, Passy (where chalet Le Penoutlay is located), Salvagny, Le Fay, Hauterive, Le Molliet and Le Frenalay, and most of them conceal treasures from a long and rich history.
Life is centred around the 12th century Abbey and is quite simple - a few shops, post office, mini-market, a few cafés and restaurants and a bakery that makes some 'sinful' cakes! Wonderful walks, snowshoe outings, dogsledding, a challenging 'via-ferrata' (a type of ladder fixed directly onto the rock), ice climbing and village discovery visits, are also available. Discover the making of Tomme de Sixt (a celebrated local cheese) at 1800 metres at l'alpage (high-mountain pasture) de Salvadon!
There is a regular ski-bus service from Sixt to Samoëns and Morillon. Just a 10-minute drive beyond Samoëns, Sixt is only a 30-minute journey from the motorway exit near the TGV train station of Cluses and only a one-hour drive from Geneva.
Peak Retreats features the self-catering Chalet Le Penoutlay. This self-catered chalet built in the traditional style provides a wonderful retreat and ideal base for a Sixt fer a Cheval ski holiday.
SIXT SKI AREA
Sixt has a small and uncrowded ski area with a mix of slopes for all abilities. It is linked to the massive Grand Massif (265 km of pistes) and it is possible to ski back from Flaine to Sixt via the very scenic 14km 'Cascades' blue run (just go to Samoëns or Morillon via the regular free bus service.
With over 34 km of ski trails, Sixt is great for families, with an easy-access beginner area, a "snow garden" for children aged from three years, and a secure sledging area.
You can't ski from Sixt to the other areas of the Grand Massif, but you can ski back to Sixt using the 'Les Cascades' piste - this 14 km run takes you from the summit of Les Grandes Platières at 2,500m down to the village of Sixt located 900 m further down the mountainside. It's a great descent through alpine meadows and forests on one of the finest pistes in the Alps - a forest ski run on the edge of the Sixt Fer-à-Cheval Nature Reserve where it's not unusual to come across mountain goats…14 km of quiet surroundings and breathtaking landscapes!
If you wish to try skiing outside Sixt's small ski area, take the shuttle bus or drive to Samoëns just down the road (10 minutes). From here you can take the Grand Massif express gondola up to the main ski area. Alternatively, you could try Les Gets and the wider 'Portes du Soleil' resorts which are only a short drive away.
For

 

Flaine, see details with our sister company Ski Collection
Additional ski fact info, main ski info in resort facts box at top of page (19/20):
Massif (all of above exc. Flaine)
145km of pistes, 38 lifts, 74 slopes:
Green slopes: 15
Blue slopes: 35
Red slopes: 18
Black slopes: 6
Sixt local slopes
4 lifts (4 draglift), 6 slopes:
Green slopes: 2
Blue slopes: 4
SIXT SKIING
SIXT BEGINNERS
In Sixt you have a few green runs accessed via drag lifts and then a further few blues to progress on. Otherwise skiing in Samoëns couldn't be easier with an excellent nursery slope area at Samoëns 1600 for beginners to practise on with seven lifts. The area for beginners is separated from the other sectors of the ski area, to enable users to ski in complete safety, and avoid having skiers with different levels of experience on the same slopes. The restaurant terraces overlooking the pistes enable you to make the most of a relaxing rest in the sun while keeping an eye on your children.  
SIXT INTERMEDIATES
In Sixt, there are 4 blue and 4 red slopes. Otherwise, intermediates and boarders will enjoy the 49 red pistes and 15 black pistes of the Grand Massif. The Grand Massif itself has extensive intermediate slopes with big lift networks.
Please note for 2018/19: Two chairlifts in Sixt will not be operational for season 2018/19 so the red and black runs will sadly be closed. Sixt remains part of The Grand Massif and is linked to Samoens by a Skibus service with return to Sixt via the blue run 'La Piste des Cascades'. There will however still be 4 draglifts open (Balme, la Feulatière, les Cascades et les Fontaines) and 5 slopes (2 green and 3 blue), mainly for beginners.
SIXT EXPERTS
In Sixt there is only one black slope (shut for 2018/19). But the more advanced will find plenty of testing terrain within the Grand Massif domain. The steep north-facing mogul slopes from the Tête des Saix, the central point of the entire Grand Massif system, down to Samoëns are particularly enjoyable. There is also extensive off-piste in various parts of the Grand Massif.
Please note that lift passes will need to be collected in Samoëns. Ski school is also arranged in Samoëns (a 10-minute drive or shuttle bus).
Video of the famous Cascades 14km piste down into Sixt fer a Cheval
Sixt Ski Hire
Pre-book your Sixt fer a Cheval ski hire with Peak Retreats.
To download the ski extras form, see 'Helpful links' further down the page.
Please note, these Pound Sterling prices are for indication only. They will fluctuate based on Euro/£ exchange rate. Please call us for the latest prices.
Special offers: *7 days for the price of 6.  Free Skis/snowboard & boots (Blue/Red) for party leaders of groups of 10 or more all taking equipment. 1 Free helmet per child aged 6 and under for every adult booking skis or snowboards & boots (must be under same booking reference and requested on form above). Other duration prices on request - Cross Country ski prices on request.
Find out more about Peak Retreats ski hire
---
Sixt Lift Passes
Pre-book your Sixt fer a Cheval lift passes with Peak Retreats. Find out more about Peak Retreats ski passes
To download the ski extras form, see 'Helpful links' further down the page.
Please note, these Pound Sterling prices are for indication only. They will fluctuate based on Euro/£ exchange rate. Please call us for the latest prices.
Other lift pass on offer (to buy locally in resort in Euros):
Massif ski pass – ½ day and daily rates 2016/17:
4 consecutive hours - €27.70 children, €36.90 adults
Day - €30.80 children, €41 adults
Grand Massif ski pass – ½ day and daily rates 2016/17:
4 consecutive hours - €31.40 children, €41.90 adults
Day - €34.90 children, €46.50 adults
Samoens beginners passes 2016/17:
2 trips on Grand Massif Express or Saix gondola, drags - pendant, chateau, char, babuches, chairlifts - damoiseaux and demoiselles.
Day: adult - €24.40, child 5-15yrs - €18.30
1/2 day: adult - €22, child 5-15yrs - €16.50
Sixt Local ski pass – ½ day and daily rates 2016/17:
½ day - €12.60 children, €12.60 adults
Day - €13.50 children, €18 adults
Sixt fer a Cheval Ski School
Pre-book your Sixt fer a Cheval (Samoëns) ski school with Peak Retreats. Find out more about Peak Retreats ski school.
Ski school for children is available to book from 3 to 15 years, in Samoëns, with Peak Retreats. 3 to 5 year olds will go into the Ski Kindergarten lessons.
To book your ski school, download the ski extras form from the 'Helpful links' further down the page.
Please note that lesson times are subject to change right until the last minute - you will be advised. Outside French school holidays the ski school reserves the right to cancel group lessons should numbers be insufficient.  For peak periods - Christmas, New Year, February half-term and Easter - we strongly recommend that you book as early as possible and in any case at least 6 weeks prior to the required dates. Morning lessons tend to get booked up first and therefore we may only be able to offer afternoon classes within 6 weeks of departure. In some resorts English speaking instructors may not always be available, particularly at peak times.
We cannot always guarantee that prices will be cheaper than in resort. When ski packs prices are calculated, the currency is bought at the exchange rates that apply at the time. You can be assured that once you have booked your extras, if the pound depreciates, you will not be charged more for your ski packs, enabling you to budget for your holiday in advance.
Samoëns Individual Tuition (NOT pre-bookable)
Individual tuitions can only be purchased directly from the ski school. Peak Retreats cannot pre-book these for you.
Fees: Around €49 per hour for 1-2 people up to 70 € per hour for 3-4 people. Please note that prices are only an indication and are subject to change.
Ski school Samoëns contact numbers for private lessons:
Ecole du Ski Francais Village +33 450 34 43 12
info@esfsamoens.com
Ecole du Ski Français Samoens 1600 +33 450 34 40 86
Samoëns Child Care
Kindergarten the Loupiots Tel: +33 4 50 34 13 96                  
The Loupiots kindergarten welcomes your children aged between 3 years and 6 years (before the date of their 6th birthday). Pre-booking is strongly recommended.
Open all year long from 07:30 to 18:30 from Monday to Friday and on Saturdays from 08:30 to 17:50 during winter.
Tel: 0033 450 341 396
Email: garderiedesloupiots@orange.fr
Website: lesloupiots-samoens.com 

Please contact Kindergarten the Loupiots direct for prices, but please note between 11 am and 1 pm they don't give any information on the phone in order not to disturb the children.
Please don't forget to inform them in case your child is taking ski lessons. Providing the following information whether your child come to the kindergarden in the morning or in the afternoon.
Baby changing
• At the Tourist Office Place de l'autogare. Free of charge
• At the Grand Massif Express cablecar. Free of charge
• At Samoëns 1600. Free of charge
Baby equipment hire
PELLISSIER SPORTS TWINNER
47, Grande rue
pellissier-sports.com
+33 (0)4 50 34 18 81 
NEIGE ET MONTAGNE
Rue de la Gare
neige-montagne.com
+33 0)4 50 34 40 90
J'AIME SPORT
jaimesport.fr
La Cour
+33 (0)4 50 34 98 20 
Children's Ski Lessons in Samoëns
Children can ski from 3 years old in Samoëns with ESF Samoëns. 
We are able to pre-book ski lessons for children of all ages. We recommend you book your lessons as early as possible in peak weeks as they do fill up. Find out more about booking Samoëns Ski School.
Sixt Resort Activities
Snowshoeing, ski touring, dog-sledging, ice-climbing, Via Ferrata climbing (depending on the weather)…
Sixt Luge/Tobbogan
2 sledging tracks are available:
- Sledging track of the Cirque du Fer a Cheval:
In the heart of the great site of the Cirque du Fer aCheval, come enjoy a securely laid out sledging track for unparalleled family fun. Great laughter and wonderful scenery are awaiting you!
- Sledging track of Salvagny:
Located at the edge of the beginner's slope of fontaines, in the hamlet of Salvagny, below the Kindergarten, this track is also securely laid out for small children. You can keep an eye on the older ones skiing on the fontaines ski run while the smallest are having great fun sledging!
Samoens Dog sledding
Information on the rides (20 to 30 mn long)
Tel: 0033 4 50 96 64 19
nordic.hg@orange.fr
Reservation at the nordic area's reception of the Samoëns tourist office.
Sixt Mountain activities
Ski touring, Vallée Blanche, rock climbing, ice climbing, via ferrata ...
Bureau des Guides et Accompagnateurs de la Vallée du Giffre
Tel: +33 (0)4 50 34 43 12. Internet: www.guidesmontagnes.com
Samoens Parapente / Paragliding
Les Tontons Volants
Opposite Grand Massif Express - Samoëns
Tel: +33 (0)4 50 89 82 30. Internet: www.samoens-parapente.com  
Sixt Walking
Over 100 km of signposted footpaths providing access to 5 mountain huts and conservation areas: "Cirque du Fer a Cheval", the Cascade "du Rouget", the "Gorges des Tines"
Sixt Icefalls
Sixt Fer à Cheval is one of France's main icefalls site. Whether you are a beginner or an experienced sportsman, you will find around 60 routes from 40 to 500 m awaiting you. It is strongly recommended to go with a mountain guide who knows this uncommon, extremely weather-dependent activity well. The area of the small valley of Sales is perfect for initiation. The scenery is spectacular and the conditions perfect. The area of the Cirque du Fer à Cheval is more athletic and offers ascents up to grade 7.
Le Bureau des Guides de Sixt Fer à Cheval
Tél: 0033 4 30 07 66 63
info@guidesixt.com
www.guidesixt.com
Sixt Library
Library in Sixt Fer à Cheval is open all year long.
Opening times: Outside school holidays - Every Wednesday and Saturday from 5.30pm to 6.30pm.
During school holidays: Every evening from Monday to Friday from 5.30pm to 6.30pm
Markets
Market Samoëns:
Every Wednesday morning (from 8am to 13H), year round, will wander about the market in Samoëns Savoie. You will find all products of our region as well as numerous articles and household textiles, and accessories.
Market Morillon:
Wednesday evening, from 16H.
Sixt Guided tours
The various guided tours for both individual and for groups, by the Heritage Guides for Pays de Savoie Sixt Fer à Cheval you will discover much of this history and enter the abbey. A circuit of the chapels can tour the nine small buildings of which two are in the mountains, one in the village d'alpage des fonts, the other in l'alpage de Sales.
Sixt Snowshoeing
Several marked trails are set up for the practice of this activity. The guidebook is available at the tourist office at a price of € 5.50.
Outings organized every winter to make you discover the mountain fauna, its adaptation to winter, learn to identify animal tracks ...
Le Bureau des Guides de Sixt Fer à Cheval
Tél: 0033 4 30 07 66 63
info@guidesixt.com
www.guidesixt.com
Most activities take place in the nearby villages of Samoens and Morillon. 
Please note: All the above information is for information only. For the most up-to-date information please visit the resort tourist office website. All prices for activities are in local currency (€ Euros) and are bookable and payable locally in resort.    
Sixt Tourist Office
Tel +33 450 34 49 36
www.sixtferacheval.com  or check www.samoens.com
Sixt Ski Activities
Mountain Restaurants in Grand Massif
Many located in Grand Massif.
Cross Country in Grand Massif
The nordic Haut Giffre area is well-known and appreciated among cross-country skiiers. From Samoëns to Sixt Fer à Cheval, there are 80 km of marked trails in the valley that are also laid out for ski skating. In Sixt, the network of runs is perfectly blending in the lanscape and allows practising cross-country skiing both for beginners, in the area of Glière (2 km), and experienced skiiers, at "Molliet" (9km), on the Fer à Cheval circuit (16 km) or by joining Morillon (10 km). Fer à Cheval is a wonderful site for a change of scenery. The area of Col de Joux-Plane (1700m) sur Verchaix is laid out with 30 km of ski runs (cross-country / skating ski). The quality of the snow cover is guaranteed in this nordic high mountain area offering a unique view on the Mont Blanc and the Haut Giffre valley.
Ski touring in Grand Massif
Wonderful organized ski tours allow nature enthusiasts to discover the Great site of Sixt Fer à Cheval and its surroundings. Physically very taxing, ski touring is meant for experienced skiiers and it is advised to be accompanied by a professional guide with excellent practical knowledge.
Le Bureau des Guides de Sixt Fer à Cheval
Tél: 06 77 00 99 71
info@guidesixt.com
www.guidesixt.com
Sixt Resort News & Events 2021/22
Events:
Snow & Co - 30th December 2021 - As a family, come and learn about working in the snow, with an action-packed programme: igloo building, snowman competition, snow sculptures, introduction to alternative activities, "break the ice" activity and Yukigassen.
Les Hivernales du Haut-Giffre - 23rd January 2022 - A day of discovery open to all: the opportunity to learn about Nordic and local activities in a relaxed and festive atmosphere and in a privileged setting: the Valley of Haut-Giffre.
Discover the traditional mountain habitat in a typical hamlet 1st December 2021-30th April 2022 -

In Sixt-Fer-à-Cheval, the hamlet of Salvagny has maintained its authenticity. During our visit we will walk through this charming hamlet and discover typical granaries, sculpted pools and beautifully preserved farms.
More information can be found on the tourist office website: www.samoens.com
Sixt Après-Ski, Bars & Restaurants
6 restaurants, some snack restaurants and bars. Le Chalet du Lignon has a panoramic terrace.
Restaurants and bars 
Auberge de la Feuille d'Erable
Open lunchtime and dinner. Closed Monday.SIXT FER A CHEVAL. Tel:+33 (0)4 50 34 44 47
Le 27
Open every day except Wednesday and Thursday Sixt fer à cheval. Tel:+33 (0)4 50 89 87 95
Email: contact@restaurantle27.fr
Chalet Restaurant du Cirque du Fer à Cheval
Open from 9:00 am to 06:00 pm SIXT FER A CHEVAL. Tel:+33 (0)4 50 89 13 88
Email: restaurantduferacheval@laposte.net
Pizzeria La Chaoune
Open every day except Monday lunchtime SIXT FER A CHEVAL. Tel:+33 (0)4 50 91 21 52
Le Chalet du Lignon
Parking, open from 10:00 am to 7:00 pm. SIXT FER A CHEVAL. Tel:+33 (0)4 50 34 99 90
Restaurant Le Rouet
salvagny sixt fer à cheval. Tel: 0033 450344089
Le Carrousel
Open to the 1st may, every day, to 10:00 am from 08:30 pm. SIXT FER A CHEVAL. Tel:+33 (0)6 18 88 66 53
Le Gite du Lac de Gers
Unique restaurant, located in a remote and beautiful area which is only accessible via a 14km long run, La Cascade. At the bottom of the run, skiers need to press a button to call the restaurant's owner who will come to pick up skiers with his snowmobile.
Sixt Amenities
Sixt fer a Cheval is served by a range of amenities both in Sixt itself and from nearby Samoens.
Sherpa minimarket open from 8am-12.30 and from 4.30-7pm.
Non stop opening in French school holidays.
Open from 22/12/2013 to 15/04/2014 (Snow chains on sale, local products, stamps, meat counter, takeaway cheese, raclette or fondue loan)
Boulangerie open from 06.30am-12.30 and from 3.30pm-7.30pm
Souvenir shop from from 9am-12.00 and from 3pm-7pm.
Regional products open from 8am-12.30 and from 4pm-7.30pm
Cash point, library, 3 x sports shops.
On Sundays, at 18.30: welcome drink at the Tourist Office with an introduction to the resort.
In Samoens (5km): Market on Wednesdays, doctors, pharmacy, physiotherapist, hairdresser, laundry/dry cleaning, bakeries, several sports shops…
There is also a farm situated in the very picturesque Hameaux Palme-Dessous, just 2 km outside Sixt Fer à Cheval. The farmer sells local traditional farm products.
Getting to Sixt, France
By Road: 
Driving distance from Calais 543 miles (approx 7hrs40)
From Calais, take A26 Motorway towards Reims and Troyes, then Dijon, Mâcon then 'Autoroute Blanche' Motorway (A40 Mâcon – Cluses) Exit Cluses Scionzier. Follow signs to Samoens. Sixt is 5km after Samoens.
It takes approximately 25 minutes from the motorway exit to Sixt Fer a Cheval.
By Rail: 
Cluses 30km - Shuttle bus +33 450 98 07 81 or Taxi +33 450 34 90 www.giffre-transports.com
From Cluses to Sixt private transfers – from £58 per person return based on 4 people sharing. Prebookable via Peak Retreats.
Airports:
Geneva is 86km from Sixt (1 ¼ hours)
www.gva.ch/en
Chambery Airport is 124km from Sixt (1 ½ hours)
www.chambery-airport.com
Lyon Airport is 207km from Sixt (2 ¼ hours)
www.lyonairport.com
Grenoble Airport is 214km from Sixt (2 ¼ hours)
www.grenoble-airport.com
Public shuttle bus transfers from airport
Geneva Airport - Sixt via Annemasse (www.coach-station.com). 
Sixt Airport Transfer
For pre-bookable private transfer rates with Peak Retreats, view here. 
Sixt Fer a Cheval Opening Dates
18/12/21 - 18/04/22
Samoens/Sixt Snow Report – 2013-2018 (5 season average)
Skiing in Samoens: Samoens and more generally the Grand Massif (Flaine) has always benefited from a superb snow record thanks to the microclimate resulting from the proximity of Mont Blanc. Snow cover on at least parts of the ski area is pretty much guaranteed from mid-December until late April. Samoens also benefits from North-facing slopes which greatly helps to retain snow longer. Here is the snow record data for Samoens. The first row shows the week for which the measurement applies eg. February 3 is the 3rd week in February. Top slopes shows the average snow cover in cm at the top of the ski area. Bottom Slopes shows the average snow cover in cm at the bottom of the ski area (this is generally where the nursery pistes are located). About 10 cm is generally enough to ski but it very much depends on what's below ie. grass or more rocky surface.
5 year ski season average for Samoens:
| | | | | | | | | | | | | | | | | | | | | |
| --- | --- | --- | --- | --- | --- | --- | --- | --- | --- | --- | --- | --- | --- | --- | --- | --- | --- | --- | --- | --- |
| Month | Nov | Dec | Dec | Dec | Dec | Jan | Jan | Jan | Jan | Feb | Feb | Feb | Feb | Mar | Mar | Mar | Mar | Apr | Apr | Apr |
| Week | 4 | 1 | 2 | 3 | 4 | 1 | 2 | 3 | 4 | 1 | 2 | 3 | 4 | 1 | 2 | 3 | 4 | 1 | 2 | 3 |
| Upper Slopes (cm) | 31 | 69 | 56 | 48 | 69 | 99 | 107 | 142 | 164 | 189 | 193 | 187 | 198 | 216 | 218 | 203 | 206 | 199 | 180 | 182 |
| Lower Slopes (cm) | 14 | 41 | 53 | 36 | 35 | 44 | 41 | 66 | 68 | 84 | 90 | 92 | 94 | 112 | 113 | 101 | 93 | 77 | 62 | 44 |
Current snow conditions may be available to view on the Samoens webcam, available from the Tourist Office website.
5 year ski season average for Flaine:
| | | | | | | | | | | | | | | | | | | | | |
| --- | --- | --- | --- | --- | --- | --- | --- | --- | --- | --- | --- | --- | --- | --- | --- | --- | --- | --- | --- | --- |
| Month | Nov | Dec | Dec | Dec | Dec | Jan | Jan | Jan | Jan | Feb | Feb | Feb | Feb | Mar | Mar | Mar | Mar | Apr | Apr | Apr |
| Week | 4 | 1 | 2 | 3 | 4 | 1 | 2 | 3 | 4 | 1 | 2 | 3 | 4 | 1 | 2 | 3 | 4 | 1 | 2 | 3 |
| Upper Slopes (cm) | 28 | 41 | 63 | 89 | 112 | 145 | 172 | 228 | 245 | 275 | 288 | 282 | 285 | 317 | 331 | 309 | 311 | 306 | 280 | 240 |
| Lower Slopes (cm) | 17 | 27 | 23 | 29 | 36 | 41 | 39 | 65 | 69 | 86 | 106 | 102 | 92 | 105 | 114 | 100 | 80 | 63 | 49 | 38 |