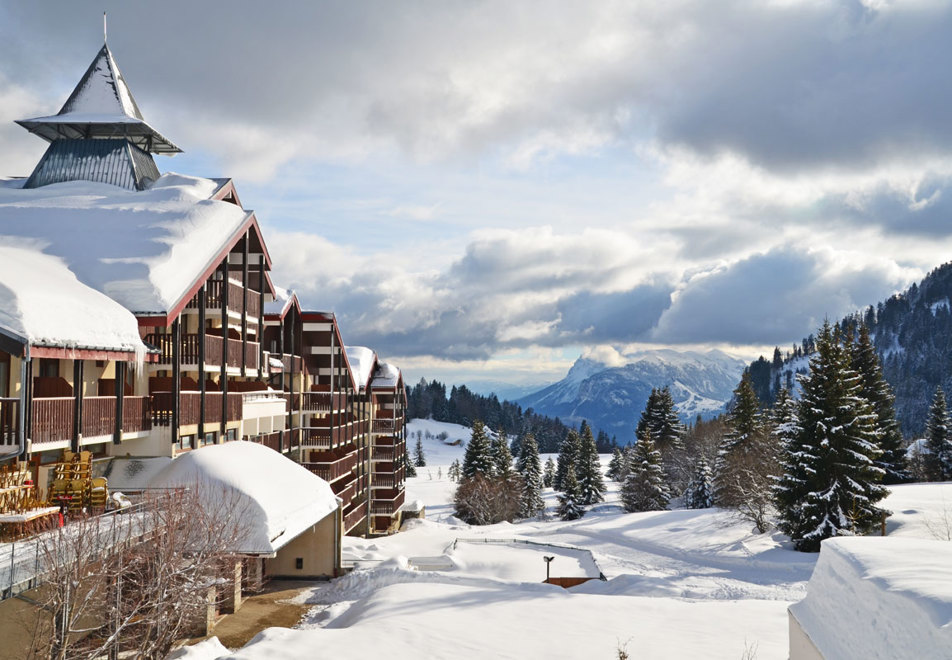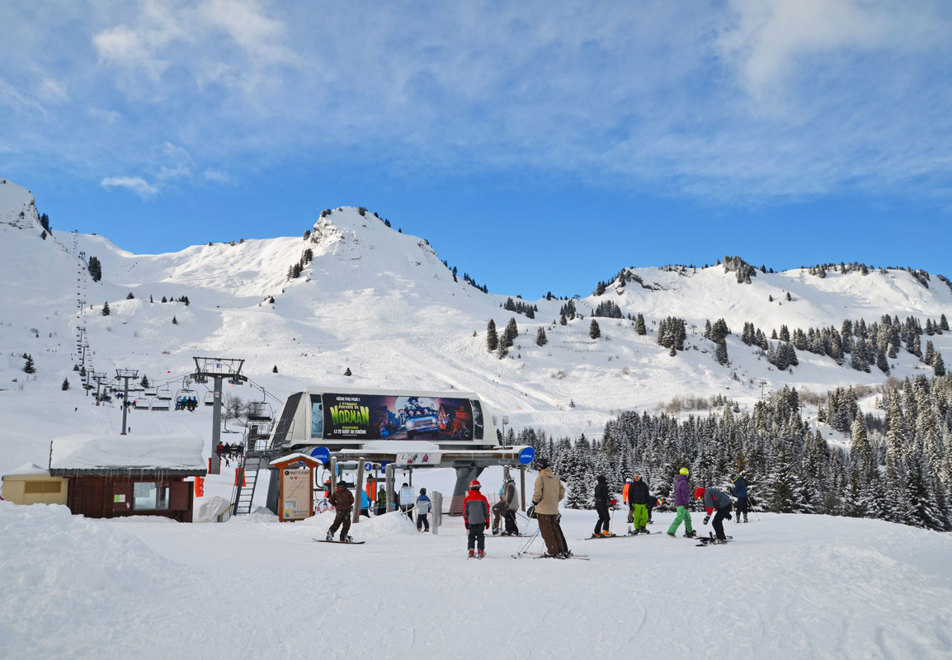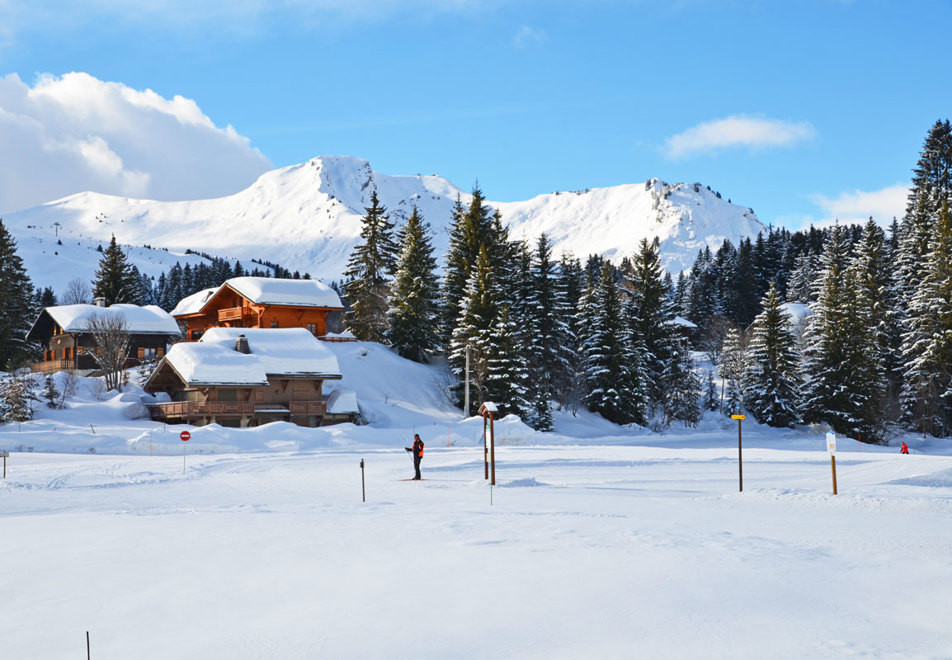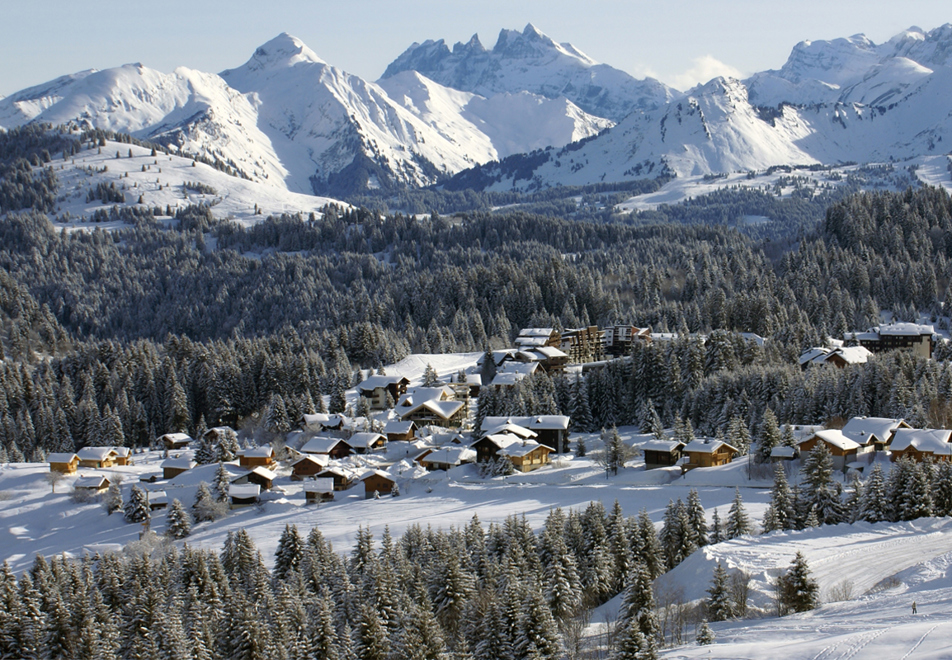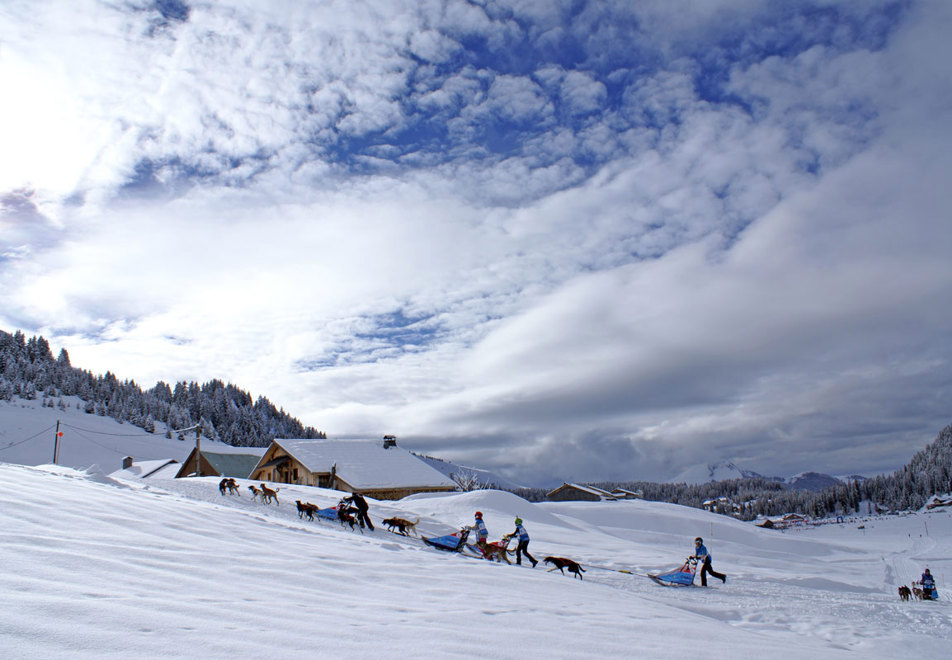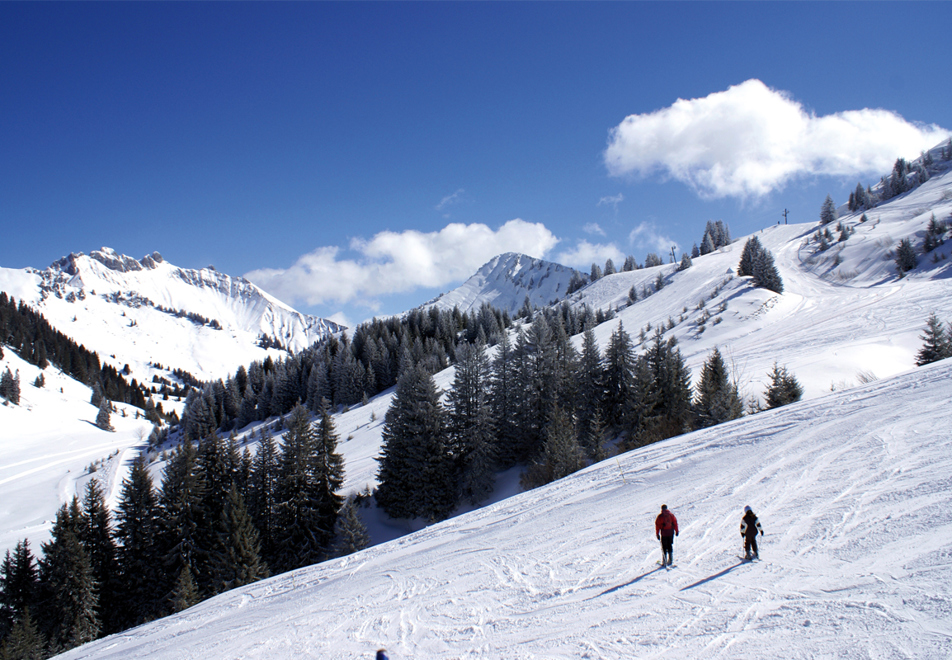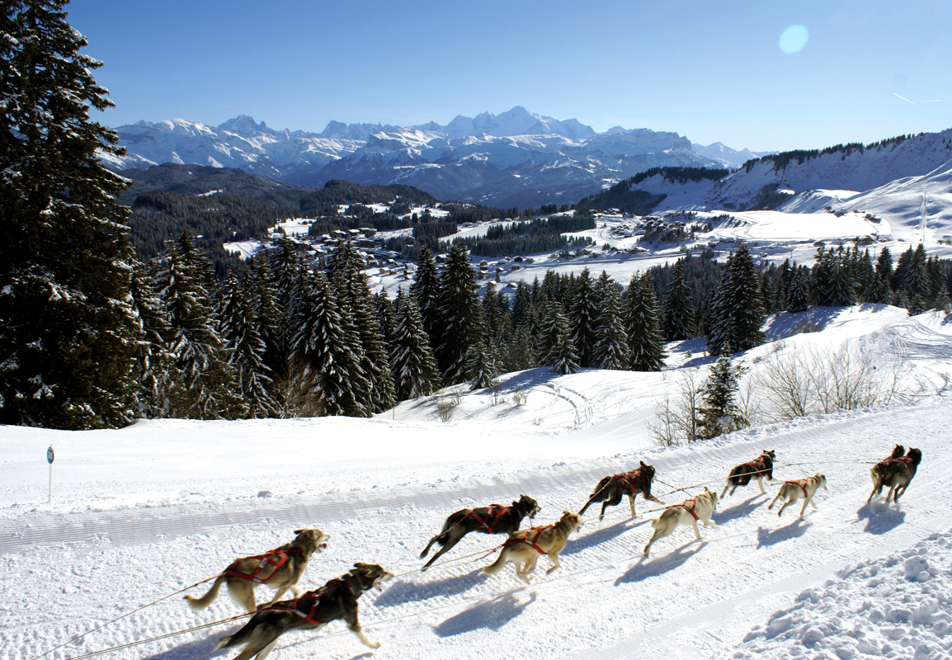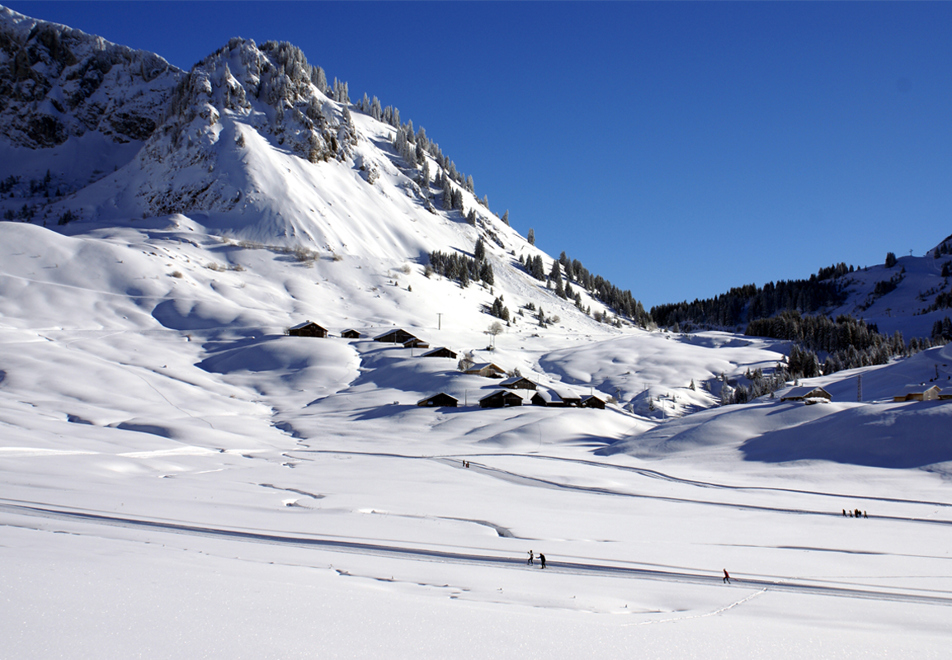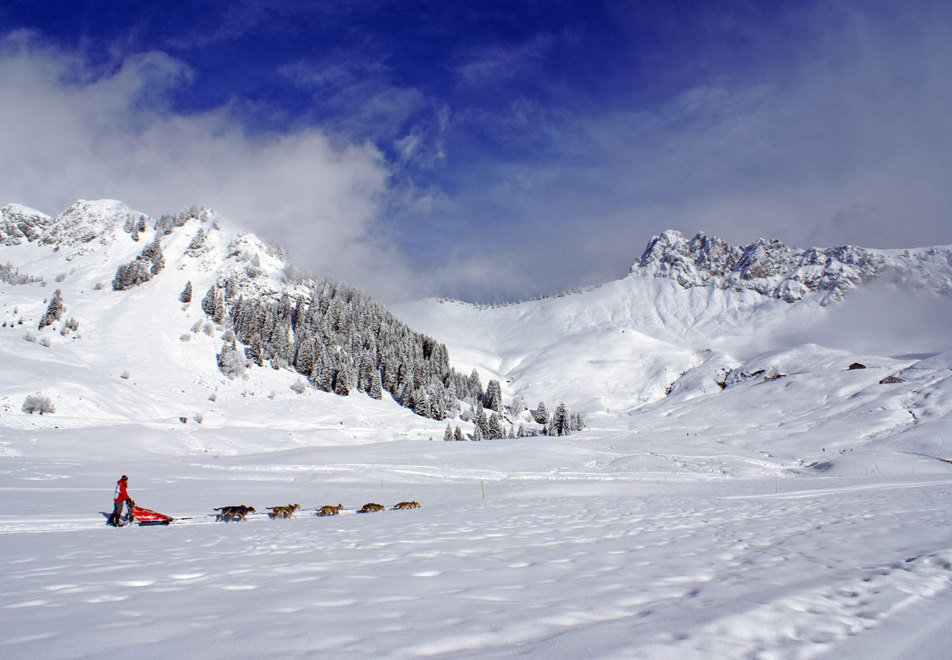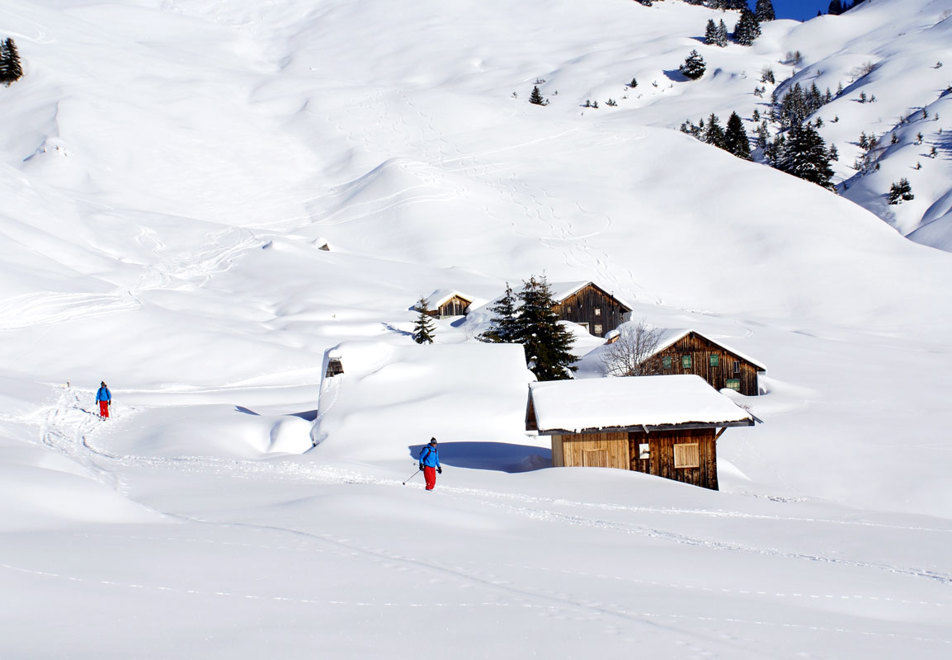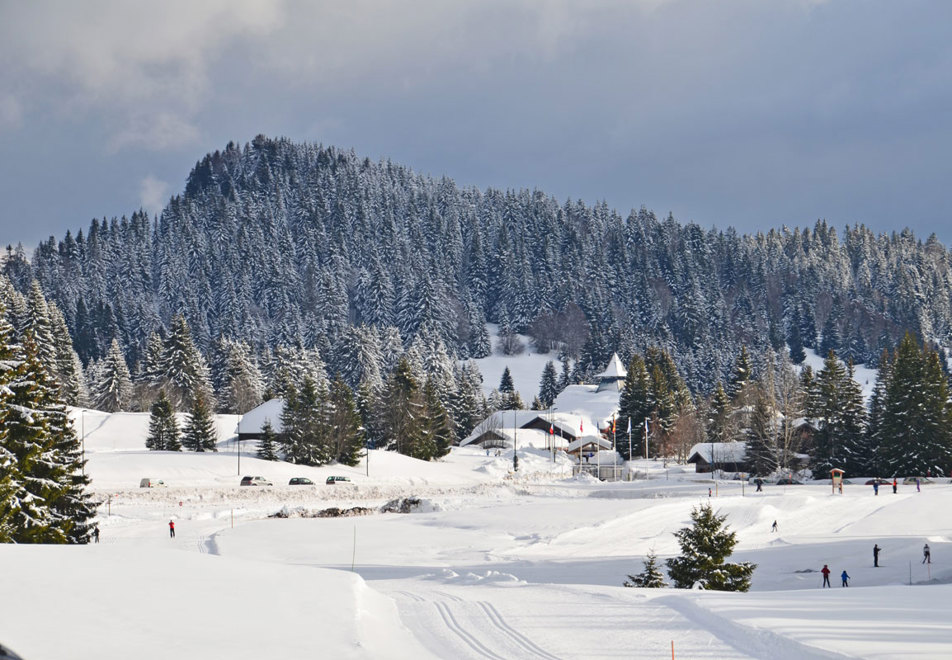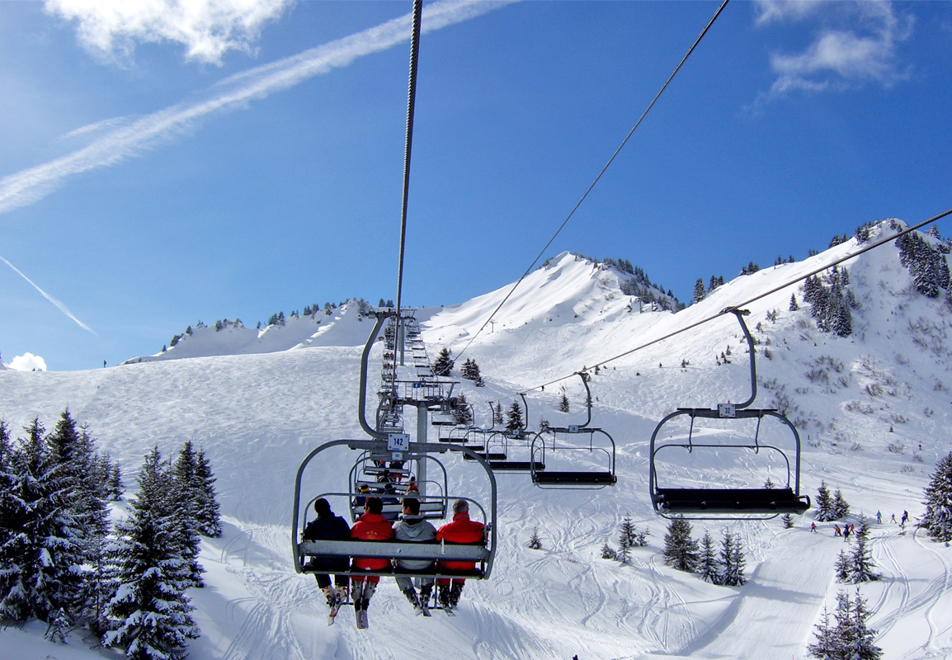 Praz de Lys, and its neighbour Sommand, are authentic ski resorts set amongst the trees overlooking the majestic Mont Blanc. Located in Haute Savoie, it is within an hours drive from Geneva Airport.
Why Praz de Lys Ski Resort?
Authentic mountain village
Short drive from Geneva Airport; the shortest on our programme
Jewel in the heart of Giffre Valley on the "Route des Grandes Alpes"
Praz de Lys Resort Information
An ideal family resort, Praz de Lys is a small ski resort in an outstanding setting with views towards Mont Blanc. The village is surrounded by trees which make for an authentic cosy mountain feel. Snow falling and settling on the trees makes for a magical experience.
It also hosts one of the best and most extensive Nordic sites in the Alps with an impressive 60km of tracks nestled amongst amazing scenery and nature.
The Telegraph says Praz de Lys is amongst the best places to escape the crowds. Read about it here.  
In a guest blog by Roger Moss of Mountain Passions, he says that "the views are hypnotic, and this really is one of the most beautiful places we've ever skied."
Read Roger's guest blog, his full review of the resort or our blog, everything you need to know about Praz de Lys. 
PRAZ DE LYS SKI AREA
Praz de Lys has an enviable location which allows skiing in the sun all day. One not to miss is the 'du lac' blue slope which starts at 2000m and drops down to 1240m. It has amazing 360-degree views of the Alps to the Jura region and passes by the 'Lac de Roy'.
Additional ski fact info, main ski info in resort facts box at top of page (19/20)
Praz de Lys local only - 13 lifts, 29 slopes:
Green slopes: 4
Blue slopes: 15
Red slopes: 7
Black slopes: 3
PRAZ DE LYS SKIING
PRAZ DE LYS BEGINNERS
Praz de Lys has 2 beginners areas ready for all those budding skiers. The beginner's area situated in the heart of the resort includes the button-lifts Chevaly, Beuloz and Jora and green slopes of Chevaly and Jora.
The access runs between the 2 resorts are blue, making it relatively easy therefore to ski across to Sommand and back.
PRAZ DE LYS INTERMEDIATES
The piste de Véran red run faces towards Mont Blanc, so a great one if you want to view this magnificent mountain. There are various red runs through treelined areas as well as in more open areas, so the variety is good.
PRAZ DE LYS ADVANCED
There is a slalom piste by Le Planey 1590m. There are a few black runs over on the Sommand sector.
Praz de Lys Ski Hire
To download the ski extras form, see 'Helpful links' further down the page.
Please note, these Pound Sterling prices are for indication only. They will fluctuate based on Euro/£ exchange rate. Please call us for the latest prices.
Special offers: *7 days for the price of 6.  Free Skis/snowboard & boots (Blue/Red) for party leaders of groups of 10 or more all taking equipment. 1 Free helmet per child aged 6 and under for every adult booking skis or snowboards & boots (must be under same booking reference and requested on form above). Other duration prices on request - Cross Country ski prices on request.
Find out more about Peak Retreats ski hire
---
Praz de Lys Ski Passes
To download the ski extras form, see 'Helpful links' further down the page.
Please note, these Pound Sterling prices are for indication only. They will fluctuate based on Euro/£ exchange rate. Please call us for the latest prices.
Other lift pass on offer (to buy locally in resort in Euros):

Praz de Lys ski pass – ½ day and daily rates 2019/20:
9-11am or after 3pm - €15 children, €19.50 adults
4 consecutive hours -  €20.50 children, € 25 adults
Day - €23.50 children, €29.50 adults
Beginners passes 2019/20:
Beginners carpets only - La Mary ou Beuloz - €6/day
Praz de Lys - Chevaly + Jora + Beuloz - 17€/day
Nordic pass 2019/20:
After 1pm - €4 children, €7 adults
Day - €4.70 children, €9 adults
Praz de Lys Ski School
Please note we cannot book ski school for Praz de Lys.
Praz de Lys private lessons 19/20 (not pre-bookable, book direct):
Individual tuitions can only be purchased directly from the ski school. Peak Retreats cannot pre-book these for you.
Ski school contact numbers for a private lesson
Ecole du Ski Français Praz de Lys
Tel: +33 4 50 34 33 68
---
Praz de Lys Childcare
There is no nursery in Praz de Lys. There is a creche available during winter months but only in Sommand, which is an hour's drive from Praz de Lys.
Resort Activities
Snowshoeing and pedestrian tracks (30km) in Praz de Lys
Praz de Lys and neighbouring Sommand have a good selection of tracks, which are linked. 

Praz de Lys sector:
2 easy tracks of around 4km each and a further track of around 5km which is slightly harder.
At the junction of Praz de Lys and Sommand sector:
A 4km track graded as a little bit harder than easy and another 2 of 6/7km plus a difficult 10km track.

Sommand sector:
A very easy track of 2km, an easy track of 1.6km and slightly harder one at 4km.

Guides - Jean-Luc Besson
0033 682 50 41 28
A free map of snowshoe and hiking trails is available at the tourist office.
Snowmobile in Praz de Lys
La Grande Ourse
0033 450 34 36 41
Fat bike in Praz de Lys
0033 685 93 35 05
Mountain biking on snow.
Each evening from Wednesday to Saturday (5.30-7pm). €35/person
On Monday evening, discover this activity from 13 yrs on the piste de Chevaly per 30 mins session between 5.30-7pm. €12/person.
Dog sledding in Praz de Lys
Saison Active
0033 450 34 25 05
From December to April
From 2 years old. 40 mins duration.
€60/adult, €30/children (less than 12 yrs) and €10/person (less than 5 years)
Baby dog sledding park in Praz de Lys
From 3-7 years.
Montagne d'Aventures et Saison Active
0033 450 34 25 05
Max 10 children per session. €45/child (2 hours)
Taninges Market
Every Thursday afternoon during the winter season.
Wing jump in Praz de Lys
New sensations, to try every Tuesday evening!
Wingjump is a new activity for children, teenagers and adults
From Saturday 19 of December 2015 to Friday 22 of April 2016, every Tuesdays.
Please note: All the above information is for information only. For the most up-to-date information please visit the resort tourist office website. All prices for activities are in local currency (€ Euros) and are bookable and payable locally in resort.    
Praz de Lys Tourist Office
BUREAU DE PRAZ DE LYS
Immeuble Le Florian - Praz de Lys
74440 Taninges
0033 4 50 34 25 05 
accueil@prazdelys-sommand.com
Praz de Lys Ski Activities
Cross country skiing in Praz de Lys
Praz de Lys benefits from an impressive 60km of cross country tracks. It is actually one of the most extensive Nordic area in the Haute Savoie region and also one of the best too. Follow the tracks through alpine meadows, forests and small hamlets of chalets nested between the trees. There is magnificent scenery all around. If you enjoy your cross country skiing and the accompanying views, then this resort could be the one for you.
Ski paragliding in Praz de Lys
Ecole les Choucas
0033 450 43 05 13
Praz de Lys Resort News & Events 2021/22
News:
Praz De Lys Sommand is making this season unforgettable in celebration of its 50th anniversary! 
Events:
Giant Sledge Decent

19th December 2021-1st January 2022 / 5th February-26th February

Track Game 18th December 2021-10th April 2022
Croq'Alp Workshop Of Cheese 18th December 2021-2nd of January 2022 / 5th February 2022-6th March 2022 Participate actively and make yourself your white Tomme cheese! Croq' Alp welcomes adults and children. All the senses are on alert with the workshop of cheese.
Airboard 26th December 2021
Weekly Market All-year-round every Thursday
Skiing Orienteering Race 1st January-10th April 2022 By yourself or in a team, try the orienteering race with a map to find beacons hidden on the ski resort of Praz de Lys.
Children's Odyssey 10th January 2022
Ski Event 21st of January 2022 - Praz de Lys Sommand is organising a very sporty après-ski event with relay races – running and cross-country skiing. It is for teams of two or solo.
Regional Cross-Country Ski Championship 22nd January 2022
Nordic Happy Hour 28th January 2022
Winter Chime Concert 2nd February-5th March 2022
Ski Mountaineering Race 6th February 2022
Carnival 25th February 2022
Cross-Country Ski Race 37th Edition 6th March 2022 Cross-country skiing race for 3.5, 7.5, 15 and 30 km. "Homemade" soup cooked in a huge cauldron, and numerous animations in a friendly atmosphere!
Wine and Local Products Fair 23rd April-24th April 2022
Savoyard Evening 30th April 2022
For more information see prazdelys-sommand.com
Après-ski, Bars & Restaurants
There are 11 restaurants in Praz de Lys and a couple of bars for after.
Praz de Lys Amenities
7 sports shops, butchers, bakers, launderette, pharmacy and a mini-market.
In the nearby town of Taninges, there is a larger supermarket and a cashpoint.  Super U 08.30-20.00 and Sunday morning during the season 0900-12.30. There is also a self service 24hr petrol station here.
Getting to Praz de Lys, France
By Road:
Driving distance from Calais to Praz de Lys 538 miles (7 hrs35).
From Calais, take A26 Motorway towards Reims and Troyes, then Dijon, Mâcon then 'Autoroute Blanche' Motorway (A40 Mâcon – Cluses) exit 18 Cluses Scionzier for Taninges and Praz de Lys. Then exit 15 Vallée Verte -Samoens for Mieussy/Sommand.
There is no open road between Praz de Lys and Sommand during the winter season.
By Rail: 
TGV to the train station in Cluses (10km from Taninges and 24km from Praz de Lys).
Airports:
Geneva Airport is 40km from Praz de Lys (40 mins)
Shuttle buses
• Annemasse - Mieussy - Taninges - Samoëns / Cluses - Taninges - Le Praz de Lys: with SAT buses (direct lines in winter).
• Connections with resorts Summer / Winter (Informations SAT Annemasse & Cluses, Tourist offices Taninges & Mieussy).
• SAT Cluses +33(0)4 50 98 01 67
• SAT Annemasse +33(0)4 50 37 22 13
• Bus station Cluses +33(0)4 50 98 07 81
Praz de Lys Airport Transfer
Pre-book your taxi transfer with Peak Retreats - to be confirmed.
For all other transfer prices please click here
Travel around villages
Free shuttle in Praz de Lys from the camper park of Savolière, Canevet and Molliettes to the resort centre.
Free shuttle in Sommand, from Les Residences to the chairlift.
Schedules available in Tourist offices 
Travel to nearby towns
Econavette from villages to the resort: Praz de Lys - Sommand's Eco-navette
A shuttle service between the villages and the resorts.
The shuttle allows people to travel between the villages of Taninges and Mieussy and the resorts. It enables the resort residents to use this communal transport to go shopping, to the market...
Buy tickets:
- Tourist offices
- On the shuttle bus (daily tickets only)
Tickets prices guideline:
- 1.50 € / day
- 13.50 € / 10 days
---
Praz de Lys Opening Dates
Praz de Lys opens from 18/12/21 - 10/04/22