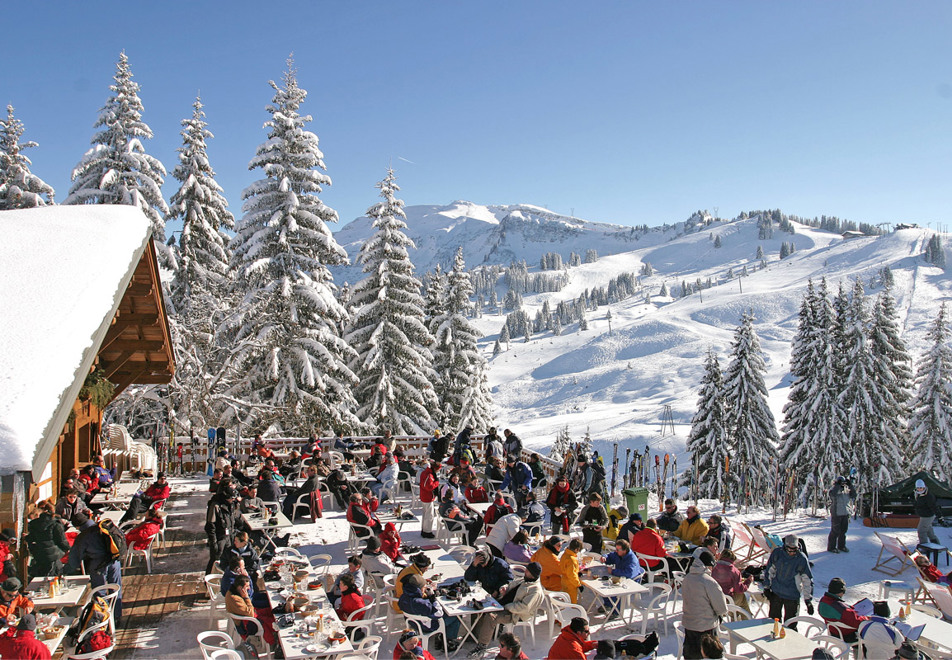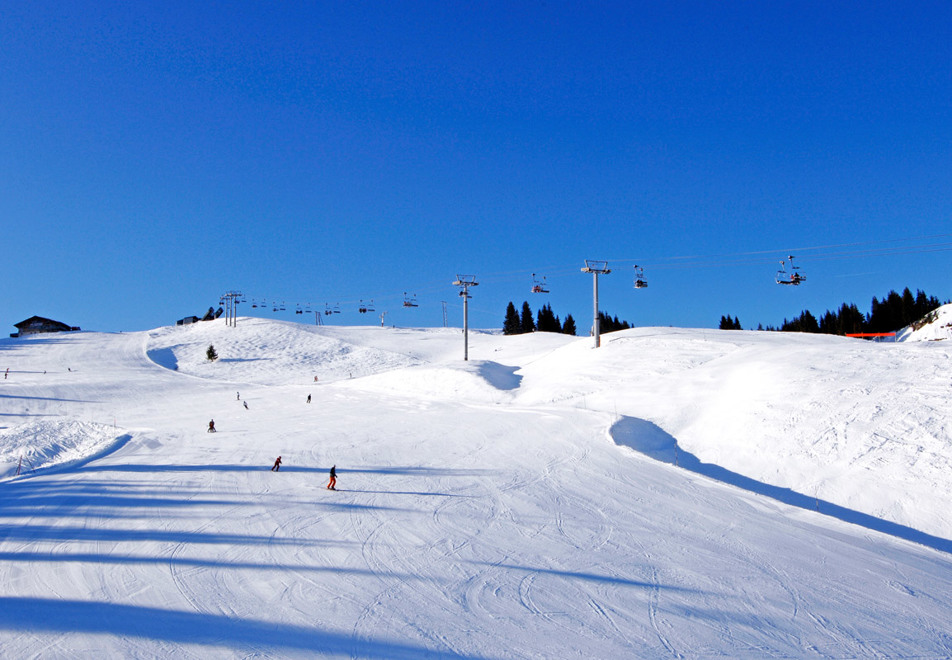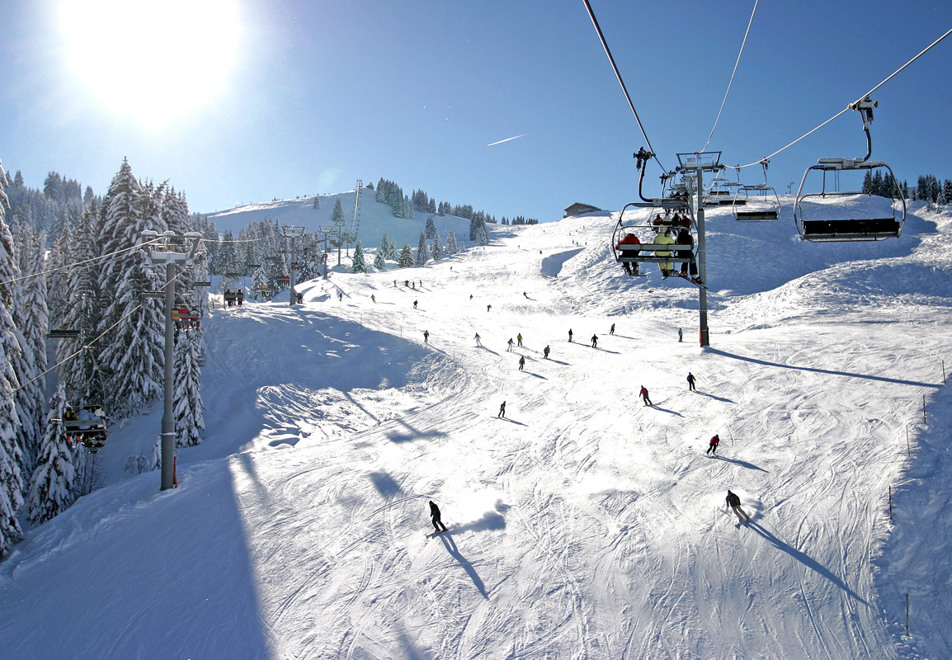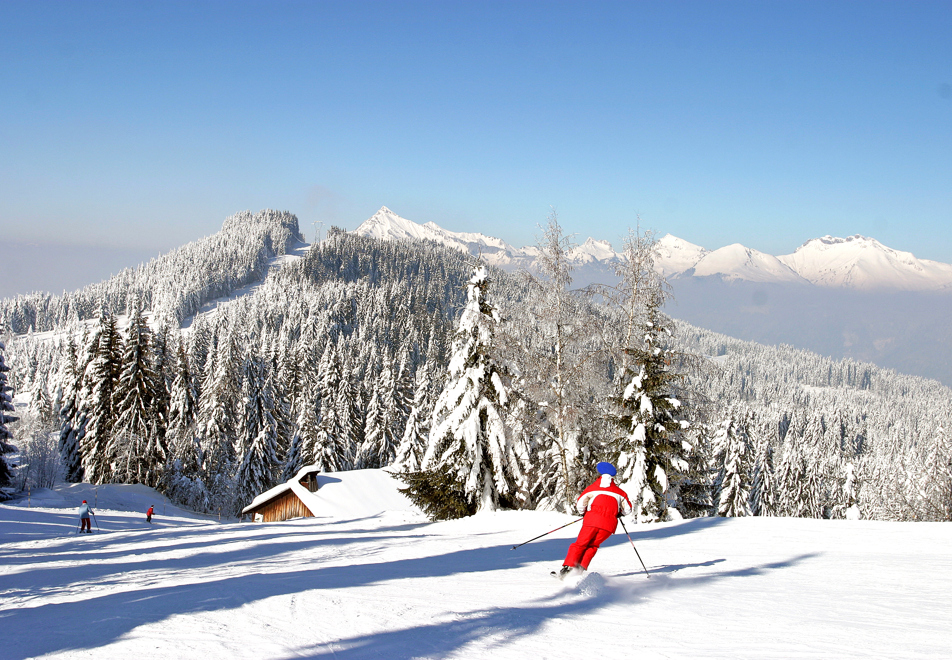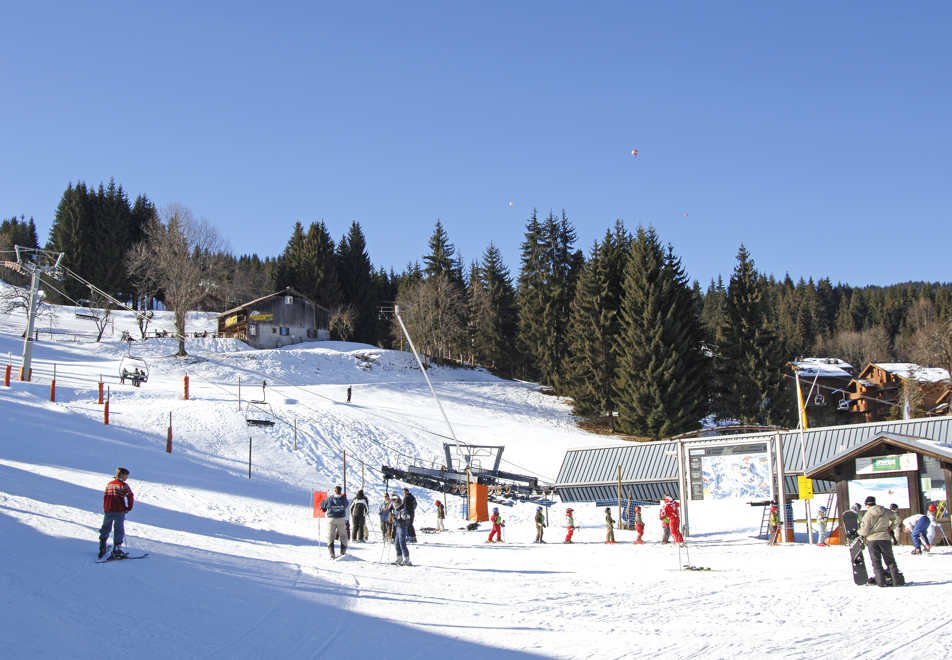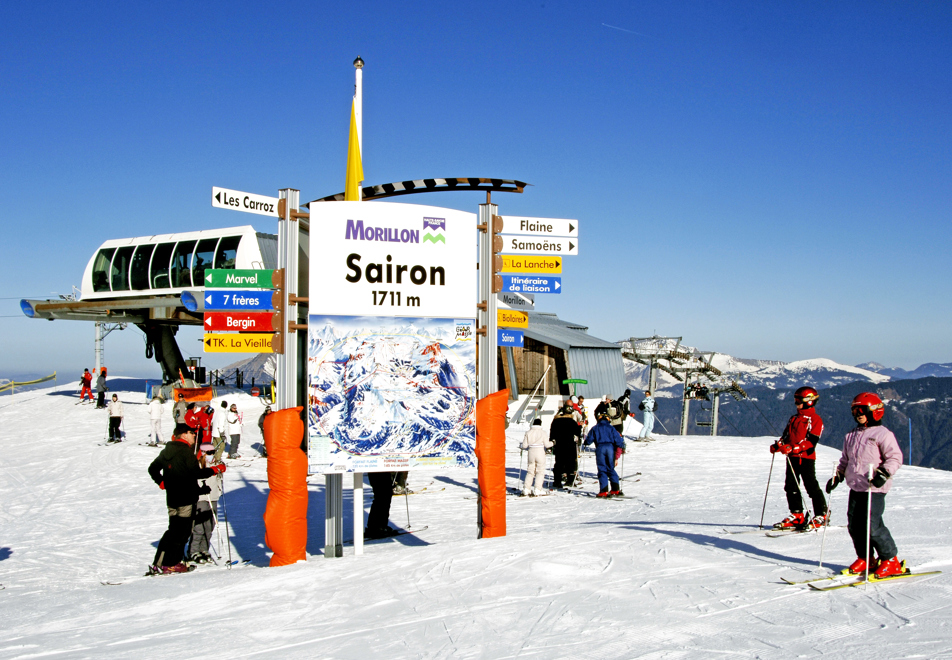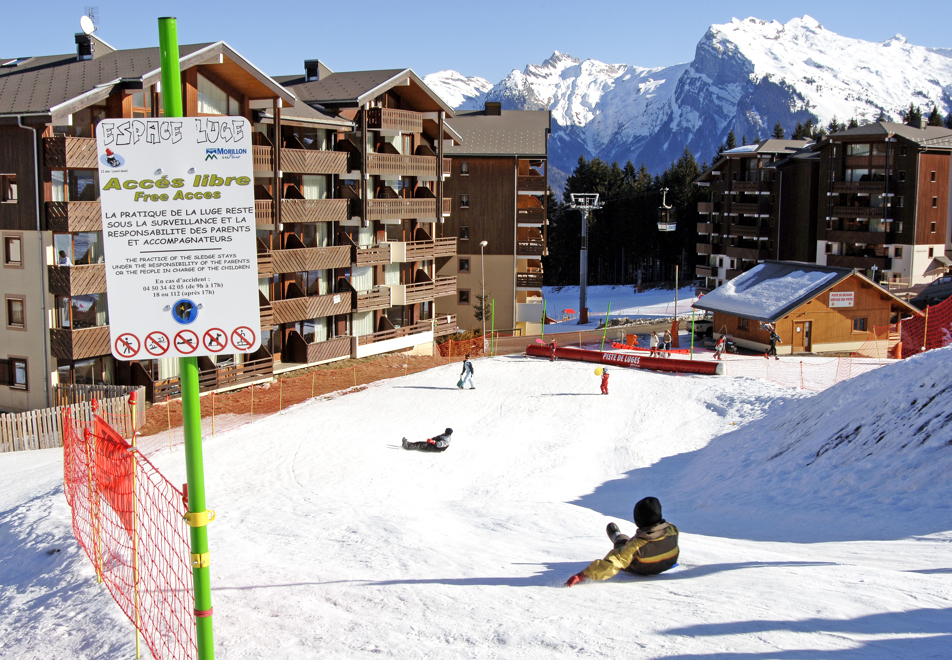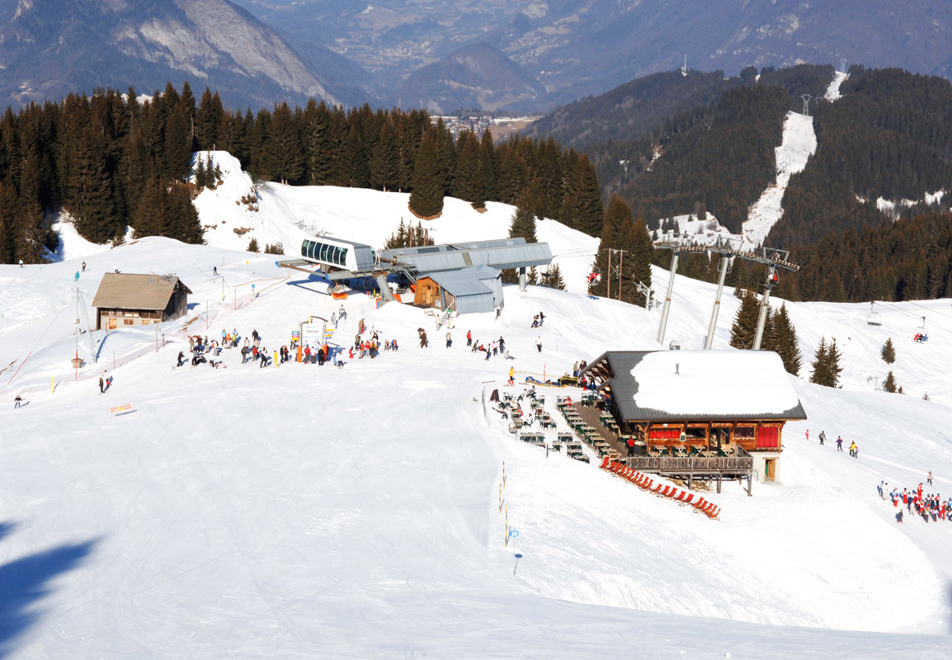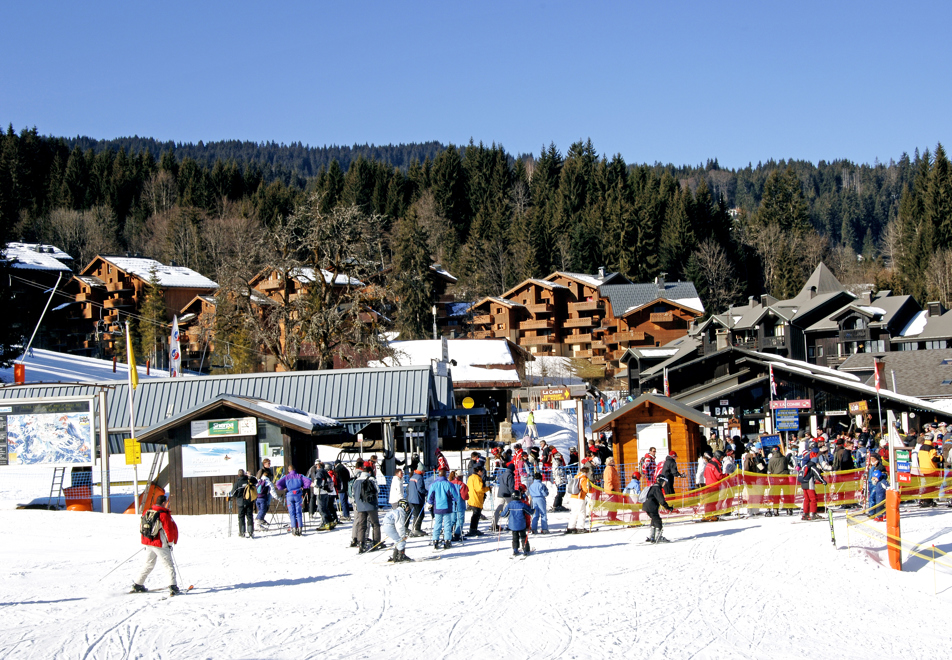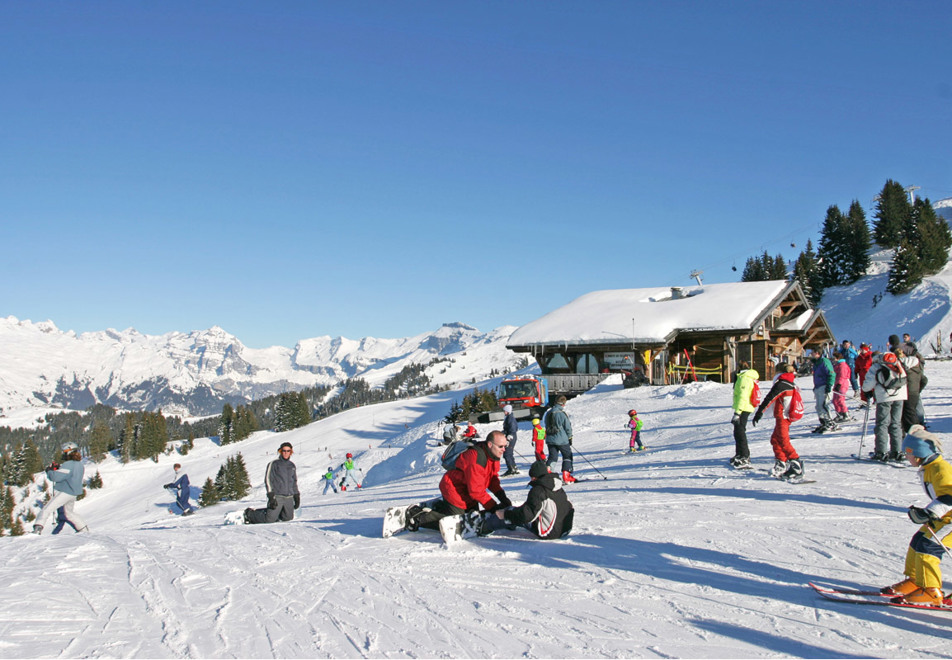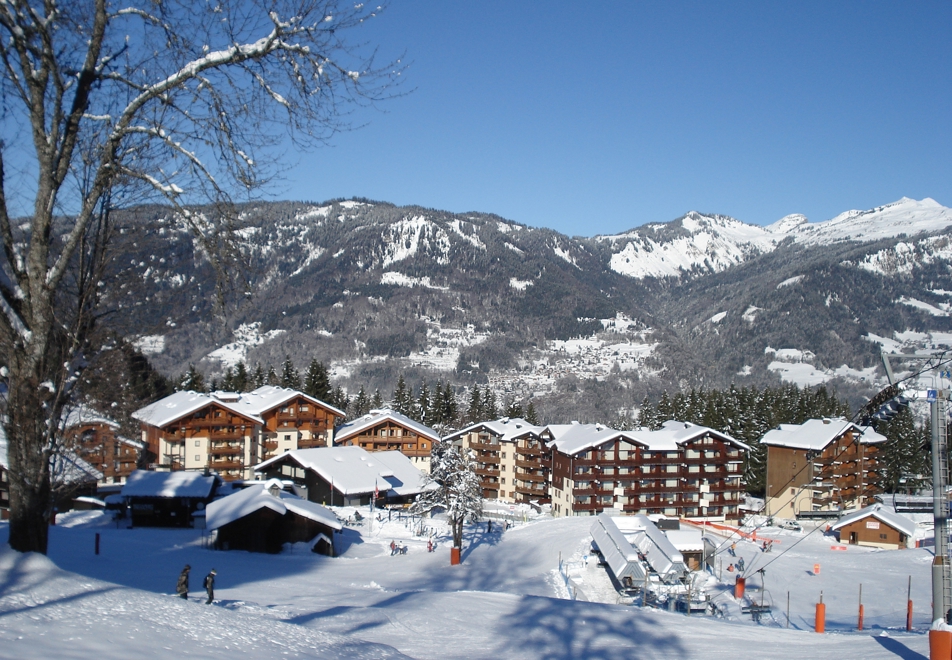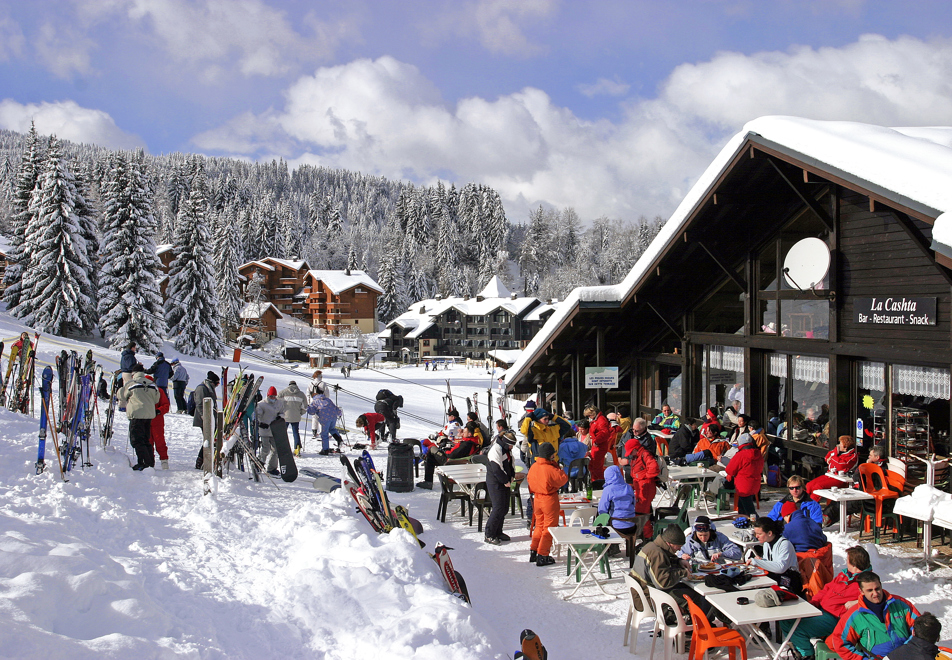 Thinking of skiing in Morillon? Morillon is a charming Savoyard village built around a 16th century church in the Giffre Valley. Offering quick transfer (1 hr from Geneva) and access to 265km pistes.
Why Morillon & Morillon 1100 Ski Resorts?
Close proximity to Geneva airport (1 hour transfer)
Easy access to the Grand Massif ski area (including Flaine)
Morillon offers a selection of great value ski accommodation
Morillon & Morillon 1100 (Grand Massif/Flaine) Resort Information
In Morillon there are weekly torchlight descents, concerts, wine and food tasting, and a variety of activities for children - all part of an extensive winter programme of entertainment. Value-for-money restaurants make eating out a pleasure while a local 'traiteur' (deli) produces first class regional food to take away.
Morillon 1100 (also known as Les Esserts), is a purpose-built resort above Morillon village and is very much a pedestrianised, family-friendly resort. Morillon 1100 offers visitors a small selection of restaurants and bars, a few shops and a mini-supermarket. The 'Village des Enfants' children's facility is based at Les Esserts.
Verchaix is in the middle of the Haute-Savoie, on a sunny slope overlooking the Giffre Valley and Morillon Village. It has good road links to Annecy, Geneva and Chamonix. Verchaix's attractive traditional hamlets feature a rich variety of country cottages, farms, chalets and positively exude Savoyard charm!
Morillon is only 35 miles (1 hour) from Geneva airport and a 15-minute drive from the motorway exit and TGV train terminal at Cluses.
Peak Retreats offers a range of Morillon accommodation options. All of Morillon's ski apartments have been hand-picked and are of a very high standard (3 & 4*), providing the ideal base for a Morillon ski holiday.
MORILLON SKI AREA
Morillon village has its own nursery slopes and - snow conditions permitting - you can ski back to the village.  The main skiing area starts at Morillon 1100 (Les Esserts), the modern ski centre on the mountain above the resort. It can be reached by fast gondola or by car (an eight-minute drive). The snow record from Morillon 1100 is generally good, and well above other resorts at a similar altitude. Snow cannons allow a useful top-up early and late season (from mid-April). There's some delightful tree-line skiing at lower levels in Morillon - ideal for bad weather conditions!
Thanks to its geographical location, the Grand Massif enjoys abundant, regular snowfalls throughout the season, and the area is well known for its snow quality in spring. Of course, 80% of the slopes are north-facing, allowing the snow to lie for longer and remain in good condition.
The village's own complex of nine lifts are directly linked to Flaine, Samoëns, and Les Carroz with some really good runs for all abilities.
The Chamonix Valley and the Portes du Soleil (Les Gets, Morzine and Avoriaz) are only a 30-minute drive away. Morillon is also an ideal starting point for cross-country skiing, snow-shoeing – and just plain walking through a really picturesque snow-scape!
Additional ski fact info, main ski info in resort facts box at top of page
Massif (all of above exc. Flaine)
145km of pistes, 45 lifts, 81 slopes:
Green slopes: 11
Blue slopes: 38
Red slopes: 23
Black slopes: 9
254 snow cannons & 1 snow park
MORILLON SKIING
MORILLON BEGINNERS
For beginners, there are a few green slopes at Morillon 1100 Les Esserts, and some blues to progress on. These all link back to the resort centre, making it a great environment to learn in. There's also a moving carpet for beginners at Morillon 1100 and a small slope for them to practise those all-important first turns!
MORILLON INTERMEDIATES
For intermediates, the Morillon slopes are really excellent – the long green Marvel forest run to Morillon 1100 (5km of piste) is an easy cruise with intriguing signs along the way explaining all about the local wildlife. Intermediates and boarders will enjoy the 49 red pistes and 15 black runs that are so numerous in the Grand Massif area, with its extensive intermediate slopes and big lift networks.
MORILLON EXPERTS
Don't worry, all you hard-core skiers! Experts can find some tricky red and black runs above Morillon ski resort.
MORILLON OFF-PISTE
Extensive off-piste opportunities are an added bonus around the Morillon ski resort and surrounding resorts of the Grand Massif.
MORILLON SNOWBOARDERS
Snowboarders and twin-tip skiers have a choice of three purpose-built terrain parks (see below).
SKIING BACK TO RESORT
If you're staying in Morillon village, depending on snow conditions you can take the 'Doina' red run which winds under the Morillon gondola to the bottom - or there's a blue run too (but it's not always open). If you are staying at Morillon 1100, the runs which come down directly into the resort are the green 'Marvel' and two blue runs – 'Sairon' and 'Charnia'.  
Morillon Ski Hire
Pre-book your Morillon ski hire with Peak Retreats.

View here for pre-bookable ski extra prices in £ for Morillon 2018/19
Please note, these Pound Sterling prices are for indication only. They will fluctuate based on Euro/£ exchange rate. Please call us for the latest prices.
Special offers: *7 days for the price of 6.  Free Skis/snowboard & boots (Blue/Red) for party leaders of groups of 10 or more all taking equipment. 1 Free helmet per child aged 6 and under for every adult booking skis or snowboards & boots (must be under same booking reference and requested on form above). Other duration prices on request - Cross Country ski prices on request.
Find out more about Peak Retreats ski hire
Morillon Ski Pass
Pre-book your Samoens lift passes with Peak Retreats. Find out more about Peak Retreats ski passes

View here for pre-bookable ski extra prices in £ for Morillon 2018/19
Please note, these Pound Sterling prices are for indication only. They will fluctuate based on Euro/£ exchange rate. Please call us for the latest prices.
Other lift pass on offer (to buy locally in resort in Euros):
For complete beginners 2017/18:
Morillon beginner pass - €18.90 for adults and €14.20 for children (day)
Morillon beginner pass - €17.10 for adults and €12.80 for children (1/2 day - 4 consequetive hours)
(2 x trips Morillon gondola, drag beginner and Chairlift Esserts)
Massif ski pass – ½ day and daily rates 2017/18:
4 consecutive hours - €28.40 children, €37.80 adults
Day - €31.50 children, €42 adults
Grand Massif ski pass – ½ day and daily rates 2017/18:
4 consecutive hours - €31.70 children, €42.30 adults
Day - €35.30 children, €47.00 adults
Morillon Ski School
Pre-book your Morillon ski school with Peak Retreats. Find out more about Peak Retreats ski school
Ski school for children is available to book from 4 years to 15 years, in Morillon, with Peak Retreats. 

View here for pre-bookable ski extra prices in £ for Morillon 2018/19
Please note, these Pound Sterling prices are for indication only. They will fluctuate based on Euro/£ exchange rate. Please call us for the latest prices.
Ski School: Please note that lesson times are subject to change right until the last minute. Outside French school holidays the ski school reserves the right to cancel group lessons should numbers be insufficient. For peak periods (22/12-4/1, 9/2-8/3 & 6/4-26/4) we strongly recommend that you book as early as possible and in any case at least 6 weeks prior to the required dates. Morning lessons tend to get booked up first and therefore we may only be able to offer afternoon classes within 6 weeks of departure. In some resorts English speaking instructors may not always be available, particularly at peak times.
We cannot always guarantee that prices will be cheaper than in resort. When ski packs prices are calculated, the currency is bought at the exchange rates that apply at the time. You can be assured that once you have booked your extras, if the pound depreciates, you will not be charged more for your ski packs, enabling you to budget for your holiday in advance.
Morillon Individual Tuitions (2017/18 prices, NOT pre-bookable with PR)
Individual tuitions can only be purchased directly from the ski school. Peak Retreats cannot pre-book these.
Around €41 per hour for 1-2 people.
Please note that prices are only an indication and are subject to change.
Ski school Morillon contact numbers for private lessons:
Ecole du Ski Francais Village +33 450 90 15 09
Ecole du Ski Français Les Esserts +33 450 90 11 52
Morillon Child Care
The Village des Enfants is conveniently located at Morillion 1100 Les Esserts near to the main gondola and welcomes little ones from 6mths to 8yrs in their creche. If you are coming from Morillon Village you will need to come by car or cable car. There is no bus.
With child specialists and local carers, you can trust you are leaving your children in safe hands.
Tel Morrillon:+ 0033 450 907 215
Village des Enfants RESERVATIONS from 1st October 2015
Mornings are 9h - 12h30 and afternoons from 13h30 – 16h20 (17h20 during French school holidays) 
Day 9h00 - 16h20 (17h20 during French school holidays).
Childcare and Garderie Prices 15/16 (without meals)
NURSERY (6 months - 3 years)
Half day €34.00
Day € 46.00
5 half days € 127.00
5 days € 174.00
6 half days € 152.00
6 days € 212.00
  
CARE WITHOUT SKI (3 years - 8 years)
Half day € 34
Day € 45.00
5 half days € 122.00
5 days € 162.00
6 half days € 149.00
6 days € 197.00
PRICE MEALS
Child € 8.70
Baby 6 to 20 months € 6.50
  
5 days/half days are from Monday to Friday.
  
6 days/half days are Sunday to Friday.
  
For children above the age of 5 and you have accommodation and are staying in Morillon village (and not Morillon 1100/Les Esserts), you will need to obtain a cable-car ticket if you do not have a ski lift pass. Free for children under 5 upon presentation of written proof of age. Passes are only reimbursed in the event of a child falling ill and where a medical certificate is presented. Otherwise you can drive to Morillon 1100 to drop off the child/children.
For a list of babysitters consult the tourist office.
Childrens Ski Lessons in Morillon Les Esserts 1100
Children can ski from 3 years old with ESF Morillon Les Esserts although we can only pre-book from 4 years old.
Peak Retreats can pre-book your ESF Morillon ski lessons.
Morillon Resort Activities
Morillon Dog sledging
Accueil Nordique Bâtiment de l'Office de tourisme 
74340 Samoëns
Phone: 0033 4 50 96 64 19  
Les Vallons plain, 1 km from the village centre.
Experience the joys of a ride in a dog sled driven by a musher. Pulled along by the dogs, you'll discover the snow-covered scenery of the Upper Giffre Valley. Available once a week only. Advanced booking strongly recommended. The dogs will take you through the snow-bound scenery of the Upper Giffre Valley.
Two persons per sled (plus one or two children, depending on age). This trial ride lasts for 20 to 30 minutes and, depending on snow conditions, takes place in Samoëns or Sixt Fer à Cheval.
Morillon Walks
On foot or snow shoes.
15 different signposted tracks to help you discover the Giffre valley.
Itineraries on sale at the tourist office: 5 €
Each itinerary described with an illustration and a simplified map
Morillon Paragliding
Profeel parapente Hermine 2
74440 Morillon
Phone: 0033 4 50 90 30 08
Start at Samoëns 1600 and land at Samoëns, behind the swimming pool. An original way to discover the Giffre valley in summer or winter. Rodolphe will take you flying over the valley in a tandem paraglider.
All year round: open every day.
Grand Massif Helicopter flight 
Les Vallons 
74340 Samoëns
Phone: 0033 4 50 92 78 00 
Maiden flights in a helicopter from Samoëns. 25 years of flying experience at your service. Take off for a maiden flight full of thrills around the Giffre Valley. Magnificent views to be seen with Mont-Blanc Hélicoptère during an unforgettable flight! Fly over magnificent panoramas, and enjoy a bird's eye view of some incredible locations. Departures from Samoëns, Annemasse, Avoriaz and Megève.
Throughout the year: open daily
Snowshoe in Morillon
Bureau des guides de la vallée du Haut Giffre: Day or half-day walks every day : +33(0)4 50 34 43 12
Morillon Ice skating
In Morillon just near the blue lake (village) and in Samoens 4km. Open every day from 14:30 to 19:30.
Wednesday opening 14h to 16h and from 16h to 18h animation given by the tourist office and night music from 20h to 23h.
Morillon Markets
Market in Morillon is on Wednesday from 16h-20hr in Le Bourg.
Other markets:
Cluses on Monday morning
Bonneville and Annemasse on Tuesday morning
Samoëns on Wednesday morning
Taninges and Les Gets on Thursday morning
Sallanches on Saturday morning
All the above information is for information only. For the most up-to-date information please visit the resort tourist office website
Morillon Tourist Office (OT Morillon) 
Tel +33 4 50 90 15 76
www.ot-morillon.fr 
December to April Monday to Saturday from 9am to 12.30pm and from 14h to 18h30 and Sundays from 09h to 12h and from 14h30 to 18h30.            
Morillon Ski Activities
Morillon Restaurants & Mountain Restaurants
L'Igloo (by chairlift Bergin) and La Chalet d'Clair plus many more in the Grand Massif domain.
Cross-country in Grand Massif
In Morillon:
3km of slopes free access (near Morillon Village and Lac Bleu).

The Haut Giffre Valley:
There are nearly 50 kms of slopes.
-Boucle du Lac Bleu (green)
-Circuit de la Plaine
-Bois de l'Etelley (rejoint Samoëns)

Between Morillon and Sixt Fer à Cheval from 700m-1000m altitude.
Altitude site:
For these sites you must have a car.
The "Col de Joux Plane" (1700m) about 30 kms of slopes in front of the Mont Blanc. This site is opened only when the valley is closed. About 20 km from Morillon.
Also:
Agy (1300m) is near Les Carroz and there are about 20 km of slopes.
Le Praz de Lys (1400m) up to Taninges. About 23 km of slopes.
Nordic shuttle for the sites of Fer à Cheval and Joux Plane:
- à Joux Plane Monday, Wednesday, Friday and Sunday (départ tourist office of Samoëns)
- au Fer à Cheval Tuesday, Thursday and Saturday (départs tourist offices of Morillon, Verchaix, Samoëns and Sixt)
If only one site open, then runs all the days.
Ski Joering in Morillon
Lac Bleu 
Morillon village 
Phone: 0033 6 80 68 69 65  
Terrain Parks - JamPark
JamPark Pro is in Flaine and is the main park. Has a quarter-pipe, tables, rails, a boardercross course and chill-out zone.
There is a tiny kids' park in Samoens, a boardercross course in Les Carroz and another kids' park, JamPark Kids, with a boardercross on the Morillon side.
Big Air Bag
From Dec-April: open daily. At bottom of pistes at Morillon 1100 
Toboganning in Morillon 1100 and Morillon
The resort has created two sledging pistes: one in the village and the other at Morillon 1100 "les Esserts", for the pleasure of the kids... and the grown ups! 
Luge (toboggan) on the green Marvel piste in Morillon 
Morillon/Grand Massif Resort News & Events 2018/19
Resort news:
Investment

 

- the Auvergne-Rhone-Alpes has invested:
In

 

Samoëns

 

and

 

Morillon, a 600,000€ grant went towards installing 60 snow cannons on the 2 new pistes in the Coulouvrier bowl
In Flaine, a second grant of 600,000€ went towards integrating the 110,000m2 Veret

 

mountains reservoir into the landscape
2 new pistes

 

-  the Coulouvrier Bowl will have two new slopes! For 2018/19 two slopes categorised as red will be available:
"PACCOTY" on the

 

Morillon

 

side, running from the top of the Biollaires chairlift down to the bottom of the Coulouvrier chairlift
"CORNE" on the Samoëns

 

 

side, taking the following route: from the "Marmotte" piste as far as the intersection with "Paccoty"
Luge (mountain coaster)

 

- Opening December 2018 in

 

Les Carroz! Riders from 3 years old (under 9's must be accompanied by an adult). Departure is at the bottom of the Kedeuze

 

telecabine. Open from 3pm-7pm daily.
Events:
More information can be found on the tourist office website: www.ot-morillon.co.uk
Morillon Après-ski, Bars & Restaurants
Morillon has around 10 bars/restaurants.
Le Bon Coin
Bar and concerts.
Le Bois du Seigneur
Menu savoyard
Mon-Sat
Restaurant Le Caribou
Cuisine savoyarde, free WIFI gratuit
www.restaurantlecaribou.com 
Le Yéti
Snacks and pizzas
La Carline
Restaurant savoyard 
La Cashta
La Covagne
L'Etoile des Neiges
Le Morillon
Spécialités savoyardes
Restaurant Le Potet
Savoyard, pizzas
La Terrasse de Verchaix
Restaurant panoramique Spécialités savoyardes
Le Tourne Pierre
Savoyard
Morillon Amenities
Morillon is served by a range of amenities including:
Morillon village – hairdressers, tabac, 6 bars/restaurants, pharmacy, sport shops, ATM cash point.
Morillon 1100 – Sherpa minimarket, 4 bars/restaurants, sport shops
(no cash point in Morillon 1100).
Getting to Morillon, France
By Road: Driving distance from Calais to Morillon 537 miles (approx 7hrs30)
From Calais, take A26 Motorway towards Reims and Troyes, then Dijon, Mâcon then 'Autoroute Blanche' Motorway (A40 Mâcon – Cluses) Exit Cluses Scionzier. Follow signs to Samoens. After the Chatillon pass, follow signs to Morillon. It takes approximately 15 minutes from the motorway exit to Morillon.
By Rail: Cluses 20km
For information on timetables and availability ... www.sncf.fr
There are shuttle buses from the station in Cluses to Morillon. These buses run only as far as Morillon village and do not go up to Morillon 1100. If you arrive during the opening hours of the cable car, you can use it to complete your journey.
One-way ticket Cluses-Morillon about €7.
Information on timetables 04 50 34 40 09.
From Cluses to Morillon private transfers – from £58 per person return based on 4 people sharing. Prebookable via Peak Retreats.
Airports:
Geneva to Morillon is 59km (1 hour)
Shuttle bus (about c€64 per pers return children 4-12 half-price)
www.gva.ch/en
Chambery is 110km from Morillon (1 ½ hours)
www.chambery-airport.com
Grenoble is 196km from Morillon (2 hours)
www.grenoble-airport.com
Lyon Saint-Exupéry is 197 km from Morillon (2 hours)
www.lyonairport.com 
Public shuttle bus transfers from airport:
Geneva Airport - Morillon Village via Annemasse (www.coach-station.com). 
Getting around Morillon Village and Morillon 1100
Shuttles run between Samoens and Morillon but no shuttles run between Morillon Village and Morillon 1100. To get from Morillon Village to Morillon 1100 you must take the cable car only during the day or by car.
Morillon Airport Transfer
For pre-bookable private transfer rates with Peak Retreats, view here. 
Morillon Opening Dates

The Grand Massif ski area (Samoens, Morillon, Flaine, Les Carroz, Sixt a fer Cheval) is open: Saturday 22/12/18 – Monday 22/04/19.
Flaine:
Pre-opening from Saturday, December 15th to Friday, December 21st 2018.
Grand Massif opening: From Saturday, December 22nd 2018 to Monday, April 22nd 2019!
Les Carroz:
Pre-opening from Saturday, December 15th to Friday, December 21st 2018
Grand Massif opening: From Saturday, December 22nd 2018 to Monday, April 22nd 2019!
Morillon:
From Saturday, December 22nd 2018 to Monday, April 22nd 2019.
Samoëns:
Pre-opening from Saturday, December 15th to Friday, December 21st 2018.
Grand Massif opening: From Saturday, December 22nd 2018 to Monday, April 22nd 2019!
Sixt:
From Saturday, December 22nd 2018 to Friday, March 15th 2019.