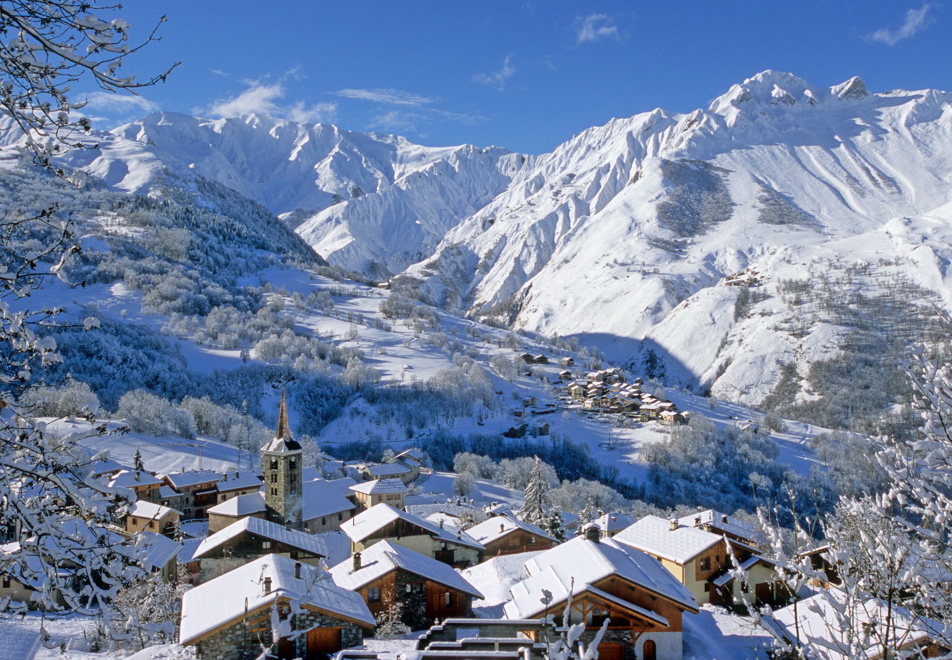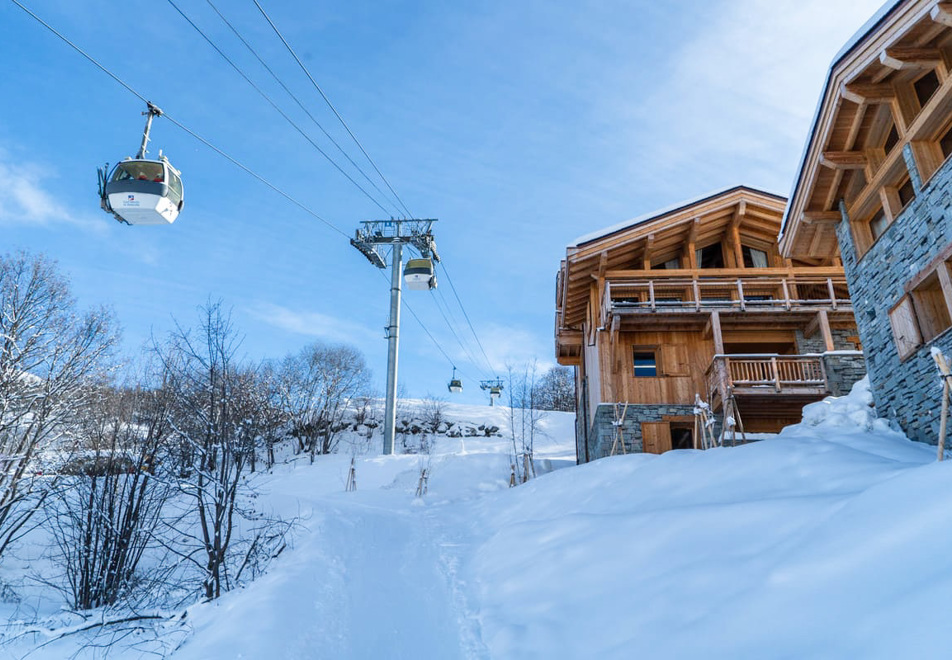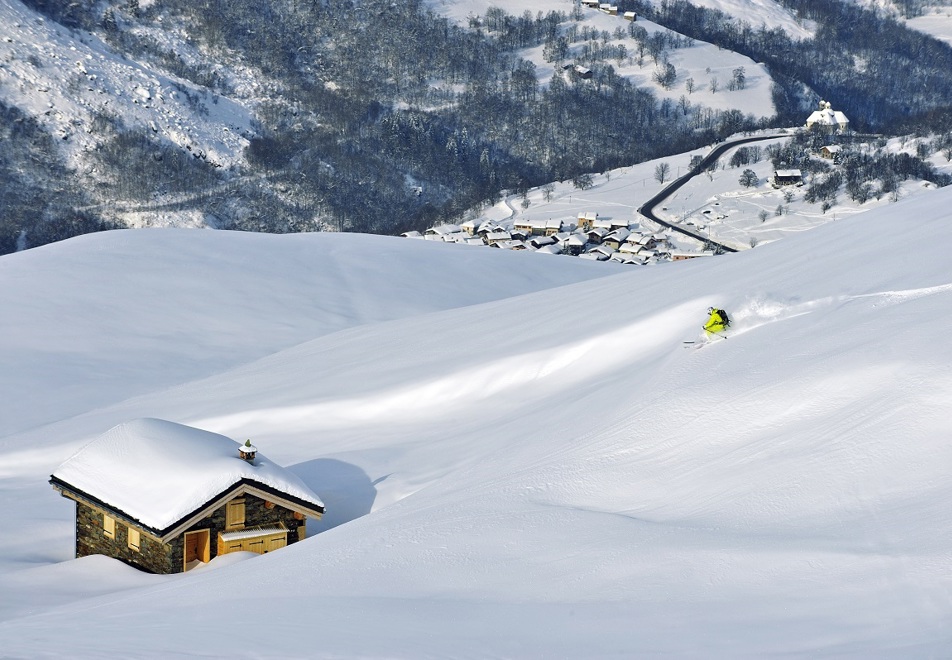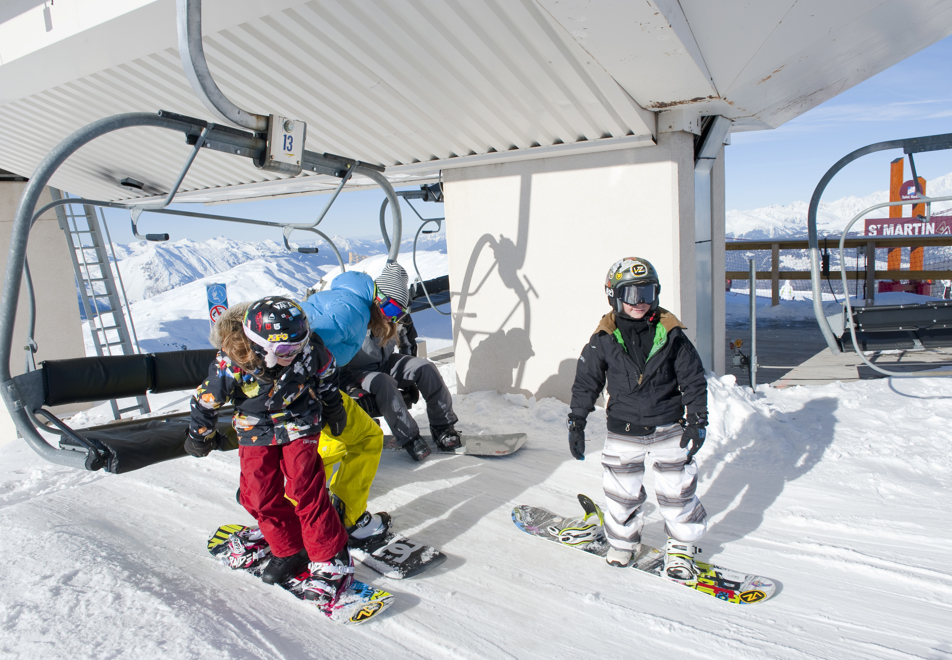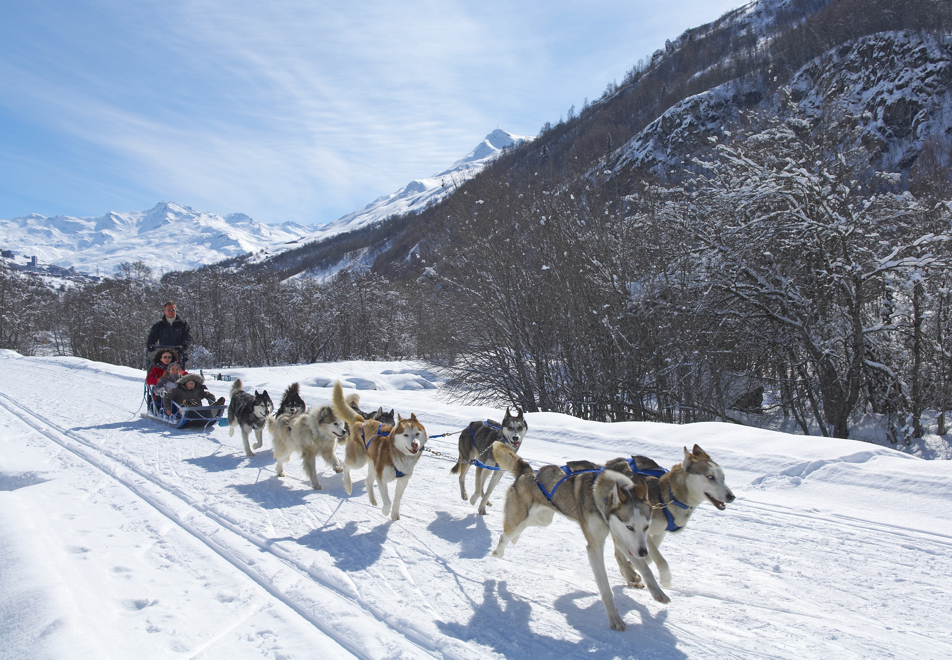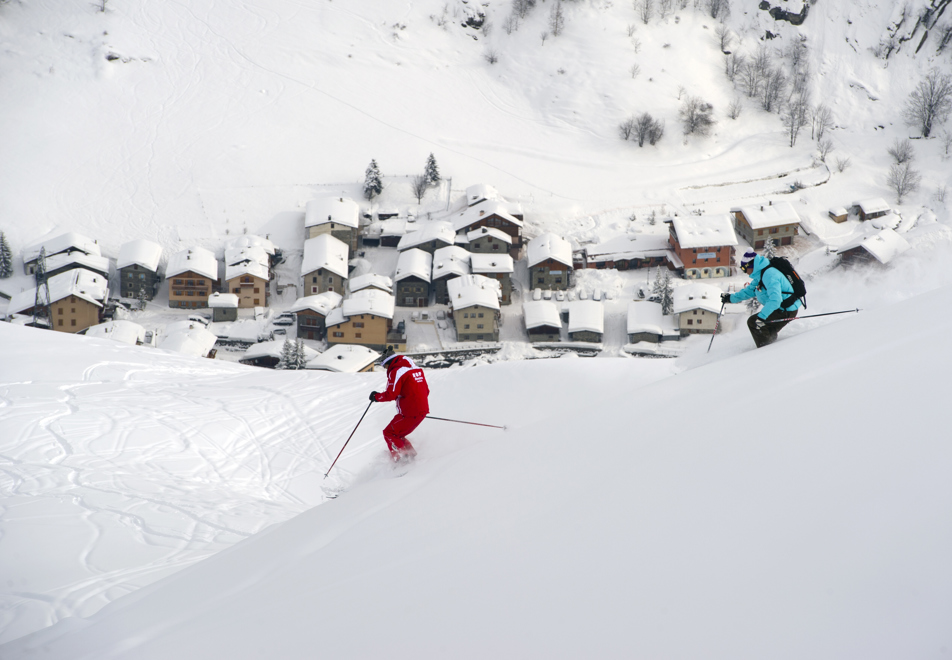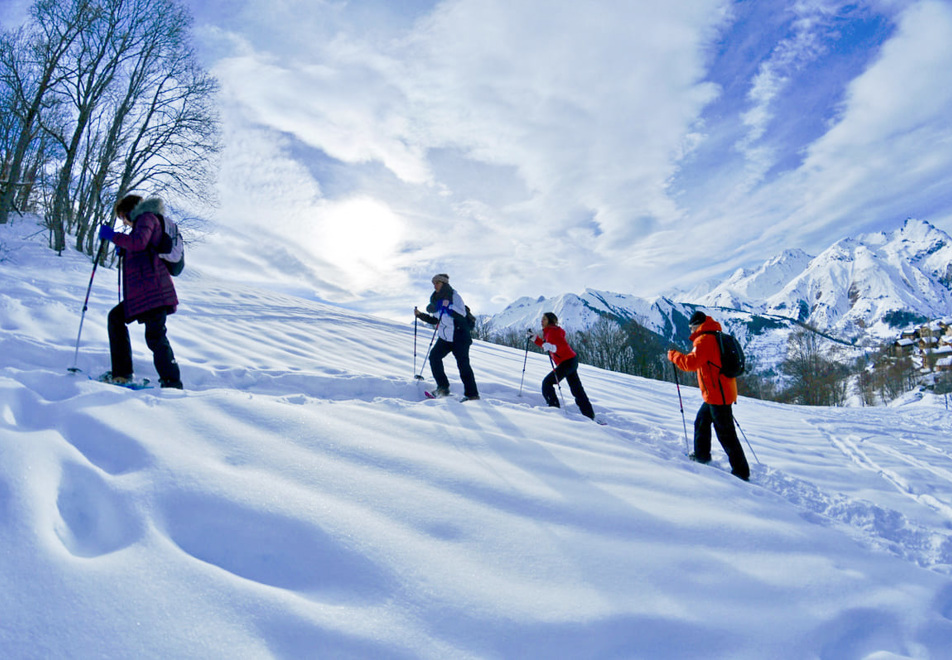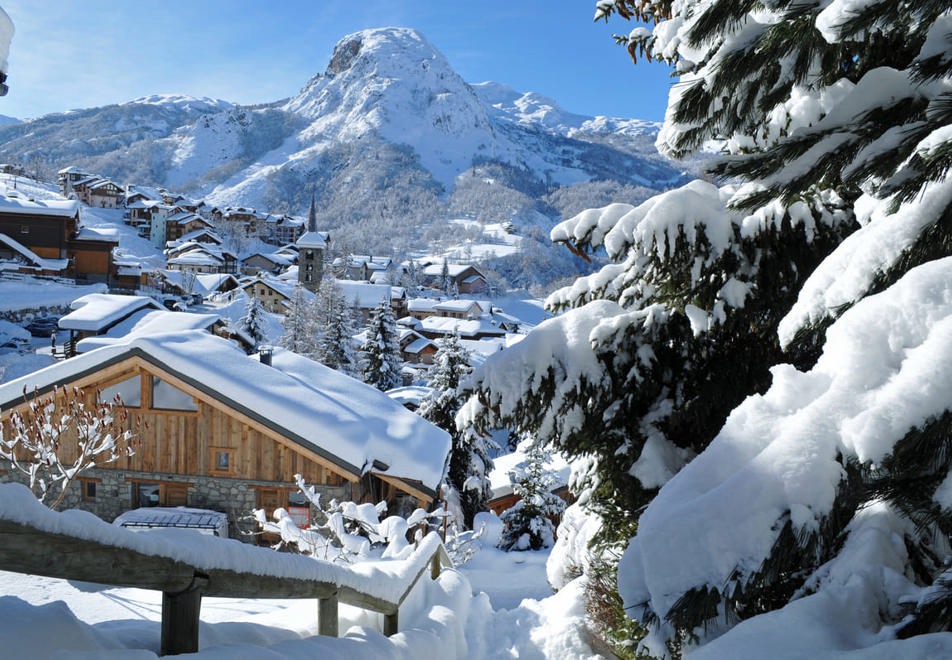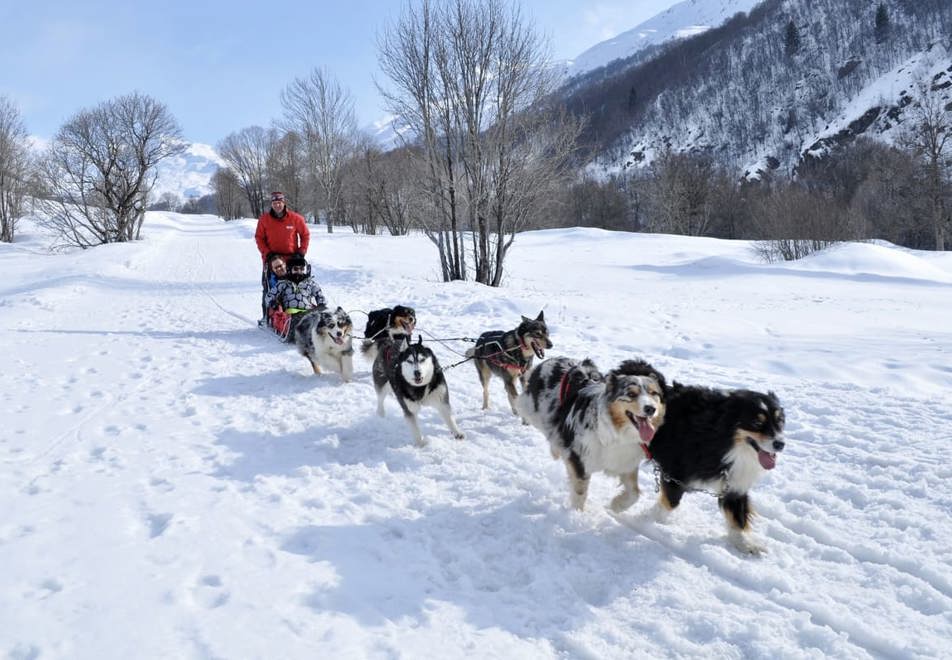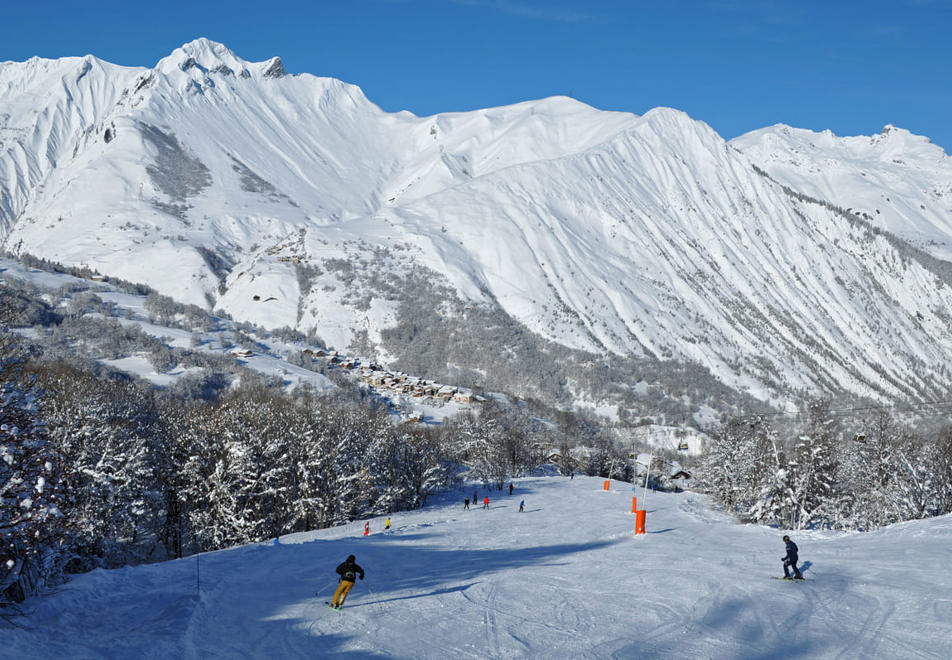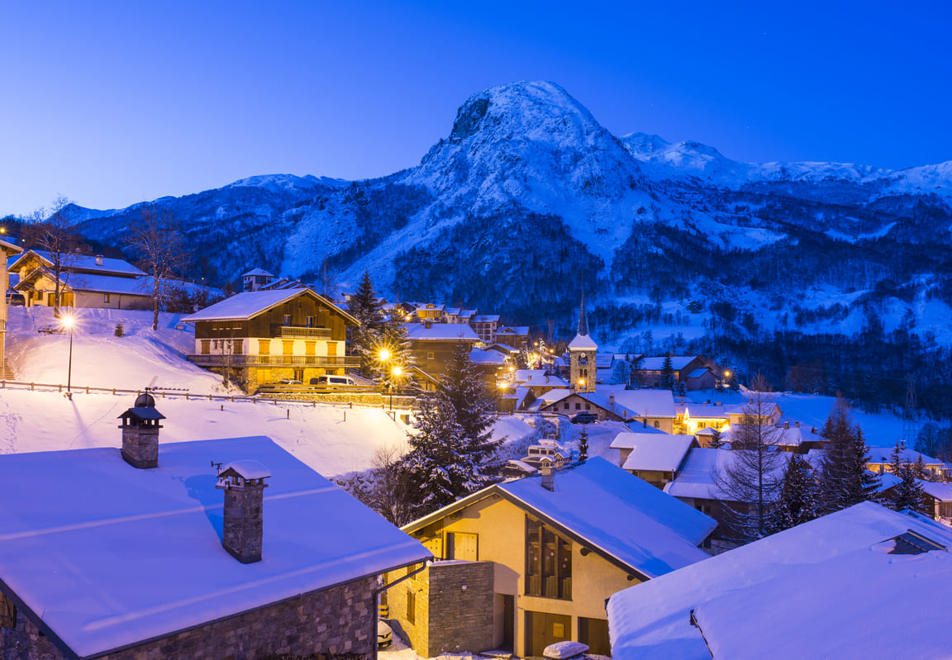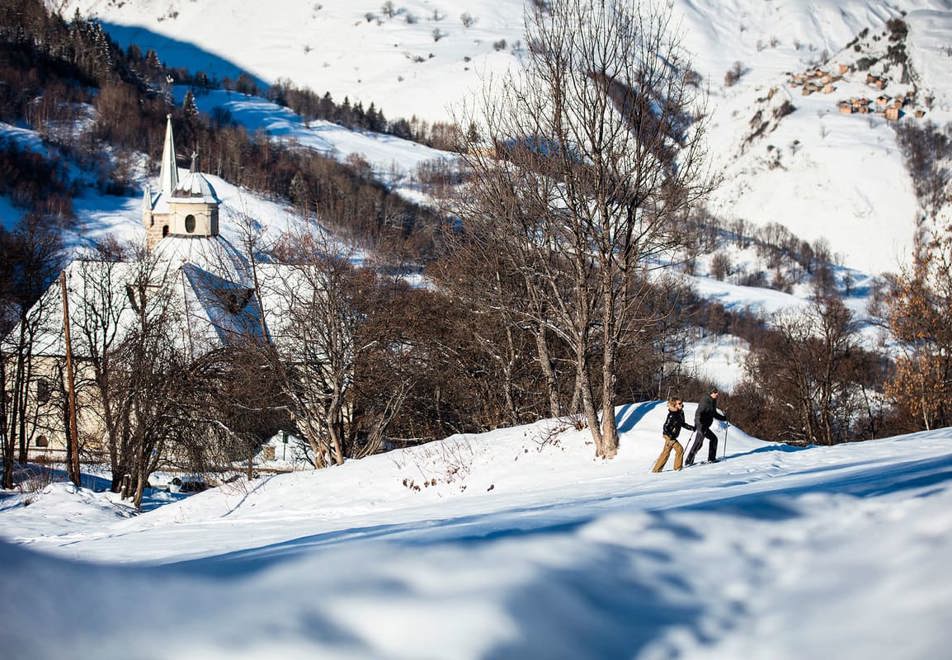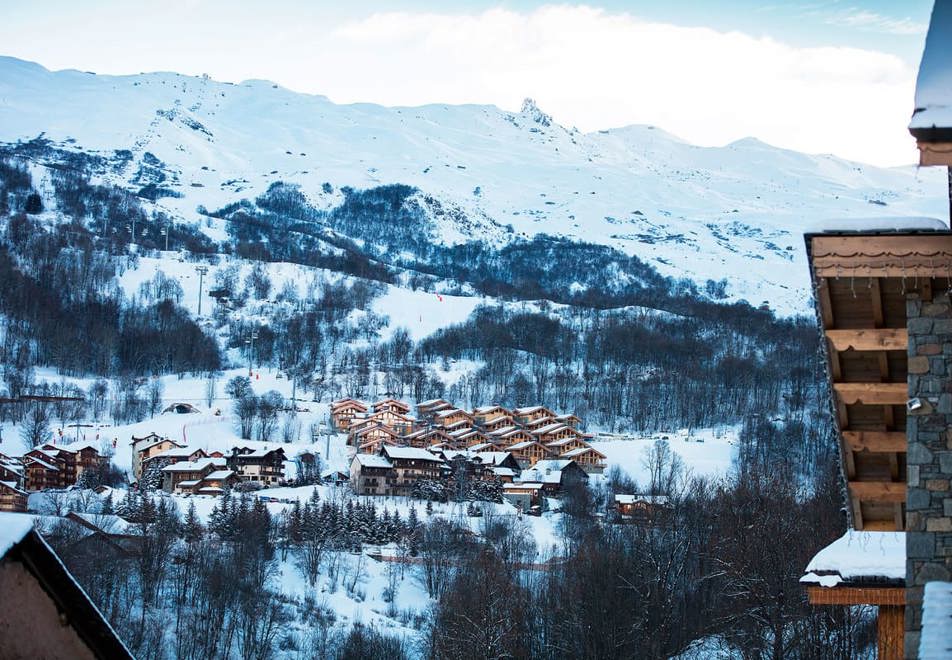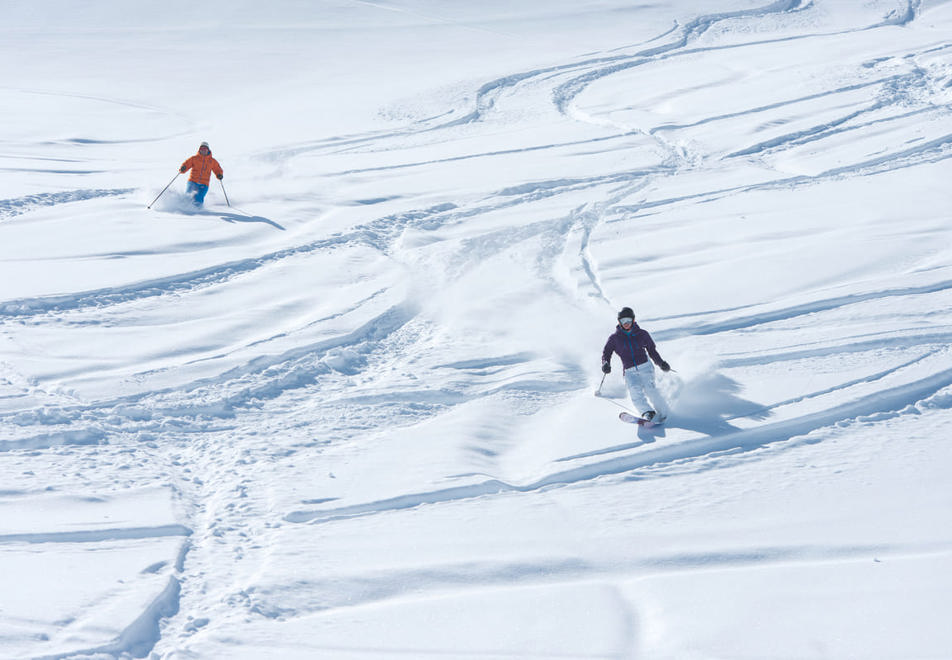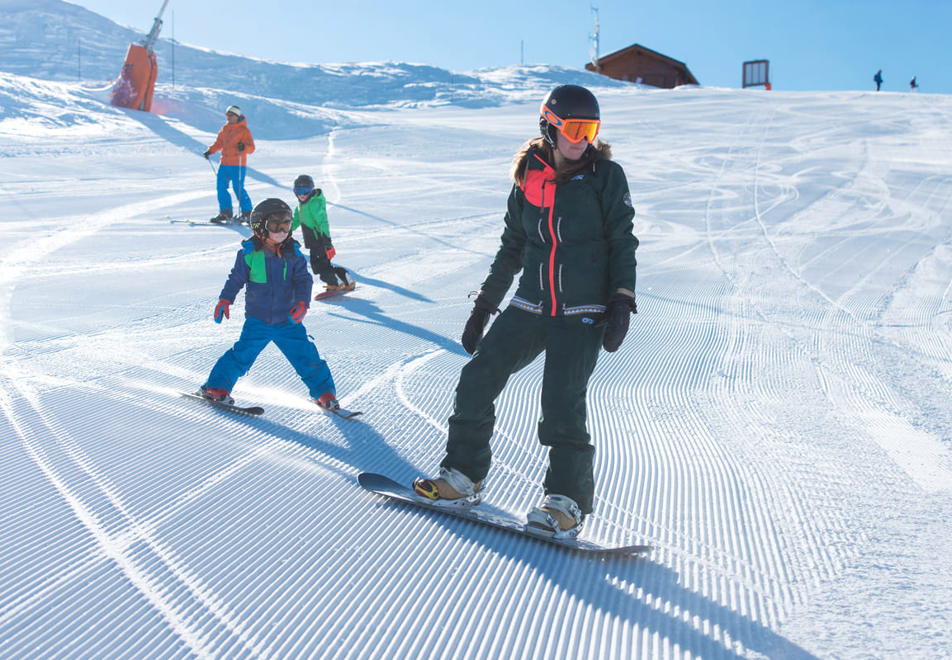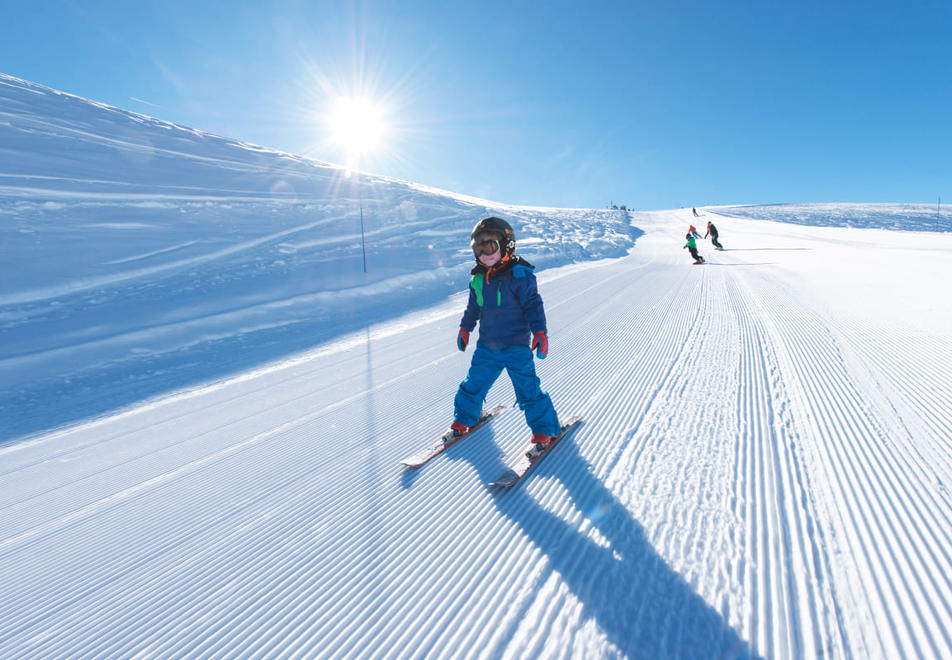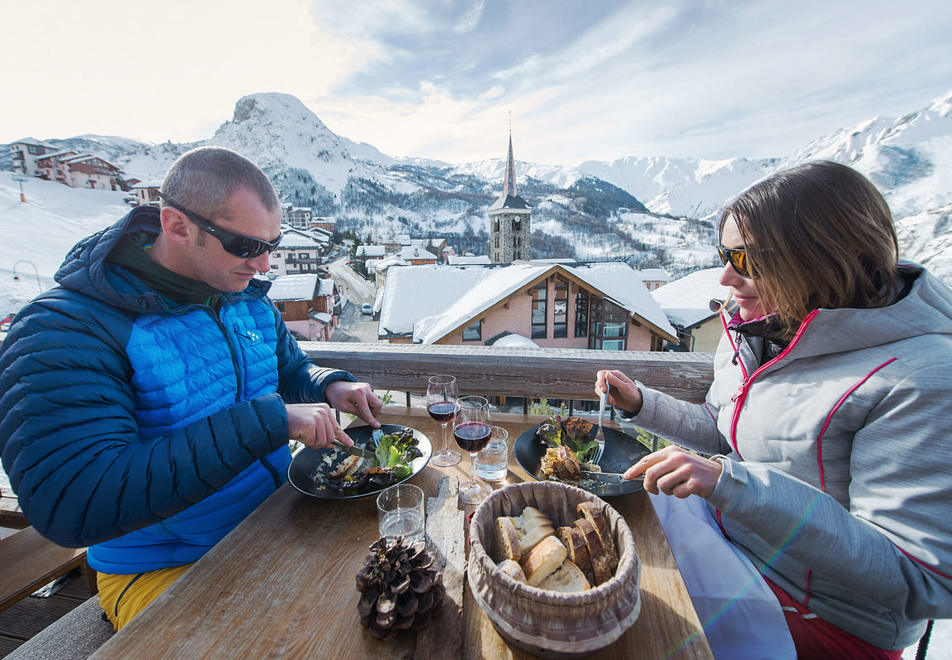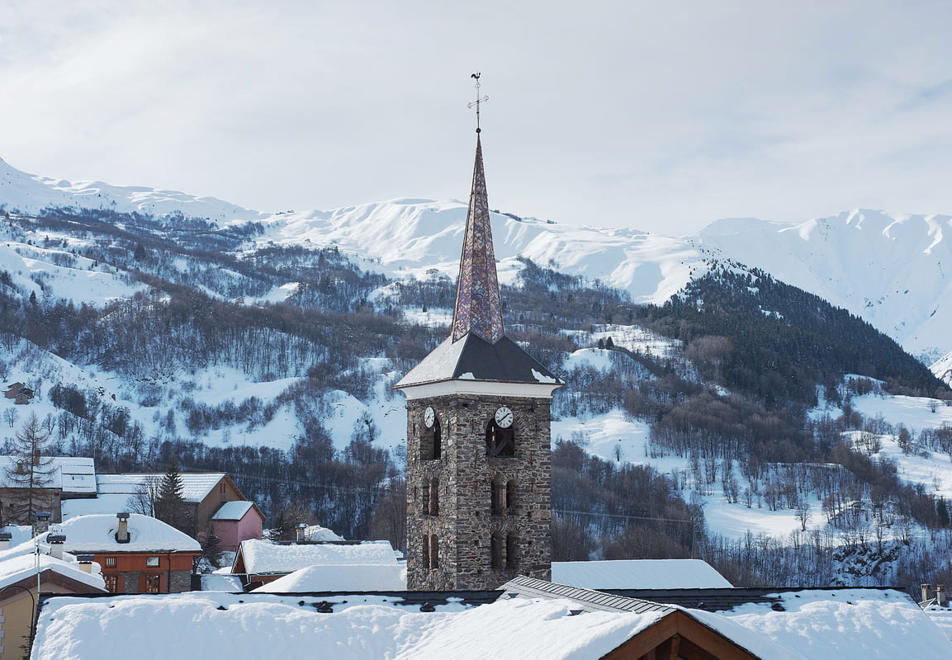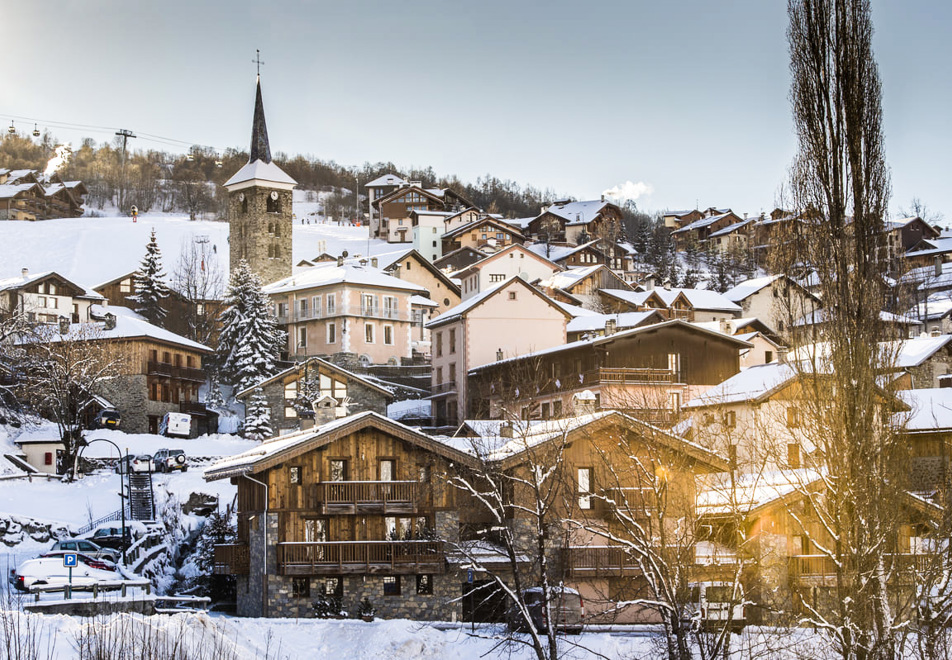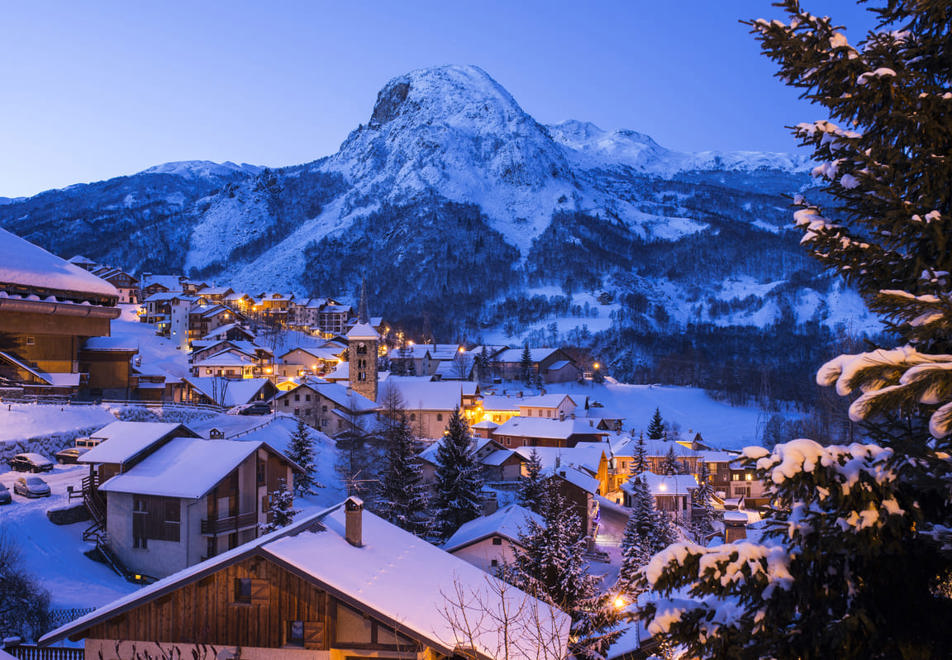 Thinking of skiing in Saint-Martin-de-Belleville? This village is lived in, unspoiled and charming with an old church, small square and buildings of wood and stone. Quick access to 3 Vallées skiing.
Why Saint-Martin-de-Belleville Ski Resort?
You'll discover

real village life in a chocolate box village

There's quick

access to the massive 3 Vallées area
It's a truly peaceful, tranquil base
St Martin de Belleville (3 Vallées) Information
The old stone farming village of Saint-Martin-de-Belleville is full of character, in complete contrast with neighbouring Les Menuires, a purpose-built resort with somewhat controversial architecture, and the snow-sure resort of Val Thorens.
The resort has a quiet location, a chic atmosphere and a good variety of bars and restaurants away from the madding crowds.
ST MARTIN DE BELLEVILLE SKI AREA
Saint-Martin-de-Belleville is part of the large 'Les 3 Vallées' ski area, which many skiers rightly regard as the greatest intermediate ski-playground in the world! This impressive lift-linked ski area is formed of 8 ski resorts:
Val Thorens
Les Menuires
Saint Martin de Belleville
Meribel
Courchevel
Saint-Martin-de-Belleville is an ideal base for quick access to the largest ski area in the world and its 600km of runs of Les 3 Vallées. Taking the high-speed eight-person gondola from the centre of the village and just one fast quad modern chairlift, you can be at the top of the 'Tougnete' ridge in less than 15 minutes. From there enjoy the amazing panoramic views and decide whether to ski down to Meribel, Mottaret, Les Menuires or Saint-Martin taking the choice of runs best suited to your level. You can then carry on easily towards Val Thorens or Courchevel.
The 3 Valleys benefit from excellent snow coverage - the minimum altitude level for skiing is 1300m and the maximum is 3230m. This means that a huge 85% of the ski area is located above 1800m. Some 2000 snowmaking machines cover a third of the ski area as well. The 3 Valleys offer wide ski runs that are maintained nightly by 80 piste grooming machines.
St-Martin-de-Belleville is a little Alpine village linked to the large 3 Valleys ski area so you get the best of both worlds. The ski area is blessed with lightly wooded slopes unlike the ski resort of Val Thorens. There are fast lifts too that get you to the slopes of Les Menuires and Meribel.
Additional ski fact info,
main ski info in resort facts box at top of page

(21/22):

Half the size of the 3 Valleys pass, the Belleville area covers Val Thorens, Orelle, Les Menuires, St Martin de Belleville only - 300km of pistes

Les Menuires/Saint Martin local area

160km of pistes, 31 lifts (1 cable car, 6 gondola, 10 chairlift, 5 draglift + carpets), 83 slopes:

Green slopes: 12
Blue slopes: 37
Red slopes: 24
Black slopes: 8
ST MARTIN SKIING
ST MARTIN BEGINNERS
Beginners can start on the nursery slope from the centre of St-Martin-de-Belleville village (running alongside our featured residence – Les Chalets du Gypse) and then progress to easy blue runs from the top of 'Tougnete' and explore the rest of the Three Valleys. There are five free beginners' lifts in the valley.
ST MARTIN INTERMEDIATES
Intermediates will find endless opportunities to explore the whole 3 Valleys and St-Martin-de Belleville. The 3 Valleys have extensive intermediate slopes with big lift networks. Locally, at Les Menuires, the slopes above the village on the west-facing side have lots to offer and are all pretty much blue and red runs.
ST MARTIN EXPERTS
Advanced skiers and boarders won't feel left out with a choice of moguls, steep runs or off-piste in just about every corner of the ski area. The Orelle area above Val Thorens is particularly worth a try. Head to the upper slopes of La Masse for steeper slopes. It also has some of the best snow in the 3 Valleys. There are a huge amount of snowmaking runs within the 3 Valleys.
NATURE ZONES
Enjoy a non-groomed area! It's now possible to enjoy safe powder skiing on ungroomed pistes in Les Menuires. Thanks to the various "Nature Zones" created in the ski area, families, friends, expert or learner riders can enjoy an area reserved for safe off-piste skiing! 100% natural, 100% pleasure!
LIBERTY RIDES
You can enjoy the thrill of off-piste skiing in the safety of one of the three 'Liberty Ride' zones which have been created across the ski area. These non-groomed slopes are perfect for leaving your own tracks in the powder:
La Masse which is accessible via the Masse 2 gondola
La Riondaz which is accessible via the Saint-Martin 2 chairlift
Les Pylônes which is accessible via the Sunny Express chairlift
St Martin de Belleville Ski Hire
Pre-book your St Martin de Belleville ski hire with Peak Retreats.
To download the ski extras form, see 'Helpful links' further down the page.
Please note, these Pound Sterling prices are for indication only. They will fluctuate based on Euro/£ exchange rate. Please call us for the latest prices.
Special offers: *7 days for the price of 6.  Free Skis/snowboard & boots (Blue/Red) for party leaders of groups of 10 or more all taking equipment. 1 Free helmet per child aged 6 and under for every adult booking skis or snowboards & boots (must be under same booking reference and requested on form above). Other duration prices on request - Cross Country ski prices on request.
Find out more about Peak Retreats ski hire
---
St Martin de Belleville Ski Passes
Pre-book your St Martin / 3 Vallees lift passes with Peak Retreats. Find out more about Peak Retreats ski passes
To download the ski extras form, see 'Helpful links' further down the page.
Please note, these Pound Sterling prices are for indication only. They will fluctuate based on Euro/£ exchange rate. Please call us for the latest prices.
Other lift passes on offer (to buy locally in resort in Euros):
If you wish to book only half day or a day pass, or perhaps a few days consecutive or non-consecutive (Peak Retreats usually only pre-book 6+ days passes), then these can be bought in resort at the lift pass office, in €'s. This may suit those who only ski a few times during the week or who only want to ski the immediate local area rather than the full area (there are usually various lift passes on offer that cover different parts of the ski area). Each resort usually has a beginner's pass too which covers a small area in which to learn, which may be all you need for a few days as a beginner (some areas are even free). Prices can be found on the tourist office website if you need a guide.
St Martin de Belleville Ski School
Pre-book your Saint Martin de Belleville ESF ski school with Peak Retreats. Find out more about Peak Retreats ski school
Ski school for children is available to book from 3 years to 12 years, in St Martin, with Peak Retreats. 3-4 year olds will go into the Piou Piou lessons. Children can learn to snowboard from 8 years+.
For ski school times and prices, please download the ski extras form from the 'Helpful links' further down the page. Please note these are just guiding prices. Please call us for the latest prices.
Please note that lesson times are subject to change right until the last minute - you will be advised. Outside French school holidays the ski school reserves the right to cancel group lessons should numbers be insufficient.  For peak periods - Christmas, New Year, February half-term and Easter - we strongly recommend that you book as early as possible and in any case at least 6 weeks prior to the required dates. Morning lessons tend to get booked up first and therefore we may only be able to offer afternoon classes within 6 weeks of departure. In some resorts English speaking instructors may not always be available, particularly at peak times.
We cannot always guarantee that prices will be cheaper than in resort. When ski packs prices are calculated, the currency is bought at the exchange rates that apply at the time. You can be assured that once you have booked your extras, if the pound depreciates, you will not be charged more for your ski packs, enabling you to budget for your holiday in advance.
St Martin de Belleville private lessons (not pre-bookable, book direct):
Individual tuition can only be purchased directly from the ESF ski school. Peak Retreats cannot pre-book these. Private lessons usually start from 2 years old and have no maximum age.
How to book:
You can book online with ESF St Martin de Belleville or contact them by phone on 0033 4 79 002 478. It is advisable to book before you go and in good time as instructors get very busy, especially in Peak times.
Prices vary from resort to resort but are around €40-80 per 1 hour lesson for 1 or 2 people (the more people you have the cheaper it usually is so you can split the cost). Most resorts offer a choice of 1 hour, 1.5 hours or 2 hour lessons. These may be in the morning or afternoon and are usually at select times. If you only fancy just one private lesson, this is usually fine. Otherwise, you can book a course of private lessons over as many days (consecutive or non-consecutive) as you'd like. However, it is more cost-effective to book group lessons for the week (which we pre-book).
---
St Martin de Belleville non-skiing childcare (not pre-bookable, book direct)
From 31 months to 4 years old with the ESF.
Your child can enjoy the following in a safe and fun area:
Snowshoeing
Sledging
Snow Games
Orientation Course
Learn about nature and the mountain environment
Indoor games
Snacks are provided
The centre is approved by the PMI and the Departmental Directorate of Youth and Sport.
Please provide a copy of your child's health book, blanket and change of clothes.
We remind you that, in accordance with regulations, vaccination is obligatory.
How to book:
Please contact them direct for prices and to book. It is advisable to book before you go and in good time as spaces get filled quickly, especially in Peak times.
ESF Mini Club
0033 4 79 00 61 43

A list of babysitters is available at the Tourist Office.
Top winter activities to experience in St Martin de Belleville
Please note Peak Retreats do not book any activities and most activities are payable.
Snowsport activities:
Igloo experience
15 minutes of snowshoeing to reach base camp, where everyone gets stuck into building an igloo. Every Wednesday.
Snowshoeing
ESF instructors accompany snowshoe trips.
Boukty snow camp
By the Pelvoux 2 fun areas to play in the snow. Snowball fight, hide and seek in an igloo, sledging, Photocall. Suitable from 3 yrs. Free of charge but children are under the responsibility of their parents or carers.
Fun zones on the slopes
Boukty cross:
Set off on the 2 boarder crosses and you can leave with a video souvenir!
Big boarder:
For those who love speed, a 'red' boardercross with raised bends, bumps and whoops!
Lm Park:
Suitable for all levels, the bumps, rails and features are ready and waiting! Access via the Becca chairlift and the Sunny Express chairlift for the 2nd zone.
Walibi gliss:
The perfect cocktail to delight both the young and not so young: blue slalom, boardercross, musical zone and a play and picnic area where you can do a champion's photo shoot! Access via the La Masse 1 Gondola and the Rocher Noir chairlift.
Mini kl:
Calling all snow sports fans, beginners to experts. Come and measure your speed. Top of the Pâturages piste. Access via the Sunny Express chairlift or the Les Bruyères 2 gondola.
Speed Mountain:
Twists banked turns and hair-raising descents. From 8€ / run every day from 1pm to 8pm.
Roc'n'bob
The ROC'N'BOB is a 4km snow-covered toboggan run! Find your inner child, have a go at the nocturnal descents, and enjoy the 22 turns down this toboggan run. From Sunday to Friday.
Dog sleigh rides
For Nordic thrills, all ages can set off with Dany and his team of sledge-dogs, for a 30 minutes introduction or a one-hour excursion, including a visit to the Moulin de Burdin historical windmill. Or why not experience the thrill of a dog-sledging ride at night?
Sledging areas
Les Bruyères Sledging area:
Accessible from Les Bruyères magic carpet. Open to children over 6yrs, accompanied by an adult.
"Be My Guest" Sledging area:
Fun and laughter are what it's all about... Kids and adults, on your own or with your family... Come and enjoy the new toboggan area that has been created at the foot of the slopes in Saint Martin Les Grangeraies, by the cable car.
Roc'n'bike
'Fat Biking' on snow. For further information inquire at the ticket office and book the day before. 35€ for 2 descents. Wednesday to Friday mornings. Equipment provided: bike + body armour.
Walks on foot & snowshoes
The Vallée des Belleville offers walkers a preserved nature, perfect for walks or snowshoe outings. Thanks to the snow packed and marked out paths, walkers can wind their way along the valley and discover its rich and authentic natural setting.
Guided snowshoes outings
The ESF state qualified instructors organise half-day outings from Sunday to Friday. From 30€ (half-day) with transport and snowshoes. Booking in the E.S.F. Offices.
Off-Piste Skiing - Ski touring
Discover Les 3 Vallées, La Maurienne and even the Alps with a team of professionals: instructors and guides. Standard required: class 3 (minimum 5 participants).
Nordic skiing
There is 28 km of marked out cross country tracks which can be used free of charge. Warning: walkers are forbidden to use these tracks; there are other paths specifically for pedestrians. A map indicating all the itineraries is available in the Tourist Office.
Speed mountain toboggan                                                                                                              Discover the new speed mountain toboggan run solo or with a child. This over 1,000 meter-long run with series of twists and turns is great for the family. Make sure you smile on the way down and take home a souvenir photo, available at the speed mountain shop. 
Other activities:
Les Bruyères merry-go-round
For children over 2 yrs. Open daily. Tokens sold on-site.
Fun Park
Open every day. Fun and laughter! Trampolines, different structures, Rope Bridge, etc.: will the kids have enough energy to try it all?!
Children's shows
From 3 years. Free snack for children. See details in the entertainment programme.
Storytime in Saint Martin's Museum
'Clarine, la petite tarine' Sit back and listen to the adventures of Clarine the little cow, and learn about life in the mountains in the fifties: winters in the warmth of the stable, summers in the vast mountain pastures. A step back in time, suitable for children aged 3-10 yrs. (in French only).
Paragliding and ULM
Fly over La Vallée des Belleville with a paraglider for a marvellous souvenir of your holiday.
Trapper evening
This outing combines a torch-lit snowshoe outing with dinner in the authentic and welcoming setting of a farm or mountain pasture chalet. 8 participants minimum. Wednesday and Thursday. Booking 48 hours before. From 12 years old.
Gondola or chairlift outings
Certain ski lifts are open to pedestrian or snowshoe users, giving access to the altitude paths or simply to the exceptional views of the mountain peaks. Walkers can also access the resorts of Méribel and Courchevel (allow 2h30 to access Courchevel). Pedestrian tickets are on sale at the ski pass offices.
Yoga
A yoga session is suitable for all. Specially adapted to skiing and preparing your body, it also helps you to gain an inner calm and grow in confidence on the slopes as well as learning to relax your muscles after exercise and recover for the next day. Every Tuesday from 5.30pm. Sign up at the Tourist Office or at the beginning of the lesson.
Exercise in the water
Aqua bike, aqua gym, aqua training ...  Alone or with friends; it's energetic, friendly and adapted to your needs. Don't forget to book!
Museum of Nature and the Black Bee                                                                                              Learn about the history of the protected black bee that are widespread throughout the Tarentaise valley. Visit the hives to learn more about the species from beekeeper Kléber Silvestre and try the local honey that is harvested with care (no treatment or sugar added). 
La Trantsa                                                                                                                                              Visit the Martin family farm for a taste of some of their sublime goat's cheese, find out more about how it's made and bring back cheese, yoghurts and even wildflower syrups.
Please note: All the above information is for information only. For the most up-to-date information please visit the resort tourist office website. All prices for activities are in local currency (€ Euros) and are bookable and payable locally  
Saint Martin de Belleville Tourist Office
Find additional information here
Tel. 33 (0)47 900 2000 - Fax 33 (0)4 79 08 91 71
www.st-martin-belleville.com 
E-mail: stmartin@st-martin-belleville.com  
St Martin & Les Menuires Resort News and Events
Resort news:
Village ski lockers

- The resort has installed ski lockers - holding up to 300 pairs of skis – in the village so that guests can enjoy the charm of the village without lugging equipment about. 

Updating of ski lifts

 

-

Saint Martin 1 gondola has had all the old cabins repaced. Cabin comfort has been improved and capacity has risen just over 30% from 1,800 to 2,400 people per hour!

'Jerusalem' has been voted 'Best Piste in France'

in an online poll by French Mountains! It's a blue run that starts above Les Menuires in the Les 3 Vallees and goes down to Saint Martin de Belleville (pictured), over a 440m vertical drop. 
Events: 
Christmas in the village 20th-24th December 2021 - This week in particular, the setting of Saint-Martin provides unparalleled thrills. The village vibrates to the rhythm of concerts, craft markets and colourful performances. With snow on the chalet roofs and mountain tops, the magic of Christmas here works like nowhere else.

Christmas Eve

24th December 2021 -

Father Christmas will come with his elves and sleigh dogs. This will be followed by a traditional music concert with Les Tradi'sons. And, of course, the unmissable fireworks will delight both young and old alike!
Fire and Ice week 26th-31st December 2021 -

Between two end-of-year celebrations, the village is brought to life with a craft market, ice sculpture demonstrations (including around a dozen pop-up sculptures which decorate the village), artists playing with fire and a pop-up bar for tasting local products. During this week when fire and ice meet, the village comes alive, allowing you to experience an exceptional holiday.

Love is in the air 14th February 2022 - This year, Valentine's Day is being celebrated in the mountains. In this authentic setting, loved-up couples can enjoy the pop-up bar as well as the Jazz concert and French songs from the Trio Grivet (double bass, piano, drums).
Music from elsewhere 1st March 2022 - For Mardi Gras, brass bands will wander through the village's narrow streets! Good humour, laughter and costumes are on the agenda.
Sound and light show 11th April 2022 - To close the musical event season, the village is thinking big! The song of the poppies is a poetic show where sizes are reversed, the poppies become giant and the people small. A show in which the lights of the poppies vibrate to the rhythm of the music and the sounds that surround them.
St Martin de Belleville Après-ski, Restaurants & Bars
15 Bars, pub, restaurants (4 restaurants on the slopes), Auberge Farm in Le Châtelard, 22 shops.
At night possibility to go and eat in a restaurant on the slopes. 
1 piano-bar "Le Pourquoi Pas", 1 pub with live concerts "Le Brewski's"
During the French holiday periods : visits of Saint Martin by torchlight 
All winter: Rendez-vous musicaux in the church of Saint Martin de Belleville and in Les Menuires
But also in Les Menuires: Sports Centre, swimming pools, toboggan Roc'n Bob (4 km), cinemas, nightclubs, attractions, restaurants taverns, snowmobile ride, relax or dine in the yurts of Belleville.
La Bouitte which is one of the best in the whole of the Alps and now holds 2 Michelin stars (This is amongst the very best. There are only eleven 2-stars in the whole of the UK for instance).
A picnic room at the bottom of La Masse
This new rest point at the bottom of the Mass offers: A children's area, a picnic room, a water point « to take a small lunch », toilets, lockers and a free wifi zone…
Restaurants
Art B, Saint Martin-de-Belleville
Art B is a new restaurant in the heart of the pretty village of Saint-Martin-de-Belleville. Open for breakfast, lunch and dinner, Art B serves local produce: burgers with sérac cheese from local farm La Trantsa, ice-creams from Chantacoucou farm, local honey, craft beers brewed in Moûtiers, and Savoie wines… all at very reasonable prices. Guests can also choose the Menu du Skieur with a main and dessert for €18.50.
Gastronomic Restaurant La Bouitte
Two Michelin stars in Saint Marcel hamlet.  Organises monthly wine events since 2013 with the support of the best wine-growers and wine critics on the planet. A new cellar has also been planned for Christmas 2013 to age the thousand and one wines in the best conditions possible.
Telephone: +33(0) 4 79 08 96 77
Website: www.la-bouitte.com
Maya Altitude
New for the 2021/22 ski season is the Maya Altitude restaurant, on the slopes at the top of the Tougnète ridge. Enjoy a spectacular panoramic view from the terrace at 2,400 metres altitude. This new mountain restaurant has an exceptional menu offering high-end brasserie-style cuisine with a focus on authentic flavours enhanced by its charcoal oven. 
Telephone: + 33 (0) 6 09 58 43 38
Website: www.maya-altitude.com
L'Etoile des Neiges
25m from the piste
Telephone: +33(0) 4 79 08 92 80
Website: www.hotel-edelweiss73.com
La Ferme Auberge Chantacoucou
Telephone: +33(0) 6 13 98 91 56
Restaurant Bar d'Altitude la Loy
Situated on the piste of le Biolley, in Saint Martin de Belleville
Telephone: +33(0) 4 79 08 92 72
La Voûte
Restaurant Bar Pizzeria La Voûte, Pizza Take Away
Situated in Place de la Mairie, at 40m from the piste 
Telephone: +33(0) 4 79 08 91 48
Le Chalet des Neiges
Restaurant Bar d'Altitude le Chalet des Neiges
Situated at the summit of Roc des 3 Marches 1 gondola
Sommet de la Télécabine du Roc des 3 Marches
Telephone: +33(0) 4 79 00 60 55
Le Chardon Bleu
Restaurant Bar d'Altitude le Chardon Bleu
Sommet de la télécabine de St Martin
Telephone: +33(0) 4 79 08 95 36
Le Corbeleys
Restaurant Bar d'Altitude le Corbeleys
Sommet de la télécabine de St Martin
Telephone: +33(0) 4 79 08 95 31
Le Frison
Restaurant Bar le Frison
Located in the Hamlet of le Bettaix
At about 150m from the pistes
Hameau Le Bettaix
73440 Saint-Martin-de-Belleville
Telephone: +33(0) 4 79 08 80 29
Mountain Restaurant Le Grand Lac
Restaurant Bar d'Altitude Le Grand Lac
Situated on the foot of Les Granges chairlift
Secteur des Allamands
Telephone: +33(0) 4 79 08 25 78
Website: www.restaurant-legrandlac.com
Pancake Restaurant Bar le Billig 
Situated "passage du Mélèze" in Saint Martin Village
At 100m from the slopes
Telephone: +33(0) 4 79 00 15 54
Restaurant La Ferme de la Choumette
The Choumette farm, Restaurant, is situated in Saint Martin, on the foot of the slopes
Telephone: +33(0) 4 79 40 00 42
Restaurant Le Dalhia
Situated in Les Grangeraies district in Saint Martin 
Telephone: +33(0) 4 79 00 28 27
Restaurant Le Goosto
Les Grangeraies 
Telephone: +33(0) 4 79 08 92 82
Restaurant Le Grenier 
Les Grangeraies
Telephone: +33(0) 4 79 00 88 00
Restaurant Le Lachenal 
Telephone: +33(0) 4 79 08 96 29
Restaurant Le Montagnard
Restaurant le Montagnard / Wifi Point
Telephone: +33(0) 4 79 01 08 40
Website: www.le-montagnard.com
St Martin Amenities
Saint Martin de Belleville is served by a range of amenities including: post office, mini supermarkets, bank, chemist, laundrette, hairdresser and garage. Ice Rink and outdoor heated pool (c€3,30 for adults and c€2,50 for children) at Les Bruyères, sports centre in Les Menuires.
Getting to Saint Martin de Belleville, France
By road:
Driving distance from Calais to St Martin is 587 miles (8hrs 30).
A26 via Reims, Dijon, A6 Maçon to Lyon then A43/A430 to Albertville. Take the D915A following signs for St Martin de Belleville.
GPS positions:
Saint Martin de Belleville:
Latitude: 45°36'.2898
Longitude: 6°50'.5962
By Rail:
Direct TGV to Moûtiers / Salins/ Brides-les-Bains train station (27 km from Les Menuires).
Information and bookings: www.voyages-sncf.com  
A train ticket vending machine is available near the la Croisette Tourist Office in Les Menuires.
Eurostar «London-Moûtiers»: arrivals and departures every Saturday. Information: Tel. 0033 8 92 35 35 39
Moutiers train station private transfer - from £31pp based on 4 sharing. Prebookable via Peak Retreats.
Airports:
Chambéry is 104km from Saint Martin de Belleville (1 ¼ hours).
Bus from Chambery to resort – Transavoie (Sats only)
www.chambery-airport.com
Grenoble Airport is 174km from Saint Martin de Belleville (2 hours)
www.grenoble-airport.com
Lyon is 181km from Saint Martin de Belleville (2 hours)
Bus to resort Satobus Alpes
www.lyonairport.com
Geneva is 183Km from Saint Martin de Belleville (2 hours)
www.gva.ch/en
Public shuttle bus transfers from the airport
Lyon Airport - St Martin via Moutiers (www.lys-altibus.com).
Geneva Airport - St Martin via Moutiers (www.coach-station.com). 
Chambery Airport - St Martin via Moutiers (www.lys-altibus.com). 
Left luggage
A left-luggage office (€2/bag) as well as showers, are available on Saturdays, 8h to 20h, at the Sports Centre.
A left-luggage office (€1,50/pers) is also available on Saturdays, 9h to 19h, at the Saint Martin de Belleville.
Resort Shuttles
FREE SHUTTLE
The villages of Saint Martin de Belleville, le Bettaix and le Levassaix are linked to the ski area via pistes and ski lifts. A free shuttle connects Villarabout, Saint Marcel, les Granges and Praranger with les Menuires and Saint Martin. This runs Sun-Fri.
From Sunday to Friday, free shuttle buses link certain villages to the resorts of Les Menuires and Saint Martin.
St Martin Airport Transfer
For pre-bookable private transfer rates with Peak Retreats, view here. 
---
St Martin de Belleville Opening Dates
St Martin de Belleville opening from 04/12/21 - 22/04/22