Road Cycling in the French Alps
The Savoie Mont Blanc area offers unparalleled road cycling
Road cycling has become increasingly popular over recent years, perhaps due to Bradley Wiggins becoming the first British cyclist to win the Tour de France in 2012 and the high level of media coverage this brought. Wiggins also won the Paris–Nice, the Tour de Romandie and the Critérium du Dauphiné in 2012 as well. Chris Froome's success has kept the sport in the limelight, especially for UK cyclists. If you fancy following in their footsteps, there is no better place to test your road cycling skills than in the Savoie Mont Blanc region of the French Alps. 
The stunning scenery and breathtaking mountain roads, as well as some of the most famous road cycling climbs of Savoie Mont Blanc, make for an extraordinary place to cycle. There are more mountain passes than any other area of France - 68 passes and remarkable climbs. One of Savoie Mont Blanc's characteristic features is the diversity of its landscapes, meaning that cycling through the area hits extremely varied terrain in terms of both difficulty and scenery - something for everyone.
Within the famous Savoie Mont Blanc region is La Maurienne, enjoying the status of the 'world's largest cycling area', and playing home to some of the most impressive climbs in the Alps including the notable Cols of Galibier, Glandon, Madeleine, Iséran and Croix de Fer. The Maurienne offers 56,000m of ascent over these 9 passes (others include Mont Cenis, Télégraphe, Chaussy, Mollard and Grand Cucheron) which are all marked with cycling milestones counting down your distance to the top. Moreover, here are 19 routes in the Maurienne equipped with the Timtoo timing system.
Types of road cycling holidays in France
Looking to try your hand at road cycling in the French Alps this summer?
No matter whether you're there to take in the scenery or take on the hills - you have plenty of options. From fully supported holidays with a local expert or taking Peak Retreats' recommended routes on your own holiday, there is something for everyone.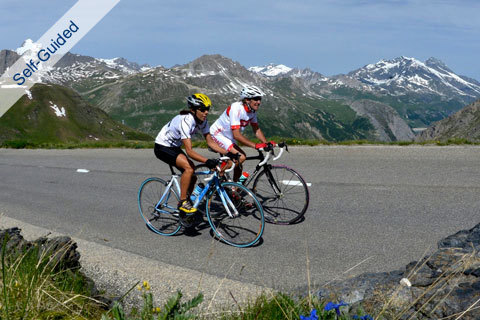 Experience freedom in the stunning Alpine mountains and lakes like never before
You may be thinking that the French Alps is a step too far due to the height of the mountains and only for the elite cyclist? Well, you would be surprised because there is a great mix of routes on offer from leisure cycling around lakes, right up to steep hill climbs.
Self-guided road cycling offers you your core needs of accommodation, daily breakfast and dinner. You will get to meet a local representative before you set off and can get emergency assistance if necessary. To navigate, you will utilise the marked maps and/or cue sheets, route notes as well as a pre-loaded GPS unit (subject to availability). All luggage transfers, taxes and service charges are included in the price.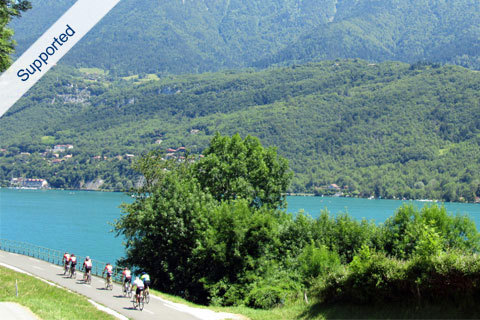 Enjoy riding an amazing, supported road cycling holiday
If you are looking for a supported tour with a vehicle with driver for the chance to make new friends, then look no further. There is a great mix of guided cycling routes on offer including some of the most famous hill climbs in the French Alps.
These trips include feed stations to top up the fuel. The support vehicle will help the group planning for the stage of the day and can cope with any situation, which is great for any sudden changes of weather for instance. If you enjoy meeting new people, and adventuring in a group, a supported cycle holiday is the ideal opportunity to ride with cyclists from all over the world.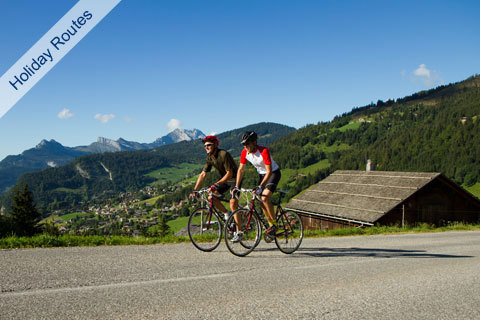 Enjoy the experience of Alpine road cycling on your holiday with itineraries from Peak Retreats  
For those looking to enjoy a summer holiday in France with the option of cycling when you want. If you choose from a selection of Alpine resorts such as Annecy, La Clusaz or Serre Chevalier, you can benefit from some amazing road cycling using Peak Retreats' itineraries. You can take part straight from your apartment or hotel.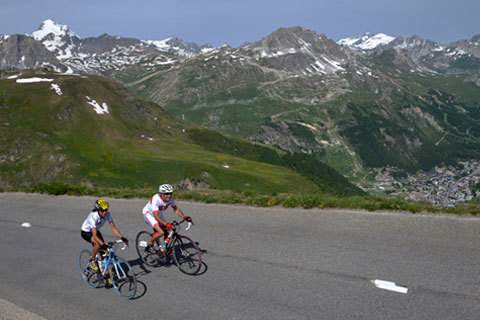 Cycling events in Savoie Mont-Blanc
Watch or take part in various cycling events taking place in the summer. View here for details on summer cycling events in Savoie.
Cycling using greenways between the lakes and mountains
Greenways provide a safe way to get around and more are now starting to spring up. More than 101 cycling routes for all levels are marked out. They are exclusively reserved for use by non-motorised vehicles as well as pedestrians, in-line skaters and persons with reduced mobility. Some notable examples include:
Chambéry greenway at Lake Bourget
Aime à Bourg-Saint-Maurice greenway
Around Lake Annecy
Lake Geneva-Mont Blanc greenway cycle route
Example: Ugine – Annecy route
Cyclists can now travel using a completely dedicated route. There is access to 60km between Valence and Annecy, via Grenoble, Montmélian and Albertville. There is a 37 km route, accessible to all, from Annecy to Ugine via St-Jorioz, Doussard, Faverges, etc. Well worth a try!