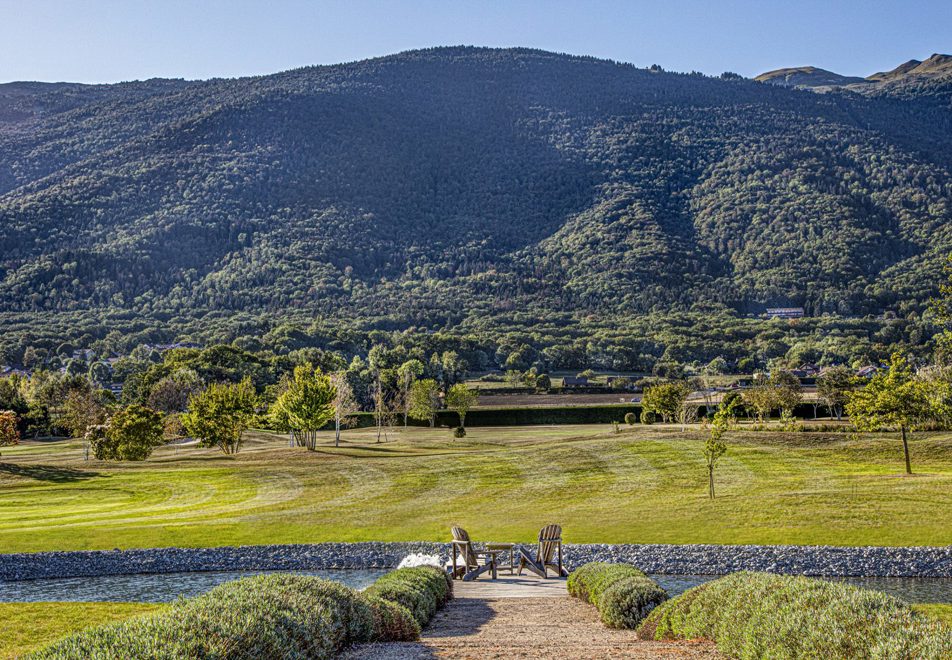 Immerse yourself in the Monts Jura mountain range with its picturesque villages
The Haut-Jura regional National Park was formed in 1987 around 37 villages. Today there are 118 member villages (74 of those in the Jura including 7 gateway towns - Pontarlier, Champagnole, Gex, Ferney-Voltaire, Divonne, Bellegarde-sur-Valserime, Oyonnax).
The first Jura mountains appeared 35 million years ago. The Cret Pela in Jura stands at 1495m. The mountains in Jura are on the Franco/Swiss border so travelling around the mountains will mean a foot in each many times!
Just a short distance from Les Rousses lies La Cure and its famous border restaurant, 'Arbez'. The kitchen is in Switzerland and the dining room is in France. A perfect way for food-lovers to celebrate this closeness between France and Switzerland.
If there is one gastronomic item you must not miss in the Jura Mountains, it is Comté cheese. The abundant flora of the high pastures and meadows gives the milk from Montbéliarde cows its aromatic richness. Wandering down the Routes du Comté is still the best way to explore the secrets and stages of making this cheese, which was the first French cheese to receive the AOP distinction.
Top summer activities to experience in Jura
Jura Vineyards
Less than 2 hours away, this site stretches across a narrow slice of land about 80km in length, which joins the Revermont region between Salins-les-Bains and Saint-Amour. People visit for the pretty landscape lined with vines, and picture-postcard villages with their culinary traditions. There are good restaurants everywhere. There are four geographical AOCs (Controlled Designation of Origin, a French certification for quality local products): Arbois, Côtes du Jura, Château-Chalon and l'Etoile. In addition, there are three product AOCs: Macvin and Crémant du Jura and Marc du Jura. There are also three red grape varieties (Pinot, Poulsard and Trousseau), two white varieties (Chardonnay and Savagnin) and 2,000 hectares of vines. You can also visit Arbois, the historic capital for Jura wines.
Visit one of France's most beautiful villages - not to be missed!
A short walk from Baume-les-Messieurs you will find the exceptional village of Chateau-Chalon. The picturesque village is perched on an imposing cliff and stands guard over its age-old treasure: the Château-Chalon vineyards (the grape, Savagnin, is protected). Here you will also find the Eglise Saint-Pierre which dates back to the 12th century. 
Waterfalls
Less than 2 hours away, located at the bottom of the blind valley of Baume-les-Messieurs (another one of France's most beautiful villages), this is one of the most famous parts of the Jura mountains. Here you will find a very remarkable waterfall which comes from the Dard, an underground river. One of this waterfall's distinctive features is the geological composition of the rocks that form the waterfall's reliefs. Formed by travertine (which has an extremely high calcium content), it has a light, changeable appearance. You can access the waterfall all year via a trail. There are various hikes from the waterfall for all levels of hikers.
Caving
The Jura Mountains is a potholers heaven due to resting on the karstic relief of the Jurassian Massif. Underneath lies a tremendous network of cavities eroded by the groundwater that has been working its way through the rock since the dawn of time. This adventure should be done strictly under professional supervision with various safety equipment needed. You will find the caves a few hours drive away from the Jiva Hill Resort.
Nordic walking
Ideal sport to do in the Jura mountains, all you need is yourself, some walking boots and poles! Can be done alone or with a guide. Nordic walking is a simple sport, but one that is very effective at improving your cardio-respiratory capacity and tones just about every muscle. It will refine your figure and strengthen your joints. Ideal to de-stress.
Please note: Peak Retreats do not book any activities and most activities are payable. All the above information is for information only. For the most up-to-date information please visit the tourist office website. All prices for activities are in local currency (€ Euros) and are bookable and payable locally in resort.