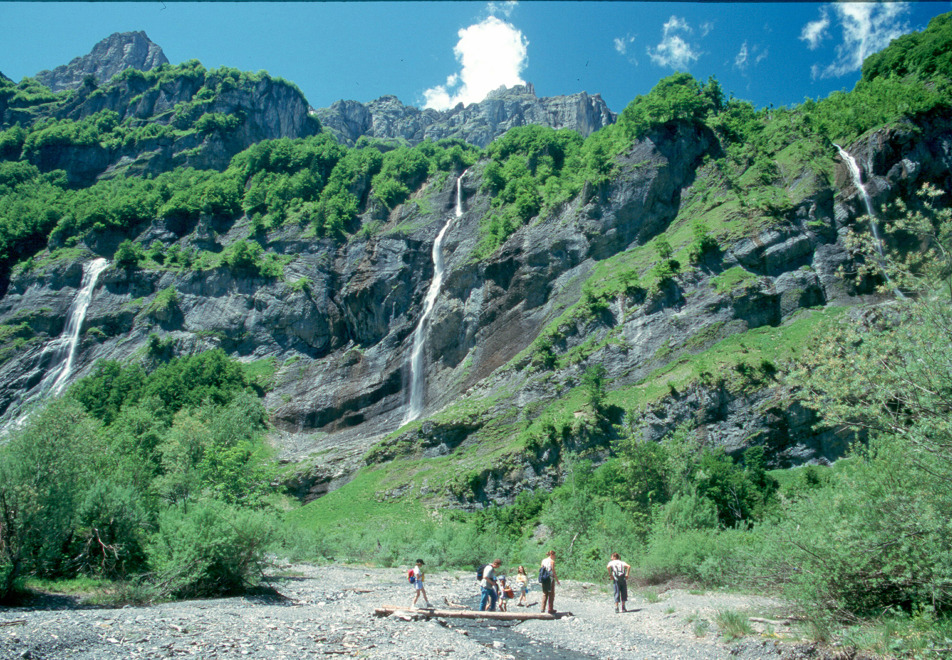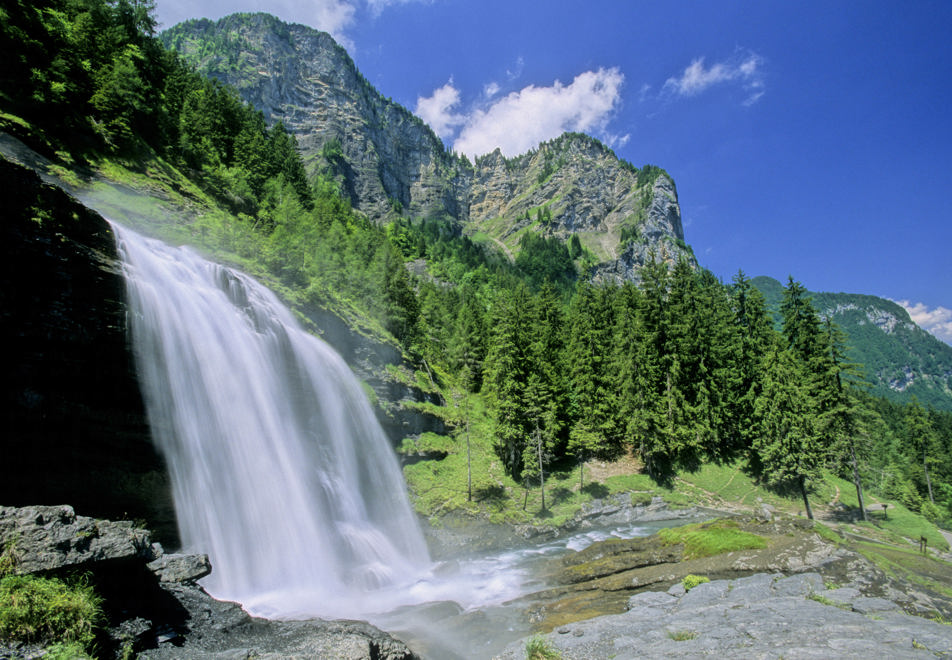 Situated at the confluence of the Giffre Haut and Giffre Bas, Sixt nestles round its former abbey, founded in 1144 by one of the lords of the Faucigny region.
Set in an area of outstanding natural beauty with the magnificent 'Cirque du Fer à Cheval' and its wonderful waterfalls and natural reserve, Sixt is still largely unknown outside France.
However years ago the well known climber and founder of the Alpine Club, Sir Alfred Wills, made Sixt his base for discovering the area and built a chalet in the village. Sixt is now a recognised centre of excursion and rock-climbing as well as a ski resort. Home to stonecutters since the 15th century, it deserves its label 'Grand site de France'. Life is centred around the Abbey and is quite simple - a few shops, post office, mini-market, a few cafés and restaurants and a bakery.

Sixt benefits from an exceptional environment spreading out from 700 to 3100 m of altitude.  Wonderful walks and rides, a challenging 'Via-ferrata' and village discovery visits are all available. There is a regular bus service from Sixt to Samoëns and Morillon.
Stay in Samoëns (a short 6 minute drive away) and a 30 minute drive from the motorway exit near the TGV train station of Cluses and only 1 hour drive from Geneva.
Places of interest:
The Sixt-Passy nature reserve - covers three quarters of the borough of Sixt (22 734 acres). The Maison de la reserve naturelle, at the heart of the village, illustrates the history of Sixt and the natural environment, flora fauna and geology of the local limestone mountains with their network of underground rivers.
Cirque du Fer à Cheval - At the end of the road past Sixt, the final loop offers a splendid panorama of the cirque and its waterfalls. The cirque is a natural amphitheatre formed by limestone escarpments between 500 - 700m high. In June more than 30 waterfalls streaming down the rock face create an incessant background noise. The 'Chalet de la réserve' is an information centre about high altitude fauna and flora.
View below for Sixt webcam
http://m.webcam-hd.com/vallee-haut-giffre/sixt-fer-a-cheval
Sixt fer a Cheval Hiking
At an altitude of 750 to 3100 m, Sixt Fer à Cheval is at the heart of one of Haute Savoie's most extensive hiking trails' network. Within a few minutes, you will be on your way for some of the most beautiful hikes of the Giffre valley. 
                           
The classified natural sites, the Cirque du Fer à Cheval and the Rouget waterfall, are accessible for families and starting points of most hikes. Head to the Tourist Office for a list of all the walks and hikes accessible with dogs.

Classified natural sites, accessible to all: 
 •Le cirque du Fer à Cheval
 •La Cascade du Rouget la "Reine des alpes"
 •Les Gorges des Tines
 •La cascade de la pleureuse
 •La cascade de la sauffaz
Haut Giffre/ Samoëns guides' office
Tel +33 (0)4 50 34 43 12
info@guidesmontagnes.com
www.guidesmontagnes.com
Sixt fer a Cheval Watersports
The river Giffre is perfect for white water sports. There are several starting points along the river. 
Try your hand at rafting, kayaking, canorafting, airboating or hydrospeeding. 
Riverboarding (hydrospeed):
Glide and navigate on the waters lying on your foamboard!
Altitude Rafting
Sixt Fer à Cheval
Tel: +33 (0)4 50 34 87 69 - www.rafting-hautesavoie.com
Ecolorado
Samoëns
Tel: +33 (0)4 50 34 45 26 - www.ecolorado-rafting.com
Email: ecolorado.rafting@wanadoo.fr
Sixt fer a Cheval Rock Climbing
Discover the climbing sites of Sixt Fer à Cheval and Samoens. Whether you are a beginner or a seasoned climber, you will find a matching rock face in the limestone cliffs of Sixt Fer à Cheval. Several areas are possible. The most accessible is the Rock of Tines. The Dard face, near the Vogealle refuge, should ensure great sensations to good climbers in a more typical mountain environment. Several major routes are open in this area (accessible after a 1.5 hour hike for which specific mountain equipment is required (hiking shoes, all-weather clothing!)).
 
Rock climbing sites in the Haut Giffre valley
For climbing enthusiasts, the Giffre valley and the surrounding area offer numerous possibilities in perfect conditions. There are professional mountain guides to ensure your safety while you discover climbing.
La Compagnie des Guides et Accompagnateurs du Haut Giffre (Samoëns)
Tél: 0033 4 50 34 43 12
Fax: 0033 4 50 34 17 22 
esfsamoens@wanadoo.fr
Rock climbing equipment sale and rental
Chez Narcisse-Chef Lieu
Rental: mountain bike, Via Ferreta equipment, climbing harness, hiking accessories, baby carrier
Tél: 0033 4 50 34 42 47
Fax: 0033 4 50 89 53 90
narcisse.sport@wanadoo.fr
Sixt fer a Cheval Via Ferrata 
With a perfect exposition, the Mont Via Ferrata awaits you with its magnificent views over the village of Sixt Fer à Cheval. The via ferrata is considered 'difficult' as it is perched on the Mont rock face. A short climb of about 20 minutes will lead you to the start and the via ferrata will take you between 2 to 3 hours depending on your level. For first timers it is better to go with a professional guide since special equipment is required and it is essential to know how to use this equipment. 
La Compagnie des Guides et Accompagnateurs du Haut Giffre (Samoëns)
Phone: +33 (0)4 50 34 43 12 - esfsamoens@wanadoo.fr
Sixt fer a Cheval Potholing
The specific mountain relief to be found in Sixt Fer à Cheval and its surroundings (alpine Karst, caves and chasms) enables both beginners and those more experienced in potholing to explore the underground passages in the area.
Service providers
Haut Giffre guide company(Samoëns)
Tél: 0033 4 50 34 43 12
www.guidesmontagnes.com
Email: esfsamoens@wanadoo.fr
Sixt Aventure Passion
Tél/Fax: 0033 4 50 34 16 85
Website: www.alpes-rafting.com
Email: info@hautesavoie-rafting.com
Sixt fer a Cheval Horse Riding
Try horseback riding in the 'Cirque du Fer à Cheval' Nature Reserve. 
Hippoloisirs (74740) is open from June to September. 
Tel. +33 (0)6 08 28 55 48 or +33 (0)7 71 07 98 00
Sixt fer a Cheval Mountain Biking
Marked trails are available for mountain bikers of all levels. Some of them are accessible by the Vagnys chairlift. The downhill trail from Fer à Cheval to Samoëns is a great, not-to-be-missed classic! In the Grand Massif, several other chairlifts are open during the summer in Morillon, Les Carroz and Flaine. From up there 600 km of marked trails are awaiting you. 350 kms of mountain bike track across the Grand-Massif.
 
The Sixt Fer à Cheval downhill trail. Difficulty level: Difficult to very difficult, black trail for experienced downhill bikers only. Technical trail but not very fast because of its steepness. Protection gear mandatory.

Equipment sale and rental
Chez Narcisse-Chef Lieu
Rental: mountain bike, Via Ferrata equipment, hiking accessories, baby carrier
Tel: 0033 4 50 34 42 47
Fax: 0033 4 50 89 53 90
narcisse.sport@wanadoo.fr
Samoens Market (close to Sixt)
Every Tuesday throughout July and August come and discover the secrets of the local craftsmen. Punctuated by various activities this market is an ideal opportunity to wander with family or friends. The market takes place on the banks of the river Giffre and around the Tilleul de l'Abbaye in the centre of the village.
Samoëns market:
Every Wednesday morning (from 8am to 1pm), throughout the year come and wander around the Savoyard market in Samoëns. You will find many local regional products and also textiles, household goods and various accessories.
Sixt fer a Cheval Paragliding
Tandem paragliding flight.
Be swept away by Oliv and Dadoo (Qualified State instructors) who will show you a wonderful time.
Les Tontons Volants – 0033 450 89 82 30
Further activities can be undertaken in Samoens, a few minutes drive away. To see a list of details please view here.
Please note:

 All the above information is for information only. For the most up-to-date information please visit the resort tourist office website. All prices for activities are in local currency (€ Euros) and are bookable and payable locally in resort.
Sixt Tourist Office  
Tel +33 450 34 49 36
www.sixtferacheval.com or check www.samoens.com
A few restaurants in Sixt, bars.
Altitude restaurant accessible by chairlift des Vagnys.
You can find a much larger selection in nearby SAMOENS.
Restaurants
Auberge de la Feuille d'Erable
Open lunchtime and dinner. Closed Monday
Le 27
Open every day except Wednesday and Thursday
Chalet Restaurant du Cirque du Fer à Cheval
Open from 9:00 am to 06:00 pm
restaurantduferacheval@laposte.net
Pizzeria La Chaoune
Open every day except Monday lunchtime 
Auberge de la Cascade du Rouget
Parking. Open only the Summer, from 10:00 am to 12:00 pm 
Le Chalet du Lignon
Parking, open from 10:00 am to 7:00 pm. 
Restaurant Le Rouet
Salvagny 
Le Carrousel
Open to the 1st may from september, every day, to 10:00 am from 08:30 pm.
In Sixt:
Alimentation Sherpa (groceries)
Open from 8 a.m. to 12.30 p.m & from 4.30 to 7 p.m.
 
Au fournil du Fer A Cheval (bakery):
Open from 6.30 a.m. to 12.30 p.m and from 4.30 to 7.30 p.m.
 
Local products, Press, Relais poste "La Cash'ta":
Open from 8 a.m. to 12.30 p.m and from 4 to 7.30 p.m. 
In Samoëns (5km):

Market on Wednesdays, doctors, pharmacy, physiotherapist, hairdresser, laundry/dry cleaning, bakeries, several sports shops…
By Road: 
Driving distance from Calais 543 miles (approx7hrs40)
From Calais, take A26 Motorway towards Reims and Troyes, then Dijon, Mâcon then 'Autoroute Blanche' Motorway (A40 Mâcon – Cluses) Exit Cluses Scionzier. Follow signs to Samoëns. Sixt is 5km after Samoëns. It takes approximately 25 minutes from the motorway exit to Sixt Fer a Cheval.
By Rail: 
Cluses 30km - Shuttle bus to Sixt +33 450 98 07 81 or Taxi +33 450 34 90 90 www.giffre-transports.com
Airports: 
Geneva 70km - Shuttle bus or Taxi. For further information on car parking, transfers, etc: www.gva.ch/en (then select Transportation in menu) or Lyon Saint-Exupery 195 km
bus SAT
Phone: +33 (0)4 50 34 40 09  or + 33 (0)4 50 37 22 13
Web: www.sat-montblanc.com
Need an Airport Transfer? Prices from £78 per person based on 4 sharing a private return taxi from Geneva Airport to Sixt. Call our reservations team for details on 0844 576 0170 or email reservations@peakretreats.co.uk