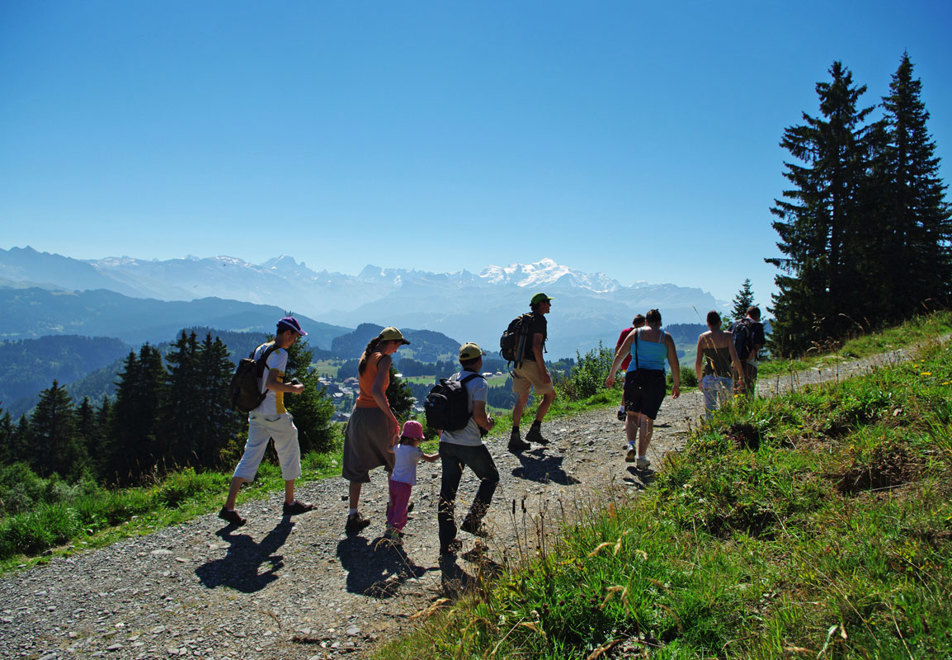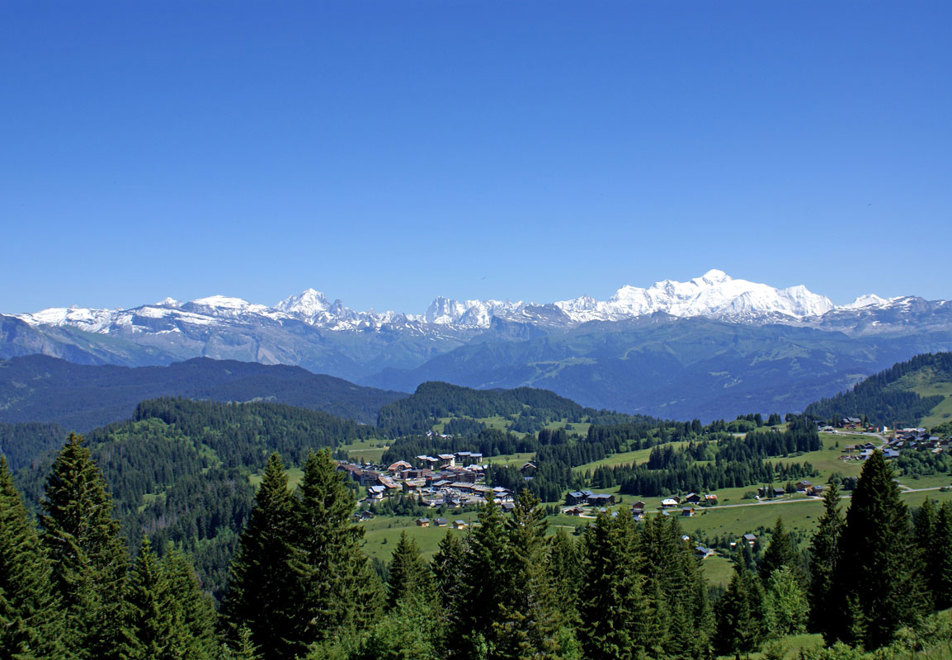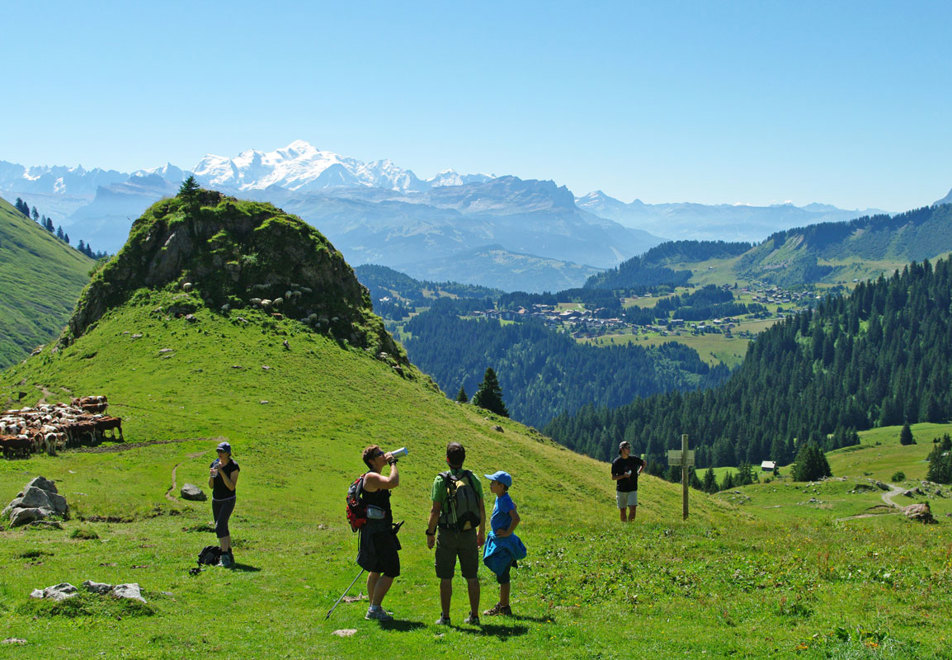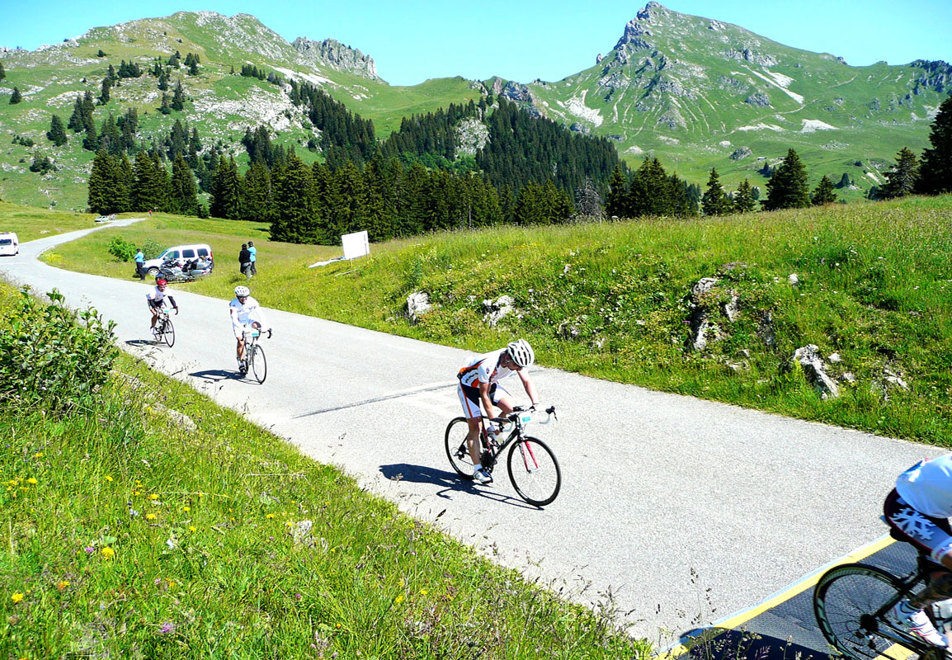 Praz de Lys is an authentic alpine village set amongst the trees overlooking the majestic Mont Blanc. Located in Haute Savoie, it is only a 40 mins drive from Geneva Airport.
Why Praz de Lys in Summer?
Authentic mountain village
Short drive from Geneva Airport; the shortest on our programme
Jewel in the heart of Giffre Valley on the "Route des Grandes Alpes"
Bureau de la montagne
Jean Paul, Mountain guide, proposes theme hikes (flora and fauna, snack in the farm, sunset) for one day or half-day, canyonig, via - ferrata and speleology.
Centre station
Praz de Lys
74440 TANINGES
+33 6 80 68 72 82
Hiking maps
To discover, ask for two new maps in our tourist offices. You will enjoy walks all around but also in other villages of the Giffre Valley, from Mieussy to Sixt Fer à Cheval.
Hiking in Praz de Lys Sommand, Taninges and Mieussy: From the edges of Giffre to the pastures of Praz de Lys, some strolls to discover the villages, mountains and nature. Trails for everyone and every levels.
Hikes and tours in Giffre Valley: Mountains of Giffre offer you more than 600 km of hiking trails. 
Télésiège du Haut Fleury
From 09/07 to 21/08/2016.
Subject to favorable weather.
One way ticket for adult: 5 €
Round-trip ticket for adult: 7 €
One way ticket for a child: 3 €
Round-trip ticket for a child: 5 €.
Open from 10am-12.15 and from 1.45-4.45 Mon-Sat
Non stop from 10-4.45 on Sundays
Map of MTB's tracks
Discover villages and countrysides of Taninges and Mieussy thanks to 4 MTB itineraries marked out.

Loop of Flérier: Beginner level, 4,7 km.
The circuit suggests discovering the village of Flérier. Flérier is a small hamlet in the traditional architecture with in his centre a beautiful Gothic style chapel of the XIIIth century.

Loop of Marcelly: Amateur Level, 12 km, 310 m of made uneven.
At the bottom of the Marcelly Peak, the circuit allows to discover the Chartreuse of Mélan, the lake of Flérier as well as very pleasant forest trails

Loop of Messy-Jourdy: Expert level, 9 km, 410 m of made uneven.
On the village of Mieussy, the circuit is varied between undergrowth, meadows and hamlets.

Loop of Mont-Mailly: Amateur Level, 11 km, 460 m of made uneven.
Between forest and edge of Giffre, this run is varied and a little bit technical.
MTB with Daniel Mercier
Daniel, mountain guide and MTB's instructor proposes daily activities and itinerant treks.
Rundown on sale in tourist offices
Mob : +33 6 07 53 27 73
School of paragliding "Les Choucas"
First flight in two-seater paragliding, initiation or improvement.
ECOLE DE PARAPENTE LES CHOUCAS
700 route de l'étroit denté
74440 MIEUSSY
+33 4 50 43 05 13
White water sports
Canyoning requires to be very informed about the risks of this activity.
It is recommended to get informed with professionals referenced below.
Watch out, if you want to go in the Gorges of Giffre, you must phone at (+33) 4 50 43 19 12 before, it will inform you about the situation of the hydroelectric works. If the situation allows it, you will have 1:30 to go down the gorges.
Nordic fitness with the School of Mountain's Activities
For people who don't have (or not that much) a physical activity, and wishing to return to activity, quite smoothly, while taking advantage of natural environment. Internship : 4 sessions of 2 hours.
Duration of the session: maximum 2 hours
On Monday: Breath, Contraction of my muscles, Balance.
On Tuesday: Nordic Work (use of sticks). Learn to work with all the body at the same time, to synchronise breath, contraction and balance.
On Wednesday: Use natural environment to complete and vary this activity, better control of the body and have fun with natural environment.
On Thursday: A small walk as an objective, to put in practice and to discover a small, wild and natural hike.
+33 4 50 89 51 39
From Sunday 15 of June to Monday 15 of September.
Mountain running
Discover 7 routes and 2 vertical kilometres from 5 to 50 km for every level 
Prepare your run and download the gpx track.
Rock climbing
Praz Sur Arly has a climbing tower in the Belles Leisure Park. It is 7 metres high and is suitable for initiation to rock climbing and training for beginners up to level 6c.
It's also possible to discover one of the numerous climbing spots in cliffs around the foot of the Mont Blanc, either with or without a guide.
Paragliding
Discover the unique sensation of a flight from the summits of Praz Sur Arly or Megève. Your initiation flight will take you over the foothills of the Mont Blanc and Aravis ranges in the magnificent scenery.
Swimming 
Cool off on the banks of the River Arly. The "Arly Beach" is an ideal spot to relax and dip your feet in the water!
Markets
From 01 July to 31 August (every year)Thursday 08:00 to 12:00
Place du marché - Taninges
Weekly market in the old village, regional products and specialities.
From 07 July to 25 August (every year) Thursday at 14:30
Place du marché - Praz de Lys
Weekly market in the resort, regional products and specialities.
Please note: 

All the above information is for information only. For the most up-to-date information please visit the resort tourist office website. All prices for activities are in local currency (€ Euros) and are bookable and payable locally in resort.         

Praz de Lys Sommand Tourisme 
accueil@prazdelys-sommand.com

Bureau de Taninges  0033 4 50 34 25 05 
Bureau de Mieussy 0033 4 50 43 02 72
There are 11 restaurants in Praz de Lys and a couple of bars for after.
7 sports shops, butchers, bakers, laundrette, pharmacy, mini market
There is a larger supermarket in Taninges town. Super U 08.30-20.00 and Sunday morning during the season 0900-12.30. There is also a self service 24hr petrol station here.
Getting to Praz de Lys, France
By Road:
Driving distance from Calais to Praz de Lys 538 miles (7 hrs35).
From Calais, take A26 Motorway towards Reims and Troyes, then Dijon, Mâcon then 'Autoroute Blanche' Motorway (A40 Mâcon – Cluses) exit 18 Cluses Scionzier for Taninges and Praz de Lys. Then exit 15 Vallée Verte -Samoens for Mieussy/Sommand.
By Rail: 
TGV to the train station in Cluses (10km from Taninges and 24km from Praz de Lys).
Airports:
Geneva Airport is 40km from Praz de Lys (40 mins)
Shuttle buses
• Annemasse - Mieussy - Taninges - Samoëns / Cluses - Taninges - Le Praz de Lys: with SAT buses (direct lines in winter).
• Connections with resorts Summer / Winter (Informations SAT Annemasse & Cluses, Tourist offices Taninges & Mieussy).
• SAT Cluses +33(0)4 50 98 01 67
• SAT Annemasse +33(0)4 50 37 22 13
• Bus station Cluses +33(0)4 50 98 07 81
Praz de Lys Airport Transfer
Pre-book your taxi transfer with Peak Retreats. To be confirmed
For all other transfer prices please click here