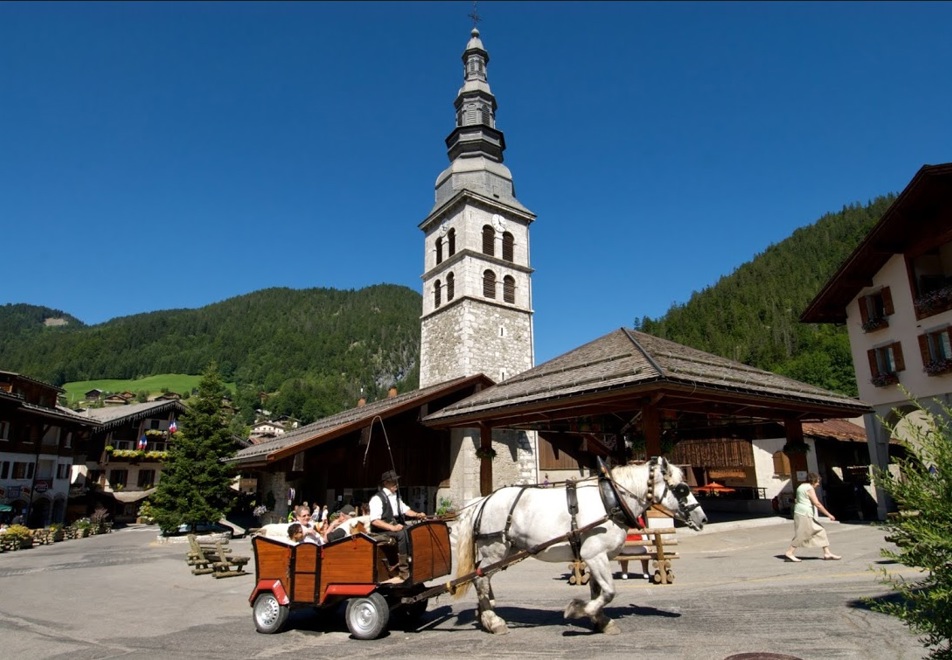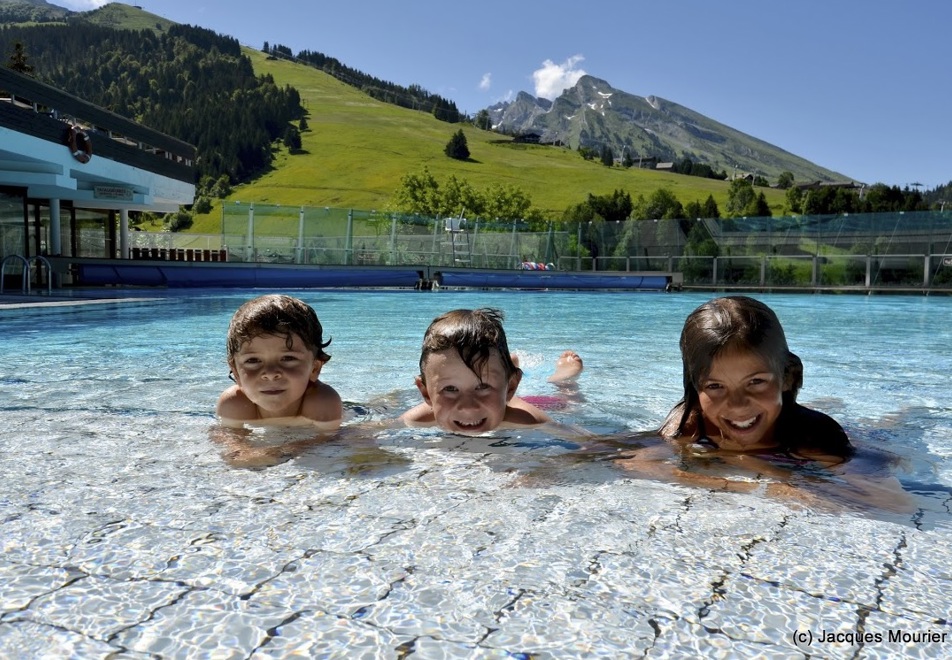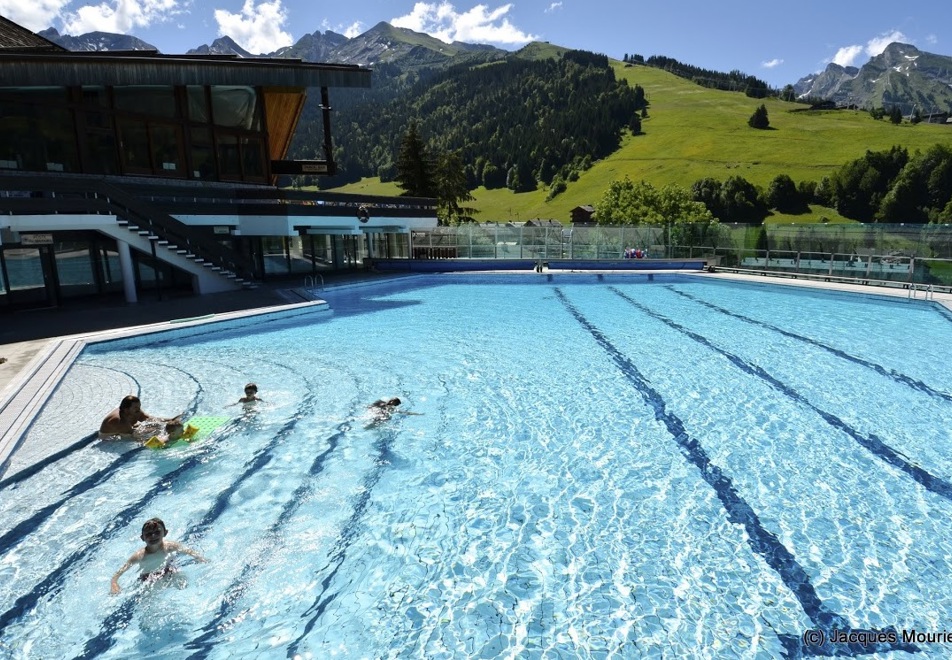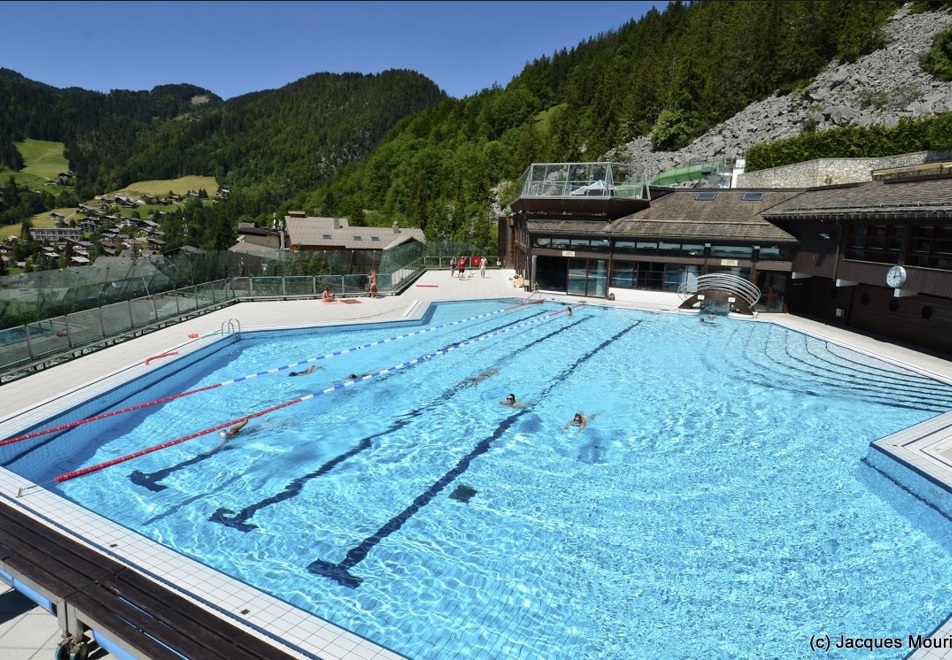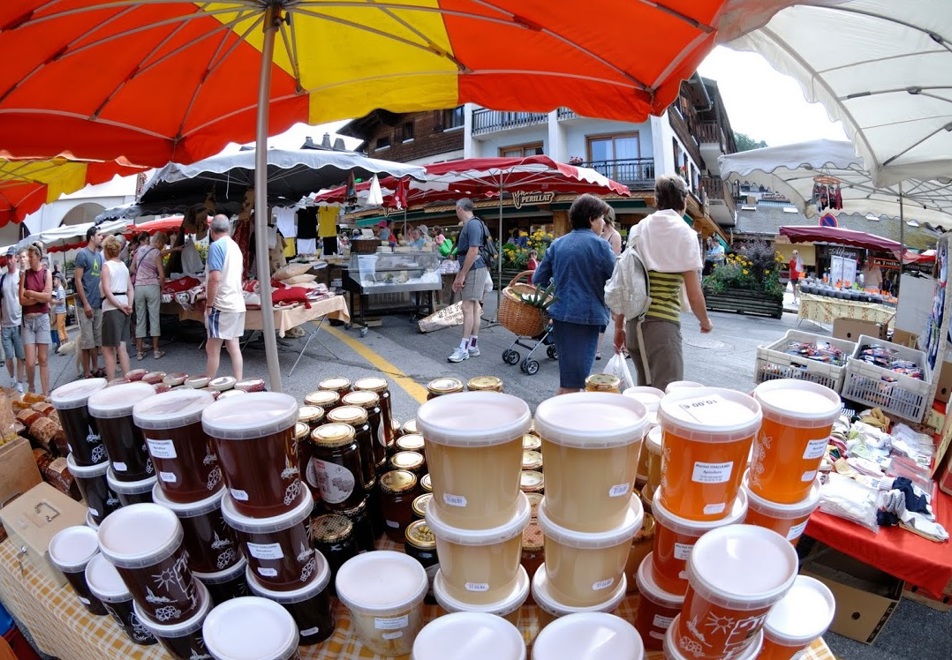 La Clusaz is filled with a multitude of outdoor activities and indoor opportunities from mountain biking to hiking, sunbathing at the aquapark or on the banks of Lake Annecy.
La Clusaz is a traditional alpine resort set in the Aravis mountain range. The exciting range of sporting and cultural events as well as lively, free family entertainment means its an excellent summer destination (and winter).
La Clusaz was awarded its coat of arms on October 7th 1601. The ram, a symbol of gentleness and belief, represents farming which was for many years the main economic activity for this area, which to this day still remains loyal to its cultural heritage.
La Clusaz is very close to Geneva so makes it ideal for those not wanting a long transfer from the airport and one of the easiest resorts to access from the motorway at Annecy and also amongst the shortest drive from the UK.
La Clusaz has ample restaurants and bars to suit all tastes and budgets.
There are a number of areas of outstanding beauty:
Aravis reserve - the reserve extends over 3747ha of which 629 are in La Clusaz. There is a wide variety of wild animals including, ibexes, marmots, foxes, badgers, wild boars, roes, deers and at the last count we had 600 chamois!
Aravis pass - the Col des Aravis is a mountain pass in the French Alps that connects the towns of La Clusaz in Haute-Savoie with La Giettaz in Savoie. The pass is often used as part of the route in the Tour de France. You will find there various restaurants, shops, mountain paths and a chapel. It is one of the best perspectives over the Mont-Blanc.
Confins Lakes - glacial lake located at 1450m in the natural reserve of the Aravis Mountain Range. The Lake of Les Confins offers an exceptional site and an excellent view of the surrounding mountains. Paths, pedestrians and mountain biking, around the Lake.
Top summer activities to experience in La Clusaz
Please note Peak Retreats do not book any activities and most activities are payable. For more information about pricing and availability, please contact the Samoens Tourist Office on 0033 450 32 65 00 or visit www.laclusaz.com
'Le Domaine' - Espace VTT de La Clusaz
This summer, mountain bike with friends or family!
La Clusaz has an exceptional area for beginners and experts alike. 30 minutes from Lake Annecy, there are more than 110km of signposted paths through the forest, including 18 trails of varying levels, from the discovery path to the enduro route and the Bike Park. All of it is served by 3 MTB lifts, open in July and August.
Bike park - there are three levels of trails (green, blue, red) interspersed with wooden ramps. For beginners through to experts. It has a central location on the Mini-Loup, where all mountain bikers can reach it. 
The Dahu trail, which departs from the summit from the Crêt du Loup chairlift, is constructed to allow beginners to access the upper part of the Domaine and then the Bike Park. 
Lifts open:
Beauregard Cable Car - from 9.30am to 5.30pm (free cleaning area)
Merle Chairlift - from 9.30am to 5.15pm
Loup Chairlift - from 9.40am to 4.45pm
The Patinoire Cable Car is not open to MTB
Electric mountain biking in La Clusaz
Mountain biking, for a long time considered exclusively for confirmed sports enthusiasts, is now opening up thanks to this new technology. Families can now enjoy a new way of discovering the mountains and the e-mountain bike is ideal for couples.
Summer toboggan
Come and slide down 800m of fantastic family fun on the specially designed summer bobsleigh in La Clusaz. Accessible for all ages, it's a few minutes of guaranteed laughs as you zoom down the tracks on single or double bobsleighs just like a winter bobsleigh, but without the snow!

Aravis Aquapark
434 Route de la Piscine
www.espaceaquatique-laclusaz.com
Heated exterior pool of 25m, heated indoor pool, jacuzzi, toddler pools, fountains.
Fitness, hammam, sauna. For over 16 years only.
Swimming babies, aqua-bike, gym, training (45mn), yoga (1h)
Ice rink
94 Place du Pré de Foire
1000 m² of outdoor rink under a roof. A multitude of activities, sound and light games. 
Adventure playgrounds
Belier Club
Chalet du Bélier Club /Champ Giguet
www.club-laclusaz.com
Big airbag, express zipwire (100m), bumper boat, bouncy castle, kids quad bikes, trampolines.
Tyrooo
Les Confins
A perfect natural setting in the Confins for fun and exciting, outdoor activities for all the family.
Zipwires - 300m and 700m, balancing workshop (stilts, balancing beam, slackline), adventure playground with 6 obstacles and a 50m zipline, trampoline, bouncy castle.
Horse riding
La Clusaz Equestrian Centre
564 Route du Ranch
www.aravis-passion.com
Every season we offer extraordinary horseback rides, for the budding or the very experienced rider, to explore exceptional landscapes with breathtaking views on each and every ride.
From 2 hours to 3 hours and on-demand one to two days
Pony and donkey rides
Les Confins
www.formulekid.com
Discover 2 equestrian activities for children:
PONY RIDES: on a 10-minute walk along an easy route.
DONKEY RENTAL: a walk by yourself on marked paths with your donkey, in the family or between friends. Wonderful walking companion, the donkey will carry the smallest children (from 2 years old) and will motivate the youngest to walk.
Horse-drawn cart
Visit La Clusaz on a horse-drawn cart. Different routes are available, just ask the driver!
Saturdays and Sundays only. No reservation is possible, except for groups and weddings.
6 hole golf course (Golf des Confins)
317 Route de la chapelle - Les Confins
www.golflaclusaz.com
6 hole course, driving range (carpet and lawn), putting green, hire and sale of equipment. Lessons from a qualified golf instructor, individual lessons, week courses, groups and seminars, discovery sessions.
Confins crazy golf
317 Route de la chapelle - Les Confins
Village crazy golf
33 Impasse du minigolf
18 hole crazy golf located in the centre of the village.
Tennis in La Clusaz
Le Cortibot - Route des Confins
Ecole primaire de La Clusaz
Three tennis courts are located on the Confins road (1 km from the village) and two tennis courts are located near the school in the village. Lessons provided by Aravis Tennis (state qualified instructors). 
La Clusaz Market
On the Church square, get to know all the local specialties: Reblochon, Savoy ham, Aravis liqueur...
Throughout the year: every Monday from 8:00am to 12:00pm.
Farm guided tour
Discover how Reblochon is made on a visit to the summer
pastures. Departure on Friday at 2pm in front of the Tourist Office. Registration and reservation at the Office at least one day before.
Climbing - Bureau des Guides
Fantastic rock climbing up the limestone cliffs, for family fun, coaching or multi-pitch. The centre is certified by the French Rock Climbing School. 
Other activity contact details 
Bars & restaurants in La Clusaz
La Clusaz has a wide, plentiful choice of restaurants and bars. From traditional Savoyard restaurants to pizza. There are some extremely nice upmarket restaurants to add amongst the mix.
In La Clusaz, also part of Lake Annecy resorts, Vin…Quand Tu Veux, is a wine bar and shop offering over 320 different wines and liquors. Wine can be tasted in a friendly atmosphere, around a big wooden table.
Amenities in La Clusaz
Sports shops, cheese shops, butchers, bakers, wine shop, cashpoint, doctors, vets, dentist, laundrette, hairdressers
Grocery shops:
8 a Huit
45 place de l'Église
Chocolatier Patrick Agnellet, who has a patisserie in Annecy, has opened a second shop in La Clusaz (his native village). He has created a Chocolats des Aravis for his shop which should delight all the chocolate addicts!
www.patrickagnellet.com
Accessing La Clusaz
By Road (self drive options pre-bookable with Peak Retreats): 
Driving distance from Calais to La Clusaz: 536 miles (approx 7hr30).
The Massif des Aravis is easily reachable:
- Motorway A 40 (Autoroute Blanche) ; exit N° 16 Bonneville, direction Stations des Aravis at 20 km
- Motorway A 41 exit Annecy Nord direction Thônes / Stations des Aravis at 30km
By Rail (pre-bookable with Peak Retreats): 
SNCF station of Annecy at 32km away.
Daily link by bus – Voyages Crolard
http://www.voyages-crolard.com/
By Plane (not pre-bookable):
Annecy-Meythet airport at 32 km (30 mins) www.annecy.aeroport.fr
Shuttle bus between airport, TGV railway station and La Clusaz.
Geneva airport at 50km from Grand Bornand (1 hour) www.gva.ch
Shuttle bus between Geneva and La Clusaz (www.gare-routiere.com)
Chambery Airport is 75km from Grand Bornand (1 ¼ hours) www.chambery-airport.com
Lyon - Saint Exupéry airport at 150km (1 ¾ hours) www.lyon.aeroport.fr/
www.altibus.com. 
Grenoble Airport is 165km from Grand Bornand (1 ¾ hours) www.grenoble-airport.com
Parking
SALON DES DAMES CAR PARK
124, Salon des Dames
Covered spaces at the entrance to the village, height limited to 2m35. Open 24 hours. Free.
CENTRE OF THE VILLAGE CAR PARK
29, route de l'Etale
Covered spaces, centre of the village, height limited to 1m80. Open 24 hours. Free.
La Clusaz Airport Transfer or Car Hire (pre-bookable with Peak Retreats):
Call our reservations team for details on 0844 576 0170 or email reservations@peakretreats.co.uk for a quote and availability.