Staff Review: Vars April Skiing
Vars is a traditional French resort which benefits from high altitude and enjoys almost 300 days of sunshine a year. The director of Peak Retreats and Ski Collection enjoyed a family skiing holiday in Vars this season, read on to see how it went.
This year we decided to add a few days with friends in Marseille at the end of our family ski holiday so we looked for the best resorts in the Southern Alps.
Skiing in April we looked for a resort with a good snow record but distance from Marseille was another criteria. Going with the two young children including one for whom it would be the first time skiing, we looked for a resort with families in mind where it would be sunny and warm. Vars met all these criteria.
We normally prefer to drive over to the Alps, but going to Marseille and Vars, meant that flying would be the best option on this occasion.
It was an early start with a 5am pick-up from Portsmouth. We always like taking the first flights of the day as it means no traffic to the airport but more importantly, less chances of a delay build-up. The 8am easyjet flight from Gatwick was spot on time in Marseille. Time to pick-up a hire car and we were off at about 11.15.  After a good lunch break on a sunny terraces in Tallard (Chorges is another good one) we enjoyed the drive around the Serre-Poncon lake (there is even a MacDonald's a bit further on for those who don't want to stop for long and to please the kids). Next stop was the Intermarché supermarket in Guillestre. From there the drive up to Vars was about 20 minutes.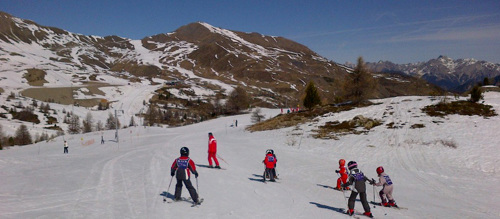 Limited size ESF groups
We arrived in Vars Sainte Marie at 4pm (in all just over 2h30 of driving from the airport), just in time to collect the keys for the apartment in Vars at Pra Ste Marie. No other clients at reception so it was a smooth and easy process, and we were in the apartment within less than 10 minutes after having collected our pre-booked lift passes from reception. After unloading the car we set off for Vars Les Claux. First stop at the ESF ski school to check the last instructions for the next day, then off to the Sport2000 ski shop at Point Show to get kitted out. A little drive around Vars then back at the Pra Sainte Marie apartments just after 5.30pm.
Time to unwind and get the kids fully rested before skiing in Vars the next day.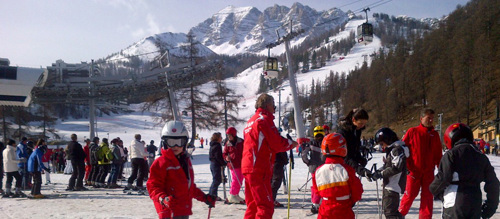 ESF second star group getting ready
Up at 8 am and time for a good breakfast (croissants, pain au chocolat and baguettes, pre-ordered from reception the previous evening and collected fresh from reception the next morning). Off just after 9am to ski in Vars and we decided to drive the 5 minutes to Vars Les Claux but there is also a regular free shuttle bus leaving from close to the Pra Ste Marie apartments. Both the 3 1/2 year old and the 7 year old were in their respective meeting point (kindergarten and 2nd star) by 9.20 for the 9.30 start. Mum and dad were on the chairlift just before 10 am. Two hours of skiing in Vars is just about enough for the first morning.
Time to pick-up the now hungry kids and then we went and had a lovely 3 course lunch for 14 Euros at La Marmotte in Vars centre.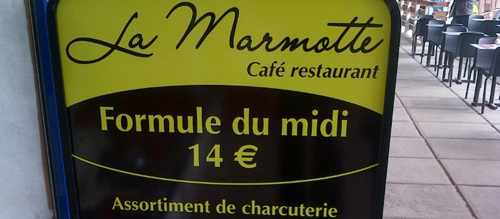 Excellent 3 course meal at La Marmotte