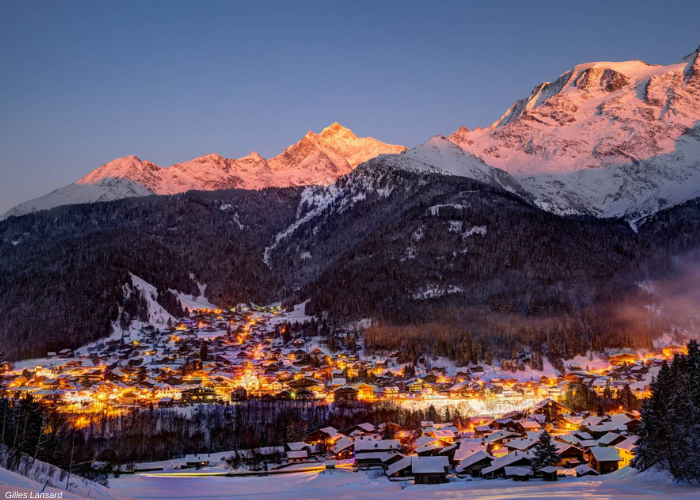 Friday, 09, May, 2014
Looking at the diary, wishing to add a little more time on the slopes and giving opportunities to my God children, I looked around at what was available later in the ski season within the Evasion lift pass area. We had visited Les Contamines for single days before, but not stayed there. This seemed a good chance to try Le Nevez, sample the local restaurants and give ourselves a little more height (in case the end of season crept in early).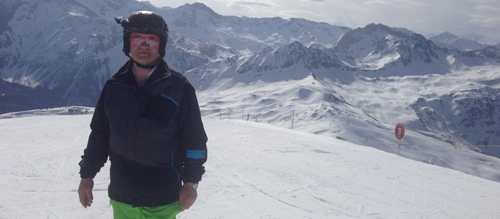 Travelling to the Alps
We like the Peak Retreats package with Eurotunnel FlexiPlus. Over several years skiing at Saint Gervais (approx 10km away), we have purchased our own skis and ski equipment. Putting kit directly in the car makes life much easier: get it out at the apartment and you're ready to go! Friends had already put us in touch with the UK Harrogate office of SANEF and the toll tag eases the journey further. Catching the 06:20am train has proved good for not having to rush across France, and once again this proved to be true. A steady 115Km/hr made good progress, with short breaks every two hours, and kept good fuel consumption.
Le Nevez
We arrived comfortably for the check-in time at Le Nevez, as it was getting dark, having stopped at the Centre Village office of ESF ski school to collect a lesson voucher. Check-in was straight forward and no long inventory to go through! It is a short walk from the car park to the residence, however they have recently provided small hand carts to ease the luggage handling along the paths. After beds made, we found a small local restaurant for pizza.
Learning new winter sports
Collective classes at ESF start at 9:30 am in Les Contamines, meeting at L'Etape. It is few minutes' walk in ski boots from the locker room at Le Nevez to the Telecabine de Montjoie and with no queue at the lift in late March, we arrived in time for a refreshment break before Silja went to her ski school class. This was the start of a good week for her, a class of only 3 or 4, they all made quick progress.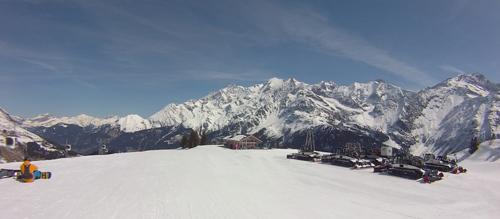 Robert wished to learn to snowboard, having got skiing sorted to his satisfaction over the previous few years. Collective snowboard lessons are only taught during school holidays at Les Contamines, so as not available, he opted for giving it a go on his own, escorted by an ageing God father! Being a rugby player and heading for the marines, he's not nervous of a few knocks and falls, good thing too, as he reported the bruise level to be 60% by the end of the week! The video taken during the last day posted on Facebook for his parent's benefit, brought a mixed response of being both pleased but almost disgusted that he should make it look so easy after only six days!
Skiing in Les Contamines
The ski runs worked well for us all. The blue run beneath the Telecabine du Signal enables either skiers or boarders to get to Le Signal without lift complications. Once skills are up to the short run down into Junction, the fast 6-person Nante Rouge chair lift gets you to either the Blue Coins run or the Red Nante Rouge, both providing nicely pisted wide runs for practice. The new fast 6-person chair lift Buche Croisee improved access for runs towards Roselette and Hauteluce too. Throughout our stay, being out early we found prepared pistes with few people on them.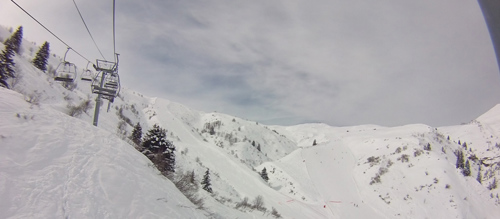 Staying in the village
We were pleasantly surprised at the quietly efficient and comprehensive management of Le Nevez. The apartment was in nice condition, with WiFi supplied as an extra. Free WiFi was available in the reception area, which was also laid out like a large lounge. The desk was open twice a day every day, with cheerful greetings and advice provided if requested.
Most of the local shops closed for the early afternoon and re-opened into the early evening, which was convenient for fitting around skiing. Food is available from several express sized food outlets in the Village, with a handy size store and bakery at Le Lay, close to Le Nevez. We felt no need for a drive to the Supermarkets at Le Fayet.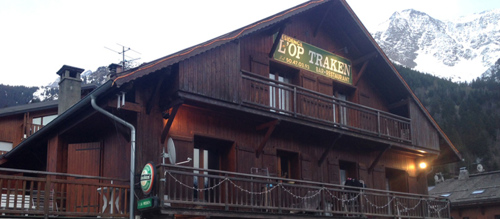 Browsing the menus of several restaurants all looked interesting, yet we found ourselves drawn back to one in particular many times, L'op Traken. Well supported by locals too, traditional cooking and local specialities at fair prices. There were three set price menus, starting at 15 Euro for three courses, and a good range on the a la carte too. I shall be taking my wife to eat there on our next visit, even if we are staying elsewhere.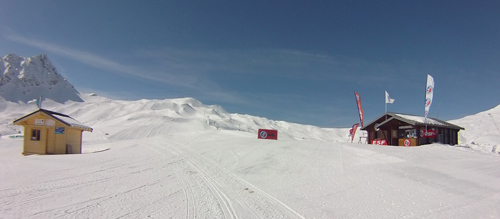 For the second week after Robert and Silja left for their homes, I was joined by some Rotary friends, whose ski ambitions were happily met with only a few hours on the slopes each day. This fitted in perfectly with the increasing sun and temperature, as we would be on the slopes till about 2pm, then come down to relax, sit and read in the sun on the apartment's balcony.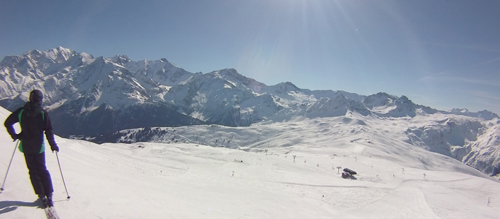 The end of our stay arrived only too soon, and we had the apartment cleaned quite quickly. The flooring material was easy to clean, with both vacuum cleaners and cleaning materials available for use without extra charge from reception.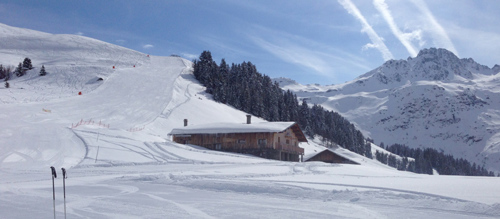 Did it work as a good extra time on the slopes, and would we do it again? Yes it did, we would happily go back at the same time of the year, however the group mix may change depending who had the time and interest to go.