Family Skiing | Ski Holidays with Children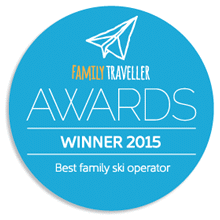 Find out everything you need to know about the elements of a perfect family ski holiday from choosing an award-winning family tour operator to what to pack and which resort to pick.
Voted 'Best Family Ski Tour Operator'
Peak Retreats was voted Best Family Ski Tour Operator at the Family Traveller Awards 2015.
The award is a result of a great team effort, offering a service that is tailored to families, giving holiday makers the opportunity to discover the real Alpine France in some of the most family friendly ski resorts.
What age should my child learn to ski?
There is no right age to teach your child to ski – just whenever they feel ready to try out a new thing. This could be from as soon as 3 years or not until age 5 or 6.
Try introducing them into skiing, they will probably love it but in some cases they may not be ready if very young so don't rush them. Try again the next year.
Spend a day at a dry ski slope…this will give a good indication as to whether your child is ready or not. It also gives them a head start in resort. It's important to understand that where as one child may take to skiing, another may not as well.
Ski School
Concentration is a big factor for children so the ESF (Ecole du Ski Francais – French Ski School) varies the activities in the lessons so that the children find it exciting rather than a bit of a chore.
Skiing 'en famille' (as a family) can also be an enjoyable experience.
Skiing all day long is normally too much for most children but it obviously depends on their fitness level and stamina. As a guide 8-12 year olds can normally stay out for about 3 hours, so 6 half-days worth of lessons should be just right.
Most ski schools offer full days for children with a break for lunch. Some will offer skiing in the morning and activities during the afternoon, others offer skiing both morning and afternoon and usually this depends on age.
A 3 year old would more than definitely not be able to cope with 6 hours of skiing a day.
Skiing with children - Packing list
Suncream
First aid kit
Adapters for appliances
Books and toys
Ski gloves
Sunglasses/Googles
Snow suit or a jacket and sallopettes
Clothes to aid with layering under jackets – vests, t-shirts, tights etc
Hat
Snow boots
Ski socks
Travel cot
Backpack
Bottles/formula for babies
Sterilisation equipment for bottles
Tea towels (if residence doesn't provide) 


Preparation for the slopes each morning
Make sure you have time for breakfast packed with carbohydrates (e.g cereal) to provide energy for skiing and warmth
Wear warm, waterproof clothing – several thin layers are best. Hats are a must for children and decent gloves
Apply factor 30 sun cream and take lip balm and spare sun cream out on the slopes
Before your child heads off to ski school/ski kindergarten make sure you pack them a little chocolate or sweet portion plus some fruit to keep their energy levels up and something to drink

Considerations for choosing your family ski holiday
Family-friendly Slopes
Gentle runs and nursery slopes are a must for children learning how to ski (and adults!). Resorts with well linked ski areas are best to save the hassle of walking with your skis. Ski boots and skis are heavy and children often get very tired even walking a few hundred yards from the apartment.
Ski-in/Ski-out
Ski-in Ski-out accommodation is the most convenient – skiing from the door and back to the apartment means much less walking with equipment. This type of residence often books up quickly, especially at peak times so it's wise to book early. As an alternative, accommodation with a ski bus just outside is a good idea, again minimising the walking distance.
Off the Slopes 
Choosing a resort that is quite compact as well will minimise walking distances. Furthermore a resort with lots of extra activities besides skiing is a good idea in case any children in your party aren't so keen. 

Peak Retreats Family Ski Resort Recommendations 
Nearly all our resorts are suitable for skiing with children of any age and any ski level.
If we were to select just a few, we particularly recommend the following family ski resorts. Resorts that say either FAMILLE PLUS OR TOP OF THE FRENCH ALPS next to them reflect a grading issued by SkiFrance. For more information about this please view the Famille Plus & Top of the French Alps page.
Aussois (Maurienne Valley)

- Top Value for Money Pick
FAMILLE PLUS – ideal for kids
Aussois is a charming family orientated village and is suited mainly to beginners and intermediates with green easy cruising runs down to the village. Ski kindergarten from 3 years with ESF.
Residence Les Flocons d'Argent is at the bottom of the slopes, ski-in/ski-out and opposite the snow kindergarten. View our Aussois resort page for further information on the resort itself (including ski school/lift pass info), as well as accommodation options.
Resorts such as Aussois are generally cheaper when buying your daily groceries compared to big 'A-list' resorts. What's more they are often a lot quieter than larger resorts as they are more hidden secret resorts. Aussois is only 15 minutes away from the motorway exit or train links, compared with some larger resorts where you have a 30-45min drive from the motorway exit up to the resort along very windy mountain roads.

AUSSOIS PRICE EXAMPLE WITH PEAK RETREATS 15/16:
To give you an idea of the incredible value on offer in a resort like Aussois, we have priced up a peak date and off-peak holiday vs a comparable holiday in a larger resort.

Save £1419 per party for a family of 4 by switching to a less well-known resort such as Aussois. Aussois maintains a very good snow record, so there is no reason not to come to a resort like Aussois – great snow, great village atmosphere, great ski-in ski-out accommodation and what's more, great prices! Why pay £1,419 more when you don't need to.
*Price is per week, in £s Sterling, including a Standard Eurotunnel crossing 
**SkiCollection. Resort: Val Thorens - Les Balcons de Val Thorens
Morillon 1100 (Grand Massif)
Morillon 1100 has its own nursery slopes and one can also ski back to the village lower down, snow conditions permitting. Lifts from Morillon 1100 link Flaine, Samoens and Les Carroz making the Grand massif ski area and its massive 265km of slopes. Village des Enfants cares for children from 6 months to 8 years.  Ski kindergarten starts from 3 years with ESF. Pedestrian resort.
Residences Le Buet, and MGM Le Refuge de l'Alpage nearly all offer ski-in ski-out accommodation. 

PRICE EXAMPLE 15/16 (2 bedroom apartment sleeps 6, self catering):
Le Buet: £778 per family for week 19/12/15, £1,398 for week 13/02/16, £516 for week 26/03/16*
Oz en Oisans (Alpe d'Huez)
Oz-en-Oisans is traffic free and safe for children, a quieter alternative to Alpe d'Huez. Being a compact resort, there is a mere walking distance between amenities. Take the gondola to Alpette in Vaujany to find the beginners slopes; there are also nursery slopes in Oz. Ski back to the village on blues and reds. Snow kindergarten starts from 4 years with ESF.
Residence Le Chalet des Neiges is ski-in ski-out and in the centre of the resort. 

PRICE EXAMPLE 15/16 (2 bedroom apartment sleeps 6, self catering):
Le Chalet des Neiges: £1,510 per family for week 19/12/16, £1,898 for week 13/02/16, £1,562 for week 26/03*
Les Saisies
Les Saisies has gentle nursery slopes for beginners and has good snow cover throughout the winter season. Ski kindergarten from 3 years with ESF, ESF nursery from 2 years (no ski).
Le Village des Lapons has direct access to slopes and is 300m from ski school. 

PRICE EXAMPLE 15/16 (2 bedroom apartment sleeps 6, self catering):
Le Village des Lapons: £1,591 per family for week 19/12/16, £2,284 for week 13/02/16, £943 for week 26/03/16**
Samoens (Grand Massif)
Samoens has an excellent nursery slope area at Samoens 1600 (reached by high speed gondola from village), one of the biggest in the Haute-Savoie. From Samoens 1600 you can ski to Morillon, Les Carroz and Flaine via the Grand Massif lift system. Ski kindergarten from 3 years with ESF.
La Reine des Pres is within walking distance to the gondola to access the slopes. 

PRICE EXAMPLE 15/16 (2 bedroom apartment sleeps 6, self catering):
La Reine des Pres: £1,926 per family for week 19/12/15, £2,181 for week 13/02/16, £1,170 for week 26/03/16**
*Price is per week, in £s Sterling, including a Standard Eurotunnel crossing
Family Ski Extras
Ski Hire
We can pre-book your ski hire, lift passes and ski school for your family ski holiday so you have budgeted for them before you travel.
Pre-booked through us, ski hire is cheaper than in resort. 6 day adult skis and boots (+13yrs) start from £57 for beginners to £106 for experts.
We can also arrange skis only from £42 for beginners to £80 for experts.
Child skis and boots (0-6yrs) start from £37 and junior skis and boots (7-13yrs) from £47.
We can offer 7 days for the price of 6 allowing you to pick up your equipment the day of arrival. View here for further details.

Lift Passes
Lift pass prices vary from resort to resort with the cheapest 6 day pass costing £120 per adult . Normally children under 5 get a free pass but again this does vary from resort to resort.
Ski School
Ski school can be booked through the ESF (except Les Deux Alpes where we use the ESF & ESS) before you travel. Prices start from £85 per adult/child for 6 half-day lessons. 
Ski Insurance
Don't forget your Wintersports Insurance! Ski insurance prices start from £76 per family for 10 day single trip cover. 

Family Safe Holidays is a website in which you can store information that may be needed in an emergency. They can also help to find telephone numbers for organisations who can help families in an incident or emergency. View here for more information about Family Safe Holidays and to register free of charge.