The A-Z of summer activities in the French Alps
26 fantastic summer activities you can try in France this year
Looking forward to a summer holiday in France this year? We round up a mixture of the best summer activities for all ages in our A-Z. No matter if it's family fun or couples only, a white-knuckle ride or a relaxing experience - the French Alps in summer has so much to offer. Which resorts will you go to this summer?
A - Archery
A perfect family activity. Hone your skills and see who can hit the bulls-eye. Available in many French Alps resorts in summer, including Les Gets, La Rosiere and Tignes.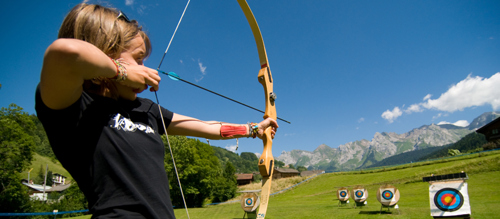 B - Bungee
Not for the faint hearted, this adrenaline rush is for the brave ones in your group! Enjoy the amazing mountain scenery before jumping off for a thrilling experience. Best in Chamonix.
Did you know? Local legend and professional bungee man Jean-Pascal Moeffaert saw the opening of the new Pont de Saint-Gervais which traverses the Gorges du Bonnant as an opportunity to get bungee happening in the Mont Blanc area. The jump itself is 65m and the bridge is 90m above the river. Prices start from 50 Euros.
C - Culture
The French Alps has a long history of culture and heritage which is passed down through the generations to ensure the towns and villages remain true to their roots. The majority of Peak Retreats' summer resorts are true French Alps, real towns and you will be able to experience local delicacies and all the history from the past.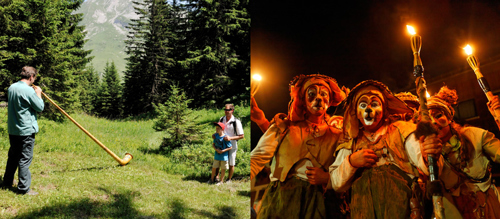 D - Darts
A fun pub game enjoyed by many! Great for a change of pace during an evening. Available in most resorts throughout the French Alps.
E - Equestrian
Guided horse-riding treks offering a great experience for all. There is an equestrian centre in most Alpine resorts that will offer mountain rides, including Morzine, Les Gets and Tignes.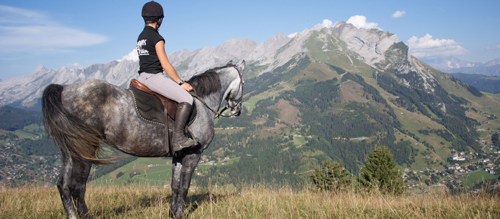 F - Fishing
The relaxing sport of fishing is possible in many different Alpine resorts. You can take part on natural lakes (at the foot of the mountains or at altitude) or a river. Join in at Morzine, La Rosiere & Samoens.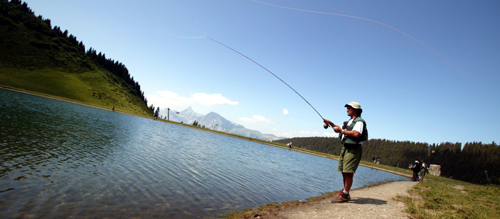 G - Golf
There are some truly stunning golf courses in the French Alps which would take your breath away! Enjoy the peaceful, un-crowded fairways and fresh clean mountain air. All are located at the heart of the Alps with magnificent scenery and panoramic views. Play a round or two in Grand Massif, Portes du Soleil, Tarentaise, Mont Blanc, Aravis, Annecy & Evian.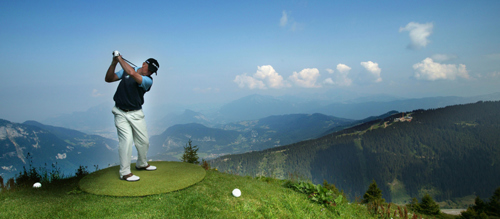 H - Hiking
Make the most of those wonderful mountain routes and maps are available from Tourist Offices. For instance, there are 400 miles of marked hiking routes in the Portes du Soleil region alone! There are also 350km of marked walking trails in the Chamonix Valley that are definitely worth exploring. Not to be missed is the Vanoise National Park too (see Champagny).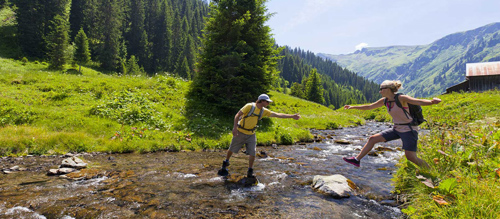 I - Ice rink
Ice skating... in summer? You and the family can join in with the fun and get a taste of winter in Morzine and Les Deux Alpes. Both locations have indoor ice rinks perfect for a different activity.
J- Jacuzzi
After a long day exploring the French Alps in the summer sun, relax and unwind in a Jacuzzi. These are available at several apartments and chalets and also spa centres in resorts.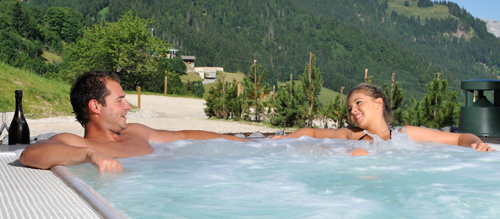 K - Kayak
Ride the course of the river in a Kayak. White-water kayaks have a closed top and you sit down in the boat, they are short, manoeuvrable and not very stable, whereas canoes have a closed top, are generally better for slower water and are more stable (for a gentler ride). Come to the French Alps this summer and take advantage of the water sports in the stunning mountain scenery. Try kayaking in Tignes or Mont Blanc.
L - Lagoon swimming pool
Tignes' Lagoon leisure centre offers a great deal of fun under one roof! Families will love the large variety of amenities including pools, water slide, waterfall, bubble bed, saunas, steam rooms, Jaccuzzis, gym and exercise studio. Other Lagoon style swimming pools are available throughout the French Alps resorts.
Did you know? Access to the Lagoon is often included in lift passes and the Sport Card!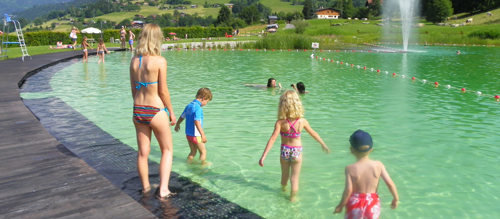 M - Mountain biking
We all know about the success of the Tour de France and road cycling, but did you know of the amazing mountain biking on offer in the French Alps too? Mountain biking is available in most resorts but is great in Morzine, Samoens and Chamonix. There are trails to suit all levels and abilities, including some very technical and steep downhill tracks.
N - Nightclubs
Les Deux Alpes is famous for having a fantastic atmosphere, with lots of fun activities for all. For those who want to let their hair down after a busy day in the mountains, there is some great nightlife available at local bars and nightclubs. The best place in Les 2 Alpes include L'Avalanche Club (night club the centre of Les Deux Alpes), Le Cafe Bresilien (nightclub with International DJ's) or for a slightly more chilled time, O'Brians Bar (popular Irish bar with live music). 
O - Outstanding spas
There are some amazing spa locations dotted around the French Alps resorts and towns, many offering the very best in relaxation treatments and facilities. These include the Evian, Saint Gervais, Val Cenis, Bourg St Maurice and Chamonix.. to name just a few!
Did you know? Some of Peak Retreats' summer accommodation offer spas on-site - treatments are available to be pre-booked before travel.
P - Paragliding
There are some unbelievable sights to behold in the French Alps, and they look even better in the air. Fly with the birds and see the Alps from a different view. Take to the skies this summer and embark on a summer activity like no other. Many resorts now offer paragliding, but some of the best ones to try include Val Cenis, Annecy or Mieussy (which is where the sport was invented in 1978 – it's near to Les Gets and Samoens).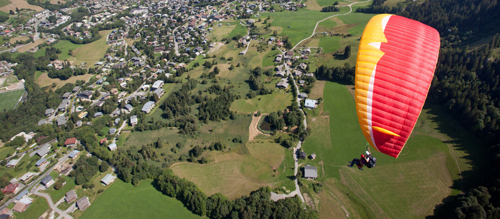 Q - Quad biking
Experience the exhilarating fun on a 4x4 all-terrain quad bike, around a specially designed courses throughout the French Alps. Not just for the adults! Most offer children's quad biking around mini-circuits. Les Deux Alpes, Morzine and Samoens all cater for adrenaline junkies on quad bikes, but this activity is popular throughout the French Alps in summer.
R - Road Cycling
Most people know that the French Alps is THE cycling haven when it comes to road cycling and even offers a chance to glimpse the Tour de France with your own eyes each year. There is no better place to test your road cycling skills than in Savoie Mont Blanc region or just ride with the family and take in the scenery around Lake Annecy.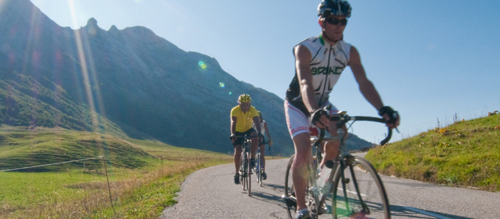 S - Sailing
There are many places to sail on the lakes in the French Alps. Sailing on is one of the most original pleasant and eco-friendly ways to discover surrounding mountains and landscapes. Lake Annecy offers sailing in stunning scenery. The Mont Blanc region also caters for potential sailors as the sailing school offers an introduction to sailing for free, to provide a taster for those thinking of getting into the sport.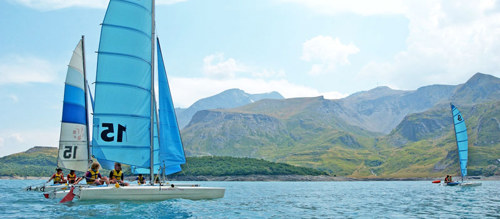 T - Tennis
A sport loved by all ages, available for all abilities. Take advantage of the generally warmer and sunnier weather and rally to your heart's content. Many resorts throughout the French Alps will have access to tennis courts over the summer.
U - UNESCO sites
For those looking to indulge in more cultural, historical and historical activities, you'll be happy to know that there are two UNESCO sites available in the vicinity of French Alps; as well as many notable towns featuring vast historical sites. The two UNESCO heritage sites include the historic site of Lyon and the prehistoric pile dwellings around the Alps. These are easily accessible before, during or after a summer stay in the French Alps.
V - Via ferrata
A challenging and demanding combination of scrambling and climbing rock faces with man-made courses of pegs and cables, fixed ropes, ladders and hand rails. They vary in length and difficulty to suit most people's appetites for adventure, and some sites have special courses for children. Helmets and harnesses are provided for safety. Try the recommended Via Ferrata in Val Cenis, Les Saisies or Aussois.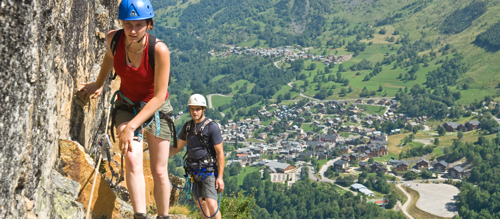 W - Water rafting
Discover rafting as a family on an easy river or take on the rapids in the French Alps! There are various day trips available in and around many of the resorts, but one to look out for is located near the Mont Blanc & Chamonix Valley. Children are welcome from age 7 years. The rafting guides are all fully qualified and are there to ensure you have a great day out!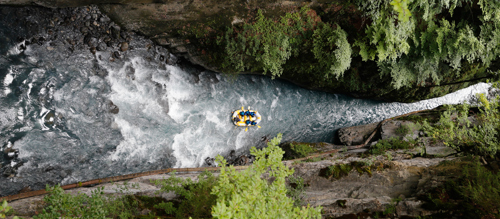 X - 'xtreme' sports
There are limitless opportunities to undertake extreme sports in the French Alps and some activities already listed could count towards them. In fact, most exteme sports are catered for in some aspect in the French Alps, but a notable activity for mountain bike riders could interest the most daring. Each summer, 2000 riders slip, slide and fall down Pic Blanc, in Alpe d'Huez (near Vaujany), in search of 'enduro' biking glory. Professionals and regular Joes (and Joannas) alike from 30 countries take part on the 30km track with its 2,600m of vertical descent! Fancy a go?
Y - Yoga
Alpine yoga retreats are taking off and some resorts will cater for a combination of hiking and yoga in one holiday adventure! You could even go yourself if you know the moves. Take part in a relaxing yoga session whilst admiring the breathtaking views of the French Alps!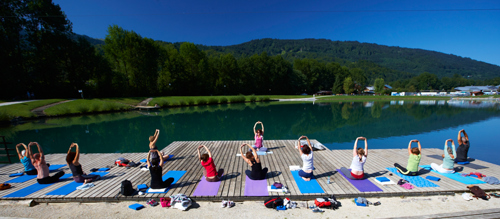 Z - Zoo visits
Explore the animals and natural habitats throughout the French Alps by visiting one of the zoos or nature reserves. Here you can find a variety of plant and animal life that you might not see outside the reserves. The Mont Blanc & Chamonix Valley offer a fantastic array of opportunities to see nature close up. The Aiguilles Rouges Nature Reserve, Merlet Animal Park and Saint-Bernard Breeding Centre make up a great base for exploring the wildlife in the French Alps. The other option for nature lovers is the huge Vanoise National Park, easily accessible from many resorts. The Vanoise National Park is an open space that can be freely accessed, but it isn't a consumer space. Visitors and those who live there have a duty to respect the area and to leave behind no trace that they have been there.
Other notable summer activities in the French Alps
Abseiling, luge runs, adventure parks, canyoning, wildlife spotting, hot air balloons, paddleboarding, caving, high ropes, water ski, windsurfing, zip wires, ice climbing, helicopter flights... we could go on!